---
Saturday 27 October
Chester City 2 Wycombe Wanderers 2

League 2
Attendance: 2,598 Half Time 2-1
Booked: Holroyd.

Chester City: Danby, Marples (Roberts 79), Linwood, Butler, Wilson, Partridge, Dinning, Hughes, Ellison, Holroyd (Yeo 68), Murphy. Subs not used: Palethorpe, Rutherford, Lowndes.
Wycombe Wanderers: Fielding, Martin, McCracken, Johnson, Williams, Bullock, Holt, Bloomfield, Torres, Sutton, McGleish (Reid 85). Subs not used: Kazimierczak, Oakes, Stockley, Boucaud.
Referee: Graham Horwood (Bedfordshire).


Chester are a team aiming to improve their home form, and in Wycombe, came up against a side battling to better their away form. Before kick-off, the Chairboys had only won seven points on the road, with City riding high in the table despite only gaining eight points at the Deva Stadium.

So the betting fraternity might have this one down as a cast-iron draw and that's how it ended, as two entertaining teams failed to find a winner despite 14 shots on target.

City fielded the same starting XI as at Edgeley Park, and Wycombe were without striker Jermaine Easter, recently loaned out to Plymouth Argyle.

Both sides settled down to a steady start, with no serious threat on goal until Wycombe pressed forward on the 15-minute mark. A strike by Sergio Torres looked to be well covered by Chester 'keeper John Danby, but it took a deflection from a City defender and ended up in the back of the net.

But wait...lineswoman Amy Raynor was flagging for offside, and as the Wycombe players celebrated, Blues fans breathed a temporary sigh of relief. Then referee Graham Horwood consulted with her and her offside decision was over-ruled. Cue the second celebration from the red-and-white quartered team.

City livened up in an instant and within a couple of minutes, the ball was at the other end. Tony Dinning attempted to replicate the Torres strike and a deflection fell straight to Chris Holroyd. It was easy pickings for him as he slotted the ball home to make it 1-1.

Ms Raynor came in for a lot of stick during the first half – but it was referee Horwood who missed John Murphy being held back in the box by a Wycombe defender.

Both right-wingers had an excellent game. Richie Partridge started making his presence felt towards the end of the second half, and Wycombe's pint-sized Martin Bullock was difficult to handle. He jinked round two or three City defenders into the box at one stage and just when he could have fallen for a potential penalty, he passed the ball – only for it to go wide.

It was actually Partridge who found a winning run first when he got the ball on the 40th minute. He crossed perfectly to Murphy, who headed the ball home at point-blank range.

The second half began much as the first, with City looking like they wanted to keep things settled at 2-1. But Wycombe had other ideas and after Holroyd lost the ball needlesly in midfield, Wycombe pounced. A Torres header in a box packed with players spilled out to John Sutton, who had no trouble finding the net. I wonder if his father Mike, an ex-Chester player, was there to see his goal?

Chester tried to fight back and there was a goalmouth scramble soon after which had everyone in the main stand on their feet as it looked inevitable a City shot would somehow find the net. But it wasn't to be.

Simon Yeo replaced a tiring Holroyd on the 67th minute, but it was a nervous end for City, especially after defender Simon Marples and Danby collided. Marples was chair-lifted off by two stewards, with the doctor close behind, and there was lengthy treatment on the pitch for Danby.

Kevin Roberts came on for injured Marples and Yeo looked determined to prove his fitness. But Chester never really looked like scoring again. The closest they came was when a off-target Murphy shot daisy-cuttered its way past the post as all looked agonisingly on.

A draw was probably a fair result, in a game in which both sides had their fair share of chances. It is refreshing to see exciting football at the Deva Stadium these days, if only a few more came along to enjoy it.


---
Saturday 20 October
Stockport County 1 Chester City 2

League 2

Attendance: 5,566 (700 Chester) Half Time 1-0
Booked: Dinning, Hughes, Ellison.

Stockport County: Logan, Bowler, Tierney, Williams, Raynes (Proudlock 75), Pilkington, Taylor, Dicker (Tansey 58), Griffin, Dickinson (Elding 62), McNeil. Subs not used: Thompson, Blizzard.
Chester City: Danby, Marples, Butler, Linwood, Wilson, Partridge, Hughes, Dinning, Ellison, Holroyd (Rutherford 74), Murphy. Subs not used: Palethorpe, Sandwith, Roberts, McManus.
Referee: Mike Russell (Hertfordshire).



City maintained their excellent form on their travels, thanks to a brace of quality goals by Richie Partridge at Stockport's Edgeley Park.

Partridge was a dangerman throughout, with a couple of good shots in the first 30 minutes and an excellent cross for Mark Hughes.

The Hatters also had their chances early on, with an opening minute corner and a close-range header. They piled on the pressure after the half-hour mark and went into the dressing room 1-0 up.

A Jason Taylor shot on the 45th minute was smothered by City 'keeper John Danby, but after discussion between the match officials, the ball was adjudged to have gone over the line.

City replied not long after the re-start when that man Partridge found himself in space after a visionary pass by Kevin Ellison. Partridge ran down the wing and fired an unstoppable shot past Stockport's Conrad Logan.

Chester came close a few minutes later when an Ellison header rebounded down off the underside of the crossbar and then striker John Murphy failed to make the most of the loose ball. Murphy came close not long after with a header which went wide.

Goal number two for Partridge came on the 81st minute and it was another top drawer effort. A cross by Tony Dinning saw Partridge go on another run, before firing the ball into the top corner to send the City fans into ecstasy.

From then on, Chester held on, to earn another three points against local rivals and keep them undefeated in their League Two travels.


---
Friday 12 October
Chester City 1 Hereford United 1

League 2

Attendance: 3,430 (627 Hereford) Half Time 0-0
Booked: Butler.

Chester City: Danby, Marples, Linwood, Butler, Wilson, Partridge (Rutherford 87), Hughes, Dinning, Ellison, Murphy, McManus (Yeo 52 (Holroyd 74)). Subs not used: Palethorpe, Roberts.
Hereford United: Brown, McClenahan, Broadhurst, Beckwith (McCombe 7), Taylor, Webb (Ainsworth 63), Smith, Diagouraga, Easton, Guinan (Benjamin 76), Robinson. Subs not used: Ingham, Rose.
Referee: Clive Oliver (Northumberland).


The biggest Deva Stadium crowd of the season turned out on Friday night to see second placed Hereford and third placed Chester battle for the three points that would have taken them to the top of the League. As it was, after an entertaining 90 minutes both sides had to be content with just a point, and both will rue missed chances that could have given them maximum.
City manager Bobby Williamson presented 17-year-old Paul McManus with a full home league debut and as expected Paul Butler, Kevin Ellison and John Murphy were recalled to the side after sitting out the midweek game at Brunton Park. Former City goalkeeper Wayne Brown received a good welcome from the home fans on his return.
The game was only three minutes old when Hereford defender Dean Beckwith suffered what turned out to be a broken jaw in an aerial collision and had to be replaced by John McCombe.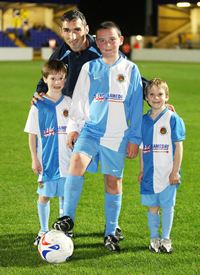 Kicking towards the home fans City began in a positive fashion Richie Partridge was seeing a lot of the ball down the right and delivering some great crosses into the Bulls box, one, a free-kick met by Paul Linwood produced a smart quick reaction save from Brown. Partridge himself then forced a save from Brown as he played a one two with McManus cut inside the box and sent a low drive to the near post.
Another fast flowing move saw a superb crossfield pass to Partridge, the ball was centred and knocked back to Ellison who volleyed from 25 yards, Brown parried the ball three yards out but there was no blue shirt on hand to apply the finishing touch and the ball was cleared from danger.
City were enjoying the majority of the possession but the visitors, kicking towards their 600+ following, still looked dangerous on the break. There was a huge roar for the visitors for a penalty midway through the half after the ball appeared to hit Linwood from close range but referee Oliver waved play on.
Partridge and McManus swapped wings and McCombe was on hand to deny John Murphy a shot at goal with a blocking tackle as Chester continued to press.
It was Hereford though who had the best chance late in the half as Steve Guinan headed through for Clint Easton to bear down on goal but John Danby was quickly off his line to narrow the angle and force the shot over as the half came to an end.
City attacked from the off again and saw Laurence Wilson hit the side netting with a free kick from the edge of the box. Seven minutes after the break Simon Yeo replaced Paul McManus, the youngster leaving to a great reception after a debut to remember.
Just three minutes later Yeo was on hand to open the scoring. A right wing cross was headed down by Ellison at the far post to Murphy, before he could control the ball he was tackled but the ball fell to Mark Hughes whose effort was charged down but the ball was prodded across goal by a defender straight to Yeo who turned and poked the ball home under the dive of Brown.
Brown denied City a second goal minutes later saving from a Murphy header.
Bulls manager (and former Chester defender) Graham Turner reacted by bringing on Lionel Ainsworth on the right wing and he immediately caused problems for the City defence and especially Wilson who was left marking two players at times as Hereford dominated the next 20 minutes.
Both Guinan and Robinson saw efforts saved by Danby before the equaliser came 13 minutes from time. A right winger corner was swung in, the ball was flicked on and hit Linwood and deflected back towards goal, Toumani Diagouraga reacted quickest to force the ball home past two defenders on the line.
City survived a number of scares before hitting back in the closing stages. Paul Rutherford and Chris Holroyd were introduced and both saw efforts stopped by Brown late on. Brown also saved at the feet of Ellison following a free-kick and pushed a last-gasp Butler shot wide to deny his former club all three points.
---
Tuesday 9 October
Carlisle United 4 Chester City 2

Johnstone's Paint Trophy Northern Section Round 2

Attendance: 3,154 (86 Chester) Half Time 2-1
Booked: -.

Carlisle United: Westwood, Arnison, Livesey, Raven, Aranalde, Anyinsah (Hackney 62), Bridge-Wilkinson, Lumsdon, Smith, Graham (Carlton 58), Gall. Subs not used: Murphy, Garner, Howarth.
Chester City: Danby, Marples, Bolland, Linwood, Sandwith, Partridge (Rutherford 46), Dinning, Hughes (Holroyd 69), Wilson (Rule 55), Yeo, McManus. Subs not used: Palethorpe, Walker.
Referee: Neil Swarbrick (Lancashire).



Having played Shrewsbury just two days earlier, manager Bobby Williamson used the occasion of this second round Johnstone's Paint Trophy tie to give striker Paul McManus his first senior start and fellow former youth team players Glenn Rule and Adam Walker a place on the bench at Brunton Park.
Paul Butler, Kevin Ellison and John Murphy were all rested.
A mistake by Paul Linwood in the opening minutes almost gave the home side a dream start. The City defenders back header fell short of John Danby who managed to race out to deny Graham, forcing the ball for a corner.
The home side didn't have to wait long to break the deadlock which came in the 11th minute. Kevin Gall and Smith played a one-two that split the City defence to leave Gall time and space to beat Danby.
Four minutes later City had a great opportunity to strike back as Mark Hughes rounded 'keeper Westwood but with the open goal at his mercy inexplicable shot wide.
Chester were enjoying plenty of possession and drew level on 19 minutes as Richie Partridge swept home McManus's cross after a fine move down the left.

McManus himself had two chances to put City ahead, first he sent a rising shot over the bar following good work from Simon Yeo, and followed that by forcing a fine save from Westwood after shooting from a narrow angle.

The home side restored their advantage on 37 minutes as Marc Bridge-Wilkinson collected the ball from Arnison, cut inside and drilled a low shot into the bottom corner fro the edge of the box.
City started the second half well with Tony Dinning testing Westwood before the Cumbrians extended their lead in 53 minutes. Bridge-Wilkinson's outswinging corner was met my Livesey, his powerful header was parried by Danby, Gall was first to react and slotted home his second goal of the night.

A minute later it was four as another telling Bridge-Wilkinson pass picked out Danny Graham who raced through to beat Danby.
City's young side continued to battle and McManus hit a shot straight at Westwood before substitute Chris Holroyd pulled one back. Holroyd had replaced Mark Hughes just a matter of seconds before he headed home a cross from Paul Rutherford for his first senior goal for the club.
The game continued with both sides trying to play and create chances. Gall almost completed a hat-trick but dragged a shot wide of Danby's post and Rule, who replaced Laurence Wilson earlier, sent a shot over. The last effort of the night fell to Simon Yeo who saw a shot saved low down by Westwood in the final seconds.

So a second round exit for City who will take a lot of positives from this gutsy display from a young side who all took their chance to impress well.
---
Sunday 7 October
Chester City 3 Shrewsbury Town 1

League Two
Attendance: 3,057 (1,047 Shrewsbury) Half Time 0-0
Booked: Hughes, Dinning.

Chester City: Danby, Marples, Linwood, Butler, Sandwith (Yeo 63), Partridge (McManus 83), Dinning, Hughes, Wilson, Murphy, Ellison. Subs not used: Palethorpe, Rutherford, Holroyd.
Shrewsbury Town: Garner, Langmead, Kempson, Murdock (Pugh 46), Darren Moss, Herd, Drummond, Hunt, Ashton, Symes (Nicholson 81), Hibbert, Pugh (Ryan 76). Subs not used: Esson, Hall.
Referee: Chris Foy (Merseyside).



City moved third in League Two following this fine second half showing that brought three goals against Shrewsbury Town.
With midfielder Tony Grant injured, manager Bobby Williamson picked new signing Tony Dinning in the starting X1 for a City debut, Paul McManus also made his first appearance on the bench after signing professional terms last week. Nathan Lowndes, injured during the midweek win at Grimsby was replaced by Kevin Sandwith.
It was the visitors who pushed the ball quickly from the start but City who had the first opening after six minutes when Kevin Ellison found himself at the far post after an interception by John Murphy, before clipping the crossbar with his snap shot.
Shrewsbury continued to push forward and Sandwith was well placed to head off the line after a looping Hunt corner had been met by Darren Kempson at the far post.
Neil Ashton twice shot over from good positions as Shrewsbury continued to press but at the other end Mark Hughes forced a save from Glynn Garner in the Shrews goal after being sent through by Laurence Wilson.
With the game heading towards the break Ellison shot wide for City and Kempson again headed just off target following an inswinging corner.
The visitors almost opened the scoring six minutes after the break as Pugh got the better of Sandwith to cross for David Hibbert who knocked the ball to Michael Symes who saw his shot deflected for a corner. From the resulting flag kick former City midfielder Stewart Drummond headed just wide when well placed.
Murphy saw a header saved by Garner just after the hour mark before Richie Partridge gave the Blues the lead moments taking advantage of a poor clearance onto a loose ball before crashing the ball into the top corner from 20 yards out to leave Garner no chance.
The lead lasted only seven minutes though as former player Darren Moss headed home the equaliser from six yards, flicking on Hunt's looping free-kick following a foul by Hughes.
No sooner had the Shrews equalised then City regained the lead. A mix-up between Ashton and Langmead allowed Murphy to race clear and slide the ball under the advancing Garner. A minute later City hit a third. The Shrews defence failed to clear their lined and Dinning slipped a through ball to substitute Simon Yeo who lashed the ball home from 18 yards to the delight of the Blues fans behind Garner.
City pressed for a fourth and it almost came ten minutes from time as Murphy shot agonisingly wide of goal. McManus came on for his debut replacing partridge for the last seven minutes. Shell shocked Shrewsbury still looked to get forward and Nicholson was unlucky to see a shot drift just wide of Danby's post at the end of a pulsating second half.
---
Tuesday 2 October
Grimsby Town 1 Chester City 2

League Two
Attendance: 3,479 Half Time 1-1
Booked: Hughes.

Grimsby Town: Barnes, Mulligan (Whittle 74), Bennett, Fenton, Newey, Till, Clarke (Jones 53), Bolland, Boshell, Toner, Rankin (Taylor 64). Subs not used: Montgomery, Bore.
Chester City: Danby, Marples, Linwood, Butler, Wilson, Partridge, Grant (Sandwith 45), Hughes, Ellison, Murphy, Lowndes (Yeo 43). Subs not used: Palethorpe, Rutherford, Carroll.
Referee: Fred Graham (Essex).



With the supporters bus breaking down prior to picking up at Delamere Street earlier in the afternoon, it was a depleted band of City fans who could make the journey to Cleethorpes. But for those who could manage to scramble alternative transport, the journey was well worthwhile as goals from John Murphy and Kevin Ellison brought three more points for City who move fourth as a result of this hard earned victory.
Manager Bobby Williamson changed Saturday's winning X1 with Neil Carroll dropping to the bench and nathan Lowndes starting up front alongside John Murphy.
The Mariners produced a lively start with Peter Till shooting wide in the opening seconds following a through ball straight from the kick-off.
City created a couple of chances themselves in the early stages that saw Mark Hughes shooting wide on both occasions after good build up play from Murphy, Paul Linwood and Ellison. It was only ten minutes though before City opened the scoring. Richie Partridge shook off his marker and crossed for Lowndes, he flicked the ball to Murphy who powered a header home past Phil Barnes in the home goal. The linesman's flag had been raised in the build-up for a foul on the City winger but referee Graham had waved play-on.
Town reacted in a positive fashion and Paul Bolland was guilty of shooting high and wide from inside the box after Till had got the better of Laurence Wilson to get his cross in.
City were still dangerous on the break with Partridge causing problems for the home defence and shot straight at Barnes after pouncing on Murphy's knock-down.
The home side's pressure paid off in the 24th minute with a equaliser. Till, down the right, once again proved the dangerman and his cross was headed home unchallenged by Danny Boshell with John Danby having no chance.
City had a great chance to restore their advantage six minutes later as Ellison picked up a loose ball and was allowed to run straight through on goal before shooting wide from a good position.
In a game that was moving end to end Danby came to City's rescue saving well to deny Isiah Rankin. Moments later the keeper saved an angled effort from Ryan Bennett as the home side applied the pressure before the break.
Just before the interval City introduced Simon Yeo at the expense of Lowndes.
Grimsby continued the second period where they'd left off and Danby saved again from Rankin before Chester restored their goal advantage on 47 minutes. Yeo saw a shot from the edge of the box his the left hand post and the rebound was slotted home by Ellison.
The home side made a couple of changes as they looked for a second equaliser. Boshell shot wide and Danby saved well with his feet from Taylor after the substitute had been sent clear to run on goal. Jones saw a looping header deflect and drop just wide of the post as Grimsby continued to probe.
To their credit though City still searched for the third goal that would have sealed the game and Partridge almost did that shooting straight at Barnes after good play involving both Murphy and Yeo before referee Graham brought the game to an end.
---