---
Monday 26 December
Solihull Moors 3 Chester 2

Confererce Premier
Attendance: 1,475 Half Time 1-1
Booked: Alabi, George, Horwood, Lloyd.
Sent-off: Hunt.

Solihull Moors: Lewis, Fagbola, Daly, Kettle, Franklin, Murombedzi (Flanagan 85), Byrne, Sterling-James, Carline, Nortey, White (Asante 89). Subs not used: Acton, Jones, Obeng.
Chester: Lynch, George, Hughes, Astles, Hunt, Durrell (Joyce 60), Shaw, Lloyd, Horwood (Waters 66), Chapell, Alabi (Richards 60). Subs not used: Roberts, Hudson.
Referee: Christopher O'Donnell.

Chester ended their seven game unbeaten run in inglorious circumstances at Solihull Moors on Boxing Day, with referee Chris O'Donnell at centre stage for most of the match's turning points.
Not long after Alex Lynch had made a great save from a strike by Solihull's Harry White in the game's opening spell, then up stepped Mr O'Donnell with his first controversial decision.
Jonny Hunt embarked on a two-footed sliding tackle and, despite winning the ball, he was shown the red card. With only 15 minutes gone, it did wasn't the wisest of tackles in the middle of the park. But the intent to win the ball was there, and the referee didn't do himself any favours with the travelling Chester fans.
Chester – clad in an all-white third kit – didn't look like they were playing with one man down throughout the rest of the game though. In fact they went ahead just two minutes later when Elliott Durrell found himself in space just outside the penalty area. His great shot gave Danny Lewis no chance and left Chester with hope of getting a result out of the match.
But Mr O'Donnell seemed to think better of that idea, and just before half-time, Tom Shaw was pulled up for handball. He showed the referee the mark on his stomach where the ball hit him, but it was to no avail. Solihull's Omari Sterling-James struck a great free kick to level the scoreline at the break.
Eleven minutes after the re-start, the inevitable happened when an apparent handball was missed by the referee, giving Harry White a perfect opportunity to put Solihull ahead. He wasn't going to miss the chance to score from his lucky break, and the home side went ahead.
Sterling-James then left 10-man Chester facing an uphill battle when he found the net from an acute angle with 20 minutes left to play. This was enough for dozens of Chester fans to head for the Damson Parkway exit, and they missed Kane Richards' injury time consolation goal. But there was no time left after that for a miracle result, and Mr O'Donnell's whistle soon drew a close to proceedings.
Rate Chester's performance
---
Saturday 17 December
Chester 2 Aldershot Town 0

Confererce Premier
Attendance: 1,937 Half Time 1-0
Booked: Durrell, George.

Chester: Lynch, George, Hughes, Astles, Hunt, Shaw, Lloyd, Durrell (Waters 85), Horwood (Joyce 62), Chapell, Alabi (Marsh 90+2). Subs not used: Roberts, Richards.
Aldershot Town: Smith, Straker, Evans (Benyu 52), Fenelon, Rendell, Mensah (Walker 78), Alexander (Allen 80), Gallagher, Conroy, Kanu, Reynolds. Subs not used: Wakefield, Kellermann.
Referee: Scott Oldham.

Chester enter the Christmas period in a creditable seventh place after a goals from James Alabi and Jordan Chapell enabled them to see off visiting Aldershot Town.
It didn't start so well for striker Alabi though, when he missed a penalty on the eighth minute after he was fouled as he ran into the box. His placed spot-kick hit the post and pinged off at a safe angle for the visitors.
There followed 30 or so minutes with neither side making little threat on goal, and I was thinking we were heading for a repeat of the reverse fixture earlier this season. But Chapell broke the deadlock on the 44th minute after Alabi won a header near the box. His nodded ball seemed a lost cause for Chapell, but he managed to keep it in play and then score a terrific goal from a sharp angle.
As the fog rolled in, the second half was a much more exciting game of football, with Chester making it 2-0 on the 53rd minute. Man-of-the-match Alabi pounced on a rebound from a Tom Shaw strike to put the Blues fully in control.
But the Shots didn't give up the fight – hitting the post twice, forcing Alexander Lynch into several good saves and having a shot blocked off the line. However, Chester's defence stayed solid again, and they well deserved their Christmas night-out.
Sue Choularton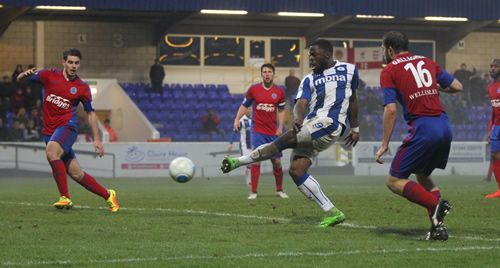 Picture © Rick Matthews (Chester Leader

• League Table
Rate Chester's performance
---
Tuesday 13 December
Chester 2 Witton Albion 1

FA Trophy Round 1 Replay
Attendance: 921 Half Time 0-1
Booked: Hudson, Marsh, George, Durrell, Lloyd.
Sent-off: Hudson.

Chester: Lynch, Hughes, Astles, Hudson, Horwood, Waters (Shaw 62), Marsh, Joyce, George (Lloyd 62), Chapell, Alabi. Subs not used: Roberts, Durrell, Hunt.
Witton Albion: Roberts, Gardner, Devine, Wilson, Brown, Haywood, Noon, Owens, Hopley (Hickman 18), Omotola, Bauress. Subs not used: Lycett, Eves, Garner.
Referee: Joseph Johnson.

A crazy match that saw Chester conceded a penalty after just six seconds, duly converted on the rebound by Witton. Blaine Hudson is sent-off as are two Albion players and their coach. Witton have a goal disallowed before James Alabi equalises from the penalty spot two minutes from time. With extra-time looming Elliott Durrell scores the winner deep in stoppage time to book a place in round 2 against Forest Green Rovers.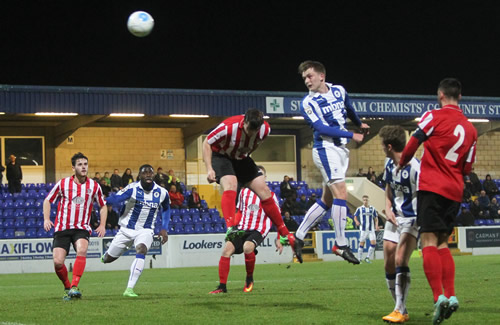 Rate Chester's performance
---
Saturday 10 December
Witton Albion 1 Chester 1

FA Trophy Round 1
Attendance: 883 Half Time 0-1
Booked: Richards, George.
Sent-off: Richards.

Witton Albion: Roberts, Lycett (Gardner 61), Devine, Wilson, Brown, Haywood, Noon, Owens, Hopley, Omotola, Bauress. Subs not used: Adigun, Hickman, Garner.
Chester: Lynch, Hunt (Waters 75), Hudson, Hughes, Astles, Shaw (Joyce 80), Lloyd, Durrell (George 80), Chapell, Alabi, Richards. Subs not used: Horwood, Marsh.
Referee: Steven Rushton.



Chester returned to Wincham Park or the NetDec Stadium as it now seems to be called, invoking memories of a classic encounter in the Evo-Stik League back in October 2010 – the first in Chester's re-incarnated form. As ever, the hosts were warm in their welcome – even granting the visitors the home section of the ground in anticipation of a bigger than usual crowd. The stadium announcer quickly corrected his slip as he referred to us as "Chester City".

Albion came into the match in a rich vein of form, having dispatched Boston United in the previous round on Tuesday night even after conceding a couple of early goals. They featured Rob Hopley (Scorer of Chester FC's first league goal in 2010 – and a 90th minute substitute in the aforementioned classic) up front today. From the moment early on that Hopley turned Astles it seemed as though The Blues would be in for a tough afternoon. Albion looked to move the ball fast on the ground and the surface, made slippery by the rain, meant that the visitors defence began to be stretched.

The last time Chester played a competitive match here was when the won the Cheshire Cup against Stalybridge in 2013. Playing for the opposition that night and causing City plenty of problems was midfielder Prince Haywood. He was on good form for Witton this afternoon, sitting deep and directing play as he picked up the loose ball and prompted Albion's attacks. Astles pulled him back right on the edge of the area as he cut in from the right but the free kick came to nothing. Chester struggled to get a toehold in the game at first and surrendered possession too easily at times.

Chester did exert a bit of pressure as the half wore on and eventually took the lead. Shaw's chipped cross to the far post was headed down by Richards and bounced up for Chapell to nod in. Shortly afterwards Richards had a glorious chance to make it two following brilliant footwork from Alabi down the right but he knocked his shot wide with the goal gaping. Albion came close to equalising when Hopley tried to chip over Lynch but the Chester keeper was alive to it and ran back to catch the ball. Earlier Sam Hughes had run back to clear a prodded shot from Omotola off the line.

More pressure from the hosts bore fruit after the interval and shortly after club-captain Gardner had replaced Lycett as Witton's right back. Chester failed to clear properly and Tom Owens took the ball round Lynch only to see his shot cleared off the line by Hughes – but the young defender could not stop Brad Bauress' follow up shot and Witton were level. Chester responded and forced a number of corners – then it was Albion's turn to have nervous moments as they scrambled the ball clear. But the closest shaves of all were Chester's – first when Astles cleared only for the ball to bounce back off an Albion player and on to the bar. The in the dying moments' Noon's shot took a wicked deflection but Lynch reacted brilliantly to turn it past the post.

By then Luke George and Warren Joyce had been thrown on to shore up Chester's hard-pressed midfield. George quickly earned himself a booking. But Richards went a step worse when he picked up a second yellow in the final minute. Looking to break away on the half way line, he slightly over-hit the ball and his lunge caught Owens. Albion players surrounded the referee in their eagerness for him to show the red card. It was an unsavoury scene in an otherwise competitive but entertaining match.

Chester fans left frustrated at their team's performance but at least they had dug in to take a lively Witton back to a replay on Tuesday night. Who will play up front in Richards' place will be a headache for manager McCarthy.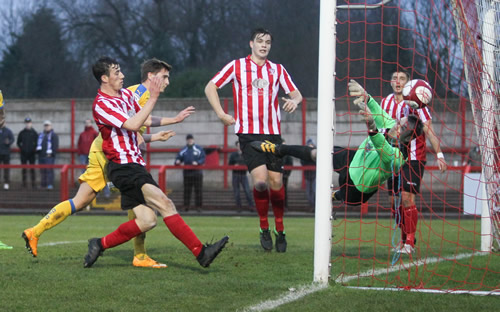 Rate Chester's performance
---
Saturday 3 December
Guiseley 1 Chester 1

Conference Premier
Attendance: 957 Half Time 0-1
Booked: -.


Guiseley: Maxted, Brown, Lowe, Hatfield, Palmer, Preston, Purver, East, Walton, Atkinson (Williams 18), Cassidy. Subs not used: Boyes, Rankine, Wesolowski, Logan.
Chester: Lynch, Hughes, Hudson, Astles, Hunt, Durrell, Shaw, Lloyd, Mahon (Chappell 75), Richards (Joyce 62), Alabi. Subs not used: Marsh, Waters, George.
Referee: Martin Coy.



Chester picked up another point on their travels against a Guiseley side who played better than their league position would suggest. Once again manager Jon McCarthy picked an unchanged side but his team were on the back foot at the start as The Lions forced two chances in the opening three minutes as 'keeper Alex Lynch saved low down to deny Alex Purver then Will Hatfield headed over the bar from a far post cross.

Following a fairly even if scrappy period Chester opened the scoring on 29 minutes. Tom Shaw sent over a cross that was met by Blaine Hudson, his lay-off found James Alabi who, with his back to goal, sent an overhead kick into the bottom corner of the net past a stunned Johnny Maxted in the home goal.
Alabi did force a save from Maxted three minutes later as Chester looked to extend their advantage. At the other end Jordan Preston was sent through on goal but combined defending from Hudson and Lynch prevented an equaliser.
Five minutes after the restart Purver pulled a shot wide of the Chester goal when well placed to score. On 52 minutes Guiseley were awarded a penalty after referee Martin Coy adjudged that Johnny Hunt had tripped Connor Brown in the box. Simon Walton send Lynch the wrong way from the spot-kick to draw the sides level.
Hudson produced another last-ditch tackle to deny Jake Cassidy as the home side began to take control. Hudson was in the thick of it again heading a Perver effort off the line with Lynch beaten.
There were loud appeals for a penalty after Craig Mahon was felled by Brown in the box but Coy waved play-on.
Ten minutes from time Chester broke through Shaw and Chapell but the latter fired his effort over the bar. Ryan Astles produced a great tackle to deny Cassidy late on and the played saw another effort saved superbly by Lynch in the dying seconds and Chester hung on for a point.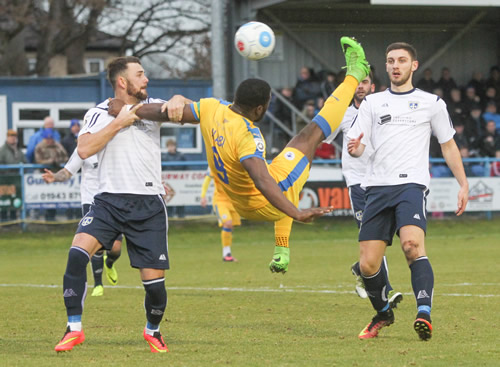 Picture © Rick Matthews (Chester Leader)
Rate Chester's performance
---