31 January 2021

DELVES LEAVES CHESTER

General manager George Delves has left the club to take up a new post with a Football League club next month. He joined the Blues from Tamworth FC in May 2019.

Delves told the official club website: "I'd like to place on record my thanks to everyone associated with Chester FC, and I'm extremely grateful to have had the opportunity to work at the club over the past two seasons."
"This is 100% a personal decision and is not directly related to the current financial challenges faced by all clubs across non-league at the present time."
"Nothing would give me more pleasure than to see the club achieve the promotion it deserves when play eventually resumes, and I'll certainly be supporting the team from afar."
---
22 January 2021

LEAGUE SUSPENDED FOR TWO WEEKS

The National League board met this morning to discuss the feedback from clubs regarding their three proposed options. As a result, the board have suspended the National League North and South for two weeks with immediate effect. The away trip to Blyth Spartans and the home games against Southport and Darlington will need to be rearranged. Twelve clubs in the National League North last night called for a suspension to the season until concerns in the future funding were addressed.

---
21 January 2021

CLUB STATEMENT ON FUTURE FUNDING

Following yesterday's zoom meeting between the National League and National League North/South clubs on future funding for the remainder of the season, clubs were asked to consider three proposals and report back by Friday. The options were:

• Individual clubs taking out loans from January to March.
• The National League taking out the loan and then distributing the money to its clubs as grants.
• Suspending the season.

The board at Chester FC have considered the options and issued the following statement.


THE STATEMENT
The Board of Chester FC wishes to provide an important update for our members and supporters regarding the 2020/21 National League North season.
During divisional meetings on Wednesday, it was confirmed to clubs the £11m package of financial support for January to March will be in the form of loans not grants.
While discussions continue with the Department for Digital, Culture, Media & Sport (DCMS), the National League has asked clubs for their views on three options under consideration.
1. Clubs to apply for loans from Sport England. Applications assessed on an individual basis against strict criteria with loans repayable at 2% interest over 10 years with no interest or repayments for the first two years.

2. National League to operate a loan from Sport England to be distributed to clubs as grants. This would impact on future central distributions as the National League will be responsible for repayment. Grant applications would be assessed based on need and the National League has committed to have an open and transparent distribution model.

3. Suspend the season. An immediate break in the season to allow clubs to access the furlough scheme with a decision on how to resume taken at a later date. There will be no loans or grants available to clubs, however those experiencing financial hardship can submit independent applications to Sport England for support.

As a club we have been clear and consistent in our view that playing behind closed doors was not viable without grants. This was the basis upon which we decided to commence the season in October and remains our position.
We can confirm we have responded to the National League advising we are prepared to consider continuing the season on the basis outlined in option two, but this is subject to the league providing satisfactory answers to a number of questions, including how the grants will be distributed, the impact on future central payments and how these will be calculated for each club.
We would also want to understand what support will be available for clubs to implement COVID-19 testing to bring the health and safety of our league in line with the EFL and Premier League as this remains paramount, and how this will be funded.
Like you, we are supporters of our club as well as custodians and our desire and hope is that we can continue playing, however this cannot be at any cost.
The failure to honour the assurances given to clubs when agreeing to start the season without fans and the unfair allocation of grants covering October to December, as well as the decision not to publish the findings and recommendations of the independent review panel, has placed many clubs in an unacceptable predicament.
We again appeal to the DCMS, The FA and the National League to work together to protect these precious football clubs and the essential role they play in their communities.
---
20 January 2021

RAY CROFTS
It's sad to report that former chairman Ray Crofts has died. Crofts joined the board of directors in 1980. Following the resignation of Eric Barnes he was made made chairman in 1989 and will be best remembered for overseeing the club's two years in exile at Macclesfield before returning home to the newly built Deva Stadium. He remained chairman before having to step down in November 1993 due to ill-heath.

• Obituary
---
LATE GOAL DENIES BLUES

Just when they thought they'd secured three points with an 89th minute wonder goal from Jamie Morgan, Chester were denied victory at Bradford (Park Avenue) as the home side struck back in added time to share the points.

In a game played in appalling conditions of heavy rain and a blustery wind on a 3G Horsfall Stadium pitch, the Blues raced into a two goal half-time lead through Danny Elliott, who missed a penalty but scored from the rebound, and John Johnston who chipped in from the edge of the box.

But soon after the break, with the wind now in their favour, The Avenue were level with two goals in four minutes as Luca Havern scored at the back post from a corner, before top scorer Lewis Knight equalised before injuring himself in the goal celebration and being substituted.

Both sides created chances and with a minute of normal time left Jamie Morgan controlled a ball with his chest before smashing home an unstoppable 25-yard volley past Dan Atkinson in the home goal. Chester almost added a fourth but substitute Adam Nowakowski blocked the effort.

But back came Avenue in stoppage time, and Nicky Clee's far post cross evaded Louis Gray and was turned into his own net by Josh Askew to complete a remarkable game.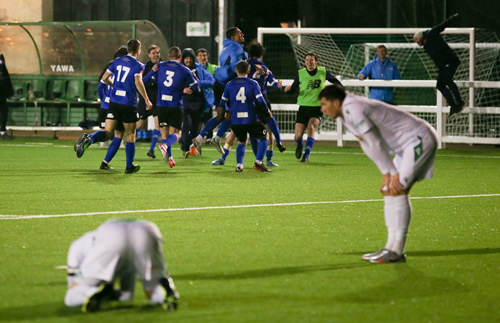 •
League Table after Bradford draw
| Match Pictures |
---
16 January 2021

GAME OFF

Today's game at Bradford (Park Avenue) has been postponed because of snow. It is hoped to play the match this Tuesday 19 January, kick-off 19.45hrs.

---
13 January 2021

BRADFORD DATE

The league game at Bradford (Park Avenue) has been rescheduled for this Saturday 16 January, kick-off 15.00hrs. It was originally rearranged for next Tuesday, but due to a Covid-19 outbreak at Brackley Town their game at Bradford this weekend has had to be postponed.

---
12 January 2021

CLUB STATEMENT REGARDING FUNDING

The football club have joined with several others in the National League North to issue a joint statement to the relevant authorities with regard to the next batch of funding, totaling £11m, that this should be in the form of a grant and not a loan.


THE STATEMENT

When National League clubs agreed in October to start the season playing behind closed doors, this decision was based on reassurances that grants would be provided to compensate for essential revenue lost from fans not returning on 1st October.
Had these assurances not been provided then many Clubs at our level may have taken the decision not to commence the season.
Matchday revenue from supporters attending games and its associated income streams are the lifeblood for our clubs. We are grateful to the Government, The FA, and the National Lottery for recognising this and the roles our clubs play in their communities. We thank them for the grant support we have received to date.
The initial package of £10m was to cover the first three months of the season with the clear understanding that grants would continue until it was safe for crowds to return. There was absolutely no mention of loans at that time.
We have all worked diligently to comply with elite sport protocols and ensure a prudent approach to financial management based upon the reassurances given in October.
We the undersigned clubs therefore call on the Secretary of State Oliver Dowden, the Department of Culture, Media & Sport and The FA not to betray the trust National League clubs placed in them by agreeing to commence the season and to ensure the additional £11m in support is in the form of grants not loans.
Alfreton Town – Wayne Bradley
Blyth Spartans – Anthony Platten
Brackley Town – Francis Oliver
Bradford (Park Avenue) – Martin Knight
Chester – Andrew Morris
Darlington – David Johnston
Farsley Celtic – Joshua Greaves
Gloucester City – Alex Petheram
Kettering Town – David Mahoney
Kidderminster Harriers – Neil Male
Southport – Ian Kyle
Spennymoor Town – Tony Wilson
---
8 January 2021

MATCH OFF

Tomorrow's league game at Bradford (Park Avenue) has been postponed due to a frozen pitch and heavy snow.

---
RED CARD OVERTURNED

The club have confirmed that the red card given to Simon Grand in the 1-0 home victory over Guiseley on Tuesday has been overturned by the league.

---
7 January 2021

SOUTHPORT MATCH

The home match against Southport has now been rearranged for Tuesday 26 January, kick-off 19.45hrs.

---
6 January 2021

BACK TO BACK VICTORIES

Chester followed Saturday's victory over AFC Telford United with a narrow 1-0 win over Guiseley last night. The three points list the Blues to second place in the table, three points behind leaders Gloucester City.

The only goal of the game came as early as the sixth minute as Kevin Roberts headed home at the back post following a Brad Bauress corner from the right. Chester were reduced to ten men in the 68th minute as Simon Grand was shown a straight red card for a foul on Kaine Felix. The club have since announced that they will appeal against the decision. Despite losing a man advantage the Blues defence, with on-loan Conor Taylor making an impressive full debut, held firm.

Chester will look to make it a hat-trick of wins when they travel to Bradford (Park Avenue) on Saturday, kick-off 15.00hrs.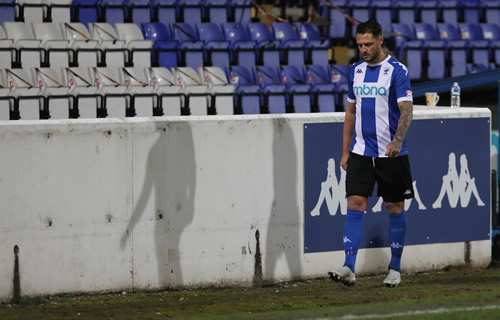 •
League Table after Guiseley win
|
Match Pictures
| Match Highlights (YouTube)
---
2 January 2021

OFF TO A WINNING START

Chester kicked off the new year with a 3-0 home defeat of AFC Telford United, completing the festive double over the Bucks.

The Blues opened the scoring as early as the eighth minute with a first goal for the club by Josh Askew, coolly finishing after being put through by Declan Weeks. The visitors saw plenty of the ball in the opening period and both sides created chances but the Bucks were reduced to ten min in first half stoppage time as defender Lee Vaughan saw red for a challenge on Lee Clark.

Chester made their extra man count after the break and doubled their lead through Weeks on 56 minutes. The points were wrapped up 15 minutes from time as Anthony Dudley scored his fifth goal in as many matches.

Two players reached personal milestones in the match, captain George Glendon made his 50th appearance for the club and Simon Grand his 100th.

Victory lifts Chester to third spot, though they have played more matches than those sides around them. They are back in action on Tuesday night with a home game against 20th placed Guiseley, kick-off 19.45hrs.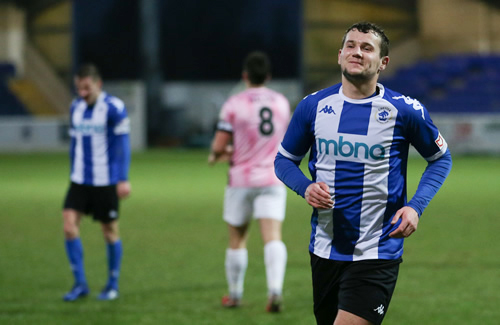 •
League Table after AFC Telford win
| Match Pictures
---