31 May 2006
WRIGHT IN TALKS WITH PLAYERS


City manager Mark Wright will be holding talks withh goalkeeper Wayne Brown shortly. Brown spent the last 12 months on loan at Hereford United where he helped the Bulls return to the Football League via the play-off's. The goalkeeper who has made 289+1 appearances for City still has a year to run on his Deva contract but has also attracted interest from Hereford who would like to sign him on a permanent basis.

Chairman Steve Vaughan said recently: "I spoke to Graham Turner about Wayne. However, the decision is entirely up to Mark Wright. If Mark decides that Wayne figures in his future plans, then that answers the Hereford enquiry. If we decide to release the player we would require a fee for him, it's as black and white as that."
Wright will also be talking to forward Jake Edwards who scores one goal in ten appearances for City whilst on loan from Exeter City at the end of the season.
---
SUPPORTERS TRUST AGM
The Chester City Supporters Trust Annual General Meeting will take place tonight at the United Services Club, Crook Street. The doors open at 19:30 for a 20:00hrs start. The meeting is for members only but lapsed members may re-join prior to the meeting and attend.
---
27 May 2006

VAUGHAN EARMARKS TRAINING SITE
Chairman Steve Vaughan has earmakred a 16-acre site between Chester and Widnes as an ideal area to build training facilities to be shared by both the club and Widnes Vikings. The land is currently privately owned and used as playing fields. Vaughan told the Chester Chronicle: "The site we want is currently being used as playing fields and has a function room, bar and changing facilities. We'd have to upgrade it but the main thing is to identify a price for it and convince the people selling it that it's going to a good cause."
---
26 May 2006

SEASON TICKETS
A reminder that those existing season ticket holders who wish to retain the same seat for next season must renew before 31 May.
•
Ticket prices
---
24 May 2006

TRAINING FACILITIES WANTED

The club have taken the rather unusual step of advertising for training facilities. Both Stewart Drummond and Ben Davies mentioned the facilities at Shrewsbury as a reason for leaving City for the Shropshire side. Drummond said: "The training facilities are superb, whereas sometimes at Chester we didn't know where we were going to be each day." While Davies commented: "I was impressed with Shrewsbury's training facilities. They have a good set up and I think the facilities will bring me on as a player."

Facilities are required for the pre-season build-up and anyone who believes they have suitable premises available should contact the commercial manager Bob Gray on 01244 371376.

---
SIXTH FRIENDLY LINED UP
Chester have arranged their sixth pre-season friendly when they travel to play FA Vase semi-finalists Cammell Laird on Wednesday, 19 July.

• Pre-season schedule
---
23 May 2006

CITY IN TALKS WITH MIDFIELDER

It's reported that Chester are having talks with ex-Liverpool midfielder Ritchie Partridge. Dublin-born Partridge, aged 25, began his career as an trainee at Anfield where he had loan spells at Bristol Rovers 4+2 (1 goal) and Coventry City 27+4 (4 goals) before signing for Sheffield Wednesday in July 2005. He scored 1 goal in 8+12 appearances for the Yorkshire side before being released from Hillsborough last week.

Chairman, Stephen Vaughan told the Daily Post: "We have had talks with the player's agent, and we know that he is keen to return to the North West. Mark Wright knows the player well and we have arranged for further discussions to be held later this week.
Ritchie is one of a number of players we are talking to at the moment, and some of the potential targets are extremely exciting. Our aim is to improve the quality of the playing squad we have at the club."
---
22 May 2006

PRE-SEASON FRIENDLY
Chester have added a home fixture with Chesterfield to their pre-season schedule. The Spireites will visit Deva Stadium on Saturday 22 July. The date is provisional according to Chesterfield.

---
20 May 2006

DAVIES JOINS SHREWSBURY

Ben Davies, who turned down a new contract at Chester last week, has become the third Blues player to join Shrewsbury Town. He follows in the footsteps of fellow midfielder and Player of the Season Stewart Drummond and goalkeeper Chris MacKenzie to the Gay Meadow club. Despite interest from League One clubs Davies has joined the Shrews on a three year contract after passing a medical this morning.

Shrewsbury Boss Gary Peters told their official club website: "We've signed him and it was against severe opposition from other clubs who wanted his signature. Northampton, Bristol City, Port Vale and Yeovil all wanted him and some of them were willing to offer more money. He's been impressed with our training ground, the new stadium, the Sundorne sports village, the Telford dome and all the places that we train at. He's been impressed with the way do things with the DVD analysis for each player, the use of the Focus software to analysis matches and player performances." Davies was encouraged to view the facilities by another former City player Richard Hope who joined Shrewsbury last summer.
Davies later told the Evening Leader (on 23 May) "It was a massive decision and the hardest decision of my career to leave the club. I know my decision to join one of Chester's rivals will upset a lot of people at Chester, but sometimes you have to make tough decisions.
"I received interest from five or six clubs and it took me two weeks to speak to them all before I made a decision. Northampton, Port Vale, Bristol City, Yeovil, Bristol Rovers, and Shrewsbury were all wanting to sign me. In the end I made the decision purely for footballing and family reasons, because Shrewsbury is closer to my family – it's only 25 minutes from where my family lives.
I was impressed with Shrewsbury's training facilities. They have a good set up and I think the facilities will bring me on as a player."


---
CITY RELEASE SIX MORE
With manager Mark Wright preparing a squad for next season the club have released six more players. They are: Ryan Brookfield, Carl Regan, Luke Dimech, Tom Curtis, Abdou El Kholti and Marcus Richardson. Both Sean Hessey and Paul Rutherford have been offered new deals while teenagers Chris Holroyd and James Vaughan will be stepping up to senior level. Chairman Steve Vaughan said: "This is never an easy time for a football club, but I wish all the players who have been released all the best and thank them for their efforts for Chester City."

• Transfer activity
---
WELCOME BACK HEREFORD
Congratulations to Hereford United who won today's Nationwide Conference play-off final against Halifax Town at the Walkers Stadium and return to League Two next season after a nine year absence. The Bulls, who won 3-2 after extra-time, are managed by ex-Chester player Graham Turner and contained on-loan Chester 'keeper Wayne Brown. Two ex-City players Matt Doughty and Ryan Sugden played for Halifax Town.
---
19 May 2006

EXILES PREDICTION COMPETITION
Congratulations to Darren Murray who has won this year's Exiles Prediction Competition by three points. Mark Ephgrave was runner-up with Dominic Clifford taking third prize. The tie break answer was 53 though this wasn't required this year. Details here.
---
18 May 2006

O'HANLON DEPARTS

Coach Kelham O'Hanlon has left Deva Stadium. He arrived from Bury in February and was assistant to manager Mark Wright until the end of the season. O'Hanlon was offered a contract for next season though this remained unsigned.
---
15 May 2006

BARROW RETURNS TO THE DEVA


Chester have appointed the popular former manager and player Graham Barrow as assistant manager to Mark Wright. Barrow is no stranger to City fans having made 293+5 appearances and scored 23 goals in an eight year spell with the club. He went into management at Wigan Athletic but returned to the Deva Stadium hotseat as caretaker manager in October 1992 after the dismissal of Harry McNally.

He took the job on a permanent basis a month later but was unable to prevent the Blues sliding to relegation to the third division. The following year he guided Chester straight back to the second division as they finished runners-up guided Chester to promotion the following season.
Barrow went on to manage Rochdale and Bury and returned to the Deva for another stint as manager in May 2000 during turbulent times under chairman Terry Smith. Times under the American chairman were difficult and he was sacked in June 2001 and replaced by Gordon Hill.
Chairman Steve Vaughan told the Daily Post: "Mark (Wright) needs an assistant and he is looking forward to working with Graham. The two men will complement each other and between them have a wealth of experience. It will be good to see stability on the management side again, with Mark signing his new contract and now assisted by Graham whose knowledge of this division will be beneficial to us."
---
14 May 2006

PRE-SEASON FRIENDLIES

City have announced the first of their pre-season friendlies, check them here.
---
13 May 2006

DEFENDER SIGNS

The Blues have made their second pre-signing with 22-year-old defender Jamie Hand who last played for Northampton Town on loan. Hand began his career as a trainee at Watford in 2001 and has had loan spells at Oxford United, Livingston, Peterborough United, Huddersfield Town and finally Northampton Town.
---
12 May 2006

DUO JOIN SHREWSBURY

Both Stewart Drummond and Chris MacKenzie have rejected new contracts and have signed for League Two rivals Shrewsbury Town.

MacKenzie told the Evening Leader: "My move to Shrewsbury all happened pretty quickly. I was waiting for Chester to get back in touch with me when the phone went and I heard Shrewsbury were interested in signing me. I decided to go and talk to Shrewsbury and was impressed with their set up and with their manager, and also the direction they were wanting to go in. I gave it everything I had when I played for Chester and it was great to play a key role in helping the club survive – I felt I added something to the team and hopefully the fans at Chester appreciated that."


Meanwhile Drummond bemoaned the lack of training facilities at Chester as one reason why he felt it was the right time to move on. He said: "I've got a lot of time for Mark (Wright). He's a good manager and he's going to have to rebuild next season, where I feel Shrewsbury have got everything in place. The training facilities are superb, whereas sometimes at Chester we didn't know where we were going to be each day. I just feel Shrewsbury is the right move for me."
---
11 May 2006

KEEPER SIGNS ON

City have made their first pre-season signing in 22-year-old goalkeeper John Danby from Kidderminster Harriers.
---
10 May 2006

BEN ON HIS WAY


As feared it looks like Ben Davies may not be playing for Chester next season. The midfielder's contract expires at the end of June and it appears he'll reject that in favour of a move to a League One side.

City chairman Steve Vaughan has stated: "I'm not going to stand in Ben's way if he wants to further his career at a League One club. Apparently the player has had offers from Yeovil, Northampton and Bristol City. We would love to see Ben sign on for another two years with us, but in this age of freedom of contract, it looks like he will move on."

The 24 year old midfielder joined City four years ago from Kidderminster Harriers and has gone on to make 147+27 appearances for the Blues scoring 17 goals in the process.


---
ON THE BORDERLINE UPDATES

Update pages covering the 2005/06 first team, youth team, and reserve team stats for On the Borderline have been produced by the author Chas Sumner. They can be downloaded from here.
---
9 May 2006

FIVE RELEASED BY CITY


Defender Scott McNiven is among five players not retainined by manager Mark Wright for next season.

McNiven, who signed from Mansfield Town last summer made 46+1 appearances for City last season. Also released are goalkeeper Paul Harrison who made 4+0 appearances, Craig Dove 3+4, Justin Walker 18+8 and Paul Tait 3+6.

There will no doubt be further developments as Wright talks to other players in the squad.

Both midfielder Ben Davies, and goalkeeper Chris Mackenzie have both been offered new deals and the club are awaiting their responses.

Manager Mark Wright said: "Yesterday was a difficult day – it's never easy telling players that they have been released. It is always hard to try and tell players that they are no longer needed but it had to be done and there were several big decisions to be made. The news was difficult for the five players to take, but I thanked them all for their efforts and wished them well for the future."


---
7 May 2006

SEASON ENDS IN ANTI-CLIMAX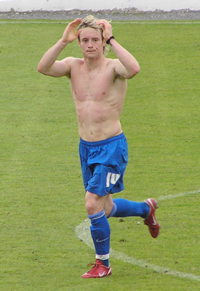 There was a disappointing end of season anti-climax at Deva Stadium on Saturday. No pre-match Player of the Season presentations (or even announcements!), a lacklustre performance from the Blues, and no post match appearance from the players to meet the fans who's stayed behind to greet them.
The Player of the Season award was actually won by Stewart Drummond who has now departed the club, he beat fellow midfielder Ben Davies into second place.
One player who did remain on the pitch to acknowledge the fans at the end was Davies, was that to be his last appearance in a City shirt? He, along with goalkeeper Chris MacKenzie have yet to sign contracts offered to them for next season.

Kelvin Langmead headed the only goal of the game after nine minutes and that was enough to take all three points back to Gay Meadow. The Blues created little but had to great opportunities to equalise after the break with Ben Davies and Gregg Blundell both missing one-on-one chances with Shrews 'keeper Joe Hart.

Despite the defeat City actually rose a place to finish 15th, overtaking Mansfield Town whose heavy home defeat by Cheltenham Town dropped them below the Blues on goal difference.

• Final League Two table
---
PLAY-OFF's

Congratulations to Carlisle United, Northampton Town and Leyton Orient all promoted to League One next season. They will be joined by one of the following: Lincoln City, Grimsby Town, Cheltenham Town or Wycombe wanderers who contest next weeks play-off's.

Saturday, 13 May 2006
Lincoln City v Grimsby Town, 12:05
Wycombe Wanderers v Cheltenham Town, 18:05
Tuesday, 16 May 2006
Grimsby Town v Lincoln City, 19:45
Thursday, 18 May 2006
Cheltenham Town v Wycombe Wanderers, 19:45
Sunday, 28 May 2006
Play-off final, Millennium Stadium 15:00
Commiserations to Rushden & Diamonds and Oxford United both relegated to the Nationwide Conference.

City will be joined next season in League Two by Walsall, Swindon Town, Hartlepool United and Milton Keynes Dons all relegated from League One. Accrington Stanley will also be visiting Deva Stadium as Conference champions. Hereford United, Morecambe, Grays Athletic and Halifax Town will contest the Conference play-off's to join Stanley.
---
5 May 2006

BLUES LOOKING TO END IN STYLE

The season comes to an end tomorrow as Shrewsbury Town visit Deva Stadium for an all-ticket encounter, kick-off 15;00. With City clear of the relegation zone and the Shrews seven points off the play-off zone there's nothing at stake except local pride.

Once again the Blues will be without injured duo David Artell and Scott McNiven, while Stewart Drummond, who turned down a new contract this week is doubtful. The Shrews have doubts over both Glynn Hurst and Colin McMenamin.

The sides last met at Gay Meadow in October with the home side running out 3-1 winners, Ryan Lowe was on the scoresheet for City against his former club on that occasion.
---
WRIGHT SIGNS ON

Manager Mark Wright has now signed the two year contract offered to him by Steve Vaughan.
---
CALL UP FOR DEREK

Congratulations to striker Derek Asamoah whose recent tremendous run of form has earned him an international call-up. Asamoah, on loan from Lincoln City until the end of the season, has been selected to join the Ghana squad for their friendly match against Nice next Tuesday 9 May. After that Coach Ratomir Dujkovic is expected to name his 23 man World Cup squad on 15 May.

Ghana have an injury crisis and are unsure over the availability of German-based forwards Matthew Amoah and Isaac Boakye, both of whom are fighting against injury. Also called up is another ex-City loan striker Junior Agogo, now at Bristol Rovers.

Ghana will play Italy, USA and the Czech Republic in the group stages.

Picture © Evening Leader
---
4 May 2006

WRIGHT AGREES DEAL


Chairman Steve Vaughan announced at last night's Fans Forum that manager Mark Wright has accepted the two-year deal and financial package and is expected to sign soon.


Vaughan said: "I am pleased that we have come to an agreement with Mark. He has agreed a financial package and, more importantly, it gives the club the stability that we have been looking for."

Meanwhile Wright has missed out on the April Manager of the Month award. Wright, along with Leyton Orient's Martin Ling and Northampton Town's Colin Calderwood were nominated but it was Torquay United manager Ian Atkins who scooped the award.


---
ADMISSION PRICE INCREASE

The club have announced matchday admission and season ticket prices for next season. There are increases of £2.00 a match for adults and concessions but Under 16 prices remain the same.
---
3 May 2006

DRUMMOND REFUSES CONTRACT


Midfielder Stewart Drummond has played his last game for City. Drummond, who has captained the side since the return of Mark Wright, has refused to sign a new contract offered to him and will depart Deva Stadium shortly. Drummond joined the Blues from Morecambe in May 2004 and has played 94+4 games for City scoring 13 goals. Drummond is expected to join another League Two outfit, believed to be Shrewsbury Town.

Chairman Steve Vaughan said: "It is naturally disappointing as we had offered Stewart what we considered to be an excellent deal, it would have made him the highest paid player at the club. All we can do is to thank Stewart for his efforts, during the time he was with Chester City and wish him well for the future."

Both Chris MacKenzie and Ben Davies have also been offered new contracts for next season but have yet to put pen to paper.


---
1 May 2006

FANS FORUM

City supporters are invited to attend a Fans Forum at Deva Stadium on Wednesday night. In attendance will be chairman Steve Vaughan and director Paul Baker. The evening will take place in the Blues Bar social club at will start at 19:00hrs. The ticket office will also be open for those who wish to purchase tickets for Saturday's final home game of the season against Shrewsbury Town.
---