---
Saturday 25 November
Chester 0 Dagenham & Redbridge 4
Football Conference National
Attendance: 1,638 Half Time: 0-0
Booked: -.

Chester: Lynch, Halls, McCombe, Rowe-Turner, James, Gough, Dawson, Rainey (Slew 67), Akintunde, Hannah, Bell (Astles 64). Subs not used: Vaughan, Turnbull, Anderson.
Dagenham & Redbridge: Cousins, Doe, Robson, Howell, Ferrier (Kandi 85), Boucaud, Lokko, Ling, Cheek, Whitely (Sparkes 73), Howells. Subs not used: Moore, Adams, Bloomfield.
Referee: Daniel Middleton.
The Blues were applauded off the pitch at half time but booed off by the final whistle as they crumbled before a second half offensive from the Daggers. In a hard fought first half of few chances Chester more than held their own. As the game drew on they had extended periods of possession and pressure without severely testing Cousins in the visitors' goal. Akintunde had the best of City's efforts as his shot from distance was parried by the keeper. Earlier he had roused the crowd with a great run that beat two but not quite the third defender on the edge of the penalty area. The Blues were egged on by a shrill chorus of several junior football teams who chanted from their seats in the South Stand and then paraded around the pitch at the interval in front of the TV cameras, here to relay the match live on BT Sport.

As the second half began Dagenham seemed to raise their game. Chester began coming forward twice but on both occasions the Daggers counter-attacked dangerously. The game appeared to have become more open. Morgan Ferrier then began to torment the Blues' defence. First he latched on to a quickly taken free kick and weaved his way into the box and coaxed a rash challenge from Dawson. A cast iron penalty. Corey Whitely lined up the spot kick, sent Lynch the wrong way and the ball well wide of the post. It was a huge miss and a huge let-off, greeted by howls of relief from the Blues' supporters.

But the miss seemed to galvanise Dagenham all the more. Within a minute they had the ball in the net. Ferrier bamboozled Halls and crossed to the far post where Ling stole in on the blind side of Gough to notch the opening goal.

City tried to respond with sporadic attacking play from Hannah, working hard, then Akintunde but could make little impression. In a desperate move, Astles was thrown in to the fray, replacing an out-of-sorts Bell up front. Jordan Slew then replaced fellow home debutant Rainey on the right wing. Despite winning a few headers Astles could not make the desired impact on goal and a couple of moves broke down when Slew misread intended passes. It was becoming an increasingly disjointed performance from the Blues and with a quarter of an hour to go the Daggers added to their woes by scoring a second.

Once again Ferrier won possession and cut in to shoot from the right this time. Lynch's parried clearance was picked up on the left by Sparkes who sent in a low cross which was swiftly dispatched by Howell as we waltzed past statuesque defenders. The tin hat was put on the debacle by Michael Cheek who took advantage of a mix up between Lynch and Halls to stroke the ball into an empty net and then added the coup de grace with a half volley from a lofted through ball.

Marcus Bignot observed that City were mentally and physically tired by the end. An exhausting journey back from Leyton Orient in midweek – they did not get back until 8.30am – had sapped their resilience. He was true to his previous promise and got the players to mingle in the Blues Bar after the game but by then most of the supporters had drifted home to salvage what they could from the weekend. A free Saturday next week will at least afford time for wounds to heal and belief to be re-kindled.
•
Latest table
Rate Chester's performance
---
Tuesday 21 November
Leyton Orient 2 Chester 2
Football Conference National
Attendance: 3,352 (173 Chester) Half Time: 1-2
Booked: Bell, James.

Leyton Orient: Sargeant, Caprice, Widdowson, Lawless (Westbrooke 46), Sendles-White, McAnuff, Bonne, Clay (Harrold 46), Happe, Brophy, Dayton. Subs not used: Brill, Mooney, Ellis.
Chester: Lynch, Halls, McCombe, Rowe-Turner (Anderson 76), Rainey (Slew 80), Gough, James, Dawson, Akintunde, Hannah, Bell. Subs not used: Vaughan, Jones, Marsh-Hughes.
Referee: Alan Dale.

Chester were back in the capital just three days after their last visit and with a threadbare squad that saw them start with a bench of youth players and loanees. Although it seemed too early in the season to be talking about "six pointers" it was the definite theme of the pre-match banter in the nearby Leyton Technical.
Orient started strongly and, after a series of corners, went ahead on the sixth minute thanks to a header from leading scorer Macauley Bonne which looped over Alex Lynch and into the net.
But the noisy contingent of 173 Chester fans soon had something to cheer when a James Akintunde shot was flagged for a goal by the linesman. After a brief pause, the referee agreed the ball had crossed the line and it was back to 'honours even'.
This rankled the home crowd who barracked the officials for much of the game from that point. The Os almost went ahead again, but Lynch made a good save from a James Dayton strike and a header from another corner whistled just over the bar.
But it was Chester who found the target again after a perfect Ross Hannah freekick on the 40th minute went round the wall and found the net from 25 yards out.
It was almost 3-1 to Chester soon after when Nyal Bell was bought down when he was clear in the box with an open net in front of him. Orient defender Jamie Sendless-White was sent off for the tackle, but Os goalkeeper Sam Sergeant guessed the direction of Hannah's spot-kick to keep the score at 2-1.
The first-half drama wasn't over as Orient's caretaker manager Ross Embleton was sent to the stands for expressing his frustration to the officials. Meanwhile, the Os fans continued to vent their spleen on Chester manager Marcus Bignot. Their tempers were even more frayed when Orient found the back of the net, only for it to be disallowed for an earlier foul.
The second half at blustery Brisbane Road was by nowhere as near eventful, with Chester fans just hoping their side could hold on. It was fair to say that you couldn't tell they were playing against team of only 10 opponents. So it was no surprise when Jobi McAnuff found enough space 30 yards out to rifle the ball home past Lynch.
Lively Jordan Gough had a couple of chances towards the end of the game, but it eventually became a matter of Chester hanging on for another away point.
There were mixed feelings from the Blues fans as they left the ground at full-time, but it was hard to deny that they'd seen a passionate performance from their side and there were more positive than negative signs.
Sue Choularton

• Latest table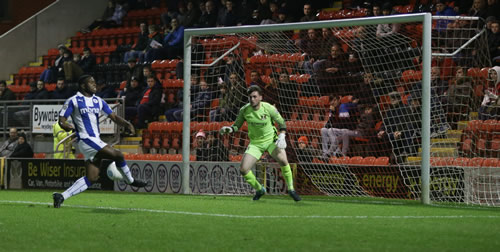 Picture © Rick Matthews (Chester Leader)
Rate Chester's performance
---
Saturday 18 November
Bromley 1 Chester 1
Football Conference National
Attendance: 1,129 (125 Chester) Half Time: 1-1
Booked: Gough, Halls, Turnbull.

Bromley: Gregory, Dunne (Rees 73), Holland, Raymond, Dennis, Mekki (Allen 56), Johnson, Sterling, Wanadio, Porter (Adekinya 65). Subs not used: Allen, Wynter, Higgs.
Chester: Lynch, Halls, Rowe-Turner, James, McCombe, Gough, Turnbull, Dawson, Akintunde, White (Bell 65), Hannah. Subs not used: Vaughan, Joyce, Rainey, Anderson.
Referee: Gary Parsons.

A cold and drizzly day in South East London was brightened up for the 125 travelling Chester fans by a fantastic 14th minute goal from striker Ross Hannah.
It was a great move, made by a Lucas Dawson pass, and followed by Hannah jinking in the box and hitting an upstoppable shot underneath goalkeeper David Gregory.
The goal came not long after many of the Blues fans had moved from the windswept open terrace to a small covered area behind the goalmouth, which was opened up after kick-off. The strike was in their end, and it was great to see Hannah coming across to celebrate his first goal since September.
But the crowd at Hayes Lane had barely drawn breath before it was back to 1-1 after Chester needlessly gave the ball away. Bromley jumped at the chance and although Alex Lynch parried a Luke Wandio shot, the rebound came to Louis Dennis who had an easy job to find the net.
Both sides had chances in the rest of the half, as the rain continued to make it a miserable day for football. The second half saw the hosts have the most of the early play, with shots being stopped on the line by Paul Turnbull and Hannah.
There was a chance at the other end for Hannah, who hit the post. Substitute Nyal Bell also came close, while there were more squandered opportunities for Bromley in this entertaining encounter.
When full-time came, there was an element of relief that Chester had held on to earn what could have been a vital point. But on another day they could have been boarding the coach for the long trip home with three points in the bag.
•
Latest table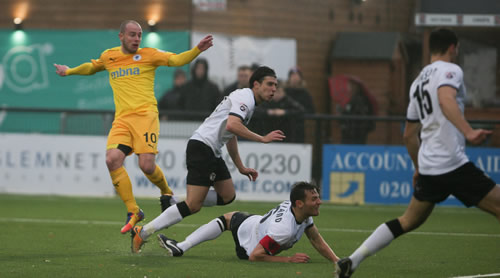 Rate Chester's performance
---
Wednesday 8 November
Chester 0 Wrexham 1
Football Conference National
Attendance: 4,079 (1,200 Wrexham) Half Time: 0-1
Booked: Archer.

Chester: Lynch, Halls, Rowe-Turner, Astles, Hall-Johnson (Turnbull 26), Gough, James (Zanzala 88), Dawson, Akintunde (White 82), Hannah, Archer. Subs not used: Vaughan, Bell.
Wrexham: Dunn, Jennings (Carrington 54), Smith, Pearson, Wedgbury, Kelly (Mackreth 73), Wright, Roberts, Massanka (Boden 66), Holroyd, Rutherford. Subs not used: Dibble, Reid.
Referee: Thomas Bramall.

Chester will count themselves unlucky not to come away with at least a point from the derby match that is settled with a goal just before half-time. Manager Marcus Bignot made one change to the side that battled back for a draw at Eastleigh on Saturday, recalling Alex Lynch in goal following injury.

There was a lively start to the game with Jordan Archer running onto a fine Andy Halls through pass, he chipped the ball over the advancing Chris Dunn but Manny Smith was on hand to clear the ball away from the line in the opening five minutes.
Full back Jordan Gough then saw a great chance go begging as he headed wide from a pinpoint Lucas Dawson cross as Chester pressed for the opening goal.

At the other end former Chester player Chris Holroyd shot wide from a narrow angle after getting the better of Ryan Astles. Wrexham had the ball in the net on 20 minutes as Sam Wedgbury shot past Lynch but referee Thomas Bramall had already blown his whistle for a foul.
Archer sent a flying header inches wide from Ross Hannah's excellent delivery before the Blues looked to be denied a clear penalty as Holroyd appeared to handle Lathanial Rose-Turner's flick header in the penalty area.
As the game entered first-half stoppage time Wrexham struck the decisive goal. A foul by Hannah saw the visitors awarded a free-kick 30 yards out. Marcus Kelly swung over a cross and captain Shaun Pearson rose above Astles to steer a header into the corner of the net past Lynch.
Wrexham started the second half strong with Lynch saving from Akil Wright but Chester began to get a hold in midfield. On 60 minutes Dawson picked up a Hannah pass and saw a great effort cannon back from the foot of the post before being cleared by the Dragon's defence.

Moments later James Akintunde wriggled free and unleashed a dipping shot from 25 yards that hit the crossbar and bounced over. There were further appeals for a penalty on 70 minutes as Rowe-Turner was bundled to the ground following a dangerous inswinging Dawson corner.
Lynch saved a Pearson header on 77 minutes as Wrexham responded before Chester missed a great chance to equalise as substitute Harry White headed over from six yards having just come on to replace Akintunde. The final half-chance of the night fell to Astles who met Paul Turnbull's pass but was unable to steer the ball home from 12 yards out.

• Latest table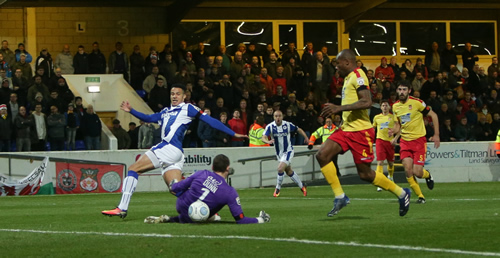 Picture © Rick Matthews (Chester Leader)
Rate Chester's performance
---
Saturday 4 November
Eastleigh 2 Chester 2
Football Conference National
Attendance: 1,868 (138 Chester) Half Time: 1-0
Booked: Dawson, Hall-Johnson.

Eastleigh: Flitney, Hoyte, Obileye (Strevens 71), Yeates, Constable, Hollands, Boyce, Miley, Ben Williamson (McAllister 74), Howe, McSheffrey (Matthews 78). Subs not used: Zebroski, Dennet.
Chester: Mitchell, Halls, Astles, Rowe-Turner, Gough, Hall-Johnson, Dawson, James, Hannah (Bell 83), Akintunde (Joyce 90), Archer. Subs not used: Vaughan, Davies, White.
Referee: Savvas Yianni.

On the eve of Bonfire Night it was Chester who scored a couple of second half firecrackers to enable them to share the spoils of this rearranged fixture.
But that finish seemed unlikely from the outset as the visitors were caught napping inside the first two minutes, when they failed to clear the ball and gave Ben Williamson just enough room to put the hosts ahead with a good strike.
The closest Chester came to scoring in the first half was when Kingsley James had a glorious opportunity just before the break after a great cross by Lathaniel Rowe-Turner. But he somehow hit his shot wide, leaving the 138 travelling fans open-mouthed.
Only eight minutes had gone in the second half when much-travelled Gary McSheffrey – once the youngest player in the Premier League – put Eastleigh two-nil up with a near post header.
Chester didn't let their heads drop at this stage though, and a great cross back from James enabled James Akintunde to put an unstoppable strike into the roof of the net on the 60th minute.
The Blues continued their fightback and there were chances for Lucas Dawson and substitute Nyal Bell. But it was Ryan Astles who netted the equaliser on the 89th minute when his header from a corner went past goalkeeper Ross Flitney to ensure the Chester fans left the Silverlake Stadium with more of a smile on their faces than they did after last month's original fixture was postponed.
Sue Choularton

• Latest table
Rate Chester's performance
---