30 November 2002
RESERVES WIN
Goals by Adam Kelly and Steve Brodie gave the reserves a 2-1 victory at Marine last night.
---
28 November 2002
CUP TICKETS ON SALE
Tickets for City's FA Cup second round tie at Morecambe on Saturday 7 December go on general sale today from 14:00 to 19:00hrs with a limit of two tickets per person.

Prices are as follows – Stand (158 tickets available): £10.00 adults, £7.00 seniors, and £5.00 juniors.
Terrace (980 tickets available): £9.00 adults, £6.00 seniors, and £4.00 juniors.
---
BLACKBURN OUT
Midfielder Chris Blackburn is out of action for up to six weeks with a knee injury. He received a cartilage injury in training last week and will now have to undergo an operation. Manager Mark Wright said: "Chris Blackburn has a cartilage tear after going over on his leg in training, and heís now likely to be out for between six and eight weeks which is disappointing."
---
KELLY IN?
Jimmy Kelly, sidelined for five weeks through injury, has come through a training session and may be in line for a recall at Southport on Saturday. "We are very pleased with the way Jimmy has progressed. He has worked extremely hard to get back to fitness following the operation and he looks now like he is back to his old sharpness." said Wright. "If Jimmy can come through 30 or 45 minutes in the reserves match (at Marine on Friday) then I'll definitely include him as a substitute. It's obviously a major plus to have Jimmy available for us again became is a very influential midfielder." added Wright.
---
25 November 2002
WRIGHT PLEASED WITH PERFORMANCE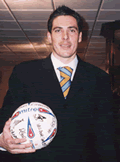 Not surprisingly manager Mark Wright has praised the whole team for Saturday's 5-0 thrashing of Margate. Daryl Clare's hat-trick took his goal tally to six in four games and he's immediately showing the form that persuaded City to pay £25,000 for his services. Wright said of Saturday's man-of-the-match: "If anyone gives Daryl Clare half a sniff he'll hit the target and his shots will end up in the back of the net. I was very pleased with what Daryl did – not only in scoring goals, but in his link up play. He is strong and he does do the right things, and by his own admission he still doesn't feel he's quite match-fit yet, so God knows what's still to come from the boy." Wright also took time to praise Shaun Carey, who laid-on two of the goals, and Ben Davies in midfield, one of whom may have to make way when Jimmy Kelly returns from injury.
Clare, pictured with the signed match ball, was delighted with his performance: "I said to myself that if I got 15-plus goals from the amount of games left I'd be delighted with that. Last week's 1-0 cup win against Colchester was an impressive performance, and we've managed to build on that. We've now got eight clean sheets away from home, and the main aim now is keeping clean sheets at home as well. The most important thing for us is to stay at the top with the bunch of leading clubs. It doesn't matter if you're first or second up until March when the battle really starts. So it's fine to be in the top two or three for now."
City now face three away matches on the trot against Southport, Morecambe in the FA Cup and Leigh RMI and will be looking to keep that impressive away run going. Southport, who include ex-City striker Steve Whitehall in their ranks, currently lie fourth in the Conference just four points behind City with a home record of: P10, W5, D4, L1, F18 A9. the only defeat was on Saturday at the hands of table toppers Yeovil Town.
---
23 November 200
CITY LOOKING FOR THE DOUBLE

Manager Mark Wright has no fresh injury worries ahead of today's home Conference match with Margate. Ryan Sugden, City's leading scorer, will be hoping to replace Chris Tate up front from the team that won last Saturday. Wright has outlined his intentions to look for a target man for new signing Daryl Clare to play off. "I've said before that Ryan Sugden is not the finished article," said Wright. "He's quick and he's done well but he's still got a lot to learn. I'm now looking for Ryan to respond in the right way. I don't want sulkers at this club so I'll be looking for a good reaction on the training ground. I've explained to Ryan that with Daryl Clare now playing for us we need a target man for Daryl to feed off". Dave Cameron was brought in to fill the role in the summer but hasn't impressed the manager. Mark Beesley is available again after injury and will compete with Sugden for a place as the Blues look to win their first home match for two months.City's opponents Margate lie in 16th place with 21 points from 18 games and will be buoyed following their 1-1 draw at Leyton Orient in the FA Cup last week, ex-City player John Keister scoring a spectacular equaliser for The Gate, who will be without dangerous striker Leon Braithwaite currently sidelined with a broken jaw. The side's last met in early October when Dave Cameron's late goal gave City three points.
---
21 November 2002
FA CUP TICKET DETAILS

City fans will need tickets for the forthcoming FA Cup second round match at Morecambe. Chester City have been allocated the Umbro Stand, 980 standing spaces and also the wing section of Block A of the Main Stand, 158 spaces. Total spaces 1,138. Admission for Chester City supporters is by pre purchased ticket, (available only from Chester City) and will be through turnstiles 12, 13, & 14, at the Lancaster end of the ground.

There will be NO cash admission to Chester City supporters on the day, It is however, fully expected that Chester City will sell their allocation of 1,138 tickets. Ticket sale details are expected to be announced early next week.
---
20 November 2002
TATE SCORES DOUBLE FOR ORIENT
Chris Tate scored twice for Leyton Orient reserves in a 3-2 win at Sixfields against Northampton Town reserves this afternoon. City are keen to extend Tateís loan for another month but the London club want City to take him on permanently. ďItís a very difficult situation, but weíre keen to keep him at Chester. Chris Tate is bubbly, enthusiastic, and heís just what we want, but there isnít a lot we can do. Our chairman, Stephen Vaughan, is talking to their chairman today, and itís all up in the air.Ē said manager Mark Wright. It appears that Tate's double has earned him a possible chance off making the Orient squad for Saturday's game against Hartlepool United.
---
NEW ROLE FOR SPINK
Telford United's Dean Spink has departed the Nationwide Conference club to take up the player/assistant-manager's job at UniBond League First Division side Kidsgrove Athletic. The 34-year-old became assistant-manager at the Deva Stadium during the reign of the infamous Terry Smith. Spink made four starts for Telford in the Conference this season and joins his former Cestrian team-mate Andy Porter at Clough Hall.

Telford manager Jake King told the Shropshire Star newspaper. "I am very disappointed because Dean has been absolutely magnificent for us. He has been very patient in waiting for his chance and when it came along a few games ago, he did not let anybody down. I know he has been waiting for his chance to go into coaching and this was too good a chance for him to turn down, and he leaves the club with our best wishes."
---
ENGLAND CALL FOR RYAN
Ryan Sugden made his England National Game X1 debut this afternoon after being picked in the starting line-up to play against an Italy side drawn from players in 'Serie C'. The side selected for the game is as follows:
1. Matt Baker – Hereford United
2. Adam Lockwood – Yeovil Town
3. Michael Rose – Hereford United
4. Lee Johnson (Captain) – Yeovil Town
5. Jonathon Boardman – Woking
6. Warren Peyton – Nuneaton Borough
7. John Kennedy – Canvey Island
8. Wayne Purser – Barnet
9. Garry Thompson – Morecambe
10. Ryan Sugden – Chester City
11. Aaron Webster – Burton Albion
Subs from:
12. Dale Anderson – Burton Albion
13. Chris Weale – Yeovil Town
14. Martyn Lancaster – Chester City
15. Chris Blackburn – Chester City
16. Darren Way – Yeovil Town
The England National Game XI (formerly the England Semi Pro XI) this afternoon took on an Italy side drawn from players in 'Serie C', in the Stadio Giovanni Zini in Cremona.
After a tough first half, the young Italians from clubs in Serie C1 and Serie C2 had given Steve Avory's young England National Game XI a footballing lesson, going into the half-time break 3-0 to the good.
The second-half saw an England fightback, with goals from Canvey Island's debutant John Kennedy, following up a Sugden shot spilled by the keeper, and Woking defender Jon Boardman inspiring the Three Lions to a rousing finale.
Unfortunately, a disallowed goal, and another effort that hit the woodwork meant that at the final whistle, Steve Avory's side walked off the pitch in front of the 1,500 supporters with the scoreline: Italy 3-2 England National Game XI.
Both Martyn Lancaster and Chris Blackburn made second half appearances from the bench.
---
EXILES SOCIAL NIGHT
The Exiles will be meeting next at the Knight's Templar, Chancery Lane, London WC2 this Thursday night. All City fans are welcome to join us. We'll be meeting in the upstairs area from 19:00hrs.
---
18 November 2002
WRIGHT PRAISES CUP HERO

City manager Mark Wright was full of praise for Saturday's goal scorer Chris Tate who is currently on a loan spell at the club from Leyton Orient. Tate's goal and all-round battling performance on Saturday helped the Blues to a 1-0 win at Colchester United in the FA Cup.
Manager Wright told the local press: "Chris holds the ball up, touches balls on, he has the know-how, but he's good in the dressing room as well. He's a bubbly character, gets hold of people, and relaxes them. I've got a lot of time for Chris Tate because it's always nice to have a big striker up front who can spring, and if we throw balls in he's going to get on the end of them. He finished his goal ever so well after being unlucky beforehand – the Colchester keeper made three or four good saves throughout the game, compared to our keeper who had one shot bounce off him. Colchester threw a lot of balls into our box, but our defenders did exceptionally well again."
City's financial reward for the win on Saturday was £20,000 which goes a long way to the squad rebuilding that's been taking place over recent weeks. "We all know as a club we're continuing to step in the right direction, so we're pleased with the way we're going, and now we'll obviously get another cash reward which will pay for Daryl Clare. It's good business, because when you think about it we've now got Daryl Clare for nothing if you look at the money we've won from the cup so far."
The Blues now have to travel to Christie Park in round two when they will face another high-riding Conference side Morecambe, themselves giant-killers on Saturday with a 2-1 win at Chesterfield. "Morecambe are a good side at home, but we're playing better away than at home and we think we've got a good chance, said Wright." On the draw Morecambe manager Jimmy Harvey said: "I would have thought none of the Conference clubs would have wanted to have been drawn against one another. I wouldn't have chosen that, but I will say we are delighted we have got a home draw."
---
17 November 2002
FA CUP DRAW

Following yesterday's FA Cup win at Colchester, City have been given another tough draw away at Morecambe on Saturday 7 December in the second round.

The second round draw in full:
Morecambe v Chester City
Shrewsbury Town v Barrow
Harrogate Railway v Bristol City
Darlington v Stevenage Borough
Oldham Athletic or Burton Albion v Cheltenham Town
Macclesfield Town v Vauxhall Motors or Queens Park Rangers
Scarborough or Cambridge United v Northampton Town
Forest Green Rovers or Exeter City v Kidderminster Harriers or Rushden & Diamonds
Southport v Farnborough Town
Tiverton Town or Crawley Town v Dagenham & Redbridge
Bristol Rovers or Runcorn v Rochdale
Wigan Athletic v Luton Town
Stockport County v Plymouth Argyle
Southend United or Hartlepool United v Bournemouth
Oxford United v Swindon Town
York City or Swansea City v Brentford
Leyton Orient or Margate v Tranmere Rovers or Cardiff City
Scunthorpe United v Carlisle United
Blackpool v Torquay United
Crewe Alexandra v Mansfield Town
---
15 November 2002
BLUES IN CUP ACTION

City's players are back in FA Cup action tomorrow when they take on second division Colchester United at Layer Road. Michael Twiss is doubtful with an injured calf but apart from Jimmy Kelly there are no other injury worries. The winners of the tie with scoop an impressive £20,000 in prize money.

Despite the two division gap manager Mark Wright, who has played in two FA Cup finals in his day, said the players will go into the game full of confidence: ďAll the players have worked hard in training and weíve done nothing differently. We know that if we just play football and if all the players perform, weíll do well. Colchester is an away game and wonít be any different from any of our league games because all our Conference matches are hard games. Iím confident weíll do well because weíve only conceded one goal in our last nine away games, and that was a penalty. Weíve done unbelievably well. Lower league clubs always dream of doing well in the cup, and weíll be aiming to enjoy ourselves, generate money for the club, and give it a really good go."

The last visit to Layer Road resulted in a 2-0 defeat on 19 December 1997. Back at the Deva tomorrow, City will be hosting the FA Cup first round game between Vauxhall Motors and Queens Park Rangers (15:00hrs).
---
CAMERON ON LOAN
The club have announced that striker Dave Cameron is to join UniBond League club Droylsden on a month's loan.
---
12 November 2002
CHESHIRE CUP DISMISSAL

Chester have been kicked out of this seasons FA Cheshire Senior Cup, and fined £30, for fielding an ineligible player, Chris Tate, in last weeks quarter final win at Stockport County. Tate indeed scored the goal of the game.

The mix-up appears to have taken place during the time former secretary Michael Beech was suspended from the club. If there is a chance of appeal then City will take it. Manager Mark Wright isnít a happy man over the decision: ďWe won the game fair and square, we rang up Stockport, who didnít report us to the Cheshire FA, and even their manager Carlton Palmer said we should go through. What I canít understand is that you can play on-loan players in the league, the League Cup, the FA Cup, the LDV Vans Trophy but not the Cheshire FA Senior Cup.

The Blues now miss out on a home semi-final against Northwich Victoria.
---
ANDY PORTER
Former midfielder Andy Porter has taken over as a joint caretaker manager at Kidsgrove Athletic following the sacking of another ex-City player David Nolan. Porter will share the temporary role with coach Terry Hillman.
---
LANCASTER AT LINCOLN CITY

Defender Martyn Lancaster has gone on a weeks trial at third division club Lincoln City.

"Martyn is spending three days on trial at Sincil Bank and we're all hoping he can do well because they're a Football League club. Lincoln know all about Martyn Lancaster – he's not playing week in and week out for our first team at the moment, and we think the decision of a trial at Lincoln is right for Martyn and for Chester.

Martyn's contract is up at the end of the season, but if Lincoln City come up with an offer for him after the trial then we'll try and strike a deal for the player.

There are other players who I'm looking to send out to other clubs on loan deals and on a permanent basis, but nothing is happening at the moment." said manager Mark Wright.
---
EXILES PREDICTION COMPETITION
For those who entered this year's competition, the first of the weekly updates is now available on the Exiles pages.
---
11 November 2002
CITY LIVE ON SKY
City's home match against Barnet at The Deva on Saturday 18 January 2003 will be broadcast live on Sky Sports with the kick-off moved back to 18:00hrs.
---
WIN FOR YOUTH TEAM
Chester's youth team followed up last weeks fine 3-0 win at Doncaster Rovers with a 2-0 home victory over Shrewsbury Town on Saturday. Goals by Dean Buckley and Adam Kelly lifted the Blues into 6th place with ten points from nine games, twelve points behind leaders Mansfield Town.
---
CUP WIN FOR LADIES
Goals by Clare Reynolds and Cally Reid gave the Chester City Ladies a 2-0 FA Cup second round victory over Huddersfield Town yesterday. The girls travel to play Liverpool now in the third round on Sunday 8 December.
---
ISA MEETING
Neil Turner and Charlie Lambert are confirmed as the guest speakers at the next ISA members meeting. This will take place at Deva Stadium on Monday 25 November at 19:45hrs.
---
8 November 2002
LAST NIGHT'S MEETING
Many thanks to Supporters Trust chairman Graham Ross for providing the following information regarding last night's open meeting. Read Graham's report here.
---
TEAM NEWS FOR TOMORROW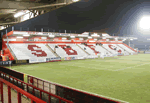 City travel to Broadhall Way tomorrow looking for their first league win since the 1-0 victory at Margate a month ago.
Manager Mark Wright adds Wayne Hatswell and Kevin McIntyre to the squad, both are back following suspension. Apart from midfielder Jimmy Kelly, who is recovering well at Lilleshall from his knee operation, City appear to have no other injury worries.
Stevenage currently lie third from bottom of the Conference with just one home victory all season. Borough are expected to have central defender Gary McDonald playing, he joined the club yesterday from second division Peterborough United on loan.
They have injury problems though with Simon Wormull and Matt Fisher missing. Jamie Campbell is suspended and Charlie McDonald and Jason Goodliffe are also ruled out through injury.
The last time the teams met was in April when a hat-trick from Stuart Whittaker and further goals from David Brown and Carl Ruffer helped City to a 5-1 home victory.
---
INTERNATIONAL CALL-UPS
Congratulations to Ryan Sugden, Chris Blackburn and Martyn Lancaster who have all been called up to the England National Game X1 u-23 squad who will play a Serie C representative side at Stadio Giovanni Zini in Cremona on 20 November.

The squad in full:
Goalkeepers: Matt Baker (Hereford United), Chris Weale (Yeovil Town).
Defenders: Adam Lockwood (Yeovil Town), Jonathon Boardman (Woking), Michael Rose (Hereford United), Martyn Lancaster (Chester City), John Kennedy (Canvey Island).
Midfielders: Lee Johnson (Yeovil Town), Darren Way (Yeovil Town), Warren Peyton (Nuneaton Borough), Chris Blackburn (Chester City), Gary Thompson (Morecambe).
Forwards: Aaron Webster (Burton Albion), Dale Anderson (Burton Albion), Ryan Sugden (Chester City), Wayne Purser (Barnet).
---
7 November 2002
VAUGHAN DISCUSSES PLANS
Chairman Steve Vaughan will attend an open meeting at Deva Stadium tonight to answer questions concerning his tabled bid for Tranmere Rovers. Vaughan, clearly unhappy that the news was leaked to the press at the weekend said: "Why should other people see my plans when other bidders have kept quiet about their proposals? At the end of the day Iíll go along to tonightís meeting at Chester and answer any question thrown at me, but it wonít be an interrogation. Iíll be the only person on the top table answering questions, but Iím expecting my business executives, Lee Maloney and Dave Burford, to also be present. People who turn up will hear about my commitment to Chester and to my company.Ē

The meeting tonight, arranged by the Supporters Trust, starts at 19:00hrs and all fans, whether members of the Trust or not, are welcome.
---
WHITTAKER JOINS RAILYWAYMEN
Stuart Whittaker has joined Conference side Leigh RMI after he spent a successful month on loan there recently. Manager Mark Wright had made it clear that he had no future in his plans. Whittaker did actually turn out for Chester on Monday in the Cheshire Cup match at Stockport County. In his time at Chester Whittaker played 9+1 games scoring 4 goals. Mark Wright has also hinted that Steve Brodie could also be off within the next few days.

Meanwhile as one player leaves City are stepping up their hunt for another midfield player with Rushden's Tarkan Mustafa rumoured to be a possible candidate.
---
COLLINS RETURNS
After playing for City on Monday night, Danny Collins has returned for another one month loan spell with Vauxhall Motors.
---
6 November 2002
VAUGHAN RESPONDS TO TRANMERE
The Daily Post reports that Steve Vaughan had written to Tranmere Rovers owner chairman Peter Johnson outlining his plans should his offer of a takeover be accepted. Plans drawn up by the Chester City chairman's company Vaughan Promotions for Tranmere include:
1. Vaughan Promotions will build a new ground for Tranmere on the Wirral.
2. The new stadium will be financed by the sale of their current home Prenton Park, for development.
3. During the planning and construction of the new site Tranmere would play their home games at Chester's Deva Stadium as a temporary measure.
In a Daily Post exclusive this morning, Vaughan Promotions general manager Lee Maloney said the company had no intention to merge the two clubs. Maloney said: "We believe we have properly put to rest all the concerns that were raised by the existing Tranmere Rovers Board and can offer a bright, exciting new future for Tranmere. Vaughan Promotions have spelled out that it has no desire to move Tranmere Rovers away from their current seat on the Wirral and the new proposed stadium is the cornerstone of their future plans for the club."
...AND ASSURES CITY FANS
Speaking later in the day to the Evening Leader Vaughan reassured City fans about his commitment to the clubs long-term future. "Iím going nowhere! Iím continuing to build and buy for my company, Vaughan Promotions. Anyone who doubts by commitment towards Chester City FC should come along to the public meeting at the Deva Stadium tomorrow night."

"My company has a property portfolio and everyone should realise I try to buy property day in and day out. At the end of the day Iím not too happy to discuss everything I do in the press, but Iím selling assets and generating massive profits for Vaughan Promotions."

"If anyone doubts my commitment to Chester they should know that Iíve just moved Vaughan Promotions from Liverpool to Watergate Street in Chester, so the company now operates from Chester. But controversy comes with the territory at Vaughan Promotions and I shouldnít be surprised. But Iíve got one message for every Chester City fan Ė Iím going nowhere!Ē
---
5 November 2002
COLCHESTER CUP TICKETS

City have announced that they have a number of tickets available for the FA Cup match at Colchester United on Saturday 16th.

There are 156 seats at £14.00 (£8 concession OAP & children) and 350 standing tickets at £12.00 (£6 concession OAP & children) currently with the club.

It is strongly advised that you buy a ticket in advance if you intend to travel to the match, any unsold tickets by Chester will be sent to Colchester for sale on the day on a first come first served basis. Exiled fans who can't get to the Deva should post a SAE to secretary Tony Allen asap.
---
4 November 2002
VAUGHAN TO ADDRESS FANS
Steve Vaughan will attend an open meeting with supporters this Thursday night at Deva Stadium. The meeting, arranged by the Chester City Supporters Trust, starts at 19:00hrs.
---
BBC ONLINE ARTICLE
There is an article about the latest events co-written by Chester fan and BBC motor racing correspondent Jonathan Legard, along with Tranmere Rovers fan and BBC sports news correspondent Nigel Adderley which you can read here.
---
CHESHIRE CUP WIN
Two goals in extra-time by Danny Byrne gave City a 3-1 victory at Stockport County in the Cheshire Senior Cup tonight, after the scores were level at 1-1 after 90 minutes. Chris Tate scored City's other goal on the stroke of half-time.
Cheshire Senior Cup quarter finals
Remaining ties in the competition are:
Winsford United 0 Northwich Victoria 3
Crewe Alexandra v Vauxhall Motors (13 Nov, at Vauxhall Motors)
Tranmere Rovers v Woodley Sports (19 Nov)
---
3 November 2002
OBSERVER ARTICLE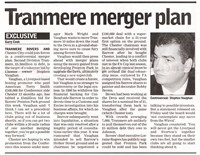 Sunday's Observer newspaper contained an 'exclusive' article regarding Steve Vaughan's bid to buy Prenton Park and eventually house City and Tranmere under one roof. Vaughan stated in the article: "I think I can set a precedent here. There will be a lot of clubs going out of business shortly, so if you can get two clubs within a 20-mile radius of one another merging together, you've got a possible way forward. You will never get the Liverpool and Everton's together because they stand on their own two feet, but the smaller clubs are all going to start thinking about it."

Since the article was published Vaughan has denied mentioning any talk of a merger: "I have spoken about ground-sharing but I have not mentioned mergers to any member of the press and its disturbing this report came out this way."

Speaking in the local press Vaughan said: "Myself and our chief executive Darren Liversage have had meetings with Lorraine Rogers (Tranmere chairman) and we have submitted an offer for a takeover of Prenton Park. We will wait and see what the outcome is. I will remain as major shareholder of Chester City but I can't elaborate further. There's far too much attention being raised about the fact that we are in there. Other parties are involved with the Tranmere Rovers deal. My offer hasn't been accepted or rejected yet, so we're just playing a guessing game at the moment. People are only guessing what might happen – but nothing has ever been mentioned about merging Chester and Tranmere Rovers. I want both Chester and Tranmere Rovers to play under one roof and generate revenue for Chester."
---
2 November 2002
VAUGHAN BIDS FOR TRANMERE

After news had been leaked out to the press, City chairman Steve Vaughan has said this afternoon on Radio Merseyside that he has put in an offer to buy Tranmere Rovers. This is Vaughan's second attempt to buy the first division club who are currently believed to be around £5.5m in debt. Talks between Vaughan and Tranmere owner Peter Johnson are believed to have taken place for some time. Vaughan's ambition is to see both clubs "play under one roof." When asked where all this would leave Chester City Vaughan said: "I'll still be a shareholder" and said he'd reveal his plans if his bid proved successful. City's vice-chairman Fred Williams, once the chairman and a director at Prenton Park, is believed to be involved in the move. There are reported to be at least another two parties interested in taking over at Tranmere.

Williams declared: "Stephen Vaughan is in negotiations to buy Tranmere Rovers and has been for some time. This is Stephen's second attempt to invest in Tranmere. He was among the interested parties when the club was last up for sale four years ago."

Chester's chief executive Darren Liversage added: "We are disappointed details of agreed confidential negotiations appear to have been leaked to the media. From our point of view we have assiduously kept to confidentiality throughout, but it appears that somewhere details have been leaked and this is distressing."
---
CLARE AT THE DOUBLE
Daryl Clare showed his class with two goals on his debut that earned City a 2-2 home draw against Yeovil Town. The Blues took the lead midway through the first half, Clare also hitting the woodwork with a free kick, and were the better side for the opening period. However, two goals in four minutes soon after the break gave the advantage to the visitors who had the better of the exchanges for the second period. The game looked to be slipping away until Clare stepped up in the last minute to score the equaliser.
---
DEBUT FOR CLARE
City can expect their biggest crowd of the season by some way today when they entertain Conference table-toppers Yeovil Town, a large following from the West Country is also expected to descend on the Deva. The Glovers are five points clear of the Blues and boast the most prolific strike force in the Conference netting 45 times in all competitions so far. City will give a debut to new striker Daryl Clare and fans will be hoping for an immediate pay-back on the deal that brought the former Boston United striker to the Deva this week. Wayne Hatswell and Kevin McIntyre both miss the clash though as they serve suspensions following red cards at Woking, and midfielder Jimmy Kelly is still recovering from a knee operation. The Blues have the meanest defence in the League and will, bo doubt, be boosted by the return of Carl Ruffer.