30 September 2002
ISA MEMBERS MEETING
Steve Vaughan and Mark Wright will be the guest speakers at tonight's members meeting of the ISA. The meeting takes place at Deva Stadium and starts at 20:00hrs. Other new members of staff at the club have also expressed an interest in attending.
---
27 September 2002
WRIGHT HOPEFUL ON GUYETT
Mark Wright is hoping that Scott Guyett will be fit for tomorrows top-of-the-table match at Doncaster Rovers. The ever-present central defender was substituted on Tuesday night with a hamstring strain, though it's been confirmed since that it's not a pull just scar tissue damage (sounds dramatic!). Manager Mark Wright revealed: "I'm hoping Scott Guyett will be fit enough to play. We received good news this week – his problem isn't a pulled hamstring, but just scar tissue." Should Guyett fail a fitness test it seems that Steve Harkness would drop back in defence with Paul Carden or Shaun Carey coming into the midfield. Tomorrow's match seems sure to attract a crowd of around 5,000 and could see the City trio of Carden, Kevin McIntyre, and Jimmy Kelly all play against their former club. Around 500 City fans are expected to make the trip to south Yorkshire.
---
26 September 2002
CITY BID FOR TOP STRIKER
City are reported to have tabled a five figure bid and offered a player exchange in an effort to lure striker Daryl Clare from Boston United to the Deva. Manager Mark Wright has openly stated recently that he was out to boost the forward line with a quality goalscorer and said today: "We've put in an offer and we feel it's good. Daryl Clare is out of contract at Boston at the end of the season, so it would be a Bosman. Clare would be a big asset to Chester and we feel that we're sitting on something big, but it's a case of wait and see at the moment." Clare has just been taken on the transfer list though hasn't featured in the Pilgrims last two games. He scored 24 goals in 40 matches last season to help Boston United win the Conference championship.
---
GUYETT INJURY WORRY
City are anxiously waiting to see if defender Scott Guyett suffers any more reaction to a hamstring strain picked up against Burton Albion on Tuesday night. Guyett, an ever-present so far this season is one of he Blues' key players. City manager Mark Wright said: "The hamstring hasn't pulled or gone, but it was a little bit tender and getting tighter, and he was conscious of it, so we've got to look after him. Whether Scott will be fit for our weekend match at Doncaster we don't know – we hope so. But Martyn Lancaster came in and did a good job, but if I was being honest, I've got two people out injured who I brought in to strengthen the first team, and if they're both out it would be a minus for us. Carl Ruffer has been unbelievable for us. He's solid, does everything, wins tackles, wins headers, his use of the ball is good, and he's done exceptionally well, and now I've got to hope Martyn Lancaster can do the same."
---
NON-LEAGUE PAPER
This Sunday's edition of the Non-League paper will contain a two page feature on Chester City.
---
EXILES PREDICTION COMPETITION 2002/03
The form for this season's Exiles competition is available to download in Acrobat format here. Current members will receive forms with their subscription renewal the the first week of September.

Please note that the competition is open to anyone, Exiles member or not, and money remaining after paying out the prizes will be put back into the football club through sponsorship – so please support us to support the club.

The closing date for receipt of entries is 30 September, and cost of entry is just £1.
---
24 September 2002
SAME AGAIN CITY
Mark Wright has no fresh injury problems for tonight's game against Burton Albion at Deva Stadium (19:45hrs) and looks set to name the same side that demolished Dagenham on Saturday. Wayne Hatswell is expected to be sidelined for another two weeks as he nurses broken bones in both hands. City last met The Brewers in March when the Blues went down 2-0 at Burton in the FA Trophy quarter final, but it's a different looking City outfit now with only two of that starting line-up, Wayne Brown and Phil Bolland probably featuring tonight. Burton have had a solid start to the season performing better on their travels with three wins, a draw and a defeat to their name.
---
LEON'S THE MAN?
Chester have approached Margate in an effort to sign striker Leon Braithwaite. The Kent club recently turned down an offer from Stevenage Borough for the player who combines playing part-time for The Gate and teaching in London.
---
23 September 2002
BLACKIE ENJOYS HIS TIME BETWEEN THE STICKS

If somebody had asked Chris Blackburn to play in goal before Saturday's game, he would have thought that person was mad. But that fantasy turned reality for the former youth team starlet as Wayne Brown got his marching orders against Dagenham and Redbridge at the weekend. There seemed to be some confusion about who was to take the goalkeeping position on. Chris explained he was as surprised as anyone to be asked to play in goal. He said: "I was stunned. I've never played there before so it felt weird, but it was good fun!"
He continued: "I've played in every position on the park now, so I'm pretty happy. There was some confusion about who was going to go in but I think I was asked because I've played in goal before when I was in the Chester youth team."
You would think anyone who had been asked to take on a standby goalkeeping role would be nervous. Not Chris Blackburn. He was pleased to help keep City's unbeaten run intact. He beamed: "I felt confident. I always thought the lads were going to score again because we had a lot of the play against Dagenham. I just thought if we get another goal we should be ok. I couldn't see them scoring two more goals against us." Interview with Rob Ashcroft
---
WALES CALL UP FOR TOM
Congratulations to City youngster Tom Coulson who has received an international call up. Having played for Chester City Football Club since he was twelve, the youth team player received a massive boost to his career last week when he was called into the Welsh Under 19 squad. A delighted Tom confessed the news came as something of a surprise. He said: "It's a nice surprise but the news did come as a bit of a shock. I was placed on standby first last Monday and then got my call up on Friday so I'm very pleased. Iain Jenkins mostly gives me positive feedback, so things are doing all right for me at the moment."
The Shrewsbury born defender/midfielder is now spending this current week in training with the Welsh squad and will take part in two friendly games. The first is against Carmarthen Town followed by another game against Swansea City at the Vetch Field. If successful Tom may also be selected to represent Wales in an International football tournament over in Ireland during November. Whilst playing for ones country is an honour, Tom is now hoping he can build on his success with a future at Chester City. "My aim is to sign a professional contract. Playing football is something I've always wanted to do. I've been playing since I was four or five, my dad drilled it into me at an early age."
Coulson continued: "Chester City is my first and only club. I've played all the way through from the centre of excellence and into the youth team. My dream now is to try and get into the Chester first team one day." Who knows? If Tom can make his dreams come true, we could have another Welsh international star in the first team squad one day. Best of luck from everybody around the Deva Tom!
---
21 September 2002
CITY BACK ON TOP

City came back from an early shock to beat Dagenham & Redbridge 5-2 in an entertaining encounter at the Deva. Both teams finished the match with ten men, goalkeeper Wayne Brown being sent off, with the score at 3-2, for handling the ball outside the area. Midfielder Chris Blackburn took over between the sticks but was well protected by City's back line.

Earlier The Daggers had taken a first minute lead through Paul Terry before Ryan Sugden and Jimmy Kelly, scoring his first goal for the club from the penalty spot, put the Blues in front. The scores were leveled before half-time with the visitors scoring from a Paul Bruce free kick. Ashley Vickers was red-carded for the visitors after the break before captain Phil Bolland and Scott Guyett (pictured) also opening the scoring account with City, and Sugden wrapped things up in the last minute.

Chester's win lifts them back to the top of the Nationwide Conference after the morning leaders Doncaster Rovers lost 2-1 at Margate.
---
LDV VANS TROPHY DRAW

Chester City have been drawn at home against second division Plymouth Argyle in the first round draw. The game, probably on 22 October, will be settled on the night with golden goal extra-time, and penalties if necessary. City are one of twelve Nationwide Conference sides contesting the first round. The rest of the Southern Section draw is: Exeter City v Bristol Rovers, Leyton Orient v Peterborough United, Torquay United v Wycombe Wanderers, Swindon Town v Southend United, Cambridge United v Rushen & Diamonds, Boston United v Yeovil Town, Cheltenham Town v Colchester United, Hereford United v Northampton Town, Oxford United v AFC Bournemouth, Woking v Luton Town, Dagenham & Redbridge v Kidderminster Harriers, Stevenage Borough v Swansea City, QPR v Bristol City. Byes – Brentford and Cardiff City.
---
20 September 2002
CITY DELIGHTED WITH RESERVE CROWD
Club officials were delighted with last night's attendance for the first Liverpool reserves fixture at Deva Stadium. The match against Manchester United reserves was attended by 4,273, with the game ending 1-1. Club secretary Michael Beech commented: "We were thrilled with the attendance figure because Chester pocketed between £5,000 and £10,000. Everything went well, and people who had not been to the Deva Stadium before must have been impressed".
---
BLUES THROUGH TO ROUND TWO
Two goals from Gareth Grant, and others from Danny Byrne and Dave Cameron, gave Chester a 4-1 victory at Cheadle Town last night in the first round of the Cheshire Senior Cup. Iain Jenkins took charge of the team last night and enjoyed the managerial experience. Read his post-match interview with Rob Ashcroft here.
---
19 September 2002
CUP ACTION TONIGHT
Chester take a side made up of first-teamers and reserves to Cheadle Town tonight for a Cheshire Senior Cup first round match, the Blues last won the trophy in the 1931/32 season. Dave Cameron and Martyn Lancaster are included in the team as is reserve goalkeeper John Worsnop. The game kick's-off at the Park Road Stadium at 19:45hrs. Meanwhile back at the Deva Liverpool reserves play their first home game against Manchester United reserves.
---
18 September 2002
CITY HAVE TO SETTLE FOR DRAW
City notched up a second successive scoreless draw last night that keeps them in second place behind Doncaster Rovers, but manager Mark Wright was far from happy with the forward line that failed to score yet again. The Blues have netted only ten goals in nine games this season despite creating numerous chances per game. Wright has mentioned before that he' s on the look out for a new striker and will no doubt be stepping up his search today. "I am going to sit down with the chairman and have a discussion, because we must bring in some new faces up front to maximise the potential of the opportunities we are creating" he said.
---
BLUES LIVE ON SKY
Chester's home match with Nuneaton Borough on Tuesday 8 October has been chosen for live showing on SKY Tv. The kick-off time of 19:45hrs remains the same. Chester will receive £5,000 for appearing, and viewing should be improved as the extra rows of floodlights will be in place by then. Live SKY games this season have so far featured Doncaster v Dagenham and Woking v Hereford. Woking feature again next week at Yeovil and also at Doncaster on 1 December.
---
17 September 2002
TOUGH TEST FOR CITY
City travel to The Shay tonight looking to extend their unbeaten start to the season. Manger Mark Wright may decide to make changes following Saturday's draw at Hereford United. Striker Dave Cameron is available after suspension and both Phil Bolland and Steve Harkness made the bench at Edgar Street. There must be doubts over Wayne Hatswell who has a broken bone in one hand and two broken fingers on the other. Wright checked out Halifax last week when they beat leaders Doncaster Rovers 2-1 and was impressed by what he saw. "Halifax have done particularly well of late and their performance against Doncaster was extremely impressive. It will be a tough game for sure because when it all shakes down at the end of the season, I expect Halifax to be in the pecking order." he said.
---
16 September 2002
UNBEATEN RUN CONTINUES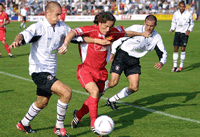 City are still to concede a goal on their travels this season but had to be content with a point from Hereford United on Saturday.

City's only real chance of note fell to Mark Beesley on 70 minutes who saw his close range shot blocked on the line by Bulls goalkeeper Matt Baker. The Blues face another difficult trip tomorrow night as they travel to The Shay to play 10th placed Halifax Town.
---
RESERVES LOSE
The reserves suffered their first defeat of the season on Saturday when they were beaten 4-2 at Southport. The Blues currently lie second in the Lancashire League Division One table, one point behind current leaders Chorley reserves.
LANCASHIRE LEAGUE DIVISION ONE
As at 16 September
P
W
D
L
F
A
GD
Pts
Chorley Reserves
5
4
1
0
16
7
9
13
Chester City Reserves
5
4
0
1
22
5
17
12
Southport Reserves
6
3
2
1
17
10
7
11
Morecambe Reserves
5
3
0
2
23
8
15
9
Lancaster City Reserves
5
3
0
2
14
15
-1
9
Northwich Victoria Reserves
5
2
2
1
24
8
16
8
Ossett Town Reserves
5
2
1
2
21
13
8
7
Marine Reserves
4
2
1
1
7
5
2
7
Burscough Reserves
5
2
1
2
8
12
-4
7
Bradford P.A. Reserves
5
1
1
3
6
8
-2
4
Bamber Bridge Reserves
3
1
1
1
4
7
-3
4
Accrington Stanley Reserves
4
1
0
3
5
9
-4
3
Barrow Reserves
3
0
1
2
4
9
-5
1
Farsley Celtic Reserves
4
0
1
3
3
10
-7
1
Guiseley Reserves
4
0
0
4
3
51
-48
0
---
ISA MEETING
Steve Vaughan and Mark Wright will be the guest speakers at the next members meeting of the ISA. The meeting takes place at Deva Stadium on Monday 30 September, starting at 20:00hrs. Other new members of staff at the club have also expressed an interest in attending the meeting. All ISA members should have received the latest newsletter last week, there is also a copy online on the ISA website.
---
WHITTAKER ON LOAN
Winger Stuart Whittaker has joined Leigh RMI on loan. He made an immediate impact on Saturday setting up two of the home sides goals in their 4-2 win over Barnet. Leigh boss Steve Waywell said: "I thought Stuart was outstanding and was probably the man of the match. He gave us a new dimension."
---
13 September 2002
TEAM NEWS
Chester face a difficult match at sixth placed Hereford United tomorrow with the Blues looking to extend their unbeaten start to the season. With Doncaster Rovers losing in midweek, a win for the Chester will take them back to the top of the Nationwide Conference.

Defender Wayne Hatswell has broken a bone in his hand but is expected to play at Edgar Street with a cast on it. Captain Phil Bolland may make a return to the side but it looks like Steve Harkness and Ben Davis will both miss the game as they recover from groin strains.City's reserve team play at Southport tomorrow (12:00hrs) while the youth team play at Tranmere Rovers (11:00hrs) in a Youth Alliance Cup Group 7 game, they play Wrexham at home the following Saturday in the second group match.
---
NEW APPOINTMENTS
The club have announced that 39-year-old Ian Knox has been appointed as Commercial Manager. Ian told the Evening Leader: "I've worked for myself during the last 18 months, and I've got experience in finance and IT. I've been responsible for organising corporate hospitality arrangements at UK sporting events at Aintree, Silverstone, and at the FA Cup final during the last couple of years, and I've also been plying my trade in Europe. I've had contacts with Everton who recommended I get in touch with Chester. I've been pleasantly surprised with the set-up at Chester – it's fantastic, and provides a good opportunity to forge links with business and the community."

Dave Burford has also been appointed as the club's General Manager. He is a brother-in-law of Steve Vaughan, and used to watch the occasional Chester match when the club were based at Sealand Road. He said: "I was at Barrow with Stephen Vaughan and we were part of the club when the team climbed from the UniBond League into the Conference. I've been involved at the Deva Stadium for the last six weeks with Vaughan Promotions and I've got a hands on role. I'll be reporting to the chairman and the board on a regular basis. I see this job with the football club as a massive opportunity. The City of Chester is beginning to realise what is happening at the football club. There are many bridges to be rebuilt, and the club is doing everything it can to make changes if changes need to be done."
---
12 September 2002
RESERVES ON THE RAMPAGE
City's reserve team went on a goal spree last night as they demolished Lanacaster City reserves 9-0 at Flint. Both Steve Brodie and Gareth Grant scored hat-tricks with Danny Byrne adding two more and Stuart Whittaker also on the score sheet. The reserves, currently top of the Lancashire League Division 1 are next in action at Southport on Saturday (12:00hrs).
---
10 September 2002
WRIGHT LOOKS TO STRENGTHEN FURTHER
Mark Wright has stated that he's looking to bring another player to the Deva to strengthen further his squad. "I'm waiting for the player of the right calibre to come along," said Wright. I've made no offers to clubs on any players but I will be talking to the chairman today about a number of issues."

Meanwhile defender Phil Bolland could turn out again for the reserves tomorrow night as he continues to recover from his hairline fracture injury. If he comes though the game unscathed he may make his first full appearance of the season at Hereford United on Saturday. Conference leaders Doncaster Rovers are in action tonight in a rearranged Conference match at Halifax Town.

---
7 September 2002
BLUES SITTING PROUD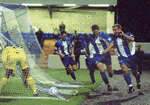 Friday night's 2-1 home victory over Leigh RMI took City to the top of the Nationwide Conference, before Doncaster overtook them with a 5-1 thrashing of Dagenham & Redbridge on Saturday afternoon to leave the Blues in second place.

City dominated Friday's game far more that the scoreline suggests, but had to fight back after Scott Guyett had scored an unfortunate own goal to give the Railwaymen a 1-0 half-time lead. Ryan Sugden, who ran his heart out all night, notched the equaliser on 57 minutes. Substitute Mark Beesley then saw a penalty saved before he scored the winner four minutes from time.


---
YOUTH TEAM CRASH OUT
City's youth team were beaten 2-1 by Northwich Victoria youth on Saturday in the preliminary round of the FA Youth Cup. The match was scoreless after 90 minutes, but a Vics goal in each half of extra time put paid to any further progress in the competition. Jason Grisedale scored Chester's consolation goal in the dying minutes.
---
6 September 2002
CITY LOOKING FOR TOP SPOT

Chester entertain Leigh RMI at Deva Stadium tonight (ko 19:45hrs) knowing that a win will take them to the top of the Nationwide Conference. The game, that sees Michael Twiss play against his former club, has been brought forward to avoid a clash with the televised England v Portugal friendly tomorrow, though it's the only game in the Conference that has.

City's squad will be boosted with the inclusion of defender Phil Bolland who has played no part in the Blues success so far this season after suffering a hairline fracture in the foot in the pre-season game at Bangor City. Bolland played for an hour in Wednesday's 4-0 reserve victory over Northwich Victoria. Bolland expected to start on the bench.

However, three players are ruled out of the action tonight. Striker Dave Cameron serves the second of his three match suspension following his red card at Telford United, while Steve Harkness and Ben Davies are both suffering groin strains.
---
YOUNGSTERS IN CUP ACTION
City's youth team are at home tomorrow morning in the first qualifying round of the FA Youth Cup. The match against local rivals Northwich Victoria kick's-off at Deva Stadium at 11.00 and admission to the main stand will be £3.00. Why not get along, if you can, and support all the hard work that's being done with the youth set up at the Deva.
---
5 September 2002
BLUES NOTCH FIRST HOME WIN
Two second half goals on Tuesday night brought City's first home victory of the season and took the side to third place in the conference. The Blues have the same number of points as second placed Southport, and an identical goal difference, but have scored fewer goals.
After an uninspiring first-half, the match came to life after the break with Michael Twiss opening the scoring only for the Blues to be pegged back five minutes later as Morecambe became the first team to breach City's defence this season. Good work by substitute Mickey Brown set up Ryan Sugden's winning header with ten minutes from time.
After the match City boss Mark Wright said: "I thought we deserved the win, particularly after our second half showing. We battled well and it's pleasing to record our first home victory of the season, which will certainly take a lot of weight from the players' shoulders."
Steve Harkness picked up a groin injury and may be out for up to ten days.
---
3 September 2002
CITY LOOK TO CONTINUE RUN
The Blues will be hoping to shut out Morecambe tonight and continue their clean sheet run which is currently one and a half games away from a club record. The Lancashire side visit Deva Stadium on a good run themselves and currently lie in fifth place following their 3-1 home victory over Stevenage Borough at the weekend.

There are doubts over Michael Twiss, who picked up a knock on Saturday, but with the exception of Phil Bolland who won't be in contention for a couple of weeks, Manager Mark Wright has a full squad available and will choose from the following. W.Brown, Harkness, McIntyre, Hatswell, Guyett, Ruffer, Kelly, Blackburn, Brodie, Davies, Twiss, Whittaker, Carden, Sugden, Woodyatt, Cameron, M.Brown, Beesley and Worsnop. Manager Wright is as anxious as anyone to see City get their first home win of the season: "If we score early against Morecambe we'll do really well. Morecambe have got to come and play against us, but we need to win – I don't care how it goes it at home, as long as it goes in.
---
2 September 2002
PORTER ON LOAN
According to the UniBond League press release, midfielder Andy Porter has joined Kidsgrove Athletic on loan.
---
CHESTER CITY SOCCER SKILLS
A number of soccer schools have been planned in the following areas during the October half term at: Boughton, Christleton, Saughall, Ellesmere Port, Mold and Blacon. The courses run from 10:30-14:30hrs each day and are open for boys and girls between 5-14 years of age. All the courses are based on fun learning and are for children of all abilities. For more information call the club soccer school line on 01244 377408.
---
WANT TO PLAY FOR CHESTER CITY YOUTH?
Then why not come along to the open trials running at Clifton Drive on Thursday's from 18:00-19:30hrs. Open to all boys aged between 9-16 years of age. For further details please call the football club's Community Team Leader David James on 01244 377408.
---
1 September 2002
CITY GO THIRD

Chester's solid start to the season continued yesterday with a 2-0 victory at Forest Green Rovers that lifted them to third spot behind leaders Doncaster Rovers and Woking. Two first half goals by Mark Beesley, the first from the penalty spot, saw the Blues through to a comfortable victory that cost Rovers manager Nigel Spink his job as he was sacked following the defeat.
Around 200 City fans made the trip to Gloucestershire for the match which was over as a contest following City's second goal on the stroke of half-time. The Blues (reds actually) had dominated the match without creating too many chances in the first half, and took the lead from the penalty spot after a Jimmy Kelly free-kick was deemed to have been handled in the box. Beesley made no mistake from 12 yards, and just before the break the striker finished off a fine one-two with Michael Twiss to double the lead.
A delighted manager Mark Wright told the Evening Leader after the victory: "Our three centre halves played so well against Forest Green, especially Wayne Hatswell, going back to his home ground. I thought he was absolutely head and shoulders above everyone. His passing, his tackling, his headers – everything he did was first class, and I'm really pleased for him because his performance has stepped up again since he came to Chester. But I've got a lot of players itching to get in the team, and Steve Brodie has been very patient. I took him off in the second half because he looked a bit tired, and the only concern to me about selecting him was the grass was a bit too long as he's a pass and move player and the ball kept getting stuck underneath his feet. But he hit a post in the first half and he was instrumental in a lot of things we did in the second half. We kept hold of the ball, we were in the pocket and played some good football, and everything we did was professional and solid."
The fifth clean sheet on the trot means that goalkeeper Wayne Brown has now gone 454 minutes since conceding the last Conference goal at Dagenham. Check City's top ten goalkeeping runs here.