31 October 2002
HARKNESS QUITS CITY

Steve Harkness has left Chester City. The experienced midfielder played ten games for the Blues since he joined the club in the summer.

Harkness hasn't turned out since the Margate game on 5 October, when he went off injured, and the news will come as a major disappointment to all City fans. Harkness has left to pursue business ventures he has and to play higher up in the Football League.

Manager Mark Wright said: "It's Steve's decision to go. He came here to play and coach but he has a lot of business interests and wants to play league football. He's had interest from a couple of clubs and he's going to see if he can get himself fixed up. Steve has done exceptionally well for us and I would like to publicly thank him for the contribution he has made to Chester City."
---
BLUES TO HOST MOTORMEN

The Deva Stadium is to host the FA Cup first round tie between Vauxhall Motors and Queens Park Rangers on Saturday 16 November, the same day that City travel to Colchester United in the same competition. A larger that normal crowd would be expected with the visitors sure to have a good following so a switch makes sense.

Danny Collins' loan period with the UniBond team ends that weekend, but City manager Mark Wright is considering Vauxhall's request to keep him for the rest of the season. Collins has been playing in a central defensive role for the Ellesmere Port based outfit.

Vauxhall chairman Tony Woodley said: "I want to make it clear that the game was not moved for financial reasons, if that were the case we could have made a lot more money switching the game to Loftus Road. The main reason for the change in venue is because on the same day Tranmere Rovers play Cardiff City at home and the police were concerned about staging the two games in such close proximity. I am expecting a large crowd and vocal support and I appeal to Chester fans who aren't making the journey to Colchester to come along and lend their support to the minnows."
---
30 October 2002
ALLEN RETURNS

City have appointed Tony Allen as their new Football Secretary. Allen will be a familiar face to most as he held a similar role at the club when they moved into the Deva Stadium, and, having dealt with him on behalf of the Exiles at the time, he did a very professional job.

Chairman Stephen Vaughan said: "For people of Tony Allen's calibre to come and join this company is only good for the club. Tony sees a bigger and brighter future for Chester City."

Tony started his secretarial career as an assistant secretary at Notts County during the early 1980s, and then worked for the PFA on their community pilot scheme, before he was appointed secretary at Wigan Athletic from 1987 until 1990. Allan was then secretary at Chester City for a season and a half before being appointed secretary at Port Vale where he worked for four years.
Picture © The Evening Leader.
---
29 October 2002
CITY GET THEIR MAN
The month long on-off saga of Daryl Clare's signing is over when the 24-year-old Boston United striker agreed to sign for the Blues today (subject to passing a medical). The two clubs had agreed a fee on Friday and Clare spent yesterday discussing personal terms. Clare comes to the Deva with an impressive record, his 24 goals from his 40 games last season made him the leading scorer in the Conference and won him Boston's player of the season award. Speaking in the Daily Post a delighted City chairman Stephen Vaughan said after the formalities had been completed: "It's been a long process, and the deal has cost us quite a lot of money, but again it hopefully shows our long term commitment to try to win back our Football League status at Chester City."

Relieved Chester manager Mark Wright said: "The transfer is a big big boost for us. We have signed a striker who has proven ability and they are not easy to acquire. I must say that my chairman has been brilliant with his support in this deal, he has backed me all way. Daryl is a quality player who can only enhance our squad. He works hard and will prove to be a massive plus."

Clare, who has signed a two-and-a half-year contract (with the transfer fee being performance-releated), started his career with Grimsby Town, where he made nearly 100 appearances before joining Boston at the beginning of last season, he has also been capped as a Republic of Ireland Under 21 International.

Daryl Clare playing record
Grimsby Town (1995-01) App League 34+45 Goals 9, App Cups 2+12 Goals 1, App other 4+3.
Northampton Town (1999/00 loan) App League 12+2 Goals 3, App other 0+1.
CheltenhamTown (2001 loan) App League 4+0.
Boston United (2001/02) App League 46+1 Goals 25, App Cups 1+0.
Boston United (2002/03) App League 8+0 Goals 1.
---
28 October 2002
CLARE SIGNING BACK ON?
City may be close to signing unsettled Boston United striker Daryl Clare. It's been reported in the local press that both clubs have agreed a fee, believed to be near to six figures, and the player will discuss personal terms with Chester today. Manager Mark Wright said: "We're in the process of bringing someone to Chester and we're close to finalising a deal. I think the new signing will give a big lift to everybody. I wouldn't disclose anyone's name until a deal is done. And everyone will have to wait and see who the player is when he signs. If we can agree terms with the player and if the club can accept what we're doing then he'll be with us this week. If we can sign the player it will be a major plus, because the player I'm talking about is proven quality."
---
CITY FACE LONG CUP TRIP

The Blues will travel to second division Colchester United in the first round of the FA Cup after their 4-2 victory at Radcliffe Borough on Saturday. All the goals came in the second half at Stainton Road with striker Ryan Sugden bagging a hat-trick, Dave Cameron was City's other scorer. The match at Layer Road will take place on the weekend of 15/17 November.

The televised cup ties are as follows:
Saturday 16th November – Hereford United v Wigan Athletic, 17.35hrs on Sky.
Sunday 17th November – Forest Green Rovers v Exeter City, 13.00hrs on BBC.
Another tie will be selected by Sky to be broadcast on Saturday 16th November at 12.00pm.
The FA TV fee for live ties is an impressive £100,000 per club.
---
25 October 2002
CITY LOOKING FOR CUP SUCCESS

Chester travel to Unibond first division side Radcliffe Borough tomorrow knowing they'll have to be at their best to progress through to the first round proper. Manager Mark Wright said: "If we're at the races tomorrow I think we'll come through, and that's the important thing in a cup match like this." City are hoping for the return to the defence of Carl Ruffer who has missed the last two matches with a thigh injury. However Mark Beesley is expected to be ruled out with a hamstring strain, Steve Harkness is still recovering from his leg injury and Jimmy Kelly, sorely missed at Woking on Saturday, is weeks away from a return to midfield.
Radcliffe Borough, who have yet to win at home in the League this season, have progressed to this stage of the FA Cup by beating Clitheroe (A) 3-1, Abbey Hay (H) 4-1, Rossington (A) 7-0 and Colwyn Bay (A) 2-1.
The winners of tomorrow's tie will receive £20,000 in prize money. Wright added: "This game is worth a lot of money to the club and we'll be doing all we can to win and bank money which will be vital in buying players we need. I know we can't win the FA Cup, but we'll be trying to go as far as we possibly can in the competition, because we know the further we go the more money we'll win. I know Radcliffe Borough are a strong, physical side, but we'll go into the game feeling confident because we play a couple of divisions higher than them. If the weather starts to brighten up we'll hopefully be able to play some football, and if we're on our game I'm sure we'll come through okay. But cup ties are funny games – league positions don't really matter and anyone can win these sort of matches", added Wright.
The draw for the first round proper, made by Billy Bonds and Ray Wilkins, will take place after the game tomorrow at 17:15hrs and will be broadcast live on BBC1 in the Final Score programme. The Radcliffe/Chester ball will be number 62.
---
23 October 2002
SECRETARY DISMISSED
The football club dismissed secretary Michael Beech last night after an alleged incident involving himself and general manager Dave Burford. Burford claims that he dismissed Nicki Beech for refusing to sell tickets for Saturday's game after the Plymouth match as advertised. Speaking later in Friday's Chester Chronicle Burford said: "She (Miss Beech) twice refused to do as I asked and undermined my authority," he said. "I told her I was terminating her employment." He claimed he was then challenged verbally by Mr Beech. "He was right up to my face and I asked him to back off," said Mr Burford. He claims it was then he was assaulted.
---
CITY HUNT FOR NEW PLAYERS
On Monday, chairman Steve Vaughan hinted that new signings could be on their way to the Deva following the sides failure in recent matches. "We are well aware that the main problem is up-front with our strike-force, where we just aren't turning the numerous chances we are creating into goals," said Vaughan. "Mark Wright and myself have spoken at length about the situation, and we have targeted a couple of players that would strengthen the squad, and it is a distinct possibility that there will be movement on the transfer front in the next few days." City have confirmed that two players have been put on the transfer list. They are winger Steve Brodie and striker Dave Cameron.

Speaking about the two players Mark Wright told the Evening Leader: "Steve Brodie hasn't featured too many times and he's been on the fringe of everything, and it's more because he's not been given a chance, and we didn't know where to fit him in at present. I spoken to Steve Brodie and we've agreed the best thing to do would be for us to move him on. I know he's a good player, but he wouldn't figure in my side at present. "Dave Cameron hasn't done the job I've asked him to do. While he stays at Chester he will work very hard, but if that position changes and he becomes a player we thought he would be, or does the job we thought he would do then that will change and we'll put him back in. We're talking about balls being thrown into the box week after week, and he's a target man, but he''s scored one goal and not done the job I wanted him to do."
---
22 October 2002
BREAK FROM LEAGUE ACTION

City host Plymouth Argyle tonight in the opening round of the LDV Trophy. This season, for the first time, the Blues have been drawn in the Southern section of the competition.

The match kick's-off at 19:45 and normal Conference admission prices apply. On-loan striker Chris Tate is rated at only 50/50 after missing Saturday's defeat at Woking with flu, however Carl Ruff er may be included in the squad as his calf injury is not as bad as was first thought, and fellow defender Scott Guyett (pictured) is expected to make the starting line-up.

Midfielder Jimmy Kelly underwent a cartilage operation at the weekend and is out for another month. Tonight's game will be settled on the night with golden goal extra-time, and penalties if necessary.
---
19 October 2002
SUSPENSIONS
Both Kevin McIntyre and Wayne Hatswell who were sent off on Saturday are expected to be suspended for the home match with Yeovil Town on 2 November. McIntyre will probably also miss the game against Stockport County in the Cheshire Senior Cup the following Monday. Meanwhile loan signing Chris Tate missed Saturday's game with flu and Carl Ruffer is also out for up to three weeks with a calf injury.
---
18 October 2002
KELLY OUT FOR TWO MONTHS
City have suffered a blow with the news that midfielder Jimmy Kelly is out of action for up to eight weeks with an ankle ligament injury. Meanwhile the Blues have signed Leyton Orient striker Chris Tate on a one month loan as the bid to sign Daryl Clare looks to be off. Tate may well feature tomorrow at Woking where Steve Harkness and Scott Guyett could also return from injury. City upped their offer in the week for Clare but have had no reply. City chairman Stephen Vaughan told the Chester Evening Leader: "We have now offered a five-figure sum, a 25% sell-on clause and a further five-figure sum to Boston if Chester win promotion to the Football League. We have also offered more money if Daryl Clare scores 15 goals for Chester from when he signs until the end of the season."
---
RESERVES WIN
Michael Twiss scored twice in the reserves 7-0 win over Osset Town on Wednesday night. Other scorers for City were Chris Blackburn, Mark Beesley, Ben Davies, Lee Woodyatt and Dale Watkins. Watkins is an ex-Kettering Town forward currently having a trial with the club, previously he'd played a handful of games for Cheltenham Town.
---
17 October 2002
CUP MATCH DETAILS
It has been confirmed that the FA Cup fourth qualifying round match will take place on Saturday 26th October at Stainton Park, kick-off 15:00hrs. The game will be all ticket. Adults £8.00 concessions £4.00 Chester will be allocated 800 tickets, with segregation in place. Chester supporters being allocated the uncovered terracing behind the dugouts. There are no seats for Chester fans. Scaffolding will be removed from the new changing rooms to allow Boro supporters to walk into the Main stand and access the terracing along the club house side. Should a replay be necessary it will take place at Deva Stadium on Tuesday 29 October.

Ticket sale times
Tickets are for sale to season ticket holders only on Monday between 10:00-19:00hrs.
Tickets then go on general sale from 10:0-19:30 on Tuesday from the ticket office which will also be open after the Plymouth match. Remaining tickets will be on sale on Wednesday.
---
16 October 2002
FROM DOOM TO BOOM
Up for sale with huge debts and sitting at the wrong end of the Nationwide Conference table. Disillusioned followers and a severely dwindling support. Who would possibly want to take over a football club in that kind of state? It all seemed to mark a sorry end to a once proud football league club. Read the latest Steve Vaughan interview here.
---
FA CUP TICKETS

Ticket prices for the forthcoming FA Fourth Qualifying Round match at Radcliffe Borough have been announced.

Prices for the match at Stainton Park will be £8 seated, and terrace prices will be £6 for adults and £4 concessions.

Radcliffe Borough's website states that, with neighbours Bury also at home on the same day, the Chester game is likely to be played on the Sunday so that the Gigg Lane stewards can be used.
---
LDV PRICES

Admission charges for next weeks LDV Trophy game against Plymouth Argyle will remain the same as for normal Conference matches except for the executive lounge which will cost £20 for adults and £15 for concessions. The match kick's-off at 19:45hrs and will be settled on the night with golden goal extra-time, and penalties if necessary.
---
TATE DEADLINE
Leyton Orient manager Paul Brush has set Chester a Wednesday deadline to decide striker Chris Tate's future. The Leyton Orient forward has been on trial at City for two weeks after a successful loan spell last season, but has yet to earn a contract. Tate was due to play for Chester's reserves last week, but the game was postponed.
---
14 October 2002
CITY DRAWN AWAY
The Blues travel on Manchester to play Radcliffe Borough in the fourth qualifying round of the FA Cup at Stainton Park on Saturday 26 October. The winners of the tie will receive £20,000 prize money. Borough progressed to the fourth qualifying round after a 2-1 victory at Colwyn Bay on Saturday.

---
CHAPPLE QUITS WOKING
Saturday's opponents Woking are without a manager today following the resignation this morning of Geoff Chapple. The Cards have picked up only two from the last thirty points available and have dropped to second bottom in the Conference after a fine opening to the campaign. Coach Glenn Cockerill has taken over as caretaker manager for the time being.
---
GORDON HILL
Former City manager Gordon Hill took charge of Hyde United's side in Saturday's 3-1 defeat at Barrow in the FA Cup third qualifying round. Hill has since been appointed the manager on a full-time basis.
---
11 October 2002
EVER WONDERED WHY WE NEED THOSE MEN IN ORANGE COATS?
Tony Griffiths is City Chief Safety Officer, before Tuesday's game against Nuneaton Borough he gave Rob Ashcroft an insight into his role and those of his stewards. You can read his interview here.
---
9 October 2002
CITY FAIL SCREEN TEST
Chester turned in a poor performance for the SKY TV cameras last night, losing their unbeaten run in the process. The 2-1 defeat by a struggling 10-man Nuneaton side wasn't in the script, but the Blues, who were missing Steve Harkness and Scott Guyett in defence, conceded a sloppy goal in the first minute, and, despite being given a numerical advantage for the last hour failed to really test the visiting keeper in the first half. An equaliser soon after the break heralded a period of pressure but with the main threat coming from corners City lacked the killer instinct in front of goal. The Borough winner, twelve minutes from time, came from another defensive mistake.
Manager Mark Wright stated after the game: "To be caught early doors was very silly, and the second goal we conceded was down to a basic defending error. But we've been so good at defending all season it's been untrue. But I will not criticise the defensive unit because they have been the mainstay and they have been absolutely outstanding for the major part of our season so far. But as an attacking unit we had our chances and we took other options, but we could have scored and won the game 5-2, and maybe on the chances probably did. But all that counts for nothing when we give two silly goals away and not got our game going, and not pass, and not done the things that we've been good at all season."
City are in action next on Sunday afternoon when Gravesend & Northfleet make their first visit to Deva Stadium, kick-off is 15:00hrs.
---
8 October 2002
CHESHIRE CUP DRAW
City have been handed an away fixture at Stockport County in the second round of the UniBond Cheshire Senior Cup. The game will take place in the week commencing Monday 11 November.
---
BLUES LOOKING TO IMPRESS
Manager Mark Wright will be no doubt waiting for reports on Scott Guyett's fitness before selecting his team for tonight's home Conference match with Nuneaton Borough (kick-off 19:45). Wayne Brown is expected to return to the side following his one match suspension and there could be a home debut for Jon Brady. The Blues are looking to stretch their unbeaten run to 14 matches in front of the TV cameras. For those watching on Sky Sports 1 the programme runs from 19:30-22:00hrs.
---
7 October 2002
LAST GASP WINNER FOR CITY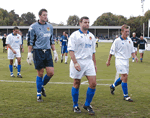 Substitute Dave Cameron's header three minutes from time continued City's unbeaten start to the season and kept them in touch with leaders Yeovil Town, who thrashed Southport 6-0 to remain at the top of the Nationwide Conference. The Blues created few chances of note on Saturday until the introduction of substitutes Mickey Brown and Dave Cameron with 20 minutes remaining, it was Brown in fact who supplied the cross for the winner.

Ian McCaldon, apart from an early drop, looked confident in goal, midfielder Jon Brady had a sound debut, and Martyn Lancaster deputised well for the injured Scott Guyett.

There appear to be no fresh injury worries ahead of Tuesday night's televised game against Nuneaton Borough at Deva Stadium (kick-off 19:45hrs).
---
4 October 2002
KEEPER ON BOARD
Chester have signed Oxford United goalkeeper Ian McCaldon on a month loan and he'll go straight into the side tomorrow against Margate to replace the suspended Wayne Brown. Liverpool-born McCaldon has made 31 appearances for United and has previously played for St Mirren (loan 4+1) and Livingston 98+0. The Blues have also signed midfielder Jon Brady who was released by Woking yesterday.
---
3 October 2002
TATE BACK WITH CITY
Leyton Orient striker Chris Tate turned out for City's reserves last night after a spell training with the Blues. Tate, played on loan last season for City, scoring one goal in four matches, but the 25-year-old has not turned out for the O's so far this season. City boss Mark Wright told the Daily Post: "Hopefully he will impress us during this fortnight. He impressed us when he was here last season, so it could be that Orient's loss could become our gain." Meanwhile there are rumours around Woking to suggest that midfielder Jon Brady is unsettled and may be a target for City. Brady signed for The Cards the day after coming on as a substitute in City's pre-season friendly with Liverpool. Brady is currently on a contract at the Surrey club. Mark Wright is also on the lookout, still, for a possible goalkeeper for Saturday. Wayne Brown serves a one match suspension and it's unclear whether John Worsnop will be called up from the reserves.
---
JIMMY, CHRIS, AND ANDY MOVE ON
Striker Jimmy Haarhoff who has been on loan at UniBond Premier League side Droylsden, has now moved on a permanent basis. Joining Haarhoff permanently with The Bloods is Chris O'Brien, Andy Porter has also been released by the club today. Good luck to them all.
---
LIGHTS UPGRADED
Work has now been completed on upgrading the floodlights at Deva Stadium in time for Tuesday's televised game against Nuneaton Borough.
---
RESERVES LOSE AGAIN
The reserves suffered their third reverse on the trot on Wednesday night. Mark Beesley scored the only goal in the 3-1 home defeat by Morecambe reserves.
---
1 October 2002
CITY STEP UP CHASE FOR CLARE
The Daily Post reports that City chairman Steve Vaughan has spoken at great length to his counterpart at Boston United and has since upped his offer for the unsettled striker Daryl Clare. Vaughan said: "I have spoken at length to the Boston chairman today and we had a very frank conversation. It appears that they will be selling the player, but there are a couple of other clubs who are naturally interested. Rest assured, we will give it our best shot, but we won't be held to ransom or pay silly money." City appear to be in competition with at least two other clubs for the 24-year-old's signature. Clare, who netted 24 goals in 40 games for The Pilgrims last year, becomes a free agent at the end of the season. On ITV Teletext Boston general manager John Blackwell said: "Chester are offering £25,000 for Clare, compared to £20,000 last week."
---
WRIGHT MISSES OUT

Despite four wins and three draws in seven games, City manager Mark Wright has just missed out to Yeovil boss Gary Johnson for the September Manager of the Month award. Yeovil won five and drew two games in the same period.
---
DAGENHAM VIDEO
The recent game against Dagenham & Redbridge, an amazing match which City won 5-2, will be released on video by Northern Accent Television from 7 October.

The video costs £9.99 and will be available to order from club shop or please add £1.00 p&p and send off to:-
Northern Accent Television, P.O.Box 3118, Chester, CH4 8XE
---
NON-LEAGUE PAPER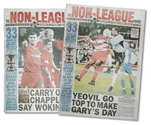 Yesterday's Non-League Paper featured a double page spread on City featuring interviews with Steve Vaughan, Mark Wright and Barrie Hipkiss. Vaughan praised manager Mark Wright:"I am responsible for just one signing at this club, and Mark (Wright) is the best one we have made. He is the best manager in Non-League football and I have no doubt he will manage in the Premier League sooner rather than later. We have just got to enjoy our association while we can and go forward with him. Mark and I are a team – and we intend to get back into the League at the earliest opportunity. We will spend what it takes to get back and once we get there more funding will be available to make sure we stay.

Last season tested us all and we spent only a total of £15,000 to bring in the new players. Even so, they're playing some great football now and believe me, the best of the side is yet to come."

Manager Wright stated: "Things can change overnight, but we have the best defensive record and goal difference at the moment. We still could to with strengthening in a couple of areas, but, touch wood, things are looking good."

Northern issues of the paper featured City v Doncaster on the cover, Aldershot in the south.
---
CHESHIRE SENIOR CUP
The draw for the second round of the competition will take place next Monday. Matches will be played in the week commencing 11 November.