---
Saturday 28 April 2001
Woking 1 Chester City 0
Attendance: 2,264 Half-time 0-0
Woking: Matasa, Reeks, Hollingdale, West, Boardman, Metcalf, Perkins (Hayfield 75), Roddis, Steepe (Kadi 45), Griffin, Randall (Edghill 65), Subs not used: Smith, Ruggles.
Chester City: Priestly, Woodyatt, Doughty, Lancaster, Gaunt, Fisher, Wright, Blackburn (Ruscoe 46), M.Beesley, Whitehall (Kerr 75), Moss. Subs not used: Haarhoff, Berry, Porter.
Referee: J.Singh.

This was a much improved City performance from that of recent weeks and the Blues can count themselves very unfortunate not to come away from Woking with at least a share of the spoils, and but for the heroics of home keeper Vince Matasse they may have got even more.
Bright sunshine bathed the rather lop-sided, but none the less pleasant, surroundings of Kingsmeadow Lane at 3pm. The entrance fee (free for under 16's) allowed the choice of standing on the terraces or sitting in the spectacular stand behind one of the goals; a structure that wouldn't look out of place in the first division, most City fans opted for the former and the now familiar SMITH OUT chanting provided the backdrop from there for most of the 90 minutes.
The first chance of the game came on two minutes with a static defence looking on as striker Griffin headed wide from six yards. Minutes later and the striker was through again only be be blocked by a strong challenge from Criag Gaunt. Darren Moss had City's first effort, his long range shot being tipped over. But the best effort to open the scoring fell to Mark Beesley on 30 minutes.
Steve Whitehall played a long cross-field through ball from the right leaving Beesley in the clear, he looked certain to score bbut the onrushing Matassa saved at the strikers feet and a glorious opportunity had gone begging. Beesley and Matt Doughty tested the keeper again before darren Wright hit the bar from a narrow angle as City ended the half on a high. Scott Ruscoe replaced Chris Blackburn (had been hobbling after a first-half clearance) at the break as the heavens opened and torrential rain began to fall.
The Cardinals almost too the lead straight after as Woodyatt's clearance was blocked by the lively Kadi couldn't convert the ensuing cross.
This was Woodyatt's only mistake all afternoon and the compsure shown by the youngster earned him many peoples man-of-the-match vote.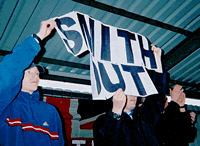 Woking missed another glorious chance to take the lead before Darren Wright, having a good game in difficult conditions, tried his luck from 25 yards only to see Matassa tip over once again to the frustration of the 150+ City fans behind the goal.
Two minutes from time the Cardinals took the lead. A left wing corner was headed home by Griffin past Phil Priestly in the City goal. Priestly was deputising for Wayne Brown who was involved in a car crash at the weekend.
There was still time for City to press for a deserved qualiser and it almost came. Deep into stoppage time following a City corner the ball fell invitingly to Martyn Lancaster 10 yards out. He struck a low shot that hit the foot of the post and rebounded to safety with Matassa, for once, rooted to the spot.
An appreciative City contingent applauded the players off seconds later and after the game home manager Colin Lippiatt was full of praise for City's effort: "I thought it was daylight robbery as they had far the greater possession."
---
Thursday 26 April 2001
Chester City 0 Kingstonian 0
Attendance: 834 Half-time 0-0
Chester City: Brown (Priestly 46), Gaunt, Blackburn, Doughty (Ruscoe 59), Lancaster, Fisher, Carden, Woodyatt, Wright, Whitehall, M.Beesley (Haarhoff 75). Subs not used: Moss, Berry.
Kingstonian: Glass, Beard (Akuamoah 46), Luckett, Allan, Stewart, Harris (Green 73), Boyce, Pitcher, Patterson, Wingfield (Jones 73), Winston. Subs not used: Bass, Blake.
Referee: A.Smith (Castleford).

A predictably small crowd greeted both sides in a meaningless end of season tussle. City's mid week thrashing at Kettering was a sobering reminder, if one was needed, of the uphill struggles awaiting us next season.
This very point was bluntly made in the programme where two pages were dedicated with thinly disguised anonymity from the "Chester City Board of Directors". In these the notes spoke of "large changes in the playing personnel for next season". Whatever your viewpoint it was of course only going to polerise the respective positions between and Mr Smith and the fans.
Support for the Chester players, was clear inside and outside the ground. "I'm Backing The Blues" and "I'm Backing Beesley" leaflets were circulated liberally outside the stadium. Even the small band of Kingstonian followers obliged holding up the now familiar "Smith Out" banner. It was passionate if not desperate stuff and had Terry decided to break his recent absence he would have had left quite clear again as to the strength of feeling amongst the City die-hards.
This sombre background however was in stark contrast to the weather which, while the sun remained, bathed the ground in warm sunshine at both teams assembled for their pre match routines.
Kingstonian appeared in their familiar red and white hoped jerseys looking at the very least for a win to escape relegation and almost found it after just two minutes. A mistake by Carden allowed their forward to move moving unchallenged to the edge of the box hitting a shot just inches wide.
Although an early scare, it was otherwise a comfortable first half for Chester who created the only chances of note. Beesley (Mark of course) twice lost his defender got behind the defence. One first occasion his shot was blocked by the quickly advancing Jimmy Glass. On the other he managed one better taking the ball around the keeper but too wide to profit with the ball squirming eventually to safety. As so many times before, it was difficult to feel that one of these chances at the very least should have been buried.
Whitehall showed his customary coolness on the ball but spoilt things with a couple of wasteful shots when better options were available. Wright ran his heart out covering every inch of the pitch but perhaps to coin a phrase it may have been because his first touch was so bad. It was not a bad performance by any means but it lacked real incident with the feel of a pre season friendly. The crowd tried hard to lift the players but after half an hour some of those behind the goal had turned their attentions to origamiing "Backing the Blues" leaflets into paper planes. With some grace and design many found their way over the cross bar and assisted by the warm evening breeze glided tantilisingly for few seconds before nosediving into the six yard box watched in double take by a bemused Wayne Brown.
In injury time, City strung together what was their best move of the half. Four passes were exchanged on the edge of the box and from the left delivered an excellent cross into the feet of the Wright who running in at the near post whose decent contact but lacked direction. It was n't much to get excited over forty five minutes but it reminded the players and the crowd that they could actually play some decent football now and again.
Half time was greeted by polite applause leaving City ahead on points if not on goals. The second half began with a surprise. Brown was substituted, and replaced by Priestley. It was to be an inspired choice and along with Glass both men between the sticks conspired to turn in commendable performances.
The second forty-five was far more open with both teams looking hard to break the deadlock. Ruscoe was sent on to replace Doughty who to that point had had a fair game. On the hour, Blackburn moved purposively into the box. Out went a leg and over he tumbled. The referee pointed straight for a penalty. Kingstonian protested and even some home supporters would have understood why. It seemed a harsh decision but it lifted the crowd. Would we see a goal at home at last? Whitehall stepped up and struck a powerful shot to the goalkeeper's left. The goalkeeper guessed right managing the faintest of touches to deflect the ball on to the bar. Whitehall was quick to first to react but although first to the ball, volleyed high under pressure.
Soon after Chester turned on the familiar self-destruct button. Priestley appear to clatter down an advancing Kingstonian attacker but the referee to much relief gave only a corner. The ensuing kick resulted in huge chaos with Kingstonian spurning an excellent chance. Unable to clear, Kingstonian pressed again forward. Carden taking a leaf from the Moss school of petulance made a reckless attempt at a tackle bringing down their forward inside the box - an easy decision this time for the referee. Surely a goal - but no. Just as we thought we were staring another home defeat in the face, Priestly hurled himself to his left to make a save of Herculean proportions. It was a save of real class and deserved a bigger stage than the 834 brave spread thinly around the ground.
The rest of the game belonged largely to Chester. Beesley got on the end of an impressive final pass and although connecting well, struck straight at the goalkeeper. Ruscoe not to be outdone squandered the simpliest of chances poking the ball wide after hesistation in the Kingstonian defence. A later flurry of bookings after some minor spats added to what could loosely be described as excitement as the game turned into rather a spunky last thirty minutes. But whilst the ball remained inflated this was a game in which neither team was going to score.
Their was a brief appearance from Jimmy Haarhoff but he neither had the time or service to make his prescence felt. The final whistle brought faithful applause from the supporters. It mattered little of course that it was two points dropped. There are bigger issues now at stake. Between now and the start of next season will be interesting times.
---
Tuesday 24 April 2001
Kettering Town 4 Chester City 0
Attendance: 1,216 Half-time 2-0
Kettering Town: Bowling, Matthews, Voden, Lenagh, Cowling, Fisher, Murray (Inman 46), Diuk, Collins (Fothergill 70), Watkins (Hudson 73), McNamara. Subs not used: Wilson, Perkins.
Chester City: Brown, Woods (Doughty 64), Gaunt, Ruscoe, Lancaster, Fisher, Carden (Moss 78), Blackburn, Woodyatt, M.Beesley, Wright. Subs not used: Priestly, Berry, Whitehall.
Referee: B.Sygmuta.
As the rain wazzed down torrentially all the way between Birmingham and Northants and the windscreen wipers worked at hyper speed it seemed that the match must surely be off tonight. But as we pulled into Kettering conditions eased from monsoon to steady downpour and the car park attendant at Rockingham Road assured us that the pitch was a good drainer.
Time, then, to acquaint ourselves with the vagaries of the local one way system where traffic is sent into orbit round a town centre where hardly a living soul was to be seen. The Exiles began to gather and it was soon time to commence the All-comers Exiles Cheese Skittles competition for another season. Sensationally, the tournament was won by Howard who held his nerve to fend off Steve Mansley's determined challenge. Howard admitted afterwards that he doesn't even like cheese.
With the Poppies needing to win or bust tonight and the strong possiblility that neighbours Rushden might disappear from the other end of the division, cheese skittles possibilities may become limited next year.
Phil Davies' car purred into the car park as the fans poured into the ground – the rain had now ceased.
It was a heavy pitch. There was no excuse however for the home side's opening goal which arrived with a mere two minutes on the clock and was presented gift wrapped and on a silver platter by Wayne Brown. Having safely gathered the ball he chose to roll it a couple of yards to Matt Woods, one of three defenders close by. Unfortunately neither Matt or the other two were looking in the right direction and they allowed Collins to lumber in and scuff the ball into an unguarded net. Worse was to follow four minutes later as Collins took advantage of more shambolic marking to ram the ball home from an unmarked position despite Gaunt's despairing lunge.
Would either of these disasters have occurred without the absence of the experienced Paul Beesley, left behind because of Terry Smith's most recent and despicable display of petulance? I think not.
After this the match was fairly even for the rest of the first half. Wayne made some amends with two first class saves. At the other end Fisher and Mark Beesley went close as City came into the game more. The referee, Mr B Sygmuta, according to the programme, mistakenly gave Kettering a corner when it should have been a goal kick and smiled benignly. When I asked him if he was going to knock the next goal in himself, "I'll see what I can do", he replied. Top marks.
The rain started to lash down again just before the interval, prompting several to hope for the conditions to rescue Chester. We sought cover down the side and were delighted when the home fans took up our chants of "Smith Out!"
Was it true, that Graham Barrow spent the whole of the half time interval in the dugout and not the dressing room? I didn't notice but one Exile assures me this is what he saw.
The tea bar having run out of their excellent chips, there was only the vague possibility of a City revival to look forward to for the next forty-five minutes. Nine minutes into the second half all such hope was crushed. Collins' back heel sent Watkins clear on the right and his angled shot from the edge of the box went in off a post. Shortly after this Diuk got free on the right and his shot from an even narrower angle looked to be going in – Collins ran it in over the line to make sure and complete his hat trick.
All that was left for the City fans was to carry on singing "Graham Barrow's blue and white army (etc. You know the rest) Gregorian style – with the stewards behind the goal echoing the fans under cover.
Oh Yes, and Darren Wright had a good chance to pull a goal back but his shot was turned round the post.
Given such abject and demoralised recent performances against Hednesford, Forest Green and now Kettering surely we owe Kingstonian another on Thursday?
---
Saturday 21 April 2001
Chester City 1 Dagengham & Redbridge 1
Attendance: 1,202 Half-time 0-0
Chester City: Brown, Gaunt, P.Beesley, Woods, Lancaster, Fisher, Carden, Blackburn (M.Beesley 64), Ruscoe (Doughty 72), Whitehall (Woodyatt 80), Wright. Subs not used: Moss, Priestly.
Dagenham & Redbridge: Roberts, Cole, Rooney, Goodwin, Lock (Cobb 46), Terry, Janney, Heffer (Brennan 62 (Forbes 80)), Jones, McDougald, Shipp. Subs not used: Hazelden, Wignall
Referee: S. Procter (Rotherham).

There was an air of expectation around the Deva on Saturday. In bright sunshine Chester fans wandered about with broad grins on their faces and clustered in groups to discuss the latest rumours, the red card protest, who was going to hold which end of the "Smith Out" banner and so on. The general consensus has swept across this City since Thursday that this time, with the banning of Barrie Hipkiss, Terry Smith has shot himself in both feet.
There was no way Terry could have put in an appearance yesterday but the protests continued throughout the game in his absence. Barrie Hipkiss was introduced by Cleggy saying that it had been an emotional week. Cleggy demanded and got a standing ovation for Barrie. It wasn't quite as long as Maggie Thatcher's at the Brighton Conference but was prolonged and made the point. Barrie received several chants of approval from the Sealand End as did Neil Turner*, who along with the other media have now taken the gloves off as far as Smith is concerned and been superb champions of the long suffering City supporters.
The match, with little at stake for either side, wasn't at all bad. City began with a flat back four, Paul Beesley filling the left back berth. Fisher, who has begun to hit a rich vein of form began alongside Blackburn in the centre of midfield – surely his best position.
First real chance came to City when Carden found Ruscoe whose shot rebounded off the post to safety. Fisher dipped a direct free kick past the post and then Wright had a great chance to score following good wing play by Paul Beesley. His downward header from a handful of yards out lacked power however and was straight at Roberts.
The Daggers keeper came in for some stick from the home fans in the second half – for no other reason that was clear to me apart from being Welsh. He was also very very lucky when Woods' header from Fisher's sublime cross got tangled in his legs and allowed him to drop on the ball and save it on the line. City had a purple patch just after half time but could not press home the advantage. Carden had a great chance following Whitehall's clever flick but his shot hit the post and side netting.
Dagenham then scored against the run of play from their first corner. Lee Goodwin rose unchallenged at the far post to head home. City's response was sluggish at first and the visitors might have had another goal from an identical position but the referee ruled it out for pushing. Whitheall charged at Roberts forcing a spectacular miskick from the custodian but again he recovered to clear the danger. Whitehall also appeared to be hauled down by a central defender but the referee correctly saw through him.
Blues now piled the pressure on and the Daggers had an incredible escape when Fisher burst throught with the goal at his mercy and prodded the ball wide when it seemed easier to score.
The crowd had just begun to drift towards the exits and the man of the match award had been granted to Matty Woods. He duly obliged by glancing the ball off his shoulder from a left wing cross. Roberts' despairing dive could not prevent it entering the top corner.
A just result. City deserved something from this game.
*PS Neil Turner's comment in the Echo on Saturday was so good I can't resist repeating it:
.."It appears that Deva Stadium officials are looking for a set of subservient supporters, a media that acts as a noticeboard for crackpot schemes and a Supporters Club Association that dutifully performs every normally remunerated task at the Deva Stadium free of charge."
---
Wednesday 18 April 2001
Leigh RMI 0 Chester City 1
Attendance: 501 Half-time 0-1
Leigh RMI: Dootson, Trees, German, Farrell, Durkin (Spooner 54), Swann, Ridings, Kielty, Jones, Black, Monk (Hayder 82). Subs not used: Gardner, Connelly, Felgate.
Chester City: Brown, Woods, Lancaster, Doughty (Gaunt 85), Ruscoe, Fisher, Carden, Blackburn, Woodyatt, Whitehall, Wright (M.Beesley 66). Subs not used; Moss, Haarhoff, Priestly.
Referee: G. Salisbury (Preston).

As at Stevenage two days earlier, manager Graham Barrow decided to play Steve Whitehall as a lone striker and pack the midfield with five players and once again City came away with three points.
Again, as on Monday City started the game brightly and had he ball in the net after only five minutes. However Whitehalls strike, following a fine flowing move that started in City's half, was ruled out for offiside.
Neil Fisher and Chris Blackburn were once again beginning to run the midfield and it was Blackburn who had City's next real effort on target when he almost broke the crossbar with a 30-yarder, the home keeper Dootson beaten all ends up.
Dootson was soon in the action again saving well from a close range Scott Ruscoe volley but he had no chance minutes later as City opened the scoring.
Neil Fisher played a short pass to Darren Wright who turned and smashed home an unstoppable shot from 25-yards for one of City's best goals of the season. This was Wright's second goal in successive games after spending most of the season on the bench.
City almost doubled the lead through Matt Woods whose free header was saved. Leigh threatened little in the firast half and when they did Lee Woodyatt and Martyn Lancaster coped well at the back.
Following the break the home side came more into the game. Young Woodyatt did well to clear a Gorman shot off the line and the home side went close to equalising through Black and Jones.
But it wasn't all one way traffic and once again Matt Woods tested the home keeper folowing a Fisher corner and it was Fisher who had the final say in t matters bravely blocking a Black drive to secure the points for City.
---
Monday 16 April 2001
Stevenage Borough 1 Chester City 2
Attendance: 1,748 Half-time 1-2
Stevenage Borough: Taylor, Hamsher, Trott (Miller 86), Sodje, Cort (Armstrong 59), Martin. Abbot, McMahon, Morgan, Clarke, Illman. Subs not used: D.Phillips, Wilkerson, Smith.
Chester City: Brown, Lancaster, P.Beesley, Woods, Gaunt, Fisher, Carden, Blackburn, Ruscoe (Doughty 65), Whitehall, Wright (M.Beesley 78). Subs not used: Moss, Haarhoff, Priestly.
Referee: M.Yerby (Ashford).

Well wonders never cease. Against all odds Chester produce a truly professional performance to see off one of the better sides in the Conference on their own patch. It is a very typical of City in this topsy tuvey season that there was only 78 visiting fans to witness this victory (I was informed and not sad enough to count!).
In truth this was a very good game. Barrow changed his tactics and played four at the back and five in midfield. It worked. Fisher and Carden were outstanding in midfield with Fisher everywhere (honest!). City had a great start when Fisher lobbed the goalkeeper from twenty yards to score Citys first goal for....ages!! This gave Chester the confidence as Fisher went close with a free kick as the "new" formation worked a treat. However on 26 minutes Stevenage levelled out of the blue when Dean Martin, in true Hollywood style, lobbed Brown from 30 yards after the City keeper had made a complete hash of a clearance passing the ball straight to Martin. This gave Stevenage the impetus and a couple of free kicks shaved the City post, before right on half time, Fishers free kick was half cleared and Wright scored from 15 yards with a right foot shot. He celebrated with a double somersault – slightly out of place in The Conference – try Sydney 2000.!
Stevenage came out predictably fighting in the second half and had the ball in the net within 40 seconds only for the goal to be disallowed for offside. Chester tasks was made even harder four minutes later when Gaunt was dismissed for a second bookable offence after bodychecking Illman, Chester then reshuffled and looked solid under fairly constant Stevenage pressure. However rare Chester attacks saw Woods go close from a corner and Whitehall denied by a Stevenage defender who deflected the shot wide for a ...goal kick!(?). Mark Beesley should have finished it near the end, but shot wide.
Three minutes of stoppage time allocated coincided with four or five Stevenage corners but Chester held out for three probably surprising points, but welcome all the same.
Alan Parry-Jones
---
Saturday 14 April 2001
Chester City 0 Forest Green Rovers 1
Attendance: 1,292 Half-time 0-0
Chester City: Brown, Moss, Doughty (Fisher 75), Lancaster, Woods, P.Beeley, Carden, Blackburn, M.Beesley (Wright 60), Whitehall, Ruscoe. Subs not used: Gaunt, Woodyatt, Priestly.
Forest Green Rovers: Perrin, Cousins, Lockwood, Clark, M.Foster, Cooper, Middleton, Slater, A.Foster (Olney 86), Meecham, Sykes (Shaw 77). Subs not used: Daley, Ghent, Burns.
Referee: A.Green.

Another disappointing home performance from City against a side fighting for points to stay in the Conference.
City had the better of the opening exchanges and there were loud appeals for a penalty as Darren Moss was sent sprawling in the box by Foster on five minutes. Ruscoe and Whitehall both forced saves from the visiting keeper Perrin but once again City were found lacking any real punch up front.
Matt Doughty stretched Perrin again on 25 minutes as his free kick was tipped over the bar, and the keeper was on hand on the stroke of half-time to once again deny Whitehall. The loudest cheer of the opening period was reserved for the Forest Green Rovers fans who unfurled a large SMITH OUT! banner on the away terrace, adding to the two in the west stand. Chairman Smith didn't make an appearance at the Deva all afternoon.
Typically, in a scrappy game, it was an own goal from Matty Doughty on 68 minutes that gifted the points; the young defender turning in a left wing cross past Wayne Brown while attempting to clear.
Barrow replaced Mark Beesley and Scott Ruscoe with Darren Wright and Neil Fisher but City, playing without much pattern or cohesion, failed to snatch an equaliser, Steve Whitehall's header against the foot of a post the nearest we got to it.
Rovers battled well and stuck to their task to secure the points from a game that lifts them closer to safety.
City's problems off the pitch are not surprisingly having a big effect on the players performances on it. The chairman even banned radio Merseyside's Neil Turner from the press box on Saturday and several players, including the promising Chris Blackburn and Carl Ruffer have already slapped in transfer requests highlighting their unrest at what's going on behind the scenes and there can only be one reason for that...
---
Saturday 7 April 2001
Chester City 0 Canvey Island 2
FA Umbro Trophy Semi-Final 2nd leg
Attendance: 2,647 Half-time 0-1
Chester City: Brown, Fisher (Haarhoff 45), Doughty, Lancaster, Woods, P.Beesley (Gaunt 65), Carden, Blackburn, M.Beesley, Whitehall, Ruscoe. Subs not used: Priestly, Moss, Wright.
Canvey Island: Harrison, Kennedy, Duffy, Chenery, Bodley, Ward, Tilson, Stimson, Gregory, Vaughan (Jones 67), Parmenter. Subs not used: Bennett, Miller, Smith, Tanner.
Referee: M.Warren (Walsall).

No one at the Deva on Saturday needed persuading that Spring is late in arriving this year as the rain lashed down and the cold wind blew. Chester City's season seems condemned to eteranl winter by this defeat.
There was a degree of measured optimism among fans beforehand. If things went well for us there was surely the possibility of overturning the first leg deficit. At least we wouldn't have to guard against complacency.
But there was also no margin for error and when Scott Ruscoe was caught in possession in the attacking third of the pitch Canvey broke with speed and purpose. Stimson found space on the left and a neat exchange of passes followed, including one fortunate ricochet which left the ball at Parmenter's feet with only Brown to beat. His first time shot was dispatched with aplomb. The goal on the half hour knocked the stuffing out of City.
Prior to this Chester had made a bright start, kicking towards their own fans and in the teeth of a stiff breeze, they took the game to Canvey. From the word go the visitors sought to disrupt the flow of the game with blatant time wasting. Their players stayed down after every tackle and waited for treatment, they pretended not to know where the ball had gone before ambling over to take a throw in, the keeper chose to take every goal kick from the opposite side to where it went out of play. The referee seemed to turn a blind eye to all of this, infuriating City fans, but the tactics worked as City failed to establish any kind of rhythm or hold on the game.
Blackburn made a welcome return in midfield and seemed to give City an extra dimension. Ruscoe got in the clear in the inside left position and might have shot but squared the ball for Mark Beesley who was quickly closed down by two on-rushing Islanders. Paul Beesley headed back across goal from a Fisher cross but Lancaster, reacting instantly, could only head over.
Apart from these half chances, City created very little. Canvey, to their credit were swift to close down any Chester player on the ball. As a consequence, as has happened before this season, Chester just did not play as a unit at all. A City player on the ball was always struggling to find a colleague. No width, no pattern to City's play. Canvey in contrast were hungry for victory and played with purpose.
Shortly after Canvey's first goal Brown did really well to keep out a screamer of a shot from Stimson.
Jimmy came on at half time for Fisher. But he got to see little of the ball and when City could get it to his feet he was often in a wide position where he can do little damage to the opposition. When Whitehall got through and a despairing tackle from a Canvey defender saw the ball hit the inside of the post, stick in the mud and allow the goalie to recover and save it, we got the feeling that the ball just wasn't going to run for City. Whitehall ended another good move with a volley straight into the arms of their keeper.
Canvey's second goal of the afternoon finally put paid to any flickering hopes of a City revival. Stimson's shot through a forest of legs took a slight deflection into the bottom corner to give Wayne absolutely no chance. It then became hard for City to play with any purpose and in any case Canvey didn't let them – the visitors stuck to their task right through to the final whistle.
Those City fans who remained at the final whistle sportingly applauded the Essex boys' lap of honour. No-one could deny that they had comprehensively outplayed Chester over both legs of the semi-final. It was extremely unfortunate that their fans were denied access to the supporters club after the game – why was this necessary when away fans have been admitted all season previously?
City fans at least had the diversion of a Smith Out! (A proper printed affair complete with exclamation mark) banner being unfurled in the West stand - right in his sight line. It came out in the first half only for it to be taken down after a lengthy confrontation with stewards. In the second half it remained – tactically positioned over an exit – unchallenged.
Smith would appear to be on his way out now. It had been revealed that he had resigned as a director on 17th March (St Patrick's Day) in yesterday's Chronicle. Speculation was rife that he would want to bask in the glory of a Villa Park Trophy final if City got there. Now it seems that even that door has been closed to him. Every cloud has a silver lining.
---
Tuesday 3 April 2001
Dover Athletic 1 Chester City 1
Attendance: 1,112 Half-time 1-0
Dover Athletic: Hyde, Munday, Norman, Leberl, Shearer, Beard, Strouts, Chapman, Vansittart, Brown (Hockton 75), Carruthers (McRobert 17). Subs not used: Hales, Le Bihan, Okafar.
Chester City: Priestly, Ruscoe, Moss, P.Beesley, Woods, Lancaster, Blackburn, Haarhoff (Berry 69), Porter (Woodyatt 75), Whitehall, Wright. Subs not used: Gaunt, Roberts.
Referee: K.Reynolds (East Barnet).

Following City's disastrous performance on Saturday it was a different looking side that took the field at Dover's picturesque Crabble Athletic ground.
Situated up a hill a couple of miles from the town the Crabble's setting, surrounded by tall trees, borought back memories of Brighton's Withdean Stadium we visited early last season. One side of the pitch also had a sloping grass bank, seen, in days past, at Exeter City's St James Park.
City took to the pitch in their familiar blue and white with Scott Ruscoe playing in an unfamiliar full back role, deputising for the rested Matt Doughty. Steve Whitehall and Jimmy Haarhoff were back in attack and were soon in the action, though despite plenty of possession and some neat approach play the home keeper was only troubled on a couple of occasions with Haarhoff shooting wide and Ruscoe sending a tame grass-cutter straight into the 'keeper's arms.
At the other end Martyn Lancaster was called upon on numerous occasions to mop up at the back and made one great last ditch tackle to deny the lively Matt Carruthers.
Lancaster was also in action at the other end making an amazing 80 yards run from defence but by the time he got ready to make his cross there was nobody to receive it in the middle.
A minute before the break Dover took the lead. Steve Norman's right wing corner was sent to the far post for the unmarked Lee Shearer to head home past Priestly.
Half-time and the fans swapped ends. The Wingers Tea Bar was doing a roaring trade in chips as the rain started to lightly fall.
It didn't take City long to get back on level terms. Following a goalmouth scramble the ball fell to Chris Blackburn, his shot through a melee of legs was going wide before the alert Steve Whitehall (who'd run his legs off all night) pounced to stretch out a leg and flick the ball past Hyde to the delight of the 50-60 travelling fans behind the goal.
Haarhoff was replaced by Paul Berry, (who touched the ball about three times in his 20 minutes on the pitch) but it was the home side who looked more likely to add a second. Phil Priestly, who was prone to running of his line at the sign of any danger, was almost caught out as he made a hash of a high cross that sailed over his mistimed jump, it needed Joe Hinnigan's magic sponge to repair the damage caused by the keeper crashing to the ground.
Minutes later and it was Martyn Lancaster who came to the keepers rescue. Hockton received a superb through ball down the right and took the ball past the advancing Priestly. His diagonal shot however was bravely headed off the line by Burt who did well to avoid crashing into the post in the process.
A couple of half chances fell to both sides in the dying minutes but in the end both had to be content with a point.
Chris Blackburn making his first appearance for a couple of months had an outstanding game and looks set to start against Canvey Island on Saturday. Such was City's injury crisis that they were only able to name four substitutes on the bench.