Saturday 12 August 2000
Stafford Rangers 0 Chester City 4
Attendance: 459
Stafford Rangers: Williams (Spittle 73), Everritt, Read (Boughey 66), N.Smith, Brindley, Simpkin, J.Smith, Middleton, Eccleston (Heath 78), Kiely (Tranter 46), Jones (Carter 66).
Chester City first half: Greygoose, Lancaster, Doughty, Gaunt, Woods, P Beesley, Carden, Blackburn, Finney, Wright, Kerr.
Chester City second half: Greygoose, Moss, Shelton, Harris, Ruffer, Lomax, Richardson, Minors (new triallist from Charlton Athletic), M Beesley, Berry, Fisher.

Chester maintained their unbeaten pre-season record with a straightforward victory over Stafford Rangers. Although their Dr Martens League opponents started brightly Chester took control after Paul Carden had opened the scoring and in the end it was just stroll in the sun.
Graham Barrow started the game with what appears to be his first choice team but it took time to settle. Stafford had the ball in the net within the first ten minutes but the goal was ruled out for offside and shortly afterwards Dean Greygoose made a fine save from a close range shot. After 16 minutes Chester took the lead when Matt Doughty's excellent cross found Darren Wright. His header was blocked by Simpkin but fell to Carden who scored easily. The lead was extended after 24 minutes when Carden's corner was deflected into the net off Eccleston's thigh. Chester were now in command of the game and Finney and Gaunt both had good opportunities to score before half time.
At half-time all the outfield players were replaced as Barrow gave the rest of the squad 45 minutes action alongside some of the triallists who had played at Vauxhall. One new face was Duane Minors (ex Charlton Athletic) while Paul Berry made his first appearance following illness and injury.
Mark Beesley should have scored straight after the interval but then, as he did at Vauxhall, proceeded to score with a more difficult chance when he collected a through ball from Nick Richardson, rounded the keeper and scored from a narrow angle. Ten minutes later Beesley pulled the ball back from the byeline to Andy Shelton who crashed the ball into the net at the far post.
•Official Stafford Rangers website – contains match report and comments.
---
Tuesday 8 August 2000
Vauxhall Motors 1 Chester City 4
Estimated attendance: 236
Chester City: Simms, Harris, Moss, Lomax, Ruffer, Richardson, Shelton, Boggan, Tarr, M Beesley, Fisher. Subs: Rogers, Fogg, Kilgannon, Roberts.
Chester played a mixture of fringe players and triallists in this friendly at Vauxhall Motors. The four players who came on as substitutes against Bolton (Richardson, Moss, Mark Beesley and Shelton) all got a game as did the unused substitutes Fisher and triallist Anthony Tarr (Port Vale). The other five players were:
Ian Simms – goalkeeper from Oxford United
Michael Harris – defender (ex Newcastle United)
Michael Lomax – defender (ex Blackburn Rovers and Macclesfield Town)
Carl Ruffer – former captain of Runcorn
Jonathan Boggan – midfield (ex Liverpool)

The game was all over as a contest after only 20 minutes as Chester raced into a 3 goal lead. Anthony Tarr opened the scoring after 7 minutes when he rounded the keeper and shot into an empty net. Six minutes later Mark Beesley was put through by Richardson and confidently placed the ball past the keeper. In the 18th minute Richardson added a third when he picked up a loose ball in the area and hammered the ball home.
Vauxhall came into the game after the interval and pulled a goal back in the 51st minute when a long range shot dipped over Simms. Mark Beesley hit the post in the 78th minute but then scored with a more difficult opportunity two minutes later, a powerful shot from the corner of the area.
It was a good result for a second string Chester team against a side that had beaten a strong Tranmere eleven the previous week.
---
Monday 7 August 2000
Chester City 0 Bolton Wanderers 0
Attendance: 1,205
Chester City: Brown, Lancaster (Moss 83), Doughty, Gaunt, Woods, P Beesley, Carden, Blackburn, Finney (Shelton 88), Wright (M Beesley 75), Kerr (Richardson 77).
Bolton Wanderers: Banks, O'Kane, Bergsson, Haveron, Charlton, Barness, Passi, Frandsen, Farrelly, Warhurst, Hansen. Subs: Ricketts, Wheatcroft, Jaaskelainen, Kaprielian, Richardson, Snorasson, Blinker, Crumblehulme.

Chester came through their toughest test to date with flying colours. Bolton fielded a strong side including Bergsson, Warhurst, Bo Hansson. They began by passing the ball about smoothly but soon found it difficult to break down a compact and well organised Chester unit.
Of the half chances that came before the interval, most of them fell to City. Finney just failed to get on the end of Doughty's menacing cross. Wright headed over. If Finney was caught offside once – he was caught a dozen times. In defence Beesley, Gaunt and Woods refused to let enaything past them. Brown hardly had a save to make.
The visitors brought no less than twenty substitutes with them. They all got up of the bench to go for a collective jog and sounded like the passing of the Household Cavalry.
At half time at least seven substitutions were made by Bolton but this did nothing to detract from their ability. They were, if anything sharper and quicker. Still City gave them a good game. The closest they came to scoreing was when Darren Wright went through on the left, he hesitated thinking he was offside but when the linesman's flag stayed down he was even more surprised to be almost shaking hands with the wandering Wanderers keeper. His shot from fully forty yards trickled across an empty net and just wide of the post.
Bolton had a couple of nippy forwards who might have scored but City were saved by the odd miskick and one superb tackle from Craig Gaunt who seemed to fit in very well alongside Beesley. The latter looks an excellent acquisition by Barrow.
All in all a very promising performance. City kept their shape throughout, were disciplined and well organised and should prove hard to beat on this showing. Scoring goals might be more of a problem as ideas are limited going forward and the attackers are lightweight – but I have to say they look in quite good shape on the pitch at the moment.
---
Friday 4 August 2000
Bangor City 0 Chester City 3
Estimated attendance: 250
Chester City: Brown (Burgman 73), Moss, Doughty (Shelton 60), Gaunt, P Beesley, Fitzhenry (Woods 45), Kerr, Richardson (Blackburn 73), Tarr (Finney 73), M Beesley (Wright 73), Fisher (Carden 73).
After an uninspiring first half Chester convincingly beat Bangor City with three second half goals from Craig Gaunt (two) and a brilliant effort from Steve Finney. With Dean Spink missing through injury Graham Barrow included triallist Anthony Tarr from Port Vale at centre forward. However the partnership of Mark Beesley and Tarr created little impression and it took the late introduction of Finney and Darren Wright to liven up the attack.
In a dull first half Chester had plenty of possession but created few worthwhile efforts on goal. David Kerr worked hard in midfield and Darren Moss looked good going forward but the overriding impression was the solid display of Paul Beesley and Craig Gaunt at the centre of defence. Although never under any intense pressure both players, along with Neil Fitzhenry, formed a solid wall which Bangor never looked likely to breach.
Chester took the lead on the hour with their first corner of the game. Neil Fisher's delivery was met by the unmarked Gaunt at the near post and City's latest recruit sent an unstoppable header past the Bangor keeper. Eight minutes later Gaunt repeated the trick. This time Neil Fisher's corner from the opposite side was delivered to the far post. Mark Beesley headed the ball back across goal and Gaunt ran in unnoticed to smash the ball home from eight yards.
With 15 minutes to go Barrow introduced Carden, Blackburn, Finney and Wright and City started to look more dangerous. Within five minutes Finney had the ball in the net following a pass by Darren Wright but he was adjudged offside. However, in the 84th minute, Finney got his name on the scoresheet with a quite brilliant goal. Collecting a ball in midfield he lobbed the ball over one defender, stepped inside another and sent a low shot into the corner of the net from the edge of the box. This was just reward for a player who received plenty of criticism last season but who has looked impressive in the pre-season games.
All in all it was another satisfactory result although City should have created more clear cut chances from the amount of possession they had. Man of the match for me was Craig Gaunt who, along with Paul Beesley, constantly encouraged and directed the other players and still found time to get forward and score two goals.
---
Tuesday 1 August 2000
Chester City 1 Bristol City 0
Attendance: 917
Chester City: Brown, Lancaster, Doughty, Woods, P Beesley, Fitzhenry, Carden, Blackburn, Spink (Finney 30), Wright (M. Beesley 68), Kerr (Ruscoe 58 (Fisher 68)).
This was quite a pleasant evening from a spectators point of view. The ground was bathed in sunshine for most of the match and the sun actually set behind the North Terrace. The club just managed to get away without using the floodlights.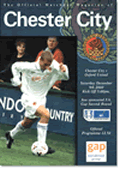 Chester looked good but they were up against a youthful Bristol side who hardly had a shot all night so it's difficult for any meaningful conclusions to be drawn from this.
The goal was definitely an own goal – their number five I thought – under pressure from Darren Wright. Chester should have had several more. Wright had the ball in the net earlier but the whistle had gone for a foul on the keeper. Spink who had looked reasonable in the air, if a little slow, chased a ball to the touchline and fell awkwardly. He seemed to be feeling his knee and though he limped around the pitch to the dressing room – it didn't look too good for him. Later the Deva crowd had their first look at Ruscoe as he came on ten minutes into the second half. He had an immediate impact on the game, setting up a chance and hitting a first time shot on target from outside the box. As he was going through agin on goal he fell awkwardly as he shot and was taken off as a precaution a minute or so later.
Finney and Wright and then Finney and Beasley set up good understandings up front. A deft Finney header set up Beasley to score but he was ruled just offside.
Earlier Kerr had looked useful and Blackburn worked hard in central midfield. Paul Beesley let nothing past him in the air. Lancaster and Doughty played as wing backs – and both looked quite comfortable with that.
If nothing else it was a chance to see some of Graham Barrow's new signings and their new kit. There was also enough to suggest that City will be playing a passing game this season. It was disappointing that Bristol didn't send a stronger side though – not least to the coach load of supporters who took the trouble to come up and support them.
---
Saturday 29 July 2000
Aberystwyth Town 1 Chester City 2
Estimated attendance: 400
Chester City: Brown (Burgman 45), Lancaster (Moss 60), Doughty (Shelton 45), Gaunt, Fitzhenry, Woods, Carden (Richardson 45), Blackburn (Fisher 45), Spink (M.Beesley 60), Wright (Finney 45), Kerr (Ruscoe 45).

Chester beat Aberystwyth 2-1 on Saturday to extend their unbeaten run to a staggering three games. In very warm weather at Aberystwyth City suffered some early scares and conceded a goal after only 8 minutes. However, they gradually took control of the game and, in the end, won more comfortably than the scoreline suggests.
Wayne Brown didn't have the best of starts and nearly conceded a goal in the first minute when a cross shot almost sneaked in at the far post. Seven minutes later a long range shot by Gavin Allen caught out Brown who appeared to think that the ball was going over the bar – it wasn't. City gradually found their feet and started to dominate the midfield. Paul Carden, the pick of the players in the first half, seemed to be everywhere. After 20 minutes Matt Doughty put over an excellent cross which just went behind David Kerr while Dean Spink sent a header inches over from a Carden cross. It was Carden who set up the equaliser, in the 38th minute, when another quality right wing cross was met superbly by Darren Wright at the near post. Once again Wright ran his heart out and looks to be developing a good understanding with Spink. The Wright/Spink partnership almost put Chester ahead three minutes later when a header by Spink was met by Wright who headed against the post despite being able to get little power behind his header.
There were the usual mass changes at half-time and American triallist Cole Burgman (from Oklahoma I believe) replaced Brown in goal while the whole of the midfield was swapped round. Chester almost scored with their first attack of the half when Shelton's header hit the post and Spink's follow up shot was saved. Five minutes later Spink blasted over from close range when he intercepted Lancaster's attempted shot. On the hour Neil Fisher, who was impressive in a central midfield role, chipped the ball forward for Andy Shelton to head over the advancing keeper. Fisher was involved in most of Chester's best moves in the second half and should have scored himself but hesitated for too long with the goal at his mercy.
Aberystwyth almost got an equaliser in the 70th minute when a shot from the edge of the area hit the outside of Burgman's post but this was a rare attack. Shelton and Finney both had shots well saved by the keeper and City almost grabbed a third with three minutes to go when Burgman's long kick was controlled brilliantly by Finney (who had his best 45 minutes so far). He laid the ball off for Mark Beesley but his curling shot was well saved.
Graham Barrow must now be closer to deciding on his starting eleven. On the evidence so far it looks like we will be playing with three central defenders and two wing backs, three in midfield and two up front. One wonders if the team that kicked off at a neat and tidy Aberystwyth ground is currently Graham's idea of a first eleven.
---
Tuesday 25 July 2000
Runcorn 1 Chester City 2
Attendance: 469
Chester City first half: Greygoose, Lancaster, Doughty, Woods, Fitzhenry, P Beesley, Carden, Quigley, Kerr, Spink, Wright.
Chester City second half: Greygoose, Moss, Lancaster, Fitzhenry, Fisher, Shelton, Richardson, Blackburn, Ruscoe, Finney, M Beesley.
Once again Graham Barrow used the opportunity to give as many players as possible a run out with numerous changes at half time. Chester won the game comfortably with a goal in each half from Darren Wright and Scott Ruscoe. Runcorn scored a late consolation through John McAllister. Shaun Reid did not play in the game and despite reports he has not signed for Runcorn.
Chester kicked down the slope in the first half and Dean Spink nearly scored with his first touch of the ball in a Chester shirt after a good lay off by Darren Wright. Paul Beesley almost sliced the ball into his own net after 5 minutes but City took the lead in the 12th minute when Dean Spink had a shot blocked and Wright followed up to hammer the ball into the net from just inside the area. It was a deserved goal for Wright who once again worked hard and linked up well with Spink. Most of the best chances continued to fall to Chester and in the 25th minute Wright hammered the ball wide after being set up by Spink. Shortly afterwards David Kerr had a good opportunity but chipped just wide.
Ray Newland (yes that one) played in goal for Runcorn and had a solid game – really! He did particularly well to block a Wright shot with his legs following an excellent header from Spink.
In the second half Steve Finney and Mark Beesley replaced Wright and Spink up front. Beesley looked promising and although Finney had one good turn and shot the first half partnership looked more dangerous. After 65 minutes Newland saved well in a one on one situation with Beesley but could do little to prevent Scott Ruscoe's superb curling shot from the edge of the area ten minutes later. Chester continued to create the best opportunities and Finney should have done better with a cross when left with plenty of space in the area.
Dean Greygoose was never really tested but his handling on corners looked sound and he was unlucky on the goal when he did well to block a shot which was followed through by McAllister.
It was a reasonably enjoyable game but difficult to read too much into and the first real test will be against Bristol City.
Help fight to keep Runcorn FC in the town by visiting their website.
---
Saturday 16 July 2000
Connah's Quay Nomads 1 Chester City 1
Attendance: 676
Chester City first half: Brown, Fisher, Doughty, Craig Gaunt (Triallist from Notts County), Woods, P.Beesley, Kerr, Richardson, Finney, Wright, Ruscoe.
Chester City second half: Brown, Moss, Lancaster, Woods, Fitzhenry, Shelton, Carden, Mike Quigley (Triallist, ex-Man City), Blackburn, M.Beesley, Barry Wood (Triallist from Scotland).

A useful workout, in very warm weather, saw Graham Barrow give 20 different players at least 45 minutes action. The game finished 1-1 with Steve Futcher putting Quay ahead in the first half and Mark Beesley deservedly equalising with about 15 minutes to go.
Chester got off to a bright start with Darren Wright having a goal disallowed for offside after 15 minutes following a pass from Steve Finney. Wright worked hard in his 45 minutes while Matt Doughty performed well after his recent "break". Scott Ruscoe (a Sam Aiston lookalike) showed some good touches and could have scored after Finney had shielded the ball well to set up a chance near the penalty spot.
Quay took a surprise lead when Steve Futcher's speculative 25 yard effort, midway through the half, seemed to totally wrong foot Wayne Brown who watched the ball go into the net. Brown made amends a few minutes later when he came out to block a shot when a second goal seemed certain. This brief flurry of action was all that Quay managed in the 90 minutes and Brown and the rest of the defence were rarely troubled.
As the game petered out towards half time Finney missed a great opportunity with only the goalkeeper to beat. Fortunately for him he was ruled offside but he should have found the net.
During the interval we had to endure the "Great Escape" over the tannoy. Someones idea of a joke?
There were wholesale changes for the second half as only Matt Woods (captain) and Brown played the full 90 minutes. The second half team showed more enthusiasm with a number of players out to impress. Paul Carden looked good, Neil Fitzhenry had very little to do in defence while the front two created a number of opportunities. With many of the players wearing no shirt numbers it took most of the 45 minutes to work out who was who and the identity of one of the strikers (Barry Wood, a triallist from Scotland) remained a mystery to many people.
Mark Beesley marked his debut with a poacher's goal following good work by Darren Moss and looked dangerous throughout his 45 minutes. He could prove a useful acquisition. Mike Quigley had one spectacular volley direct from a corner and caught the eye a few times. Chester could have grabbed a winner in the closing stages, and on the balance of play it would have been deserved, but in reality it was just an exercise in giving as many players as possible a taste of competitive action.