---
Saturday 28 October 2000
Easington Colliery 0 Chester City 2
AXA FA Cup Fourth Qualifying Round.
Attendance: 478 Half-time 0-1
Easington Colliery: Thompson, Nicholson, Van Haught (Rice 73), Errington, P.Brown, Ward, Salvin, Davies, Matthews (Robson 85), Pitman (Constantine 89), Allen. Subs not used: Dixon, Marsh.
Chester City: Brown, Carden, Doughty, Ruffer, Woods, Lancaster, P.Beesley, Porter, Blackburn (Fisher 89), M.Beesley, Whitehall. Subs not used: Ruscoe, Kerr, Wright, Woodyatt.
Referee: A.Smith (Castleford).

City progressed through to a first round home tie with Plymouth Argyle following this accomplished victory at a windswept Welfare Ground.
The omens for the match weren't good travelling up from London at 07:30. Torrential rain and winds (plus three Hastings Reds Man Utd coaches – huh!) followed us all the way up the M1. Arriving in Easington at one o'clock and fearing the worst, we asked a traffic warden if the game was in doubt "oh, no! we're used to this weather here". – game on.
Entering the Welfare Ground through the tree-lined park and past the miners memorial, it was clear that those arriving a little earlier had grabbed what shelter there was, a small shed-like affair at the end of the side terrace. The press boys had already commandeered some seating in the back row.
City kept the same team as last week with the exception of Carl Ruffer replacing Neil Fisher, Andy Porter assumed the captaincy.
An early goal to settle the nerves was required and that's exactly what we got. Steve Whitehall ran the ball down the right and cut in before unleashing a swerving 18-yarder that skidded under the home 'keeper.
Whitehall almost doubled the lead moments later having a goalbound shot cleared off the line after Mark Beesley had rounded the 'keeper.
Despite having most of the possession City failed to create any clear-cut chances for the remainder of the half, being guilty of too many high crosses, when keeping it on the deck would surely have reaped dividends in the difficult conditions.
Any threat from the home side was easily snapped up by the effective Ruffer at the back.
The spectacular view to the left behind Wayne Brown's goal was of the north-east coastline looking back to Hartlepool and Middlesbrough. The view to the right was of chairman Terry Smith standing on the club roof leaning into the wind to view the match, preferring that to standing under shelter with the City fans.
The second half followed much the same pattern as the first. City had plenty of possession without troubling the 'keeper until later in the game. Matt Doughty sent over some teasing crosses which both Beesley and Whitehall failed to take advantage from.
The Pitmen's only chance of the half came from a free-kick, Brown being penalised for carrying the ball outside his area, but the goal attempt was wasted.
City put the game beyond doubt seven minutes form time when Andy Porter flicked through Matt Doughty's throw-in for Mark Beesley to slip the ball home.
In the last minute Whitehall hit the post with a lunging header following a superb pinpoint cross from Doughty.
---
Saturday 21 October 2000
Chester City 1 Leigh RMI 1
Attendance: 1,858 Half-time 0-0
Chester City: Brown, Carden, Doughty (Ruscoe 67), Woods (Ruffer 67), Lancaster, P.Beesley, Porter, Blackburn, M.Beesley, Whitehall, Fisher (Wright 62). Subs not used: Woodyatt, Moss.
Leigh RMI: Felgate, Scott, Devenney, Udall, Farrell, Swann, Monk (Critchley 55), German, Harris, Black (Doolson 81), Jonel. Subs not used: Durkin, Morrell, Matthews.
Referee: S.Coffey (Liverpool).

One of the most vexing matches I have watched in a long time. This was sheer torment.
Perhaps expectations were too high to begin with. Buoyed by the return of Andy Porter and Steve Whitehall signing a contract, we could be forgiven for thinking that City would steamroller the Ralway Mechanics from Leigh. City did indeed take the game to the visitors without making many clear chances.
They were handed a golden opportunity on a plate, however, when the referee – an overweight lookalike of Jeff Winter – gave us a penalty for a shove in Mark Beesley's back. It seemed a harsh decision to say the least and to rub salt in the wound, Devenney was booked for his pains. Whitehall's kick was lackadaisical and at a comfortable height for Felgate to parry. Even then Beesley had a chance to knock the rebound in but he took too long and Felgate smothered.
The rest of the half petered out into a dour struggle with Chester having the upper hand and the occasional foray by Leigh's fleet-footed forwards.
Surely we would suck the ball in during the second half. Fisher cut in from the left, found a bit of room on the edge of the box and let fly with a superb shot. Felgate was beaten all ends up but his goal survived when the ball crashed against the underside of the bar and away to safety.
Former City hero Felgate received a richly deserved warm reception when he took up his position for the second half. He reciprocated with "Hats off" gestures and contunued to play to the gallery throughout. He has grown in girth as well as stature since leaving us. When he nonchalantly plucked Whitehall's header from under the bar – the bloke next to me said "He only caught it 'cos he thought it was pie". If your good enough – your slim enough.
Captain Fisher was withdrawn a few minutes later – much to my surprise. But Barrow clearly felt the need to change something as City were just incapable of keeping the pressure on the visitors. Midfield found it difficult to develop any rhythym or string any passes together – it was painful to watch. Maybe accommodating Porter had made it difficult for the team to adjust. Carden had a very poor game by the high standards he has set himself. At least he worked hard but his touch let him down.
Adding to the frustration was the bizarre and completely unpredictable referee – Mr Coffey – he seemed to go through a phase of booking someone every time there was a foul. Lancaster was very unlucky to be booked as a Leigh forward just ran into him. But not as unlucky as Devenney who was booked for the second time for an innocuous challenge.
Woods and Doughty were withdrawn and Ruscoe and Wright thrown on. Still the pattern of play did not improve. Beesley headed over from a Whitehall corner with the goal at his mercy. Felgate pulled off a point blank save from Lancaster at another.
The inevitable happened. After a poor kick out by Brown, one of Leigh's pacy front men set off on a run towards goal, breezed past Lancaster, and Carden clumsily tackled him in the box. Black smashed the penalty home and we were staring defeat in the face.
Darren Wright rescued a point when he stooped to meet Ruscoe's tantalising left wing cross and head past a hesitating Felgate. Relief, momentarily, all round.
But, though we were grateful not to lose, this was a woeful performance. Barrow, interviewed on Merseyside afterwards, was almost speechless with rage at his players. he described himself as being five minutes away from the worst result of his career. "It won't happen again" he vowed.
---
Tuesday 17 October 2000
Chester City 2 Hednesford Town 2 (AET)
Nationwide Variety Club Trophy Round 2
Attendance: 584 Half-time 1-0 · Score after 90 minutes 2-2
Chester City: Brown, Moss, Doughty, Woods, Lancaster, Ruffer, Richardson (Carden 66), Blackburn (Wright 47), Beesley M, Finney, Ruscoe (Fisher 91).
Hednesford Town: Gayle, Evans, Colkin, Lake, Bradley, Pointon (Cooper 90), Airdrie (Bagshaw 106), Robinson, Davis, Owen, Russell.
Referee: W Shaw.

When you think of Hednesford, do you think of 4-3 thrillers played in glorious sunshine or dour struggles played in the mud and the rain? After the misery endured playing this team three weeks ago I expect nothing more as I drove in the gloom and drizzle towards the Deva Stadium. But to be fair, whilst this game was not a classic there was enough to commend this minor cup clash as both teams tried hard for periods of the game to play some decent football on a surface that held up surprisingly well.
It was also one of those games that you remember for reasons not connected entirely with the game. The lights in the stands and behind the goal were switched off at the start of the game as "an experiment" to create atmosphere and a free programme was gifted as compensation for the full entrance fee. A decent gesture perhaps but considering the outrage after Hednesford's own pricing opportunism I did rather blush.
Chester began brightly and Mark Beesley had an early half chance but his control let him down at a crucial moment. Lively and enthusiastic all the night he soon made amends by delivering a well weighted cross from the right for an unmarked Matt Doughty inside the box who wanted too long and saw his shot charged down. Carl Ruffer looked menacing, particularly in the early stages, adding both bite and flair into a City midfield. And on the half hour he skipped his way past several players allowing Lancaster a half chance from the edge of the box, but sent his shot high and wide.
But let us be fair, Hednesford too had their moments. Their number seven, Stuart Airdrie whose mazely dribbles made him my best Hednesford player ran a good forty yards sending his shot narrowly wide.
When the goal arrived it took us all by surprise. A clearance from Hednesford fell eventually to Chris Blackburn whose shot cum pass from a good 25 yards skidded through their defence squeezing just between the post. Blackburn's unassuming celebrations suggested it was as much luck as intention. It should have been two – nil as Beesley wasted a good opportunity when sent clear.
At half time the lights were returned back to the public and the rain fell heavier Wasnotwas blared out "Walk the dinosaur" over the PA, as I sat wondering if this was a carefully crafted subliminal message and which player was in mind.
The second half began with the visitors showing greater purpose. Complacency in the Chester defence allowed Hednesford several good chances, the first going inches wide and the second bringing a smart save from Owain Brown. Blackburn was replaced early on by Wright and soon afterwards, City scored their second. The bounce from a kick up field from Brown deceived the Hednesford defender, which allowed Finney to take the ball forward before passing inch perfect to Beesley who with no marking drove confidently home.
If this was a cue for Chester to take the initiative they did not respond. Just as the weather looked like it was going to take over, it was Hednesford who took charge. A free kick just outside the Chester area was curled over the wall and squirmed under Brown's body. On a dry day this would have brought deserved derision but given the playing surface there was a tinge of sympathy.
Carden replaced Richardson but despite some strong tackling did little to change the complexion of the game. Hednesford took encouragement from their goal and ran at City who responded by playing as though it was a game that didn't matter. It was as much as the visitors deserved when on 77 minutes, a thoughtful ball was played through the centre of Chester's defence and Neil Davis brushed a weak challenge for a well taken equaliser.
This briefly sparked some life back into City and for the remainder of the match saw Chester on the offensive. Beesley ought to have added a third when sent clear, Wright shot straight at the goalkeeper and a cross from Doughty hit the bar. Chester played as thought they were trying to walk the ball home opting for the extra pass when a shot might have been better. At the other end Darren Moss added to the excitement leaving us with our hearts in our mouths as his weak chested passback almost allowed in Hednesford for a late strike. The end of ninety minutes brought ironic cheers at the prospect of a further thirty minutes.
Given the number of chances that fell in the second half it looked a dead certainty that extra time was bound to at least one more goal. This proved not to be so and as both sides ran out of ideas the limbs grew heavy and fatigue set in.
The best chance by far fell to Finney when the referee saw a hand ball everybody else had missed and awarded a penalty. Yet to score, Finney placed the ball confidently on the spot, and with precision near perfect placed the ball wide of the diving goalkeeper. But just as we all thought Finney's goal drought had ended the ball hit the inside of the post and bounced away to safety. Whatever your view on Finney, it was tough luck on the guy whose despair at missing signalled the last of City's real chances on the night.
Hednesford could so easily have made the tie their own but it was an evening destined to end in a draw. No amount of extra time could have made the difference which ended in tragic – comedy style as the rather overweight referee, who found the extra half hour more punishing than any of the players running slower and slower ending up for much of the last ten minutes in and around the centre circle.
At gone 10.10 pm, it was finally brought to a close. The night was cold and wet and many of us had jobs to go to the next day. Perish the weather and the thought that this game will have to be replayed. A fair result for the impartial observer but another that City let slip. Sharper finishing and greater concentration needs to be in place for this Saturday when we entertain Leigh RMI.
---
Saturday 14 October 2000
Forest Green Rovers 1 Chester City 1
Attendance: 943 Half-time 0-0
Forest Green Rovers: Perrin, Cousins, Hatswell, Norton, Clark, Burns (Bailey 64), Bennett, Drysdale, Hedges (Kilgour 80), Foster, Meecham. Subs not used: Thomas, Campbell, Sullivan.
Chester City: Brown, Moss (Wright 55), Woods, Lancaster, Doughty, P Beesley, Carden, Blackburn, Fisher, M Beesley, Whitehall, Subs not used: Richardson, Woodyatt, Ruffer, Ruscoe.
Referee: T.Kettle (Maidstone).

First impressions were promising. Tony Daly and Dean Spink both absent for Forest Green and despite the recent weather, a fairly dry pitch – even if it did have a very pronounced slope. As to Forest Green itself, The Lawn is set well above Nailsworth on a fairly exposed hill top. Not too bad today but probably very bleak and blustery in February. This is definitely non league football – a very small but friendly club which once aspired to call itself Stroud but soon realised that it could not live with a "big city tag".
Chester opened brightly with both Carden and Lancaster having good chances with headers from left wing crosses. Both went wide when they really should have done better. After this the rest of the half was disappointing with chances few and far between as both sides battled for a ball that spent most of the time in the air. For Chester, Mark Beesley had two good shooting chances which were both well saved by Perrin. The best chance though fell to Forest Green when Foster with a clear run on goal, blasted the ball over the bar after 30 minutes. Passing and ball control were rare commodities and Frankie Bennett's ability to go past players was a bright light in a rather drab first half. It was a sign of the times that it was 30 minutes before Steve Whitehall received a ball to feet in the penalty area and then he was not able to make the most of the opportunity. Although it was very much even at half time, for once Chester were being out-muscled in midfield by Burns, Norton and Cousins and a rethink was clearly needed during the break.
Whether it was the Typhoo or more likely a few choice words from Messers Gregan and Barrow the second half began with a burst of attacking football from both sides. On 48 minutes a long cross ball from the right evaded the Chester defence giving Foster time to pull the ball down, control it and drill it past a stranded Wayne Brown. Within minutes it was nearly two when Meecham's shot squirmed through Brown's hands only for the keeper to turn and dive on the ball before it went over the line. During this period and for most of the second half, Meecham tormented the Chester defence with his pace and control causing Woods in particular to whack several balls over the stand when under pressure. How Meecham failed to win the Forest Green Man of the Match award (it went to Hatswell) was a mystery unless he has either offended the Chairman's wife or has an aversion to champagne.
At this point Chester introduced Wright for Moss and moved to a 4-4-2 formation. The change had a dramatic effect when on 57 minutes the rotund Perrin (something not unnoticed and commented on by the travelling Chester supporters) failed to hold a shot from the edge of the area and Fisher chipped the loose ball into the net. The next twenty minutes were Chester's best period of the game when the midfield 3 led by Fisher but well supported by Carden and Blackburn, penned Forest Green in the their own half creating a string of chances. The best fell to Whitehall from a left wing cross by Beesley but his point blank header ricocheted off Perrin over the bar and from the corner Chester hit the bar. Forest Green were reduced to breakaways but with Meecham's pace always caused problems when the ball was played out from the back.
However, just when it looked like Chester were ready to take all 3 points Forest Green came back strongly in the last ten minutes. First Meecham hit the Chester bar with a shot on the turn in the 80th minute and then Whitehall cleared a header off the line from a corner.
It's probably tempting to say that this was a point won. But this is the sort of game where Chester need to take three points. There is little prospect of out muscling most conference teams – they relish a physical battle. The answer lies in better use of the ball. For 20 minutes in the second half Chester showed what they are capable of in this department. But until they can string a couple of spells like this together they will struggle to impose themselves on well organised but very average teams.
And for the statisticians out there. Yes Dennis Bailey did get onto the pitch as sub for Bennett after 65 minutes and it was difficult to believe that he had scored a hat trick against anyone never mind Man Utd.
Saturday 14 October 2000
Forest Green Rovers 1 Chester City 1
There wasn't time to visit GF Bodley's Arts and Crafts masterpiece – All Saints church, Selsley, where William Morris and Co. won their first commission for stained glass in 1860 – but members of the Exiles caught a glimpse of the steeple (Its design inspired by a vist to the Austrian Tyrol) as they made their way from Stroud station to Nailsworth.
Another unlikely setting for a Chester City football match – the western slopes of the Cotswolds. The Lawn nestles on the valley-side above Nailsworth itself. The steeply raked pitch the home of Forest Green Rovers. Along with Leigh they are touted as one of the minnows of the Conference.
Like their near neighbours Cheltenham, FGR reached the Conference after yomping through the Doctor Marten's Premier League in a single season. Last year they escaped relegation by a whisker – a fine reward for their gung ho approach as a club. Is it possible that they can consolidate and progress to League status? Why not? The ground requires some development but the club have ambitious plans to acquire the college site next door where we all parked our cars yesterday.
The welcome extended by the our hosts could not have been in greater contrast than the one received at Hednesford. We were warmly encouraged to visit their social club. Inside, the talk amongst the City fans centred on the FA Compliance investigation team now firmly ensconced at the Deva. This topic caused so much excitement among some Cestrians that spillage of beer resulted.
Inside the ground segregation was the order of the day on the advice of our, ahem, police. Very generously we were afforded one side of the ground and one end. We don't seem to have been afforded the usual Non-League luxury of being able to migrate from one end of the ground to the other yet – but this came pretty close. So we filed past the FGR club shop (stuck behind enemy lines as it were) and made our way through a barn and a compound full of tractors in the corner as we made to stand behind the goal.
The first half was pretty mediocre it must be said. Play was confined to a scrappy melee in midfield for much of the time. The home side were happy to hoof the ball as far away as possible and not allow City's midfield any time to settle on the ball. Rovers then tried to hit us on the break. From one such attack Adrian Foster blazed the ball over the bar when well placed. City's golden opportunity to take the lead came when Moss carried the ball through the middle and set up Beesley perfectly to race in on goal. Beesley's shot was hard and low but Perrin's ample frame intervened.
The Rovers goalkeeper was a last minute choice as Spink had injured himself in the kick about. He suffered tremendous stick from the away fans who tormented him with cries of "Podgy Keeper" but could hold his head high at the end as his saves kept City at bay.
The second half was only three minutes old when Forest Green took the lead. Norton strode forward purposely with the ball as City were caught upfield. His first shot was blocked but he got the ball out to Bennett. His cross was misjudged by Woods and Foster stole in to shoot past a helpless Brown.

Like last Sunday the goal provided a wake up call for City. They were level nine minutes later. Whitehall's ferocious shot was parried by Perrin and up skipped Fisher to flick the ball deftly into the back of the net. Chester surged forward and managed a spell of sustained pressure. Three corners in quick succession resulted in the ball disappearing over the stand and down the Nympsfield Road each time (one was later apprehended by a policeman). Each time the referee made a theatrical sign for a replacement ball. This was pantomime stuff.
But Forest Green were proving tricky customers on the break too. They might have extended their lead when livewire, on-loan striker Meechan fired a shot which Brown grasped at the second attempt. As the match neared the end the action became humdinging. Meechan crashed a shot against the bar; Hatswell's glancing header grazed the post. At the other end Darren Wright got on the end of a Whitehall cross but put his firm header wide. Whitehall himself met Fisher's cross perfectly – somehow Perrin got his body in the way. Woods then crashed another header aginst the bar. Kilgour – who'd enjoyed a testimonial against Derby earlier in the week came on and saw his goal bound header cleared off the line by Whitehall.
Perhaps this was two points lost as far as City were concerned but Rovers deserve credit for not allowing us the space to play. It was a gritty but enjoyable match and a fine place to visit. Not that we should allow ourselves to become too acclimatised.
---
Sunday 8 October 2000
Chester City 2 Kettering Town 1
Attendance: 2,102 Half-time 0-0
Chester City: Brown, Moss (Wright 50), Doughty, Woods, Lancaster, P Beesley, Carden, Blackburn, M Beesley (Ruffer 79), Whitehall, Fisher. Subs not used: Greygoose, Woodyatt, Richardson.
Kettering Town: Wilson, Codner (Wilkinson 81), Cowling, Perkins (Hudson 70), Vowden, McNamara. Fisher, Brown, Lenagh, Shutt, Adams. Subs not used: Matthews, Watkins, Tye.
Referee: D.Kellett (Bradford).
It took a goal from Kettering, just after the interval, to wake up a lethargic Chester in a game they controlled without ever creating many scoring opportunities. Two pieces of magic from Steve Whitehall, within the space of five minutes, showed why the Oldham forward must be signed on a full time basis. Although the three points were welcome it wasn't the sort of game to set the pulse racing. Chester should have taken the game by the scruff of the neck and created far more opportunities against an uninspiring Kettering team.
Despite an attendance of over 2000 there was even less atmosphere within the ground than normal and the impression was that the fans (and probably the players) would rather be sitting at home eating Sunday lunch and watching some old war film on TV. It took 18 minutes before either team had a shot on target when a Kettering players shot dribbled along the ground for Wayne Brown to collect easily. As with most Conference teams coming to the Deva, Kettering were happy to sit back and let Chester come at them and catch City on the break. There were some good balls played through the middle, especially by Neil Fisher, but the slippery surface made it difficult for players to keep their feet and most attacks came to a grinding halt as yet another player lay in a crumpled heap on the ground.
Chester's first opportunity came after 20 minutes when Darren Moss had a shot saved by Wilson and Chris Blackburn's follow-up shot hit Moss. Two minutes later Matt Doughty was brought down on the edge of the box but Fisher's free-kick brought a chant of "how wide do you want the goal" from the generally comatose Kettering fans. Five minutes later a flowing move involving Fisher and Blackburn saw Mark Beesley have a shot well blocked by Wilson. Chester's best chance, in a frustrating first half, came when Steve Whitehall capitalised on a mistake in the Kettering defence and jinked round a couple of defenders. Without a clear view on goal his shot deflected to Mark Beesley who should have done better from 10 yards out.
At half time the general feeling was that the game was there for the taking although few people could see where the goal was going to come from.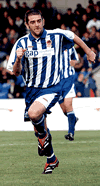 In the 46th minute Chester finally got the break through they were looking for when Kettering scored with their only clear-cut opportunity. A brilliant through ball by Robert Codner was collected by Matt Fisher on the edge of the box. His low cross was met by Phil Brown who finished comfortably from six yards with the Chester defence nowhere in sight. The goal came totally out of the blue but spurred City into life (relatively speaking). Later in the game Codner was unluckily substituted despite looking Kettering's most skilful player.
Darren Wright came on for Moss after 50 minutes and added more width to the attack. In the first half most of Chester's moves had started on the left where Doughty had been more effective than Moss in getting forward. The introduction of Wright caused a flurry of activity and both he and Woods got a couple of crosses in while Blackburn shot weakly wide and Whitehall blasted a free kick over the bar. City equalised in the 61st minute with a wonderful goal from Whitehall. Receiving the ball 25 yards from goal he swivelled and crashed the ball into the top corner of the net. Five minutes later Whitehall scored his second as City finally scored from one of those short corners we know and love. Fisher's cross was met by Whitehall at the near post who ducked down to head into the corner of the goal.
For the next 15 minutes it looked like Chester would add to their lead although Brown did have to get down sharply to stop one Kettering shot. As the game drew to a close City began to settle back and Kettering pushed forward but the defence comfortably held out for a deserved victory.
After the game Paul Beesley commented: "It was a strange game. It took a long time for us to get going but it was pleasing to recover the deficit. Their goal gave us a lift and we knew we had to do something about it but we shouldn't have put ourselves in that situation." Reflecting on the goals Paul said: "They were both outstanding goals by Steve. The first was an absolute peach but in a way the second was better because he bravely put his head in where the boots were flying."
---
Tuesday 3 October 2000
Scarborough 0 Chester City 2
Attendance: 1,193 Half-time 0-1
Scarborough: Woods, Betts (Stoker 85), Brunton, Ingram, Ellender, Rennison, Russell, Savic, Jones, Brodie (Pounder 44), Williams. Subs not used: Tate, Newton, Gildea.
Chester City: Brown, Moss, Doughty, Woods, Lancaster, P.Beesley, Carden, Blackburn, M.Beesley, Whitehall, Fisher. Subs not used: Wright, Greygoose, Woodyatt, Richardson, Ruffer.
Referee: C. Boyeson (Hull).
Chester extended their unbeaten run to five games with this excellent victory at in-form Scarborough. City dominated long periods of play and created two chances for Chris Blackburn in the opening minutes. Fisher also tested the home keeper with a 20-yarder. Matt Woods also headed wide after the home 'keeper had fumbled a Mark Beesley effort.
The Seadogs also had their opportunities in the opening period with Brodie shooting wide and Sinisa Savic hitting the woodwork.
City took the lead on 42 minutes. Matt Doughty's superb cross was headed down by Neil Fisher onto the foot of the post the ball rebounded to Steve Whitehall who couldn't miss from a couple of yards.
Three minutes after the break the Blues doubled their lead. Chris Blackburn surged in from the left and unleashed an unstoppable right-foot shot into the top corner of the net.
City absorbed some home pressure in the closing stages but came closest to scoring themselves with Mark Beesley having a shot cleared off the line in the final minute.