---
Friday 31 August 2001
Telford United Youth 1 Chester City Youth 2
Friendly match

The youth team gave their FA Youth Cup [U18's] squad another 'run out' on Friday in a friendly away at Telford United. The FA Youth Cup squad is made up of 1st & 2nd year YTS' plus Centre of Excellence Under 16s, and they overcame their Under 19 opponents 2-1 with goals from trialists Levi Kennedy and Otis Thomas.
---
Wednesday 28 August 2001
Guiseley Youth 0 Chester City Youth 3
FA Youth Cup Preliminery Round 1
Half Time: 0-2
Chester City: Louie Mackin, Scott Bagnall, Paul Conolley, Gethin Lloyd, James Dean, Tom Coulson, John Davies, Sion Griffiths, Lee Reece, Tom Leonard (Adam Hunter), Kevin Towey. Sub not used: Sion Roberts.

The youth team progressed into the next round of the FA Youth Cup with a comfortable 3-0 win over Guiseley. They led 2-0 at half time with goals from Tom Leonard [Centre of Excellence Under 16s] and Tom Coulson. They had numerous opportunities to increase their lead but had to wait until the 85th minute for substitute Adam Hunter [Centre of Excellence Under 16s] to complete the scoring.
---
Monday 27 August 2001
Chester City 1 Nuneaton Borough 0
Nationwide Conference
Attendance: 770 Half Time: 0-0
Booked: Porter, Beesley, Blackburn.

Chester City: Brown, S.Rose, M.Rose, Porter, Hill (Wright 75), Lancaster, Kerr (Blackburn 81), Haarhoff, Ruscoe, M.Beesley, Spink, Subs not used: Kilgannon, Roberts, Hopwood.
Nuneaton Borough: MacKenzie, Thackeray, Love, Angus, Weaver, B.Williams (J.Williams 64), Peyton, Peake, Sykes (Lavery 64), Whitehall (Leadbeater 72), McGregor. Subs not used: Young, Cooper.
Referee: S.Brand (Wirral).



To boycott or not to boycott? Full support for the intentions of those who gathered outside the ground but I have to say my mind was made up at Southport. Yes, the idea of staying away from the Deva but showing loyalty to the players at the away games had a certain logic about it but that's not what happened at Haig Avenue. To be honest I was appalled at the way a lot of supporters treated the side, and I'm not just talking about the abuse aimed at Hill, Hill junior, and Malkin. It wasn't nice, it wasn't clever and I didn't want to be part of it. If public enemy number one is Smith (quite rightly so) then I can see that those appointed by him are also going to be tarred. But once you get further removed from the mad one, as in the case of Sam Hill, (his crime is being the son of someone appointed by Smith) then I think the abuse is a little over the top. (Sam is also charged with the crime of being a crap player, but if the punishment for that crime was such abuse then I suspect that not many would have survived at Chester over the past few years).
There seemed to be very little support given to the team at Southport and there was no real interest in the result. Supporting Chester is what I do, not supporting Terry Smith or Gordon Hill, and I have concerns that boycotting home games will have the wrong effect. Smith will eventually go and presumably Hill with him, but Wayne Brown, Martin Lancaster, Chris Blackburn, Mark Beesley et al will most likely still be there. These players have probably put up with a lot more than anyone else over the past two years and I think they deserve my support.
Anyway, on to the game which was actually not too bad. In the first 45 minutes Chester knocked the ball around quite well and created one or two half chances without ever really looking like scoring. David Kerr looked composed in midfield and Dean Spink looked really at home as a makeshift centre half.
I cringe when I see local referee Steve Brand at the Deva, and once again we had to put up with his petty bookings in a clean game in which even he couldn't find anyone to send off. Even more annoying is his ludicrous stopping of the play and exaggerated hand signals every time anyone even looks like having a knock to the head. We're there to watch the players, not you Mr Brand.
In the second half Chester continued to stay in control with Scott Ruscoe coming more and more into the game on the left flank. Mark Beesley was his usual busy self, creating several half chances and for a change we even threatened from corners. On one such occasion Spink's powerful header almost broke the deadlock. For all of City's possession and relatively neat football you couldn't honestly say that we were destined to score and of course there was always the usual danger of an unforced error at the other end gifting the opposition a late goal and an undeserved victory. So it was a pleasant surprise when, in the 77th minute, Ruscoes deep cross found it's way to the back post where Sam Hill swept it past MacKensie and into the Nuneaton net. Only then did the opposition come at Chester but Spink held the defence together and without too many scares victory was ours.
Refreshingly for me the entire team were given a warm reception at the start, half time, and at the final whistle. Sam Hill's goal didn't bring anything but pure joy to those fans inside the ground and as far as I can tell there was no animosity aimed at him at all. Thoroughly enjoyable, something I didn't think I would be saying so soon after the Southport affair. Man of the match for me was Dean Spink but David Kerr also impressed in the first half and Scott Ruscoe in the second.
•
Coventry Evening Telegraph report
---
Saturday 25 August 2001
Port Vale Youth 4 Chester City Youth 0
Football League Youth Alliance

The youth team lost 4-0 on Saturday in a game that was heavily influenced by the 35th minute sending off of left back James Dean, with the score at 1-0 and Chester in the ascendance. Port Vale took a 2-0 lead 10 minutes into the second half and despite a great deal of hard work on a very hot day the superior numbers told in the last 10 minutes with two further goals.
---
Saturday 25 August 2001
Hayes 1 Chester City 3
Nationwide Conference
Attendance: 507 Half Time: 1-2
Booked: Kerr, Lancaster, Hill.

Hayes: Bossu, Ashton, Sterling, Dick (A Watts 45 (Case 68)), Warner, Molesley, Dyer (Stevens 80), Clark, Hodge, Currie, Brown. Sub not used: Highton.
Chester City: Brown, Ruffer (Haarhoff 56), M.Rose, Porter, S.Rose, Lancaster, Hill (Wright 58), Kerr, Spink (Roberts 90), M.Beesley, Ruscoe. Subs not used: Kilgannon, Hopwood.
Referee: M.Russell (St Albans).



City almost went a goal down in side the opening 15 seconds as Michael Currie was allowed to run though the Chester defence only to see his shot on target deflected wide by Wayne Brown.
On a stifling hot day it was the home side who had the better opening with City's defence gifting free headers all round as they looked completely out of sorts. Currie was again given time and space but wasted a good chance shooting high and wide.
City took the lead though after 12 minutes. A looping cross in from the left found Sam Hill at the far post, he couldn't bring the ball under control, it fell to Kerr whose shot was blocked, but Spink, making his first team debut after signing 13 months ago!, swept the ball home from close range.
Brown twice saved superbly to deny Hayes an equaliser. First he palmed away a header from the unmarked Clark and then repeated the feat from the resulting corner.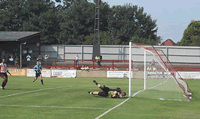 Mark Beesley put City two up with a superb goal on the half hour. He raced through on the right, cut inside and unleashed a left foot shot that flew into the top corner of the net giving Bossu no chance in the home goal (pic left).
Ten minutes later The Missioners pulled a goal back. Lancaster gave away a needless free kick just outside the area and as Wayne Brown was busy organising the wall the ball flew past him and into the net following some quick thinking by Clark who seized his opportunity to curl the ball in.
Spink missed a golden one-on-one opportunity to extend City's lead minutes after the break. He was put clear through but shot tamely straight at Bossu.
City lost Carl Ruffer minutes later through injury. Jimmy Haarhoff replaced the skipper with Dean Spink reverting to a defensive role. Darren Wright also came on to replace the totally ineffective Sam Hill. Haarhoff added a new dimension to the attack and his mazy runs were causing all sorts of problems in the home defence as the immense heat begain to take its toll.
Twice Mark Beesley raced clear and, each time he shot high and wide with Haarhoff left in acres of space in front of goal to his right.
City began to catch Hayes on the break and Bossu saved well from Beesley and Wright before City added a third. Jimmy Haarhoff chased a lost cause down the right and wrestled the ball away from Sterling. He pulled the ball back for Beesley to drill it home from 12 yards.
Dean Spink, who'd covered well at the back, hobbled off in the last minute and along with Ruffer must be doubtful for Monday's visit from Nuneaton. Borough will provide a much sterner test for City than Hayes and striker Steve Whitehall will no doubt be out to put one over his old chairman, and who can blame him.
---
Tuesday 21 August 2001
Southport 3 Chester City 2

Nationwide Conference
Attendance: 1,554 Half Time: 1-0
Booked: M.Rose, Hill. Sent off: M.Rose

Southport: Dickinson, Teale, Robertson, Clark, Lane, MacAuley (McGorry 87), Bauress, Grayston, S.Jones (Obong 80), Elam, Parke. Subs not used: B.Jones, Whittaker, Morgan.
Chester City: Brown, S.Rose, Ruffer, M.Rose, Lancaster, Hill (Haarhoff 90), Porter, Blackburn (Kerr 87), Ruscoe, Malkin (Wright 28), M.Beesley. Subs not used: Roberts, Woodyatt.
Referee: R.Tiffin (Houghton-le-Spring).


Once again City had barely got off the coach before they found themselves 1-0 down. Like Saturday, the Blues conceded within a minute of the opening whistle. A Gary Bauress free kick in his own half was lofted into the box for Shaun Teale to head past Wayne Brown in the City goal.
City, watched by a following of around 400 (including Graham Barrow, Paul Beesley and Joe Hinnigan seated in the stand) welcomed back Martyn Lancaster and Chris Malkin following injury though the latter only lasted 28 minutes before being replaced by Darren Wright.
The Sandgrounders dominated the opening exchanges and Brown produced a couple of great saves to keep the score down. The bar also came to City's rescue as it was thumped following a fine volley from MacAuley. Up front City created little and failed to create a clear-cut chance of note, though the service to Chris Malkin and Mark Beeley left a lot to be desired. City were being completely outplayed with the defence just hoofing the ball away at the first opportunity simply allowing the home side back on to the attack.
Against the run of play, City snatched an equaliser out of the blue six minutes after the interval. Michael Rose ran down he left and crossed the ball for Mark Beesley to glance the ball into the bottom right hand corner. However, five minutes later Rose turned from hero to villain as he was red carded for fouling Parke.
Parke exacted his revenge by adding Southport's second on 67 minutes. A long clearance upfield was headed down and Park, racing through, stretched out a leg to cleverly divert the ball past the advancing Brown.
It was down to ten-a-side soon as Parke was yellow carded twice in a couple of minutes for the same offence, lashing the ball into the net after the offside whistle had been blown.
Two minutes later the home side made it 3-1 as Jones side footed home from inside the box.
In the dying minutes, Kerr and Haarhoff replaced Hill and Blackburn and City soon reduced the arrears as Darren Wright turned the ball home from close range after Steve Rose's fierce shot had been parried by Dickinson. The goal was greeted with alomst silence from the travelling fans, many of whom, like the aforementioned Barrow, Beesley and Hinnigan had already departed, the latter three to a standing ovation.
City's second defeat of the season leaves them in their lowest ever league position, equal bottom of the Conference.
---
Saturday 18 August 2001
Chester City 0 Woking 2
Nationwide Conference
Attendance: 745 Half Time: 0-2
Booked: Ruscoe, Ruffer.

Chester City: Brown, S.Rose (Roberts 65), M.Rose, Blackburn, Ruffer, Hill, Porter, Ruscoe, Kerr, Woodyatt (Haarhoff 60), Wright (Hopwood 60). Subs not used; Kilgannon, Rogers.
Woking: Tucker, Piper, Hollingdale (Graham 79), West, P.Steele, McFlynn, Pitman, Moore, S.Steele (Kadi 89), Haughton (Huckerby 79), Griffin. Subs not used: Randall, Foeler.
Referee: N. Yates (Blackburn).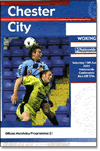 City kicked-off the new season in front of one of their lowest ever league crowds, just 745 and by all accounts from those who did attend this figure seemed rather high.
Gordon Hill (or was it Terry Smith) had, earlier in the week, promised "exciting and attacking football from City this season", after just 51 seconds the Blues were 1-0 down. City's defence was static as Warren Haughton raced clear and placed a shot beyond the reach of Wayne Brown in the City goal. And minutes later a last ditch tackle from skipper Carl Ruffer prevented Griffin doubling the score.
Chester, without Chris Malkin, Martyn Lancaster, Dean Spink and Mark (where's he gone?) Beesley struggled to play as a team and lacked any midfield bite from Sam Hill and Andy Porter.
The nearest City came to equalising in the opening period was from a fierce shot from Scott Ruscoe. His effort was heading for the top corner before it was deflected wide for a corner kick. Minutes later Ruscoe was booked for a rash challenge. Sam Hill was caught offside as City tried to string something together.
The Cards missed a golden chance after Wayne Brown had failed to hold a corner as Paul Steele headed inches wide of the post with the goal at his mercy.
Darren Wright, playing as a lone striker, saw a long range effort saved by second choice (though very good) 'keeper Tucker, before the visitors added a deserved second just before the break. Again the trouble came from a set-piece as an inswinging corner was met by the unmarked West whose header set up Moore to head home from point blank range.
After the break City tried to force some authority on the game. Lee Woodyatt's dangerous cross was missed by everyone in the box and Jimmy Haarhoff and Chris Hopwood were introduced up front at the expense of Wright and Woodyatt. This didn't improve things though as City looked clueless as to how to break down a well drilled Cards defence. Any efforts were restricted to long range with Tucker saving well from Haarhoff and Ruffer.
So Woking confortably held out to record only their second opening day victory in ten attempts, but for City, things will have to improve and improve fast. There clearly isn't enough depth or quality in the squad to mount any kind of promotion challenge this season. On Tuesday City take on another part-time side in their first away match of the season at Southport.
---
Saturday 18 August 2001
Chester City Youth 3 Chesterfield Youth 1
Football League Youth Alliance

On Saturday the youth team made a winning start in their league campaign beating Chesterfield 3-1 with goals from 2 trialists and Kevin Towey. However, they were grateful to goalkeeper Louie Mackin for an excellent 5th minute penalty save. All the goals came in a free flowing first half. The second half was scrappy and bad tempered with several players booked and the Chesterfield left back red carded for a late tackle.