---
Saturday 24 November 2001
Mansfield Town Youth 2 Chester City Youth 0
Football League Youth Alliance

Chester City: Nick Jones, Scott Bagnall (Adam Hunter), Paul Connolley (Tom Leonard), James Dean, Tom Coulson, John Davies, Matt Cooke (John Kearney), Kevin Towey, Lee Reece, Gethin Lloyd, Otis Thomas.

The youth team turned in a good performance at the weekend despite conceding a goal in each half at Mansfield. They were again forced to include several Centre of Excellence Under 16 players having lost squad members to the Reserve team and injury. They had several opportunities to take the lead and draw level but were unable to find the net. However, this was an encouraging performance and useful experience for the younger members of the squad.
---
Saturday 24 November 2001
Dover Athletic 1 Chester City 0
Nationwide Conference
Attendance: 905 Half Time: 0-0
Booked: Halford, Porter, Ruffer, Williams.

Dover Athletic: Hyde, Shearer, Norman, Lebert, Vowden, Le Bihan, Strouts, Davies, Scott, Tyne (Elliott 82), Allen. Subs not used: Day, Ovard, Hickman, Frost.
Chester City: Brown, Ruscoe, M.Rose, Porter, Halford, Ruffer, C'O'Brien, Kerr, Malkin, Williams (Higgins 69), Wright. Subs not used: Baxter, Lancaster, Kilgannon, Jago.
Referee: S.Chittenden (St Albans).



I'm not in the habit of sending Christmas cards to referees, but if I was to start this year, I'd already have crossed a certain Mr S Chittenden of St Albans off my list. His refereeing blunders cost Chester three vital points in this desperate basement battle.
His questionable judgement affected the team right from the start, when he ordered them to change their blue and white shirts for Dover's away tops. This left Chester playing in red shirts, blue shorts and blue socks – at best we were Aldershot lookalikes – at worst we were reminiscent of the unmentionable team over the border. It could hardly have helped the confidence of a team already short of Mark Beesley, Chris Blackburn, Jimmy Haarhoff and Mick O'Brien.
Thankfully, the Blues (well, I refuse to call them the Reds) made a fighting start of the game. Gary Williams looked as pacey and tricky as at Rushden and obviously unnerved the shaky Dover defence – especially when he linked up with Michael Rose and on-form Scott Ruscoe. Darren Wright started the game on the right, and seemed to be the weakest of our attacking options.
But there were chances for Chester within the first 10 minutes, when a Rose free kick was hit wide by David Kerr. Just moments earlier, Dover had seen a Tommy Tyne shot hit the post. Dover's only other realistic first half chance came not long afterwards when their fast left winger, Chris Allen, passed into the box. Thankfully the resulting strike was collected by Wayne Brown.
Chester continued to look threatening – although Chris Malkin was, once again, about two yards behind the pace. He was just too slow for an excellent Rose cross that would have gone straight into the back of the net with the tiniest of touches. Andy Porter had a shot on the edge of the box, only for it to strike Malkin as it headed into the area. Wright looked far more comfortable when he switched onto the left, and saw a good chance come back off the post.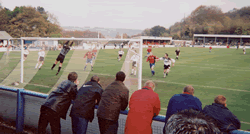 The referee and linesman somehow missed at least one blatant corner decision that should have gone in our favour in the first half – you know a wrong decision has been when the opposition goalkeeper is smirking as he walks back to take the goalkick, as he was this time. Amazingly the referee made two more dodgy corner/goalkick decisions in favour of Dover in the second half.
But three more crucial second half refereeing decisions saw the three points go to the south coast part-timers. Gary Williams and the travelling contingent of 60-odd Chester fans were convinced he'd scored with a close range effort from a Carl Ruffer cross. But the linesman flagged for offside, and the goal was disallowed.
Then on the 62nd minute, Dover split the Chester defence and Tyne was on a one-on-one with Brown. Unfortunately Tyne easily slotted it home. There was a suggestion of offside, but the goal stood.
Chester didn't give up the fight and eight minutes later a Ruffer shot was heading straight for the top corner, until a Dover defender blatantly put his arm out and stopped the ball going into the net. It fails me how the referee or linesman missed one of the most obvious handballs I've ever seen. Chester and the fans protested furiously, but it was to no avail.
Chester were now rattled and Dover simply sat back and defended well until the final whistle. The travelling Chester fans were also riled and a handful of the travelling Blue Army chanted "going down" as the game approached its conclusion. But it was the referee and the absence of crucial players that cost us this game, not the tactics of Steve Mungall or the effort of the 11 men on the pitch. Thankfully most Chester fans saved their fury for the referee. He was left in no doubt about the Chester fans' feelings as he walked past them down the tunnel.
Three Chester players were booked in the last 12 minutes, along with two of the Dover team. It meant seven players received yellow cards in the match. Mr Chittenden had certainly made his mark on the game. No doubt he'll find himself getting a lot of Christmas cards from Kent – but none with Chester postmarks.
---
Saturday 17 November 2001
Chester City Youth 1 Lincoln City Youth 1
Football League Youth Alliance
Chester City: Nick Jones, Tom Coulson (John Davies), Lee Woodyatt, Lee Reece, Adam Kelly (Adam Hunter), Carl Rodgers, Trialist, Kevin Towey, Mark Howell (James Dean), Chris Hopwood, Gethin Lloyd.

The youth team drew 1-1 with Lincoln City on Saturday taking the lead after 20 minutes through Gethin Lloyd. They had several good chances to increase their lead before Lincoln equalised with a 30 yard strike ten minutes before the break. They also had the upper hand in the second half, but the Lincoln keeper was in good form making two good stops to deny Chris Hopwood.


| | | | | | | | | | |
| --- | --- | --- | --- | --- | --- | --- | --- | --- | --- |
| | | | | | | | | | |
| League Table | P | W | D | L | F | A | GD | Pts | |
| Rotherham United | 9 | 6 | 2 | 1 | 23 | 10 | 13 | 20 | |
| Stockport County | 8 | 5 | 2 | 1 | 20 | 8 | 12 | 17 | |
| Port Vale | 7 | 5 | 0 | 2 | 18 | 9 | 9 | 15 | |
| Mansfield Town | 9 | 3 | 3 | 3 | 14 | 12 | 2 | 12 | |
| Shrewsbury Town | 8 | 3 | 2 | 3 | 17 | 15 | 2 | 11 | |
| Macclesfield Town | 7 | 1 | 4 | 2 | 8 | 7 | 1 | 7 | |
| Lincoln City | 7 | 2 | 1 | 4 | 7 | 15 | -8 | 7 | |
| Chester City | 9 | 1 | 4 | 4 | 8 | 21 | -13 | 7 | |
| Chesterfield | 8 | 1 | 0 | 7 | 8 | 26 | -18 | 3 | |
| | | | | | | | | | |
---
Tuesday 13 November 2001
Rushden & Diamonds 2 Chester City 2
J.C.Thompson Championship Shield.
After extra time. Score after 90 minutes 2-2. Rushden win 4-3 on penalties.
Attendance: 937 Half Time: 0-1
Booked: None.

Rushden & Diamonds: Turley (Pennock 45), Mustafa, Peters (Dempster 90), Rodwell, Setchell, Hall (Talbot 45), Hanlon (McElhatton 45), Carey, Brady, Partridge (Grant 65), Thomson.
Chester City: Brown; Ruscoe (Lancaster 80), Rose, Porter (Kerr 62), Halford, Ruffer, C O'Brien, Blackburn, Malkin (Baxter 105), Beesley, Williams (Spink 62).
Referee: A.Woolmer.



On a bitterly cold evening Chester were a match for Rushden & Diamonds as they competed for the Non-League equivalent of the charity shield. A local newspaper stated that Chester were only in the final because Canvey Island, the FA Trophy winners, were not up to Conference standard but the match programme said that an earlier and original format was being revived where the Conference winners play the League Cup winners. As I believe the League Cup is not being competed for this year – it is unclear to me who will compete for the Jim Thompson Championship Shield next season.
Back to this year and Chester put out an almost full strength side – Mick O'Brien the only absentee, presumably because of injury. Rushden began the game strongly and their speed of movement and anticipation made it look like Chester would be overrun.
Partridge brought the first save of the match from Brown and from the resulting corner City's defence was at sixes and sevens before they cleared the ball. City forced three corners themselves in the space of a minute shortly afterwards. From the third Ruffer headed narrowly wide.
Rushden continued to look fluent coming forward and Brown was forced into another couple of saves. But Chester came more and more into the game and good play down the right ended with debutant Gary Williams just failing to connect with a cross from Ruscoe.
A minute later Williams did even better when he let the ball run on to his right foot outside the area and scored with a rasping low shot into Turley's bottom right hand corner. Chester threatened again when a Malkin turn and pass put Williams through again but his left foot shot was held by Turley.
Three minutes before half time O'Brien slid in superbly to deny Thomson a shot on goal when clean through.
After the break Talbot and McElhatton were brought on by the home side. Talbot scored the equaliser seven minutes into the half as he latched on to a return pass from Partridge. Brown half-stopped the shot but it went in off the post.
City replied four minutes later with a blistering goal from Beesley. Rose on the left swept the ball over to Ruscoe on the right who knocked it inside for Beesley. His clipped volley from outside the area screamed into the net with Pennock (on at half time for Turley) beaten at full stretch.
A double substitution on 62 minutes saw Williams and Porter replaced by Spink and Kerr respectively. Spink actually did quite well. He was reasonably mobile and his flicks and lay offs were adding another dimension to Chester's attacking play. City were having as much of the game as Rushden but looked vulnerable at set pieces.
When Ruffer stumbled and conceded a corner on 66 minutes that vulnerability proved costly when Rodwell rose at the far post to head a second equaliser.
Rushden continued to press for a winner but City also looked useful on the break with Beesley on top of his form.
Chances continued to fall to Beesley in extra time – the closest being when he shot across the face of the goal with only five minutes left – tantalisingly Spink couldn't quite get the touch it needed to put the ball in the net.
Sadly Chester lost the penalty shoot out after taking an early advantage. Kerr and Beesley both scored with aplomb while Talbot's shot cannoned off the post. Blackburn's body language was all wrong as he addressed the ball and by the time he had tried a shimmy as he ran up it was all he could do to get the shot on target. Pennock saved it. Rose then clipped the outside of the post with his kick and, despite Brown converting his, there were no more mistakes by the Rushden players and City went down 3-4.
A very short presentation followed which most of the 937 crowd avoided as the icy cold tightened its grip on the evening.
Earlier on the "Exiles All Comers Cheese Skittles challenge" had been decided at the Swan, Newton Bromswold when, in a close contest, Steve Mansley had held his nerve to wrest the trophy from last year's winner (at Kettering) Howard Jolley.
The Penalty shoot-out

Chester City
Rushden & Diamonds
David Kerr scored
1-0
1-0
Daniel Talbot missed (hit post)
Mark Beesley scored
2-0
2-1
Michael McElhatton scored
Chris Blackburn saved (weak shot)
2-1
2-2
Jim Rodwell scored
Michael Rose missed (shot wide)
2-2
2-3
John Grant scored
Wayne Brown scored
3-3
3-4
Peter Thomson scored
---
Sunday 11 November 2001
Middlesbrough Ladies 2 Chester City Ladies 3
Womens FA Cup Round 2
After extra time. Score after 90 minutes 2-2.

Chester City Ladies travelled to Middlesbrough last Sunday for a FA cup 2nd Round tie. Over a dozen supporters joined the team for the 400 mile round trip and were treated to an exciting afternoon which culminated in a Karaoke extravaganza by Ian Langford of the ISA!
But first the football, Chester girls were without Sarah Tyson for the trip to the North East but other than that were unchanged. It appeared the journey had took it's toll when the Middlesbrough, currently one place above the 'blues' in the league, capitalised when the Chester central defence were caught with a ball that bobbled on the uneven surface. The ball ran kindly for the Middlesbrough striker and she slotted the ball past the stranded Laura Edwards on 3 minutes. Half Time: Middlesbrough 1, Chester City 0
It was a rejuvenated Chester side which came out for the second half and they were soon on equal terms when Helen Cann, hat trick last week against Man United, redressed the balance with a header from close range. Chester were well on top but after a goal mouth scramble including a clearance which screwed it's way back across the Chester 18 yard box, Middlesbrough went 2-1 ahead. With just 13 minutes of normal time remaining Leigh Broadbent smashed the ball across the Middlesbrough goal mouth and as Cally Reid ran in to apply pressure to the retreating defence the ball caught a deflection and ran straight in to the unguarded net The visiting supporters who had amassed behind the home goal and went wild note: the match officials contributed the goal to Leigh. Full Time: Middlesbrough 2, Chester City 2
Tempers were beginning to boil over on the side lines as well as on the pitch and the temperature was turned up further when the Middlesbrough coached kicked the ball hard into Lynda Grainger's face after the ball had passed out of play and gone toward the Middlesbrough bench. The referee calmed things and the first period of extra time passed without further incident. The pace of the game did not falter at all and with just 3 minutes to go to the dreaded penalty shoot out, Helen Cann, latching on to another quality ball across the mouth of the Middlesbrough goal, slotted home at the far post to send the 'blues' gleefully in to the 3rd round!
The girls have drawn Newcastle United at home in the third Round and the game will take place on Sunday 9 December at County Officers Club in Upton. Kick off 13:00hrs. I would say to anyone who intends coming down to County Officers Club and wants a seat in the stand to get there early. Newcastle were placed under siege at there place earlier this season but 'stole' all three points when Jo Reynolds slid the ball into her own net in the dying seconds of the away fixture. The girls are looking forward to the game immensely and are confident of making it into the 4th round for the second season in succession.
---
Saturday 10 November 2001
Shrewsbury Town Youth 4 Chester City Youth 0
Football League Youth Alliance

Chester City: Nick Jones, Scott Bagnall, Sion Griffiths, John Davies, James Dean, Tom Coulson, Trialist (Adam Hunter), Adam Kelly, Lee Reece (Tom Leonard), Gethin Lloyd, Kevin Towey.

The youth team lost seven of their squad to Reserve team 'call ups' and injury and suffered a 4-0 defeat away at Shrewsbury Town on Saturday. They were forced to include several Centre of Excellence Under-16 players and all of their 1st Year YTS', all of which acquitted themselves well against their Under-19 opponents.
---
Saturday 10 November 2001
Chester City 2 Forest Green Rovers 3
Nationwide Conference
Attendance: 1,330 Half Time: 0-1
Booked: None.

Chester City: Brown, Ruffer, M.Rose, Kilgannon, Porter (Kerr 70), Lancaster, C.O'Brien, Blackburn, Haarhoff (Malkin 30), M.O'Brien (Ruscoe 57), Beesley. Subs not used: Baxter, Jago.
Forest Green Rovers: Perrin, Cousins, Jenkins, Impey, Howey, Langan, Travis, Cooper, Foster (Tearney 88), Meechan (Shaw 90), Odejayi. Subs not used: Daley, Adams, Glassup.
Referee: G.Brittain (Doncaster).


The size of Steve Mungall's rebuilding job became apparent after this demoliton of City by the part-timers of Forest Green. Ruffer came into the back line as Halford was suspended. Lancaster was celebrating his twenty-first birthday – he seems to have been around in the first team so long that his relative youthfulness still surprises.
City began brightly and squandered the first chance after five minutes as Porter blazed over the bar following Beesley's pull back. Perrin was then forced to save a shot by Beesley after good work by Haarhoff who retrieved the ball from a lost situation and got it back to Rose on the left. Forest Green defender Impey let the ball go under his foot and Beesley raced on to it from the right but his driven cross was cleared. City continued to force the pace as Haarhoff worked hard to win the ball on the ground and feed Blackburn and Beesley.
Mick O'Brien was at the heart of City's creative play but pulled up feeling his hamstring as he tried to chase a ball over the top. The visitors were well organised and increasingly denied Chester space. Their defenders were tall and uncompromising and Haarhoff in particular was given a tough time. After trying to run off a knock he had to retire to be replaced by Malkin – who at least added a bit of parity in height with Rovers' back line.
Just prior to this the Chester defence had their first real scare when Meachan – whose lively running was a feature of the game – got free on the left and crossed. Brown – possibly blinded by the dipping sun – let the ball through his fingers. Travis, however, with the goal at his mercy failed to trap the awkwardly bouncing ball and the chance was gone. Brown was able to smother the follow up shot.
City were beginning to lose out in midfield especially where O'Brien and Porter were struggling for pace and the visitors were on top of them before they could make a telling pass. Cooper ran straight through and chipped a pass into the box which just eluded Meachan.
Beesley seemed to have the last chance of the first half as he crossed dangerously from Malkin's pass but the ball passed across the face of the goal before being cleared from a corner. Then Forest Green took the lead in added time as Meachan scored an incredible goal out of nowhere. Cooper had dinked a pass over the top to him down the inside right channel which almost got to the dead ball line before Meachan retrieved it. With Chris O'Brien in close attendance and with Ruffer just behind, Meachan blasted the ball from the most acute of angles past a completely bemused Wayne Brown and into the roof of the net. An audacious strike and delivered with such deadly timing.
After the break Chester tried to retrieve the situation but made little headway. Porter and O'Brien (M) seemed to run into each other while taking a free kick – but was it part of a cunning plan to catch the visitors off guard? Soon Mick O'Brien who now seemed to be struggling for fitness was replaced by Ruscoe. The substitute had an almost immediate effect as his skimming shot from thirty yards almost managed to squirm its way beneath Perrin's ample frame (His flourescent kit and size made him resemble the proverbial yellow submarine).
Jenkins then hacked down Blackburn on the edge of the box and was booked for his pains. Chester began to sense a way back into the game. But as Rose's free kick was cleared, City were soon hit by the body-blow of a second goal. This was a much softer affair as Lancaster missed a header and let Meachan behind to cross for the unmarked Odejayi to steer home. The towering Nigerian – cousin of Leicester's Ade Akinbiyi and on loan from Bristol City – was a thorough nuisance all afternoon.
Almost immediately, Kerr came on to replace Porter. City were stung into a response at last as Beesley gamely ran at the defence. The ball was cleared but Rose picked it up on the edge of the box and bulldozered his way past three defenders to hammer the ball into the back of the net.
Six minutes later City were level. Rose was fouled by Foster on the right. The referee played advantage at first but when Rose lost the ball – gave the free kick – much to Foster's annoyance. The ball into the box found Malkin's head but was cleared. Blackburn hooked the ball back towards goal and it crashed into the angle of post and bar. Beesley nodded it back on the bounce past Perrin.
Chester, it seemed had got out of jail after a poor display, and might even snatch a win. But the wind was taken from their sails by another sucker punch at the other end. Ruffer was penalised for a foul near the corner flag and City failed to clear the resultant free kick properly. Meachan found himself in a lot of room and knocked the ball into an unguarded net.
After a thrilling fight back the game ended in a deflating anti-climax for the majority of fans. Of the 1330 crowd, just a coach load of FGR fans rejoiced along with the Forest Green team. The portly Perrin kissed the belly of his shirt to remind us that despite the barrage of taunts directed at his physique he had had the last laugh in the end.
---
Tuesday 6 November 2001
Chester City 1 Stalybridge Celtic 2
FA Unibond Cheshire Senior Cup Round 2
After extra time. Score after 90 minutes 1-1
Attendance: 1,408 Half Time: 0-1
Booked: Beesley.

Chester City: Brown, Kilgannon (Baxter 53), M.Rose, Porter (Ruscoe 53), Lancaster, Ruffer, S.Rose, Blackburn, Malkin, Beesley, Kerr (Haarhoff 53).
Stalybridge Celtic: Batty, Murphy, Scott, Perkins, Crookes, Williamson, Turley (Woods 73), Parr, Barker (Courtney 66), McNeil, Wood (Beshell 45).
Referee: Mike Dean (Wirral).

Chester will be kicking themselves for losing this match in extra time after they dominated for long periods.
A crowd of 1,408 took advantage of Steve Vaughan's offer of free admission as City were forced to make several changes to the side that won at Yeovil on Saturday. Martyn Lancaster, returned following suspension in place of Steve Halford, Stephen Rose replaced the injured Chris O'Brien, Michael O'Brien, sidelined with back problem was replaced by David Kerr, and Chris Malkin started in attack instead of Jimmy Haarhoff who had battled so well on Saturday.
Hesitation in City's back four allowed the visitors in for the opening goal after 11 minutes. Carl Ruffer and Wayne Brown both hesitated over a right wing cross and Matthew McNeil stepped in to put Celtic 1-0 up.
Three minutes later striker Mark Beesley's free kick was saved by 'keeper Batty as City searched for an equaliser. Malkin was guilty of a bad miss minutes later as he screwed his shot wide after creating the opening himself.
Blackburn had efforts for City either side of the break before manager Steve Mungall made a triple substitution in an effort to shake things up with Brett Baxter, Scott Ruscoe, and Jimmy Haarhoff coming on in place of Wes Kilgannon, Andy Porter, and David Kerr respectively.
Several chances came and went with Beesley guilty of missing the best on 71 minutes. Haarhoff set up the striker but he shot wide from just eight yards out.
Just when it looked as if all City's pressure would be to no avail, the equaliser they deserved arrived five minutes from time. Haarhoff again the provider as he crossed from the left and Malkin was on hand to head home and force the tie into an extra 30 minutes.
Scott Ruscoe had a great opportunity to put City ahead but he squandered a one-on-one with the keeper after being set up by Beesley.
Wayne Brown kept City in the tie with a save at the end of the opening period, but a flying header by visiting skipper Parr flew past Brown for what proved to be the winner minutes later.
---
Saturday 3 November 2001
Yeovil Town 0 Chester City 1
Nationwide Conference
Attendance: 2,833 Half Time: 0-1
Booked: Beesley, Blackburn.

Yeovil Town: Weale, Lockwood, Skiverton, White, Tonkin, Schram (Thompson 77), Johnson (Turner 77), Crittenden, McIndoe, Ramsay (Giles 46), Alford. Subs not used: Pluck, Collis.
Chester City: Brown. M.Rose, Ruffer, Halford, C.O'Brien, Kilgannon, Blackburn, Porter, M.O'Brien, Haarhoff (Malkin 74), Beesley. Subs not used: Ruscoe, Kerr, S.Rose, Jago.
Referee: J.Singh (Harrow).

The omens were good. Yeovil had only won two of their last eight home matches and Chester were unbeaten in the league under new manager Steve Mungall. It also seemed likely the Blues would be looking to prove themselves after last week's inglorious FA Cup exit at the hands of Barrow. And to set the scene almost perfectly, they had ditched the vile sky and navy blue kits to make way for the traditional blue and white.
The good folk of Yeovil also played their part. It soon became clear that they were more interested in the illuminated carnival that was to get underway within a couple of hours of the full-time whistle than Conference football. Road closures on the approach to Huish Park to accommodate carnival preparations confirmed where the locals' priorities lay. We spent an agonising 45 minutes trying to navigate our way around the diversions, only to reach the ground five minutes after kick-off – particularly frustrating for those who'd risen at dawn to start the trek to cider territory.
But thankfully we'd missed nothing. We'd barely got comfortable in our seats (no standing behind the goal for us this time) when Michael Rose sped down the left touchline to cross the ball to the well-placed Mark Beesley. He made no mistake and blasted home his eighth goal of the season. "YES!" – the traffic nightmare was instantly forgotten and the Chester faithful, numbering about 100, started their own carnival celebrations.
The Yeovil fans continued to demonstrate a lack of enthusiasm in the activity on the pitch, although their team did their best to give them some pre-carnival entertainment. Not long after Beesley's 21st minute strike, Wayne Brown pulled off a great save to stop Carl Alford's close-range effort. Then Yeovil's Scott Ramsey looked set to beat Brown – but somehow blasted his shot wide.
Chester's defence continued to stand firm against the battling Glovers – with former youth team player Wes Kilgannon proving that he's made the grade in the first team. Mick O'Brien, who reminded me of a dynamic version of Neil Fisher, dominated Chester's midfield. Chris Blackburn finally looked like he's started to fulfill his potential again. And Jimmy Haarhoff was back to his lively best.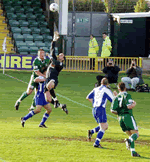 Yeovil came out with all guns blazing in the second half – but it really looked like it was going to be Chester's day. Brown thwarted Yeovil again with a diving save to tip Nick Crittenden's 20-yard blast over the bar. From the corner that followed, Alford had his header cleared off the line by Mick O'Brien. Yeovil's pressure continued and when it seemed easier for Crittenden to score than not, Brown again made a vital save.
Then on the 88th minute, it seemed inevitable our day would be complete. Chester's tireless man-of-the-match Mark Beesley, belted down the right wing, managed to keep the ball in play and made the perfect cross to Michael Rose. But although Rose was only about three yards out, he somehow managed to shoot wide.
A tense few minutes followed while Yeovil refused to give up hope. Substitute striker Chris Malkin looked unfit and was well behind the pace by this stage. But the Chester defence held firm and we were soon hailing our awayday heroes.
The Chester carnival over, we were back into the Yeovil traffic nightmare. Stomachs were grumbling as we queued and queued to get out of the car park – with the notable exception of those who'd managed to consume a Little Chef Olympic Breakfast en-route. But who cares about food in your belly when you're got three points in the bag? I just hope the Yeovil fans were cheered up by their carnival. They didn't have much fun otherwise on Saturday.
---
Saturday 3 November 2001
Chester City Youth 0 Shrewsbury Town Youth 0
Football League Youth Alliance Cup 1

Chester City: Louie Mackin (Sion Griffiths), Paul Conolley (Gethin Lloyd), Lee Woodyatt, James Dean, Scott Bagnall, John Davies, Adam Kelly, Carl Rodgers, Lee Reece, Chris Hopwood, Kevin Towey.

The youth team drew 0-0 with Shrewsbury Town on Saturday ending their interest in this seasons Youth Alliance Cup. They had several chances to win the game, most notably a first half 20 yard strike from Chris Hopwood which was pushed over the bar by the Shrewsbury keeper. In the second half Gethin Lloyd managed to squeeze the ball passed the keeper only for a Shrewsbury defender to scramble the ball clear.