---
Saturday 30 March 2002
Chester City Youth 0 Oldham Athletic Youth 4
Football League Merit Division 2 – North
Chester City: Louie Mackin, Chris Tamm (Trialist), Paul Connolley, James Dean, Tom Coulson, John Davies, Adam Kelley, Carl Rogers, Lee Reece, Chris Hopwood, Kevin Towey (Mark Howell).
The youth team lost 4-0 to table topping Oldham Athletic on Saturday morning. Oldham were a very physical and powerful team and scored two goals in each half. Chester had their fair share of possession but were unable to force themselves on the physically superior opponents.
---
Saturday 30 March 2002
Doncaster Rovers 2 Chester City 0
Nationwide Conference
Attendance: 2,085 Half Time: 2-0
Booked: McGorry.
Doncaster Rovers: Warrington, Price, Ryan, Miler, Squires, Tierney (Caudwell 59), Kelly, Owen (Green 90), Watson, Barnes (Campbell 82), Gill. Subs not used: Sandwith, Butler.
Chester City: W.Brown, Lancaster, Bolland, Brabin, Peacock, M.Rose, McElhatton (Spink 82), Carey, McGorry (Woodyatt 45), D.Brown (Blackburn 84), Beesley. Subs not used: M.Williams, Carden.
Referee: M.Ives (Stevenage).
In-form Doncaster took their goal tally to seven in two games with a comfortable win over Chester at Belle Vue.
Doncaster, who beat Hayes 5-2 last week, made a fast start and after Robert Gill's volley had been charged down, Gareth Owen's effort was comfortably saved by Wayne Brown.
Chester launched their first attack in the 20th minute when Richard Peacock's fierce volley was scrambled clear by Tim Ryan.
Peacock threatened again soon afterwards but Andy Warrington kept out his 25-yard effort. Both teams created openings during a frenetic five-minute spell and Doncaster opened the scoring in the 34th minute.
Gill collected the ball on the edge of the penalty area and curled a superb effort into the top corner of the net.
The hosts doubled their advantage on the stroke of half-time when Francis Tierney crossed for Paul Barnes to power home a header.
Peacock continued to cause problems for Rovers' defence in the second half but the hosts held on for victory.
---
Tuesday 26 March 2002
Hereford United 1 Chester City 0
Nationwide Conference
Attendance: 1,295 Half Time: 1-0
Booked: D.Brown.
Hereford United: Jones (Baker 13), Holmes, Barrick, Clarke, Wright, James, Roboinson, Goodwin, Parry, Rodgerson (Quigin 62), Williams. Subs not used: Davidson, Diamond, Hill.
Chester City: W.Brown, Bolland, M.Rose, Lancaster, McGorry, Brabin, Carey (Blackburn 71), McElhatton, Peacock (Haarhoff 81), Beesley, Tate (D.Brown 15). Subs not used: M.Williams, Woodyatt.
Referee: P.Melin.

City fans who were not at Edgar Street should not be too disheartened by this result. After a shaky start City did more than enough to win this game but eventually came away pointless. By law of averages this result was due – City were unbeaten since January in the League and had a fine win at Boston at the weekend, their hosts were still smarting from three consecutive home defeats in the Conference.
The Bulls began on the rampage and lax defending allowed Williams in to flash a shot wide in the first minute. Hereford took the lead with a bizzare goal on six minutes. A cross was headed out to the edge of the box by Bolland and Wright toe-poked it first time towards goal where it skimmed past a statuesque Brown. The Chester keeper was so flat-footed it could only be assumed the shot had been deflected, he was unsighted or just caught on the hop.
Still the goal was scored early enough for City to mount a reply. City were struggling early on to get to the pace of the game and the cacophony of the Cestrians' supporters drum and tin (Banging on the corrugated stand wall) percussion section gave the whole atmosphere an air of surreality.
Tate and keeper Jones both needed lengthy treatment after colliding at a far post cross. Both tried to continue but had to be replaced. Baker – usual first choice keeper but injured recently – came on for the Bulls, David Brown for Chester. One substitute denied the other when Baker pulled off a magnificent save to beat out Brown's fierce shot after Bolland's header had been cleared off the line. Just before the interval Baker saved again as Beesley got through.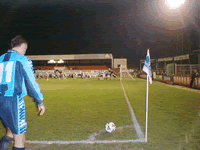 From the re-start City, in their sky and navy stripes once again (Homage to Saturday's Boat Race perhaps) really took the game to their hosts. Carey was superb in the centre of midfield. McGorry, who had struggled a little to get in the game in the first half was now much more effective. City sprayed the ball about to either wing, Brown and Beesley turned their markers time and again to get behind them and threatened to score so often, I lost count. The one thing they lacked was that cutting edge and the instinctive understanding that would have provided the split second timing to make a clear cut chance. Brown, Beesley and McElhatton all had shots blocked on the line. Bolland's headers were just over the bar or within reach of Baker's grasp.
Best chance of all came to Brown who broke into the box with just Baker to beat. He pushed it round him and then tangled with the keeper and fell to the ground. May be he was looking for the penalty instead of trying to have a go himself. Certainly the ref thought he had dived and – just to rub salt into the wound – booked him for good measure. It capped a frustrating evening all round.
On another night City might have won by three or four goals. They could not be faulted for effort and were warmly applauded by the travelling supporters when the final whistle brought great relief to the home team – who barely got out of their own half in the second period.
If City keep up this form then they should stay up despite the tough programme fo their next matches – but nothing is a foregone conclusion, that is the lesson that could be drawn from an excellent performance despite a disappointing result.
---
Saturday 23 March 2002
Chester City Youth 3 Mansfield Town Youth 0
Football League Merit Division 2 – North
Chester City: Louie Mackin, Tom Coulson (Trialist), Paul Connolley, James Dean, Scott Bagnall (Mark Howell), Chris Tammy, John Davies, Carl Rogers, Lee Reece (Tom Leonard), Chris Hopwood, Adam Kelley.
The youth team had a convincing 3-0 home win against Mansfield Town on Saturday morning. There were no goals in the first half as the Mansfield keeper denied Lee Reece and Carl Rogers with two excellent saves, whilst at the other end Chester keeper Louie Mackin pushed a long range effort onto the post.
Chester took the lead after ten minutes of the second period when Chris Hopwood broke clear and lifted a bouncing ball over the advancing keeper. They doubled their lead 15 minutes later when Chris Hopwood netted his second following up Lee Reece's attempt which had been blocked by the keeper. Substitute Tom Leonard completed the scoring five minutes from time with a neat 15 yard finish.
---
Saturday 23 March 2002
Boston United 0 Chester City 1
Nationwide Conference
Attendance: 0-0 Half Time: 2,519
Booked: Brabin, McGorry, Peacock, Tate.
Boston United: Bastock, Clifford, Gould (Tarrant 63), Warburton (Costello 85), Rodwell, Ellender, Brown, Cook (Town 70), Angel, Clare, Rusk. Subs not used: Elding, Conroy.
Chester City: W.Brown, Lancaster, Bolland, Brabin, McGorry, Rose, Carey, McElhatton (Williams 70), Peacock, Tate, Beesley. Subs not used: D.Brown, Haarhoff, Carden, Blackburn.
Referee: S.Dorr (Worcester).

City came away from York Street all smiles following this tremendous 1-0 victory that steers them clear of the relegation zone towards safety, and the 150 or so City fans who travelled from all points of the country to see the game played a big part in that success.
Accompanied by the booming drums of two of their ranks the blues faithful chanted "Mark Wright's Blue and white army" non-stop for the last pulsating 20 minutes as manager Wright's men hung on to defeat the Conference leaders and silence the home fans amongst a crowd of just over 2,500.
Chester gave a debut to Richard Peacock, signed from Stalybridge 24 hours earlier, who replaced Lee Woodyatt and kept faith with Martyn Lancaster in the centre of defence alongside Phil Bolland ahead of Mark Williams who took his seat on the bench. Shaun Carey also returned to the side in midfield at substitute Paul Carden's expense.
The Blues started brightly and were pressing as early as the fifth minute with Chris Tate flicking on a Mark Beesley cross only for Paul Bastock in the home goal to gather the ball comfortably. Minutes later Tate was in the thick of the action again as he seemed to be pushed in the box chasing a McGorry through ball, referee Dorr turned his back on the appeals.
At the other end City keeper Wayne Brown, who won his fourth England semi-pro cap in the week, was kept busy cutting out some dangerous crosses but didn't have a shot of note to save in the early stages except for a reflex save from Mark Angel's quickly taken free kick.
The busy Tate, winning much in the air, went close again midway through the half when a close range shot was blocked in the box following a goalbound melee and minutes later fellow striker Mark Beesley saw a shot from 20 yards deflect agonisingly inches wide of the post with the City fans behind the goal about to cheer an opener.
At the other end of the pitch debutant Peacock was handily placed minutes later hooking the ball off his own line as Ellender beat Brown with a low shot.
As anticipated, Boston came out strongly in the second half and went close twice with far post headers. Mike Rose saw a long-range effort scream just wide before City got the breakthrough on 53 minutes.
Peacock swung over a left wing free kick and Mark Beesley rose unchallenged in the box to head past Bastock into the corner.
City brought an extra defender in Williams (for McElhatton) and sat back a little on the lead they had. Twice Wayne Brown was called upon to make close range saves with his legs and he also pulled off a superb effort at full stretch to deny Jamie Brown when a goal looked certain.
Boston pressed hard for the equaliser and forced several corners in the dying minutes, but City's back line, with Phil Bolland and Gary Brabin once again impressive, held on for three crucial points and the body language of the players in the bar afterwards said it all. There seems to be a great team spirit instilled in the club at the moment – long may it continue.
---
Sunday 17 March 2002
Stockport County Ladies 3 Chester City Ladies 2
Northern Combination League
Although goals from Clare 'sticks' Reynolds and Sarah Tyson, Chester's Ladies were unable to stave off a comprehensive second half performance from a young bright Stockport County side.
The girls were comfortably ahead early in the first half when Sticksy, at her usual coolest, rounded the keeper to net her 13th of the season. It remained the same till the second period when a poorly placed volley toward the Stockport back four was intercepted and from the resulting clearance, the quick Stockport strikers ran the Chester rearguard ragged and slid the ball under Laura Edwards in the Chester goal.
After coming on for the out of luck, Cally Reid, Tys's goal put Chester ahead again but another costly error by the Chester defence earned the home side a corner which they converted to bring the game back to all square with 20 minutes to go! The longer the game progressed, the more pressure was brought to bare by Stockport County and when Michelle Hounslow was forced to play back to her keeper a misunderstanding between centre half and keeper saw a Stockport County player come clean away with the unclaimed ball and finish into the top corner.
Although seconds later Tyson had the ball in the home net again, the goal was disallowed as she was penalised a trip on a defender, CCLFC really didn't deserve a thing from this short journey up the M56.
---
Saturday 16 March 2002
Grimsby Town Youth 0 Chester City Youth 1
Football League Merit Division 2 – North
Chester City: Louie Mackin, Trialist, Paul Connolley, John Davies, James Dean, Tom Coulson, Carl Rogers, Mark Howell (Scott Bagnall), Lee Reece (Adam Kelley), Kevin Towey, Chris Hopwood.
The youth team made the long journey to Grimsby on Saturday morning, but it was worth the trip as they returned with a 1-0 victory. Carl Rogers headed the all important goal in the first half. Louie Mackin pulled off a tremendous save in the dying minutes to secure the three points.
---
Saturday 16 March 2002
Burton Albion 2 Chester City 0
FA Umbro Trophy Round 6
Attendance: 3,584 Half Time: 0-0
Booked: W.Brown, Carden, M.Rose.
Burton Albion: Duke, Hoyle, Hensahw, Kavanagh, Blount, Evans (Wall 77), Stride, Webster, Moore, Clough, Anderson. Subs not used: Bailey, Lyons, Glasser, Robinson.
Chester City: W.Brown, Woodyatt, M.Rose, Lancaster, Bolland, Brabin, Carden, McGorry, Tate (Haarhoff 72), Beesley, McElhatton (D.Brown 72). Subs not used: Spink, Blackburn, Whittaker.
Referee: J.Williamson.

So Chester are free to concentrate on the League. And this disjointed performance illustrated that they will have to concentrate a lot harder against Boston on Saturday. With so many new additions to the squad, it is fair to say that Mark Wright has had a difficult task in quickly moulding the players into a cohesive unit. His job is far from complete and if Stalybridge win their game in hand then we are only two points from the drop zone.
Maybe I am being too harsh and unrealistic but I miss watching Chester sides that had poise on the ball and a degree of control. On Saturday this happened all too fleetingly. Against Burton, too many passes went astray and that was on the occasions that the ball wasn't in the air. On the positive side Brabin won virtually every header he went for but there seemed to be an aversion to good passing football played on the floor and many of the players were ill at ease with the ball at their feet often over-hitting aerial balls, even from free kicks where there was no tangible pressure from opposition players.
The game started scrappily with both sides failing to find their composure for a good 20 minutes. The bumper crowd was fairly quiet apart from the marvellous vocal support of the visiting fans and percussion. Chester could have taken the lead when a firm Brabin header was fumbled over the crossbar by Clough and Duke. There were few clear-cut chances and the flow was not helped by the numerous free kicks for late City tackles. Burton hit the back of the net through Moore eventually, only for the apoplectic crowd to be silenced by the outstretched arm of the linesman's offside flag.
City started much more brightly in the second half and Beesley was unlucky not to put them ahead in the 50th minute when the ball struck the upright and the follow up was blocked by some frantic defending. Not long after this McElhatton slipped when bearing down on goal, which summed up the frustrating game he was having. Not having heeded Burtons first half warning Chester were hit on the break with an excellently constructed goal set up by Moore and wonderfully finished by Kavanagh and the crowds celebrations were not curtailed this time. Two minutes later Webster punished some hesitant defending and Burton were in the draw for the semi-finals. City played some of their best football in response and the arrival of the much-underused Haarhoff was a welcome reminder of what good ball skills can bring to a side. He caused the Albion players much discomfort on the occasions he got the ball and there were some resulting smart moves, although there was something faintly absurd to see balls being played to his head rather than feet.
Burton will be a welcome addition to the Conference and on this showing will not struggle to make the grade. As with the comparison with the lower reaches of the Third Division and the Conference it would be fair to say that several clubs below the Conference would beat the bottom eight at least. Burton were quicker to the ball on most occasions and made the Chester players look far from fleet of foot. Far too many times the crowd around me in the stand were howling for a City player to be booked for an act of clumsiness and Wayne Brown was the luckiest of all to stay on after the referee obviously decided that the Burton player was going away from goal when he was clattered. My father, who first saw City in 1947, looked on wistfully at the shadow of what was once a fairly accomplished outfit – an Alan Oakes or Ken Roberts ensemble this was not.
I am not being deliberately negative; there is at least now a structure within the club capable of getting Chester back into the League and there is much to be pleased with the current league position compared to when Wright took up his tenure. Hopefully there will now be a period of stability that will result in preservation of Conference status and a good campaign next year. I think we all deserve a brighter future and a taste of success. The view from the top is always infinitely more interesting than from the basement.
---
"Say, for what were hopyards meant, Or why was Burton built on Trent? .......
Ale, man, ale's the stuff to drink for fellows whom it hurts to think."
(From AE Housmans's "Shropshire Lad")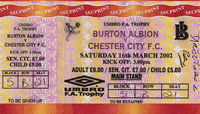 Burton's most famous product was some consolation for Cheshire lads as they saw their side put out of the Trophy. It was a hard fought game without a great deal of incident, with Chester just beginning to shade it until the Brewers broke away and scored a well-worked goal.
Mark Beesley had just hit the post and somehow the keeper had saved the shot from the rebound as well. But within another couple of minutes City went two down when they failed to deal with one of Burton's many looping corners to the far post and Webster swept home the knock back.
City could not raise their game to rescue the tie against a well disciplined Burton side. The towering Duke in the Brewer's goal didn't have a save to make after the Beesley shot. So the dream of a Villa Park final and the cash bonanza that Chairman Vaughan could clearly do with evaporated. Mark Wrignt's priority lies elsewhere – with Conference survival – and he was hoping to avoid injuries and any uneccessary bookings and red cards. Although he seemed to get his wish for the former, City picked up some stupid yellow cards in an even first half. Carden was extrememly unlucky to be cautioned, Brown was lucky to stay on after another reckless dash from goal and the upending of an opposing forward.
If City stay up then it's likely we'll meet the Brewers next season as they are winning the Unibond by a street and will probably do well in the Conference. It will no doubt prove a popular away trip for Chester and other fans – not only the wares of three breweries to provide both refreshment and solace in defeat – but also, judging by the length of the queues for the hot food kiosk all afternoon, something more solid to enjoy too.
---
Saturday 9 March 2002
Chester City Youth 3 York City Youth 0
Football League Merit Division 2 – North
Chester City: Louie Mackin, Chris Tammy, Trialist (Tom Coulson), James Dean, Kevin Towey, John Davies, Carl Rogers, Adam Kelley (Scott Baganall), Mark Howell (Trialist), Lee Reece, Chris Hopwood.
The youth team won their opening game in Merit Division 2 with a convincing 3-0 home win against York City on a windswept Saturday morning. They took an early two goal lead through a 20 yard strike from Carl Rodgers and neat finish from Chris Hopwood. They had further chances to increase their lead, but had to wait until the 70th minute to secure the points with a well taken second from Chris Hopwood.
---
Saturday 9 March 2002
Stalybridge Celtic 0 Chester City 4
Nationwide Conference
Attendance: 1,002 Half Time: 0-1
Booked: Bolland, Brabin, M.Rose, M.Williams.
Stalybridge Celtic: Walker, Murphy, Woods, Wood (Mike 67), Perkins, Peacock, Beesley (Williamson 70), Parr, Pickford, Ayorinde, Courtney (Turley 74). Subs not used: Wharton, Fish.
Chester City: W.Brown, Woodyatt, Bolland, M.Williams, M.Rose, Carey, Brabin, McGorry, McElhatton, Beesley, Tate. Subs not used: Spink, Haarhoff, Blackburn, Whittaker, D.Brown.
Referee: C.Boyeson (Hull).

It was standing room only in the nationally renowned station buffet (Leeds Platform) as pre-match refreshment was sought. By the time we got there Howard was well-ensconced and in conversation with a couple who turned out to be Paul Beesley's Mum and Dad. We walked briskly through the almost deserted streets and were distracted only by Graham knocking on the window of the Pavilions Bar. He polished off his lunch in double quick time and caught us up at the entrance to Bower Fold. Graham's diplomatic skills came into play as he negotiated a parking space for his silver machine in an already choc-a-bloc car park.
Undeterred by Tuesday night's awful spectacle against Scarborough, a horde of 3-400 had made the trip for this relegation dogfight with our most distant Cheshire relations. The Chester contingent huddled below the roof at the Mottram-in-Longdendale end of the ground, taking nervous glances at the glowering sky, just visible between the surrounding hills, as it threatened to unleash lashings of hail and heavy rain. Others queued stoically for the refreshments bar.
City began brightly and had a real opportunity to forge ahead when Tate broke through a statuesque defence (which included Paul Beesley and Mattie Woods) but fired high and wide with the goal at his mercy. Tate had another shot, on target this time, but Walker managed to beat it away. City were dominating the game with Carey and McGorry exercising a virtual stranglehold on midfield.
But then Celtic had spell of pressure. The dangerous Sammy Ayorinde threatened down the left and Williams (in for Lancaster) earned a booking for his clumsy challenge. Twice the home team caused us problems down the inside left channel.
Chester reasserted themselves however and the clinching factor came when – with ten minutes to go to half time – Richard (a nearby spectator) decided to go to the toilet. In time-honoured tradition Chester scored and Richard missed the goal. For his benefit let me tell you that the ball cannoned off two Celtic defenders before McElhatton and Tate exchanged passes and put Beesley through. He made no mistake as he lashed the ball in to the back of the net.
It was an upbeat half time interval for the visiting supporters. The only complaints were that we only had one goal to show for all the dominance. This looked like proving costly for a couple of minutes after the break as Celtic attacked us down their right and got a couple of shots in on goal. Wayne Brown did well to cover them both.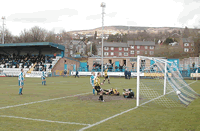 McElhatton then broke from midfield and set Lee Woodyatt away on the right. His cross was met by Tate in the centre of the area whose classic downward header bounced once before thudding into the net (left). An important goal which gave us a bit of daylight. Right on cue, the sun broke through the scudding clouds, making the floodlights redundant.
Four minutes later Chester were out of sight when McElhatton ended a neat passing move on the right by curling a left-footed belter into the far top corner. More shots rained in after that as Brabin and McElhatton were denied goals by Walker's stunning saves.
Bolland, Brabin and Rose were booked by a fussy referee but the coup de grace was delivered in the final minute as McElhatton clubbed another shot (outside of the right foot this time) into the same top corner as before. He had been set up by Beesley's lighting turn and pass.
City's away form is little short of rampant at the moment. Why can't they repeat this at home? Mark Wright, interviewed afterwards, alluded to problems with the bobbly pitch at the Deva, the high expectancy levels among the fans and also the fact that Stalybridge allowed Chester to play football. Celtic seemed to be low in confidence but I hope they manage to stay up along with Chester as it's a brilliant place to visit.

Colin Mansley
---
Tuesday 5 March 2002
Chester City 0 Scarborough 0
Nationwide Conference
Attendance: 1,475 Half Time: 0-0
Booked: Beesley.
Chester City: W.Brown, Lancaster, M.Rose, Bolland, Blackburn, Brabin, Carey, McElhatton, Whittaker (Woodyatt 53), Beesley (Haarhoff 65), Tate. Subs not used: M.Williams, McGorry, Spink.
Scarborough: Woods, Jordan, Hotte, Shepherd, Rennison, Stoker, Blunt, Patterson, Sugden (Rose 84), Stamp, Pounder. Subs not used: Salt, Connell, Faure, Shannon.
Referee: M.Penn (Kingswinford).

Chester had to settle for a single point for the second time in a week against a well-organised and determined Scarborough side. In what was for most part a featureless and physical struggle, City failed to create many notable opportunities on a cold night dominated by a strong wind that blew the ball like litter up and down the ground.
Out of the starting line from Saturday were Carden, Spink and Woodyatt. Returning saw Whittaker, Mike Rose along with loan signing Chris Tate from Leyton Orient. The early exchanges set the scene for what was a scrappy and disappointing first half. Scarborough strong and uncompromising style coped comfortably with City's blunt edge attack but having won possession were content to launch an aerial bombardment that tested Brabin, Lancaster and Bolland but rarely threatened.
Up front, Beesley as ever ran his heart out but tonight did little to trouble Scarborough on City's rare excursion up field. Tate produced a creditable if uneventful first forty-five matching Scarborough's robust style with some forceful play of his own. McElhatton ran hard but seemed too often to lose the physical exchanges. Whittaker, lively and positive, was denied the space required to make the best from his position wide on the line. As so often in games of these, it was left until injury time for the best chance to appear. Bolland won the ball in midfield and in a rare moment of fluid passing, found Beesley well positioned in space who drilled his strong shot wide and high.
The second period began with the Blues again on the offensive. Beesley and Whittaker combined well down the right to make space behind the defence but City's final pass lacked direction. The crowd, sensing deadlock, grew slowly restless. Persistent Scarborough fouling along with some baffling fouls called on Chris Blackburn seem to unsettle City and it was little surprise when Woodyatt and later Haarhoff were called upon to replace the tiring legs of Whittaker and Beesley. For a short period of time, Tate who enjoyed his best spell of the game, City looked briefly capable of taking the lead. Good close control and a turn by Tate in the box following some smart work by Woodyatt saw Scarborough scrambling back forcing the ball out for a succession of corners. Haarhoff's pace and ability to win possession where others had failed endeared him to the crowd bringing McElhatton and Blackburn briefly out of the shadows.
But between these moments of penetration, some alarming gaps were appearing in City's defence. Bolland, in a moment of indecision, almost allowed Scarborough to breach a defence that was beginning to look increasingly frayed following what had been an hour of highball attrition. On seventy minutes, Scarborough missed what proved to be their best chance. A long ball hooked over the City defence appeared to catch their retreating striker some yards off side. City stopped momentarily waiting for the linesman to raise his flag. Instead, the flag remained firmly down interpreting the trespass as non-interference of play. Scarborough's Darren Stamp playing to the whistle was well clear of City's static defence in a matter of seconds. With Brown some way advanced off his line a simple lob would have been all that was needed but choose instead to hit the ball high and wide. Scarborough's bench ran from their dug out holding their head in their hands. Everyone felt that in a night of few chances the best one was probably gone.
The final moments were played out with Scarborough showing the more likely to score, as City looked least able to cope against the wind that was still raging. So when the final whistle was blown it was greeted with some relief although it would have been rough justice on either side if they had lost.
Man of the Match went to Martyn Lancaster which for the game that was played was well deserved. Credit too should be given for another tough and fearless display by Gary Brabin and recognition to Shaun Carey for another workmanlike if not unassuming performance.
---
Sunday 3 March 2002
Scunthorpe United Ladies 1 Chester City Ladies 2
Northern Combination League
Although the side went to Scunthorpe on Sunday with only 13 players available (Lisa Pritchard – Neck, Cath Davies -– Welsh International Duties in Portugal, Sarah Tyson – Tonsils out, Zoe Spencer – Respiratory infection, Annette Jones – Flu, Laura McWilliams – holidays), the girls performed with real belief and came away from there with all 3 points. It means that a top three finish in the Northern Combination in our first year is more than a conservative goal.
If a few other results go our way we could once again be real title contenders! The girls went one down on Sunday but it was very mush against the run of play but minutes later Clare Reynolds took a chance to chase a long kick from Laura Edwards and was rewarded with a spot kick when the centre half wrestled the ball away her only to be spotted by the assistant who saw the use of hands! She composed herself to convert the penalty.
Within 20 minutes of the restart Rachel McKenzie, deputising for Helen Cann who had been switched to central midfield, the position historically occupied by Lisa Pritchard, split the Scunny back four with a lovely waited ball. Clare 'sticks' Reynolds was quickly onto the through ball. She rounded the advancing keeper and knocked the ball into the empty net for her second.
If not for a superb performance by the home keeper, it could have been four or five and it sets the girls up for another big big game against Newcastle United at home this coming Sunday.
---
Saturday 2 March 2002
Chester City 1 Leigh RMI 1
Nationwide Conference
Attendance: 1,572 Half Time: 1-1
Booked: None.
Chester City: W.Brown, Woodyatt, Bolland, Lancaster, Carden, Brabin, Carey, McGorry (Blackburn 69), McElhatton, Beesley (Malkin 57), Spink (Haarhoff 57). Subs not used: M.Williams, M.O'Brien.
Leigh RMI: Westhead, German, Harrison, Durkin, Swan, Kielty, Ridings, Twiss, Hallows, Black, Monk. Subs not used: Fisher, Thompson, Farrell, Heald, Dootson.
Referee: A.Marriner (Coventry).

Two in-form teams clashed at the Deva on Saturday, Leigh had taken thirteen points from the last fifteen including a crucial midweek victory at fellow strugglers Stalybridge. Chester, prior to Saturday, had a run of nine unbeaten matches under their belt.
The Railwaymen's record came under pressure first as City made a whirlwind start. Brabin powered a header into the top corner from Woodyatt's free kick out wide on the right. It was a goal reminiscent of Eddie Loyden in his pomp. Leigh proved to be dangerous opposition though, especially on the counter-attack where the speed and cohesion of their forward line opened Chester's defence up on several occasions.
Wayne Brown was knocked out cold as he went to collect an awkward cross from the left. He came down still holding the ball but out for the count in the lap of centre-forward Hallows. After a lengthy time of treatment, Joe Hinnigan's smelling salts finally revived him. Surprisingly he was allowed to continue but showed no after effects of concussion. It will be interesting to see if Chester have a goalkeeping substitute next match. The newly signed and towering Hughes was on duty at half time attempting to save penalties form a City fan (To no avail). City continued to dominate but couldn't convert their chances. Beesley did well to turn his man in the box but scuffed his left-footed shot wide.
City were to pay for missed opportunities just a few minutes before the break. An otherwise impeccable Brabin committed himself for a ball he couldn't get and Twiss was released like a greyhound from a trap. He cut inside from the right and fired a shot towards goal. Brown might have saved it but it clipped Bolland's heel on the way and nestled in the corner of the net.
After the break Chester applied sustained pressure but there was something disjointed about their play. Whittaker (A mysterious absentee) was sorely missed. Wright put Haarhoff and Malkin on to replace Beesley and Spink. The fresh legs livened up City's attacks with Malkin winning plenty of headers and Jimmy Haarhoff tying defenders up in knots as they tried to tackle him. Blackburn also added urgency when he came on for McGorry.
The Leigh goal survived several near misses. Bolland towered above the defence to head goalwards but straight at the keeper. McElhatton powered in a fierce drive which the keeper parried and Malkin looked certain to net the rebound but it bounced just beyond his flailing drive.
So, honours even in the battle of two in-form but struggling sides in terms of their league positions. Leigh will be happier with the point. It was not Chester's most convincing of recent performances and a little disappointing after euphoric wins a Telford and Nuneaton. There will soon be chance to make amends with the visit of Scarborough on Tuesday and the Cheshire derby with Stalybridge to come.