30 August 2013

DEFENDER HIGGINBOTHAM SIGNS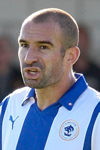 Chester have signed 34-year-old central defender Danny Higginbotham from Sheffield United until the end of the season. The Manchester born defender brings a wealth of experience with him beginning his career at Old Trafford in 1997 before moving on to Derby County in 2000.

He went on to make 86 appearances for the Rams before a move to Southampton (94), Stoke City (45), Sunderland (22) and back to Stoke for a further 64 matches. While at the Britannia he had loan spells at both Nottingham Forest and Ipswich Town. He moved to Sheffield United last season and made 15 appearances.

Higginbotham told the official website: "I've enjoyed my career so far and played at the highest level, and this is a new challenge for me now, Chester FC is a great club, the club now has risen again and it looks a great place to be and being run by the fans too makes it even more special to be a part of."

"I've really wanted to get involved with what's happening here, and of course it's a different kind of challenge for me , but if I can play my first game on Saturday then that is really something to look for as the local derbies are game that everyone wants to be involved in. I know all about the history of the fixture, so I'm really looking forward to it."

He is expected to make his debut in the all-ticket derby match at Wrexham tomorrow, kick-off 13.00hrs. This is the first meeting between the two sides since September 2009 when bottom of the league City fought out a 0-0 draw at the Racecourse. The hosts have not won since the opening day of the season when they beat Welling United 2-1 at home, they will be without former Chester player Jay Harris through suspension.



---
AVAILABLE FOR LOAN
Manager Neil Young has stated that two players have been made available for loan, they are Marc Williams and Jason Jarrett.

---
27 August 2013

DOUBLE DEFEAT FOR BLUES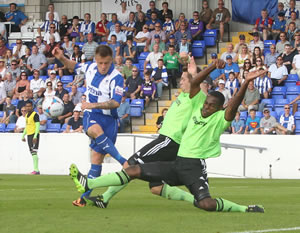 Chester lost both games over the Bank Holiday weekend, 3-1 away at Kidderminster Harriers on Saturday and 2-1 at home to Forest Green Rovers on Monday. The back-to-back defeats leave Chester still looking for their first point of the season with only Aldershot Town, who started on -10 points, below them in the table.

Once again poor defending from set-pieces contributed to goals in both matches. "Apart from possibly one goal out of the 12 we have conceded goals from our own mistakes and that doesn't win you games of football." said manager Neil Young following the latest defeat on Monday.

Young has stated that he's looking for an experienced central defender before the transfer deadline to organise the defence. He has a player identified and is waiting to hear back from him. "I have waited for that player for three weeks. I'm going to hold on and give myself until today or tomorrow to see if we can get something done, but if that doesn't happen then we'll look at the market and if that doesn't work then we'll just have to go with what we've got and see what we can get on loan."

Chester are next in action on Saturday at the long-awaited derby match at Wrexham, kick-off 13.00hrs. As of yesterday the Blues had around 400 vouchers/tickets left on general sale for the game.

• Table after Forest Green Rovers match



---
23 August 2013


TWO SIGN ON LOAN
Chester have signed two players on a one month loan in time to feature tomorrow at Kidderminster Harriers. The players are Sunderland attacking midfielder Jordan Laidler, and Bury winger Aidan Chippendale.

---
YOUNG SEEKS LOAN DEALS
Manager Neil Young is continuing to look for loan deals to boost his squad. The Blues boss is reported to be looking for an experienced central defender and an attacking midfielder. He told the Chester Chronicle: "We're going to sign good, fast young kids if we can. I've settled on the way forward, I've got my mind set, and we're looking to add some vibrancy in wide and central areas and mix that up with the experience we've got."

---
22 August 2013


FRIENDLY DRAW FOR BLUES
Goals from Danny Harrison and Alex Titchiner gave Chester a 2-2 draw in a behind closed doors home friendly against Burnley's Development Squad, that included three first teamers, last night.

---
19 August 2013


YOUNG BLASTS "WORST EVER PERFORMANCE"
Chester manager Neil Young described the home defeat to ten-man Woking as "the worst performance of any of my teams from the whole of my management career." Two goals in a five minute second half spell condemned the Blues to a third straight defeat to a Woking side that were reduced to ten men in the 43rd minute following a red card for Josh Payne. Chester hit the woodwork twice but failed to really test Aaron Howe in the Cardinals goal.

Young said after the match: "It's very disappointing as at this moment in time this side does not mirror my management style. One thing my teams have always had is graft. While I'm not saying everyone, a few individuals decided to play when they were down to 10 men."

"But they're not kidding me. We were very poor from start to finish. I'll leave no stone unturned until we get it right. I'm not saying this in the heat of the moment but for some of them it could be their last game as I will not put up with people who do not show desire."

Chester are next in action on Saturday with a trip to sixth placed Kidderminster Harriers, kick-off 15.00hrs.

• Table after Woking match
---
16 August 2013

CLUB STATEMENT ON SMOKE BOMBS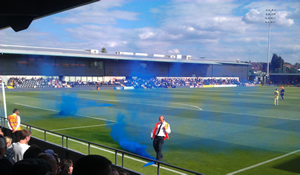 The football club board of directors have issued a statement following incidents of smoke bombs being thrown in the opening two matches of the season. The statement reads:

"As a supporter-owned football club, Chester FC are rightly proud of the behaviour of the overwhelming majority of our supporters. Since reforming, we have been welcomed by other clubs across the country and recognised as well behaved, true supporters of the game.

This reputation is well deserved and we must do everything in our power to retain the goodwill that has been built up in the last three seasons.

The behaviour of a small number of individuals in the game at Barnet and again at last night's game against Hereford seriously threatens to undermine all that we stand for as a community-based, family club.

The board of Chester FC absolutely condemn the use of smoke bombs/flares, throwing coins, any form of hate chanting, racial abuse and any other form of public order offences.

The referees who officiated at both the Barnet and Hereford games have indicated that reports will be submitted to the FA on the behaviour of Chester supporters. Sanctions such as fines and/or points deductions could well be applied to the club.

The club will work with our stewards and the police to identify and deal with any individuals that are responsible for any behaviour which could bring our club into disrepute.

We are committed to providing a safe, family friendly environment for our supporters and visiting fans and we will not tolerate any behaviour that undermines this.

While we all want to celebrate our club's rapid promotion into the Skrill Premier Division we would appeal to all fans not to allow celebrations to spill over into anything that could harm the club in anyway."
---
14 August 2013

KAY SEES RED AS CHESTER LOSE AT HOME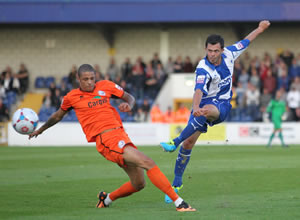 Defender Michael Kay was sent-off following two yellow cards as Chester's first home game of the season ended in a 2-0 defeat at the hands of Hereford United. A crowd of 2,900 turned out for the opening home fixture but the majority will have left disappointed.

Chester, without creating any clear chances, gave as good as they got in the opening period but fell behind on the stroke of half time as Luke Graham sent a looping header over John Danby following a corner. And, as on Saturday, Chester conceded soon after the restart with Sam Smith scoring from close range following a free-kick awarded after Kay's dismissal.

Following the home setback manager Neil Young said: "Hereford didn't bother us at all first half and without us creating a great deal, we played the better football and got into some good areas. Then we've been undone by a very silly goal, similar to Barnet on Saturday."

"And once you go a goal down to a team as organised as Hereford are, you're going to struggle to get back into it. Then you have a man sent off and concede from another set-piece."

"Naivety at its best probably sums up the two games we've played so far – and I said that to the lads in the dressing room. We've conceded five goals now but nobody has opened us up, nobody has scored a goal that you would say was a great finish. It's a case of five mistakes and five goals. We need to stick together and try again on Saturday."

Chester are in home action again on Saturday when they entertain Woking, kick-off 15.00hrs. Michael Kay will serve a one match suspension for this game.

• Table after Hereford match | More pictures


---
11 August 2013

OPENING DAY DEFEAT FOR BLUES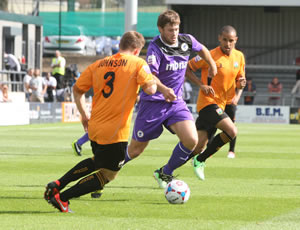 Chester were beaten 3-0 in their opening day Conference Premier fixture at Barnet on Saturday. The Blues, backed by a vociferous following of several hundred, held their own for the first half, forcing several corners and half-chances with Gareth Seddon missing the best chance from close range.

However the game swung the way of the Bees in the opening minute after the restart as Luke Gambin opening the scoring for the hosts who seemed to up their game thereafter. Jake Hyde added a second goal on 63 minutes and completed the scoring ten minutes later, putting the game beyond Chester.

After the game Blues manager Neil Young, who sat the game out in the stand as a result of a touchline ban, said:"I thought we could have gone in a goal up at half-time, Gareth Seddon had a chance and we worried them from set-pieces. We were well in the game. But then we came out second half and conceded a goal – albeit with the aid of a lucky deflection – and they lifted their game while we wilted a little bit."

"It was always going to be a difficult opening game of the season and I think people have underestimated Barnet a little bit. Only four months ago they were two leagues above us and under Edgar Davids they had a record that would have put them ninth or 10th in the division."

"You've got to be realistic and look at the positives – and the positive was our first-half performance. I thought we should have gone in 1-0 up."

Chester are back in action on Tuesday night with their opening home game of the season against Hereford United, kick-off 19.45hrs. Manager Young is hoping that on-loan striker Alex Titchiner will have recovered from an ankle injury in time for the match against the Bulls.

• Table after Barnet match | More pictures


---
9 August 2013


WREXHAM TICKETS
Details have been announced regarding ticket and travel to the forthcoming match at Wrexham on Saturday 31 August, kick-off 13.00hrs.

The match is all-ticket and Chester fans can ONLY travel to the game on officially organised coaches. The entrance to the match is by coach travel only. The coaches will leave Chester at 11.00hrs on the day. Supporters MUST buy a coach and match voucher in advance, this will be exchanged for a match ticket on arrival at Wrexham and the ticket/vouchers will be needed for the journey back to Chester.

The Vouchers to go on sale to Season Ticket holders from Monday 12 August until 23 August (You must bring your season ticket book with you, to purchase a voucher, please note voucher A in your book will be valid. Remaining Vouchers will then go on general sale after the Forest Green Rovers game on Monday 26 August. Supporters must bring I.D. with you showing your name and address otherwise they will not be able to purchase a voucher. It is strictly one voucher per person and Chester will receive 1,200 tickets.

The coach price is £6.00 per person, while the match ticket prices are:

Adult £19.00
Over 60 / Under 21 £14.00
Over 80 / Under 16 £5.00
Carer - Free
Family under 16 £3.00 (child with adult)
Family under 11 £1.00

---
BARNET DETAILS
Although tomorrow's match at Barnet is not all-ticket, supporters will need to purchase a ticket to enter through the turnstiles. You can pre buy (no booking charge) and print your tickets through the official Barnet website saving time in a queue tomorrow. A special programme has been produced to launch the stadium and will cost £5.00.

Seats Away Blocks F and G.
Booked in advance before 10th August
Adults £23.00 , Over 64s £15.00 , Under 19s £15.00 , Under 14s £5.00.

Terrace
Booked in advance before 10th August
Adults £16.00' Over 64s £8.00' Under 19s £8.00' Under 14s £5.00.

---
STAN BENNION 1938-2013
The club are sorry to hear of the death of former player Stan Bennion who died recently at the age of 75. The Blacon-born inside forward made 20 league appearances for the first team in the 1963/64 season.

• Obituary

---
8 August 2013


PRE-SEASON ENDS WITH A VICTORY
Chester completed their pre-season build-up with a 3-1 victory over Nantwich Town. The Blues scored three times in the opening half through Craig Lindfield, George Horan and gareth Seddon. The Dabbers pulled a goal back 20 minutes from time. Former goalkeeper Adam Judge is training with Chester and came on after the break.

Chester: Fearon (Judge 46), L.Turner, Kay, Horan, McIntyre (Heath 46), Lindfield (Mills 53), Jarrett (A.Williams 46), Harrison (Pugh 53), Mahon, Reed (N.Turner 46), Seddon (M.Williams 46).
---
5 August 2013


NEW TEAM PICTURE
The new team, staff, and player pictures were taken on Saturday along with the Conference North and Cheshire Senior Cup trophies.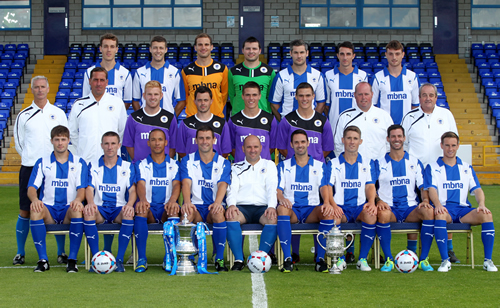 Back: Michael Kay, Craig Lindfield, John Danby, Martin Fearon, Jamie Reed, Lee Pugh, Joe Heath.

Middle: Gary Powell (coach), Gary Jones (assistant manager), Marc Williams, Craig Mahon, Lewis Turner, Nathan Turner, Lee Worrall (goalkeeping coach), Jimmy Soul (kitman).

Front: Ben Mills, Kevin McIntyre, Jason Jarrett, George Horan (captain), Neil Young (manager), Paul Linwood, Danny Harrison, Gareth Seddon, Ashley Williams.

Not in picture: Alex Hay.

• Player and staff pictures



---
2 August 2013


SQUAD NUMBERS
Chester have released their squad numbers for the coming season, they are:

1. John Danby
2. Michael Kay
3. Joe Heath
4. George Horan
5. Paul Linwood
6. Danny Harrison
7. Jamie Reed
8. Jason Jarrett
9. Ben Mills
10. Marc Williams
11. Craig Lindfield
12. Lewis Turner
13. Martin Fearon
14. Kevin McIntyre
15. Nathan Turner
16 Ashley Williams
19. Gareth Seddon
20. Lee Pugh
21. Craig Mahon
22. Alex Titchiner
---
TURNER TWINS SIGN ON LOAN
After weeks of negotiations Chester have completed the signings of Nathan and Lewis Turner on season-long loans from Leeds United. Both enjoyed a highly successful loan period with the Blues last season.

Manager Neil Young told the Chester Chronicle: "A lot of effort's gone in to getting them here. They've only just signed new contacts with Leeds at the end of last season and Leeds have got a new manager who obviously wants to assess what he's got. I've kept in touch with Leeds from the start of pre-season to where we are now. To be fair to Leeds, they've been good to their word. We're delighted to be able to do the deal."
---
NANTWICH FRIENDLY
Chester have arranged another home season friendly as they host Nantwich Town on Tuesday 6 August, kick-off 19.45hrs. Admission to the main stand will be £5.00 for Adults and Concessions, with Under 16s admitted free. The Pre-Season Pre-Paid tickets do not cover this additional match.
---