31 July 2013

NANTWICH FRIENDLY

Chester have arranged another home season friendly as they host Nantwich Town on Tuesday 6 August, kick-off 19.45hrs. Admission to the main stand will be £5.00 for Adults and Concessions, with Under 16s admitted free. The Pre-Season Pre-Paid tickets do not cover this additional match.

---
LATE GOALS DENY WIN
Chester let a two goa

l slip in the dying minutes of their latest pre-season friendly at AFC Telford United. The Blues took the lead three minutes after the interval with a goal from Jamie Reid and doubled their advantage nine minutes later when Craig Lindfield got on the scoresheet.

Telford, who featured former Chester players Matty McGinn, Robbie Booth, Tony Gray and Sean Clancy. They pulled a goal back four minutes from tim with Andy Owens heading home a McGinn corner and levelled in the 88th minute as Mike Phenix took advantage of hesitation in the Chester defence to score.

Chester: Danby, Kay, Horan (Menagh 64), Linwood, McIntyre (Mahon 79), Heath (Pugh 66), Jarrett (A.Williams 60), Harrison, Mills (Reed 46), Seddon (M.Williams 73), Lindfield. Sub not used: Fearon.

• Match pictures


---
OPEN TRAINING SESSION

The club hold an open training session tomorrow (1 August) from 18.30hrs to which all supporters are invited to attend.
There will be an opportunity to meet the new players, have some photographs taken and collect autographs. The squad numbers for the coming season will also be announced. Both the Blues bar and club shop will be open throughout the evening.

---
29 July 2013

NEIL YOUNG'S CAPITAL ENCOUNTER WITH THE EXILES

Chester manager Neil Young travelled to London to meet more than 30 exiled fans gathered for a special 'Question and Answer' session.
With Chester fan and BBC pundit Jonathan Legard acting as question master, the Conference North-winning manager talked for more than three hours about the past season and his plans for the future.
Fans gathered for the meeting, which followed the AGM of the Chester Exiles, also had the chance to have their photo taken with the Conference North trophy, buy some merchandise and even have a sneak preview of next season's away shirt.
It was standing room only in the Side Room of the Parcel Yard pub in Kings Cross station as Jonathan Legard put the questions to Neil Young. There was plenty of opportunity for fans to ask their own questions as well.
Young talked about his aim to get into the Football League in the next 10 years, and how full-time football was an essential part of that process.
"This football club needs to get to full-time status, and we need to increase revenue streams to do that. It also needs to be sustainable, so it carries on into forthcoming seasons," he said.
He revealed how the Squad Builder scheme had enabled him to fund the signing of Alex Titchener. And he said that money through the turnstiles alone would not cover the team's wage bill, so similar fund-raising schemes were essential for the club to progress.
"My target is to win this League, and the group of players I've got now are bonding really well. But the Conference is stronger each year and we'll need an uptake in the budget," he said.
Still, the inspirational manager left the exiled fans excited for the season to come, and looking forward to the team travelling south to play Barnet on season's opening day on Saturday, August 10.

Sue Choularton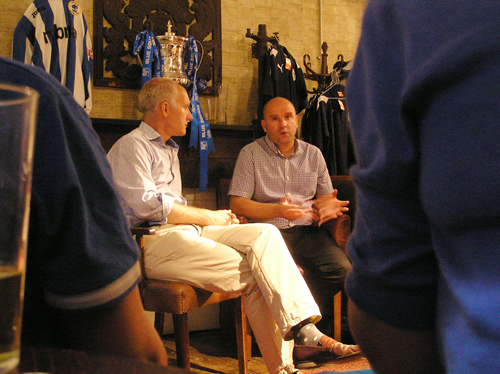 ---
27 July 2013

GOOD WORKOUT FOR BLUES

Chester manager Neil Young was happy with the latest showing of his side in a hard fought 0-0 draw against a Bolton Wanderers X1 on Saturday. The visitors included four players with first team experience. Chester's closest effort to breaking the deadlock came in the second half when George Horan saw a header come back off a post.

Young said: Thankfully, Bolton brought a very good team here. We put out a young team first half, a more experienced side with a different shape second half, and I thought with a bit more composure in front of goal we could've nicked it."

Chester have a run out to trialist midfielder Jamie Menagh recently released by Blackpool.



Chester: Danby, Kay, Heath (Titchiner 52), Horan, Linwood, Menagh (Reed 52), A.Williams (Harrison 52), Jarret (M.Williams 65), Brees (Pugh, 52), Mahon (Lindfield 52), Mills (McIntyre 52). Sub not used: Nield.

• Match pictures


---
AWAY SHIRTS IN STOCK

The club shop now has next season's purple away shirt in stock in various sizes. The replica shirts are available for £37.95 (adults) and £27.95 (children) with a printing service available for an additional £10.00.



• Buy online





---
CFU MEMBERSHIP

CFU membership is currently up for renewal and if you have not yet renewed, then please help the club boost membership numbers by doing so either online, or by dropping in at Deva Stadium.
To renew your membership account, please follow the instructions below:
Online
| | |
| --- | --- |
| 1 | Please visit www.cityfansunited.com and log in via the spaces provided (Username & Password) |
| 2 | Click on My Account section under the User Menu on the left of the page - this will take to your dashboard |
| 3 | Under the 'Your Membership' section, click on the words [Renew Now] |
| 4 | Then, fill in the details on the Membership Form 2013/14 screen beneath where it says RENEW MEMBERSHIP (most of your details will be pre-populated if you already set up your CFU account online last time) - if you are planning to set up a standing order for your membership or pay manually at the Deva Stadium then please tick the box where it says "I will send payment separately" |
| 5 | Click the Confirm Contribution button at the bottom of the page |
| 6 | Then verify your information, by clicking the Continue button at the bottom of the page |
| 7 | This will take you to the Paypal page for you to make a one off payment, click Pay Now once in your Paypal account |
| 8 | This will complete your membership payment |
Offline

You can of course renew your CFU membership at Deva Stadium, just complete a form at the ground together with your payment (please make cheques payable to City Fans United) and CFU will then renew your membership for 2013/14. Or you can download the CFU membership form here, (http://www.cityfansunited.com/docs/cfu_membership_a4.pdf) complete, print off and take to the Deva:
---
24 July 2013

GRAND SUMMER RAFFLE

Tickets are now available from the club shop, priced at £1.00 each, for the Chester FC Grand Summer Raffle.

There are 30 prizes curently on offer, including a £500 cash prize, in the draw which will be made on 26 August at the home match against Forest Green Rovers.

Other prizes include a matchday season ticket and signed memorabilia. The club have produced a poster to help promote the raffle which can be downloaded here.


---
21 July 2013

BLUES DRAW WITH ALEX

A second half goal from summer signing Danny Harrison gave Chester a deserved 1-1 draw in their latest home friendly with Crewe Alexandra in front of a crowd of 1,021. Alex took the lead on 16 minutes with a Harry Davis penalty after referee Mike Dean adjudjed that John Danby had fouled Ryan Colclough in the penalty area.

Manager Neil Young was pleased with how the team played, saying: "I was very happy with that, we kept the shape and worked very hard. I thought we looked good, stuck in and performed well. They never really opened us up apart from their goal."

Chester have a run out to 25-year-old trialist Steven Leslie from AFC Telford United.

Chester: Danby, Kay, Horan, Linwood, McIntyre, Leslie (M.Williams 46), A.Williams (Jarrett 61), Harrison, Mahon (Peers 67), Lindfield (Heath 77), Seddon (Mills 53). Sub not used: Nield.

• Match pictures


---
NEIL YOUNG TRAVELS TO MEET EXILED FANS
Chester FC manager Neil Young is making a 200-mile return trip for a close season 'Meet the Manager' event with Chester's exiled supporters.
Young will be meeting members of the Chester Exiles Supporters' Club at the Parcel Yard pub inside Kings Cross Station in London on Thursday July 25.
It will give any exiled fans within reach of London a chance to put their questions about the forthcoming season to the Conference North-winning manager.
BBC commentator and lifelong Chester fan, Jonathan Legard, is also expected be attending. Fans will also be able to have their photos taken with the Conference North and Cheshire Senior Cup Trophies.
The evening will start with the Chester Exiles AGM at 6.30pm, with Q&As with Neil Young starting from 7.30pm.
Pauline Meakins, Chester Exiles Chairman, said: "We are really looking forward to welcoming Neil Young to our Exiles AGM. I hope we get a good turnout of Exiles, as I am sure many will quiz Neil about the coming season and will want to shake his hand for the outstanding success so far!"
"We are also pleased that Jonathan Legard's busy BBC diary is also looking good for that evening so it should be a great night for everyone."
Any City Fans United (CFU) members who live 25 miles from Chester are automatically members of the Chester Exiles. But the Exiles would also welcome any CFU members who may be in London that day, even if they aren't officially an Exile. CFU membership forms will be available on the night for new or lapsed members.

So as to get an idea of numbers on the night, if you would like to come along please email the Exiles at agm@chesterexiles.co.uk
---
18 July 2013

BLUES MISS OUT ON FENTON

It's reported that Chester have missed out in their attempt to sign experienced centre back Nick Fenton who has turned down a move to the Blues following his release from Morecambe.
Fenton has previously played at Rotherham United, Grimsby Town and Notts County making over 500 appearances in the Football League.

---
16 July 2013

HOME DEFEAT FOR BLUES

Chester were beaten 1-0 by Mansfield Town last night in their first

home pre-season friendly. The visitors, who start next season in League Two, were playing their fourth friendly were quicker to the ball and distributed it better than Chester.

The only goal of the game came 15 minutes from time as trialist Nathan Arnold slotted home a Keiran Murtagh cross for the deserved winner.

Chester are next in action on Saturday when they entertain Crewe Alexandra, kick-off 15.00hrs.

Chester: Danby (Fearon 80), Kay, Horan, Linwood (Spittle 71), McIntyre, Harrison (Heath 71), Jarrett (A.Williams 63), Mahon (Brees 59), M.Williams, Titchiner (Lindfield 59), Seddon (Mills 24).

• Match pictures


---
15 July 2013

FOUR FOR THE PRICE OF THREE

Supporters have until before kick-off tomorrow night to take advantage of a 'four for the price of three' deal by buying a home matches pre-season pre-pay ticket booklet. The booklet will cost £30.00 for adults for all four games, £21.00 for concessions, £15.00 for 16/17 year olds and £9.00 for under 16s.
These are available by phone, email or calling in at the club shop.

---
CFU MEMBERS MEETING

The next CFU members meeting will take place this Thursday 18 July in the Blues Bar, starting at 19.30hrs. All members are invited to attend and you will be able to join CFU, or renew your membership, on the night. As well as updates from the board, there will be a short presentation by the West Cheshire Credit Union, who will explain ways in which supporters could spread the cost of a season ticket for next season.
---
LIVE TV MATCHES ANNOUNCED

BT Sport have announced their first batch of live Conference matches, they are:

Cambridge United v FC Halifax Town on Sunday 11 August, kick off 12.00hrs
Hyde FC v Grimsby Town on Monday 26 August, kick off 17.30hrs
Luton Town v Grimsby Town Saturday 7 September, kick off 17.30hrs
Wrexham v Luton Town on Friday 13 September, kick off 19.45hrs

However, BT Sport say there is still one match from the first eight rounds of fixtures that is being negotiated. It is possible this match may be selected from the games on Saturday, 31st August 2013 — this is the Wrexham v Chester weekend...

---
CHESTER OFF TO WINNING START

Chester started their pre-season friendlies on Friday night with a 3-0 win at Heswall. An own goal set the Blues on their way before Ben Mills doubled the lead before the break. Chester created numerous chances after but converted just one as Craig Mahon added a third goal on 55 minutes.



Chester made a series of changes at half-time and included two trialists, Alex Brees and Jonny Spittle.

Chester: Fearon (Danby 46), Spittle (Peers 60), Horan, Kay, Heath (McIntyre 46), Lindfield (M.Williams 71), A.Williams (Jarrett 46), Harrison, Brees (Mahon 46), M.Williams (Titchiner 46), Mills (Seddon 46).

• Match pictures


---
10 July 2013

PRE-SEASON MATCHES

Chester begin their pre-season friendly campaign with a game against Heswall at Gayton Park this Friday, kick-off 19.00hrs. Following that, the Blues have four home friendlies lined up against Mansfield Town, Crewe Alexandra, a Bolton Wanderers X1 and the Manchester City Development Squad. The admission prices for each of these games is: £10.00 for adults, £7.00 for concessions, £5.00 for 16/17 year olds and £3.00 for under 16s.

Supporters can take advantage of a 'four for the price of three' deal by buying a pre-season pre-pay ticket booklet. The booklet will cost £30.00 for adults for all four games, £21.00 for concessions, £15.00 for 16/17 year olds and £9.00 for under 16s.
These are available before the Mansfield by phone, email or calling in at the club shop.

• Friendly fixtures
---
9 July 2013

KAY JOINS BLUES

Former Tranmere Rovers, and England U17 defender Michael Kay, has signed a one year deal with Chester. The 23-year-old right back was released by the Prenton Park club at the end of last season. Kay, who started his career at the Sunderland Academy, can also play in central defence.

Manager Neil Young has turned his attentions now to signing an experienced centre back and is hopeful of recruiting a player with Football League experience by the end of the week.
---
8 July 2013

DEFENDER HEATH SIGNS

Chester have signed full back Joe Heath from Hereford United on a one year deal, he was out of contract with the Bulls. Heath can play at either left or right back.
---
5 July 2013

FA YOUTH CUP

Chester have been draft away to AFC Blackpool in the first round qualifying of the FA Youth Cup. The match will be played in the week commencing 23 September.
---
4 July 2013

BLUES SIGN LOAN STRIKER

The Blues have completed the signing of 22-year-old striker Alex Titchiner on loan from Fleetwood Town until 5 January 2014.
Titchiner made 2+5 appearences for Chester in a loan spell from Colwyn Bay during the 2012/11 season.
---
3 July 2013

CHESTER OPEN AT BARNET

Chester will begin their new season in the Conference Premier at Barnet's new ground, The Hive, on Saturday 10 August, this is followed the following Tuesday with the first home game of the season against Hereford United. The derby matches against Wrexham are planned for Saturday 31 August at the Racecourse and Saturday 19 April at Chester.

• Fixtures
---
3 July 2013

REED SIGNS UP

The club have announced the signing of Chester-born striker Jamie Reed on a one year deal from York City. He has spent the last two seasons with the Minstermen scoring 20 goals in 74 matches, prior to that he was at Bangor City.


•
Player transfers
---
1 July 2013

SEDDON JOINS CHESTER

Chester have completed the signing of 33-year-old forward Gareth Seddon from FC Halifax Town on a one-year deal. Seddon scored 18 goals for the Shaymen last season and has already tasted Conference Premier success as a member of the Fleetwood Town side that won the title in 2012. Seddon began his career in 2001 at Bury and made 7 appearances for the Shakers scoring 18 goals. He moved on to Rushden & Diamonds, Hyde United and Kettering Town before joining Fleetwood in 2009. He scored 34 goals in 80 appearances there before joining FC Halifax last year.

Manager Neil Young told the Chester Chronicle: "He's fit and hungry to do well. He probably didn't play as much as he would have liked last season but his goal record was still good. He's played in the Football League and he was a big part of Fleetwood's Conference championship-winning side. So he's got that experience we're looking for. He can play in different positions because he's clever and he understands the game."
---