30 December 2008

WRIGHT TARGETS JANUARY SIGNINGS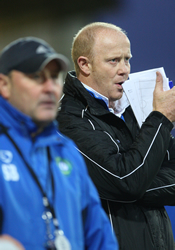 With the January transfer window just a few days away manager Mark Wright has outlined his plans for strengthening the current squad.

Wright said: "I've spoken to the chairman. It highlights that we need to change things. We do need to get more strength and be more resolute in that midfield area. We do need to get strikers through the door and we do need to get another centre-half or two. It's reality. It's nothing we haven't said all along. Sometimes we get carried away with what's been going on."
"I made myself very loud and clear when I came back to Chester that both Steve (Bleasdale) and myself would have to make changes in personnel. We need players like Macclesfield's Gareth Evans who I was impressed with and Martin Gritton when he came on as a substitute."

He continued: "We haven't got players like them. Kevin Ellison is a left winger and Ryan Lowe is a right winger who will cut in and score goals time and time again, but we need people who will harry and harass like Gritton and Evans did during the last 20 minutes of Sunday's game. That's what I like in my side and we've had it before with players like Gregg Blundell and Jon Walters, and that's the ilk of players we'll be looking for again."
"It's very important that we get players like that in our squad because we need forwards who can unsettle defenders and do the right things. There were things in the Macclesfield game that we knew we wanted to do, but we couldn't do because of the personnel we had, and when Kevin Ellison had to come off with an injury we had lost another tall player from our side."


---
CHESHIRE PREMIER CUP

City will entertain Crewe Alexandra in the semi-final of the competition on Tuesday 20 January at Deva Stadium, kick-off 19:00hrs. The date for the other semi between Macclesfield Town and Tranmere Rovers is still to be set.

---
29 December 2008

BLUES RUE PENALTY DECISION


City's year ended in defeat as Mark Wright's team were beaten 3-1 in the Cheshire derby at Macclesfield Town on Sunday. Despite conceding a goal as early as the sixth minute the Blues fought back to equalise after the break through the in-form Ryan Lowe.

With the score poised at 1-1, the game hinged on a controversial decision to award the home side an penalty after Shaun Kelly was adjudged to have handled a ball in the area in the 76th minute. Gareth Evans sent John Danby the wrong way from the spot-kick and the game was wrapped up later by Martin Gritton.

After the game Wright said: "It was a diabolical decision from Andy D'Urso, supposedly a Premiership referee. How Shaun Kelly could get out of the way of the close-range cross I just don't know. We need to change the personnel. We need more players who will harry and fight and harass. All credit to Macclesfield, they deserved to win. They were first to every breakdown and we lost the battle."

• League table
---
26 December 2008

LOWE DOUBLE BRINGS FESTIVE CHEER


Two goals from Ryan Lowe either side of the break gave City their first Boxing Day victory for five years. The Christmas period hasn't been a happy time for the Blues in recent years with the last Boxing Day win coming over a beleaguered Leigh RMI side when City were scoring for fun, putting five past the Lancashire side.

City were forced into one change from the side that drew at Bradford City with defender Shaun Kelly taking a place in the bench after picking up a hamstring strain, Richie Partridge took his place in the starting line-up.

Persistent work from Kevin Ellison set up the opening goal as he burst through on the left before pulling the ball back for Lowe to score from six yards. City had goalkeeper John Danby to thank for maintaining that lead as he produced a fine one handed save to tip over a James Ryan free-kick just before the interval.

City doubled their lead on the hour mark when Anthony Barry was a adjudged to have been tripped in the box and Lowe sent Ian Dunblavin the wrong way from the resulting spot kick.

The nearest the visitors came to pulling a goal back was on 75 minutes when Danby, diving at full length, just managed to fingertip a powerful effort from John Miles onto the post and out for a corner.

After picking up his fifth booking of the season at Valley Parade, midfielder Damien Mozika will miss Sunday's trip to Macclesfield Town with a one match suspension.
---
22 December 2008

WORKRATE PLEASES WRIGHT


City manager Mark Wright was happy to see his side complete a second successive clean sheet to prevent hosts Bradford City from scoring at home for the first time this season.

In front of a crowd of just over 12,000, John Danby made three great saves, the last in added time, to deny the Bantams the three points that would have lifted them to second place in League Two.
Wright said: "The workrate from my team once again was phenomenal. When you come to a massive club like Bradford, you have got to be strong and resolute, and that is exactly what we were. I'm not bothered if people thought we were negative because there's no comparison between the clubs. We played with an extra defender to ensure that play wasn't opened up, and it worked."
"In the end Bradford just resorted to throwing balls into the box because they had run out of options. We defended well, John Danby played very well, but there were a lot of good performances."
"We created a couple of good scoring chances, but we didn't go to Bradford to get beat or just to sit back. We just did what we knew we had to do to get a result against a very good side. The players followed their instructions to the letter, so they did very well."
The Blues have steadied the ship in recent weeks having picked up seven points from the last twelve. On Boxing Day they will be looking to continue their run when they entertain Accrington Stanley at Deva Stadium.
Stanley lie a place below City, with a game in hand, following their 3-1 home defeat against Rotherham United on Saturday.



---
20 December 2008

AWAY WIN FOR YOUTH TEAM

Goals from Ben Jones and Chris Newman gave the youth team a 2-1 victory at Blackpool today.

• Youth fixtures | Table
---
19 December 2008

JOHNSON BACK AT THE VALLEY?


City are hoping to have Eddie Johnson fit again for tomorrow's League Two clash at his former club Bradford City. The Chester born forward has missed the last four games though a hamstring injury but manager Mark Wright is hopeful of a return to Valley Parade for Johnson tomorrow. The Blues have been short of an attacking option for much of the season with Paul McManus the only other recognised striker available.

The hosts are in fifth place and pushing for promotion. A crowd of 13,000+ is expected tomorrow as they look to put last weeks 2-1 defeat at fellow promotion chasers Brentford behind them. City met the Bantams three times last season, including an FA Cup first round clash, losing by a single goal on each occasion.

Manager Mark Wright is expecting a tough match against a side who like to push forward. He said: "I'll play a formation which I think will be right for tomorrow's match, and if they go out with the right application then they'll do themselves justice."
"The players are bubbling and they are very happy in training. They know what to expect and they've been getting good variation in training. We should be confident but this is a different game because Bradford are flying high and they have been doing bigger things than us this season, so they'll be upbeat – even if they did get beat at Brentford."
"We should go out and take a lot of heart from last week's performance. It was a long time coming, but the best thing about the result was a clean sheet. I'm under no illusions about how difficult the game at Bradford will be. They have two wingers who are flying wingers and they are very good at attacking teams."
"They've got Michael Boulding, Peter Thorne, and Barry Conlon, which means they have got a lot of options up front. They have that many forwards while we only have little (Paul) McManus."

---
16 December 2008

DUO TOLD TO FIND NEW CLUBS


Both David Mannix (left) and Tony Dinning have been told they don't feature in manager Mark Wright's plans and must find new clubs in January. And Wright has indicated that other players may also be surplus to requirements and offloaded. Mannix has only made two appearances since he wa signed fom Accrington Stanley in June and is currently recovering from an alleged training ground attack that left him with a facial injury.

Dinning was signed from Stockport County in October 2007 but has only made two appearances this season. In the second of those at Bournemouth earlier in the month he was red carded and is currently serving a three match ban.

City manager Mark Wright said: "We still want to get the people who are on the fringes out and move them out and get better players in. If we can bring good, younger players in who are fit and strong and 6ft plus then it looks good for the future. I've told Tony Dinning this week that he won't play for us any more and it's not being disrespectful to him, he can't play the game that I want him to play. He's accepted that, when January comes in, then we'll have a look at it."

"Obviously the boy Mannix is not wanted by me. We're going to work to try and get him a club and get him out the way so there's two automatically. We've got to make decisions about a few others."


---
15 December 2008

WRIGHT HAPPY WITH TEAM EFFORT

Goals either side of the break from Ryan Lowe and Kevin Roberts brought City's second victory in three games on Saturday when they overcame Notts County at Deva Stadium. This was the first home win since the return of Mark Wright for his third sting at Chester.

Following the game Wright said: "The pleasing thing about the victory was the clean sheet and the players are beginning to adopt the principles we are trying to instill in them. I don't think that was a majorly convincing win, but the work ethic was fantastic. We deserved that victory and it was all down to hard work."

Both Kevin Ellison and Jay Harris returned to the starting X1 with midfielder Damien Mozika making an appearance from the substitutes bench as the Blues recorded only the second clean sheet of the season.

• More photographs | League table


---
12 December 2008

TRIO TO RETURN


Both Kevin Ellison (left) and Jay Harris will be available for selection tomorrow after serving out suspensions. Midfielder Damien Mozika also appears to have fully recovered from his injury and could well be in contention for a recall as well. The Blues entertain Notts County at Deva Stadium, kick-off 15:00hrs. The Magpies suffered a surprise FA Cup knockout in the week at the hands of Kettering Town losing away 2-1 in their second round replay.

Manager Mark Wright is looking to an improved team spirit to help City through the holiday period. He said: "The performances, character and the spirit among the boys has certainly improved, and they haven't got their just rewards in the games they've played, that's for sure. This week we're going to work on things in training to see if we can get after them. Now that we've got Kevin Ellison and a few others back, it will be a positive for us."

City will be without the suspended Tony Dinning as well as the injured Paul Butler, Eddie Johnson and Stephen Vaughan.

County manager Ian McParland will be looking to his side to bounce back from the midweek defeat but will be without the injured trio Adam Tann, Richard Butcher and Nat Wedderburn. The Magpies currently lie 15th in League Two with six more points than the Blues. Like City they have won just twice on their travels so far this season, they also shipped six goals at Dagenham last month, a defeat that came a week after a 4-0 victory at Barnet. Their other away victory came at Port Vale.



---
10 December 2008

DAVIES BACK WITH THE YOUTH

Simon Davies has returned to the football club as Youth Team manager. Davies held a similar position before moving up to manage the first team in March 2008. He was sacked last month following a series of poor results to be replaced by Mark Wright.

City owner Steve Vaughan said: "Unfortunately it didn't work out for Simon when he was in charge of the first team, but he functioned extremely well when he was overseeing the young set-up at the club.

"The two years Simon had in charge of the youth department saw it grow from strength to strength, and I know we will see it flourish yet again with him again in charge."
---
SEASON TICKET OFFER

The club have announced a half season ticket offer that comes into effect at the Boxing Day match against Accrington Stanley. Supporters can benefit by buying tickets for the remaining 13 matches at the price of 11.

Tickets for the East and West Stands are available for £165.00, concessions and juniors can purchase tickets for £110.00. Tickets will be available from the offices at Deva Stadium from Friday.
---
8 December 2008

CITY DENIED BY LATE GOAL


A goal two minutes from time by Darren Anderton was enought to condemn City to defeat in their south coast match at Bournemouth. Anderton, a second half substitute for the Cherries, was playing in his last match and had earlier come close to opening the scoring when he fired a 25 yard free kick inches wide of John Danby's right hand post. The Blues had their chances in a scrappy game but they were few and far between. Ryan Lowe asw a flicked effort go just wide following good work by Laurence Wilson and both Mark Hughes and Shaun Kelly saw headers creep agonisingly wide.

Midfielder Tony Dinning, making only his second appearance of the season, was given a straight red card eight minutes from time after referee James Linnington had adjudged that he'd elbowed Danny Hollands after a tussle for the ball.

Manager Mark Wright said: "I'm disappointed about Tony Dinning's sending off because he's been talking about wanting to play and helping the team, but he went on and got sent off. From where I was sat it looked like Tony's arm came across their player and it popped him, and if the referee saw that it was an automatic red card. I didn't think Tony Dinning was fit enough and Saturday proved that he wasn't quite fit enough, but who else have we got?"
•
League Two table
---
STRIKER IS WRIGHT'S NUMBER ONE PRIORITY

Mark Wright had made it clear where his priorities lie in team rebuilding after watching over another defeat at Bournemouth on Saturday. Since the sale of John Murphy in the summer the Blues have played all season without a recognised striker. Wright told the Evening Leader:

"If people are asking if we can create, where are we going to create from? We have got to be realistic and ask where are our strikers? Ryan Lowe is inventive and I've been so pleased with what he has been doing for the side, but he's better for us coming from out wide and joining in."
"At this moment in time we're relying so much on Ryan Lowe and that's a bit unfair. He needs to make things happen alongside two strikers. We've got Laurence Wilson on the left, we've got Kevin Ellison who is a left winger and likes to play on the left wing, Eddie Johnson has told me he's an attacking midfielder, so tell me where my strikers are, and tell me how we're going to create if we haven't got any strikers?"
"We have got to address the situation, but I have come in and I've made it perfectly clear to the board where the failings are and that we haven't got anyone in front of goal."

The Blues face Notts County on Saturday and should have both Kevin Ellison and Jay Harris available after suspension.

---
BAN FOR DINNING

Tony Dinning has received a three match ban following his red card at Bournemouth on Saturday. He will miss the games against Notts County, Bradford City and Accrington Stanley.
---
5 December 2008

SEASIDE TRIP FOR CITY


Chester travel to the south coast this weekend when they play 23rd placed Bournemouth, kick-off 15:00hrs. The Blues will be looking for three more points away from home to add to those gleaned at Darlington in their last match. City will be without the suspended Kevin Ellison and Jay Harris for the trip to Dorset but manager Mark Wright hopes to include midfielders Damien Mozika and Tony Dinning (left) in the squad.

Wright said: "Tony Dinning has missed a few days in training because of his blistered feet, but he has benefited from the few days in training this week. He was close to starting for us at Darlington last week, but we thought it wouldn't be quite right to do that, and it worked out just right for us.
Damien Mozika should be available again for us for the Bournemouth game, but Paul Butler and Eddie Johnson probably won't be ready for the weekend."

The Cherries have amassed 17 points this season, one more that City, and have now wiped out the points penalty imposed on them at the start of the season and they now site ten points behind Grimsby Town in the place above. Saturday marks the last game in an 18-year career for the former England international Darren Anderton who retires after the match. Anderton, 36, will play his 569th and final match on Saturday after a long career that's also seen him play 30 times for his country.


---
3 December 2008

BATCHELOR MAY ATTEND MEETING

Prospective club owner John Batchelor may attend tonight's supporters meeting in Chester after having talks with Blues owner Steve Vaughan. Batchelor has confirmed that should he takeover then the name of the club would change. This would obviously not go down well with the supporters, neither did it with those of Mansfield Town when he was looking to take control there and suggested the same scheme at Field Mill.

Batchelor told the Liverpool Daily Post: "It has been widely published that any prospective purchaser of the club must pay £2million for it. I have basically agreed a deal, however there are one or two points that Mr Vaughan doesn't like in my proposal, so we must have further discussion. "If I did purchase City then the identity, the colours, and the name of the stadium would change. Football needs change and Chester is going to have to change if it is to become viable. Mr Wilding thought that it may not be wise for me to attend (the meeting), but I would like to get my ideas across to the fans."

Despite holding talks with Batchelor, Vaughan has indicated that the two parties concerned are a long way from agreement. He said: "We are way off reaching an agreement with anybody to buy the club. I can confirm we have held talks with Mr Batchelor, but I reiterate we are nowhere near reaching an agreement."
---
2 December 2008

SUPPORTERS MEETING CALLED


A supporters meeting has been called for Wednesday night in Chester to discuss the future of the club following the announcement from owner Steve Vaughan last week that the club was up for sale. Concerned supporter Kevin Wilding has organised the event at the Deva Showbar in City Road (just along from the station) with a 19:30hrs start. All supporters are invited to attend and it is hoped that Vaughan will himself be present.

Wilding told the Chester Chronicle: "It's time for the supporters groups to stand in front of the people they represent. I'm just a local businessman that cares about Chester City. I need help and there's lots of people out there that will do it. Stephen Vaughan wouldn't be in this mess if they'd helped him."

---
VICTORY FOR YOUTH TEAM

Goals from James Owen and Sam Coulter gave the youth team a 2-1 victory at Wigan Athletic on Saturday

• Youth fixtures | Table
---
BAN FOR HARRIS

Midfielder Jay Harris has received a one match ban after picking up his fifth yellow card of the season at Darlington. He will now sit out the trip to Bournemouth on Saturday.
---