27 November 2008

INTERESTED PARTIES CONTACT VAUGHAN


It appears that at least three interested parties have contacted club owner Steve Vaughan regarding the sale of the club. A ocompany called Worldwide Sports, who represent American backers have made enquiries as has businessman John Bachelor, who had previous football experience with York City. First Asset Management, the company who are involved in the proposed redevelopment of the Deva Stadium are also believed to be interested.

Bachelor was involved in takeover talks at Mansfield Town earlier in the year and controversaially announced that should he gain control of the Stags he would have applied to change their name to Harchester United!
Owner Vaughan told the Evening Leader: "I have so far received three official enquiries about the club being up for sale, but I have so far not received any bids."
"David Jones, who told me he worked for former Chester manager, Gordon Hill, during his time in charge, faxed me with his interest in purchasing the club through a United States-based consortium called Worldwide Sport Management, who had been apparently recommended by former City owners, Gerald and Terry Smith."
"John Batchelor, who has previously owned both York City and Mansfield Town football clubs, has contacted me on a few occasions to ask about the club's sale. But if he is genuinely interested in taking over the club he has to show me he has the money."
"First Asset Management, the company who are involved in the new proposed redevelopment at the Deva Stadium, are the third party to have contacted me with an enquiry."
"First Asset Management have held their own counsel, but I have decided to publicise their interest in owning Chester City Football Club. They are having ongoing meetings about the proposed redevelopment of the Deva Stadium with Chester City Council and they are interested in striking a deal. They are a well respected company and I would consider their enquiry as the only serious enquiry I have received so far."

---
26 November 2008

BAN FOR HARRIS

Midfielder Jay Harris has received a one match ban after picking up his fifth yellow card of the season at Darlington. He will now sit out the trip to Bournemouth on 6 December.
---
BLUES FIGHTBACK TO CLAIM THE POINTS


A stunning volley from Ryan Lowe and a first senior goal from Shaun Kelly (left) brought Chester a surprise in at promotion chasing darlington last night. Rob Purdie had given the Quakers the lead in the seventh minute and given the run of four straight defeats the early goal was the last thing City. But the Blues fought back and leveled eight minutes before the break with Lowe sending a stunning volley past home keeper Simon Brown following a through ball by Jay Harris. Eight minutes after the break City netted the winner as Kelly headed home a Lowe corner to the delight of the small band of traveling fans.

A delighted City manager Mark Wright said after the win: "I was pleased with the overall team performance, the lads showed character and it is difficult to pick out one specific player for praise, because I thought they all played their part in an outstanding victory. We now have 10 days before the next game against Bournemouth, we shall be working hard on our shape and a couple of other things that we have picked up, and when you consider that we have Ellison and Mozika to come back it is looking quite positive."
Chester remain in 19th place in League Two and are next in action at Bournemouth on Saturday 6 December.
---
25 November 2008

TOUGH TASK FOR CITY

City look to halt a run of four straight defeats when they travel to play second placed Darlington tonight. The Blues will be without Paul Butler, Tony Dinning, Ritchie Partridge and Damien Mozika who are all injured, also missing from the squad will be Kevin Ellison who sits out the second game of a three match ban.

Former City players Gregg Blundell and Ricky Ravenhill look set to miss the match for the home side through injury though the Quakers should welcome back striker Billy Clarke.
---
24 November 2008

VAUGHAN PUTS CLUB UP FOR SALE


City owner Steve Vaughan has announced this afternoon that he's put the club up for sale.
A very brief press release on the official website reads:

"Chester City Board of directors today announced that City owner Stephen Vaughan has put the club up for sale and will continue to sponsor the club until a suitable buyer is found."

Vaughan added: "It is with great regret that I've had to put the club up for sale, but with the attendances dropping alarmingly and the level of commercial income also reducing, it is becoming more and more difficult to sustain a club at this level of football."

Vaughan took over as chairman of the club in 2001 but stepped down from that role last December.


---
LATE GOAL SINKS CITY


A goal seven minutes from time by Marvin Morgan gave Aldershot Town victory at Deva Stadium on Saturday. City had the crossbar and post, as well as two great blocks from Shaun Kelly, to thank for keeping the scores level at the break as the visitors had the better of the opening period. Kevin Roberts missed a glorious chance to open the scoring soon after heading wide from six yards following Ryan Lowe corner. Both Lowe and Laurence Wilson both blazed over when well placed but it was Morgan who wrapped up the points late on after the City defence had failed to clear an attack.

City manager Mark Wright was dealt a blow before the kick-off as midfielder Damien Mozika appeared to injure a hamstring in the warm up and was replaced at the start of the match by Anthony Barry.

After the match Wright said: "In the second half for 20-25 minutes I thought we played pretty well. We had chances from Ryan Lowe and Kevin Roberts. For me, it was a much improved performance."

---
21 November 2008

A RETURN FOR RUTHERFORD


City welcome Aldershot Town to Deva Stadium tomorrow (15:00hrs) looking for their first points under Mark Wright's third Deva reign. The Shots arrive on the back of a midweek 3-0 FA Cup replay win at Rotherham United, though until then their form has been anything but impressive away from the Recreation Ground. The side promoted last season at Conference Champions began the season with a win at Accrington Stanley but have lost all of their next seven away league encounters. They lie in mid-table though after a solid start to their football league return.

With a transfer embargo on the club Manager Wright will look to the squad he has at hand to lift the BLues up the table. That could mean a recall for Paul Butler and Tony Dinning, as well as Richie Partridge and Paul Rutherford (left) who have not featured much under previous manager Simon Davies this season.

On Rutherford the manager said: "I believe the club was trying to loan him out and get rid of him. No, Paul Rutherford is a good player. If he doesn't start you bring him on and he's hard to pick up. Play him in those little pockets, little holes and run at people, he's a dangerous little so and so."

City will be without the services of the suspended Kevin Ellison but midfielder Damien Mozika is fit to play having missed last Saturday's defeat through injury. Aldershot will be without suspended striker Danny Hylton but have on loan midfielder Andy Sandell available.


---
17 November 2008

ELLISON RECEIVES BAN

| | |
| --- | --- |
| | Following his straight red card during Saturday's home defeat against Morecambe, Kevin Ellison has received a three match ban that will see him miss the home fixture against Aldershot Town on Saturday, and the away trips to Darlington and Bournemouth. |
---
HOME DEFEAT FOR CITY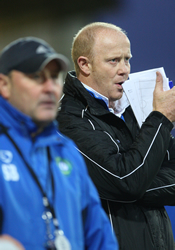 The new management team of Mark Wright and Steve Bleasdale saw Kevin Ellison sent-off as the Blues crashed to a 2-1 home defeat by Morecembe on Saturday. Ellison saw a straight red card for a foul on Fraser McLachlan eight minutes from time. Craig Stanley and a Rene Howe penalty had given the Shrimps a 2-0 advantage either side of the break before Eddie Johnson headed his first goal for the club to reduce the arrears with half an hour to go.

Wright will spend the new few days working out how to shore up a defence that has already leaked 42 goals in 19 league and cup matches this season, with just one clean sheet to their name.
Wright said: "The bottom line is that changes have to be made. I've got to speak to the chairman about that because players have to improve and come to the forefront now and do it. I know we have to get players out before we can get anyone in, so it's time for Steve (Bleasdale) and I to assess things massively this week."
"I'm aware there is a loan transfer deadline next week, so if we can get the embargo sorted then we've got a few players in mind."
"It is very difficult to put a team together and find players at this stage of the season. But we do need to find some big, strong boys defensively, and if Paul Butler is that player then fantastic. But I still think we need to get another centre half in there, maybe two. I still think we need a respected midfielder, and maybe now we need to look at a left back if we're going to push Laurence on one while Kevin Ellison is out with a suspension."

The Blues are next in action on Saturday when Aldershot Town visit Deva Stadium. It will be the first League game between the sides since 1988/89, they have since met for one season in the Conference in 2003/04.
---
DOUBLE FOR BEN

Two goals from striker Ben Jones brought the youth team their second victory of the season on Saturday as they overcame Port Vale 2-1.

• Youth fixtures | Table
---
14 November 2008

WRIGHT BACK AGAIN!

Former manager Mark Wright has returned to the club for a third time and will take over the position vacated by Simon Davies on a non-contract bases. The former England defender has managed the Blues twice before. His assistant first time round, Steve Bleasdale, has been appointed his number two.

Wright was first appointed in January 2002 and in his first season helped City survive the drop out of the Conference. The following season the Blues reached the play-off's before losing out to Doncaster Rovers. In May 2008 he guided City, along with his assistant Bleasdale, to the Conference Championship.

Weeks after clinching the championship Bleasdale left. City chairman Steve Vaughan announced the news saying: "There was a difference of opinion over policy matters, and as such we considered that it was prudent that Mr Bleasdale left the club. There was also an internal incident that occurred, but I am not prepared to discuss that issue in the public arena. We would like to wish Steve all the best for the future and thank him for all his efforts whilst he was at the Deva Stadium."

On the eve of the return to the Football League came the bombshell that Wright has also departed the Deva saying: "It was my decision. The position was untenable. I did not want it to happen, but it has. It's not the right time and I apologise for that. It's a very sad day. I know the side is a good side."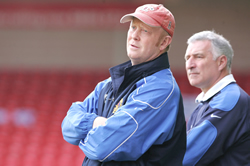 As City manager Wright's Conference record was P101 W57 D27 L17. Including all cups it was P121 W65 D31 L25 (that includes the Cheshire Senior Cup).

Wright returned for a second spell in charge in February 2006 following the departure of Keith Curle and remained in charge until April 2007 when both he and his assistant Graham Barrow were sacked following a series of poor results that saw the Deva crowds drop off dramatically.

City chairman Steve Vaughan said: "It was a difficult decision and not a decision I took lightly. Mark and Graham have both worked extremely hard, but unfortunately we have only recorded three wins in our last 20 matches and that is a disappointing return. I would like to thank Mark and Graham for their efforts, and wish them both well in their future careers. I have made the decision at this time in order to give a successor sufficient time to prepare for next season."

His second spell record was P67 W20 D20 L27.

On returning to his former club Wright declared: "Since I left the club in the summer of 2007 I have kept in touch with Stephen Vaughan the club's owner and we have spoken regularly. The owner, Steve (Bleasdale), and myself were a winning formula when we were all together last and obviously we want to repeat that level of success."
"I feel as though Steve and myself have unfinished business at Chester City and we are both keen to bring more success to the club. Obviously I am aware that the team haven't been doing well."
"We need to turn things around quickly. It is obvious that we need to strengthen the squad, so we will be looking at new players and probably there will be some players who are here who we feel we have to move elsewhere. The Deva Stadium will be a busy place in the next few weeks, that's for sure."
---
THE CHIEF TAKES TEMPORARY CHARGE


Wayne Allison will take charge of the team tomorrow as the club look to appoint a successor to Simon Davies who was sacked in midweek. 'The Chief' has made it know that he won't be applying for the vacancy, preferring instead to gain experience in the assistant role which he's been doing since being appointed on 9 September.

Allison said: "I'm happy here as assistant manager. I'm learning every day, gaining experience. I have no qualms about staying here but it's down to the chief executive, the chairman and of course the new manager. I'm happy here."


The caretaker manager has injury doubts over both goalkeeper John Danby who has been carrying a groin injury for some time now, and Damien Mozika who received a head injury after being accidentally kicked in last Saturday's cup-tie. The French midfielder is reported to be suffering from 'a little bit of concussion' by Allison so must be rated doubtful for the clash against sammy McIlroy's team.

Morecambe are making their second visit to Deva Stadium this season following a win on penalties at the second round stage of the Johnstone's Paint Trophy. They lie to places above City in League Two with the same number of points, 13. They are one of only two sides, the other Grimsby Town, who are yet to record an away League win this season. They welcome back to the squad former City player Michael Twiss who has recovered from a recent injury.
---
ASK WAYNE A QUESTION

If you would like to ask Wayne Allison a question for his weekly Chester Standard/Leader video interview email them to digitalnews@nwn.co.uk. As many of your questions will be put to the Chester City caretaker manager as possible. Please include your name and general area that you are from.

• Wayne Allison interview




---
CHESHIRE PREMIER CUP

Chester have been drawn at home to Crewe Alexandra in the semi-final of this season's competition. The tie must be played before 7 March 2009. In the other semi-final Macclesfield Town will host Tranmere Rovers.

---
12 November 2008

JOB 'TOO EARLY' FOR ALLISON

Assistant manager Wayne Allison has said the managerial vacancy at Chester has come too early for him and he won't be applying for the job. Allison, who was recently appointed a playing contract on his 40th birthday, will act in a caretaker role and take charge of team affairs for Saturday's League Two visit from Morecambe.

• Wayne Allison blog entry...
---
10 November 2008

MANAGER SIMON DAVIES SACKED


After a series of poor results manager Simon Davies has been sacked. Davis was promoted from the Head of Youth role to first team manager on 11 March 2008, having had a spell in the caretaker role extended until the end of last season. In April he was offered a new two year contract. This season the Blues have won just three of 18 league and cup matches and conceded 40 goals in the process.

City owner Steve Vaughan said: "This was an extremely difficult decision to come to, but unfortunately this is a results driven business, and the facts are that positive results haven't been forthcoming this season."
"Simon is extremely personable and likeable bloke, obviously I wish him well in his future career which I am sure will blossom in time, he was excellent with our youth set-up at Chester City, so who knows possibly there may be an opening in that department in the future, but at the moment my major concern is getting the right man into the club to consolidate the affairs of the first team."

"Unfortunately there has been a lot riding on us doing well this season, but Chester is punching above its weight because it has no support base. I've been at this club for the last eight seasons and I've backed Chester with my own money. It's now time for the supporters to show their support."
"If we want a Football League club in Chester people have to start supporting and paying their way to back a Football League club. As far as the manager's position is concerned I want the situation to be settled and stable as soon as possible, and interested candidates should get their applications in as soon as possible."

• Previous managers
---
LIONS TAME CITY


The Blues were knocked out of the FA Cup at the first round stage on Saturday as League One side Millwall scored three times in the last 15 minutes to book their place in round two. Although the final scoreline flattered the Lions, City created little during the match and rarely troubled David Forde in the visitors goal through out the 90 minutes. The only real effort of note came early from a Ryan Lowe lob that just cleared the crossbar. Again defensive errors cost City dear, and once they'd fallen behind to a Lewis Grabban goal in the 76th minute there was simply no way back. Neil Harris added a second goal before the scoring was completed in added time by Ashley Grimes.

After the match City boss Simon Davies said: "We competed well early on, but then it was the same old story, we switched off at crucial times and unfortunately got punished for it. I thought in the first half we definitely matched them. They hung on, to a certain degree and were probably relying on their quality to come through."
---
YOUTH DEFEAT

The miserable start to the season for the youth team continued with a 4-1 league defeat at Macclesfied Town on Saturday.

• Youth fixtures | Table
---
7 November 2008

CUP DISTRACTION FOR BLUES


City take a break from League Two action tomorrow when they entertain Millwall in the first round of the FA Cup. The south London side surprised everyone by reaching the final of the competition in 2004 before losing to Manchester United.

The two sides have met each other in the competition before back in the fourth round in 1979/80 when Chester beat the Lions 2-0 at Sealand Road in front of a near 8,000 crowd with goals from Trevor Storton and Ian Rush. The last time City and Millwall played each other was back in the 1981/82 season.
Manager Simon Davies has injury concerns over his squad ahead of the clash. Goalkeeper John Danby hobbled through last Saturday's defeat at Exeter City with a groin injury, club captain Paul Linwood has an ankle injury, and striker Eddie Johnson has a bruised calf. One player back available from injury is defender Laurence Wilson who has been sidelined with an ankle injury but resumed training last week.

Ahead of the game Davies said: Davies added: "Our FA Cup match against Millwall this weekend will be a tough test, but the way we are working at the moment, and with that little bit of edge, composure and consistency that I know we have, I feel that we can do well. "

Lions boss Kenny Jackett also has several players missing tomorrow. Marc Laird misses the game through injury as does Gary Alexander and Zak Whitbread while Nadjim Abdou is suspended.

The game, which kick's-off at the earlier tome of 13:00hrs, will be all-ticket for Millwall supporters only. Chester fans can pay on the gate as usual. Please note that the combined adult/under 14 ticket priced £15 is NOT available for this game. All paying customers are asked to allow season ticket holders the opportunity to sit in their allocated season ticket seats.
---
5 November 2008

CUP EXIT

There will be no FA Youth Cup run for the team this season after they were beaten in the first round 2-0 by Leeds United last night in front of a crowd of 247 at Deva Stadium.

Chester City: S.Williams, Dowling, Newman, Rawlinson, Platt, Owen, Smith, R Williams, Ellams (Davidson 76), Jones (Evans 76), Ablett. Subs not used: Rea, Coulter, Freeman.

---
4 November 2008

FA YOUTH CUP


The youth team entertain Leeds United in the first round of the FA Youth Cup tonight. The match will kick off at 19:00hrs and admission prices on the night are: £3.00 for adults and £1.00 for concessions. The winners of tonight's tie face a second round match at either Oadby Town or Hinckley United.

The youth team manager Barry Knowles is looking forward to the clash, he said: "They are still the biggest draw in Yorkshire and attract the best young players in the county. But we will have the lads ready and they will know what they need to do."

"This is an opportunity for them. The question for Leeds is do they really want to traipse over to Chester on a cold Tuesday night?"
"We will be up for it, that's for sure. We have a good team and are looking to take it to the next level. Myself and Jim Hunter are new to the club but Mark Newman has kept the youth system here going for seven years and his hard work is invaluable in making this work and producing quality players who can be given first-team opportunities."

Last season the youth team reached the fourth round on the competition with wins over Marine, Curzon Ashton and York City before losing 2-1 to Tottenham Hotspur through a controversial last minute penalty at White Hart Lane.

In their latest Youth Alliance match the team lost 2-0 at home to Tranmere Rovers on Saturday.

• Youth fixtures | Table
---
3 November 2008

MORE WOE FOR CITY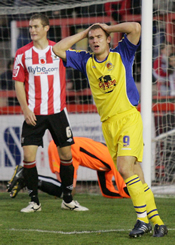 After the great midweek win over Brentford, City returned to losing ways on Saturday with a 2-0 defeat at Exeter City. Goals either side of the break from Adam Stansfield and Matt Taylor ensured that the three points stayed in Devon.

The home side also saw a dubious second half penalty, apparently for a handball by Kevin Roberts, by Richard Logan saved by a half-fit John Danby, before that second goal two minutes from time wrapped up the points. Despite a few early half-chances Chester's best effort of note came in the last minute of the first half when Kevin Ellison's powerful free-kick from just outside the area was pushed over by Paul Jones.

After the game manager Simon Davies was critical of Surrey referee Steven Cook. He said: "I thought the referee was very poor, it was like we were playing against 12 men. It was very frustrating, we're just desperate to win a football match."

"Jay Harris got booked for stopping one of their players in his tracks and rightly so. But ten minutes later when Ellison was taken out down the wing, nothing was done. The penalty decision, for me, was a disgraceful decision. Luckily we weathered that because John saved the penalty. But I thought we didn't get an awful lot from the referee all afternoon."


"It might sound like an excuse and I don't normally mention the officials, but I thought he was that bad he definitely deserved a mention."

• Match report and photographs | League table
---
EXILES WANT TO HEAR FROM YOU!

This season is another reason to celebrate for the Exiles as we are 25 years old this month. One of our plans is to produce a book, at the end of the season, with reminiscences of watching the Blues over the last quarter of a century from the Exiles and other fans as well.

This will only be possible with your contributions, so if you have any good stories, whether they be funny, sad or just interesting we would love to receive these reminiscences from you. Perhaps memorable days out, meeting the players or management (Harry of course!) etc; As well as stories we would also welcome any photographs you may have from following Chester over the last 25 years.

Please email your stories to stories@chestercityexiles.co.uk but if you are unable to send these electronically, please pop them in the post to Steve Mansley at the address on the Exiles committee page. We will keep you posted on how this project develops.