30 May 2008

SEASON TICKET EXTENSION
The club have announced that the early bird season ticket offer which expires on 31 May has been extended and supporters can now purchase tickets between 10:00-16:00hrs on Monday 2 June. This is because the Deva Stadium ticket office is not open at the weekend.

• Season Ticket and Matchday prices 2008/09
---
26 May 2008

TAYLOR SET TO SIGN

Vauxhall Motors striker Paul Taylor looks set to join Chester this week after the two clubs finally agreed a fee for the 22-year-old player. The Blues have twice had offers declined for the promising forward but talks have been ongoing for several days and it looks like a deal has finally been agreed.

A Vauxhall statement read: "Paul Taylor is to have talks with Chester City this week, subject to a medical, with a view to a transfer between the two clubs for an undisclosed fee."
---
22 May 2008

ON THE BORDERLINE UPDATE PAGES
On The Borderline update pages for the 2007/08 first and reserve teams can now be downloaded from the history section of the site.

• On The Borderline update pages
---
20 May 2008

DAVIES APPOINTS ASSISTANT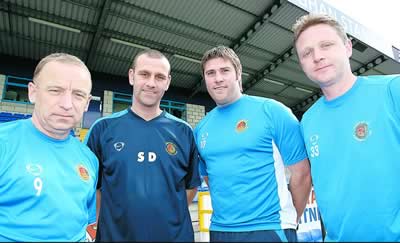 Manager Simon Davies has made his first signing of the season as 32-year-old Hugh Griffiths joins him as assistant manager. Griffiths was previously working as assistant to Peter Davenport at Southport, leaving just before the end of last season.

Davies said: "Hugh has an impressive coaching pedigree. Not only does he hold virtually all the available coaching qualifications, but he also has a Sports Science degree and has some progressive coaching ideas. Hugh will fit in well to what we are trying to create at the Deva Stadium, and he could well prove to be one of our best signings of the summer."

"We both played at Bangor City and we both started doing work on our coaching badges at Wrexham. I always tried to keep in touch with Hugh and he was doing well while he was at Southport with Peter Davenport. We are both continuing to attend a two-year pro licence coaching course with the FA from July."

Griffiths is looking forward to his new role, he said: "It's a great challenge. Chester managed to avoid the drop and we've got a new challenge to go at this season. Simon's a very ambitious person and I am as well. We're both new age coaches and we've got contacts with big clubs."

Chester have also promoted reserve coach Billy Gerard who will now take on a similar role with the first team squad, and have appointed Julian Owen as their Fitness and Conditioning coach.


---
19 May 2008

OFFER REJECTED BY MOTORMEN

City have had their offer for Vauxhall Motors striker Paul Taylor rejected. Manager Simon Davies is now expected to look elsewhere for a striker to partner John Murphy for next season.

A Vauxhall statement read: "We have been unable to agree a transfer deal with Chester City for the services of Paul Taylor. Chester tabled an offer last midweek for a total of £30k, and based on first-team appearances. While this fell some way short of our expectations, we did attempt to broker a deal on a basis of a larger up-front fee on the player's signature to no avail."
---
16 May 2008

CITY TARGET STRIKER
The Blues are reported to have tabled a £30,000 bid for Vauxhall Motors 22-year-old striker Paul Taylor. This is the second time City have bid for the player after the Blues had a £50,000 offer rejected in the January transfer window. Taylor scored 18 goals for the Motormen who were relegated from the Conference North last season.

The offer was made by owner Steve Vaughan who said: "A proven goalscorer has always been at the top of our shopping list. We've submitted the bid for Paul Taylor, but we have other options, such as Bangor City striker Ashley Stott. A new striker is a priority, because we need someone to complement John Murphy in attack and provide competition for places."
---
PRE-SEASON FIXTURES
Chester have confirmed the following pre-season friendly matches.

| | | | | | | |
| --- | --- | --- | --- | --- | --- | --- |
| Tu | Jul 15 | Southport | (A) | | | |
| Tu | Jul 22 | Carlisle United | (H) | | | |
| Th | Jul 31 | Swansea City | (H) | | | |
| S | Aug 2 | AFC Telford United | (A) | | | |
| | | | | | | |
---
LEAGUE TWO FIXTURES
The League Two fixtures for 2008/09 wil be published at 10:00hrs on 16 June.
---
15 May 2008

LINWOOD RE-SIGNS

Good news for City fans as Paul Linwood has signed a new improved two year contract with the club and is expected to be named captain for next season. The news comes after a week of talks between manager Simon Davies and the defender voted Player of the Year by City fans.

Davies said: "We spoke together about a new contract a few weeks ago, but Paul quite naturally wanted to see which league we would be in before committing himself. It was important for us to get Paul signed up. He has been massive for us. Paul will be our club captain next season because he shows qualities of leadership. He's not a shouter on or off the pitch, but he conducts himself and reacts to situations in the way you would expect a club captain to."

Linwood told the Evening Leader: "I've had several talks with Simon Davies and he sold the club to me. I'm was happy to sign the new contract because I was impressed with Simon's plans and with who he hopes to bring to the club before the new season starts. The captaincy was definitely a big selling point and the fact that Simon said that he wanted to build the team around me because it's nice to have the responsibility."

One player who doesn't look like he'll be coming to City is ex-Wrexham and Tranmere Rovers defender Carl Tremarco. The club had been linked with him earlier in the week but have withdrawn their interest as the player appears uncertain as to where his future lies.


---
14 May 2008

SANDWITH REJECTS NEW DEAL

| | |
| --- | --- |
| | Kevin Sandwith has rejected a new one year deal at Chester and has been released. Manager Simon Davies said: "I wanted Kevin to play a part as a squad player for next season, but unfortunately the idea didn't suit him and he decided to leave. It is disappointing to lose someone like Kevin. It was a deal that was put on the table for him but he decided it wasn't for him. We parted on good terms and that's where it was left." |
---
12 May 2008

SEASON TICKETS
The club have announced details of the Season Tickets and matchday prices for 2008/09.

Matchday seat prices for next season have been reduced by £1.00 to £15.00. Juniors under-16, OAP's and full-time students will be charged £10.00 for admission to any area in the stadium. Joint adult and juniors under 14 years of age, can purchase individual combined match tickets for a price of £15.00 in the West stand. The cost of home terrace has risen by £1.00 to £15.00. There are also large increases in Season Ticket prices for juniors as well as a 25% increase in a car park pass.

• Season Ticket and Matchday prices 2008/09

---
10 May 2008

CITY RELEASE SEVEN
Manager Simon Davies has begun rebuilding his squad for next season by releasing seven players. Davies held individual meetings will all players concerned before announcing that goalkeeper Phil Palethorpe, defenders Simon Marples and Sean Hessey, midfielders Dean Bennett, Tony Grant, Adam Walker, and striker Simon Yeo would not be retained.

Two further players, defender Kevin Sandwith and striker Chris Holroyd are considering new offers from the club.

It's also reported that three of City's promising young players Paul McManus, Shaun Kelly and Paul Rutherford have all agreed new terms and they will officially sign new contracts shortly.

Davies said: "This is never a nice time of the year, when you have to tell players that they don't fit into your future plans. I would like to thank all the players who have been released for their efforts whilst they were with the club and of course send them my best wishes for the rest of their careers."
---
9 May 2008

OWNER VAUGHAN ARRESTED
It's reported that club owner Steve Vaughan is to appear in the Magistrates Court at Chester today after being arrested. He is charged with a public order offence, using threatening, abusive or insulting words or behaviour.

The arrest follows a day where the owner, together with manager Simon Davies treated the rest of the squad to a day out at Chester Races. Vaughan told the Chester Chronicle: "I have got no comment to make. I was at the races, the incident happened and that's the end of it."

Police spokesman Rachel Newton said: "We were called to reports of an ongoing incident on St Werburgh Street at about 7.34pm. Originally it was a report of an assault. A 46-year-old man from Heswall was arrested and later charged with a public order offence. He was bailed to appear in Chester Magistrates Court on May 9. We cannot confirm his name."
---
RESERVES SCRAPPED
The club have announced that they will not be entering a reserve team in the Pontins League next season. The last time they didn't enter a reserve league was in 2000/01. Manager Simon Davies said: "We will be running a young squad next season, and be playing in the FA Youth Alliance again, but for reserve team fixtures we will meet other clubs in friendly matches which we consider to be a better option."
---
7 May 2008

PRE-SEASON FRIENDLIES
Details are yet to be finalised but Chester City are expecting to include home games against Swansea City and Carlisle United in their pre-season schedule this summer, the Blues also have fixtures against Southport and AFC Telford United in July.
---
YOUNG DUO RECEIVE CONTRACTS
Two players from the youth team, Andy Mitchell and Glenn Rule, who have turned out for the first X1 this season have been rewarded with full professional contracts by manager Simon Davies so congratulations to them both.
---
PLAYERS OUT OF CONTRACT
The City players who are out of contract this summer are: Phil Palethorpe, Simon Marples, Kevin Sandwith, Dean Bennett, Sean Hessey, Tony Grant and Simon Yeo. Whether any will play a part in Simon Davies' plans for next season remain to be seen. Both Paul Butler and Tony Dinning, who were dropped from the squad in the final weeks of the season, are expected to move on.
---
3 May 2008

ON THE FIXTURE LIST NEXT SEASON...
Relegated from League One today were Port Vale, Luton Town Bournemouth and Gillingham. Promoted to League Two from the Blue Square Premier are Aldershot Town who will be joined by either Burton Albion, Cambridge United, Exeter City or Torquay United.
---
BLUES DRAW ANOTHER BLANK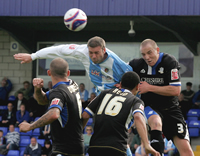 City failed to score for the fourth successive match as the disappointing season ended with a 0-0 home draw against Macclesfield Town. City hardly troubled the visitors all afternoon with Richie Partridge missing the best of what chances there were on ten minutes.

The Blues finished the season third from bottom of a division they looked like topping in October. The alarming slump from there cost manager Bobby Williamson his job in early March. Since then the Blues have won on just one occasion in 12 attempts, picking up seven points and scoring just six goals. On the plus side the defence kept a third successive clean sheet, just when they needed it.

Following the game manager Simon Davies said: "We've ended the season with three goalless draws, but if you take the positives from that, we've had three clean sheets, which has been enough to see us stay up."


"It was a lethargic display against Macclesfield Town, but the lads gave everything on Tuesday night and I think that all the frustration was finally released, which made for a lacklustre display. It has been a tough three months for me since I've been in charge. We will all have a break, but I can't wait for next season to start."

Davies' first important task now will be to name an assistant manager and to appoint a new youth team manager, the position he vacated. His main priority for the squad will no doubt be a striker and though he has a few players in mind no names have (rightly) been mentioned.

The players will take a few weeks off now before they report back for full time training on 1 July. Davies plans to bring the players in for a couple of days a week prior to that date though.

Davies said: "We'll be back a bit earlier for pre-season. I've told the lads and I don't know if they're too pleased with that one, but we'll be back slightly earlier this time to make sure we're in good condition for next year. You can get pre-seasons when in the first two weeks they're in, they're getting rid of the rubbish from the summer. Instead of wasting time getting rid of this extra body fat, we'll be doing that before they come back."

•
Final League Two table


---
PLAYER OF THE SEASON
Congratulations to Paul Linwood who picked up the Player of the Season award prior to today's game with Macclesfield.

• Previous winners


---
2 May 2008

HOLROYD SET FOR FINAL RETURN?

Chris Holroyd (left) could return to the City side tomorrow as the Blues wrap up a roller coaster season with a home game against Macclesfield Town, kick-off 15:00hrs. Holroyd has had a lengthy lay-off with a hamstring injury but could feature tomorrow as Kevin Ellison remains sidelined with a thigh injury that kept him out of Tuesday night's clash with Stockport County.

City manager Simon Davies has also hinted that young Kevin Roberts may be rested for the game. Roberts, a product of the Deva youth system, has had a tremendous first season in the senior side having scored three goals in 30+8 appearances. Manager Davies said: "We'll be putting our strongest team out to win the game. The only one I would toy with leaving out is maybe Kevin Roberts. He looks dead on his feet right now. I'll be having a chat with Kevin."

Macclesfield are expected to name a youthful starting X1 as manager Keith Alexander uses the occasion to look at several of his squad that he has yet to see play.

With the pressure off for tomorrow's Cheshire derby manager Davies is looking to end the season on a high. "We can relax as we're not looking over our shoulders about which division we're going to be in. We'll go and give Macclesfield the respect they deserve. We'll go and approach the game properly and we'll go to get three points on Saturday. We're going into this game now with a different sort of pressure and we'll go to win the game. We'll just relax and play our football and maybe not be as tense."

The Blues are looking to complete the double having beaten the Silkmen 2-1 at Moss Rose back in September with goals from John Murphy and Laurence Wilson.
---
NEW SPONSORSHIP DEAL ANNOUNCED

The club have announced that Cestrian Trading are to be the new shirt and stadium sponsors from next season. The shirt deal is for two years while the stadium will be renamed the Cestrian Stadium in a five year deal once the paperwork has been finalised.

Cestrian Trading are another of owner Steve Vaughan's companies and describe themselves as an international trading company, importing/exporting throughout Europe and the Middle East and specialising in the trade of mobile communication products and CPUs.

Vaughan said: "Everything is close to being signed and these are exciting deals for the club. The deals will be worth about half a million pounds to the club over the period of a few years."

The announcement comes a couple of days after UK Sameday announced that they would no longer be sponsoring the club after three years of unquestionable support to the club.

---
CLUB TO OPEN CITY CENTRE SHOP
The club have announced that they have received planning permission to open a shop in the city centre. The location is the bottom of Watergate Street in the former post office premises. The club have had a shop in the centre of town before many years ago in Grosvenor Road. City fans will be hoping that the new venture will be up and running in time for the new season. The shop will be run in conjunction with a company called Gazelle Sports.

Managing Director Bob Gray told the Evening Leader (on 12 May): "There is a lot of refurbishment that needs doing. It's going to take time." Asked about when the development could start, Mr Gray said: "It's unsure. It depends on finances because we haven't got a lot of money kicking around. We have to find money to fund it through season ticket sales and other money and if the owner can give us more money."


---