30 December 2009

GRAY AND ANDERSON DEPART DEVA

It is being reported on Dee 106.3 radio that both Ian Anderson and Bob Gray have left the club. A short statement reads: Following today's meeting at the Deva Stadium hosted by the Board of Directors, with all non-playing staff in attendance, the following was announced – Ian Anderson has stepped down as Chairman, Bob Gray has stepped down as Managing Director and resigned his position as a Company Director.

Morell Maison assumes responsibility for the running of the football club, with immediate effect. This will entail taking an option over the Vaughan family ownership.
---
29 December 2009

HARVEY: BUSINESS AS USUAL

Manager Jim Harvey (pictured) has said it's "business as usual" as far as he's concerned following the appointment of controversial Morrell Maison as the clubs Director of Football. Harvey, was unaware of the appointment until he was briefly introduced to Maison 30 minutes before the kick-off at Kidderminster Harriers on Boxing Day.

Harvey said: "I have spoken to Mr Maison and as far as I am concerned I continue to do the job I was taken on to do – it's a case of business as usual. I haven't spoken to the owners, but I understand that there will be further discussions between them and Mr Maison in the next day or so. I am told that Mr Maison is endeavoring to bring investment to the club, and we are all aware that investment is badly needed at this point in time."

After the Kidderminster defeat Maison said: "Jim Harvey is the manager and that will remain the case for as long as Jim ants it to be that way." Harvey is operating without a contract at City and his name has been linked to several clubs the latest of which are Kidderminster themselves."

Maison, who has been offered a contract but is yet to sign it, went on to say: "I will certainly not be investing t in the club. That is not a position for me. I've already had a bitter experience of getting involved (at Halesowen Town) in that manner and I'm no longer part of that situation. My brief at Chester is to try and help the footballing issues and help develop the club from the footballing angle. I haven't looked at the points still available or looked at who Chester have yet to play, or looked at the position of the football team, but I haven't given up on the outside chance that Chester can sneak out of trouble."

"The betting man would say that Chester are down and the club should rebuild for the Blue Square North next season, and look to get out of that league as soon as possible. I had a couple of seasons at Kettering Town in the Blue Square North and I know that division very well, and I know what we have got to do to build a side to get out of that division."

"There are contingencies being built for each scenario, but initially I believe there is a huge PR job to be done and there has to be a deliberate way forward and a plan. We are working on that plan now and hopefully within the next week or two we will present that plan to the fans and potential investors too."

Maison, who was banned for football for three months after a post-match incident with Halesowen striker Dean Brennan is serving a touchline ban until the end of the season.

The position of Eric Whalley who was appointed Director of Football last year remains unclear.

---
NEW RUSHDEN DATE

The away match at Rushden & Diamonds postponed last week due to a frozen pitch will now take place on Tuesday 9 March with a 19:45hrs kick-off.

---
22 December 2009

DEVA CAPACITY REDUCED ON SAFETY GROUNDS

The Cheshire West and Chester Regulatory Services have ordered that the Harry McNally Terrace be closed and the capacity in the West and East stands reduced on safety grounds. The enforced change comes into effect from the home game against Barrow on 28 December unless work is carried out immediately.

It's reported in the Chester Chronicle that the decision was made after an inspection at the ground revealed potential faults with crush barriers and a number of other issues affecting spectators' safety within the stadium. The club are hoping to have a structural engineer at the ground next week.
---
21 December 2009

CLUB SHOP OPENING TIMES

The club shop in Watergate Street is open at the following times for those late late Christmas presents!
Today 13:00–16:00hrs, Tuesday 12:00–15:00hrs and Wednesday 12:00–15:00hrs.
---
19 December 2009

MATCH OFF

Following a heavy overnight frost of -6°C, today's game at Rushden & Diamonds has been postponed this morning at 09.40 due to a frozen pitch.

---
18 December 2009

PLAYERS RETURN TO TRAINING
City travel to Northamptonshire tomorrow to play promotion chasing Rushden & Diamonds, weather permitting! More snow is forecast for the Irthlingborough area today and that, together with an expected overnight temperature of -2°C, could mean the game will be in doubt.

There will be a pitch inspection tomorrow at Nene Park at 08.30hrs. The pitch is currently in good condition under the frost covers and the snow that covers the ground will be left there overnight to insulate the pitch against tonight's expected freeze.

It's reported that the players will return to training today following their week long dispute over unpaid wages that saw them refuse to train during that period. The threat to not play at Rushden if monies owing are not forthcoming today as promised looks to have been avoided by the Professional Footballers Association (PFA).

John Bramhall, deputy chief executive of the PFA and former Tranmere Rovers and Bury defender, said: "It's never a good time not to receive payment, but especially at this time of year as it has an even bigger impact on themselves and their families. We're talking with the Chester players all the time and we'll look to see what further assistance we can offer. From our conversations with the players we believe they will be looking forward to the game on Saturday."


Manager Jim Harvey is expected to welcome Michale Lea back from injury to the squad but Neil Ashton, Adam Kay and Rhys Meynell are all ruled out.

Harvey's opposite number Justin Edinburgh will have both Simon Downer and Rob Wolleaston available after both returned to training from injury.

---
17 December 2009

CHADWICK SUSPENDED

Forward Nick Chadwick will miss the match against Rushden & Diaomonds on Saturday through a one match suspension after he picked up his fifth yellow card of the season in the defeat by Fleetwood Town last week.

---
16 December 2009
CHESHIRE SENIOR CUP

In front of a crowd of 57 the Blues were beaten 2-0 in extra-time by Northwich Victoria at Deva Stadium tonight in the quarter-final of the Cheshire Senior Cup.

Chester City: Andrew Murphy, Jordan Freeman, Glenn Rule, Kevin Roberts, Ben Whitcombe, Nick Walker (Ryan Davidson 65), Jack Rea, James Owen (Gethin Maxwell 88), Michael Lea, Lloyd Ellams, Ben Jones (Sam Coulter 70). Subs not used: Josh O'Connell, Connell Rawlinson.

• More pictures


---
15 December 2009
RETURNED KIT FOR SALE

Kit manufacturers Vandanel have had a quantity of unused kit returned to them by the club. It comprises of shirts (yellow second and white third choice strips), together with Sweatshirts and Training Kit etc. All are available in both adult and youth/junior sizes. These are now on sale online at reduced prices through their website.

• Kit for sale
---
14 December 2009

YOUTH TEAM DEFEAT

The youth team were beaten 6-2 by Shrewsbury Town at Deva Stadium on Saturday. Gethin Maxwell and Ben Jones were on the scoresheet for the Blues.

• Youth team fixtures | Match pictures | League table
---
13 December 2009

WE'VE HAD ENOUGH!


It's reported in the Non-League Paper that City's players have now gone on strike following, once again, the late payment of wages. They will be taking advice from the Professional Footballers Association regarding their action.

An unnamed player told the paper: "A number of us met Bob Gray, the managing director, after the game against Fleetwood and were told wages due at the end of November will be paid on Friday. This situation isn't a one-off it is happening regularly. We have told Mr Gray we wouldn't turn in for training this week, and if outstanding monies weren't forthcoming as promised, we would consider not playing against Rushden next weekend. We will take advice from the PFA, but the situation appears to be getting worse. The lads are fed-up."

The news follow's Friday night's 1-0 home defeat by Fleetwood Town of the Blue square North. The visitors deserved their victory and indeed the scoreline could have been greater. Only 408 Chester fans turned up for the match that had been rescheduled at short nitice as manager Jim Harvey was once again forced to play a youthful team.

After the game Harvey said: "John Danby has dropped it – that's not the first time of late that he's done that – and he has to disappointed with it. It was a dipping low cross that was a bit awkward to deal with but you'd have to expect him to hold onto that."

It was disappointing overall, there wasn't too much to excite, and we were disappointing. We had nothing going forward. I am not saying they were massivly better, but experience told, and they deserved the win."
---
EXILES PREDICTION COMPETITION

The first league table dated 14 December 2009 is now available. Please notify me of any name spelling errors.
---
11 December 2009

TROPHY ACTION FOR CITY


The Blues entertain Fleetwood Town in the first round of the FA Trophy tonight, 19:45hrs. The match was switched from tomorrow afternoon on police advice. Town reached this stage following a 2-0 win over Northwich Victoria in the Third Qualifying Round. The Conference North side are currently having a good season and lie in seventh position.

Blues manager Jim Harvey will be without the suspended Kevin Roberts tonight, also out through injury are Neil Ashton, Adam Kay and Rhys Meynell. Michael Lea will face a fitness test but the experienced Tim Ryan is set to return though after recovering from illness.

City will once again have to rely on their crop of youngsters to play their part. Harvey said ahead of the tie: "The Trophy can give a club a massive boost, of course it gives players the chance of a treasured appearance at Wembley and it also can give clubs a cash injection if they progress to the latter stages.
"We are aware of the threat that Fleetwood pose, they are going well in Blue Square North and I know that they have a number of quality players in their squad."

"Our preparation for tonight's match has been very good and the players have all been working hard. I'm sure the squad can ensure that a Friday night is special for our fans at the Deva Stadium."

The two clubs have met on previous occasions but you have to go back around a century to the days of the Lancashire Combination between 1910/11 to 1913/14 for the last meetings. Two programmes from that era are shown below.
Click images for larger view.
---
10 December 2009

LAST DAY FOR HARRY McNALLY T-SHIRTS

Please note that today is the LAST DAY for ordering The Exiles Harry McNally T-shirts.

You can place your orders by email or online with a PayPal account.

The shirt colour options are White, Sky Blue or Heather Grey.
The shirt sizes available are M (40"), L (42"), XL (44") and XXL (52").

For more information please email David Evans at david@chestercityexiles.co.uk
---
8 December 2009
POLICE SWITCH MATCH DATE

Saturday's home FA Trophy first round match has been brought forward to Friday night, kick-off 19:45hrs. The change is based on the advice of the Cheshire Constabulary who apparently have "safety concerns."
---
7 December 2009

HARVEY PRAISES CITY YOUNGSTERS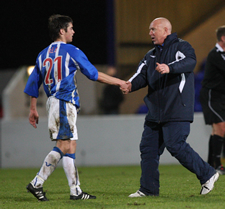 Blues manager Jim Harvey was rightly pleased with the battling performance shown by his team against Luton Town on Saturday.

Three youngsters made their full debuts for the Blues, Jordan Freeman, Jack Rea (pictured) and coming off the bench late in the game Ryan Davidson. This was most probably the youngest first team ever fielded by the club.
On the bench were two more players from the youth ranks, Sam Coulter and Ben Jones.

All did a tremendous job, made more difficult by the harsh sending off of Kevin Roberts just before the break. The FA website states that his straight red card has given him a one match ban which will see him miss the FA Trophy first round match against Fleetwood Town on Saturday.

Blues manager Jim Harvey said: "The boys were excellent and going into the game there was nothing down for us. I had to bring three 17-year-olds into the starting line-up, but they responded magnificently. I am so proud of the lads. They played their hearts out and thoroughly deserved the point."
"Tim Ryan called to say he was ill on Saturday morning and he was a big loss to us, so I drafted six young boys into the squad, but the way they played from start to finish was first class."
"I do feel that if we had had 11 players on the field for the second half we would have won the game."

• Conference table
---
HARRY McNALLY T-SHIRTS

Please note that the last day for ordering The Exiles T-shirts is December 10th.

You can still place your orders by email or online with a PayPal account, but please allow about three weeks now for the new shirts to be printed and dispatched.

The shirt colour options are White, Sky Blue or Heather Grey.
The shirt sizes available are M (40"), L (42"), XL (44") and XXL (52").

• Shirt flyer

For more information please email David Evans at david@chestercityexiles.co.uk
---
3 December 2009
THREADBARE CITY FACE HATTERS


City entertain eighth placed Luton Town tomorrow at Deva Stadium, kick-off 15:00hrs. Manager Jim Harvey will once again have a small youthful squad to pick from as they look to bounce back from Tuesday night's last minute defeat at Cambridge United.

The Blues could consider themselves unfortunate to come away with anything to show for a good performance in midweek, indeed they had chances to have taken all three points themselves from the Abbey Stadium.

City's squad is painfully small and on Tuesday night the latest of the youth team players to make the first team Jack Rea, made his full debut from the bench.

The visitors will be without forward Liam Hatch and goalkeeper Mary Tyler for the trip tomorrow and will be looking to bounce back from a home defeat to Kettering Town on Wednesday night.

The two sides last met on 22 August when the Blues forced a 0-0 draw at Kenilworth Road.

• If you can't get to the match you can hear online commentary from BBC Three Counties Radio here.
---
CITY LIVE TO FIGHT ANOTHER DAY


The club have finally managed to pay off its football debts of £36,600 it has been announced following yesterday's Football Conference emergency EGM in Birmingham. It transpires that former owner Stephen Vaughan has loaned his son Stephen Jnr (pictured), the new owner of the club, the money to pay the debt. Last month Vaughan Senior was banned from acting as a company director, or in any way controlling a company, until November 24, 2020.

Managing Director Bob Gray confirmed to the BBC: "We've raised the capital to pay the creditors. Stephen's loaned it to his son. That has kept the club afloat. And now we should be all right."
Gray continued: "We didn't have to attend (the EGM) as all the necessary paperwork was submitted. And we've covered the shortfall."

Following the meeting The Football Conference Limited issued the following statement in relation to Chester City FC.
"The Football Conference and the Football League have been working together to reach a decision over the release of discretionary payments in favour of Chester City FC, thereby retaining the integrity of both competitions and enabling legal undertakings and orders were met by the Club."
"As part of a commitment made by Chester City FC towards settling these matters, Chester City FC agreed to make up any potential shortfall between the funding due and football creditors. The Club has, therefore, lodged a payment of £36,600 with the Football Conference. Upon clearance of such payment and release of that funding, the threat of expulsion from membership will be withdrawn."
Brian Lee, Chairman of the Football Conference states: "Together with my fellow Directors and staff at the Football Conference; and with our other football partners, particularly the Football League and the PFA, everyone has worked tirelessly to save Chester City FC from expulsion. The Club's recent history should send a warning signal to every club."
He added: "In anticipation a satisfactory conclusion will be reached, we are hopeful those who have supported the club through such difficult times, especially the fans on the terraces, appreciate the position we as a competition faced in dealing with this situation. We wish all those currently connected with Chester City FC will ensure the club deal promptly with all matters of financial prudence in the future and our combined efforts will not have been in vain."


---
3 December 2009
BLUES REACH ANOTHER DECISION DAY

The Football Conference hold an emergency board meeting in Birmingham today to discuss City's continued non-payment of its football debts, to Vauxhall Motors, Wrexham and the Professional Footballers Association. The club's apparent refusal to pay their debts unless they receive their parachute payment from the Football League has dragged on since the start of the season, it looks like today we're to get the final answer on the matter once and for all, and it doesn't look good.
---