30 November 2009

MATTERS COMING TO A HEAD


Today sees another deadline day for the Blues as for the second time of asking they must settle their football debts or face possible expulsion from the Football Conference. The original deadline date of 16 November was extended to allow the Football League more time to seek legal advice on the club's position. Wrexham, Vauxhall Motors and the Professional Footballers Association are all owed money by the club and there appears to be no sign of those debts being settled. A statement on the Football Conference website can be expected later today regarding the outcome of today's meeting.

With frustrations running high off the pitch following the transfer of club ownership from Stephen Vaughan to his son Stephen Jnr, two peaceful pitch invasions took place at Saturday's home game with Eastbourne Borough. The first early in the game involved around 20 people, the second just after City had taken a 3-2 lead, by just a handful of people, proved too much for the police who advised the referee to abandon the game which he duly did.

Manager Jim Harvey (pictured) commented: "To lose the match because of an abandonment was really disappointing for us. The players and I are all confused about what has happened because generally speaking you just go out and play your game and come off the pitch with a result and understand what has happened."


"But in this situation after coming off the pitch after 72 minutes we are all a bit bemused and we now have to think what the consequences of all this will be.An abandonment is not going to help anybody from Chester certainly."

If City survive after today's Conference meeting they will be next in action tomorrow night when they travel to Cambridge United. Harvey will be without on-loan Mark Beesley who will not be able to play against his current club.

• Conference table
---
27 November 2009

BLUNDELL BARROW BOUND

| | |
| --- | --- |
| | City's squad is shrinking fast with the news that striker Gregg Blundell has joined Barrow on loan until January, with the option of making the more permanent after that. Blundell has scored three goals in 10+8 appearances for the Blues this season, his second spell with the club. |
---
HOME TERRACE CLOSED

The club have confirmed that the home Harry McNally Terrace will be closed for this Saturday's game.

Chester's safety officer Martin Bradley told The Chronicle that "Macclesfield are at home, Wrexham are at home, Tranmere are at home and Northwich are at home in the FA Cup, with Crewe stewards going to help Northwich, so that leaves me with only 26 stewards and that's not enough to comply with the safety certificate I've got for the ground.
It's a one-off and I can only apologise but it's the only thing I can do to make sure the game goes ahead."
---
26 November 2009

KELTIE RETURNS TO DALE

Another of City's loan players has left. Clark Keltie is back with Rochdale following his 11 match spell with the Blues. Chester, currently under a transfer embargo, were unable to renew the loan deal for the player. He played his last game for City in Tuesday night's 2-0 defeat at Stevenage Borough.

Keltie is the third player to return from a loam spell at Deva Stadium after both Michael Coulson and Jonathan Flynn left last week. All three impressed during their spells with the club. Manager
Jim Harvey has an impossible task on his hands as he attempts to motivate the wafer thin squad for Saturday's visit of Eastbourne Borough.

Off the pitch the club appear to be heading for meltdown with the Football Conference deadline of 30 November to pay off the football creditors fast approaching. Both Wrexham and Vauxhall Motors have still to be paid and failure to do so could see the Blues kicked out of the Conference.

• Conference table
---
24 November 2009

DUO MISS OUT

Manager Jim Harvey has stated that both Neil Ashton (pictured) and Michael Lea will miss tonight's match against second placed Stevenage Borough with groin injuries.

The Hertfordshire outfit will be looking to complete the double over City following their 1-0 win at Deva Stadium on 19 September. An ankle injury to Rhys Meynell means he is also a doubt for the trip to The Lamex Stadium.

Borough may be without top scorer Charlie Griffin through illness, and Jon Ashton who is recovering from injury. Since the victory at Chester Stevenage have lost just once in 13 matches.

• Conference table


---
23 November 2009

FA TROPHY

| | |
| --- | --- |
| | Chester have been given a home tie against Blue Square North side Fleetwood Town in the first round of the FA Trophy. Town reached this stage following a 2-0 win over Northwich Victoria in the Third Qualifying Round on Saturday. The game is scheduled to take place at Deva Stadium on Saturday 12 December. |
---
DISJOINTED CITY BEATEN AGAIN

City's dreadful home record continued on Saturday when they were beaten 3-1 by Altrincham. This was their sixth defeat at Deva Stadium this season and the third game in succession they have let in three goals. Manager Jim Harvey wouldn't blame his players for this latest reverse but admitted some of them simply aren't good enough for this level.

Colin Little and Robbie Williams had given the Robins a deserved 2-0 half-time lead before a stunning goal from Glenn Rule gave the home side some hope but any chance of a point was snuffed out with a last minute strike from Colin Senior.


Harvey said: "I was disappointed not to win the game, but it is difficult to rant and rave at the players because unfortunately some of them are just not good enough. Altrincham deserved to lead by 2-0 at the break. We came a bit stronger at the start of the second half but we just lacked the quality that was needed."

"As a group of players I think they are going to find it very difficult this season. I've no idea whether the club's off-field problems are having an effect on the players. You'd need to ask the boys that question."

As if things weren't tough enough, City travel to second placed Stevenage Borough tomorrow night, kick-off 19:45hrs.

• Conference table
---
YOUTH TEAM BEAT RIVALS

A goal after just four minutes from Sam Coulter was enough to give the youth team a 1-0 win over rivals Wrexham on Saturday. The team dominated throughout the 90 minutes and deserved their victory.

• Youth team fixtures | Match pictures


---
20 November 2009

CUT OUT THE CHEAP GOALS


Jim Harvey's wafer thin squad are in action tomorrow when they play near neighbours Altrincham at Deva Stadium, kick-off 15:00hrs.

Harvey lost two influential loan players this week, Michael Coulson and Johnny Flynn but may be able to call on the services of Neil Ashton and Michael Lea tomorrow, both have started training again this week following injury though their chances must be rated at 50/50.

Harvey will be looking to tighten up the defence after conceding six goals in their last two matches. He said: "We gave cheap goals away against York City and Tamworth and we need to concentrate for the full 90 minutes of a match, and the players have been left with this thought in no uncertain terms."

"I have had some encouraging news on the injury front. Neil Ashton and Michael Lea who have both been suffering with groin injuries, have improved this week, and both have outside chances of being fit for Saturday's game."

Altrincham have signed 6ft 4in striker John McAliskey from Witton Albion after he impressed in a Cheshire Cup match. The Cheshire side will be without Chris Denham through a leg injury. The Robins have not won in their last five matches and lost a two goal lead at home to Forest Green Rovers last weekend. They currently lie in 11th place with 25 points and have won four and drawn two of their nine games away from home this season.

The sides last met on the August Bank Holiday when a Ben Wilkinson goal gave City a 1-1 draw at Moss Lane.

• Conference table

---
17 November 2009

COULSON RETURNS TO BARNSLEY

Midfielder Michael Coulson has returned to Barnsley following his loan spell at City. The player has now joined Grimsby Town on loan. The Blues have also lost another loan player Jonathan Flynn who will not be returning from Blackburn Rovers. Both had impressed on their month-long spells which had coincided with an upturn in form. The club are unable to raise the money to extend both loans.

A disappointed Jim Harvey said: "To lose Johnny and Michael is a massive blow. Johnny put in two or three really solid performances for us and he really helped shore up the defence. Michael, meanwhile, gave us a real threat and with each passing game he was becoming more and more of a handful."

"Their departure has made life very, very difficult for us. It's not a case of other lads in the squad needing to step up now Johnny and Michael have gone – we are already using everything we've got and the lads are doing everything they can."
---
16 November 2009

DEADLINE EXTENDED AGAIN


The Football Conference have issued a statement regarding today's deadline extension they have given the club to repay its football creditors, this comes after the Football League requested more time to seek legal advice.

The Conference statement issued on Saturday reads:

"In relation to matters appertaining to Chester City FC and their obligations to meet requirments to pay football creditors, due to be met no later than today, Monday, 16th November 2009.
On Thursday, 12th November, 2009, notification was received from the Board of the Football League that they required further time to enable them to seek and take legal advice on the award and distribution of possible payments to Chester City FC from monies held by the Football League Ltd.
As a consequence of this request, the Football Conference has agreed, that in the interests of the competition as a whole, to extend the date of compliance to Monday, 30th November 2009 for Chester City FC to fully comply with the financial payments ordered against them.
The Board re-iterate their previous statement that any failure to make such payments in full by this date will lead to a move to call a meeting of member clubs to consider the club's expulsion from membership in accordance with the rules of the Football Conference."
---
YOUTH TEAM DRAW

---
13 November 2009

BARRY SET TO RETURN


Chester travel to Tamworth tomorrow looking to avenge the 2-1 home defeat by the Staffordshire side back in September. Jim Harvey will once again be without the services of on-loan defender Jonathan Flynn who is on duty with the Northern Ireland U21 side, Anthony Barry could then make a start after coming on and scoring at York City in midweek.

Tamworth are on a poor run of six straight defeats that has seen them drop to 15th in the Conference with 22 points. They have dipped into the loan transfer market this week and have striker Iyesden Christie and Wrexham winger Simon Brown both making their debut.

The Blues have visited Tamworth on only one previous occasion. That was back in December 2003 when a rampant City won 5-1 thanks to goals from Carl Ruffer, Alex Smith and a hat-trick from Daryl Clare.

• Conference table
---
12 November 2009

CHESHIRE SENIOR CUP VICTORY

Goals from Lloyd Ellams and Connell Rawlinson gave Chester a first round 2-1 win at Stalybridge Celtic in the Cheshire Senior Cup last night. With a first X1 match at York the night before four of the youth team: Joe Freeman, Ben Whitcomb, Sam Coulter and Jack Rea stepped up a level for the tie.

The Blues are now at home to Northwich Victoria in the quarter-final scheduled to be played on 15 December. The other three ties are Cammell Laird v Nantwich Town, Witton Albion v Runcorn Linnets and Woodley Sports v Vauxhall Motors.

Chester last won this competition in 1931/32.

Chester City: Andrew Murphy, Joe Freeman, Ben Whitcomb, Glenn Rule, Connell Rawlinson, James Owen, Sam Coulter (Walker 70), Jack Rea, Lloyd Ellams, Ben Jones (Davidson 75), Ben Wilkinson. Subs not used: O'Connell, Mills-Evans.

More match pictures


---
11 November 2009

WINNING RUN ENDS AT YORK


Chester were beaten 3-2 by York City last night as their unbeaten three match run came to an end. A hat-trick from striker Richard Brodie saw the Minstermen rush into a 3-0 lead just after half-time.They created several more chances to extend that lead before the Blues pegged back goals through Anthony Barry and in the final minute Shaun Kelly.

Manager jim Harvey cited poor defending as the reason for the defeat. He said: "We defended poorly throughout the heart of our defence against York and the starts in each half were really poor. There's certainly things I've learned from the game and hopefully I can point the team in the right direction for Tamworth."

• Conference table
---
10 November 2009

OWNER VAUGHAN DISQUALIFIED


Club owner Steve Vaughan has been disqualified from being a company director for 11 years following his involvement in an alleged VAT fraud at Widnes Vikings rugby league club.

The disqualification takes effect on 25 November when Vaughan will be banned from acting as a company director, or in any way controlling a company, until November 24, 2020. If he breaches the undertaking he may be prosecuted.

The news of the ban came through in a press release from the Insolvency Service, it states:

"Mr Vaughan has signed a Disqualification Undertaking, after enquiries by the Insolvency Service's Public Interest Unit into his conduct while a director of the Club. Widnes Rugby League Football Club Limited entered into administration in October 2007 with liabilities of more than £1.6million."

"The signed undertaking contained details of alleged 'carousel fraud' carried out by Mr Vaughan, designed to prop up the finances of the rugby league club, which was technically insolvent at the time."
"Mr Vaughan arranged for the club to 'purchase' three consignments of clothing from a UK company, and on the same day 'sold' the clothing to a company based in Spain. The transactions appeared to be part of a linked series of purchases between the UK and Europe. Mr Vaughan then attempted to reclaim VAT for the club, however HMRC refused the repayment of the club's VAT claim on these transactions."
"Payment for the goods was made via the First Curacao International Bank, based in the Netherlands Antilles. The bank was closed down by banking authorities when it was discovered that it provided banking facilities to a significant number of companies involved in carousel VAT fraud."

The full statement can be read here.


---
BEESLEY LOAN EXTENDED

Chester have had their loan deal of Mark Beesley extended another month by Cambridge United. Beesley will now be with the Blues until 5 December but, as a condition of the loan, will be unable to play against Cambridge four days earlier.
---
8 November 2009

WINNING RUN CONTINUES


Chester followed up their impressive home win against AFC Wimbledon with another 3-1 victory at Grays Athletic on Saturday. Two goals from Nick Chadwick and a third from
on-loan striker Mike Coulson brought a third successive league win for the Blues.

City had already gone close in the opening stages before a fine move involving Kevin Roberts and James Owen set up Coulson who curved a great shop over hone 'keeper Preston Edwards into the top corner of the net.
The lead was short lived though as Grays dangerman Fola Onibuje headed home after the City defence had failed to clear a corner. Both sides created and missed chances before City scored a crucial second on the stroke of half-time. Coulson chased a through ball to the edge of the box, and although Edwards looked to have it covered, he let the ball slip from his hands to Coulson who coolly rounded him before squaring for Chadwick to score from close range. Edwards made up for his mistake moments later with a superb low save to deny the impressive Coulson again.

Grays started the second half well forcing a trio of corners, and they put City under pressure for long periods. John Danby made a fine fingertip save to deny Onibuje and Jamie Slabber blasted the ball high wide and out of the ground when well placed. City's defence held firm though and Chadwick wrapped up the points with a third goal 12 minutes from time with another close range effort from Coulson's cross.

A delighted manager Jim Harvey (pictured) was pleased with the City performance, he said: "It was always going to be a difficult and a different type of game at Grays, and there were a few questions for my squad, such as could they go and compete and dig in and show a different side to their game. But they did come up with the result and I've got to be very pleased about that."
"Everything we expected against Grays came our way. I thought we dealt with them very well and on top of that we produced some good football going forward."
"Our forwards were a handful for Grays, and Chaddy (Nick Chadwick) got us two goals. Bees (Mark Beesley) could have had two, and Gregg (Blundell) could have scored near the end after coming on as a substitute. And James Owen missed a great chance, so there were plenty of opportunities, but having conceded their goal from a set piece it was important that we didn't crumble."
"I felt we stuck to our task and after 90 minutes I was delighted with the way we had played."
The Blues are on the road again on Tuesday night when they travel to York City. Manager Harvey will have to do without the services of Johnny Flynn who has been called up by the Northern Ireland U21 side and returned to Blackburn Rovers.

• Conference table


---
5 November 2009

LOOKING TO GET BACK IN BUSINESS


City and Grays Athletic meet for the first time tomorrow as the Blues travel to Essex looking for a third league win on the bounce at the New Recreation Ground. Manager Jim Harvey may have to do without both Anthony Barry and Michael Lea through injury, both are rated as extremely doubtful, however Shaun Kelly has trained all week and could be in line for a recall.

City have lost only once on their travels this season, at Oxford United, though they have drawn six of the other seven outings.

Harvey is looking to the side to continue the fine form that saw them beat AFC Wimbledon 3-1 at Deva Stadium last Saturday. He said: "Grays is a six-pointer and it would be nice to think we will be going down there with a little bit more confidence following the Wimbledon win and go there expecting to get a result."

"Although the results have been good away from home, we haven't scored many goals. If we can keep that dogged resilience and keep getting draws that would be great, but it would be even better if we can get a few away wins because then we really would be back in business as I'm sure the home form will improve because of our style of play."


Grays, managed by Julian Dicks, currently occupy the last relegation spot and have two home wins and three draws in their opening eight home fixtures. The match was originally scheduled for the opening day of the season but postponed during City's period of suspension.

• Conference table
---
4 November 2009

CUP EXIT FOR YOUTH TEAM

The youth team were knocked out of the FA Youth Cup at the first round stage last night when they were beaten 4-0 at home by Morecambe.

The team are next in League action on 14 November when they host Port Vale.

• Youth team fixtures | More match pictures


---
EXILES SUPPORT FOR CITY FANS UNITED

The Exiles Harry McNally T-shirts, produced to help raise money for City Fans United have been selling well, so much so that new stock is already having to be ordered.

You can still place your orders by email or online with a PayPal account, but please allow about three weeks now for the new shirts to be printed and dispatched.

The shirt colour options are White, Sky Blue or Heather Grey.
The shirt sizes available are M (40"), L (42"), XL (44") and XXL (52").

• Buy online – for those with a PayPal account.
• Shirt flyer

For more information please email David Evans at david@chestercityexiles.co.uk


---
3 November 2009

YOUTH CUP ACTION

The Youth Team are in action tonight when they entertain Morecambe in the first round the the FA Youth Cup. The match is being played at Deva Stadium with a 19:00hrs kick-off. Admission is £3.00 for adults and £1.00 for senior citizens and juniors.

On Saturday the boys were beaten 3-1 at Burnley, Sam Coulter scored the consolation goal for the young Blues. As a result City drop to 14th place, two above tonight's opponents who were beaten 6-0 by leaders Preston North End at the weekend.

• Youth team fixtures | More match pictures | Table


---
2 November 2009

HOME JOY FOR BLUES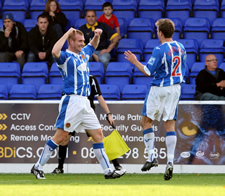 Chester turned in their best home performance of the season on Saturday to beat AFC Wimbledon 3-1. Early goal from Nick Chadwick and an own goal by Steven Gregory gave City a two goal cushion in the opening 15 minutes. The visitors fought back though and halved that lead in first half injury time through Jon Main.

It was The Dons who started the second period on top, but the City back line soaked up the pressure ably supported by John Danby who produced a string of fine saves in the City goal. Clark Keltie hit a piledriver against the bar before substitute Gregg Blundell wrapped up the points with a killer third goal 13 minutes from time.

Manager Jim Harvey said: "I thought we deserved to win. Wimbledon were always going to be one of the hardest games for us this season, and that is how it turned out."

"The performance showed a lot of character after the disappointment of the cup defeat against Barrow. I asked the players for a reaction and they gave me that. We needed to get into our stride quickly, and that is what we did."

"The boys have gone out there and played extremely well. We could have been a couple up before we scored. And we could have had another couple at the end.
It must have been a really good game to watch as there was effort commitment, football, goals. It was swinging from end to end and thankfully we came out on top."
•
Conference table


---