30 October 2009

ANOTHER TOUGH GAME


City look to put the midweek FA Cup exit at the hands of Barrow behind them as they entertain AFC Wimbledon at Deva Stadium tomorrow (15:00hrs). Manager Jim Harvey will have both Nick Chadwick and Glenn Rule available following suspension through there are doubts over Anthony Barry and Michael Lea who limped off in the midweek defeat.

Ahead of the match City manager Jim Harvey told the Daily Post; "Wimbledon will be another tough game but they are all very tough at this level. All we can do is look to the next game and try to improve on the mistakes we made against Barrow. I have been through bad times as a footballer and when the next match comes around, it's a test of character."

"This will determine whether people are going to make it or not as footballers. You have to overcome the disappointments you receive, because there are plenty of them."

AFC set off this morning for the match, they are training in Cheadle this afternoon prior to their overnight stay. Dons manager Terry Brown will be without the injured duo Jay Conroy and Kennedy Adjei whilst Derek Duncan is also missing through suspension. They come to Deva Stadium lying just outside the play-off places in eighth position thanks to an impressive away track record of five wins and two draws in their eight matches. Their only defeat came at Eastbourne Borough.

• Conference table
---
28 October 2009

BLUES DUMPED OUT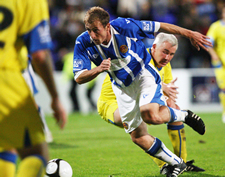 Three goals in five second half minutes brought to an abrupt end Chester's progress in this years FA Cup competition. The game was evenly poised on 73 minutes when City goalkeeper John Danby was penalised for handling a Neil Ashton back-pass, Andrew Bond hammered the resulting free-kick through the City wall and past Danby.

A minute later Jason Walker doubled the advantage from the penalty spot following a foul by Ashton.

A shell-shocked City found themselves three down a minutes later as Bond headed home and the misery was complete in the final minute as substitute Andy Cook scored from 20 yards though very few City fans were left in the ground by then to witness it.

A disappointed Jim Harvey said following the defeat: "Tonight's game proved how much goals make a difference. But I was disappointed that we conceded a free kick for our keeper collecting a back pass because that law was introduced originally to prevent time-wasting."
"Neil Ashton had been tracked across the six yard box under pressure and the ball came off his shin and his knee and our keeper came out and picked the ball up. I thought it was a poor refereeing decision."
"Unfortunately, after that goal we fell apart for ten minutes afterwards and everybody could see the reaction it gave to the Barrow team. They were buoyed by the situation and they were able to finish the situation off. I had no complaint about the penalty decision because it looked like a trip from where I was, but by then the damage was done and it was game over."

City must try and pick themselves up now for Saturday's visit from AFC Wimbledon. Harvey will have both Nick Chadwick and Glenn Rule available for selection following suspension.


---
27 October 2009

CITY LOOK TO HOME ADVANTAGE

City and Barrow go head to head again tonight at Deva Stadium to earn a place in the first round proper of this season's FA Cup and a home tie with Blue Square South side Eastleigh. Extra time and penalties will be used to decide the tie if necessary. Nick Chadwick and Glenn Rule are still suspended and miss out while Gregg Blundell, who missed Saturday's clash at Holker Street, is still struggling with a hamstring injury. The winners of the tie will receive £12,500.

• Online BBC radio Cumbria match commentary
---
26 October 2009

DEADLINE EXTENDED
The Football Conference have extended the deadline given to the club to pay off their Football creditors. Following discussions over the past week the club have until 16 November to satisfy the Football League over certain unnamed issues referred to them regarding the club.

The Conference have issued the following statement...



"Following a notice issued to Chester City FC by the Football Conference on Monday, 19th October 2009 relating to the Club's failure to comply with a compromise agreement containing the Club's conditions of membership, and a subsequent statement referring to the non-payment of football creditors, a further statement is issued as follows:-
Discussions between the Football Conference, the Football League, the Professional Footballers Association and Chester City FC have taken place during the past seven days, and are on-going.
In the light of the wish of all parties to seek a satisfactory resolution the Football Conference has agreed to defer any decision on the Club's future membership until Monday, 16th November 2009, enabling the Football League to discuss certain issues which have been referred to its Board of Directors.
All parties are working together in an attempt to preserve the future of Chester City FC. The club has, however, been duly informed that unless it complies in full with the conditions of membership it agreed with the Football Conference, the Competition will move to consider the club's expulsion, in accordance with the said agreement with the Football Conference."
---
25 October 2009

EXILES SUPPORT FOR CITY FANS UNITED

The Exiles have produced a limited number of T-shirts to help raise money for City Fans United. These feature Harry McNally and his infamous phrase "Professional Football is all about pain" on good quality shirts in two designs, see below. The T-shirts are available at £10 plus £2.50p+p. All proceeds from shirt sales will go towards City Fans United.

The shirt colour options are White, Sky Blue or Heather Grey.
The shirt sizes available are M (40"), L (42"), XL (44") and XXL (52").

•

Buy online – those with a PayPal account can now buy online.
•

Shirt flyer

For more information please email David Evans at david@chestercityexiles.co.uk


---
BLUES HAVE HOME TIE INCENTIVE


Chester have been handed a home tie with Slue Square South side Eastleigh should they progress in the competition. The Hampshire side won through with a 5-3 win at Dover Athletic yesterday to make the first round for the first time in the clubs history.

City must first beat their Conference opponents Barrow in Tuesday night's replay at Deva Stadium. Jonny Flynn gave City the lead at Holker Street on Saturday on 15 minutes tucking the ball home past Barrow 'keeper Stuart Tomlinson but the home side leveled through ex-City midfielder Paul Rutherford on 66 minutes.

Blues manager Jim Harvey thought his side had done enough to win at Holker Street. He said: "I thought we had enough chances to have won the game. There were three or four occasions when we should have wrapped it up. It was pleasing to see young Jonathan Flynn score his first goal for us, and I also thought he handled his defensive duties well. The players are enjoying training, and adapting to the methods and style of play we are asking them for."
---
D-DAY

The club have until 17:30hrs today to pay off the money owed to their football creditors or face possible expulsion from the Football Conference. The club must pay off their debts to both Vauxhall Motors for the Paul Taylor signing and Wrexham football club for last months share of the away ticket sales for the match played at the Racecourse.
---
23 October 2009

SAME AGAIN CITY


Manager Jim Harvey is hoping to name an unchanged side tomorrow as City travel to the Holker Street Stadium to play Barrow in the fourth qualifying round of the FA Cup. The only doubt appears to be Gregg Blundell who has a slight hamstring injury from last Saturday's 1-0 win at Gateshead. This is the first meeting between the sides since October 2001 when the Bluebirds defeated Steve Mungall's City side 1-0.


City are hoping to renew the loan of Rochdale midfielder Clark Keltie in time for the match that sees club owner Steve Vaughan return to the previous club he used to own before they fell into liquidation. Harvey had been intending to sign a loan striker ahead of the game but the latest transfer embargo has put paid to that.

Barrow are co-managed by former Chester player David Bayliss and could include former Blue Paul Rutherford in their side following the former youth team player's moved to Holker Street in the summer. The home side will be able to call on the services of two loan players Jon Shaw (Rochdale) and Carlisle United's Andy Cook after both were given permission by their respective club's this week.

City supporters will be housed in the 'W' section of the main stand and a small section of the Wilkie Road/Holker Street corner tomorrow. Gates E & F will be for away supporters. Admission prices are: Stand: adults £14, concessions £11. Terrace: adults £13, concessions £11. Under 16s: £5 all areas.

City have lost only once on their travels so far this season, at Oxford United, and manager Harvey is confident his squad are as prepared as they can be. Ahead of the tie he told the Chester Chronicle "Barrow fans really get behind their team and make a lot of noise so we know it will not be an easy game.
The FA Cup is a competition that excites fans more than any other so I expect a very passionate atmosphere. But there's plenty of experienced boys in our squad and I don't think they'll have a problem with the atmosphere."


If a replay is necessary it will take place on Tuesday night at Deva Stadium, kick-off 19:45hrs. The winners of the tie will receive £12,500.

• Online BBC radio Cumbria match commentary
---
CITY FANS UNITED

Around 150 City fans attended last night's launch of the new City Fans United supporters group. The meeting, chaired by Charlie Lambert, proved a great success. More details are available on their newly launched website.

• City Fans United
---
22 October 2009

CITY ON THE BRINK


The football club have been told they have until 17:30hrs on Monday to pay off their football creditors of face possible expulsion from the Football Conference. The club have had a transfer embargo placed on their once again after failing to pay off debts to both Vauxhall Motors for the Paul Taylor (left) signing and Wrexham football club for last months share of the away ticket sales for the match played at the Racecourse. As yet the total amount owed has not been revealed.

The Conference have issued the following statement.

In accordance with Membership Rule 11 – for the non-payment of football creditors – Chester City FC have been placed under an immediate player embargo, in as much that:
1. Chester City FC has not complied with the terms of the compromise agreement set by the Football Conference to allow the club to participate in the competition at the commencement of the current season; and further to that fact, the club has been given 7 days, operative up to 5.30pm 26th October 2009, in which to meet the said payment terms of that agreement, otherwise they face the threat of expulsion from the Football Conference.
2. Chester City FC has failed to pay monies owing to Wrexham FC for away ticket sales relating to their fixture played on 27th September 2009 and further to that fact, the club has failed to meet a 7-day payment deadline imposed by the Football Conference.
3. Chester City has failed to pay Vauxhall Motors FC monies owed in relation to the loan of Paul Taylor, which should have been met no later than 14th October 2009.

Club owner Steve Vaughan has gone on the offensive insisting that football creditors will be paid once money from the Football League and the Conference that are owed to the club are paid. He told BBC radio Merseyside:
"I want to know when our debtors are going to pay us. The Football League owe us £99,965 from our parachute payments, as part of the parachute payment of £225,000."
"The Conference owe us £35,000, £5,000 being part of the central funding and £30,000 being from the Premier League gift. The Football Conference are saying that we owe those two clubs, which we do."
"The Football Conference owe us £35,000. I want to know when I'm being paid that before I pay our footballing creditors. We will pay our footballing creditors. But we want to know when we are being paid by our footballing debtors."


---
CITY FANS UNITED

After months of negotiations and hard work, City Fans United hold their inaugural meeting tonight at the Divas Showbar (formerly Royal Mail Social Club) on Station Road, Chester, at 20:00hrs. All City fans are encouraged to attend, and help steer City back to where they belong. No doubt the latest threat over the future of the club will be the main talking point for the open forum.



Meeting Agenda


7.30 People start to arrive. CFU memberships can be processed instantly.
8.00-8.10 Welcome and introductions –

Charlie Lambert


8.10-8.25 CFU – what it's all about, aims -

Mike Poole


8.25–8.35 Why you should join CFU –

Mark Howell


8.35-8.50 Presentation –

Peter Mitchell


8.50-8.55 Junior Blues –

Mike Poole


8.55-9.00 Legends Night –

Jeff Banks


9.00-10.00 Open Forum –

Charlie Lambert


• Invite comments
• Seek a steer from those present on how CFU should progress
• Question and answer
10.00 Close.

Supporters can email register@cityfansunited.com for more information.

• Download membership forms here.
---
19 October 2009

BEESLEY GOAL SECURES HEED DOUBLE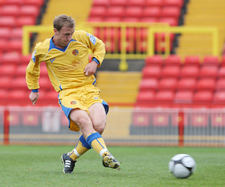 A first goal on his return to the club by Mark Beesley gave Chester a deserved win at Gateshead to complete the double over The Heed. City turned in their best showing of the season and are now unbeaten in their last seven away matches. Manager Jim Harvey was delighted with the performance of the team that also included encouraging debuts from defender Jonathan Flynn and midfielder Michael Coulson.

The only goal of the game came in the 57th minute when an Anthony Barry effort deflected into the path of Beesley who shot past Paul Farman in the home goal from close range. Earlier Coulson had hit the bar from a narrow angle following a neat through ball from Gregg Blundell.

Harvey said: "Gateshead have a reputation as a good footballing side but we were head and shoulders above them and some of our approach play was out of the top drawer. It was a really positive performance and result. We could have been three of four up at half-time."

"I thought there were some terrific individual performances and there were lots of things that really pleased me. I was happy with every one of my players' performances, even with the boys who travelled with us to Gateshead."
"We had a great atmosphere and you could see the smiles on the boys faces now that they have got a win. The boys were saying that was the best they had played by a distance. If that's the case then we've still got a lot to do and it doesn't make the job any easier, but if you have happy people then it gives us a chance and they'll turn up on Monday for training with a smile on their faces."
The win was just the tonic City needed before next Saturday's FA Cup fourth qualifying round match that sees them travel to fellow Conference side Barrow, kick-off 15:00hrs. Manager Harvey is hoping to sign another loan player, a striker, in time for the match with The Bluebirds.

---
YOUTH TEAM MARCH ON

Goals from Sean Breen, Ben Whitcomb, Jack Rea and Cormac Lee gave the youth team a 4-0 win at Thackley tonight in the fourth qualifying round of the FA Youth Cup. After four consecutive away games the boys have now been given a home tie and will face Morecambe in the first round proper at Deva Stadium on Monday 2 November, kick-off 19:00hrs. Morecambe are no strangers to City as they play in same Youth Alliance league as the Blues.

• Youth team fixtures | League table
---
18 October 2009

COULTER SECURES YOUTH TEAM WIN

A goal from Sam Coulter was enough to give the youth team a 1-0 win over Cheshire rivals Macclesfield Town on Saturday.

---
16 October 2009

BLUES UP AGAINST FORMER STAR


City travel to Gateshead tomorrow looking to complete the double over the north east side following a 2-1 win at Deva Stadium a month ago. This will be the club's first-ever visit to the International Stadium. Featuring for the home side will be former City favourite Daryl Clare (left) who has signed a three month loan deal from Mansfield Town. Clare scored 48 goals in just 62 appearances during his time at Chester which helped them win the Conference championship.

Manager Jim Harvey has selection problems ahead of the game. Out are Glenn Rule and Nick Chadwick through suspension, while young defender Kristian Platt is out for several weeks after breaking a leg in an accident at home.

To overcome the current player shortfall it's reported that Harvey has dipped into the loan market to sign Barnsley striker Michael Coulson on a month's contract, the Blues are also hoping to sign two Blackburn Rovers youngsters on a similar deal.

Chester chairman Ian Anderson said: "We have completed the signing of Michael Coulson from Barnsley. And we will complete the loan transfers of Jonathan Flynn and Andy Hayworth from Blackburn Rovers on Friday."
•
Online BBC radio Newcastle match commentary
---
DEVA TO HOST INTERNATIONAL

The Sky Sports Victory Shield international match between England and Northern Ireland under 16s sides will be staged at Deva Stadium on Thursday 5 November. England won their opening match in the competition against Wales 1-0 last night at Yeovil Town. The match will
be televised live on Sky Sports.

• Tournament schedule
---
12 October 2009

FA CUP DRAW

The draw for the fourth qualifying round of the FA Cup was made today and Chester will travel to Conference side Barrow. The tie will be played on Saturday 24 October. City manager Jim Harvey said: "Obviously we were looking for a home match, but the upside is that Barrow are in our division and we know all about them. So they won't pose any surprises. We have a League match a Gateshead on Saturday and then we will turn all our attentions to the Cup trip to Barrow."
---
THREE MATCH BANS FOR CITY PAIR

Both Glenn Rule and Nick Chadwick have received three match bans following their red cards against Rushden & Diamonds on Saturday. The bans are immediate and each player will miss Saturday's trip to Gateshead, the FA Cup match at Barrow and the following home fixture against AFC Wimbledon (unless there is a Barrow replay then the ban would take place then).
---
YOUTH TEAM DRAW

---
9 October 2009

BEESLEY RETURNS ON LOAN


Striker Mark Beesley becomes the latest ex-player to return to Deva Stadium after signing on loan from Cambridge United for a month. Beesley played under current manager Jim Harvey at Forest Green Rovers.

The striker left Deva Stadium after four seasons in 2003 after scoring 36 goals in 92+18 appearances to join Hereford United. He remained at Edgar Street for just one season before moving to Forest Green Rovers in 2004. He remained there until January 2008 before his move to the Abbey Stadium.

Beesley will be allowed to play for City in their FA Cup campaign which starts with a fourth round qualifying match later this month.

Tomorrow City entertain mid-table Rushden & Diamonds at Deva Stadium.

• Online BBC radio match commentary
• Chester hit rock bottom [BBC article by Jonathan Legard]
---
NEW CHAIRMAN IN PLACE

Ian Anderson has been named as the club's new chairman. He has been a member of the board for the last two years.

---
TRAINING GROUND APPLICATION REFUSED

The club have had their plan to develop ground in Deeside Lane (off Sealand Road) into a training ground with three pitches has been refused by Flintshire Council. The plan had also included a mobile classroom on the site.

On refusing the application Ward councillor Christine Jones told the Evening Leader that the local authority would be going against its own policy if the plans were given the go-ahead. "It is against our planning policy to allow mobile offices to be sited in greenbelt areas and this site is right in the middle of a green area. The lane leading down to it is very narrow. There is only room for one vehicle to pass at a time and there are already HGVs and tractors travelling on it regularly, because there is a lot of industry in the area."

---
6 October 2009

HARVEY TAKES CHARGE


The club have announced that Jim Harvey will take over as manager at Deva Stadium until the end of the season. Harvey has previously managed at Morecambe, where he spent 12 seasons and latterly at Forest Green Rovers, where he left two months ago. Harvey, who has a good track record at Conference management, told The Chester Chronicle: "Obviously, it will be a difficult job because of the points deduction. We are going to have to put in some tremendous performances, and get some excellent results to avoid relegation. I have met the players, and we will now prepare for the game against Rushden on Saturday."

"An awful lot of work is going to have to be done to give us that chance, but that's the challenge and it's something that we'll assess and we'll look at as we go along. At this moment in time I wouldn't like to forecast anything more than that."

Harvey's first game in charge will be on Saturday as the Blues entertain mid-table Rushden & Diamonds. Assisting Harvey in his duties will be experienced player Tim Ryan.


---
CITY FANS UNITED

City Fans United hold their inaugural meeting at the Divas Showbar (formerly Royal Mail Social Club) on Station Road, Chester, at 20:00hrs on the 22nd October. All City fans are encouraged to attend, and help steer City back to where they belong.

Supporters can email register@cityfansunited.com for more information.
---
YOUTH TEAM THROUGH

A goal from Ben Whitcomb gave the youth team a 1-0 win in their FA Cup second qualifying round match at Lancaster City last night. The Blues are on the road again in the third round when they will play either Liversage or Thackley on Monday 19 October (19:00hrs).

• Match pictures | Youth team fixtures


---
5 October 2009

POINT NOT ENOUGH FOR CITY

City could only manager a 0-0 draw at Hayes & Yeading United on Saturday despite the home side finishing with only nine players.

Both Rambir Marwa and Scott Fitzgerald saw red but despite this advantage the Blues were unable to register their first away win of the season. City hit the woodwork on three occasions but were thankful that Sean Canham blazed a first half penalty over the bar following a Kevin Roberts challenge on the same player.

• Conference table
---
CUP KO FOR YOUTH TEAM

Despite dominating for must of the tie the youth team were beaten on penalties by Stockport County in the first round of the Youth Alliance Cup on Saturday.

The Blues led through a Ben Whitcomb free-kick only to be pegged back before the interval. A Sam Coulter header after the break looked to have given City a deserved victory only for the home side to draw level deep into added time.

There were no goals in extra-time before the young Blues were finally beaten 5-3 on spot-kicks.

• Match pictures | Youth team fixtures


---
2 October 2009

DUO IN CHARGE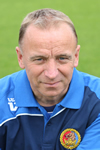 Coach Billy Gerrard (left) and suspended captain Tim Ryan will take charge of the City side tomorrow when they visit Church Road to play the team immediately above them Hayes & Yeading United.

Ryan will miss out after picking up his fifth yellow card of the season in the midweek home defeat by Forest Green Rovers. That defeat cost Mick Wadsworth his job and tomorrow's duo step in while the club hunt for another manager to take on the almost impossible Deva challenge of keeping the side in the Conference.

Also missing tomorrow is defender Chris Lynch who is out for the rest of the season after picking up a cruciate knee ligament injury in the draw at Wrexham on Sunday.

Ahead of the match Ryan said: "There are no easy games in this league and Hayes will be wanting to out-football or out-battle us. They'll want to kick us off the pitch and physically out-strengthen us. Hayes won't be an easy game by any stretch of the imagination, and I've told the players that, and nobody will be going into the game thinking we'll have an easy game. We'll be going into the game full of passion and wanting to win the match."

Hayes & Yeading were promoted from the Conference South last season and have found the going tough so far. In seven attempts they have yet to win at home this season, while City have not won on their travels either.

City's last visit to the west London ground produced a 3-1 win back in August 2001. The goals that day were scored by Dean Spink and a brace from Mark Beesley.

•Conference table
---