---
Tuesday 26 December
Chester 0 Guiseley 2
Football Conference National
Attendance: 1,634 Half Time: 0-2
Sent-off: Rowe-Turner.

Chester: Hornby, Jones, Astles, Rowe-Turner, Hall-Johnson, Dawson, James, Shaw, Gough, White (Archer 65), Hannah (Akintunde 33). Subs: Halls, Mahon, Turnbull.
Guiseley: Maxted, Brown, Palmer, Lawlor, McFadzean, Purver, Lenighan, Fondop (Odejayi 83), Harvey, Crookes, Roberts (Correia 86): Subs not used: Niate, Holden, Hughes.
Referee: Karl Evans.

With Chester still hung over from Saturday's 4-0 thrashing at Halifax, this was seen as another must-win game against fellow strugglers Guiseley. Instead the theme of City's annus horribilis was maintained with another defeat.

Like Chester and the other teams around them the visitors have seen a management change already this season, with Paul Cox taking over, and a subsequent re-shuffling of squad personnel. Guiseley's squad numbers were even higher than Chester's. There was no place in the starting line-up, or even on the bench for ex-Blue John Rooney who seems to have fallen foul of the new regime. Despite all the changes Guiseley arrived on a poor run of form – their last win was in October.

Nevertheless it was the Lions who started the better on the day and – repeating a familiar pattern – pressed City back and began to find space in midfield from which to attack the Blues. After only four minutes Callum McFadzean found space and latched on to the ball centrally, unleashing a left foot shot which flew in to the top corner.

Blues were on the back foot and Guiseley sought to press their advantage further. This they almost did a few minutes later when – with City's defence at sixes and sevens – Gough tried to cut out a cross but only succeeded in heading the ball against a post. Palmer picked up the rebound and seemed certain to score from close range but instead laid it back to Roberts, whose shot was blocked at the last ditch by James Jones and scrambled clear. Chester did not escape so lightly on fifteen minutes when Astles mis-headed a high ball and Roberts bustled past him to hit a strong finish which Hornby could not keep out.

James Roberts' goal celebrations were muted as he remembered his spell here at Chester a couple of years ago in October and November 2015 on loan from Oxford – still his parent club. During that time his younger brother Ben was tragically killed in a car accident and he was granted compassionate leave for a while. Chester held a minute's silence in memory of Ben before the game against Lincoln that season. It seemed the memory of that support was not forgotten and he subdued his celebrations out of respect.

The proverbial mountain for City to climb after conceding two early goals got even steeper when Rowe-Turner received a straight red card from referee Karl Evans after a reckless challenge on Roberts. Ironically though City seemed to play better with ten men. Perhaps it was reverting to a flat back four or maybe Guiseley took their foot off the gas – probably a combination of both. Hannah pulled up with an injury and Chester's misery was just about complete. Akintunde replaced him though and had City's best chance of the match when, just before half time he cut through on the left but could not beat Maxted with an angled shot. The keeper's parried save fell agonisingly out of reach of Kingsley James. White too, turned and shot but straight at the keeper.

After the break both sides went fairly close to scoring - most notably when Purver saw his shot headed off the line by Shaw whilst substitute Archer's header went narrowly wide at the other end. City could not do enough to really test Maxted and so dropped below Guiseley in the table on goal difference as a result of this match.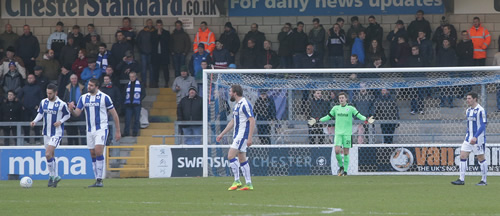 •
Latest table
Rate Chester's performance
---
Saturday 23 December
FC Halifax Town 4 Chester 0
Football Conference National
Attendance: 2,040 (367 Chester) Half Time: 4-0
Booked: Shaw.

FC Halifax Town: Johnson, Moyo, Wilde, Brown, Garner, Clarke, Denton (Waring 90), McManus (Oliver 87), Hibbs, MacDonald (Tomlinson 74), Collins. Subs not used: Duckworth, Nicholson.
Chester: Hornby, Astles, McCombe, Jones, Hall-Johnson (Mahon 46), Gough, Dawson, Shaw, James (White 46), Akintunde, Udoh. Subs not used: Hannah, Halls, Rowe-Turner.
Referee: Glen Hart.

A woeful display from Chester who are thrashed at The Shay and lie six points adrift from safety.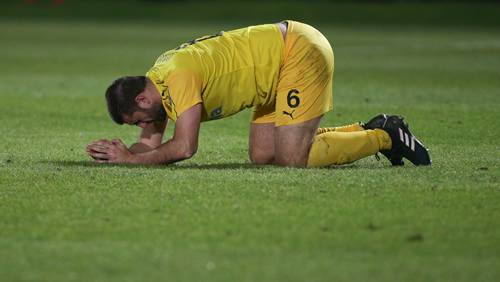 •
Latest table
Rate Chester's performance
---
Saturday 16 December
Chester 2 AFC Fylde 2
FA Trophy Round 1
Score after 90 minutes 1-1, Chester win 5-4 on penalties.
Attendance: 886 Half Time: 0-0
Booked: Hall-Johnson, Hannah, Anderson.

Chester: Hornby, Astles, Anderson, Jones, Hall-Johnson, Gough (Halls 57), Dawson, James, Shaw (Turnbull 76), Hannah, Akintunde (Udoh 82). Subs not used: Lynch, Mahon.
AFC Fylde: R.Taylor, J.Taylor, Mangan (Tasdemir 71), Muldoon (Rowe 76), McCready, Grand, Richards, Blinkhorn (Smith 65), Ezewele, Burke, Edmundson. Subs not used: Montrose, Tunnicliffe.
Referee: Joseph Johnson.

Chester edged past Fylde in this FA Trophy tie – a repeat of the opening League encounter of this campaign. The Blues looked to be closing on a narrow victory in the ninety minutes only for the Coasters to equalise and then take the lead in extra-time. But a Dawson equaliser and five consummate penalties in the subsequent shoot-out saw the hosts through to the next round.

The visitors had run neighbours Wigan close in an FA Cup replay earlier this week and rested one or two of their regulars for this game. Top scorer Danny Rowe was, notably, on the bench.

A cagey first half saw Fylde dominate possession but not threaten unduly. In the second half James' exquisitely threaded pass put Hannah through to round the keeper and open the scoring. The visitors complained it was offside but to no avail. Blues held firm until the dying seconds when substitute Tasdemir nipped the ball off Hall-Johnson and tucked it past Hornby to send the tie into extra time.

There seemed little way back for Chester when, in the first half of extra time, Danny Rowe fired home from ten yards after a deflected right wing cross deceived Hornby and he could only half clear. But within moments City went up the other end, Udoh won a fifty-fifty ball with the keeper and it fell kindly for Dawson to rifle home the equaliser. Daniel Udoh then almost won it for City when his stabbed shot went just the wrong side of the upright.

With the scores level at the end of extra-time the players lined up for a penalty shoot-out at the deserted Clock End. They began with Rowe scoring the first for Fylde. All of the first eight spot kicks were converted, Hannah, James, Astles and Turnbull all scoring for Chester, until it came to the last two. Jonny Smith then missed the target with Fylde's fifth and Halls stepped up sure-footed to send the Blues through. It was as confident a set of penalty kicks as you would want to see – no sign of nerves or lack of confidence at all from City.

A three figure crowd of 886 (Including a fancy-dress snowman with the Coasters' support) had witnessed a highly entertaining tie. Chester faithful – aware that their team is one of a few never to have played at Wembley – can carry on dreaming for a little while longer at least.

Colin Mansley
Rate Chester's performance
---
Saturday 9 December
Chester 1 Solihull Moors 0
Football Conference National
Attendance: 1,430 Half Time: 0-0
Booked: Halls, Shaw.

Chester: Hornby, Halls (Shaw 46), Rowe-Turner, James, Jones, Astles, Dawson, Hall-Johnson, Anderson, Udoh (Hannah 66), Akintunde. Subs not used: Lynch, Bell, Mahon.
Solihull Moors: O'Leary, Bowen (Reckord 79), Carter, Atkinson, Hylton, P Green (Carline 82), Daly, Kelleher, Osborne, Thomas, Afolayan (Asante 58). Subs not used: K Green, Murombedzi.
Referee: Peter Wright.

An army of volunteers had been assembled in the morning to clear the pitch of lying snow. By half time they may have been wondering whether they should have made the effort as Chester struggled against bottom of the table Solihull. The Blues were striving to get used to another new formation as they gave debuts to three players: goalkeeper Sam Hornby, young defender James Jones and Daniel Udoh, a striker. Myles Anderson also made his first appearance at the Deva in a Chester shirt.

Anderson, Astles and Jones formed a central defensive three whilst Rowe-Turner and Hall-Johnson flanked them as wing backs. James and Halls sat in front of the defence and Dawson endeavoured to link the play with Akintunde and Udoh up front. The latter two ended up being isolated for much of the first half and really only came into it as an attacking force when City were able to get the ball wide and the wing-backs forward.

Instead it was the Moors who had more of the possession in City's half and when Jamey Osbourne made inroads down the left and was scythed down by Halls (for which he received a yellow card) as early as the eighth minute – it seemed like the writing was on the wall for the Blues. Osbourne had gone public earlier in the week on his decision to sign for Solihull on loan from Grimsby rather than re-join Marcus Bignot at Chester. He was looking lively - as was another loanee Kwame Thomas.

Solihull, under their third manager of the season in Mark Yates, are fighting for survival just as Chester are and although Blues fans had marked this down as a must-win game, the visitors too will have earmarked this fixture as one to win. Apart from a Halls header straight at the keeper, City had little to show in the first half, but equally, for all their possession, the Moors failed to test Hornby either.

With the introduction of Tom Shaw after the break, the pace of City's play picked up. Dawson mis-hit an effort from the edge of the box, Shaw went closer with a deflected shot, and Chester began to force a number of corners. From one Jones just failed to connect with a header in front of goal. Later as they won another, Blues players queued up and dispersed as Dawson curled another in-swinger from the left. Astles flicked it towards the far post where Hannah popped up to nod it home. Hannah booted the pile of snow behind the goal in exuberant joy, quickly followed by James, Shaw picked a handful up and hurled a snowball to the back of the Harry Mac. The relief was tangible.

There were ten minutes left for City to close out a much needed win. They were helped by a second red card for ex-FGR general Darren Carter and were relieved to see a rasping shot from Osbourne fizz just over the top corner of the goal. Chester held out for an ugly but vital victory. Once again Marcus Bignot led the players to circulate in the Blues Bar afterwards where the drinks tasted much sweeter than a fortnight ago.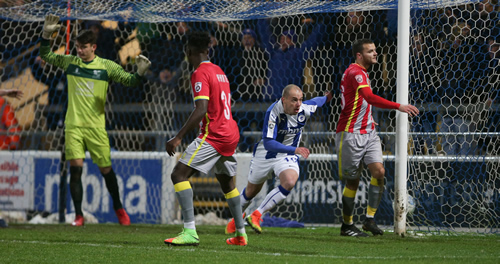 •
Latest table
Rate Chester's performance
---

LATEST NEWS

LOAN SIGNING
Chester have signed 19-year-old left back Lewis Coulton on loan from Preston North End until January.
more »
LAST MATCH

BLUES HELD BY
LATE GOAL
Chester took a two goal lead through Kurt Willoughby and Joe Lynch, but a brace from Alfreton's Tommy Denton, saw the points shared.
more »
CLUB HISTORY

Everything you need to know about the club's history, honours, records and kits. Complete list of fixtures from 1885 and much more.
more »
SUPPORTERS

EXILES BLOG
The Exiles have set up a blog to provide away match information and articles for Blues fans living away from Chester. You can read it here
Exiles » | ISA »