This season, with its premature end of Chester City's football fixtures, the demise of the club and the establishment of the 'phoenix club', was like no other in terms of media coverage.
City Fans United obviously, and rightfully, had a lot of media attention in 2010, but the Exiles still had plenty of coverage during the year.
Following the winding up of Chester City in the High Court in May, the Exiles were directly quoted in at least the Chester Chronicle, the Guardian and the Independent. Exiles committee member David Evans participated in a lengthy interview, live on Sky TV, outside the High Court – albeit in his role as CFU board member.
During the course of the setting up of the new club, we were quoted several times in the Chester Chronicle and the Daily Post.
There were several Exiles members present for the 'game that never was' at Forest Green Rovers in February, and the Chronicle did an article on our experience that night: Chronicle story on Forest Green cancelled match.
We continued with our contributions to the Chester Chronicle's Deva Fever blog, with 13 entries during the season – the last focussing on that fateful outing to Forest Green.
Obviously we could receive no programme publicity after February, but we did get a piece on the Exiles in the following away programmes:
Oxford (August 18)
Luton (August 22)
Salisbury (September 22).
Since the formation of the new club, the Exiles have played a significant part in many aspects of building the new regime.
In terms of sponsorship, the Exiles have been involved in directly selling the new club to potential sponsors and billboard advertisers.
At the start of the fundraising drive for the new club, fewer than a dozen Exiles raised £1,112.13p with a bucket collection at AFC Wimbledon v Wrexham on a very wet March night.

For Exiles Press and Publicity please contact Sue Choularton
Sue Choularton

---
January 2007
PROGRAMME PUBLICITY
Thanks to Chester's programme editor Lee Wilcox for including a piece on the latest exploits of the darts team in the 'Fan News' page in the Bury (December 22) programme. The piece listed our forthcoming matches and included a picture of the darts team at a recent match against Blackpool.
Brentford also included a promotional piece on the Exiles in their December 29 programme, which resulted in one new membership inquiry and three renewals.
Finally, Pauline was recently interviewed on Radio Merseyside about the trials and tribulations of being a long-distance City fan – something we're all familiar with!
---
11 August 2007

WELL DONE ROBERT!
Congratulations to Exiles member Robert Evans who was declared Chester City's 'Super Fan' after winning a Coca-Cola competition to help raise transfer money for the football club. During the summer a total £2197.50 was raised by Chester City supporters of which £561 was raised by Robert from collecting tokens from bottles of Coca Cola. Robert's prize for his efforts was a day out at Deva Stadium with five guests as ball sponsors for the opening game against Chesterfield. Robert also picked up a signed City shirt and football and the chance to meet new manager Bobby Williamson just prior to the kick-off.

---
14 March 2007


Comment from the Chester City Exiles re the proposed name change

News of the proposed change of name to Chester Halton FC reached Exiles Chair, Pauline Meakins just as it was hitting the news stands last week and she quickly alerted other Exiles. "I have not heard of one member in support of the name change,' she said, 'and with a number of City fans now exiled in Wimbledon, dark memories about what happened to Wimbledon FC when it was moved to Milton Keynes have been in the forefront of their minds. This is a very drastic step to get the Council on side and I hope the Chairman will reassure us that there was not a hidden motive. The Club should work more closely with the local fans and the supporters groups to get a better understanding with Chester City Council, he cannot do it on his own."
---
Last season I tried to generate some coverage away from the standard membership promotion, which can get a bit repetitive. We actually received slightly less coverage in away programmes this season – specifically because I think because some felt they'd run our publicity last season and didn't want to run something similar again.
But there was some PR success away from the standard membership promos last season:
| | |
| --- | --- |
| • | August 5 – Chester Chronicle piece on our banner ban by Peterborough. |
| • | January 2 – Evening Leader page two colour pic of Exiles members by the frozen pitch on the day of the Wrexham postponed game. |
| • | April 7 – Pauline was interviewed by Dee 106 on the free transport initiative. |
| • | April 16 – A piece inThe League Paper on our free transport initiative. There may have been more (eg Chronicle, Leader). |
| • | June – Mention of the Exiles in a FourFourTwo feature on Wrexham v Chester. |

We continued with our weekly Fanzine-style page on ITV Teletext p548, although sadly this won't be continuing next season.
---
AWAY PROGRAMMES 2005/06
Thanks to the editors of the following match programmes who gave us a mention last season:
Rushden & Diamonds (including logo); Torquay (including pic); Cambridge United; Shrewsbury (including logo); Leyton Orient; Macclesfield (including logo); Northampton (including pic and logo); Bristol Rovers (including logo).
| | | | | |
| --- | --- | --- | --- | --- |
| | | | | |
| Rushden & Diamonds | Torquay United | Cambridge United (LDV) | Shrewsbury Town | |
| | | | | |
| Macclesfield Town | Northampton Town | Bristol Rovers | Leyton Orient | |
---
TORQUAY PROGRAMME 2006
Sue Choularton has already managed to get two adverts for the Exiles placed in away programmes this season at Bury and Torquay United (see below).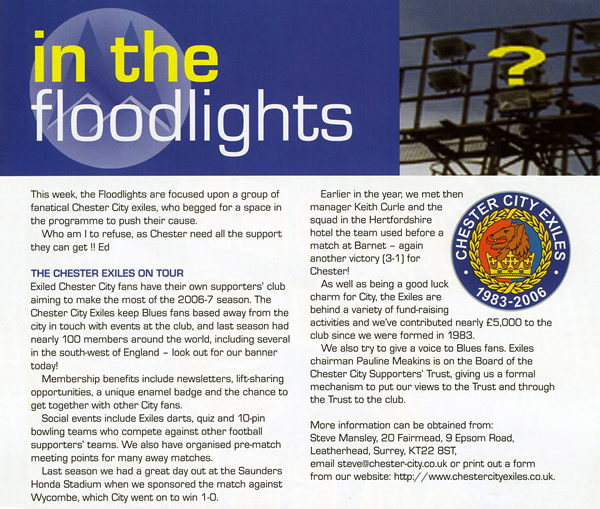 ---
EXILED FANS COME HOME

Whatever the result today, it will be a match to remember for one dedicated group of supporters – the Chester City Exiles, who are sponsoring today's game to help mark their coming of age.
The Exiles, who work to ensure Blues fans living around the world are kept in touch with events at the club, are sponsoring the match as a way of marking 21 years since four exiled fans set up the original Southern Branch of the Supporters' Club in 1983.
The group has since been re-named the Exiles and now has more than 70 members around Britain and the world. There are dozens of them at today's game enjoying the club's sponsorship package, with their special guest, former City goalkeeping her Grenville Millington.
Although the group's main aim is to ensure exiled City fans aren't isolated from fellow supporters, by sending regular newsletters and organising away travel benefits and meeting points, it gets up to a variety of other social and fund-raising activities. Before today's sponsored game, the Exiles had already contributed more than £2,400 to the club in various forms ofsponsorship. Much of this is raised from their annual football prediction competition, which this season has received more than 200 entries.
They've also produced their own memorabilia, provide a unique badge for all members, have organised several 'meet the manager' sessions and even take part in a darts league for southern-based football supporters. The darts season starts again in London on Monday, with Burnley as their first opponents.
One of the Exiles' highlights of last season was when nearly 30 exiled Chester fans gathered in a west London pub to watch the 3-2 home victory against Exeter on Sky TV. It was probably the biggest gathering of Blues fans outside Chester, the landlord must have felt invaded by Cestrians – not that he was complaining!
Other Exiles' activities have included being at the heart of the foundation of the Independent Supporters' Association and Chairman Pauline Meakins is on the Board of the Chester City Supporters' Trust, giving Exiles members a formal mechanism to put their views to the Trust and through the Trust to the club.
The group is also doing their bit to back Wayne Brown's testimonial and today is the deadline for "silent bids" for a unique framed photograph of Wayne, taken by Exiles member and photographer, Giles Park. The 18" by 14" print has been signed by all the players who took part in May's testimonial match. To get your last-minute bid in today, look out for the Exiles at the ground and hand them a slip of paper with your name, address and phone number. The winning bid will be announced after the match.
Anyone interested in joining the Exiles, or signing up an exiled friend or relative as a gift, can find out more information on their website at www.chestercityexiles.co.uk. Also have a look out for membership forms in the club shop. Full and family Exiles membership costs £12 (£15 for non-EU members) and it's £9 for concessions. Contact Steve Mansley, 20 Fairmead, 9 Epsom Road, Leatherhead, Surrey KT22 8ST, or email steve@chestercityexiles.co.uk
---
PRESS AND SPONSORSHIP REPORT 2003/4

The Exiles' 20th birthday and the merchandise we produced, combined with the team's promotion, saw our supporters' group get more publicity than it has had in recent years. This has included:
• Exiles recruitment/promo pieces in nine match programmes – Farnborough Town; Dagenham and Redbridge; Scarborough; Chester City x 2 (both full pages); Aldershot (full page); Forest Green Rovers (including photo); Northwich Victoria; and Woking. Thanks must go to the programme editors involved.
• A double-page photo spread in the Chester Evening Leader on 26 November, 2003. This featured three pictures, taken at the Aldershot and Gravesend away matches, plus our anniversary logo.
• A two-paragraph piece on page 3 of the Non-League Paper on 30 November, 2003.
• A colour picture of Exiles members with our banner (one of those taken at Aldershot) in the Chester Evening Leader promotion special on 21 April, 2004.
• A half-page piece written by our chairman Pauline Meakins in the Chester Chronicle promotion special on 23 April, 2004. This also included a colour picture of members with our banner taken at the Deva Stadium.
• Pauline was also interviewed during Dee 106.3 FM's post-match programme in March, 2004.
Our planned anniversary sponsored game at home against Aldershot on 27 March, 2004, had to be cancelled when the game was re-arranged to a Tuesday night. Despite the best efforts of Pauline and the club's commercial department to find a solution, we had to postpone our sponsored game until next season.
---
WAYNE BROWN TESTIMONIAL
The Exiles were delighted to present Wayne Brown an engraved clock to mark his testimonial game in May. The clock inscribed 'TO WAYNE BROWN, FOR GREAT SAVES AND TRUE LOYALTY, CHESTER CITY EXILES, MAY 2004' was presented to Wayne at half-time.
---
LONG-DISTANCE LOVE AFFAIR
This season the Chester City Exiles are celebrating their 20 year anniversary and there could be no better celebration than to get promoted back into the Football League as Champions.
Like Blues fans everywhere, our world fell apart four seasons ago when we were relegated and although we may not get to see our beloved Blues play as often as local fans, the pain was just as unbearable.
Ironically, the problems that the Club faced in the relegation and following season probably did more to bring the Exiles together then than the previous 16 years! During this time we organized a number of crisis meetings in London and we were sometimes joined by special guests such as the Chester City Supporters Trust Chairman, Graham Ross and Radio 5Live presenter, Jonathan Legard, himself an Exile member. Bizarrely, we also found ourselves, traveling home specially to 'miss' a match during the boycott and join up with home fans on the picket line.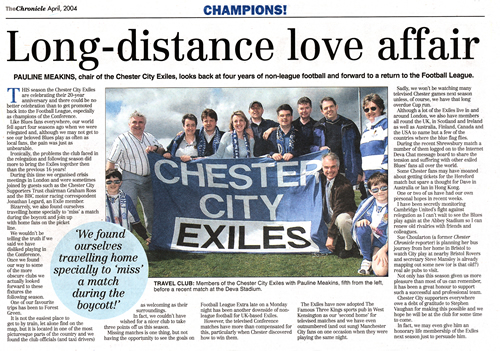 We wouldn't be telling the truth if we said we have disliked playing in the Conference because once we found our way to some of the more obscure clubs we have actually looked forward to these fixtures the following season. One of our favourite trips has been to Forest Green. It is not the easiest place to get to by train, let alone find on the map! But it is located in one of the most picturesque parts of the country and we found the club officials (and taxi drivers) there as welcoming as their surroundings. In fact, we couldn't have wished for a nicer club to take three points of us this season!
Missing matches is one thing but not having the opportunity to see the goals on Football League Extra late on a Monday night has been another downside of non-league football for UK based Exiles. However, the televised Conference matches have more than compensated for this particularly when Chester discovered how to win them! The Exiles have now adopted The Famous Three Kings sports pub in West Kensington as our 'second home' for televised matches and we have even outnumbered (and out sung) Manchester City fans on one occasion when they were playing the same night! Sadly we probably won't be watching many televised Chester games next season unless, of course, we have that long overdue Cup run!
Although a lot of the Exiles live in and around London, we also have members all round the UK, in Scotland and Ireland as well as Australia, Finland, Canada and the US to name but a few of the countries where the blue flag flies. During the recent Shrewsbury match a number of them logged on to the internet Devachat message board to share the tension and suffering with other exiled blues fans all over the world! Some Chester fans may have moaned about getting tickets for the Hereford match but spare a thought for Dave in Australia or Ian in Hong Kong!
As Chester City fans, we have had our fair share of disappointment in the past and we know better than to look ahead at possible Division Three fixtures for next season until it is all over. But one or two of us have had our own personal hopes in recent weeks. I have been secretly monitoring Cambridge United's fight against relegation as I can't wait to see the Blues play again at the Abbey Stadium so I can renew old rivalries with friends and colleagues. Sue C is planning her bus journey from her home in Bristol to watch City play at nearby Bristol Rovers and Secretary, Steve Mansley, is already mapping out some new (or is that old?) real ale pubs to visit.
Not only has this season given us more pleasure than most of us can ever remember, it has been a great honour to support such a successful and professional team. Chester City supporters everywhere owe a debt of gratitude to Steve Vaughan for making all this possible and we hope he will be at the Club for some time to come. In fact, we may even give him an honorary life membership of the Exiles next season just to persuade him!
---
PRESS RELEASES

• Sign Ian Atkins – May 2000
• Graham Barrow sacking, Barrie Hipkiss Deva ban – June 2001