---
Saturday 25 February
Southport 0 Chester 1

Conference Premier
Attendance: 1,496 Half Time 0-0
Booked: Shaw.

Southport: Norman, White, Nolan (McKenna 69), Murray, Allen, Hynes, Jones (Almond 69), Meikle (Grimes 83), Stevenson, McKeown, Higgins. Subs not used: Cundy, Weeks.
Chester: Lynch, Hunt, Hughes, Astles, George (Vassell 46), Horwood (Mahon 83), Lloyd, Shaw (Durrell 55), Joyce, Richards, Alabi. Subs not used: Roberts, Hudson.
Referee: Martin Coy (Durham).

Chester ended their dismal run of four successive defeats with a narrow win at Southport as Evan Horwood's second half goal brought the second victory of 2017.

Manager Jon McCarthy was able to pick Johnny Hunt following his two match ban, he also recalled Kane Richards at the expense of Elliott Durrell who started on the bench. Nearly 500 supporters made the trip from Chester as the Blues looked to avenge the FA Cup defeat to the Sandgrounders back in October.
The Blues came close to opening the scoring on six minutes as Horwood sent through Tom Shaw only for the midfielder to see his shot come back off the post. Moments before Sam Hughes, playing alongside Ryan Astles in defence, blocked an Andrai Jones effort for a corner.

Astles saw a shot blocked form a corner before Hughes was called into action again making a timely tackle to deny Jamie Allen as Southport broke.

Both sides were creating chances, Lindon Meikle saw an effort saved by Alex Lynch and Shaw sent over a tantalising cross across the six yard box that evaded the onushing Alibi and Richards.

The last action of the half saw Richards' header saved by Magnus Norman after being set-up by Wade Joyce.

Liam Hynes saw an effort saved by Lynch as Southport started the second period brightly. Shaw picked up a yellow card and an injury after diving in to stop former Blue Ryan Higgins surging run. At the other end Alabi saw a powerful 25-yarder fly over the bar.

The deadlock was broken in the 67th minute as Lynch's long punt upfield was gathered by Horwood on the left, Norman rushed out of goal and was stranded as Horwood lobbed the 'keeper to find the net.

Southport will count themselves unlucky not to draw level as the struck the crossbar twice in as many minutes as first Liam Haynes and then Jim Stevenson saw efforts bounce back off the woodwork.

Durrell, who had earlier replaced the injured Shaw, found the net only for referee Martin Coy to have already blown his whistle for a foul.

Louis Almond and Hynes both missed chances in the dying minutes as Chester held out for three hard earned points to maintain their mid-table position.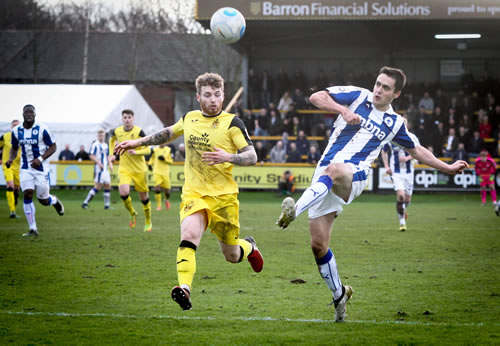 Picture © Rick Matthews (Chester Leader)
Rate Chester's performance
---
Saturday 18 February
Maidstone United 4 Chester 2

Conference Premier
Attendance: 2,120 Half Time 4-0
Booked: Shaw.

Maidstone United: Worgan, Mills, Coyle, Lokko, Lewis, Paxman (Loza 87), Flisher, Prestedge, Nana-Twumasi, Pigott (Taylor 75), Sam-Yorke (McCarthy 89). Subs not used: Acheampong, Odubade.
Chester: Lynch, Horwood, Hughes, Astles, Hudson, Lloyd, Durrell, Joyce (Richards 46), George, Shaw (Killock 46), Alabi. Subs not used: Roberts, Waters, Chapell.
Referee: Carl Brook.



The Chester fans – and possibly the team – were still getting used to the sunny climes and plastic pitch at Maidstone when this game seemed to be over inside five minutes. First an early corner saw Stones defender Kevin Lokko having no trouble finding the net. Then the Chester defence were caught napping from another corner, with Delano Sam-Yorke putting the home side 2-0 up.
With just five minutes gone at that stage, it looked like Chester had too much of an uphill struggle to get anything out of their visit to the Gallagher Stadium. All seemed to be confirmed on the 14th minute when a high Maidstone pass into the box also failed to be cleared by the Blues' defenders. This time it was Joe Piggott who was in the right place to score a third goal for his side.
Chester never looked likely to score at all in the first half, with only a James Alibi effort across the goal coming closest. To make matters worse, Maidstone went four ahead on the 44th minute when poor defending from another corner gave Lokko enough space to score his second goal.
Chester had to change in the second half, and there was a definite improvement after a half-time change saw Kane Richards come on for Wade Joyce and Ross Killock replace Tom Shaw. There was also a move to a 4-4-2 formation, which gave more support to Alibi.
The changes soon paid off when Evan Horwood, who seemed much more at home in the new formation, was fouled in the area. Alabi scored a solid penalty to give the Blues some faint hope on the 52nd minute.
Chester were undoubtedly the dominant team of the second half, with Sam Hughes netting a header from a Ryan Lloyd free kick with 23 minutes of normal time still on the clock. Richards and Alabi both had chances to make it a nervy finish for Maidstone. But it wasn't to be, and the Blues were left regretting the game's opening 14 minutes.
Rate Chester's performance
---
Saturday 11 February
Chester 1 Gateshead 2

Conference Premier
Attendance: 2,095 Half Time 1-1
Booked:

Chester: Roberts, Vassell (Lloyd 26), Hudson, Astles, Hughes, Shaw, George, Joyce, Durrell, Horwood (Richards 67), Alabi. Subs not used: Lynch, Chapell, Killock.
Gateshead: Montgomery, Bolton, G Smith, M Smith, Hogan, Fyfield, York, Johnson (Beere 88), Burrow, Mafuta, McLaughlin. Subs not used: Hanford, Brundle, Bell, Hannant.
Referee: Joseph Johnson.



It's four defeats in five matches for Chester who put in a poor performance for the television cameras on Saturday. Sam Hughes replaced the suspended Johnny Hunt in the only change from the side that battled well during last Saturday's defeat at Dagenham.

The Blues started well with James Alabi forcing an early corner and Tom Shaw firing a shot across goal. The Blues should have opened the scoring in the 12th minute as Elliott Durrell's fine through ball found Shaw in the area but the midfielder could only shoot straight at James Montgomery in the Heed goal from ten yards out.

Danny Johnson and Jordan Burrow both went close for the visitors before Chester opened the scoring in the 31st minute as a far post corner found Luke George, his shot was deflected into the path of Blaine Hudson who game Montgomery no chance from close range.

The lead was short lived as Johnson got the better of Ryan Astles five minutes later before shooting past Liam Roberts who will feel he should have done better to keep out the strike.

The equaliser gave Gateshead a boost and Paddy McLaughlin and Johnson both went close to snatching a second goal just before the half-time interval.

Alabi did well to create a half chance that he saw flash wide across goal before the Heed took the lead on 63 minutes as Burrow shot past Roberts from 12 yards out . Wes York almost added a third with Roberts saving his goal bound effort.

Chester had very little to show in a very disappointing second half, Ryan Lloyd forced a corner with ten minutes remaining but nothing came from Durrell's delivery as the visitors comfortably held out to complete the double over Chester.
Rate Chester's performance
---
Saturday 4 February
Dagenham & Redbridge 3 Chester 2

Conference Premier
Attendance: 1,250 (161 Chester) Half Time 1-0
Booked: Shaw, Astles, Durrell.
Sent-off: Hunt.

Dagenham & Redbridge: Justham, Widdowson, Robson, Raymond (Maguire-Drew 61), Guttridge (Howell 61), Okenabirhie (Benson 76), Hawkins, Boucaud, Whitely, Donnellan, Sheppard. Subs: Cousins, Doe.
Chester: Roberts, Hunt, Vassell, Astles, Hudson, Shaw, George, Joyce, Durrell (O'Brien 90), Horwood (Hughes 75), Alabi. Subs not used: Lynch, Mahon, Waters.
Referee: Alan Young.
Sadly, the age-old cliché of "defeat from the jaws of victory" was being muttered by many of the 161 Chester fans as they trooped out of Dagenham's Chigwell Construction Stadium.
Chester had been 2-1 up with just four minutes of normal time remaining, when the home side scored two late goals to help them move up to runner-up spot in the National League.
It was a great game for a neutral, with Liam Roberts making a penalty save for Chester in the game's opening 10 minutes. This had followed a tackle by Blues' defender Blaine Hudson.
Both sides had a couple of good chances in the first half hour, including Elliott Durrell – who seems a much better performer away from home – having an eye on a repeat of his wonder goal at Boreham Wood. He missed out this time, but was a threatening figure for most of the game.
It was the Daggers who drew the first blood, when Jake Sheppard struck a low shot past Roberts almost on the stroke of the second half. However, the half-time chat amongst the Chester fans housed together in Dagenham's impressive Traditional Builders' Stand centred around the fightback their side would make at the re-start. They were soon proved right when a pass by Wade Joyce came to Luke George who evened the score up on the 50th minute.
Not long after that, Evan Horwood started a great move and laid on a perfect pass for Tom Shaw. His shot was impossible for Dagenham goalkeeper Elliot Justham to stop and it meant Chester had a deserved lead against their hosts.
But the remaining 32 minutes, as well as an extra six minutes of injury time, was a long time for Chester to hold on. Sam Hughes came on for Horwood on the 75th minute, with the balance of the team changing after that.
Soon after the substitution, Tom Shaw was booked and the Blues started looking nervous. A good Dagenham header was goal-bound when Johnny Hunt made a clear handball to keep the ball out of the net. Referee Alan Young had no choice but to send him off, and Corey Whitely then scored from the penalty spot.
Chester still couldn't find their composure, with a booking for Ryan Astles for time wasting adding to the tension. As Dagenham continued to press against Chester's 10-men, the ball fell well for them amongst a crowd of players in the box. Substitute Jordan Maguire-Drew was on hand to score the winning goal on the 90th minute. It was a goal that confirmed Dagenham's promotion hopes and must have shattered Chester's slender play-off ambitions.
Sue Choularton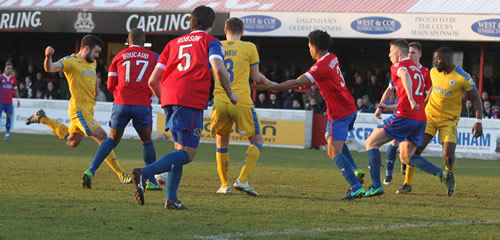 Picture © Rick Matthews (Chester Leader)
Rate Chester's performance
---