---
Saturday 31 January
Welling United 1 Chester 3

Football Conference Premier
Attendance: 619 Half Time 1-2
Booked: Kay, Abbott, McConville.


Welling United: Henly, Williams, Purse, Bush, Fyfield, Healy (St Aimie 75), Gallagher, Duguid, Vine (Corne 54), Harris, Vose (Carmichael 55). Subs not used: Fagan, Zerafa.
Chester: Worsnop, Roberts, Heneghan, Kay (Charnock 62), Higgins, Abbott (Thomson 63), Rooney, Mahon (Richards 77), McConville, Hughes, McBurnie. Subs not used: Viscosi, Touray.
Referee: Christopher Powell (Dorset).
Welling's gluepot of a pitch was never going to make for a showpiece football match, but it didn't stop Chester giving a memorable performance to warm up the freezing away following.
Chester pressed from the off, but it was the Wings who struck first through a Reece Harris strike past Jon Worsnop on the 15th minute. However the Blues, who had already tested goalkeeper Jonathan Henly, didn't let the home side's goal put them off their stride.
Just 12 minutes later, new boys Oliver McBurnie and Ryan Higgins combined well to put Chester back on level pegging. A great Higgins cross found McBurnie's head and the on-loan teenage striker was soon celebrating his first Chester goal.
Most of the Chester fans had gathered in the East Stand, and were taking the force of a bitter East wind. It had got to be one of the coldest away fixtures this season, but the stand temperature moved up a degree or two when Welling midfielder Jake Gallagher was sent off for a foul on McBurnie.
Gallagher was sent off in the same fixture last season, but that saw Welling go on to take the three points from Chester. It was a different story this time around, with Chester going 2-1 up before half-time. Referee Chris Powell said Welling's Karl Duguid had handled in the box and up stepped John Rooney to take a penalty. He gave Henly no chance, and it was Chester who were on the up when they went in for their much-needed half-time cuppa.
The second half saw Chester continue to dominate and the game was soon put beyond Welling. A brilliantly-taken Rooney free kick sailed over the Welling wall and into the bottom right corner.
There were more chances to come for Chester, with both Gareth Roberts and Craig Mahon hitting the woodwork. But they remained two goals in front when referee Powell decided it was time for everyone to head into the warmth, with the Chester fans gaining an extra glow when they realised the Blues were just four points away from the play-offs.

Sue Choularton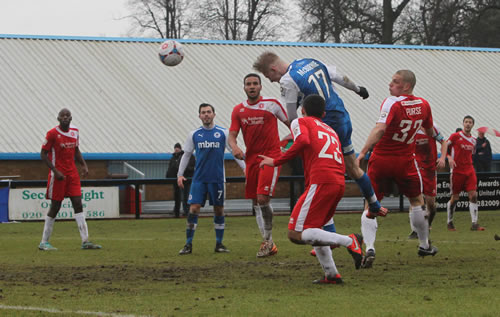 Picture © Rick Matthews (Chester Leader)

• League table after this game | More pictures
Rate Chester's performance
---
Tuesday 27 January
Chester 4 Lincoln City 0

Football Conference Premier
Attendance: 1,569 Half Time 3-0
Booked: Heneghan.


Chester: Worsnop, Higgins, Heneghan, Kay, G.Roberts (Charnock 73), Rooney, Abbott, Mahon (Richards 65), McConville (Thomson 69), Hughes, McBurnie. Subs not used: Viscosi, Hobson.
Lincoln City: Farman, Caprice, Brown, Jordan, Newton, Marshall (Sam-Yorke 80), Power, Mendy, Burrow, Tomlinson, Robinson (Everington 26), Subs not used: Waite, Barr-Rostron, Grant.
Referee: Simon Bennett (Stoke-on-Trent).



Chester recorded back to back victories following the weekend success over Kidderminster Harriers with a convincing win against Lincoln City. Manager Steve Burr made just one change from Saturday with Ben Heneghan replacing the injured Matty Brown, as he did during Saturday's game.

The Blues got off to a great start with John Rooney finding the net after five minutes, his shot off a Matty Hughes cross deflecting past 'keeper Paul Farman off Sean Newton. Chester continued to press the Imps, Farman denied Craig Mahon with a good save and Hughes shot wide before the second goal came on 12 minutes.

Persistent play by Ryan Higgins down the right saw him win the ball at the edge of the box, it broke to Sean McConville who slid his shot under Farman from a narrow angle.

Lincoln's first effort soon came with Nat Brown shooting high over the bar when well placed. The Imps were reduced to ten men as Oliver McBurnie was brought down by Todd Jordan, referee Bennett having no option but to dismiss the Lincoln player.

Chester took full advantage of the extra man and increased their lead on 25 minutes. Higgins picked the ball up on the right before cutting across the edge of the box to unleash a left-foot shot that gave Farman no chance. McConville, Hughes and Rooney all saw chances go wide before the side left to a great half-time ovation.

The Blues continued to press after the break before the visitors were reduced to nine men with the dismissal of captain Alan Power following a challenge that left Mahon rolling in agony.

Within five minutes Brad Abbott made it 4-0 with Farman again beaten from long distance, the on-loan player netting from all of 30 yards to the delight of the Chester faithful behind the goal.

With the points well and truly wrapped up Burr made three changes with Kieran Charnock, George Thomson and Kane Richards and taking to the field as Chester went close to a fifth goal with farman making a fine save to deny Rooney a second goal.


• League table after this game | More pictures


Rate Chester's performance
---
Saturday 24 January
Chester 1 Kidderminster Harriers 0

Football Conference Premier
Attendance: 2,111 Half Time 1-0
Booked: Kay.


Chester: Worsnop, Higgins, Kay, Brown (Heneghan 3), G.Roberts, Rooney (Josh Green 72), Abbott (Thomson 85), Mahon, McConville, Hughes, McBurnie. Subs not used: Viscosi, Richards.
Kidderminster Harriers: Lewis, Hodgkiss (Jake Green 80), Tunnicliffe, Grimes, Nicholson, Byrne, Wildig, Verma, Johnson, Wright, Reffell (Spencer 55). Subs not used: Kelly, Singh, Asante.
Referee: Adrian Holmes (Castleford).



Blues were buoyed by their dealings in the transfer window and a rejuvenated side fought out a splendid win against promotion hopefuls Kidderminster Harriers.

Back in August City had stunned their hosts with a late rally to retrieve a point at Aggborough. Today they began the game with confidence and panache as they passed the ball crisply and created more chances in the first forty-five minutes than in the last half dozen games put together.

Of the new signings, Ollie McBurnie led the line well. His pace and aerial ability made him a real nuisance to defend against. Abbott gave an assured performance in the middle whilst Higgins struggled at times – especially as Harriers upped their game in the second half but nevertheless played his part in a solid defensive display. Chester's rearguard had to cope for all but one of the ninety minutes without centre-back and captain Matty Brown who pulled up with a hamstring strain tracking Danny Wright. Heneghan was given the opportunity to play in his more natural position as his replacement and deputised so well he was awarded Man of the Match at the end.

It was the spritely showing of McConville and Rooney in the first half that provided much of City's forward impetus as they both rediscovered their form of earlier in the season. So too did Craig Mahon and it was a brilliant bit of skill on his part which proved the difference between the sides. Hejinked one way and another on the edge of the box and then chipped a shot over Lewis in the Kidderminster goal to open the scoring on half an hour. McConville might have added another as he rose to meet Mahon's cross at the far post but headed just wide. It was the best of a string of chances that the Blues' magic performance conjured up before the break.

Worsnop had little to do at first but in the second half he became increasingly busy as the game woreon. Harriers fought tigerishly for an equaliser and City soaked up a huge amount of pressure, seeming content to hit the visitors on the break. On a couple of occasions Hughes and McBurnie's pace almost succeeded in undoing them but the end game was dominated by the Harriers. Worsnop was called upon to make a two magnificent saves to preserve City's lead – even managing to hold on to one full-blooded shot from Verma.

A huge cheer greeted the final whistle. After the recent slump this was a much needed win and the fans knew it – they applauded the players to the rafters. There was an equally loud roar when the refreshed Conference Table was displayed on the TV in the Blues Bar. For the first time this season and indeed since we re-formed, albeit having played three games more, City are above that team from twelve miles down the road.


•
League table after this game
Rate Chester's performance
---
Saturday 17 January
Southport 0 Chester 0

Football Conference Premier
Attendance: 1,894 (740 Chester) Half Time 0-0
Booked: Brown. Sent-off: James.


Southport: Burton, Parry, Fitzpatrick, Collins, Foster, George, Kay, Bakayoko (Marsden 63), Joyce (Brodie 62), Rutherford, Hattersley. Subs not used: Lloyd-Weston, Brodie, Connor, Smith.
Chester: Worsnop, Higgins, Brown, Kay, Roberts, McConville, James, Mahon (Richards 67), Abbott (Rooney 72), Hughes, Peers (Green 83). Subs not used: Viscosi, Heneghan.
Referee: Wayne Barratt (Bromsgrove).



Both sides finished the game with ten men as Kingsley James and Richard Brodie saw red in the final minutes. Manager Steve Burr brought in three two new and one not so new face into the side with Ryan Higgins, Brad Abbott and Matty Hughes making the starting X1.

On-loan Callum Burton in the Sandgrounders goal was the busier of the two keepers in the opening period making a couple of saves from Sean McConville and rushing out smother a through ball and deny Hughes an effort on goal.

Against the run of play Danny Hattersley had the ball in the net following build-up play from ex-Chester player Paul Rutherford but referee Wayne Barrett ruled the effort out for offside.

Chester continued to have the better of the first half half with Gareth Roberts putting and effort wide and McConville shooting over from the edge of the box.

David Fitzpatrick almost gave Chester a half time lead as be back headed a long clearance past his own 'keeper and just wide of his own post.

James saw an effort got just over the bar moments after the break. Burton produced another save to deny Mahon before the home side began to get back into the game. Worsnop saved well from Richard Brodie and was on hand to deny Brodie again the the final minute as the home side pressed for the winner.

In the final minute Brodie fell to the ground in the box with Barratt waving play on, however James rushed in and pushed the striker back over and received a straight red card for his act of madness. Moments later Brodie followed him down the tunnel after a rash tackle on Ryan Higgins brought him a second yellow card.

The final effort of the game went to Danny Hattersley who turned and shot inches wide of Worsnop's post.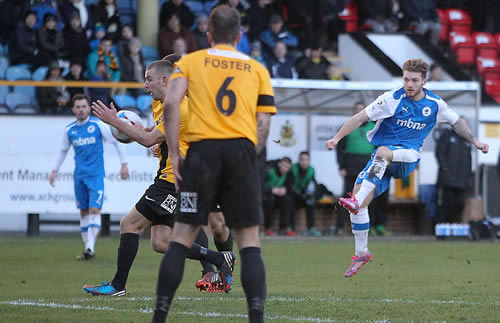 •
League table after this game
| More pictures


Rate Chester's performance
---
Sunday 4 January
Chester 2 Braintree Town 3

Football Conference Premier
Attendance: 1,690 Half Time 1-0
Booked: Heneghan.


Chester: Worsnop, Heneghan, Brown, Charnock, G.Roberts, Mahon, James, Kay (Peers 55), Rooney, McConville, Hobson (Richards 59). Subs not used: Greenop, Blake, Riley.
Braintree Town: Hamann, Brundle, Clerima, Massey, Habergham, Paine, Davies, Isaac (Sparkes 31), Mulley, Cox (Marks 77), Akinola (Walker 83). Subs: Strutton, Pentney.
Referee: Ben Toner (Darwen).



Chester's miserable start to 2015 was compounded with a second successive home defeat. They lost by the odd goal in five to the Iron who gained revenge for City's first win of the season at their expense back in August.

New signings Higgins and Green were ineligible to start the game and so the Blues team almost picked itself. Michael Kay, however, seemed to be given a different role this afternoon, playing alongside Kingsley James to the left of midfield. Heneghan resumed at right back.

The game was a stodgy affair with both sides struggling to dominate possession and string passes together. The visitors' physical presence was announced when central striker Cox gratuitously barged into the back of Charnock as the ball was heading harmlessly out of play. There was a brief flurry of chances at either end when first Worsnop could only parry a shot and a couple of Braintree forwards only just failed to take advantage of a very hesitant City defence. Then Heneghan fired wide when the ball had sat up nicely for him following a fumble by Hamann the Iron's keeper.

As half time approached, Kingsley James broke forward and opted to feed the ball through to McConville. The Blues' forward turned to make space and fired first time, his shot benefiting from a slight deflection off a defender as it whizzed past Hamann into the net.

A fairly dire first half was redeemed by a lead for City, but ten minutes into the second half they were behind after some sloppy defending. First Worsnop punched the ball weakly to the edge of the area and Davis returned the ball just under the bar – despite the attempt of a defender to head it clear. Worse followed when Sparkes found plenty of space down the left to hang the ball up at the far post for Cox to nod in with ease.

Blues chased the game with Kingsley James working hard to win possession and prompt some attacking forays. Mahon had promising possession on the left and threatened on a number of occasions but as the game wore on Braintree were alive to the danger and made sure he was quickly closed down – often by a couple of defenders. Peers and Richards came on to lend much needed freshness to City's forward play. The latter was often isolated on the left but Peers began to threaten. His header was tipped over the bar by Hamann.

From the resulting corner, Rooney picked out Matty Brown exquisitely and City's captain powered a headed equaliser into the back of the net. A quarter of an hour remained for the Blues to go in search of a winner but infuriatingly they were behind again within a minute. Once more Sparkes had far too much space on the left and his driven cross was met by Cox. The centre-forward's first effort was saved by Worsnop but not the follow-up.

The goal knocked the stuffing out of City and their supporters but gradually the Blues came back to threaten again. Rooney's free kick was just tipped over and from the corner Charnock headed narrowly over. A frustrating evening ended with a jaded looking Blues' side trudging from the pitch. Three points out of the last fifteen is a worrying loss of form for City who seem in need of a rest. They will get a prolonged break now until they visit Southport on the seventeenth.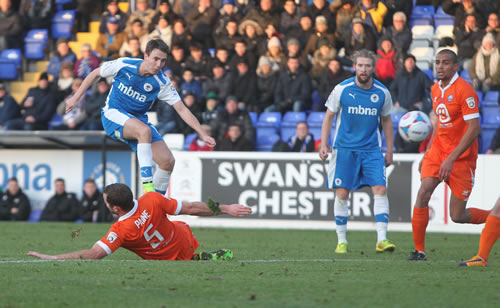 • League table after this game | More pictures


Rate Chester's performance
---
Thursday 1 January
Altrincham 4 Chester 1

Football Conference Premier
Attendance: 1,840 (512 Chester) Half Time 2-1
Booked: Richards, McConville. Sent-off: Touray.


Altrincham: Coburn, Densmore, Marshall, Havern, Griffin, Cavanagh, Moult (Williams 74), Clee, Richman, Crowther, Reeves. Subs not used: Leather, Gillespie, Perry, Parton.
Chester: Worsnop, Heneghan, Brown, Charnock, Touray, James, Rooney, Menagh (G.Roberts 59), McConville (Mahon 65), Richards, Hobson (Peers 52). Subs not used: C.Roberts, Kay.
Referee: Martin Coy (County Durham).



Altrincham completed a comfortable festive double over lackluster Chester who, with an unchanged side, failed miserably to follow up their fine win at FC Halifax Town. The home side made the better start and Matty Brown denied Damian Reeves with a block on the six yard line in the early stages before a poor clearance from Jon Worsnop set up Nicky Clee for the opening goal on just 10 minutes shooting into an empty net from 30 yards out.
Seven minutes later Alty doubled their advantage as Clee fed Reeves who chipped over the advancing Worsnop from the edge of the box. John Rooney responded with a shot that slipped just wide and the same played flashed another shot wide of goal before finding the net in the 28th minute as he curled a free-kick round the wall and past a motionless Stuart Coburn in the home goal.
Chester came more into the game and were denied an equaliser on the stroke of half-time as Jamie Menagh saw a goalbound effort cleared off the line.
Worsnop made two good saves after the restart to keep Chester in the game, first denying Ryan Crowther from ten yards and then pushing a Clee piledriver round the post to safety.

Chester made life difficult for themselves in the 56th minute as Ibou Touray was shown a straight red card for a challenge on goalscorer Clee. Six minutes later Altrincham took advantage of their extra man as Reeves pounced on a mistake by Kingsley James, who'd failed to clear the danger, to score from ten yards.
Coburn saved from a fine Brown header before the home side wrapped up the points with a fourth goal in the 67th minute as Clee beat Worsnop from 15 yards out. Reeves should have completed a hat-trick seven minutes from time but he blazed over from close range.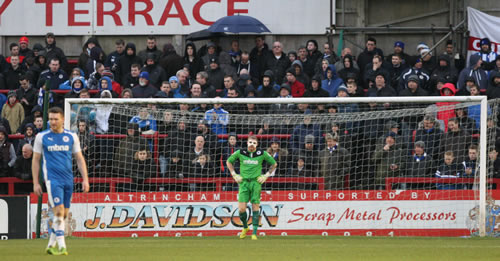 Picture © Rick Matthews (Chester Leader)

• League table after this game | More pictures
Rate Chester's performance
---