---
Saturday 27 January
Maidenhead United 3 Chester 0
Football Conference National
Attendance: 1,510 Half Time: 3-0
Booked: White, Crawford.
Sent-off: Jones.

Maidenhead United: Pentney, Clerima, Steer, Odametey, Massey, Comley (Smith 67), Marks, Barratt (Hyde 73), Pritchard, Upward, Goodman. Subs not used: Owusu, Clifton, Peters.
Chester: Hornby, Halls, Astles, Jones, Rowe-Turner, Dawson (McCombe 13), James, Crawford, Mahon, Akintunde (Archer 46), White (Brown 80): Subs not used: Firth, Hellawell.
Referee: Carl Brook.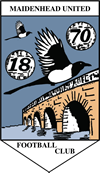 It's been a while since there was a game in which it felt like the pre-match activity was more important than the game itself, but after a CFU meeting less than 48 hours earlier revealed the club's funds had almost run out, it was back to waving buckets and planning fundraising initiatives.
After a handful of Chester fans paid a quick visit to the excellent community-owned Craufurd Arms in North Maidenhead, it was onto the serious business in The Bell, which was handy for Maidenhead's historic York Road ground. The envelopes passed around there before and after the game, as well as in the ground itself, raised more than £650 in much-needed cash.
So onto the game itself, which I'm sorry to report followed a familiar pattern of my recent matches. Chester went behind in the opening spell, never came back from it, and seemed to have no realistic chance of winning throughout.
In a bit more detail, the two teams were evenly matched on a cold and wet day until James Jones was sent off for apparently fouling Maidenhead's Sean Marks in the area on the 10th minute. Harry Pritchard sent Sam Hornby the wrong way and Chester were already behind.
The 10-man Blues had barely recovered from that when Pritchard scored again following a neat interchange with Marks. Chester tried to come back into it, and Tom Crawford was unlucky to miss with a great free kick which just went over the crossbar.
His effort was to prove to be Chester's best chance of the game and there was no chance of coming back when the home side went 3-0 ahead on the 35th minute with a good strike from Sam Barrett.
The second half was largely insignificant as everyone knew the result was not going to alter. It was heartening to see a good Chester turnout, with estimates of the away attendance in an unsegregated crowd ranging from 200-450. Those fans will have to stick behind their team as performances like that mean tough times are ahead in the final stages of the season.
•
Latest table
Rate Chester's performance
---
Tuesday 23 January
Chester 1 Hartlepool United 1
Football Conference National
Attendance: 1,421 Half Time: 0-0
Booked: James.

Chester: Hornby, Halls, Rowe-Turner, James, Astles, Mahon, White, Dawson (Archer 65), Jones, Akintunde, Crawford. Subs not used: Lynch, McCombe, Joyce, Brown.
Hartlepool United: Loach, Magnay, Adams, Featherstone, Cassidy, Woods, Deverdics, Hawkins, Rodney, Donnelly, Laing. Subs not used: Harrison, Munns, Hawkes, Newton, Adeloye.
Referee: Joe Hull.



Chester looking to bounce back from the recent disappointing display against Gateshead started well forcing a corner in the opening 30 seconds and seeing a Craig Mahon shot fly over the bar as they looked to put the pressure on Hartlepool.

The visitors saw a Lewis Hawkins shot deflected into the safe hands of Sam Hornby. Youngster Tom Crawford needed treatment following a robust challenge on Jake Cassidy, before Mahon again tried his luck from 20 yards only to see his effort drift wide.
A last ditch tackle by Louis Laing prevented Harry White from a clear goalscoring opportunity following a fine Mahon through ball.

Devante Rodney forced a great full length save from Hornby pushing the Pools striker's 30-yarder round the post.

As half-time approached Scott Loach pulled of a couple of saves to deny Chester a lead, first he pushed a James Jones effort round the post for a corner before saving at close range as Jones met the flag kick.

And Loach was on hand again as Kingsley James saw an effort from 12 yards saved on the stroke of half-time.
James Akintunde picked up a White through ball to race through on goal only to be cynically tripped by Laing who received a yellow card for his efforts. Lucas Dawson sent the resulting free-kick over.
Jones was on hand to deny Rodney as he bore down on goal following a mistake from Lathaniel Rowe-Turner.

Hartlepool took the lead on 62 minutes as Chester failed to clear a corner allowing Michael Woods to score from four yards out.

Hornby did well to save a Deverdics shot that had taken a deflection off Jones. With 13 minutes left Chester grabbed the equaliser as White picked up an Akintunde pass before surging through on goal and giving Loach no chance with his shot high into the net.

• Latest table
Rate Chester's performance
---
Saturday 20 January
Chester 1 Gateshead 3
Football Conference National
Attendance: 1,580 Half Time: 0-2
Booked: Murombedzi, White.

Chester: Hornby, Murombedzi (Mahon 46), Jones, Astles, Gough, Halls, James, Turnbull, Dawson (Crawford 46), White, Akintunde. Subs not used: Lynch, Rowe-Turner, McCombe.
Gateshead: Hanford, Vassell, Barrow, Byrne, Fyfield, York (Kerr 76), Burrow, Preston, McLaughlin, Penn, Fox. Subs not used: Macleod, O'Donnell, Bell, McNall.
Referee: Alan Dale.



Chester's chances of surviving the drop were dealt another blow on Saturday with another home defeat as Gateshead ran out comfortable 3-1 winners.

A minute's applase for former player Cyrille Regis who died earlier in the week was held prior to the kick-off.

The Heed hadn't won since November but scored two goals in the final minute of the first half to take the game away from the Blues. Debutandt Shepherd Murombedzi sent Harry White through on goal in the opening five minutes though the striker's effort was blocked for a corner. White missed another effort fom eight yards after playing a one-two with Kingsley James as Chester pressed.

Scott Barrow saw a long-range effort fly wide for the visitors and moments later Ryan Astles almost gave Chester the lead as he saw his half volley crash back off the post after Lucas Dawson and White had set up the defender.
A double block by Sam Hornby and White prevented Neil Byrne giving Gateshead the lead following a 41st minute corner but moments later Paddy McLaughlin smashed the ball home from 12 yards to open the scoring on the stroke of half-time. With the game entering first half stoppage time Heed doubled their lead as Jordan Burrow turned Astles following Wes York's cross to strike low past Hornby.
Chester found themselves three down just seven minutes after the break as james Preston took advantage of a slip by substitute Craig Mahon to score from 20 yards. Preston had the ball in the net agan but was flagged for offside.
White pulled a goal back on 69 minutes finishing well from a Jordan Gough cross, and the striker blazed over on another break with Kingsley James better placed.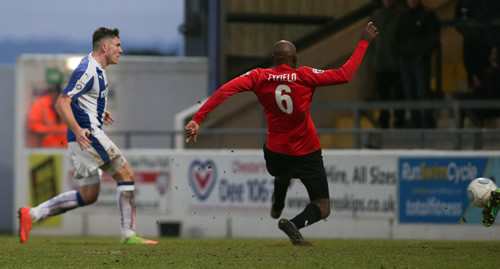 Picture © Rick Matthews (Chester Leader)

• Latest table
Rate Chester's performance
---
Saturday 13 January
East Thurrock United 1 Chester 0
FA Trophy Round Two
Attendance: 347 Half Time: 1-0
Sent-off: Roberts.

East Thurrock United: Lidakevicius, Sammons, Clark, Burns, M.Ekpiteta, Phipps, Agyemang (White 71), Cornhill, Higgins, C.Ekpiteta (Harris 59), Smith. Subs not used: Honesty, Knott, Marlow.
Chester: Hornby, James, Jones, Astles, Gough, Dawson (Roberts 71), Shaw (Mahon 62), Turnbull (Rowe-Turner 46), Hannah, Akintunde, White: Subs not used: Lynch, Roberts, Crawford, Mahon.
Referee: David Rock.



Chester made a dismal attempt to reach the third round of the FA Trophy with a disappointing performance on their first ever visit to the Rookery Hill home of National League South East Thurrock United.
The Blues ran out to a ground which was reminiscent of their EvoStik days, complete with free sausage rolls and spuds for the fans who'd travelled down to this surprisingly scenic part of Corringham. Some of those who swerved the complimentary fare had a pleasant stroll through the 11th century churchyard next door on their way to a drink and a pre-match chat in the 500-year-old Bull pub.
The tourist trail complete, it was into the ground for the game. Chester manager Marcus Bignot made one change since the draw against Fylde, with Ross Hannah replacing injured Reece Hall-Johnson in the starting line-up.
Chester had the best of the first 10 minutes, with Hannah and Ryan Astles both squandering what proved to be rare opportunities for the Blues. But East Thurrock soon realised their Conference National opponents weren't out of their league and the match began to turn. Chester goalkeeper Sam Hornby made a good save from a Sam Higgins' free kick, boosting the growing confidence of the home side.
It was no surprise when East Thurrock went 1-0 up after the Chester defence were caught napping and Calvin Epiteta found the net from a great cross. The rest of the first half meandered on without any side making much of an impression, and Chester looking worryingly unlikely to conjure up an equaliser.
The second half introduction of Craig Mahon did give Chester some more sparkle, but it was down to Hornby to keep his side in the match with another top-notch save. Another substitute - in the shape of hometown boy Gary Roberts making his Chester debut - did make a dramatic impact following his appearance on the 70th minute.
First Roberts laid on a sublime pass to Hannah, which the striker squandered by failing to beat Lucas Lidakevicius. Then he was sent off after a reckless midfield challenge on the 80th minute. Blues fans were left open-mouthed that their local hero had lasted just 10 minutes on the field, and there was no real way back on the Wembley road after that. It was a deserved win for East Thurrock and disappointing to see the Blues miss out on some much-needed prize money.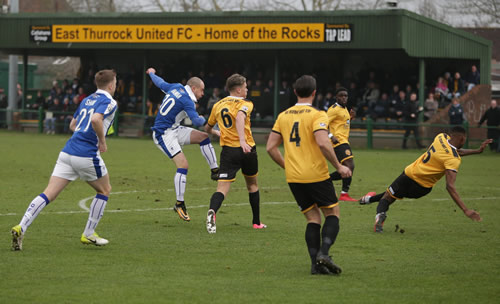 Rate Chester's performance
---
Tuesday 9 January
AFC Fylde 1 Chester 1
Football Conference National
Attendance: 1,531 Half Time: 0-0
Booked: Hall-Johnson.

AFC Fylde: Lynch, Montrose, Francis-Angol, Tunnicliffe, Finley, Rowe, Muldoon (Blinkhorn 79), Grand, Richards, Smith (Tasdemir 63), Chettle (Bond 74). Subs not used: Burke, Stubbs.
Chester: Hornby, James, Astles, Turnbull (Hannah 61), White, Dawson, Jones, Akintunde, Shaw, Hall-Johnson, Gough. Subs not used: Lynch, Mahon, Crawford, Roberts.
Referee: Matt Donohue.



Harry White found the net again as the Blues came from behind to earn another priceless point at AFC Fylde.
Young defender James Jones started instead of the suspended Andy Halls and that was the only change from the side that picked up three points at Ebbsfleet on Saturday.
The home side started well with dangerman Danny Rowe forcing a save from Sam Hornby after just three minutes with Astles clearing the danger from the subsequent corner. It wasn't all Fylde through and a quick break by Kingsley James saw his dangerous cross headed clear by Jordan Tunicliffe before White could get on the end of it.
A quick Paul Turnbull free kick found james Akintunde in space, he squared for Astles who in turn set up Jones ten yards out but his mis-hit effort went straight to goalkeeper Jay Lynch.
A last ditch tackle from Tom Shaw denied Smith a run through on goal and another late intervention from Jordan Gough denied Rowe a goalscoring chance.
Astles saw an effort from a Turnbull corner go straight at Lynch as Chester started the second period brightly.
Despite the Blues having the better of the second period, Rowe gave the home side the lead on && minutes glancing home a corner giving Hornby no chance. The Blues 'keeper did well to save from Zaine Francis-Angol's long-range effort moments later.
Chester deservedly drew level on 69 minutes, Ross Hannah intercepted a poor Simon Grand backpass, he should have converted by Lynch smothered his shot, fortunately the ball broke to White who slotted it home to the delight of the travelling support.
The Blues almost grabbed a winner five minutes from time as Akintunde raced clear down the right, he pulled the ball back for Reece hall-Johnson but his effort was saved by Lynch.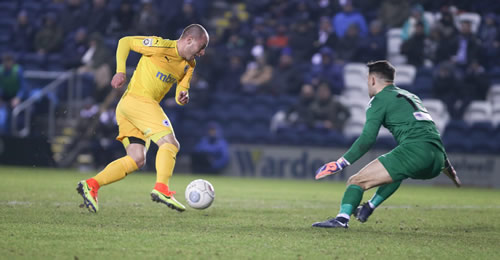 Picture © Rick Matthews (Chester Leader)

• Latest table
Rate Chester's performance
---
Saturday 6 January
Ebbsfleet United 0 Chester 1
Football Conference National
Attendance: 1,389 Half Time: 0-1
Booked: Halls, Hannah.

Ebbsfleet United: Ashmore, Winfield, Clark, Powell, Drury, Weston, Shields, Magri (Bubb 46), Coulson (Payne 64), Bush, Kedwell. Subs not used: McCoy, Rance, Jordan.
Chester: Hornby, Halls, Astles, Gough, Hall-Johnson, James, Dawson, Turnbull, Shaw, Akintunde (Hannah 61), White. Subs not used: Lynch, Bell, Jones, Udoh.
Referee: Alan Young.



Chester produced a dogged defensive display as Harry White scored the only goal of the game to pick up three vital points at Ebbsfleet United.

Manager Marcus Bignot made one change from the side that was second away from winning at Guiseley on New Years Day, bringing in Tom Shaw for John McCombe. Goalkeeper Sam Hornby was straight into the action in the opening minutes collecting Myles Weston shot from the edge of the box.

Striker Danny Kedwell was proving a handful for the Blues defence, forcing Hornby into another save from a glancing header. White had the ball in the net on 12 minutes but unfortunately Kingsley James had been flagged for offside in the build up.

Andy Halls picked up his tenth yellow card of the season as he brought down Weston as he was heading clear through on goal.

On 21 minutes the Blues struck as James Akintunde fed White who saw goalkeeper Nathan Ashmore off his line and curled a shot past him from 30 yards out to open the scoring.
Hornby produced a series of saves as Ebbsfleet pushed for an equaliser, Sam Magri, Sean Shields and Kedwell all saw efforts saved and both Ryan Astles and James were on hand to deny Kedwell on two occasions.
White flashed a shot over the bar just after the start to the second period, the striker almost doubled the lead on 65 minutes picking up a James through ball, beating Clark, before sending a shot towards the corner of the net that Ashmore did well to save with one hand, though Akintunde was unable to convert the loose ball.
Reece Hall-Johnson made a couple of fine tackles to deny Fleet and Jack Powell saw a shot curl just over from a free-kick. The final effort of the game fell to Kedwell two minutes from time who saw Hornby make a superb one handed save to keep out the striker's header.

The home side were reduced to ten men in the final minutes as substitute Bradley Bubb saw red for a late tackle on Paul Turnbull.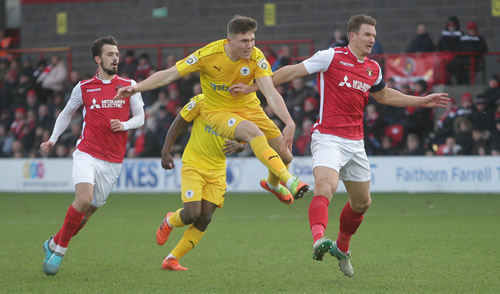 Picture © Rick Matthews (Chester Leader)

• Latest table
Rate Chester's performance
---
Monday 1 January
Guiseley 1 Chester 1
Football Conference National
Attendance: 885 Half Time: 0-0
Booked: Halls, Udoh.

Guiseley: Maxted, Brown, Palmer, Lawlor (Koue Niate 43), McFadzean, Purver, Lenighan (Odejayi 65), Liburd, Harvey, Crookes, Roberts. Subs not used: Odejayi, Hughes, Sheppard.
Chester: Hornby, Halls, McCombe, Astles, Turnbull, Dawson (Shaw 87), Hall-Johnson, Gough, James, Akintunde (Mahon 84), White (Udoh 72). Subs not used: Lynch, Jones.
Referee: Matthew Diciccio.



Chester manager Marcus Bignot made four changes to the side beaten by Guiseley on Boxing Day, as John McCombe, Andy Halls, Paul Turnbull and James Akintunde came in to replace James Jones, Tom Shaw the injured Ross Hannah and suspended Lathaniel Rowe-Turner who was sent off in the home match.

The Lions started the better but it was Paul Turnbull who had the first chance of the match in the opening ten minutes firing wide from 20 yards. James Akintunde saw two half efforts cleared before Rowan Liburd hit the crossbar with Sam Hornby well beaten after the home player had shrugged off a Ryan Astles challenge.

Roberts curled a free kick just over following a foul on the edge of the box by Harry White as the home side continued to press.

Astles thought he had given Chester the lead after he stabbed the ball home at the far post following an out swinging corner but his efforts was ruled out by the referee for a foul on 'keeper Maxted.

On the hour mark the Blues did take the lead, Lucas Dawson's through ball was held up by Akintunde who slipped a pass to Kingsley James to fire home into the bottom corner.

Hornby produced a great save to deny Mike Fondop's header with six minutes remaining as Guiseley put the Blues under pressure.

As the game entered stoppage time MacFadzeanv's long throw into the box wasn't cleared by the Blues defence and Ash Palmer was on hand to equalise from close range for the home side and deny Chester two crucial points.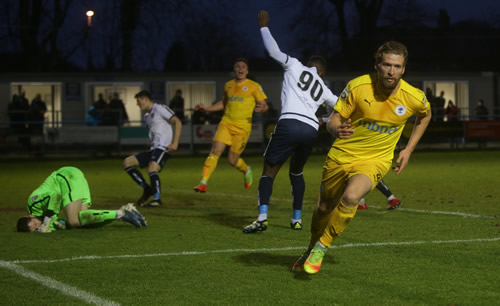 •
Latest table
Rate Chester's performance
---