31 July 1998
CLUB FOR SALE
Chairman Mark Guterman has put his 94% shareholding in the football club up for sale. A notice appears on page 15 of today's Financial Times and reads:
Chester City Football Club Ltd.
A unique opportunity to acquire 94% of this Third Division Club.
Contact: M S Guterman – Chairman, Box B6008, Financial Times, One Southwark Bridge, London SE1 9HL.
This news comes on the back of a difficult two weeks at the club. We have seen the manager paying the water bill, an emergency meeting called of the minority shareholders, a new company being formed by a local consortium to step in should the club go into administration, and the threat of a players strike on the eve of the biggest game at the Deva for years. It's obvious that the chairman is going to want to recoup as much money as possible from the sale, but, once again the lack of any published accounts for three years will no doubt be a major concern to any prospective buyer. The consortium headed by David Pickering have made it clear that they are unwilling to take on the debt that the football club currently has, rumoured to be up to 500,000k.
Guterman went on the offensive: "The past six months have tortuous for me, not only financially but personally," he said. "The current situation has caused disruption of my family life and a constant drain on my personal resources. During the close season we have successfully re-structured the club, brought in five excellent players and, I believe, we now have a Chester City squad which is the best for many a year. It is all the more galling that when everything is geared for the future, I find that I have to come to this decision to sell the club. Bogus shareholder's meetings, mischievous approaches to club sponsors and a negative press campaign from a so called consortium have all led me to this decision."
On hearing the news David Pickering commented: "It is sensible for him to move on. It is obvious he has been running short of money and it is time to let someone else have a go. I will be responding to the Financial Times advert to request more information."
---
CROSS SIGNS
Jonathan Cross has now signed for Chester City. He becomes the fifth signing made be Kevin Ratcliffe during the summer. Matt Woods has also agreed new terms after being on a weekly contract during the summer.
---
29 July 1998
OPEN DAY CANCELLED
The Deva Stadium open day planned for Sunday morning has been cancelled. The event described last year as a "massive success" by the then chief executive Bill Wingrove was attended by 1,500 people. No explanation has yet been given for the cancellation, but once again it's the supporters, and especially the children, who miss out on a chance to meet the players and view the facilities. I would have thought the extra revenue from sales of new shirts etc through the club shop would have been welcomed as well!
---
REID RARING TO GO
Shaun Reid successfully came through 35 minutes of a youth team match at Everton on Saturday and is raring to get back to league action with City. The battling midfielder said "My fitness is quite good and I shouldn't have any problems lasting 90 minutes. As far as the knee is concerned I won't have to do anything to protect it. I went for some tests at Gobowen and they found that the knee I damaged is actually stronger than the other one because of all the work I've been doing on it."

Supporters will be hoping that Reid's recovery is now complete. Having him back is a great boost to the squad who have so far shaped up well during their pre-season games. Reid may feature in tomorrow night's friendly at Runcorn that will feature a mixture of first teamers and reserves.
---
28 July 1998
FANS VOTE WITH THEIR FEET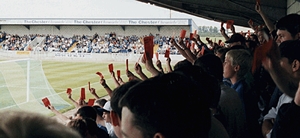 The inaugural meeting of the Chester City Independent Supporters Association was a resounding success. Close on 250 people turned up to a packed Cross Keys on Monday night to pledge their support for the newly formed organisation.

Around 120 fans joined up on the night, and others are urged to sign up to give the fans a real voice through these troubled times.

A successful Red Card campaign was staged at Saturday's game when hundreds of City's fans showed their dissatisfaction at the running of the club. More news of the meeting will appear on the ISA pages in the next day or so.
---
GUTERMAN IN TALKS
Chairman Mark Guterman held talks yesterday morning with David Pickering chairman of what's now been known as 'the local consortium' with an interest in securing the long-term future of the football club. Mr Pickering and former general manager Bill Wingrove met at Mr Guterman's Manchester home for talks. Guterman has agreed to produce details of the club's assets and liabilities to the consortium by the end of this week. It is clear that there will be no movement or possible offer until these details have been scrutinised.
David Pickering warned fans that things will probably get worse before they get better but said: "It was an amicable meeting meeting and is crucial in the evolution of Chester City. The ownership of Chester City Football Club could be in the hands of the people of Chester in a couple of months."
Guterman wasn't present for Saturday's showpiece friendly against Everton. Saturday's game only went ahead after the chairman paid outstanding wages in cash at 12.30pm (rumoured to be at a motorway service station). City's PFA rep Nick Richardson commented: "If the money hadn't been paid then a decision on whether we would have played would have been made as and when it was necessary. It was one of the biggest games we've had at the ground and it's unfortunate that this had to happen. But the fact it was such a big game added extra weight to the threat of a boycott. Throughout all this I was in touch with the PFA and they have advised us accordingly. I hope we don't have to consider anything like this in the future. It is the wish of all the payers that this situation never arises again." I think we'll all agree with that!
Tonight speaking on radio Merseyside where he was at Vale Park watching Port Vale v Everton, Guterman totally denied all stories regarding the payment of the wages on Saturday, the way they were paid, the amount involved etc. He insisted "The club won't go bust".
Meanwhle injured trio Alex Smith, Nick Richardson and Shaun Reid were expected to play some part in today's friendly against a Blackburn Rovers X1.
---
25 July 1998
EVERTON MATCH ON
Today's game with Everton is definitely on. The players have been advised by the PFA to fulfil the fixture which is almost a sell out, we shall see what happens after that!
---
24 July 1998
PLAYERS STRIKE
Tomorrow's game with Everton is in doubt after it was revealed that seven Chester players are going on strike from 5pm tonight unless they receive their wages. News was broken by Charles Lambert on Radio Merseyside and has appeared on Ceefax in the North West. Mark Howell, spokesman for the newly formed ISA will appear on BBC North West TV tonight to discuss the latest embarrassing crisis at the football club. This is the third occasion that staff cheques have bounced and a players spokesman said "enough is enough".
---
23 July 1998
GUTERMAN ANSWERS BACK
City chairman Mark Guterman has reacted in a rather predictable fashion to the news of unrest amongst the minority shareholders at the club. Once again he describes himself as the "one person who has kept the club alive over the past three years", conveniently forgetting who it is who actually puts the money through the turnstiles week in week out. While on holiday in the Algarve he stated: "Forming a new company for what purpose? Holding Press conferences, issuing stories of shareholder "no confidence" (when I own 94 per cent) even approaching club sponsors and trying to get them to pull out of supporting the club is not what I call a positive contribution to Chester City Football Club. I would like to reiterate to all Chester City fans I'm the one person who has kept the club alive over the past three years, on some occasions to the tune of £7,000 per week. I say again, if anyone wants to contribute to Chester City in anyway then please do it through the proper channels and contact me, and not through the back door, which will only result in damaging the club."
Perhaps if the chairman wants people to approach him through the 'proper channels' he should hold a shareholders AGM (there have been NONE since he took over) then shareholders may officially air their views, oh, and perhaps he'd like to issue a set of accounts through the 'proper channels' then we can all see how the club stands financially.
At the end of last season Mr Guterman pledged in the City match programme that there would be a "restructuring of the club to increase commercial business" over the summer. There has been no visible evidence of this to date, all we have seen is the shock resignation of Bill Wingrove the General Manager and mounting debts and bouncing club cheques.
Chester have cried off from tonight's friendly game at Holywell Town due to injuries and the team's late arrival back from Bath. City have arranged a game at Blackburn Rovers next Tuesday. This is a private match behind closed doors.
---
ON TRIAL
Former Chester full backs Martin Giles and Ryan Dobson are currently having trials at Telford United.
---
21 July 1998
SHAREHOLDERS VOTE OF NO CONFIDENCE
Last night's meeting of shareholders at the Deva Stadium passed a vote of no confidence in the current chairman Mark Guterman and the way that the football club was being run. There was concern expressed in the meeting that since the parent company of the football club Dovedene Ltd had been struck off (as revealed here first on April 1), it was unclear as to the whereabouts now of the majority shareholding.

Shareholder, and meeting organiser, David Pickering suggested the formation of a new company 'Chester City (1998) Ltd' which will be set up and ready to act should the club be put into administration. The formation of this new company was unanimously agreed and its directors will be: David Pickering, Bill King, Tony Durkin, Mark Astbury and Barry Hipkiss. Forms for a share issue (min £10) in the company were made available, these will no doubt be generally available very soon. The meeting was attended by about 30-40 people that included representatives from the local papers and radio Merseyside. There is a press conference sometime today.
---
20 July 1998
WHELAN IN JAIL
It was revealed tonight that City player Spencer Whelan has spent three nights at her majesty's pleasure in Liverpool's Walton prison. Whelan was arrested on May 7th after being caught drink driving following the end of season players party. He was seen driving erratically through the Merseyside Kingsway Tunnel and when stopped was found to be three times over the legal limit. Whelan was sentenced to two months in prison but appealed against the sentence. He was successful in his appeal but had to spend time in prison due to an administrative problem. He has been banned from driving for two years and ordered to undertake 150 hours of community service. Kevin Ratcliffe acted as a character witness for Whelan in court describing him as a very reliable team member, who also got involved with charity work.
---
McDONALD JOINS BARROW
Rod McDonald, sacked by Chester City for disciplinary reasons last season, has joined Vauxhall Conference side Barrow. The Holker Street club are also trying to persuade Stuart Rimmer to join them for the start of the new season.


Postcript (5/8/98): Rod McDonald's Barrow AFC career is over before it even began. The former Chester City front-man has quit Holker Street after failing to agree playing terms with Barrow AFC chief Owen Brown. The Barrow boss said McDonald did not sign a contract with the Bluebirds and has now left the club 'by mutual consent.'
---
PICKERING CALLS MEETING
Football club shareholder David Pickering has written to all fellow shareholders of the company expressing his concerns about the financial future of the football club. He has organised a meeting for tonight at the football ground to discuss his intentions to "look at the possibility of starting a new company to run the football club". Mr Pickering is a shareholder in Chester City Football Club Ltd and Chester Race Co. Ltd. He's a Chartered Accountant and Chairman of a local business Bodfari Ltd. Interested people other than shareholders are welcome to attend the meeting which will take place in the Executive Lounge at the Deva Stadium starting at 7pm.
With this meeting, and the setting up of an Independent Supporters Association in Chester a week later, it looks as though we're going to see some concerted action in finding out just what has been going on at our football club under the current regime.
---
KEVIN SAVES THE DAY
Friday's match with Tranmere Rovers was nearly called off at the last minute after it was revealed that the Dee Valley Water Board threatened to cut off the supply after a cheque (believed to be of around £5,000) bounced. Water Board officials turned up at the Deva Stadium and demanded an instant payment to cover the amount owed. With the chairman on holiday in Portugal, it was left to City manager Kevin Ratcliffe to stump up the money from his own personal finances.
---
CWMBRAN SWITCH
Tonight's pre-season friendly game against Cwmbran Town has been switched to Chepstow. Rod Thomas could play some part in the game if his injured knee suffers no reaction in training today.
---
NEW SIGNS POINT THE WAY

After years of waiting, road signs pointing the way to the Deva Stadium and 'Chester City FC' have at last appeared throughout the City making their debut for the Tranmere match. Of the game itself, there were some encouraging signs for the new season. Non more so than the form of City newcomer Luke Beckett who scored a couple of fine goals. Jonathan Cross, playing at left back, also had a good game and it will be interesting to see if he's done enough to earn a contract at City (if we can afford it!). Three key City players missed the match, Rod Thomas, Chris Priest and Shaun Reid who are all unfit. Newcomer Alex Smith also missed the game with an ankle knock picked up at Caernarfon. Chester traveled south yesterday for a mini tour and have a game against Cwmbran tonight, and a match at Bath City on Wednesday.
---
17 July 1998
TOUGHER TEST FOR CITY
Chester's pre-season programme steps up a gear tonight with the visit to the Deva from Division One neighbours Tranmere Rovers. Rovers have said they are bringing a full squad and City's defence can expect to be tested a little more than in the previous two matches which have seen a thumping seven-goal victory at Caernarfon and a draw at Connah's Quay. One likely non-starter tonight is Rod Thomas who is still having problems with his knee. The match kick's-off at 7.30pm. Admission for the match is pay on the gate, £7 adults and £2 concessions.

Chester City are hosting four football courses for children during the summer holidays. Full details from John Kerr on Chester (01244) 377408 or 371376.
---
15 July 1998
CROSS ON DEVA TRIAL
Ex-Wrexham player Jonathan Cross is joining City tomorrow for training. Cross (23) played against The Blues for Connah's Quay Nomads last night. "I played for an hour and spoke to Kevin Ratcliffe after the game. He is interested in getting me to the Deva to train tomorrow and Friday. I want to keep my options open and obviously the priority is to stay in the Football League. I don't mean any disrespects to Connah's Quay by that because they have been very good to me up to now.

They are offering me a good part-time deal on the football side and there is also a chance of a full-time job. I'll just see what Chester have to offer and take it from there. But I still feel I could do a job for anyone on the football side. I was pleased with my performance last night and my fitness is good. I have been training through the summer, but the new season is now getting close to decision time for me."

Cross, would be Ratcliffe's fifth signing of the summer should he join the Deva set-up and may be the key left-sided player the manager has been looking for.
---
14 July 1998
PHYSIO HONOURED
Congratulations to City physio Stuart Walker who was yesterday awarded an honours degree in physiotherapy from the University of Salford. Stuart began a career in football as an apprentice with Leeds United in the late 1970s but his career was cut short due to a serious injury while he was at York City. He said: "It was through the injury that I really got interested in physiotherapy. I used to travel with the reserve team at Barnsley Football club. But I was getting sick of going to grounds where I had previously played and knowing I could not play anymore. I took time out of football and went to Leeds rugby league club." It was during his time at Leeds that Stuart became a physiotherapist and was awarded a qualification in the field from the Football Association. He enrolled on a four-year course at Salford University before he started at the Deva Stadium and is now qualified to work in a NHS hospital. The course involved completing 1,200 clinical hours in hospital and learning the latest methods in treating injuries. Stuart has been kept busy at the Deva during the summer. Currently occupying the treatment table are Chris Priest, Rod Thomas and more recently of course Shaun Reid.
---
10 July 1998
TRIO MISS FRIENDLY
Chester begin their pre-season build up with a trip tomorrow to Caernarfon Town (ko 3pm). Gary Shelton will be taking their first team squad for the fixture and is expected to play trialist Paul Jones. Shaun Reid however won't be making the trip. The midfielder has just seen a specialist and hopes to be fit for the start of the League action on August 8th. Also out is Chris Priest who is recovering from surgery on his knee, and winger Rod Thomas who has cartlidge problems. City's other weekend friendly at Prestatyn has been called off as the home side are having difficulties fulfilling the fixture. On Tuesday Chester play the first game in Connah's Quay Nomads' new Deeside Stadium (ko 7.30pm).
---
CROSS FOR CITY?
Meanwhile City are showing an interest in ex-Wrexham winger Jonathan Cross. The 22-year-old has been recommended to City by Cliff Sear, now director of youth at Wrexham. Cross, who can play on the left wing, left back or up front, is also believed to be a target for third division rivals Shrewsbury Town.
---
CONSORTIUM POISED?
The Evening Leader has reported that four businessmen: David Pickering, Tony Durkin, Mark Astbury and Bill King are all keen to invest in Chester football club. Chairman Mark Guterman has denied though that he has had any talks with the potential investors. David Pickering, of Higher Kinnerton, is a farmer and chartered accountant with a number of business interests in the city. He owns diary farm Bodfari on the Wrexham Road and 18 months ago set up Bodfari Stud, which breeds race horses. A Cheshire County councillor between 1993 and 1997, Mr Pickering is also involved in the running of Chester Race Company.

Tony Durkin, is managing director of an engineering firm QHP and was unsuccessful in his attempt to take over the club back in 1994.
Bill King, of Tarvin Road, is chairman of the GM Vauxhall Conference league and director of a pub company.
Mark Astbury is the financial director of advertising firm Eclipse Creative Consultants, based on Vicars Cross Road.
---
EVERTON – ALL TICKET
The pre-season game against Everton on July 25th is all ticket. Tickets go on sale on Monday between 10am and 2pm (£10 stand with £5 concessions, £7.50 terrace), so don't ask me how you're supposed to get one if you're working!
---
9 July 1998
CHEQUES STILL BOUNCING!
It appears that Chester City's financial problems are mounting up. Last night on radio Merseyside Neil Turner revealed that several writs were soon to be issued on the club for non payment of bills. Not only were the phones cut off recently but water, electricity and gas bills are still outstanding as is a large payment owed to the printers of the match programme at Chester City. Last week a Chester player had a cheque returned to him by the bank. Neil Turner also revealed that he had spoken to members from TWO consortiums yesterday, one involving David Pickering, the other a couple of Manchester businessmen, and both were interested in putting money into the football club but not while the current regime was in place.

The long overdue accounts have still not been lodged. The football club was sent its final warning letter on May 27 from Companies House but failed to respond to it. As a result the club are eligible to be listed in the London Gazette and this will take place in the next few weeks. Publication of the company name here may result in the club being struck off the company register.
---
8 July 1998
WINGROVE RESIGNS
Chester City General Manager Bill Wingrove has resigned from the club. No reasons have yet been given for this, but this news couldn't have come at a worse time. It transpires that Bill actually resigned on June 29th and his resignation was lodged at Companies House on 6 July. Bill had been involved at the Deva Stadium for three-and-a-half years, and has initially refused to explain his decision. Fans spokesman Barry Hipkiss said: "I am surprised but it must be something of concern for Bill to take this step."


Mr Wingrove stated: "I don't want to elaborate on my decision to leave but I'm going to pursue other interests," I've enjoyed my three and a half years at Chester and there have been good and it's a been a challenge but the parting has been quite amicable. But I've made my decision and in a way it's yesterday's news."
---
BILL WINGROVE LEAVES CHESTER CITY FC
Chester City Football Club has announced that Bill Wingrove, general manager, is to leave the club. Mark Gutermann, Chester City chairman, said: "Bill Wingrove has made an outstanding contribution to the running of the football club over the past four years. He has been a tremendous asset to the club and personal friend to me over that time." However, as we have finalised our plans for the new season, during which time Kevin Ratcliffe has made some excellent signings, Bill has decided that he now wants to stand down and concentrate on his personal business affairs. I would like to offer my heartfelt thanks to Bill for his support over the past few years."Chester City will be announcing the new general manger of the club in the near future.
---
6 July 1998
CITY TAKE ON TRIALIST
Barrow centre half Paul Jones is currently having a trial at the Deva Stadium, 19-year-old Jones missed one game for the newly promoted Conference side last season. He was previously with Tranmere Rovers and had trials with Rochdale last season whilst still playing for the Holker Street club. Both Stockport County and Macclesfield Town were keeping an eye on him last year.

City start their pre-season programme this weekend with games at Caernarfon and Prestatyn where the side will be a mixture of first teamers and reserves. Back in the starting line-up for City though will be Shaun Reid, now fully recovered from his injury picked up this time last year.
---
3 July 1998
OPERATION FOR PRIEST
Chester City's Chris Priest is facing a race against time to be fit for the new season after undergoing knee surgery. However the midfielder is confident of recovering in time for the big kick-off on August 8 against Leyton Orient at the Deva Stadium. City's assistant boss Gary Shelton revealed: "Chris has had his cartilage tied up and we expect him to be sidelined for three weeks."
---
2 July 1998
WORTHINGTON LEAGUE CUP DRAW
Chester have been drawn against Port Vale in the first round of next season's Worthington League Cup (formerly the Coca Cola Cup). The first leg is at Vale Park, with the return at the Deva a week later.
---
CHAIRMAN MISSES OUT
City chairman Mark Guterman has failed in his attempt to become the Third Division representative on the Football League's new six man board. That place has gone to Leyton Orient's chief and snooker entrepreneur Barry Hearn, who made a late bid for the committee position.
---
1 July 1998
CITY SIGN CROSBY
After weeks of speculation, City have finally signed 25-year-old defender Andy Crosby. The former Darlington centre half was being chased by a host of higher division rivals but has put pen to paper on a three year deal. Chester spokesman Bill Wingrove said: "Andy is a big lad with a physical presence and comes highly recommended. We are delighted." With this, and the re-signing of Nick Richardson things are looking a lot better on the player front. It remains to be seen if this is the last of the summer activity in the transfer market.