26 November 1998
GUTERMAN QUITS AS CHAIRMAN
Mark Guterman has announced tonight on Radio Merseyside that he will officially resign as chairman of Chester City FC tomorrow morning. With the administrator David Acland now running the club he feels that there is no need for a chairman to be in power any more. He still retains his 94% shareholding and any offer for the club must still be made to him via the administrator.
Meanwhile it looks like Total Network Solutions will be putting in an offer for the club any day now. They have promised that should they take over any profits made will be ploughed back into the footballing side of the club. It is not clear if they've had official talks with the Pickering consortium, but if both interested parties could mount a combined effort for the club we'd have the best of both worlds – a sound financial backing from TNS and local knowledge and contacts from the Pickering consortium. Ex-Everton player Duncan McKenzie has leant his support to the Pickering consortium. He had talks at the Deva Stadium last week and spoke enthusiastically on Radio Merseyside about the plans to form a 'community club' at Chester should they take over.
---
24 November 1998
SAM SIGNS FOR CITY

Sunderland winger Sam Aiston has signed on a month's loan for Chester City. He signed this afternoon and will be re-joining his former team mates at the Deva on Thursday. Manager Kevin Ratcliffe has been busy trying to arrange loan deals all week and is hopeful of another signing before Saturday's third division match at high-flying Brentford. 22-year-old Aiston played 17 games for City a couple of seasons ago and his ball-playing skills will. I'm sure, be welcomed back by Blues fans. The Chester City ISA have donated a 'significant sum of money' to help cover the players wages for his time at the Deva.
Meanwhile both midfielder Nick Richardson (thigh strain) and Alex Smith (groin strain) are racing against the clock to be ready for the match at Griffin Park.
---
23 November 1998
THREE IN THE FRAME
There's not a great deal of information coming out at the moment regarding a buyer for the football club. The three main players: the Pickering consortium, Total Network Solutions and Carlisle United director Albert Doweck. All three are believed to be talking with David Acland and his assistant Andrew Dick but it seems that no deal will be struck before the next court hearing on 4 December. One option is for the administrator to ask for more time which would mean the whole scenario dragging on until the new year. With just one contract, Joanne Stanley's, terminated in recent weeks it's feared that many more will happen should administration be extended as City have only one more league game at the Deva before Christmas.
---
MEETING TONIGHT
The monthly general meeting of the Chester City ISA takes place at the Royal Mail Club tonight. Guest speaker is Eddie Glendon, Chief Reporter of the Chester Chronicle. The meeting starts at 7.30pm, and the bar remains open until 11pm. There should be plenty of lively discussion with the deadline for the administrator now less that two weeks away. If you're not a member of the association you're more than welcome too and are able to join on the night.
---
GONGRATS!
Congratulations to Gary Shelton and Joanne Stanley who announced their engagement over the weekend.
---
20 November 1998
CITY AFTER LOAN PLAYERS?
Manager Kevin Ratcliffe is after two loan signings before tomorrow's game with Rochdale, a goalkeeper and a striker. He's believed to be looking at an experienced second division striker and the goalkeeper may well prove to be his ex-team mate at Everton Neville Southall. "I am trying to do deals we can afford," he said. "I certainly need a striker, which is no disrespect to my current players. I feel we need some experience." Chester will have midfielder Alex Smith back after suspension, but they will be without three suspended players, Chris Priest, Matty Woods and David Flitcroft the following week at Brentford. Schoolchildren will be admitted to the west stand at tomorrow's game for £1.00
---
17 November 1998
CITY BEATEN AGAIN
In an effort to "get it out of their system" (KR referring to Saturday's thrashing) Chester fielded their entire first team in last night's Cheshire Senior Cup quarter final at Altrincham – and were beaten 3-0. Goalkeeper Wayne Brown for Neil Cutler was the only change from Saturday's line-up yet City failed to create any chance of note. Ex-Blues player Leroy Chambers was on the mark for the home side. Perhaps we should stick with playing the Reserves in future. "The purpose of the game was to work on things we'd talked about with the back four and playing a game like this is better than a training match," said Ratcliffe. "I can't blame them for any of the goals although Brownie's made a couple of mistakes for the goals. The pitch was awful, very boggy, and we couldn't play football on it. We're not used to playing on pitches like that but we might have to later in the season."


Looking on the bright side the Altrincham Supporters Association made a donation of £50 from their funds to the ISA Fighting Fund, a fine gesture.
---
YOUTH MATCH
City's FA Youth Cup First Round replay at Maine Road takes place this Wednesday kick-off 6.45pm. Chester are running a supporters coach for the game which will leave Delamere Street at 5.15pm and costs just £3.00. Those wishing to book a place should contact Barrie Hipkiss on (01244) 379011 between 6-8pm. The team coach is being sponsored by Jones of Flint.
---
16 November 1998
ACLAND IN TALKS WITH LEAGUE
Administrator David Acland has held talks with the Football League regarding the current situation at the Deva. He met with officials last Thursday, the day after a visitation from the ISA to League offices in London. Following the meeting the League have suspended notice of expulsion so that negotiations with prospective buyers can continue. A League statement released following the meeting read: "The Football League, despite having the right to expel Chester City from the League, suspended notice of that expulsion in order for the administrators to continue their negotiations with parties interested in buying the club.

The board has stated that it will remove this notice once it is satisfied that Chester has a viable long-term future as a football club and that the necessary finances are in place to reach an agreement satisfactory to creditors. The board understands that the administrators have to report to the High Court in December, Should the court decide not to allow administration to continue and winding up orders proceed, then Chester City Football Club will be expelled from the Football League.

The Board wishes to stress that it was encouraged by the level of support expressed for the club in recent weeks – particularly by those who have attended matches and the 4,500 signatories of a petition. For these people, the supporters, it is sincerely hoped that parties come forward with sufficient funding to enable the continuation of League football at Chester City."
---
13 November 1998
STANLEY MADE REDUNDANT
Joanne Stanley, City's commercial executive was yesterday made redundant. She had been at the club for seven years and was often seen in the club shop on matchdays. This is a cost cutting exercise by the Administrator David Acland who yesterday met with Football league chiefs to discuss his progress with Chester. Ms Stanley said: "The news came as a complete shock, I didn't think the backroom staff would be affected. I'm very sad to leave the club after seven years, I loved the job."
---
RE-ARRANGED FIXTURE
Chester will play their postponed League game at Plymouth Argyle on Tuesday December 1st. However if both teams are knocked out of the FA Cup in the first round, they could meet on second round day December 5th.
---
12 November 1998
CITY FANS' HOPE

Yesterday's meeting between Chester City fans and Richard Scudamore at the Football League, followed by a meeting with Sports Minister Tony Banks in the House of Commons has been hailed a great success. The fans met the League chief executive in London for a 15 minute meeting before which ISA chairman Mark Howell handed over the Evening Leader petition containing over 5,000 names in support of saving Chester City to the League's Chris Hill (pictured left).
Following this meeting the ISA coach joined other Chester supporters, including Hugh Lloyd, at the House of Commons and proceeded to committee room 6. A total of 65 people packed in for the 90 minute debate.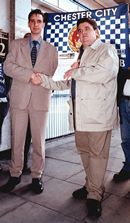 Christine Russell MP opened the proceedings by proclaiming this "a great day for the City of Chester." Other MPs present for the debate included: Tom Pendry MP Stalybridge & Hyde, and chair of the Football Trust, Ivor Caplin MP Brighton, Steve Pound MP Ealing North, Philip Chamberlain, PA to Tony Banks, Joe Ashton MP Bassetlaw, and chair of the all party Football Group, Lord Dorman, Peter Pike MP Burnley, Dave Watts MP St Helens, Andrew Mellor MP Ellesmere Port, Joan Walley MP Stoke North, Jane Kennedy MP Wavertree, Bob Russell MP Colchester, and Tony Banks MP West Ham and Minister for Sport.
Mark Howell gave a brief outline to those present just what the problems we faced at Chester City were. He praised the supporters and players for pulling together during the recent traumatic weeks and spoke of the campaign that the ISA had staged for recent matches to bring more support to the Deva Stadium.
Ivor Caplin MP spoke of the campaign that had occurred at Brighton. They are still averaging home attendances of 2,700+ whilst playing at Gillingham, but in a couple of months time he's looking forward to the club playing back in the town. He spoke of the importance that the League is about all 92 clubs and not just the elitist Premier League. He realised, as we all do, that Chester are not the only club in trouble and that Hull, Oxford, Doncaster, Lincoln and Mansfield are all experiencing serious problems of one kind or another.
Joe Ashton MP, who is also a director at Sheffield Wednesday, spoke how the money from television MUST be filtered down to clubs at a lower level. He mentioned that there is no leveler in the game these days since the minimum wage was abolished. Enter Tony Banks who spoke passionately for most of the 45 minutes he was there. He agreed that some sort of regulator must be appointed to control the way football clubs are being run. However he claimed this should be done by the football authorities themselves. He stated that it was the FA's job to check on the credentials of football club owners. Mike Fair pointed out to the Minister that Chester hadn't had an annual general meeting for 3 years, there had been no accounts published for two years and despite selling three players last April for £450k we still have a massive debt.
All in all a very productive day which has given all supporters present much to think about. Congratulations to the ISA for their initiative and to Christine Russell for assembling an impressive group of MP's to hear our case.
---
11 November 1998
CITY FACE FINE
Both Chester and Halifax are facing a disciplinary hearing after the mass brawl during Tuesday night's match. Twenty players and both benches clashed after a two-footed tackle by Chris Priest on Halifax player Kevin Hulme, that saw both men being red carded, Priest now faces a three match ban. Kevin Ratcliffe, who fell to the floor during the 90-second scuffle, described what happened. "I was trying the grab Priestie and get him away but as I grabbed I must slipped – either that our someone pushed me. There was a lot of people involved but I think most of the players and both benches were trying to pull players apart. My main concern was to grab Priestie because three of their lads turned on him and one of the lads tried to head butt one of ours."Their lad (Hulme) has lost his head but none of this would have happened if we'd had a strong enough referee. Little things had been building up through the game but the referee was weak and the niggly decisions weren't going our way and that was upsetting our lads."
---
10 November 1998
ISA CAMPAIGN GOES NATIONAL
Tomorrow the Chester City ISA take their campaign to London. They will be presenting the Evening Leader petition to Football League chief executive Richard Scudamore before moving on to the House of Commons at 3.15 where they will lobby parliament. This move is a direct response to a question put to fans at a recent forum at which Mr Scudamore asked "Do the people of Chester want a football club?". The trek to the capital comes just a day before administrator David Acland is due to hold a crucial meeting with the Football League to explain how he proposes City should fulfil the season's remaining fixtures in its current predicament.
Last week the Football League said it was looking forward to "a very positive discussion" with the ISA delegation. "We've been in contact with the fans over many weeks and look forward to hearing their views again" said League spokesman Chris Hill.
Tomorrow morning at 8.15am, ISA chairman Mark Howell is due to speak on Radio5 Live about City's current off-field problems.
---
YOUTH CUP SWITCH
City's FA Youth Cup replay at Maine Road has now been put back seven days to Wednesday November 18th. I assume the possible coach travel will still apply so get in touch if you want to go.
---
9 November 1998
YOUTH CUP DRAW
The draw for the second round of the FA Youth Cup has been made and the winners of the Chester City/Man City game will be at home and will face the winners from the 1st Round tie between Carlisle United and Darlington Youth. The Blues face a replay at Maine Road this Wednesday and Barrie Hipkiss is considering running a coach to the game. If sufficient numbers of interest are received the coach will leave Delamere Street at 5.30pm for the 7.00pm KO. The fare for the trip has been provisionally set to £3. This may change depending on the numbers interested. Please get in touch with Barrie (Tel: 01244 379011 – no calls after 8pm please!) asap if you would like to go along and support the lads.
---
6 November 1998
DEFENDER GOES
After passing his fitness test and agreeing terms Spencer Whelan has joined Shrewsbury for a reported £35,000, he made his debut on the Shrewsbury bench in Saturday's 2-0 win over Brentford. Rumours circulate that a couple more players may be on their way this week preventing them being cup-tied following next Saturday.
---
EIGHT INTERESTED PARTIES
According to David Acland their are eight parties who have shown an interest in buying Chester City. He also revealed that previous owners Morrison Construction and he city council may be close to an agreement over their position regarding clauses guaranteeing the annual £20,000 rent. Acland said: "I have clarified their positions, they both want Chester City to survive and are willing to review the situation with potential buyers. I have been preparing a platform for a likely rescue package. I am not going to name any of the eight interested parties, but I think that any perceived obstacles can be alleviated or negotiations commenced to facilitate the rescue." Morrison's currently hold a 'special share' in the football club which allows them a certain amount of say as to who is appointed to the club board.
---
5 November 1998
SPENNER FOR SHREWSBURY?
City defender Spencer Whelan trained with Shrewsbury Town on Thursday with a view to a permanent deal. Expect a fee of around £50,000. Whelan who's been out all season injured is one of City's longest serving players having joined the Blues when he was signed by Harry McNally from Liverpool in 1990. He was at Gay Meadow yesterday to finalise the deal and to have a medical. "The move's been happening this week," said Ratcliffe. "I didn't want to say anything just in case it broke down. Jake King put in an offer and it wasn't far off my valuation. I sorted the deal out with them and they came back with an offer that I accepted. There were a lot of things to consider with the deal. Spenner hasn't played this season and Mattie's playing well at the back. I thought selling Rod Thomas to Brighton was a good deal and I'm happy with the money I've got for Spencer. He's been a great servant to the club and he was due a testimonial next year."
---
WELL DONE LADS!
Chester drew 2-2 with Manchester City in the FA Youth Cup on Wednesday night. Chester's goals came from Blackburn and Pendleton. A crowd of 482 watched the game and the Man City chairman pledged his club's share of the gate to help the club in its current crisis – a fine gesture. The replay will be next Wednesday 11th in Manchester (venue to be confirmed). By all accounts the game was very good with Chester taking a 2-0 lead before being pegged back.
---
3 November 1998
INTEREST SHOWN IN CITY
Administrator David Acland has confirmed that interest has been shown by company in buying Chester City. They are Total Network Solutions, a multi-million pound communications firm have just announced a record year's growth of 62 per cent; and they have experience in the running of a football club. The Oswestry-based firm have ploughed more than £500,000 into League of Wales side TNS Llansantffraid, you'll remember them we played them in a pre-season friendly. Mike Harris the firm's MD said "I'm aware of the situation at Chester City but we are interested although there are a lot of things to consider. It's early doors but I can confirm we have shown an interest,"

Meanwhile manager Kevin Ratcliffe confirmed that he's had a few enquiries but no bids yet for any of the City players who are all currently on the transfer list. He also thanked the supporters for all their efforts over recent weeks in helping to promote the club within the City.
---
SMITH MISSES CUP TIE
Alex Smith is ruled out of City's FA Cup tie at Cardiff after picking up his fifth booking of the season against Shrewsbury Town on Saturday. He has been given a one match ban.

Cardiff have applied to Chester to change the date of the fixture to either Sunday 15th or preferably Friday 13th November. This is because Wales are playing South Africa in the rugby at Wembley on the Saturday, the match being shown live on television.
---
2 November 1998
SUPPORT THE LADS
This Wednesday Chester City take on Manchester City at the Deva Stadium in the first round proper of the FA Youth Cup. This is Chester's first appearance at this stage of the competition for 10 years and is just reward for their achievements last season when they reached the third qualifying round, beating Barnsley and Scunthorpe on the way before losing out to Notts County. The match kicks-off at 7pm and is being sponsored by the ISA. Entrance is just £1.00. Please take this opportunity to get to the club and support the great work done by David Fogg and his staff with the youth development set up. The team should line up as follows: 1.Matty Conkie, 2.Darren Moss, 3.Matty Doughty, 4.Danny Carson, 5.Martin Lancaster, 6.David Pendleton, 7.Paul Roberts, 8.Lee Lloyd-Hughes, 9.Chris Blackburn, 10.Wes Killgannon, 11.David Lloyd, Subs: Mike Williams, Joe Cooper, Chris Hopwood (The subs are all from the School of Excellence) Meet the Youth Team
---
THANKS AGAIN
Approximately £1,350 was donated by supporters at the Shrewsbury game for the ISA Fighting Fund. Thanks to everyone who helped and contributed time and money to bolster the ISA funds. All money will be used wisely and will greatly help to offest the printing costs of match posters, stickers etc.
---
BENEFIT MATCH FOR CITY?
The hard working ISA are hoping to hold a benefit match to raise much needed funds for Chester City. They hope the match would feature as many ex-Chester players as possible such as Ian Rush and Lee Dixon. It is also hoped to get the Owen's – Terry and Michael, to take part in the event. Press spokesman Mike Fair said; "Terry was always held with a great deal of affection by the fans. He was totally committed as a player, and the ISA has raised with the football club the prospect of a benefit match using former Chester players and those which have an association through family and friends. Wouldn't it be nice to see one of Chester's former players appearing on the same pitch as his son, Michael Owen. That would be something to see."