30 March 1998
MANAGER STILL HOPEFUL
Despite Saturday's defeat at Swansea, Kevin Ratcliffe still hasn't given up hope of reaching the play-off's although he admitted: "It's getting harder with every game". "Until it is mathematically impossible were still in with a chance and my plans for next season rest on where we'll be. Obviously I've started looking at a few players to bring in. We have lost three players last week and I'll be looking to replace them. I don't want to start naming players I'm looking at because I may lose out but I've got a few irons in the fire"
---
28 March 1998
INJURY DOUBTS FOR SWANSEA TRIP
Both Chris Priest (groin) and Rod Thomas (ankle) are rated doubtful for today's game at Swansea as the City players try to put the events of a traumatic fortnight behind them. Martin Giles and Neil Fisher are expected to return to the City side. Swansea will be without defender Christian Edwards who signed for Nottingham Forest in the week for £175,000.
---
27 March 1998
JENKINS SIGNS FOR DUNDEE UNITED
Following Julian Alsford's move there, skipper Iain Jenkins has Signed for Dundee United on a three year contract. Jenkins flew straight there following his game for Northern Ireland on Wednesday. According to reports from the Dundee Evening Telegraph both players went for a combined fee of £200,000 – a throw-away price. Both players (see photo below) are expected to go straight into the side that play Motherwell at Fir Park tomorrow.
---
26 March 1998
DUO LEAVE CLUB
As expected, both Julian Alsford and Matty McKay left Chester City before the transfer deadline today.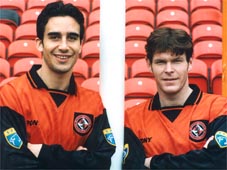 Alsford has joined Dundee United for a fee of £50,000, with Alsford's previous club Watford getting 25% of that. The deal was organised by Alsford's agent Mel Stein. Alsford, an ever-present for the Blues this season made a total of 181 appearances for the club. Speaking of his move today he said: "It's a great move for me and I'm grateful to Chester for giving me that chance to establish myself. Kevin Ratcliffe's been a great help and the fans have been superb with me. I just hope everything gets sorted out for the fans down there. It hasn't been easy for everyone after what's happened. I'm just glad I can generate some cash for the club because I could have left for nothing in the summer."
Meanwhile Matty McKay has joined Everton in a five-year deal. Kevin Ratcliffe and youth team coach David Fogg had recommended the teenager to Howard Kendall. McKay played for Everton reserves against Blackburn reserves on Tuesday and obviously impressed. "It was an opportunity for us to have a look at him," said Kendall of the youngster's reserve outing. "He has been recommended by Kevin and also by Dave Fogg, who was here as a youth coach. It was a one-off game and I feel he did quite well." Not quite sure on the fee yet but it is believed to be around £240,000 rising after a certain number of appearances to a possible £750k. I'm sure all City fans will wish both players the best of luck.
No doubt these two sales will temporarily ease the chronic cash-flow problems at the club and hopefully pay the outstanding tax bill before an appearance in the High Court next Wednesday. Chairman Mark Guterman is expected to make a statement tomorrow (Friday) we all await what he has to say with interest!
---
GOOD NIGHT FOR JENKS
Iain Jenkins gained his third international cap last night when he played for the Northern Ireland team that beat Slovakia 1-0. Meanwhile Chester reserves beat Bury 1-0 at the Deva to maintain their good form in the Pontins League Dvision 3.
---
25 March 1998
GUTERMAN STATES LOSS
Chairman Mark Guterman stated in today's Daily Telegraph that the club are now currently losing £10,000 a week. Today's meeting at the PFA has been postponed until tomorrow.
---
ALSFORD AND McKAY ON THE MOVE?
Julian Alsford looks set to join Scottish Premier league side Dundee United in the next couple of days. He's currently having a look around Tannadice. Alsford has looked round the club and is expected to join for around £30,000. Meanwhile Matt McKay trained yesterday with Everton reserves and may be on the move there very soon.
---
24 March 1998
POSSIBLE PLAYERS STRIKE AT CITY?
According to today's edition of The Guardian, Chester City face the prospect of a possible players strike because of the non-payment of wages. This comes on top of Inland Revenue claims that the club, should, in effect be barred from trading as they have failed to settle an unspecified bill for unpaid taxes. There appears the real possibility that the club may be unable to fulfill Saturday's fixture at Swansea City.

Mark Guterman was quoted in the paper as saying: "There's no point in me putting more money in just to end up in the same position in a few weeks' time. I do not know what the answer is but I'm still looking for it."
---
CLUB HOLD MORE TALKS
The Club meet with the PFA again tomorrow morning and the Association will decide whether they are prepared to help City out. If they are, one would imagine some sort of loan to cover wages until the end of the season. However, they're obviously going to want some sort of assurances from Mark Guterman regarding repayments, it remains to be seen if he can meet the requirements.
---
AND NOW FOR SOME GOOD NEWS!
Yes, amid all the gloom it's congratulations to City skipper Iain Jenkins who has been called up for Lawrie McMenemy's Northern Ireland squad who play Slovakia tomorrow. Jenkins has been drafted in following an injury to Birmingham's Dele Adebula.
---
23 March 1998
CITY FACE NEW WINDING-UP ORDER
Chester City face another winding-up order a week on Wednesday in the High Court. The writ, issued by the Inland Revenue, is for unpaid taxes, Believed to be over £100,000. This comes just two months after a similar writ was issued against the Club. Speaking tonight on Radio Merseyside, a subdued sounding Mark Guterman insisted: "We will get this sorted". He admitted that certain players had not been paid recently.
Mark Guterman, along with Chief executive Bill Wingrove, the clubs solicitor and club accountant, met up with PFA assistant chief executive Mick McGuire in Manchester today in an effort to sort out some short term solution regarding the payment of wages.
Mark Guterman hinted that there may have to be a "restructuring of the club" although when pressed to explain how admitted "I don't know the answer". He also suggested that the Inland Revenue were "Looking to make an example of us", implying that other clubs in the Third Division were worse off.
It's emerged that the players met Mark Guterman a week last Friday to sort things out, but they claim when he failed to meet their demands seven days later, the players decided to go public about the situation. "He gave us assurances, but never came up with the goods" said a players' spokesman. "The club's a shambles and it's reached crisis point. No-one at the club has been paid and our pension money hasn't gone in either. We were all in utter disbelief. You know in the back of your mind that these things will happen but you just hope they won't, that they resolve themselves. I don't think a lot of people realise that we are just like the everyday working man and we're not earning 20 grand a week. We've got families, mortgages and bills to pay and some of the lads can't even afford the £20 for petrol to get them in for training."
---
22 March 1998
CITY CHASE VETERAN STRIKER?
According to today's Sunday Express, both Chester and Macclesfield Town have made approaches to Port Vale with a view to signing striker Martin Foyle before next Thursday's transfer deadline. Foyle, who is 34, is also being tracked by Mansfield Town. Vale would want a nominal fee for the player. With the club currently unable to pay the wages of the players currently on the books, let alone bring in another, consider this a non-starter.
---
20 March 1998
LOOKING TO BREAK POSH HOODOO
The Blues travel to Peterborough tomorrow for their first of three successive away games. London Road isn't one of City's happier hunting grounds, we haven't won there since February 1983 when a single goal from Clive Wilson (still going strong at Spurs) did the trick. The 1,661 crowd that night was the lowest in Posh's history. Since then, five visits have produced five defeats: 0-1, 1-3, 0-3, 0-2 and another 0-2 on our last visit on Bonfire Night 1994. Since then, the ground has a spanking new stand on the Glebe Road side where there used to be an open terrace.

Expect Kevin Ratcliffe to make some changes from last Saturday's side as he adopts his 'horses for courses' approach. Chris Priest and Ross Davidson are sure to return to the side following suspension.
---
17 March 1998
BLUES IMPRESS SAM
Despite beating the Blues 1-0 on Saturday, Notts County manager Sam Allardyce was generous in his praise for City. "I was impressed with Chester, They played well but didn't produce the finished article. We did and we got the three points. It was a contrast to the game at our place when we battered Chester and lost. Chester have still got a chance of making the play-off's but they've got three tough away games. They'd like to think they could get something at Peterborough and at Swansea while we thrashed Exeter 5-2 and Chester are a lot better than them. If they can come away without losing from those three games – and win at home – then they've got a chance."

City's next game is at Peterborough on Saturday, where City have the option of welcoming back Chris Priest, Ross Davidson and Spencer Whelan to the side (all three were suspended on Saturday!). Peterborough are going through a slump in form at the moment and were thrashed 4-1 at Shrewsbury on Saturday and slipped out of the play-off zone for the first time this season. Posh have just sacked assistant manager Phil Neal with top scorer Jimmy Quinn taking over as Fry's right hand man. Whether City make any changes remain to be seen, Ratcliffe has hinted "I'm looking to stick with a 4-4-2 at Peterborough but we may have to change things around and play 4-3-3 at Swansea and Exeter. It's something we'll look at nearer the time but we're in a position where we have to go for victories now."
---
16 March 1998
GAZZA FOR CITY!
Yes the speculation is over, Paul Gascoigne has announced on national radio that he will be signing for Chester City. The fee £19,000, provided the Blues could match his £375 a week wage demand. Gazza jokingly announced his intentions while appearing on Danny Baker's phone-in on Talk Radio last Saturday. Mind you with the form of Nick Richardson, Chris Priest and young Matt McKay, I reckon Gazza would struggle to get in the side!! Incidentally Gascoigne's agent Mel Stein also has City forward Rod Thomas on his books.
---
13 March 1998
CITY LOOKING FOR DOUBLE
Chester will be looking to do the double over champions-elect Notts County at the Deva tomorrow. City won at Meadow Lane back in early November – a game which marks Gary Bennett's last league goal for City. The Blues will be without the suspended trio of Chris Priest, Ross Davidson and Spencer Whelan for what should be a good game played in front of the Deva's biggest crowd of the season. Rod Thomas is expected to start, as is young Matt McKay who impressed on his debut at Rochdale last week. Manager Kevin Ratcliffe may also turn to the experience of Nottingham-born Gary Shelton. This is the king of game that would suit Shelton and that little extra experience on the big occasion should help stabalise City's midfield.

County have been breaking records all season, and are expected to bring over 1,000 supporters with them for their first-ever visit to the Deva - which will no doubt please the chairman as this is our last home game until the visit from Doncaster Rovers on April 11th. The Magpies have won 13 games on their travels this season and lost only four games both home and away. That's the measure of City's task.
---
10 March 1998
ROD McDONALD HITS BACK AT FANS
City player Rod McDonald has been drawn up into a slanging match with supporters after claiming he was verbally abused at Rochdale on Saturday. It is also claimed that McDonald had a go back at some supporters. Manager Kevin Ratcliffe didn't see the incidents at Spotland but stated in the Evening Leader that: "It disappoints me when fans start having a go and insult players. Rod told me after the game that they were having a go at him and it's not the first time this season. One fan gave Martin Giles a hard time at home a couple of weeks ago and it's so brave of them to hide in the stands and shout abuse. Why don't they come out and say what they want at these fans forums?"
---
9 March 1998
WANT TO BUY A CITY SHIRT?
After enquiring with kit manufacturers Erreà regarding the lack of replica shirts in the Chester shop, anyone wishing to buy a replica home or away shirt can do so from Bob Panter at Club Sport on 01476-594660. They have available sizes 34-38-S-L-XXL of home and away jersey. The reason according to Erreà there is no kit in the club shop is "because Erreà is waiting the payment of the outstanding invoice from the Chester F.C. since November." – so now you know.
---
7 March 1998
SPOTLAND PITCH INSPECTION
There's a pitch inspection at Rochdale this morning at 11am. There is surface water currently on the pitch and more rain was forecast for last night. Those travelling may wish to ring Rochdale FC on (01706) 44648 to check.
---
5 March 1998
JONATHAN ON MARK AGAIN
Jonathan Jones scored his fourth goal in five games for the reserves last night as they won 1-0 against Walsall at the Bescot Stadium. The win takes City to third place in the Pontins League Division Three, though they only have three remaining fixtures. They are home games with Bury and Wigan and a trip to Newcastle United.
---
3 March 1998
SUSPENSIONS PILE UP
Ross Davidson's booking against Brighton on Saturday took him to the five mark and will leave him suspended for the forthcoming match against Notts County. Chris Priest and Spencer Whelan are also suspended from the same game and both will also be missing from next Saturday's trip to Rochdale.
---
CONTRACTED FOR NEXT SEASON
The following players are contracted to the club for another year:
Spencer Whelan, Ross Davidson, Chris Priest, Dave Flitcroft, Gary Bennett, Rod Thomas, Iain Jenkins, Wayne Brown and Jonahnan Jones. Defender Julian Alsford is currently having talks as his contract is up at the end of the season.