---
Tuesday 28 March
Chester 1 Barrow 2

Conference Premier
Attendance: 1,501 Half Time 0-1
Booked: -

Chester: Lynch, Vassell (Joyce 90), Astles, Hudson, Hunt, Durrell, Shaw, Lloyd, Horwood (Dawson 68), Richards, Alabi. Subs not used: Roberts, Hughes, Waters.
Barrow: Flatt, Platt, Rowe, Livesey, Diarra, Hughes, Harvey (Wright 56), Turnbull, Bennett, Williams, Meikle (Hannah 64). Subs: Coughlin, Tuton, Effiong.
Referee: Peter Wright.
Chester lost for the fifth time in succession at home as Barrow mounted a push for the play-off places. It was a niggly and bad tempered affair which referee Peter Wright struggled to control.

The signs were not good in the first minute when an obvious throw-in to Chester was given the other way by the linesman. The same official was even more unpopular shortly afterwards when Richie Bennett was given onside and ran through clear on goal. He put the Bluebirds ahead in only the second minute.

The Blues responded well and moved the ball about with some purpose. Durrell latched on to a diagonal crossfield pass from Horwood and struck a shot which Flatt did well to parry. Richards also had a good run but scuffed his shot when the opening appeared. Richards was cynically taken out by Platt as he made ground on the left wing which saw the referee produce a yellow card for the first time. Durrell too was injured as he was brought down from behind by Harvey.

Barrow pressed and Vassell was caught in possession by Meikle but fortunately the resultant shot on goal was wide. Bennett had a long range effort which whistled closely over the top corner of the net.

As half time drew near the home fans became more and more frustrated by what seemed to be blatant time-wasting and slowing the game down by the visitors as their players went to ground at regular intervals for innocuous-seeming injuries. Five minutes of stoppage time resulted. The antics continued after the break as Harvey went down, went off after attention, came back on again and then sat down on the pitch before finally being substituted.

Durrell was City's liveliest forward in the second half. His deep cross from the right wing was caught by Flatt under pressure from Alabi. The keeper's time wasting antics did not endear him to the Harry Mac Terrace but he played every trick in the book to frustrate and run down the clock. The fans at the home end kept up a regular barrage of vocal support throughout as they urged the Blues forward for an equaliser. Making headway against a sturdy back four was proving difficult however and Alabi, in particular seemed to be running on empty.
Ross Hannah came on to respectful applause – justified in recognition of being Chester's top scorer last season. Most of this, he has warmed the bench for Barrow. He produced a moment of sheer genius shortly after coming on as he hit a first time shot from inside the centre circle which had Lynch back pedalling just in time to tip the effort over the bar.

Lynch made an unfortunate error when Jordan Williams tried an effort from the left wing corner of the penalty area which the Chester keeper caught but then dropped and backspin took it over the line.

Two-nil was always likely to be a tall order to claw back with just a quarter of an hour to go but City gave it a go. With just two minutes left Shaw halved the deficit as he latched on to Vassell's threaded pass and let fly a venomous cross-shot which flew in past Flatt. Then in stoppage time Richards chested Shaw's pass down to Durrell who hit it first time only to see it blocked by Diarra. Barrow then saw the game out but there was still time for Jordan Williams to crock Vassell with a challenge that could easily have ensured a red card, but yellow was the decision from Mr Wright.

Before the game, manager Paul Cox bemoaned the fact that no-one seemed to like Barrow. They won few friends tonight with their 'game management skills' but it was effective for them. At least Tom Shaw's late goal denied them a place in the play-off places tonight on goal-difference giving grumpy City fans a crumb of comfort to chew on.
Colin Mansley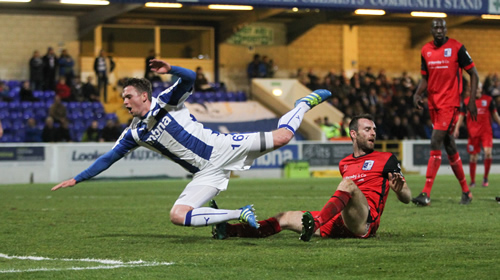 Picture © Rick Matthews (Chester Leader)

• League Table
Rate Chester's performance
---
Saturday 25 March
Bromley 0 Chester 1

Conference Premier
Attendance: 1,237 (152 Chester) Half Time 0-0
Booked: Dawson, Durrell.

Bromley: Flitney, Chorley, Dunne, Holland, Minshull (Dymond 64), Hall (Porter 70), Dennis, Anderson, Higgs, Turgott (McLoughlin 79), Sho-Silva. Subs not used: Johnson, Goldberg.
Chester: Lynch, Vassell, Astles, Hughes (Joyce 81), Hunt (Hudson 46), Shaw, Lloyd, Durrell, Dawson (Horwood 46), Alabi, Richards. Subs not used: Roberts, Waters.
Referee: Dean Treleavenl.



There honestly was little to remember from this match until Elliott Durrell popped up with a goal on the 88th minute when his strike bumped over a couple of bobbles before hitting the net at Hayes Lane.
The game had an otherwise 'end of season' feel about it, with the spring-like appearance of the blue skies being countered by the strong winds which had the Exiles' banner straining at the leash on the open away terrace.
Both teams found the conditions, including the rough surface, a struggle at times. There was nothing much to report from the first half until close to the break when Sam Hughes was in the right place on the line to clear a shot which had beaten Chester 'keeper, Alex Lynch.
Jon McCarthy opted for a change at the re-start, with Blaine Hudson and Evan Horwood replacing Lucas Dawson and Jonny Hunt. Before long, Chester were putting on a better display for the 152 passionate away fans.
Some of the Blues' faithful in fact thought they'd gone ahead half-way through the second half when a Horwood strike hit the side netting. There was almost a goal at the other end when Lynch made a great diving save to stop the home side going ahead.
With a late start, and a few appearances of the physio, this was always going to be a late finish. So, as final scores were coming in elsewhere, the clock was ticking towards 5pm when Durrell found himself a bit of space and his shot found the net.
The Chester fans and players were clearly relieved when referee Dean Treleaven blew for full-time. Not only was it three points, but it put Chester above their afternoon's opponents and all but guaranteed National League safety for another season.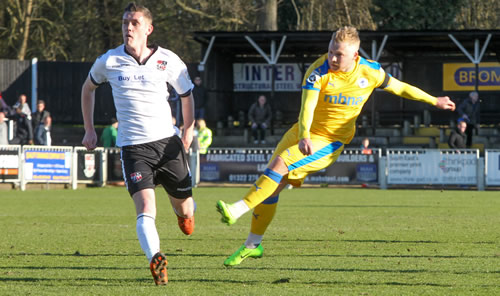 •
League Table
Rate Chester's performance
---
Tuesday 21 March
Chester 2 Macclesfield Town 3

Conference Premier
Attendance: 1,802 Half Time 1-2
Booked: Durrell.

Chester: Lynch, Hudson (Vassell 46), Hunt, Hughes, Astles, O'Brien (Richards 46), Shaw, Dawson, Lloyd, Durrell, Alabi. Subs not used: Roberts, Horwood, Joyce.
Macclesfield Town: Flinders, Halls, Fitzpatrick, Byrne, McCombe, Browne, Norburn, Mackreth, Whitaker, Dudley (Holroyd 86), Summerfield. Subs not used: Ross, Pilkington, Thorne, Haworth.
Referee: Thomas Bramall.

Chester put in a much improved performance against a very accomplished Macclesfield side but once again saw no results for their efforts.

The evening began with a touching tribute to Garry Allen, a supporter who died on the Harry MacNally Terrace during the recent game against Tranmere. Members of his family laid flowers and a scarf and shirt behind the goal and all showed their support for the family with sustained applause.

It quickly became clear that City would have their work cut out against the Silkmen – who moved the ball about with a skill appropriate to their nickname. But it was Chester who took an early lead thanks to great work by Durrell on the right who first won possession then tricked his way inside to put a cross low into the box. Alabi latched on to it and turned his marker to beat Flinders in the visitors' goal.

Macclesfield would not let Chester dwell on this early success however and continued to sweep forward. Rhys Browne on the left and Jack Mackreth on the right were the main prongs of their attacking play and City, playing with a back three struggled to cope at times. Lynch saved at point blank from Byrne's header to preserve the lead. But then Macc drew level following a slick move down the right. Mackreth split two defenders to find Norburn who back-heeled the ball into Halls' path and the full back curled a shot beyond Lynch to score.

The Blues did well to defend heroically for much of the ensuing half. Both Hunt and Astles threw themselves into last ditch tackles to help stem the tide. They held their breath as Fitzpatrick hit the post. But just before half time Mackreth looped a cross from the right and Dudley, seeming to fall off balance headed the ball over his shoulder and into the goal off the near post.

Still Chester were in the game at half time and after the break made two immediate changes: Danny O'Brien who struggled to provide cover on the right was replaced by Richards and Hudson was withdrawn for Vassell as City reverted to 4-4-2 formation in an effort to counter Macclesfield's dominance down the wings. The Blues also upped the pace and began to threaten again. Good work by Durrell set Alabi through and, as Flinders came rushing out, the Blues No.9 saw his shot come crashing back off the upright.

Durrell was a little over eager in tackling Fitzpatrick and found his way into the referee's notebook. Then Durrell himself was brought down by Danny Whitaker as he made ground towards the penalty area and City lined up a free kick. Astles did a disco dance in front of Flinders – presumably to obscure his view of the wall but the Macclesfield custodian kept his concentration and clawed Dawson's shot away from the top corner. Eventually Chester's spirited pressure brought its reward as Richards bundled Alabi's cross into the net and equalised with quarter of an hour to go.

An already entertaining game became enthralling as both teams went all out for the win. Norburn beat the ground in frustration as his goal-bound shot was blocked by another last ditch tackle. But the visitors did regain the lead with five minutes to go as Vassell stumbled and allowed Browne to find Norburn on the edge of the box to rifle the winner just inside the post. Not quite the last minute this time but close enough to ensure another heart-breaking result for City.

A point would have been a good achievement against a Macclesfield team still on the crest of the wave following their victory at Tranmere at the weekend but in the end Chester had nothing to show despite showing great spirit. The fans showed their appreciation as the players left the field but have begun to fret as the poor run of results continues.


•
League Table
Rate Chester's performance
---
Saturday 18 March
Chester 0 Eastleigh 1

Conference Premier
Attendance: 1,643 Half Time 0-0
Booked: Hudson, Richards.

Chester: Lynch, Hughes, Astles, Hudson (O'Brien 77), Hunt, Vassell, Durrell, Lloyd, Dawson (Horwood 80), Alabi, Richards (Shaw 70). Subs not used: Roberts, Joyce.
Eastleigh: Stack, Green, Close, Hoyte, McAllister, Odoffin, Johnson (Obileye 80), Burge (Matthews 69), Reid, Togwell, Tubbs (Wilson 69). Subs not used: Constable, Clarke.
Referee: Andrew Miller.



Chester collectively took their eye off the ball right at the death of this dour encounter to allow Eastleigh to grab all three points.

It was an even and – at times absorbing match between two mid-table sides who mostly cancelled each other out. If the sides were level on points at the start of the match – there was a wide discrepancy in the size of playing budgets and expectations. While Chester continue to be part-time and mostly pleased with a mid-table position, Eastleigh's Spitfires are seen as under-achievers and are currently on their fourth manager of the season – Richard Hill has been there before though and has returned to inspire a mini revival in form.

One of Hill's recent recruits is Matt Tubbs, re-united with both Hill and Eastleigh after a year wandering with Forest Green, Woking and Sutton. He looked lively at the beginning of this game and had the first snap shot at goal which Lynch managed to deal with and then was more wasteful a few minutes later as he fired wide.

Lucas Dawson made his full debut for Chester and showed promising signs of creativity as he distributed the ball well. Occasionally he was guilty of a wayward pass but was not afraid to re-double efforts to win it back. His performance earned him Chester's Man of the match award. Durrell ran Dawson close though and put in another whole hearted effort.

In a game of few chances Durrell's flick sent Richards through but his effort flashed across the goal and wide. Richards was withdrawn soon after picking up a yellow card for flying in to the tackle against the huge figure of Reda Johnson. The burly defender had crushed Richards a few moments earlier when he fell on top of him. Earlier Alabi had turned in the loose ball into the net but Richards was adjudged to be offside in the move.

With the match meandering towards a draw McCarthy switched Hudson for O'Brien and shifted formation back to 4-4-2 in an effort to push for the win. In the last minute Vassell took a hasty throw in and O'Brien was pressed out of possession. Astles sliced the resultant Spitfires cross out for a last ditch corner. Green swung the ball in and found the unmarked Scott Wilson who crashed home the winner.

It was hard to take but Chester paid a heavy price for the lapse in concentration. Nerves began to fray amongst the home faithful.
•
League Table


Rate Chester's performance
---
Friday 3 March
Chester 2 Tranmere Rovers 3

Conference Premier
Attendance: 3,696 Half Time 1-0
Booked: -.

Chester: Lynch, Hughes, Hudson, Astles, Hunt, Durrell (Mahon 84), Joyce, Lloyd, Horwood (O'Brien 60), Richards (Dawson 67), Alabi. Subs not used: Roberts, Killock.

Tranmere Rovers: Davies, Vaughan, McNulty, Ihiekwe, Ridehalgh, Hughes, Maynard (Harris 7), Mekki, Sutton, Stockton (Cook 58), Mangan (Norwood 65). Subs not used: Turner, Jennings.
Referee: Antony Coggins.

Chester were beaten at home for the second time in a month in front of the TV cameras as local rivals Tranmere Rovers scored twice in the final ten minutes to snatch a victory.
Manager Jon McCarthy was without both Luke George and Tom Shaw through injury and handed the captain's armband to Sam Hughes who became the clubs youngster ever player to hold that honour.
The Blues got off to a dream start having been handed a penalty just two minutes in by referee Antony Coggins after Evan Horwood had been brought down by Adam Mekki, the TV replay showed the incident had taken place a yard outside the box. After a delay James Alibi stepped up to smash the ball past Scott Davies in the Rovers goal.
Despite plenty of possession in the opening stages Tranmere couldn' t break through the Chester rearguard with Alex Lynch called on just once to save a back flick from Cole Stockton from six yards.

Hughes saw a glancing header just go wide following a corner before the Blues almost doubled their lead on the stroke of half-time as Elliott Durrell saw a curling free-kick over the defensive wall hit the outside of the post with Davies beaten.

Tranmere started the second half strongly and drew level ten minutes in as ex-Chester player Jay Harris sent a low 20-yarder into the bottom corner just out of the reach of Lynch.

Davies did well to prevent Alibi adding a second as he rushed out to block the striker on the edge of the box, but on 63 minutes Chester regained the lead as Ryan Lloyd's right wing corner was met by Ryan Astles who glanced a header past Davies and the defenders on the line.
Nine minutes from time Tranmere drew level again. Substitute Lucas Dawson, on for Kane Richards, lost possession and Liam Ridehalgh crossed to Rovers substitute James Norwood to head past Lynch from close range. A great tackle by Hughes prevented Andy Cook from adding a third but the substitute had the final say as Mekki layed-off a long punt upfield from Davies to Cook who volleyed past Lynch for the winning goal in the 89th minute.
Despite seven minutes of stoppage time Chester couldn't find a way back into a pulsating game with Dawson shooting over from a free-kick as the visitors held out for all three points.



Picture © Rick Matthews (Chester Leader)

• League Table
Rate Chester's performance
---