---
Monday 7 May 2001
Kingstonian 0 Chester City 0
Nationwide Variety Club Trophy Final
After extra time. City win 4-2 on penalties
Attendance: 495 Half-time 0-0
Kingstonian: Blake, Boyce, Luckett, Allan, Stewart, Harris, Beard, Mead, Winston, Akuamoah, Green (Jones 59). Sub not used: Thurgood.
Chester City: Brown, Ruscoe, Doughty (Kerr 62), Lancaster, Gaunt, Woodyatt, Fisher, Porter, Beesley (Wright 62), Whitehall, Blackburn (Haarhoff 108). Subs not used: Priestly, Moss.
Referee: L.Jones.

How fitting that the Away Travel Player of the Season Wayne Brown should have the final say as his penalty save brought City's first bit of real silverware for nearly a quarter of a century (we're not including the Cambridgeshire Senior Cup!).
Brown's save at half past ten brought down the curtain on a traumatic season and left a smile on everyone's faces as City at last had something to celebrate.
This had to be the worst game of the season as far as a footballing spectacle is concerned. Both sides looked as if this was one extra game they simply didn't need, the 8pm kick-off on a Bank Holiday didn't appeal to the locals either which totalled a poor 495 of which some 150 were City fans.
Most of the entertainment throughout the night was provided off the pitch as both sets of fans congregated behind the goal on the open terrace and swapped songs. Apparently they're not too keen on their chairman either, though it was pointed out several times that "our chairman's worse than yours".
The only action of note in the first half came in a double attempt on the City goal in as many minutes. First it looked suspiciously as if the ball had crossed the line following a goalmouth scramble and a minute later a backpedalling Wayne (sporting a yellow Bolton shirt!) just managed to turn a shot over the bar. Anything that City created seemed to eminate from Neil Fisher's probing corners which were causing some problems.
The home side started to take control following the break, and Luckett managed to head against the bar from an acute angle. City brought on Darren Wright and David Kerr for Mark Beesley and Matt Doughty and although they forced several corners failed to really trouble the keeper. Steve Whitehall missed a golden opportunity though as he shinned the ball over from a couple of yards stretching at the far post.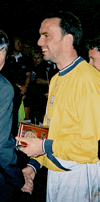 Ten minutes from time K's defender Mark Beard was red carded for an off the ball incident with Steve Whitehall which left the striker flat out (and yellow carded). City almost snatched the winner with the last kick of the game as a sliced clearance was superbly saved at the near post by Blake from his own defender Allan.
Thirty more minutes of extra-time stalemate followed. City brought on Jimmy Haarhoff in a last throw of the dice, indeed he won a free kick on the edge of the box with just three minutes remaining but Mark Beesley's effort went straight into the wall. Darren Wright and Scott Ruscoe also shot wide for City.
Seconds later we were down to a penalty shoot-out. The City fans scurried to the far end of the ground to witness the spectacle and were half way there when Colin Luckett thumped the bar with the opening salvo. Andy Porter, Steve Whitehall, Darren Wright and Neil Fisher despatched with aplomb before Wayne's right hand kept out a well struck shot from Billy Mead.
City fans invaded the pitch as a hastily arranged Trophy presentation (it was getting near last orders in the bar!) took place on the playing surface in front of the main stand as the fans and players joyfully mingled on the pitch. Neil Fisher lifted the trophy from Nationwide officials and it soon found its way into the vast social club as fans were invited to share the champagne from it while Matt Doughty and Darren Moss hustled on the pool table.
A word for Kingstonian which has to be one of the friendliest clubs we've visited this season. Their fans certainly played their part on the night and we wish them a speedy return to the Conference from which ever league they find themselves in next season.
The Penalty shoot-out
Kingstonian
Chester City
0-1
Andy Porter scores
Colin Luckett hits the bar
0-1
0-2
Steve Whitehall scores
Eddie Akuamoah scores
1-2
1-3
Darren Wright scores
Sammy Winston scores
2-3
2-4
Neil Fisher scores
Billy Mead's shot saved
2-4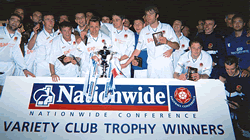 ---
Saturday 5 May 2001
Chester City 1 Rushden & Diamonds 2
Attendance: 4,040 Half-time 0-0
Chester City: Brown, Moss, Doughty, Lancaster, Guant, Fisher, Kerr (Wright 38, (Whitehall 54)), Porter, M.Beesley, Ruscoe, Woodyatt. Subs not used: Priestly, Berry, Haarhoff.
Rushden & Diamonds: Turley, Mustafa, Underwood, Carey, (Mills 77), Peters, Rodwell, Butterworth, Brady, Jackson (Sigere 77), Darby, Burgess. Subs not used: Gray, Wormull, Bossu.
Referee: G.Kellett.



The ISA-organised funeral march provided a moving display of solidarity as it crawled along Bumpers Lane. In a dramatic gesture, the match day stewards announced their resignation en-bloc and joined in the protest against Terry Smith. The orange jackets formed a guard of honour as we entered the Deva stadium car park.
The coffin was duly delivered to the front door and then we formed a human chain around the ground. The links were only broken temporarily to applaud Rushden & Diamond fans as they emerged from their coaches in hordes.
Pre-match presentations were made to all and sundry – just as they were a year ago in a prelude to that fateful match against Peterborough. Graham Barrow collected the ISA award and received a huge ovation. Once the press ban is lifted we look forward to Graham spilling the beans on just what he has had to put up with from Terry Smith in the last year. Another tumultuous round of applause greeted the award for Player of the Season – "The one he banned" announced Cleggy – none other than assistant manager Paul Beesley.
Travelling fans joined us in chants for Smith to leave now. What a pity that the programme for such a historic match should be rendered worthless by being stuffed full of Terry's paranoid propaganda. It is all so pathetic that it barely deserves comment except to say that while he accuses the media of lying and twisting the truth, there were two statements in the programme purporting to be from Jonathan Parker and Phil Davies which both were at pains to deny via the tannoy announcer – both statements had clearly been written by Terry himself.
The stewards having been persuaded to resume their duties by the police, the match commenced. The City players formed a guard of honour for the champions elect when they came out – a nice touch. There was little tension as the two sides played out a first half stalemate. Darby and Jackson received some stick when they forayed forward. No doubt a remembrance of their unfortunate goal celebration in the first match of the season. Lancaster and Gaunt (My man of the match – for what it's worth) did a good marshalling job on the most potent strike force in the Conference. Wright came on to replace the clearly unfit Kerr. Premature goal celebrations by the visiting fans were curtailed by the linesman's flag.
After the break City applied more pressure. Fisher and Porter began to win the midfield. Wright got free down the wing but his wretched cross led to his immediate replaecement by Whithehall. The experienced campaigner soon made his presence felt and won a corner. Fisher and Doughty worked a great one-two to set up Gaunt for a classic headed goal.
The lead was short-lived. From a left wing free kick, Peters glanced a header in off the far post. Still City responded and looked the better team. In one incredible scramble following a corner the ball appeared to cross the line but the linesman remained unconvinced. Goalkeeper Turley was fortunate not to concede a penalty when he clattered into Whitehall and bit his own tongue in the process.
The final meaningful action, however, was at the other end when Brady tried a speculative shot at goal from twenty yards. Brown, for no apparent reason, saw it late and his dive could not prevent it sneaking inside his left hand post. It was a nice way for Rushden to finish their campaign and though it would have been nice to have beaten them, few begrudged their win.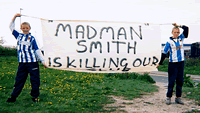 Championship presentation followed after both sets of supporters had retired back off the pitch. A podium was gradually erected in the centre circle and the players then came out two-by-two. While the jubilant Diamonds then enjoyed a lap of honour, the Chester stewards commandeered a couple of the SMITH OUT banners and defiantly displayed them to rapturous applause. Next they ceremoniously divested themselves of their orange jackets in a heap on the pitch. Soon there was a hilarious scramble to reclaim them as the crowds once again streamed on to the playing surface. It was all pretty good humoured stuff.
The City players, changed and clutching pints, emerged to cheers from the director's box. They joined in lustily with the "Terry Out" chants and then Graham Barrow made a short speech about a Chubby Brown record.
Later as we emerged from the club two youthful Cestrians stood across by the relief road with their bedsheet banner proudly unfurled. It said "MADMAN SMITH IS KILLING OUR CLUB". A succinct and poignant summary of the day, and indeed the season.
Match programme is slammed in report.
---
Thursday 3 May 2001
Chester City 2 Nuneaton Borough 1
Nationwide Variety Club Trophy Northern Final
Attendance: 602 Half-time 1-1
Chester City: Brown, Kerr, Doughty, Lancaster, Gaunt, Woodyatt, Fisher, Blackburn (Wright 91), M.Beesley (Moss 80), Whitehall, Ruscoe (Porter 91). Subs not used: Priestley, Berry.
Nuneaton Borough: Mackenzie, Thackeray, Angus, W.Simpson, Crowley, Weaver, Wray (King 115), Francis (Charles 105), Barnes, Peake (J Williams 92), Love. Subs not used: Bacon, Young.
Referee: S Brand (Wirral).

A goal by Darren Wright deep into extra-time gave City a 2-1 victory over Nuneaton Borough and booked a Bank Holiday journey to Kingstonian for the final on Monday night.
City got off to a flyer with Steve Whitehall heading over before the Blues took the lead in four minutes as Chris Blackburn swept home Mark Beesley's cross.
Fisher went close and Lancaster blazed over before the visitors were reduced to 10 men when Paul Barnes was red carded for an off the ball challenge on Gaunt.
The visitors were playing some nice neat football as they have everytmie ew've played them this season and they drew level on the stroke of half time. Jason Peake crossed deep for Terry Angus to level at the far post.
Terry Smith assumed his customary position in the stand after the break which brought more SMITH OUT chanting from the crowd – he scurried off soon afterwards!
Nuneaton pressed forward and should have taken the lead as Wray and Thackeray missed great chances. The ever impressive Lee Woodyatt also came to City's rescue with a timely challenge on Delton Francis as the sriker bore down on goal.
Ruscoe set up striker Whitehall who wasted a chance to win the game in 90 minutes.
Wayne Brown and Lee Woodyatt both made crucial saves to keep City in the game and at the other end Andy Porter came close to scoring for City, hitting the post before Darren Wright wrapped up the tie with six minutes remaining on the clock.
---
Tuesday 1 May 2001
Chester City 3 Scarborough 2
Attendance: 805 Half-time 1-1
Chester City: Priestly, Woodyatt, Woods (Doughty 46), Ruscoe, Lancaster, Blackburn, Fisher, Wright (Porter 46), Moss (Kerr 83), M.Beesley, Whitehall. Subs not used: Maken, Berry.
Scarborough: Woods, Atkinson (Dawson 54), Brunton, Rennison, Keegan, Piercewright, Jordan, Blunt, Pounder, Brodie (Diallo 79), Williams (Burt 38). Subs not used: Newton, Jewell.
Referee: M Atkinson (Leeds).

Those who stayed away from the Deva, whether through protest or apathy, on Tuesday missed quite an entertaining game. On a balmy evening the returning swallows performed their aerobatic feats above while the players wove patterns with the ball below.
Scarboro's style of play was open and attractive but also gave space for City to play the ball around too. It was the visitors who had the more clear-cut chances in the first half. One of the best opportunities came the way of Brunton who broke from midfield but by the time he had manoeuvered the ball on to his left foot he had to hurry his shot which curled well wide of Priestley's right hand post. Pounder also caught the eye with his good control and visionary passing. Some good work down the right led to him crossing dangerously for Brodie who, fortunately for City, completely missed his kick.
Nothing could compare with the let-off City had just on the half hour when Pounder scooped a penalty kick well over the cross bar. The kick had been rather harshly awarded when Woods leaned over-heavily on Williams when there was very little threat to goal. Another free kick given away by Woods, this time over on the right hand touchline did lead to Chester falling behind. Scott Jordan's free kick started off as a cross but ended up in the back of the net, having taken a miniscule deflection from Darren Wright's studs on the way. Priestley was completely deceived by the flight of the ball.
A moan went up nearby me when three minutes of added time were announced but there were soon cheers when City pulled back level. Mark Beesley, who worked tirelessly all evening, got free on the right and sent a hard low cross into the box. Whitehall, tangling with a defender, couldn't make contact but the ball broke to Fisher on the edge of the area in acres of space and he passed it into the corner of the goal.
The second half began at a furious pace and soon exploded with a couple of goals in the space of a minute. Porter and Doughty came on at half time for Woods and Wright. Fisher dropped into the back line to form a diminutive but effective partnership with the, once again, excellent Woodyatt. Scarboro's keeper came under pressure from Beesley and miskicked horribly but recovered to spring a counter attack. Substitute Burt cut in purposefully from the right and turned inside to hammer a fierce shot through Priestley to restore the Seadogs' lead. Chester came straight back. Doughty ran like a train down the left and crossed beautifully for Blackburn to head down. Ruscoe's shot was blocked but then the ball broke to Beesley who hammered it into the roof of the net.
It really was entertaining now as Chester came forward and Scarborough broke back with pace. It was Doughty who had the telling say in what proved to be the winning goal. Whithall was tripped as he turned on the edge of the box and Doughty whipped the subsequent free kick in. A defender, Piercewright I think, under pressure from Blackburn defelected it past his helpless keeper.
Scarborough played their part in a good, if meaningless, match. The visiting fans too displayed a Smith Out! banner and were positively keen in their chanting for our absent chairman/chief executive to go.
The news filtered through from Somerset that Yeovil had gone down to a last minute goal. A big disappointment this as it means the match with Rushden on Saturday is now completely academic. Brian Talbot, though, a visitor to the Deva for this match, will have had a happy journey home.