---
Saturday 27 April
Worcester City 0 Chester 1

Conference North
Attendance: 4,072 Half Time 0-1
Booked: -. Sent-off: McGinn.

Worcester City: Sargeant, Weir, Khan (Moore 59), Thorley, Whitehead, Rowe, Birley (Williams 71), Elvins, Symons (Taylor 64), Breeze, Morris. Subs not used: Ayres, Smith.

Chester: Danby, Hankin (Baynes 30), McGinn, Horan, Collins (Linwood 46), A.Williams, Peers (Gray 59), Howard, Jarman, M.Williams, D.Williams. Subs not used:
Fearon, J.Roberts.
Referee: Simon Barrow (Staffordshire).

This was definitely Worcester City's day in the spotlight as the already-promoted Chester arrived as the last-ever visiting team at 108-year-old St George's Lane.



Worcester gave Chester a guard of honour as the 'Greens' entered the historic ground, but then it was onto the minute's silence and an odd moment of reverence for a bottle of Worcester Sauce on the centre spot.

After that build-up, the football started a couple of minutes late, but Chester soon showed why they're the League Champions. First a threatening cross was headed behind, then from the resultant corner, captain George Horan headed for home in front of the packed Worcester home terrace.

Worcester then woke up and as Chester's defence looked like they were already on their holiday plane to "Maga", Worcester striker Mike Symons found himself in a one-on-one with John Danby. The Chester goalkeeper did well to save at Symons's feet to keep his side in front.

Worcester had another chance, this time having a shot blocked, before Matty McGinn committed a rash challenge in a non-threatening part of the pitch. He was shown a straight red for his tackle on Tom Thorley.

By now it looked like Worcester, who seemed to have attracted most of the city's rugby and cricket fans to enjoy the final moments of their ramshackle ground, might sneak a result to impress the massed ranks.

As the second half started, the end of April started feeling like the end of February as the wind whipped round St George's Lane. And it was the home team who carried on doing more to warm up their part-time supporters.

Chester bought on Paul Linwood to replace Dom Collins for the second half, but the visiting defence were soon under pressure again. A great strike from Worcester was pushed over by a diving Danby to keep his side in front.

Soon after Iain Howard nearly had the perfect Chester send-off when he received the ball after a great passing interchange. But somehow his shot hit the inside of the post, and the fairy-tale ending was not to be.

Worcester had a similar moment when a great shot looked goalbound before it hit the post, with the rebound going straight into the arms of a relieved Danby. The home side had at least a couple more chances to give the crowd – this season's record Conference North attendance c something to cheer, but they couldn't seem to find their target.

I was actually watching this match behind enemy lines, as home tickets seemed easier to obtain than away tickets, and I couldn't help but find myself almost willing Worcester to score. The truth is that a 2-1 scoreline to Chester, with Howard getting a goal, would have been my dream scenario.

But it was not meant to be, and as Chester look ahead to Conference Premier football next season, Worcester City will have to fight to survive in a ground several miles from their home. We've been in their shoes, and I don't want to turn the clock back – good luck to them.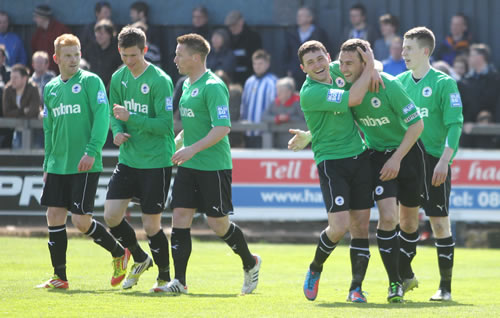 • Final league table | Match highlights | Match pictures
Rate Chester's performance
---
Thursday 23 April
FC Halifax Town 1 Chester 1

Conference North
Attendance: 1,262 (258 Chester) Half Time 1-1
Booked: A.Williams, Hankin, Collins.

FC Halifax Town: Glennon, Bolton (Toulson 46), McManus (Jackson 46), Hogan, Pearson, Lowe, Worsley, Williams, Glover (St Juste 71), Johnson, Seddon. Subs not used: Senior, Messer.

Chester: Danby, Baynes (Hankin 77), Horan, Collins, D.Williams, Jarman, A.Williams (Howard 63), Sarcevic, McGinn, M.Williams, Gray. Subs not used: Peers, Miller, Fearon.

Referee: Glen Hart (Darlington).

Chester came away from The Shay with a deserved point, but missed chances cost them the opportunity to complete the double over FC Halifax Town. Some Chester players were held up in heavy traffic on route to the ground and as a result the kick-off was delayed 15 minutes.

When the teams eventually took to the pitch the Chester side were given a guard of honour from their sporting opponents and began the game in championship form by taking the lead as early as the eighth minute as Marc Williams met a Nathan Jarman cross six yards out to nudge the ball past Matt Glennon in the home goal.

Chester continued to press, Antoni Sarcevic saw a goal bound effort cleared off the line and Glennon, who made 11 appearances for Chester last season, produced a fine save to deny Tony Gray doubling the lead.
For the home side Chris Worsley did find the net only for his effort to be ruled offside and Danny Glover saw a long range effort clear John Danby's bar as the home side came more into the game.
Matty McGinn did well to block a Sean Williams shot before Sarcevic missed a great chance to put Chester two up. Marc Williams sent a through ball to Danny Williams and his back heel fell to Sarcevic, one-on-one with Glennon, but the young midfielder scuffed his shot wide.
Chester were made to pay for their missed chances as the Shaymen equalised on 38 minutes as Alex Johnson headed home Williams' inswinging free-kick past Danby. Danby saved well from Gareth Seddon in stoppage time to keep the scores level at the break.
Matt Pearson shot over just after the restart but again Chester missed a great chance to restore their advantage as George Horan headed over from point blank range on 51 minutes. Chester continued to press as Gray saw an effort go just wide.
The Blues conceded a series of corners and Danby produced another good save to deny Jason St Juste. The final chances of the game came in the closing stages for Chester. Gray saw an effort fly just over the bar and Marc Williams sent a shot straight at Glennon following fine work by Danny Williams. In the final minute Glennon produced the save of the game to deny Jarman what would have been an certain winner and his corner bound shot was finger tipped away.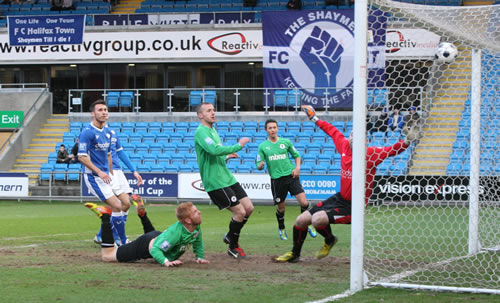 Picture © Rick Matthews (Chester Leader)

• League table after this match | Match pictures
Rate Chester's performance
---
Saturday 20 April
Chester 0 Solihull Moors 1

Conference North
Attendance: 3,414 Half Time 0-1
Booked: D.Williams.

Chester: Danby, Hankin, Collins, Horan, D.Williams, Sarcevic, A.Williams (M.Williams 46), Brown, Howard (McGinn 63), Gray, Jarman (L.Turner 76). Subs not used: Fearon, Baynes.
Solihull Moors: Singh, Connolly, Langdon, Denny, Kemp, Pierpoint, Knights (Spencer 88), Beswick, Bogle, Birch (Joseph 88), Angus (Blackwood 88). Subs not used: Acton, Hayden.
Referee: Ricky Wootton (Wakefield).



It's a shame that the actual match seemed to take second place today as Chester prepared to collect their third Championship trophy in as many years. Manager Neil Young, in naming an odd formation with Dave Hankin at right-back, also seemed more content than usual to see how the 90 minutes of football panned out. It was as if no-one realised that history could have been in the making – with a chance to beat an unbeaten home record dating back to 1927.

Solihull meanwhile had read the usual script, with every team visiting the Exacta this season seeing the match as their 'cup final' and a chance to show the League's top-performing players how they could be their equal.

So the visitors took the initiative from the off and just nine minutes after kick-off won an arguable penalty when the exotically-named Omar Bogle made the most of a challenge by Ashley Williams and went down in the penalty box. He took the spot kick and had no trouble scoring in front of the packed Harry Mac Terrace.

Chester didn't really strike back, with an Antoni Sarcevic strike being the only real effort inside the first half hour. It could have been 2-0 to Solihull not long after that when the ball somehow failed to go in after first hitting the post, and then a Solihull player inexplicably missing an open net. It would have been heart-stopping stuff if Chester had needed a home point.

Half-time seemed more entertaining to most Chester fans than the first 45 minutes, as an impressive parade of Chester FC ladies', youth and boys' teams paraded around the pitch to take their end-of-season plaudits.

The second half saw Chester step up a gear when Marc Williams replaced Ashley Williams, and seemed determined to play like Chester really needed the three points. The Blues finally seemed to be an attacking force and won corner after corner – with the best attempt on goal seeing captain George Horan head over the bar.

The script had been written for Iain Howard to score a match-saving goal. But, after he saw one great strike saved by Jasbir Singh, he was taken off to appreciative applause on the 63rd minute. So the fairytale ending was not to be.

Chester did continue to press, with Horan having another header from a corner saved. Tony Gray also came close, along with Marc Williams. But Solihull – including their rotund number 10 Gary Birch – did not lay over and die.

So there was a tinge of disappointment when the referee blew for full-time. But it was soon forgotten when Captain George picked up Chester FC's third Championship trophy in a row. At least one fairytale had come true. Bring on the Conference!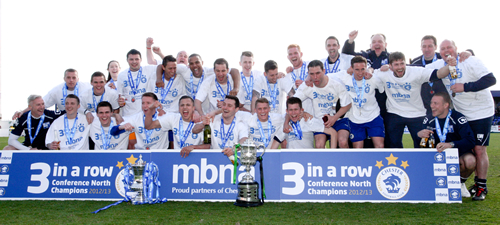 •
League table after this match
| Players with the trophy | Match pictures
| Other pictures from the day
Rate Chester's performance
---
Wednesday 17 April
Chester 2 Stalybridge Celtic 1

Cheshire Senior Cup Final (at Witton Albion)
Attendance: 1,156 Half Time 1-0
Booked: D.Williams.

Chester: Fearon, L.Turner, Horan, Collins, McGinn, Hankin, A.Williams (Brown 58), Sarcevic, D.Williams, M.Williams (Jarman 69), Gray. Subs not used: Baynes, Peers, Howard.

Stalybridge Celtic: Cairns, Bleau, Lees, Platt, Bembo-Leta, Haywood (Gregory 85), Buckley, Wilkinson (Pepper 85), Parkhouse (Warburton 40), Hatch, Hall. Subs not used: Lindsay, O'Connor.

Referee: John Dowd (Wirral).
After eighty-one years of hurt the Cheshire Cup was brought gleaming back to the capital last night as City defeated Stalybridge 2-1.

The game was played in atrocious conditions as wild and blustery winds made it difficult to control the ball. The Exiles (Some had travelled from Berkshire, Surrey and London to be present) also had difficulty controlling their new green banner which was ripped from its moorings before kick-off. City were boosted by the fitness of skipper George Horan who was a doubt for the game but led his team in green and black as the ever-hospitable Witton hosted the final.

City began on the front foot and Danny Williams had a good chance to open the scoring but Cairns in the Celtic goal smothered his shot. Minutes later a cross from the right eluded Cairns and found three forwards with no one between them and the goal. The chance came too quickly to Gray whose instinctive header went wide of the post. Marc Williams took advantage of a high bounce to launch a spectacular bicycle kick goalwards. Cairns pawed it away for a corner.

As the game settled down Celtic enjoyed better possession than City and Prince Haywood became more and more influential, but they did not really threaten goal. Instead it was Chester who made the breakthrough when Sarcevic got clear on to a long ball over the top which held up in the wind. As Antoni made strides into the penalty area he had his heels clipped by Fabrice Bembo-Leta and went sprawling. A penalty kick for Chester and a red card for Bembo-Leta were awarded. Sarcevic took charge of the spot kick, and after digging a divot to hold the ball from the gusts of wind, drilled it in off the post for the opening goal.

Stalybridge made light of their one man disadvantage and fought hard to deny City a second, then caught them on the break as Chester pressed. The programme notes say that Chris Hall has an acting career off the pitch and has appeared in a stage version of The Full Monty. He certainly caught City with their trousers down as a raking clearance set him free to run at Fearon with only Lewis Turner back to defend. He turned and twisted the Turner twin and then prodded the ball past the Chester keeper to equalise and still had energy left to sprint right back to the other end and receive the adulation of the Celtic faithful.

Their cheering had hardly died down, however before City were in front once again. Gray scored an opportunist goal by chasing down Cairns near the corner flag and, having dispossessed him of the ball sent a curling shot from the acutest of angles into the unguarded net.
Jarman came on and should have added a third but, after streaking through on goal, he finished tamely. At the other end Hall had a glimmer of a second equaliser when Fearon lost a high ball in the swirling wind. But City were not to be denied their glory, glory night and, after a fairly shambolic presentation in which the winners' banner had to be pinned down to stop it blowing away, George lifted the magnificent looking trophy.

The last Chester players to have their hands on it in 1932 enjoyed a reception on the Town Hall steps before adjourning to the Nag's Head. I wonder where the current victors will fill their tankards? Perhaps, when they do, they might raise a toast to Tommy Jennings and the rest of their predecessors – who would surely be rightly proud of the players and management's remarkable achievements this season. They have revived a long and honourable tradition – and Cestrians everywhere are deeply grateful.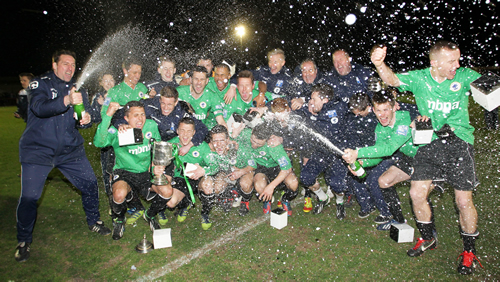 • More pictures | Video highlights


Rate Chester's performance
---
Saturday 13 April
Guiseley 2 Chester 1

Conference North
Attendance: 1,545 Half Time 1-1
Booked: Sarcevic, McGinn.

Guiseley: Drench, Hardy, Meynell, Ellis, M Wilson, J Wilson, Rea, Holdsworth, Carole, Rothery, Holsgrove (Walshaw 63). Subs not used: McWilliams, Bower, Mullen, Giles.
Chester: Danby, L.Turner, Horan (Baynes 46), Collins, McGinn, Hankin, N.Turner (M.Williams 88), Sarcevic, D.Williams, Jarman, Gray (A.Williams 77). Subs not used: Brown, Howard.
Referee: Matthew Bristow (Manchester).



Chester's 30 league match unbeaten run finally came to an end when they were beaten at second placed Guiseley. The Blues were made to pay for some missed chances in the second period as a brace from Josh Wilson was enough to inflict only the second league defeat of the season on Chester.

Captain George Horan went close in the early stages as his towering header was saved by Steve Drench but that was really the only meaningful effort the Blues could muster in the opening period of the game and it was the Lions who opened the scoring after just eight minutes. A foul by Matty McGinn on Gavin Rotheray just outside the area presented Wilson with a free kick which he duly curled around the Chester wall and into the bottom corner.
Wilson almost doubled the lead from a similar position only to see another free kick hit the post and bounce out of play. Building on that let-off, Chester began to get more and more into the game. Six minutes before the break Tony Gray raced through onto a McGinn through ball but with just Drench to beat sent his shot wide of the post and out.
Gray made up for his miss in first half stoppage time as he glanced home Antoni Sarcevic's corner to bring Chester level. Manager Neil Young was forced to make a change at half-time with Horan, who suffered an Achilles injury, being replaced by Wes Baynes with Lewis Turner moving alongside Dom Collins in defence.
Collins made a superb tackle to deny Kevin Holsgrove shortly after the restart. Both sides created and missed opportunities to take the lead with Sarcevic guilty of the missing the best as he shot straight at Drench after running clear onto a Nathan Jarman defence splitting through ball.
The Blues were made to pay for the miss as Wilson grabbed his second goal of the game just four minutes later when the former vauxhall Motors player picked up a Holsgrove through ball to shoot past Danby who had come out to narrow the angle.
Guiseley should have extended their lead but former Chester City player Jack Rae pulled his shot wide when well placed following a back heel from James Walshaw. The final effort of the game went Chester's way as John Danby, who had run upfield to join in a McGinn corner, saw his header fall to Danny Williams whose effort was saved by Drench in stoppage time.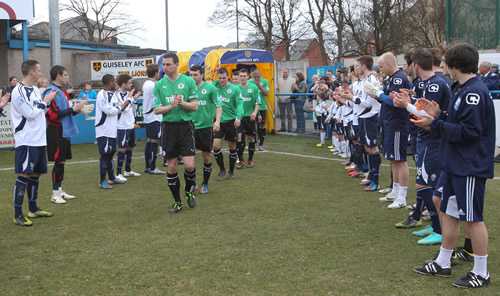 Picture © Rick Matthews (Chester Leader)

• League table after this match | More pictures
Rate Chester's performance
---
Saturday 6 April
Chester 1 Boston United 0

Conference North
Attendance: 3,685 Half Time 0-0
Booked: D.Williams.

Chester: Danby, L.Turner, Collins, Horan, D.Williams, Baynes (Hankin 52), Sarcevic, Brown (N.Turner 72), McGinn, Jarman, M.Williams (Gray 81). Subs not used: A.Williams, Howard.
Boston United: Haystead, Marshall, Ward, Stainfield, Silk, Foster (Sanders 79), Ross, Weir-Daley, Milnes, Mills (Fairclough 72), Newsham. Subs not used: Watt, Reed, Field.
Referee: Peter Wright (Southport).



The stage was set for a perfect day – blue skies and a hint of spring as Chester came out to the cheers of this season's record home crowd, anxious to see if their team would be crowned Champions in two hours' time.

The first half was a fairly 'even-stevens affair', with many Chester fans distracted by looking at their phones for updates from Guiseley's away game at Brackley. All Chester had to do was beat Guiseley's result and they'd get their third successive promotion that day.

Boston, the only team to have beaten Chester in the League this season, were actually quite formidable opponents, with Spencer Weir-Daley shooting high-and-wide early on. Nathan Jarman had a chance at the other end, but saw his shot saved by Pilgrims' goalkeeper Dan Haystead.

Chester goalkeeper John Danby was called into action later in the first half, saving from a good Boston strike. And thankfully the news from Northamptonshire was that it was still 0-0 at Brackley v Guiseley as the teams went in for half-time.

The second half saw Chester shooting towards an almost-full Harry McNally terrace, and the home fans were in ecstasy less than a minute from the whistle. Good work by Matty McGinn found Jarman on the left. He could have gone down under a Boston challenge, but instead made a great cross to unmarked Lewis Turner. His bullet header was going only one way and it put the Blues ahead as well as notching up the 100th goal of the season.

After that, there was a feeling the result was only going in Chester's direction. Both sides did have further chances – with George Horan being unlucky to put a header wide.

Chester nails were being bitten – although not quite as nervously as in previous seasons, as there were a few more promotion opportunities in the offing – when news filtered through of an 84th minute goal by Brackley's Owen Story. The cheers rippled round the ground and the players must have noticed as the "Championes, Championes" chant resounded around.

In no time at all, the referee blew for full-time and the Chester fans spilled onto the pitch to hug every player they could find as they celebrated promotion to the Conference Premier. It was a moment for the "shower of fools" to savour, knowing that everyone did their bit to get Chester FC onto the national football stage. So it was quite right that everyone made the most of the celebrations. There must have been a few sore heads the following day – but it would have been worth it and no-one can deny that "Chester are back".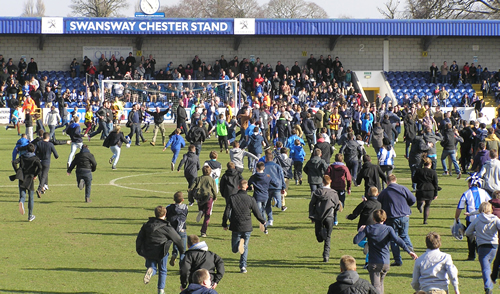 • League table after this match
Rate Chester's performance
---
Thursday 4 April
Gainsborough Trinity 0 Chester 2

Conference North
Attendance: 678 Half Time 0-2
Booked: Collins, Brown.

Gainsborough Trinity: White, Roma, Wilde, Waterfall, Young, Clarke, Platt (Jones 46), Nelthorpe, Yates, Connor (Karkach 90), Hawkridge. Subs not used: Thompson, Budtz.
Chester: Danby, L.Turner, Horan, Linwood (Collins 5), D.Williams, Hankin, N.Turner, A.Williams (Brown 78), McGinn, Jarman, Gray (M.Williams 49). Subs not used: Howard, Baynes.
Referee: Martin Dexter (Leicester).



Goals from captain George Horan, and Conference North Player of the Month Tony Gray, brought victory at Gainsborough Trinity to leave the Blues possibly just one win away from a third successive championship.
Manager Neil Young made a couple of changes to the team that beat Altrincham on Easter Monday. Antoni Sarcevic had an injured foot and was replaced by Ashley Williams while Paul Linwood replaced Dom Collins in the heart of the defence.

In the first action of the game Danny Williams saw an early dangerous looking cross gathered by Jason White in the home goal. Linwood lasted only five minutes before a calf injury saw him replaced by Collins as Chester were forced into an early reshuffle.

Terry Hawkridge saw an effort slide wide of John Danby's post before Horan opening the scoring on 26 minutes with a quality strike as he controlled a Matty McGinn throw on his chest before volleying the ball home off the underside of the bar from the edge of the box.
Five minutes later Chester doubled their advantage through Gray who blasted home from close range after Dave Hankin had controlled a loose ball in the area following a Nathan Turner cross. It was Gray's seventh goal in six matches.

Luke Waterfall had a great chance to halve the deficit but his shot skied over the bar after the Chester defence had failed to clear a free-kick.
Danby made a fine save from Paul Connor after the break, tipping his header from ten yards over the bar, as the home side looked to get back into the game. Apart from a Mark Jones effort straight at the Chester 'keeper, and an effort poked wide by Greg Young, the Lincolnshire side failed to really trouble the Chester defence through the remainder of the half.

The victory sets up a possible title clinching match against Boston United on Saturday. Should Chester better Guiseley's result at Brackley Town the same day the championship will be theirs.
• League table after this match
Rate Chester's performance
---
Monday 1 April
Chester 2 Altrincham 0

Conference North
Attendance: 3,089 Half Time 1-0
Booked: Sarcevic.

Chester: Danby, L.Turner, Collins, Horan, D.Williams, Hankin, N.Turner (Brown 75), Sarcevic, McGinn, Jarman (A.Williams 65), Gray (M.Williams 69). Subs not used: Linwood, Baynes.
Altrincham: Coburn, Densmore, Leather (Clee 75), Rodgers, Havern, Hall, Richman, Boshell, Brooke (Watmore 65), Reeves, Lawrie (Moult 83). Subs not used: Doughty, Samburg.
Referee: Robert Jones (Wirral).



Those who wished that Chester would be crowned champions on All Fools Day have been thwarted by the unseasonal weather. Postponements have meant that the league is behind schedule and everyone is playing catch up. This includes Chester as they must play twice more this week with a tricky trip to Gainsborough on Thursday before returning to face the only team to beat them in the league so far – Boston.

Nevertheless City notched a further three points in their relentless campaign for the Blue Square North Title with a hard fought victory against Cheshire rivals Altrincham. It was the most bitterly cold of Easter Mondays but City warmed their supporters by driving forward against the visitors. They dominated the first half but only had Matty McGinn's goals to show for it.

McGinn had an influential game and took his goal supremely well. First he controlled a high ball forward, rode a tackle, then played a one two which finished with him smashing a shot past Coburn. City might have added to their tally after Jarman's spectacular overhead kick found Gray but he could only turn the ball over the bar.

Altrincham had not posed too much of a threat but had done enough in the first half to show that they could mount a challenge. This they did after the break after they had weathered early pressure from City. Jarman just failed to get his toe on a back pass – even the slightest touch would have sent it past Coburn. Now Altrincham forced a series of corners and City seemed to be fading.

First a shot flashed across the City area and then Reeves, Alty's dangerman, headed narrowly wide from a far post cross.

Young replaced Jarman with Ashley Williams and shortly afterwards Nathan Turner gave way to Marc Williams and Scott Brown replaced Tony Gray. City became more competitive in midfield, Antoni Sarcevic moved forward and Altrincham were pushed back.

The game was poised on a knife edge when Horan, still upfield following a corner crossed into the box and Collins fought for the ball at the far post. Despite the attentions of a defender's tackle he managed somehow to squeeze the ball beyond Coburn and into the net. A vital goal. The home supporters applauded to the high heavens and the game was won.

There are not many games to go now but they are fast approaching. Guiseley are now the only remaining team who can catch City and have to play both Halifax and Brackley this week. Chester need three more wins to guarantee the title assuming that Guiseley win all of their games. Any slips by them and the Blues could clinch their third consecutive championship on Saturday. Not bad for a club run by a set of supporters once described as a "Shower of fools who meet in bingo halls."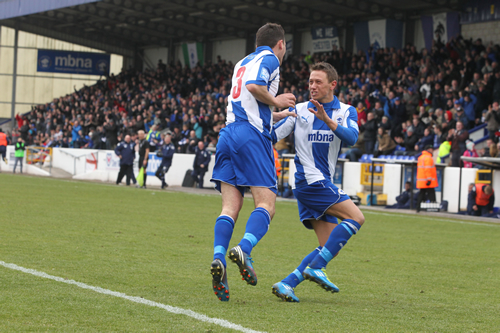 • League table after this match | More pictures
Rate Chester's performance
---