---
Saturday 29 September
Stalybridge Celtic 2 Chester 6

Conference North
Attendance: 1,193 Half Time 0-4
Booked: Baynes, Howard.
Stalybridge Celtic: Cairns, Bleau (Haywood 69), Platt, Bembo-Leta, Lees, Warburton (Barrow 55), Pepper (Mullan 33), Wilkinson, Austin, Gregory, Laird. Subs not used: Sheriff, Woodhouse.
Chester: Danby, Baynes, Collins, Linwood, McGinn, Hankin (Mackin 68), Brown, Sarcevic, Howard (Clancy 73), Jarman, M.Williams (Gray 55). Subs not used: Horan, A.Williams.
Referee: Alf Greenwood (York).


A superb first half from Chester put this result beyond doubt as the Blues cruised into a four goal lead thanks to some inspired play by midfielder's Iain Howard and Antoni Sarcevic who punished some sloppy home defending in ruthless fashion.
Manger Neil Young made one change from the side that drew at Gainsborough the previous weekend replacing George Horan, who had a slight knock, with Dom Collins.
Home 'keeper Alex Cairns was a busy man in the opening period. Dave Hankin and Wes Baynes probed the Celtic defence before Marc Williams forced a save from Cairns. Nathan Jarman saw an effort clear the bar following a Sarcevic through ball before Sarce himself opened the scoring in the 20th minute picking up a loose ball following a deflection off Jarman and beating the defender to the ball to fire past Cairns from ten yards.
Chester doubled their advantage on 33 minutes as Howard picked up a Horan knock-down following a long Wes Baynes free kick on the edge of the box and pulled the ball back for Jarman to rifle it home from six yards out giving Cairns no chance.
Three minutes later Howard got on the scoresheet himself punishing some poor defending after a through out from Cairns was intercepted by the alert Marc Williams.
The goal of the game, and possibly the season!, came next as Howard intercepted the ball in defence, sent a raking long ball down the right that was knocked back by a home defender to Dave Hankin. Hankin sent Marc Williams off down the right and his deep cross was met by Howard who acrobatically scissor kicked the ball home on the volley across Cairns.
Two minutes after the break Sarcevic scored his second of the game after a mix-up between Joel Bembo-Leta and Kristian Platt allowed the midfielder to side foot home, the ball taking a deflection past cairns on the way in.
Sarcevic almost grabbed a hat-trick but saw his looping effort crash back of the angle of the crossbar and post to safety. Collins saw an effort hit the side netting before Stalybridge pulled a goal back through Jack Laird who steered the ball home from around the penalty spot following a fine left wing run and cross by Mitchell Austin.
Chester added a sixth on 73 minutes. A through ball wasn't controlled by the home defence, Sarcevic seized the loose ball and as Cairns rushed out the two collided with the loose ball falling for Howard who had the simplest task to side foot the ball home in front of the 700+ away support and complete his hat-trick.
Sarcevic saw another effort hit the side netting before Stalybridge scored the last goal on the match through Jordan Barrow three minutes from time after John Danby had produced a great point blank double save deny two close range efforts.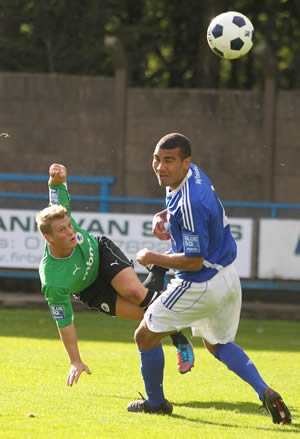 Picture © Rick Matthews (Chester Leader)

• League table after this match | Match highlights (1909TV is run by SCSA) | More pictures
Rate Chester's performance
---
Saturday 22 September
Gainsborough Trinity 1 Chester 1

FA Cup Second Qualifying Round
Attendance: 756 Half Time 1-1
Booked: McGinn.
Gainsborough Trinity: Budtz, Roma, Wilde, Waterfall, Hone, Clarke, Yates, Banks, Connor, Stamp (Knowles 58), Hawkridge. Subs not used: Young, Nelthorpe, D'Laryea, Williams, Ridley, Leary.

Chester: Danby, Baynes (Collins 72), McGinn, Horan, Linwood, Brown (Powell 68), Hankin, Sarcevic, Jarman, M.Williams, Howard (A.Williams 83). Subs not used: Clancy, Booth, Fearon.

Referee: Scott Oldham (Blackpool).

The two sides must lock horns again for the right to host FC Halifax Town in the third qualifying round of the FA Cup after Chester forced a draw in their first appearance in the famous competition since reforming two years ago.
There were only ten minutes on the clock the the home side opened the scoring through captain Paul Connor who somehow managed to evade both defenders Paul Linwood and George Horan to head Dominic Roma's cross past John Danby.
Chester hit back and thought they'd levelled only to see a Dave Hankin effort ruled out thanks to an an offside flag and soon after Matty McGinn saw a trademark long-range pile driver fly just over the bar.
Iain Howard missed a great opportunity to draw the Blues level on 29 minutes but shot wide after striker Marc Williams had set up an inviting pull-back for him. Moments later though Jarman had the ball in the net and the Blues were level. Anotni Sarcevic sent a defence splitting pass through the Trinity rearguard for Nathan Jarman to run on and shoot under Jan Budtz in the home goal.
Chester cam more into the game after the equaliser. Howard saw an effort blocked by Luke Waterfall as the midfielder met a Sarcevic cross and shot for goal.
The Blues continued to probe after the break. Horan sent a header wide from a McGinn corner but chances were at a premium in the second period.
Substitute Michael Powell shot straight at Budtz in the closing stages and Marc Williams was denied by a timely Josh Wilde tackle as the game ended in stalemate.
Rate Chester's performance
---
Saturday 14 September
Boston United 3 Chester 2

Conference North
Attendance: 1,249 Half Time 3-0
Booked: Sarcevic, Baynes, Linwood.
Boston United: Haystead, Silk, Jelleyman, Milnes, Ward, Stainfield, Fairclough, Ross (Smith 50), Stokes, Newsham, Weir-Daley (Dyer-Stewart 90). Subs not used: Reed, Field, Marshall.

Chester: Danby, Baynes, Horan, Linwood, McGinn, Hankin, Mackin (Powell 64), A.Williams (Howard 46), Sarcevic, M.Williams (Jarman 46), Mills. Subs not used: Collins, Clancy.

Referee: John Brooks (Melton Mowbray).

Chester turned in their worst performance for many months as slack defending in the opening period saw Boston cruise to a 3-0 half time lead.
On eight minutes the defence were caught in possession 30 yards out, a clever back-heel from Spencer Weir-Daley set up winger Jason Stokes and his cross was met by Ben Fairclough whose goalbound shot was almost stopped by George Horan's attempted goalline clearance but the Chester shipper could only help the ball into the net off the post.
Chester responded and Ben Mills, playing the last game of his successful loan spell pulled a shot wide following good build up play from Marc Williams.
Goalkeeper John Danby made a save to deny Newman before Fairclough doubled the Pilgrims' advantage on 35 minutes. Danby came rushing out of his area to meet a through ball only to misjudge the bounce, Fairclough flicked the ball over him and coolly lobbed over the Chester 'keeper and back peddling defenders in front of the 240+ travelling support
Two minutes later Chester conceded a third. Once again possession was given away 30 yards from goal, another Spencer Weir-Daley back-heel turned the Blues defence and allowed Ben Miles to slot the ball past Danby.
Not surprisingly, manager Neil Young made changes at the break introduction Iain Howard and Nathan Jarman and it was Howard who suddenly changed the complexion of the game with two goals in as many minutes three minutes after being introduced.
A long ball down the right from Wes Baynes was flicked on by a home defender to Ben Mills whose cross from the right was met by Howard at the far post who volleyed home past Dan Haystead. Two minutes later Chester were right back in it as clever interplay set up Howard on the left again whose low angled drive found the far corner of the net.
However the Blues were unable to build on their momentum and Fairclough's pace was proving a problem for the defence and he set up Weir-Daley who wasted a great chance as he headed past Danby and wide. The last chance of the game fell to Ian Ross but Danby saved as Chester succumbed to their first defeat of the season.
• League table after this match
Rate Chester's performance
---
Saturday 8 September
Chester 4 Guiseley 0

Conference North
Attendance: 2,937 Half Time 2-0
Booked: Brown.
Chester: Danby, Baynes, McGinn, Horan, Linwood, Mackin, Hankin, Sarcevic (Howard 80), M.Williams, Mills (Jarman 78), Brown (A.Williams 86). Subs not used: Collins, Powell.
Guiseley: Drench, Holdsworth, McWilliams, Meynell (Clarke 36), Ellis, Ainge, Brogan (Brooksby 66), Boshell (Dale 79), Wilson, Walshaw, Rothery. Subs not used: Bower, Giles.
Referee: Mark Ackerman (Manchester).



Any thoughts City supporters might have had about this match being a bridge too far after Wednesday's tough encounter were quickly dispelled as the Blues gave a commanding performance to thrash fellow hundred percenters Guiseley.

Chester went for the jugular from the kick off and tore at their high flying opponents. Antoni Sarcevic had the first opportunity on goal after Mills' effort had been parried by the 'keeper, but he couldn't quite get the ball under control and his attempt was cleared. It was only a temporary respite for the visitors however as Mills made the most of more hesitation in the Lions' defence and struck the ball high into the empty net.

Guiseley responded with some flowing passing movements and went closest to equalising when Walshaw went through as City hesitated for an offside decision and rounded Danby only to strike the foot of the post from an acute angle. But City, with debutant Scott Brown and Levi Mackin busy as pocket battle ships in midfield, were much more competitive against opponents who admittedly were not as fired up as Halifax on Wednesday. An indication of the difference in temperature is that it took twenty minutes for the first free kick to be awarded.

City made inroads down the right flank in particular with Marc Williams, Hankin and Sarcevic developing a good understanding and putting the visitors under increasing pressure. One move ended with a rasping shot from Sarcevic which Drench in the Lions' goal did well to tip round the post. But when Chester doubled their lead the goal came right out of the blue. Mills brought the ball down twenty five yards from goal and let fly a sharp but speculative shot. Drench seemed to have saved it but the ball squirmed out of his grasp and into the back of the net.

Home supporters were incensed when, following a wayward clearance, Mills appeared to be bundled off the ball in the penalty area as he bore down on goal. The referee left the field at half time to a chorus of boos as a result but otherwise things were looking good for the Blues on a beautiful balmy afternoon.

Guiseley began to concede more free kicks after the break as City maintained their tempo and turned the screw further. From one of them Chester put the result beyond doubt and Mills completed his hat trick. Baynes delivered a raking cross from the right which picked out Horan superbly. His header back across goal was nodded in by Mills to notch his ninth goal in seven appearances on loan from Macclesfield. When he was withdrawn later in the afternoon he reaped a standing ovation and the City fans clamoured for him to be signed on permanently.

City dominated the resultant proceedings and reduced the goal difference arrears still further when Ian Howard came on to thread the ball through the legs of back pedalling defenders and past the keeper for a fourth. It was no less than City deserved after a completely commanding display.

Belief and confidence is visibly growing in the camp as City continue to hit the ground running at another higher level. Blues' fans went home drooling over this week's results, hoping for news of Ben Mills signing up more permanently and wondering what Monday's FA Cup draw might bring.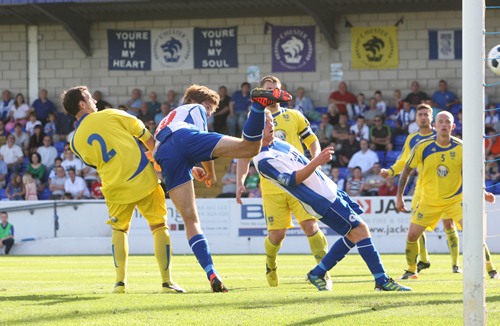 • League table after this match | More pictures
Rate Chester's performance
---
Wednesday 5 September
Chester 2 FC Halifax Town 1

Conference North
Attendance: 3,112 Half Time 1-0
Booked: Powell, Hankin, A.Williams.
Chester: Fearon, Collins, Horan, Linwood, McGinn, Hankin, A.Williams (Mackin 68), Powell, Clancy (Sarcevic 85), Mills, Jarman (M.Williams 68). Subs not used: Howard, Baynes.
FC Halifax Town: Glennon, Toulson, St Juste, Hogan, Jarrett, Lowe, Worsley (Needham 78), Marshall, Johnson (Rainford 65), Gregory, Worthington. Subs not used: Senior, Qualter, Bolland.
Referee: Ryan Johnson (Swinton).

Chester made it six of the best as they dug deep to secure a hard-earned victory against FC Halifax. Former League opponents and, like ourselves, a phoenix club Halifax had provided both a measure and an inspiration to Chester's early progress over these last two years. The match had been keenly anticipated since the start of the season and given the visitors' status as one of the pre-season favourites for promotion and City's unblemished record so far the stakes seemed high even for a game so early in the season.

It did not disappoint. The match fizzed from the word go with several feisty tackles flying in. First blood in football terms went to City as the red hot Ben Mills turned his marker on the edge of the box and found himself clear on goal. He drew Matt Glennon before calmly stroking the ball past him for the opening goal.

Halifax responded well and dominated possession for long periods. Worthington was sent through and looked certain to equalise within a few minutes but Linwood slid back to make a superb blocking tackle. Then Johnson's nod down fell to the same man and this time Worthington blazed extravagantly over the bar. Ominously for City fans it seemed only a question of time before they conceded an equaliser.

The Blues survived until half time however and then, amazingly doubled their lead. A spell of pressure led to Glennon rushing his clearance and McGinn went close as the ball fell to him and he tried to lob the back-pedalling keeper from distance. Then McGinn's cross from the left wasn't cleared and Hankin picked the loose ball up to shoot with precision just inside Glennon's right hand post.

City reverted to sitting deep once again and allowing the visitors plenty of time on the ball and this time they paid for it when Worthington was given space to fire them back into the game from the edge of the area. Fearon, a late replacement for Danby was called into action a few moments later as Jason St Juste – looking twice the player he was when he was on loan to us – shot venomously from the left.

The momentum seemed to have shifted decisively to the visitors but then City began to wrest it back. Marc Williams came on for Jarman and Mackin replaced Ashley Williams and both substitutes helped City to win and retain possession in the middle of the park. Marc Williams in particular was excellent playing just behind Mills. He set his strike partner up with a great chance to seal victory as City countered but Mills snatched his shot wide.

Jamie Rainford came on for Johnson and, given the verbal abuse he had received as he warmed up down the touchline seemed fated to equalise. One effort rolled agonisingly (for him) wide of the far post but in the end City held out for all three points.
It was a magnificent show by the Blues and, as several of the players slumped to the ground in sheer relief they were applauded to the rafters by a jubilant home support.

Colin Mansley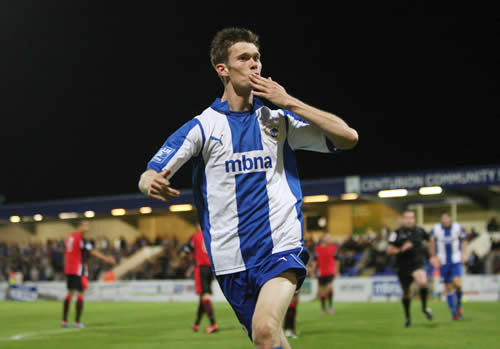 Picture © Rick Matthews (Chester Leader)
• League table after this match | More pictures
Rate Chester's performance
---
Saturday 1 September
Solihull Moors 0 Chester 3

Conference North
Attendance: 564 (350-400 Chester est) Half Time 0-2
Booked: A.Williams, Linwood.
Solihull Moors: Singh, Hurren, Bennett, Spencer, Francis (Kalonji 66), Gooding (Fleet 69), English, Langdon, Bogle, Knights (Fitzpatrick 69), Birch. Subs not used: Acton, Hayden.
Chester: Danby, Collins, Horan, Linwood, McGinn, Hankin, A.Williams (Mackin 55), Powell, Clancy (Howard 84), Mills (M.Williams 66), Jarman. Subs not used: Taylor, Proudlock.
Referee: Ian Dudley (Nottinghamshire).



Chester fans enjoyed an extension of their summer holiday, with three points gained during a glorious sunny afternoon at the Damson Park home of Solihull Moors.

The Blues supporters were barely getting their heads round the tweaks made to the Chester team – with George Horan, Dom Collins, Matty McGinn and Sean Clancy in the starting line-up – when Nathan Jarman put them 1-0 ahead. His eighth minute volley was simply impossible for goalkeeper Jasbir Singh to save.

Chester settled back on their lead for a while, but Solihull – who were rather confusingly playing their numbers 9 and 10 as the centre halves – continued to press. They had around six corners in a 25-minute spell, without any of them making a real threat. This was their most attacking part of the game.

But all their pressure came to nothing just before referee Ian Dudley blew for half-time. A McGinn cross into the Solihull box found Jarman's head. He nodded it to loanee Ben Mills, who had no trouble slotting home his fifth goal of the season. I don't think we'll tire of seeing his trademark celebration now.

So it was a cheerful half-time for Chester fans, with many joining the lengthening queue for ice-cream – blue sauce being a popular addition. It was a shame this was one of the lowliest-attended of the new club's matches, as Solihull had really pulled all the stops out to make the travelling supporters welcome.

Not long after the re-start, John Danby had to make a good save from a Solihull strike and Horan also had to make a strong tackle to maintain the 2-0 lead. But the match settled into a rather quiet spell, with neither side looking like scoring.

Levi Mackin came on for Ashley Williams and, as the rest of the Chester bench started to warm up, it was clear there would be more changes. Marc Williams replaced goal hero Mills on the 66th minute. The final change came when Iain Howard replaced Clancy with six minutes' of normal time remaining.

It wasn't long before Howard made an impact after a Marc Williams strike was parried by Singh. Howard had an easy header near the goalline to put the Blues 3-0 up on the 89th minute. There was no way back for Solihull at this stage and it looked liked all had weary legs when the referee blew for full-time.


| | |
| --- | --- |
| | |
• League table after this match | More pictures
Rate Chester's performance
---