---
Wednesday 28 November
Chester 2 Corby Town 1

Conference North
Attendance: 1,853 Half Time 1-0
Booked: -.

Chester: Danby, Denson, McGinn (Howard 76), Horan, Collins, Brown, Curran (Mills 74), D.Williams, Jarman, Gray (Hankin 68), A.Williams. Subs not used: Linwood, M.Williams.
Corby Town: Walker, Galinski, Crowe, Malone (Horne 41), Piergianni, McGowan, Semple, Wedderburn, Hughes, Ives, Vierra (McKenzie 81). Subs not used: Webb, Richardson, Manga.
Referee: M.Birstow.

Chester left it late to grab all three points as a Dave Hankin goal just two minutes from time sealed the victory to extend the lead over Brackley Town at the top of the league to four points.
Chester controlled for much of the opening period with Tony Gray shooting just wide in the opening minute after good wotk from Danny Williams, and they were rewarded with a goal from Matty McGinn on 15 minutes after Scott Brown and Tony Gray had exchanged passes to set up the defender for his second goal of the season. Five minutes later Gray almost added a second but saw his shot come back off the post.
Paul Walker produced a fine save to deny Nathan Jarman as the hosts looked to double their lead. There was some good play by on-loan Craig Curran who beat two defenders before crossing to Gray at the far post but the striker was unable to trouble Walker with his header.
As with the game at Histon, Chester seemed to lose their way in the second half allowing the Steelmen to come more into the game and it was no real surprise when they equalised twenty minutes from time as Liam Hughes, on loan from Cambridge United, headed home Avelino Vieira's cross.
Five minutes from time Corby defender Carl Piergianni was sent off after receiving a second yellow card for a foul on Nathan Jarman. The resulting free kick was floated over to George Horan who nodded the ball down for substitute Dave Hankin to drill the ball home and secure all three points.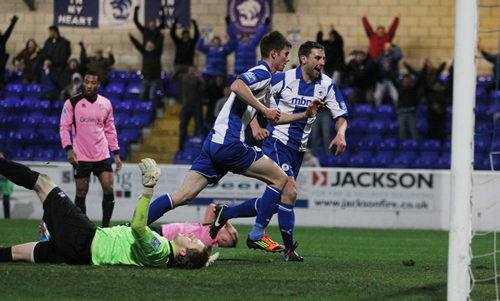 Picture © Rick Matthews (Chester Leader)

• League table after this match | More pictures
Rate Chester's performance
---
Saturday 24 November
Histon 1 Chester 4

Conference North
Attendance: 428 Half Time 0-4
Booked: Brown.


Histon: Pentney, Roberts (Hawkins 45), Fitzsimons, Sear (Waters 45), Clerima, Mills, Taaffe (Freeman 75), Stevenson, Tolley, Dowie, Hoban. Subs not used: Ahmed, Ola.
Chester: Danby, Baynes, D.Williams, Horan, Collins, A.Williams, Curran (M.Williams 78), Sarcevic, Jarman (Mills 62), Gray (Hankin 66), Brown Subs not used: Linwood, Howard.

Referee: A.Quelch.

A superb first half performance from Chester was enough to take them to the top of the league as manager Neil Young celebrated his first game in charge since taking on a full time role at the club. The manager kept faith with the side that had picked up three points against Gloucester last weekend and it took just eight minutes for the Blues to surge ahead of their Cambridgeshire opponents as a pinpoint cross field ball from Scott Brown found Craig Curran on the left, his cross was dummied by Antoni Sarcevic allowing Tony Gray to score from close range.
Chester were enjoying plenty of possession but the home side also posed a threat a t times. John Danby was called into action to make a great save to deny a Lewis Taaffe effort from long range.
With the rain steadily falling Chester doubled their lead midway through the half as captain George Horan glanced a Wes Baynes corner home at the near post, giving Carl Pentney no chance in the home goal as the ball hit the net at pace.

Chester began to apply more pressure and Curran saw a snap shot deflected wide for a corner and Gray saw a header crash off the bar from six yards though the raised flag would have ruled out any goal.
The Blues added a third goal their dominance deserved on the half hour as Sarcevic ended a mazy run by pulling the ball back for Nathan Jarman to have an easy tap-in from a yard out.
The home side were handed a lifeline in the 36th minute as referee Queich pointed to the spot following a handball by Curran from a corner. James Stevenson's penalty was hit to Danby's left and the Blues shot stopped saved the kick and got up in time to also deny Taaffe's effort from the rebound.
Two minutes before the Break Gray added his second goal as he picked the ball up on the right edge of the box, turned inside two players and curled a left foot shot past Pentney into the bottom corner to the delight of the 200 or so Chester fans many of whom were standing behind the goal.
Histon made a double substitution at the break and came out in a determined mood as they dominated for much of the second period. Danby was at his best and pulled off fine saves to deny both Shane Tolley and Matty Waters who was through one-on-one with the 'keeper.
The home side deserved a goal and it came in the 61st minute as Tolley scored from close range following a Claudiu Hoban cross. Young introduced new signing Ben Mills into the action for Jarman minutes later but the action remained very much at the other end as Danby was called into action to deny Tolley a second goal with a one handed save and also push a Hoban free kick wide.
Chester created two more chances of note as Baynes flashed an angled shot right across and inched past the far post and substitute Marc Williams seemed to slip as he was turning to shoot from eight yards out.
The game ended in disappointment as Scott Brown was shown a yellow card, his fifth of the season, which will rule the midfielder out of the top-of-the-table clash at Brackley Town.

• League table after this match
Rate Chester's performance
---
Sunday 18 November
Gloucester City 0 Chester 1

Conference North
Attendance: 852 (519 Chester) Half Time 0-0
Booked: Collins, Brown.


Gloucester City: Mike.J.Green, Mike.F.Green, Mann (Harding 63), Coupe, Hamblin, Webb, Hogg, Goddard (Morford 74), Edwards (Rawlings 74), Davies, Harris. Subs not used: Holland, Mustoe.
Chester: Danby, Baynes, D.Williams, Horan, Collins, Brown, Gray (Hankin 63), Sarcevic, Jarman (M.Williams 89), Curran (Howard 84), A.Williams. Subs not used: Linwood, Clancy.

Referee: Craig Hicks (Surrey).

More than 500 travelling Chester fans were expecting a far better performance against Gloucester City than the last match, which resulted in a disappointing exit from the FA Trophy. They weren't to be let down as the Blues left Gloucestershire with three points in the bag which put them back within touching distance of the League leaders.

It was an encouraging opening spell as the Blues, shooting towards the away fans, had several early chances. Antoni Sarcevic was a threat throughout the half and confidently tried to chip the Gloucester goalkeeper, Mike Green. But Green, who went on to be the home team's man-of-the-match, had the measure of him.

Soon after the Chester fans were on their feet about to cheer a goal when Green failed to hold onto a Tony Gray shot. The rebound fell to Nathan Jarman, who had two chances to score – the first was stopped by a defender, and then Green saved the follow-up. This was hearts-in-the-mouth stuff for the away end.

A goal really did look a certainty not long afterwards, when a fierce Danny Williams strike seemed homeward-bound until it hit the inside of the goal-post and somehow didn't hit the net. Chester were still in the ascendency and Green was forced into action again to save a Scott Brown header.

The second half started in much the same way, with Jarman having a chance for a headed goal in the opening spell. Dave Hankin came on in the 63rd minute to replace Tony Gray, who had tried hard, but had drifted out of the match on occasions.

And it was Hankin who started the move that resulted in Chester finally finding the net on the 65th minute. He passed to Wes Baynes, who found Jarman, and he thumped the ball home with a well-taken half volley.

The chance of the Tigers netting a replay looked all the slimmer when Lewis Hogg was sent off after a mis-timed midfield challenge on Brown. And Chester could have made it two, but for a spectacular save from Green, who tipped a Craig Curran volley over the crossbar.

The away fans looked nervous as the clock ticked down the last few minutes, but Chester held firm and wound down the time before fussy referee Craig Hicks finally blew up.

So it was an enjoyable return visit to Cheltenham – the temporary home of Gloucester City – and a very happy 38th birthday for Chester manager Neil Young. I like to think he celebrated it with a £2.50 plate-filling 'stottie' in the nearby Kemble Brewery Inn, but then again, perhaps not!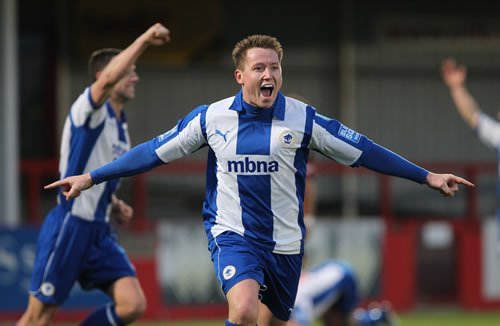 • League table after this match | More pictures


Rate Chester's performance
---
Wednesday 14 November
Worksop Town 2 Chester 0

FA Trophy Third Qualifying Round Replay
Attendance: 457 Half Time 2-0
Booked: Linwood, Baynes, Sarcevic, Collins, Jarman, Brown.


Worksop Town: Bastock, Clarke, Ludlam (Wood 85), Young, Miller, Hawes, Beeson (Shiels 67), Towers, Burbeary, Mettam (Menga 79), King. Sub not used: Telling.

Chester: Danby, Baynes, Clancy, Linwood, Collins, A.Williams (Brown 46), Hankin (Gray 46), Sarcevic, Jarman, Curran, Mackin (M.Williams 79). Subs not used: Horan, Howard.

Referee: Richard Wigglesworth (South Yorkshire).

Chester have been knocked out of the FA Trophy after a disappointing replay performance at Evo-Stik Premier League Worksop Town.

The Blues can have no arguments about the 2-0 defeat as their hosts could have scored more, particularly in a first half which saw them have several chances after their eighth minute opener.

That first goal was scored by Matt Young after a Leon Mettam strike was saved by John Danby. Mettam laid the ball back to Young for him to slot the ball home past Danby. And Mettam himself was on target just nine minutes later with a shot into the far corner.

The first half continued to be dominated by Worksop, with Chester producing arguably their worst 45-minute performance since the birth of the new club. Manager Neil Young tried to change matters by bringing on Tony Gray and Scott Brown in place of Ashley Williams and David Hankin for start of the second half.

Chester did look more lively after the re-start, and Nathan Jarman had chances to put the Blues on the scoresheet, but he failed to find the target. Worksop's 42-year-old goalkeeper, Paul Bastock, managed to save any Chester attempt and a strike by on-loan Chris Curran was also cleared off the line.

But there were to be no more goals in the match and Chester must be left to rue not only their first half performance, but how they let slip a two-goal lead at home in the first match. Still, now they must concentrate on the League.


•
More pictures
Rate Chester's performance
---
Saturday 10 November
Chester 2 Worksop Town 2

FA Trophy Third Qualifying Round
Attendance: 1,410 Half Time 2-0
Booked: -.


Chester: Danby, Mackin, Linwood, Collins, Clancy, Hankin, A.Williams, Sarcevic, Howard (Curran 59), Jarman (Gray 82), M.Williams. Subs not used: Fearon, Horan, Miller.
Worksop Town: Bastock, Clarke, Miller, Hawes, Warlow, Beeson (Ludlam 74), Young, Towers, King, Burbeary (Menga 88), Mettam (Sheils 83). Subs not used: Wood, Telling.
Referee: Ian Hussin (West Derby).

City let a two goal lead dwindle away to nothing as they allowed Worksop to force an unwanted replay in this third qualifying round of the FA Trophy.

The visitors were familiar opponents from last season in the NPL and began brightly. They have done well on their travels this season and swept forward in confidence. Danby did extremely well to clutch a goal bound header from Mettam following a right wing cross.

But City quickly put a few moves together. Marc Williams linked up well with Hankin who spread the ball out right where Mackin was deputising as full back. He switched the ball to his left foot and put in a hopeful cross at the far post. Jarman jumped to nod it in between Bastock and the post. It was swift payback for Jarman as he responded to taunts of "Worksop Reject!" from the raucous travelling support.

A quarter of an hour later Jarman sprang clear to loop the ball over the stranded Bastock to make it two-nil. It was all too easy and proved to be too soon for City. Had Jarman completed his hat trick just before half time with a shot that came crashing back off the bar then it might well have been game over. The trouble was psychologically the Blues thought that the game was won by then only to receive a rude awakening after the break.

Guest celebrities Colin Murray and Beth Tweddle were introduced to the crowd at half time to make the match day and monthly draws. The former had agreed to sponsor the Chester women's team shirts and Tweddle was actually wearing one – though no-one confirmed that she would be turning out for the Blues. We could look forward to some extravagant goal celebrations if she did.

It was entirely predictable that the Tigers would come out all guns blazing to try to rescue the tie – which they did – Mettam fired a shot across goal and just past the post to serve warning. But City could not rouse themselves to respond as the visitors upped their tempo.

When Worksop did pull a goal back it was after monumentally sloppy play by City. Clancy surrendered possession meekly at left back to put the Blues' defence under pressure. Danby rushed to the edge of the box to try to deal with the danger but was dispossessed by Mettam. His shot from the corner of the box found the net despite the attention of back-pedalling defenders. It was an awful goal to give away and handed the impetus to Worksop to look for an equaliser.

It came as no surprise when Burbeary crashed home his first time shot following a low cross from the right. Worksop now had all the confidence in possession and moved the ball about fluently. City by contrast were pedestrian and lacklustre. Clancy and Hankin spurned good chances to cross the ball into the danger area by putting it over the bar.

Gray and new signing Curran were introduced but – though lively – could not alter City's clumsy approach play. To be fair Worksop stuck to their tasks well and defended with discipline. Sarcevic went solo and tied to slalom his way through a forest of defenders but was overwhelmed. His left footed effort from the edge of the area went narrowly wide and was City's closest effort of the entire second half (bar Williams inadvertently blocking Gray's shot when Bastock was out of goal). Chester will rue the fact that they did not test Bastock, Worksop's veteran keeper, at all in the second forty-five. A brief dash out of goal to chase the ball in the right hand corner left him feigning breathlessness as he leaned on his goal post afterwards.

Worksop earned their replay which City will not relish, neither will their supporters – there were few takers for coach trip in the club afterwards. But at least the Blues are still in the draw and will know the measure of the task ahead of them on Wednesday.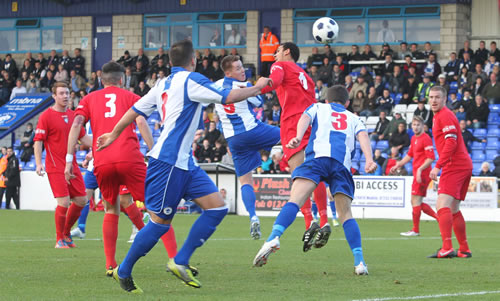 •
More pictures
Rate Chester's performance
---
Wednesday 7 November
Cheadle Town 2 Chester 4

Cheshire Senior Cup Round 1
Attendance: 129 Half Time 1-3
Booked: -.


Chester: Fearon, Denson (Miller 50), Clancy, Linwood (Brown 46), Collins, A.Williams, Baynes, Mackin, Gray, Sarcevic (Peers 46), D.Williams. Subs not used: Jarman, M.Williams.

Referee: Darren Strain.

Chester fielded a strong side and included two youth team players Sean Miller and Tom Peers on the bench as they traveled to east Cheshire for the opening match in the competition they last won in
1931/32.
Chester started well against a side who play four levels below them in The North West Counties Football League Division One. Wes Baynes was unlucky to his the woodwork twice in the opening 15 minutes but slack marking from a Cheadle corner allowed Ben Brooks to open the scoring for the home side on 17 minutes from a yard out.

The Blues responded well and were level within a matter of two minutes as Antoni Sarcevic added a final touch to a goalbound Danny Williams effort following a Chester corner.
Sarcevic was on the spot again six minutes later to give Chester the lead as he steered the ball home as shot from a corner had been blocked but fell for the midfielder ten yards out. Five minutes before the break Baynes found the target as he fired home a 20-yarder into the top corner for a deserved goal to give Chester a 3-1 interval lead and leaving Stephen Piggott no chance in the home goal.

Both Peers and Miller came on after the break and showed promising touches for their first appearances in the senior team but it was Cheadle who threatened as Andrew Lindon saw a shot crash back off the post and Aaron Caroll shot just wide after being sent clean through on Martin Fearon in the Blues goal.
On 70 minutes Cheadle pulled a goal back as Fearon fumbled a Ben Roberts free-kick into his own net. Peers hit back seeing a shot hit the post and Piggott denied Miller with a smart save.

Eleven minutes from time Tony Gray put the entertaining tie beyond doubt as he scored his first goal for the club turning smartly and beating Piggott from 18 yards with a left-footed drive.
Rate Chester's performance
---