---
Saturday 29 December
Chester 3 Hinckley United 0

Conference North
Attendance: 2,701 Half Time 1-0
Booked: Sarcevic, Horan.

Chester: Danby, Baynes, Collins, Horan, D.Williams (McGinn 53), Hankin, Brown, Sarcevic, Howard, M.Williams (N.Turner 79), Jarman (Gray 75). Subs not used: Curran, Linwood.
Hinckley United: Peet, Hicks (Stenson 61), Hartland, Holt, Raglan, Richards-Everton, Brown, Harrop, Marshal, Towers, Cole (Conway 77). Subs not used: -.
Referee: Daniel Meeson (Newcastle-under-Lyme).

Those who came to the Deva expecting a cricket score were disappointed and the more cynical who thought that the match between the runaway leaders and the team who are rock bottom had 0-0 written all over it were also wide of the mark. Hinckley arrived with low expectations. Even the three points they had accrued earlier in the season have been taken off them because of financial irregularities. They could only afford two substitutes and are managed by former Chester City player Carl Heggs.

Nevertheless, despite all their problems, the visitors made a strong impression. Indeed they should have taken the lead when Brown took advantage of a square City defence and ran through on goal. He took the ball round Danby only to fire it into the side netting. It was a huge let-off for Chester who showed plenty of reticence getting to grips with the task.

Five changes had been made to City's starting line-up with Neil Young having promised to rest a few, given the gruelling schedule of matches. Perhaps this made it difficult for Chester to gel effectively to begin with, perhaps it was sympathy for their opponents' plight. Hinckley also contributed by sitting very deep and forcing Chester to play the long ball when possible. Collins and Horan saw a lot of the ball and had to begin many of City's moves.

At last the deadlock was broken when Hankin laid the ball off for Sarcevic to strike from the edge of the box. Now the home fans hoped the goals would flow. They were rudely awakened, however, at the beginning of the second half when the referee harshly awarded a penalty for Collins' tackle on Brown. The Knitters' forward had harried Danny Williams into making an error and robbed him of the ball to bear into the penalty area.

John Danby pulled off a superb save from the spot kick just as the City faithful were gritting their teeth for more attritional play. It felt like Chester had got out of jail and this time they took advantage. McGinn was brought on to replace Danny Williams and his ball into the box caused confusion. Hankin dummied to leave Marc Williams in the clear, he stumbled as he took the ball round the 'keeper and Howard, almost apologetically, finished off.

Ten minutes or so later City put the game beyond doubt with the best goal of the game. This time Jarman dummied the ball for Hankin to play a delightful one-two with Marc Williams and the latter's angled effort went in off the far post.

In between these two goals Danby had to be alert once again to deny Brown who drove a rasping shot at City's goal. Three more points then for City in the end but the visitors went home with heads held high and looking forward to the return game now re-arranged for the 12th January.

Colin Mansley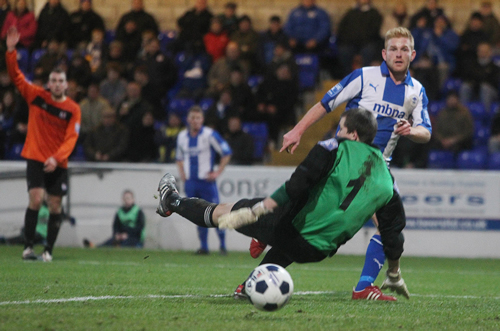 Picture © Rick Matthews (Chester Leader)
• League table after this match | More pictures
Rate Chester's performance
---
Wednesday 26 December
Chester 5 Droylsden 0

Conference North
Attendance: 2,934 Half Time 3-0
Booked: A.Williams.

Chester: Danby, Baynes, Horan, Linwood, McGinn, Curran, A.Williams (Brown 52), Sarcevic (Howard 80), D.Williams, M.Williams, Mills (Jarman 65). Subs not used: Collins, Hankin.
Droylsden: Latham, Derbyshire, Palmer, Kerr, Holden (Jacombs 89), Sissons, Hall, Killeen (Rick 60), Logan, Bryan (O'Neill 60), Ellison. Subs not used: Langford, Smith.
Referee: Simon Bennett (Stoke).



Chester gave the bumper Boxing Day crowd a five-star performance against a struggling Droylsden side who still put up a fight against the imperious Blues.

It was the home side who were on the front foot from the off when Wes Baynes curled a sublime free kick past the defensive wall and into the top corner to make it 1-0 to Chester inside two minutes.

But the Bloods didn't sit back and moments later they had space in the box and a shot skimmed past John Danby's post. However, it wasn't long before it was 2-0 to Chester after they won another free kick in a dangerous area. This time Baynes passed it to Antoni Sarcevic and he thwacked the ball home from distance. Does he score anything other than spectacular goals?

The action switched back to the other end as a good Droylsden shot beat Danby, but hit the crossbar and came out away from danger. Then it was time for another Chester Christmas cracker when on-form Sarcevic passed to Marc Williams. He collected the ball and hit it over goalkeeper Dale Latham to put Chester into a 3-0 comfort zone at half-time.

The second half saw the Blues shooting towards the 'Harry Mac' end and the home fans were soon cheering another goal – this time for Ben Mills. A great cross by Baynes was easy picking for the popular striker who was right on the line to head his 12th League goal of the season.

He was substituted immediately after, being replaced by Nathan Jarman. And it was not long before he had a hand in the final goal of the game. He made a clinical pass to Craig Curran who shot past a diving Latham to make it 5-0 to Chester.

There could have been another goal at the death, when Danny Williams somehow missed a golden opportunity to score. But the home crowd were more than happy to settle for five goals, keeping Chester 12 points clear at the top of the table.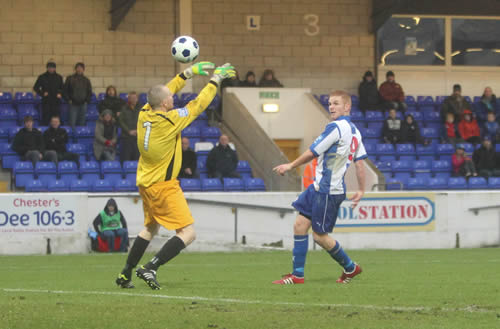 • League table after this match | More pictures
Rate Chester's performance
---
Wednesday 19 December
Chester 2 Harrogate Town 0

Conference North
Attendance: 1,803 Half Time 0-0
Booked: Mills.

Chester: Danby, Baynes, Horan, Linwood, McGinn, Curran, A.Williams, Sarcevic, D.Williams (Howard 70), M.Williams (Brown 89), Mills (Jarman 89). Subs not used: Collins, Hankin.
Harrogate Town: MacGillivray, Samuels, Merris, Bloomer, Killock, Bolder, Nowakowski (Dean 58), Bolland, Forrest, Chilaka (Hardy 89), Clayton (Allan 58). Subs not used: White, Da Veiga.
Referee: Michael Salisbury (Preston).



Harrogate came to Chester in a lowly position in the League. Neil Young would not be making the mistake of underestimating them however as good cup runs had left them with a backlog of fixtures which – if won – would put them in the play off positions. They also arrived late having been held up on the motorway. Kick off was delayed by twenty minutes as a result.

The eighteen hundred in the crowd witnessed an absorbing game played in poor conditions on a cold evening with incessant rain. Blues kept the same team that finished the game on Saturday and fought out an evenly balanced half against their well organised visitors. Town forced a couple of corners early on and then City responded in similar fashion. From one of their corners, however, City were caught out on the break away and Chilaka seemed to have put Harrogate ahead as he sidefooted home from eight yards. The City defence had seemed to freeze but all were relieved to see the linesman's flag raised for offside.

City plugged away persistently at the other end and should have forged ahead when Mills was put through by Marc Williams only to see his shot parried away by MacGillivray in the Town goal. Linwood also hit the post with a header direct from a right wing corner. The other main talking point of the first forty-five was when Mills was impeded by an opponent climbing on his back and Ben "helped" him down to the ground with a move that would not have been out of place in the wrestling ring. Two Town players and Ben himself were booked in the following, unnecessary scrimmage.

After the break Chester maintained an impressive performance through-out and justified their leadership of the table with two goals to secure the points. The breakthrough came when Sarcevic made the most of a deflection to flick the ball over the head of a defender and then measured a volley perfectly inside the keeper's left hand post. It was a sublime finish – reminiscent of Gazza against Scotland in Euro'96. Cue: chants of "An-ton-i Sar-ce-vic" (tune by Verdi) by the McNally Terrace cognoscenti.

The Blues stifled Harrogate from any response as they continued to drive them onto the back foot. Ashley Williams was superb in anticipating trouble, breaking up possession and getting City moving forward again. Mills found the ball at his feet in the box and managed to get a turn in and test MacGillivray. Curran got to the loose ball but saw his shot strike the inside of the post, ricochet across the goal and away to safety.

But City were not to be denied an all important clinching goal. Again Sarcevic was instrumental as he chased a seemingly lost cause, chasing down a defender, robbing him of possession and crossing low and hard for Samuels put through his own goal under intense pressure from Marc Williams.

More goals might have followed but didn't materialise as Chester kept their stranglehold on the game right to the end and pinned Harrogate in their own half. This was no mean feat against a quite accomplished side. City seem to be getting better and better.


• League table after this match | More pictures
Rate Chester's performance
---
Saturday 15 December
Chester 4 Bishop's Stortford 1

Conference North
Attendance: 2,058 Half Time 1-1
Booked: Mills, A.Williams.

Chester: Danby, Baynes, Horan, Linwood, McGinn, Hankin (Curran 59), A.Williams, Sarcevic, D.Williams, Mills (N.Turner 79), Jarman (M.Williams 59). Subs not used: Collins, Howard.
Bishop's Stortford: Carter, Burns, Bailey-Dennis, Francis, Herd (Thalassitis 72), Waller-Lassen (Cawley 77), Johnson, Abdullahi (Baker 77), Spence, Prestedge, Sappleton. Subs not used: Anderson, Livings.
Referee: Mike D'Auguila (Cannock).



Chester completed the double over Bishop's Stortford but were far from convincing until a double substitution after the break introduced Marc Williams and the red hot Craig Curran. The loan star from Rochdale notched a stunning second half hat trick as City upped a gear and sprinted away from their opponents.

They started pretty swiftly too with Danny Williams and Hankin exchanging passes on the left before the latter delivered an in-swinging cross which was flicked in by Mills. This was after just five minutes but it provoked a strong response from the Bishops. Almost immediately a glanced header found Waller-Lassen in space on the edge of the area. He shot low and hard but Danby repulsed his effort when a goal looked certain.

The visitors out-fought Chester for the ball and forced a series of corners at which the looming presence of Jamaican international Sappleton caused problems for the City defenders. After one goalmouth melee Stortford players confronted the referee, demanding a penalty but after consulting his linesman only offside against them was awarded. Aggrieved at this the Bishops continued to press and their equaliser came as no surprise – captain Prestege nodded in after a quickly taken free kick caught City at sixes and sevens.

City retaliated and Jarman had an effort narrowly wide. When they got down the flanks the Blues looked threatening but all too often their moves broke down as the visitors held a high line and out-muscled Chester for the loose ball. Danby had to make another world class save as Sappleton powered a header towards goal from another corner.

Young introduced Williams and Curran to replace Jarman and Hankin respectively on the hour mark and within three minutes City were back in front. Curran's pace and control caused consternation down the right and Williams' clever link up play provided a refreshing alternative to City's hitherto predictable attacking. After Sarcevic went close, Curran shot the ball home from six yards to the joy of the home faithful.

Bishops' task became more difficult when Spence was given a straight red card for kicking out at Curran. Minutes later Danny Williams beat his man on the left and crossed dangerously. Mills' effort was parried at full stretch by the keeper and once again Curran was in the right place to score from the rebound.

City were now all over their dejected opponents and Curran completed his hat trick in superb style. He raced down the right and fed Sarcevic who shimmied inside and then flicked a reverse pass to release the still on-rushing Curran. He delivered the coup de grace with a sensational shot from a narrow angle into the roof of the net.

More goals might have followed but the Bishops were spared more misery by a couple of timely deflections. In truth the scoreline was harsh on the visitors who had matched City for an hour but struggled to cope with the difference in class City's super subs offered.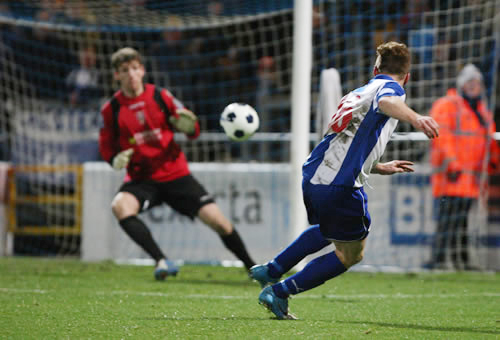 • League table after this match | More pictures
Rate Chester's performance
---
Saturday 8 December
Brackley Town 2 Chester 3

Conference North
Attendance: 1,155 Half Time 0-2
Booked: Hankin.

Brackley Town: Turley, Corcoran, McDonald, Austin, Nisevic, Story (Winters 46), Odhiambo (Sandy 67), Solkhon, Walker, Diggin, Robinson (Mulligan 67). Subsnot used: Clifton, Walker.
Chester: Danby, Baynes, Horan, Linwood, McGinn, Hankin (N.Turner 76), A.Williams, Sarcevic, D.Williams (Howard 90), Mills, Jarman (M.Williams 84). Subs not used: Gray, Denson.
Referee: Daniel Cook (Gosport).



Christmas has come early for Chester fans after watching their team score three goals at Brackley to earn a result that leaves them leading the Conference North table by six points.

But don't forget that this is Chester we are following, and the game was not without its nailbiting moments. Despite dominating the match for 85 minutes, the Blues somehow let in two goals in the last five minutes to leave many travelling supporters watching the closing spell through half-closed hands.

Until those last five minutes, it was hard to realise that Chester were playing at the Conference North level. Not only were the opposition of distinctly lower league standards, but the ground was more basic than many grounds at even the Evo-Stick North level.

But the 750 or so Chester fans had a very warm welcome from their Northamptonshire opponents and it's a shame we might not see them against next season – almost certainly not at St James's Park, which doesn't meet the current League standards.

So it was yet another away crowd dominated by Chester fans which saw their team dominate from the start. Danny Williams almost scored in the opening spell when his tightly-angled shot just hit the bar. But it was 1-0 not long after that when a Matty McGinn corner came out to Paul Linwood. His header was saved by Saints' veteran goalkeeper, Billy Turley. But his punch only went as far as Dave Hankin and his shot was straight into the net.

Pink-clad Turley is well-known to Chester fans from his days at Northampton, Oxford and Rushden & Diamond and he was barracked throughout the game. And he was back on the receiving end of the away fans' jibes not long after that first goal. In truth he could do nothing to stop Ben Mills scoring a header from point blank range after a deflection fell well for the Chester striker. It was just what the away fans were waiting for – the re-appearance of the Millsbot celebration. Welcome back, Ben!

Chester carried on dominating the game at the start of the second half, with Turley – who seemed to have thrown water over some of the away fans as he went off for the half-time break – making a great double save not long after the re-start.

Both Mills and Nathan Jarman then missed good opportunities to score with their heads, and it was looking increasingly unlikely that the game would finish at 2-0. And sure enough, it was George Horan who netted the third with a powerful header from a Wes Baynes corner on the 74th minute.

But wait, the match wasn't over yet, and it's hard to explain what happened in the next 15 minutes. Chester replaced Hankin with Nathan Turner on the 76th minute, and the team didn't show any signs of relaxing. But somehow Brackley scored in two of their rare attacks. There were barely four minutes to go when Steve Diggin netted the first from close range.

And before there was chance to draw breath, a great Brackley cross found Diggin again. He headed past John Danby to make it a scary 3-2. For a moment, it looked like tormented Turley could be exacting his revenge on the Chester fans. He went straight upfield when his team won an injury-time corner and it looked as though the script was written for an equaliser. However, it was not to be.

So Chester lived a little too dangerously in the closing spell, but went home with yet another three points under their belt. It was an away day that all Chester fans will remember – especially those who were applauded out by a mini guard-of-honour of Brackley fans. Somehow I can't see that happening anywhere next season!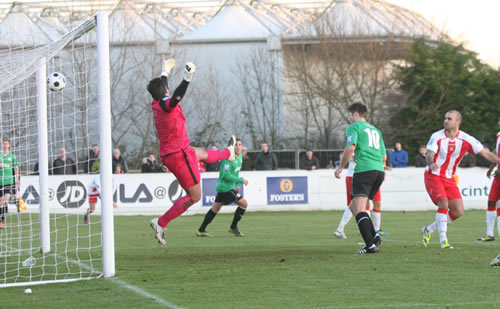 • League table after this match | More pictures
Rate Chester's performance
---
Saturday 1 December
Chester 4 Worcester City 2

Conference North
Attendance: 2,640 Half Time 1-0
Booked: Curran, McGinn.

Chester: Danby, Baynes, Horan, Collins, McGinn, Brown (Jarman 46), Sarcevic, D.Williams (Howard 65), A.Williams, Curran, Mills (Gray 78). Subs not used: Hankin, Linwood.
Worcester City: Thompson, Weir, Deeney, Thorley, Rowe, Ayres, Reece (Patterson 58), Elvins, Mills (Khan 76), Symons, Edwards (Meechan 76). Subs not used: Breeze, Sargent.
Referee: P.Graham (Manchester).


The Blues put daylight between themselves and the chasing pack with this thrilling win against play-off contenders Worcester City.

Not long into the second half the game seemed to be following an identical pattern to recent home fixtures with Chester's lead being pegged back by the visitors. Worcester's Mills equalised with a shot from the edge of the box after the Blues had carelessly given the ball away on the left. Chester had been good value for their half time lead, pressing and harrying much better than they did on Wednesday night. Sarcevic pounced on the loose ball after Baynes' free kick was parried by Thompson and the Blues player scored from a narrow angle.

Back to square one seven minutes into the second half, Chester responded with a purple patch of attacking football that put the game beyond the reach of the Loyals. First Curran on the right crossed only to see the ball cleared back out to the wing. Jarman sent it straight into the danger area and Curran – whose momentum had taken him into the middle – flashed a brilliant glancing header at the near post and the ball was in the net.

Three minutes later Curran burst through on the right again and, despite the close attentions of Deeney who tried to pull him back, crossed deliciously on to the six yard line for Howard to score with a diving header. It was Howard's first touch after coming on as sub a minute or two earlier.

Worcester's misery was complete when George Horan fought heroically for the loose ball following a corner. After winning two tackles the Blues captain was felled by Danny Edwards' desperate lunge. Matty McGinn dispatched the resultant penalty.

The Loyals' target man, Symons gave the scoreline a little bit more respectability for his team when his turn and scuffed shot wrong-footed Danby but could take nothing away from Chester's domination.

Brackley's team – who Chester face next week – were watching from the stands, their match at Workington having been postponed while they were travelling. They will have been given plenty of food for thought on their journey home.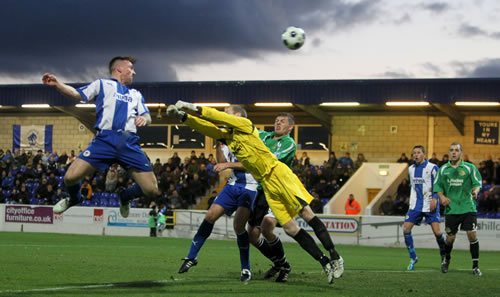 • League table after this match | More pictures
Rate Chester's performance
---