---
Saturday 25 April
Chester 5 Nuneaton Town 3

Football Conference Premier
Attendance: 2,614 Half Time 1-2
Booked: -.


Chester: Worsnop (Viscosi 86), Higgins, Heneghan, James, Roberts, Charnock, Mahon (McConville 63), Rooney, Hughes, McBurnie (Thomson 65), Hobson. Subs not used: Peers, Touray.
Nuneaton Town: Crowcombe, Dean, Rees, Smith, Franklin, Ogleby (Walker 67), Cowan (Anton Brown 63), Dawson, Sodje (Nardiello 76), Gordon, Andy Brown. Subs not used: Wren.
Referee: Karl Evans (Wigan).



City's season finished with a flourish as once again they came from behind to sweep Nuneaton away in a second half frenzy of attacking football.

The home supporters' patience was tested yet again in the first half as Blues got off to sluggish start against already doomed Boro. First Andy Brown slid home at the far post after Gordon was allowed too much room on the right to cross. Then defender Gavin Cowan was awarded the freedom of the six-yard box by Chester's defence as he nodded in Dawson's left wing corner.

When McBurnie pulled a goal back just before half time - heading home Rooney's free kick – there was a sense that now City might get something from the game. But, within the first minute of the second half, Josh Rees scored by clipping the ball in from the edge of the area to restore the visitor's two-goal lead. It looked like the Blues had given themselves too much to do.

If anything sums up this season, however, it is the never say die attitude of Burr's battlers and a willingness to keep on having a go. It paid real dividends this afternoon as the Deva was treated to an astounding comeback.

It began when Hughes – playing out of his skin in perhaps his last appearance in a Chester shirt – picked up a wayward pass and ran at the box before feeding the ball over to Kingsley James who slotted home City's second goal – to his obvious delight. Within a minute McConville came on to replace Mahon and he was soon celebrating City's equaliser as he finished off a fine flowing move down the left. Roberts overlapped, cut the ball back and a cool finish by McConville just inside the post had the Harry Mac Terrace roaring.

The momentum was now firmly with the home side as Blues came forward again and again prompted by Rooney's energy and Matty Hughes' indefatigable running. From a right wing corner Heneghan stooped to head. His effort was blocked but McConville again showed nimbleness of feet to turn and prod it home to give Chester the lead for the first time in the afternoon.

The Blues faithful were in raptures when George Thomson, on as a substitute for the popular McBurnie, thrashed the ball home from the edge of the box following superb retrieval work by Matty Hughes. He chased the ball down to the by-line before pulling it back for Thomson to unleash his cannonball shot. It was party time now. Burr gave Viscosi an airing as he replaced Worsnop – the latter receiving a standing ovation for his efforts. His gutsy recovery from a torrid beginning to the season has won a place in the supporters' hearts – it showed in the reception he got.

At the final whistle the players received glowing tributes as they performed their lap of honour. Steve Burr went over to acknowledge the visiting supporters – he'd begun his managerial career with them – and was well received. It was a great finish to a fairly exhilarating season. Mid-table – City just scraped into the top half – represents a good improvement on the last campaign and certainly beats the anxiety of last year's relegation battle. Chester showed their best and their worst today- perhaps encapsulating the season in one afternoon. At least they finished on a high to send everyone home for a happy summer.


Rate Chester's performance
---
Saturday 18 April
Aldershot Town 0 Chester 1

Football Conference Premier
Attendance: 1,953 (158 Chester) Half Time 0-1
Booked: Kay, Abbott.


Aldershot Town: Smith, Alexander (Rasulo 77), McGinty, Barker, Roberts, Hatton, Molesley, Scott (Richards 58), Plummer, Jarvis (McCollin 72), Williams. Subs not used: Thomas, Welch.
Chester: Worsnop, Higgins, Kay, Charnock, G.Roberts, Mahon (Thomson 77), Rooney, Abbott, Hughes (Peers 77), Hobson (Winn 90), McBurnie. Subs not used: Viscosi, Heneghan.
Referee: Nigel Lugg (Chipstead).



I'm still not used to the 'end-of-season' feeling we're getting this year. I simply can't remember when Chester had games in April that weren't on a knife edge for one reason or another.
But it was great to go to Aldershot for the last away day of the season, knowing – with the weather set fair – that a glorious afternoon was in order and both the home and away fans could enjoy the 90 minutes without any nervous glances at their phones.
Yellow-clad Chester started the better of the two teams, dominating the early possession. Ollie McBurnie was proving an immediate handful and had a penalty appeal turned down after falling in the box. He drew a similar foul not long after, to earn Chester a penalty on the 14th minute. John Rooney made no mistake with the spot-kick to put Steve Burr's men in the driving seat.
Throughout the rest of the first half, Chester looked the most likely to score. The closest the Shots came was with a strike into the side netting. At the other end, Craig Hobson missed a couple of headers and Chester failed to make the most of several corners.
Not long after the re-start, Hobson and Matty Hughes both had chances to score, only to see Aldershot's Phil Smith make a couple of good saves. George Thomson and Tom Peers came on for Hughes and Craig Mahon on the 76th minute, but they didn't make a real impression in the final spell.
In fact, Aldershot pressed well for an equaliser in the last 10 minutes. It felt strange not to be chewing my nails during an opponent's fightback near the end of a game. Aldershot had several half chances in the closing spell, but none were any match for Jon Worsnop.
So it was a great relief when full-time came and Chester had won a respectable three points. The travelling army no doubt enjoyed the team coming over to show their appreciation. I suppose football would be boring if it was always like this, but I'll settle for it once in a while!
• League table after this game
Rate Chester's performance
---
Saturday 11 April
Chester 3 Dover Athletic 1

Football Conference Premier
Attendance: 1,645 Half Time 0-1
Booked: -.


Chester: Worsnop, Higgins, Heneghan, Charnock, G.Roberts, Mahon (Winn 88), Rooney, Abbott, Hughes, Hobson (Peers 81), McBurnie. Subs not used: Viscosi, Touray, Kay.
Dover Athletic: Walker, Essam, Raggett, Orlu, Wynter (Cogan 86), Sterling, Taiwo (Bellamy 72), Deverdics, Modeste, Payne, Murphy (Poole 78). Subs not used: Kinnear, O'Cearuill.
Referee: Ryan Johnson (Bolton).

This was much more like it from the Blues against a Dover side who have punched above their weight this season and still had an outside chance of making the play-offs going in to the game.

At half time though, it looked like City's poor run of form was going to continue. The Whites – or more correctly given their change kit – the Pinks took the lead after thirty-four minutes when Modeste found room on the right to cross to the far post and the ball was headed back across goal by Murphy to Stefan Payne who trapped it and then picked his spot to Worsnop's left. As half time approached Payne also found his name in the referee's notebook – his shove on Charnock right under the linesman's nose was enough to earn him a yellow card for persistent offending.

Within a minute of the second half starting Chester were back on level terms thanks to a goalkeeping error. Matty Hughes mesmerised defenders with a dazzling run into the box and cut the ball back to McBurnie. The targetman scuffed his shot and it seemed an easy task for Walker to gather it. Perhaps there was an element of spin on the ball but it certainly slipped through Walker's gloves and legs like the proverbial bar of soap and squirmed its way over the line.

The dose of fortune galvanized City and forward they came again. Abbott blazed a great opportunity over the bar. Then Hobson leapt majestically to glance home Rooney's left wing corner and Chester were in front. Dover came back and forced a succession of corners. But when Rooney cut in cleverly from the left he carved out the space to shoot exquisitely beyond Walker for the goal which clinched City's first home win since January.

It was enough to get the home fans singing and even Steve Burr followed suit on stage at the end of season dinner at the Guildhall – more affectionately known by City fans, as Colin Murray reminded everyone as, "the bingo hall".
Colin Mansley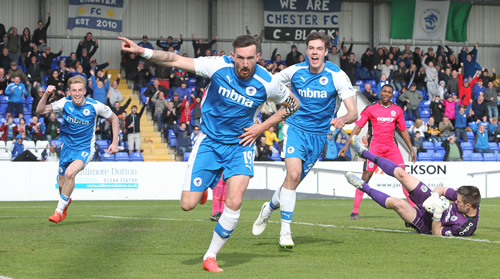 Picture © Rick Matthews (Chester Leader)
• League table after this game | More pictures
Rate Chester's performance
---
Monday 6 April
Chester 1 Forest Green Rovers 4

Football Conference Premier
Attendance: 1,911 Half Time 1-3
Booked: McConville.


Chester: Worsnop, Higgins, Brown (Rooney 43), James, G.Roberts, Heneghan, Mahon, McBurnie, Hughes, Abbott, Kay (McConville 22). Subs not used: Viscosi, Hobson, Peers.
Forest Green Rovers: Arnold, Bennett, Clough, Sinclair (Marwood 90), Kelly, Racine, Guthrie (Kamdjo 90), Pipe, Frear (Bender 90), Parkin, Fleetwood. Subs not used: Russell, Coles,
Referee: Ben Toner (Darwen).

Like Newcastle United, Chester FC have been accused of being on the beach already now that there is nothing realistically to play for this season. That's a bit harsh but psychologically it must be difficult not to switch of just a little. When that is combined with opposition who are desperate to maintain a momentum towards promotion then it can lead to disastrous results. Still smarting from Friday's mauling at Bristol Rovers, City came up against Forest Green in ruthless mood following their surprising defeat to Aldershot on Saturday.
The visitors got off to the best possible start when they were awarded a penalty in the opening few minutes. Brown won the ball cleanly but Guthrie fell over his leg and referee Ben Toner, on the blind side of the tackle, was persuaded to award a spot kick. The gargantuan Parkin sent Worsnop the wrong way and then sauntered over to the Harry Mac to goad Blues supporters. He had cause to rub our noses firmly in it after another ten minutes. Managing to separate himself from Kay, Parkin was standing in splendid isolation when Kelly's forward ball picked him out and his looping header went over Worsnop and in off the crossbar.
City were fielding yet another experimental formation with Brown and Kay partnering one another in central defence and Heneghan surprisingly forward of them both in midfield. Blues seemed in disarray at the back as Rovers pushed forward and pressed hard. Kay was crushed under the Parkin juggernaut and had to go off for stitches in his forehead. MConville replaced him and Heneghan dropped back. Within a minute City were three down as Guthrie burst through the gap which Kay had previously occupied and Worsnop tipped his shot against the post. Frear latched on to the rebound and whipped it past the Blues' custodian before he had time to recover.
Parkin was denied his hat-trick by the offside flag after Brown had misjudged the flight of the ball and the leviathan veteran clipped it into the back of the net from at least forty yards. Blues fans shed crocodile tears only.
Brown was the next defender to end up in the casualty department as he came off second best in a tackle with Guthrie and had to be stretchered off. Rooney replaced him and James dropped back to centre half. Soon Rooney was lining up a free kick on the edge of the box after Pipe had been booked for handball. His effort took a deflection to leave Arnold in the Rovers goal grasping at thin air as the ball rippled the back of the net and gave City fans something to cheer about.
Shortly after the interval normal service was resumed when centre back Racine jabbed home a corner at the near post to restore FGR's three goal cushion. Blues responded with some pressure and Hughes came within an inches of scoring when he beat Arnold to a through ball and prodded it tantalisingly wide of the upright.
City though were well beaten by a powerful team pushing into the play off positions. Plenty of Blues fans were disgruntled by the result but if you had offered them mid table security after these teams had played each other back in August – most would have snatched your hand off. You won't find many complaining that we are not in the same predicament as at the end of last campaign. In that sense it is mission accomplished with games to spare – though it would be nice to win at least one more match this season.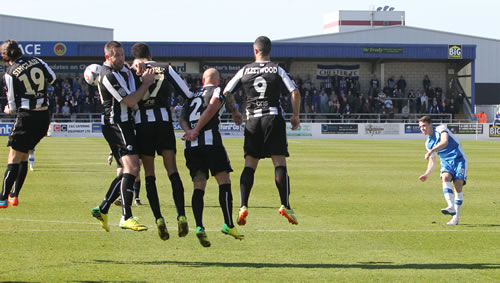 • League table after this game | More pictures
Rate Chester's performance
---
Friday 3 April
Bristol Rovers 5 Chester 1

Football Conference Premier
Attendance: 8,455 (348 Chester) Half Time 3-0
Booked: Mahon, Rooney.


Bristol Rovers: Puddy, Leadbitter, Brown, Lockyer, Parkes, Mansell, Taylor (Blissett 85), Lines, Easter (Harrison 28), Monkhouse, Dawson (McChrystal 76). Subs not used: Mildenhall, Balanta.
Chester: Worsnop, G.Roberts, Kay, Mahon, James, Rooney (Peers 46), McConville (Abbott 46), McBurnie, Heneghan, Higgins, Hughes (Hobson 82). Subs not used: Viscosi, Brown.
Referee: Robert Whitton.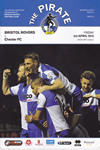 A Bristol Rovers away day always seems to be the same – a rainy afternoon spent on an open terrace watching Chester get beaten by the home side. So it was no surprise that this trip to the Memorial Stadium was no different from the others I can remember.
Chester managed to control Bristol Rovers for the first 15 minutes, and should have gone ahead when Sean McConville found himself through with an open goal. Perhaps the angle was tighter than it looked from the other end of the field, but he somehow missed the target.
The action was then in the other half, after an accidental 'assist' from the referee in midfield gifted the ball to Rovers. A great cross into the box then found Matty Taylor's head. Bristol's leading marksman, who spent time on loan at Chester last season, had no trouble finding the net.
There was now no looking back for Rovers, roared on by the biggest Memorial Stadium crowd this season, and a few minutes later, Ben Heneghan was in the right place on the line to clear another goal-bound effort.
But Heneghan, who was actually one of the better Chester performers on the day, was in the wrong place a few minutes later when he deflected the ball into the net to make it 2-0 to Bristol Rovers.
The 348 travelling Chester fans had barely got over that when a powerful shot from Ellis Harrison was only parried away by Jon Worsnop. Andy Monkhouse was in the right spot to pounce on the rebound and put his side 3-0 up and cruising to the top of the Conference.
Steve Burr's half-time talk seemed to make the usual impression on Chester, who came out fighting for the second half. Two changes had also been made – John Rooney and McConville were replaced by Tom Peers and Brad Abbott.
Before long, Peers had a shot on target and Chester were looking the livelier of the two sides. Their pressure soon paid off when a great Oliver McBurnie header made the score a bit more respectable.
Chester had the better of the game for the next 10 or so minutes, but Rovers eventually came back into it. The fading hopes of the travelling army disappeared when Monkhouse scored his second of the match with a 25-yard drive on the 83rd minute.
Several of the Chester fans had drifted away by the time the Gas went 5-1 up. Harrison rode a couple of challenges on the slippy field before finding the net past a diving Worsnop, with just two minutes of normal time remaining. Five minutes of stoppage time followed, but the result had been clear long before that.
After a miserable defeat, there's nothing worse than going home wet. If we play Bristol Rovers again next season, which I doubt, maybe it'll stay dry and Chester will put on a better show – I can dream!
Sue Choularton

• League table after this game
Rate Chester's performance
---