---
Saturday 28 March
Chester 2 Woking 3

Football Conference Premier
Attendance: 1,899 Half Time 1-1
Booked: Charnock, Sent-off: Charnock.


Chester: Worsnop, Higgins (Kay 76), Heneghan, Brown, Charnock, Mahon, Abbott (Hobson 60), James, Rooney, McConville, Hughes (G.Roberts 63). Subs not used: Viscosi, Peers.
Woking: Crowe, Ricketts, Jones, Saah, Arthur, Goddard (Banya 68), Payne, Murtagh, Betsy, Rendell, Odubabe (Sole 74). Subs not used: Little, Nutter, Oyeleke.
Referee: Richard Wigglesworth (Doncaster).

Chester's poor run of results at home continued as they lost out to the odd goal in five against play-off chasing Woking. But it took a world class finish from midfielder Josh Payne to seal the match after the Blues had twice fought back to equalise. Payne volleyed the winner from outside of the box into the top corner with just six minutes of the ninety remaining.

Payne along with Murtagh dominated the midfield battle today even though City began with five across the middle as Steve Burr experimented once again with their formation. It meant that Chester began with three across the back – Brown returning to link up with Heneghan and Charnock, the latter on the left. Higgins was pushed forward as a right wing back. City looked uncomfortable defending on the right as a result with the Cards appearing to have an extra man over that side initially. Goddard was given too much room and caused panic in the Blues' defence. Rendell netted but was just offside.

Charnock was yellow carded after just five minutes for a late challenge on the veteran Betsy. It was a mistake that proved costly later in the game. The visitors continued to capitalise on some sloppy passing by Chester who could not hold on to the ball long enough to cause their opponents problems.

Once again Woking attacked down their left and Goddard's prodded pass into the box took a small deflection which caused Worsnop and Charnock to hesitate. Rendell nipped in between them to score.
Both teams tried to contend with the difficulties caused by a swirling wind, which if anything was at Chester's backs in the first half. Heneghan made a sweeping wind-assisted pass out to Mahon on the left and he found McConville, operating in central attack along with Hughes. McConville's low cross-shot was spilled by Crowe, Mahon nipped in and seemed to take an age to bring the ball under control but he turned and twisted and eventually clipped it past the keeper for a timely equaliser for the Blues.

A clumsy mistake by Higgins gave away a corner to the Cards early in the second half and led to a spell of prolonged pressure. In an untidy game Woking were still in the ascendancy as they pressed City relentlessly. Charnock seemed to get the ball trapped under his feet and was robbed of possession by Betsy and the Blues defender received a second yellow card for bringing his man down on the edge of the box. Worsnop saved magnificently from Payne's resulting free kick.

The Cardinals made their man advantage tell when Jones headed a corner at the far post across goal for Rendell to nod past Worsnop. Chester would now struggle to get on equal terms as Hughes had been sacrificed after Charnock's dismissal as Roberts came on to shore up the defence. Hobson had come on earlier in place of Abbott as McConville dropped back.

It was Hobson who won a vital free kick as he turned Arthur and beguiled the defender into bringing him down and conceding a yellow card to boot. Mahon whipped the free kick in only to be cleared for a corner by Jones' diving header. Rooney took the corner from the right and Heneghan timed his clever run to perfection as he headed down and just inside the far post. It looked as though City might after all claim a point until, five minutes later, Payne struck with his worldie finish.

Many in the main stand sportingly applauded one of the finest goals scored at the Deva in many seasons. It was disappointing to lose after City had worked hard to get back in the game but fans can afford to be generous from a securely mid-table vantage point.

Colin Mansley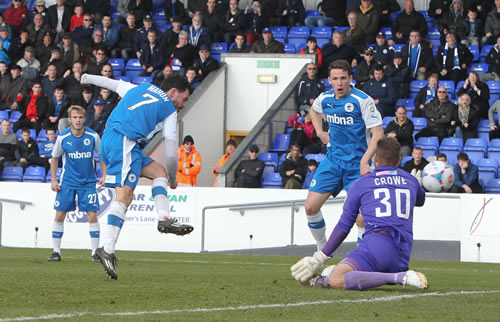 Picture © Rick Matthews (Chester Leader)

• League table after this game | More pictures
Rate Chester's performance
---
Saturday 21 March
Alfreton Town 1 Chester 1

Football Conference Premier
Attendance: 857 (269 Chester) Half Time 1-0
Booked: -.


Alfreton Town: Mooney, Graham, Howe, Lenighan, Wood, Rowe-Turner, Johnston (Speight 55), Thanoj, Shaw, Ironside, Hawley. Subs not used: Courtney, Howell, Leesley, Heaton.
Chester: Worsnop, Higgins, Kay, Rooney (Peers74), G.Roberts (Charnock 74), Heneghan, James, Abbott (McConville 46), Mahon, Hughes, McBurnie. Subs not used: Viscosi, Hobson.
Referee: Colin Lymer (Hampshire).

A Ben Heneghan equaliser two minutes from time brings a point from relegation threatened Alfreton Town. Manager Steve Burr made one change from the side surprisingly beaten at home by Dartford bringing in Gareth Roberts who replaced Ibou Touray, while Tom Peers was recalled from his loan spell at Marine and started on the bench.

Alfreton had won their previous four matches which has seen them escape the bottom four relegation places. They almost took the lead in the opening minute as Karl Hawley saw his header cleared off the Blues goal line by Heneghan.

Jason Mooney in the home goal produced a save to deny John Rooney before the home side opened the scoring midway through the half as Tom Shaw's effort from 25 yards gave Jon Worsnop, playing against his former club, no chance in goal.
A well time tackle from Michael Kay prevented the home side from doubling their lead as the home side pressed. Chester responded through Rooney who saw an effort beat Mooney but come back off the post.
With Chester struggling to make a breakthrough Burr brought on Peers and Kieran Charnock for Rooney and Roberts midway through the second period.
Ryan Higgins saw a long range free-kick fly just wide and Ollie McBurnie saw an effort blocked before the Blues forced the late equaliser as Heneghan headed home Sean McConville's right wing cross.
The Blues almost snatched all three points as Mooney saved a Higgins effort in added time.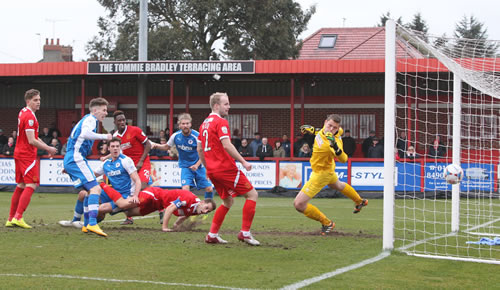 Picture © Rick Matthews (Chester Leader)

• League table after this game | More pictures
Rate Chester's performance
---
Tuesday 17 March
Chester 1 Dartford 2

Football Conference Premier
Attendance: 1,603 Half Time 0-0
Booked: Heneghan.


Chester: Worsnop, Higgins, Kay, Abbott (Richards 79), Touray, Heneghan, Mahon, James, Hughes, McBurnie, Rooney (McConville 79). Subs not used: Charnock, Viscos, Hobson.
Dartford: Ibrahim, Driver, McAuley, Green, Richards, Dallison-Lisbon, Bradbrook, Noble, Sweeney, Crawford, Harris. Subs not used: Hayes, Daley, Kessell, Collier, Burns.
Referee: Karl Evans (Wigan).


After the exhilaration of Saturday's comeback against Grimsby this was a hugely disappointing performance and result against struggling Dartford.

Blues had worked hard, whilst never really getting into top gear, against well-disciplined opponents and eventually succeeded in breaking the deadlock when McBurnie glanced home a brilliant header from Mahon's right wing cross shortly into the second half. Infuriatingly they held the lead for less than a minute as Green appeared in space on the edge of the box to flick the ball over Worsnop for an immediate equaliser.

So it was back to square one with City striving to find a way through serried ranks of defenders as the Darts once more got at least nine men behind the ball. They also played it around well when they got hold of it and shortly after equalising Crawford then struck the bar with a curling shot.

City's best chance of forging ahead again fell to James as Mahon's cross was flicked on by McBurnie and landed at the midfielder's feet on the edge of the six yard box. Instead of shooting, however, James took an extra touch and was closed down by a Dartford defender.

Rooney tried an effort from outside the box but was woefully inaccurate and then he and Abbott were replaced shortly afterwards by McConville and Richards respectively but neither could help find a way through the visitors' defence. Richards indeed had a cameo nightmare – being brushed off the ball with ease every time he had it. From one such incident the visitors broke away to win a corner in the final minute. It resulted in Kingsley James deflecting the ball past Worsnop at the near post for an own goal.

The contrast with last Saturday could not have been greater. The sense of anti-climax was palpable save a grudging admiration for Dartford who were desperate for the points and had held to their game plan with steely determination.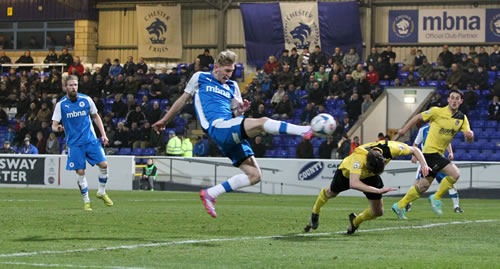 •
League table after this game
Rate Chester's performance
---
Saturday 14 March
Chester 2 Grimsby Town 2

Football Conference Premier
Attendance: 2,916 (952 Grimsby) Half Time 0-1
Booked: -.


Chester: Worsnop, Higgins, Kay, Heneghan, Touray, James, Abbott (Hobson 90), Hughes, Thomson (Mahon 35), Richards (Rooney 67), McBurnie. Subs not used: Viscosi, Charnock.
Grimsby Town: McKeown, Magnay, Pearson, Nsiala, Robertson, Mackreth, Disley, Clay, Arnold (Jolley 86), Pittman, Palmer (Parslow 72). Subs not used: Bignot, Brown, Hannah.
Referee: Martin Coy (Durham).



Mariners' fans came en masse to the Deva sporting jester hats – part of a themed fancy dress run in to the end of the season as they push for promotion – but it was City who had the last laugh as they forced an unlikely draw from a losing position.

Steve Burr rang a few changes to the team with Touray and Richards lining up down the left and Rooney dropping to the bench and Hughes starting the match. With their massed fans urging them on Grimsby pressed Chester back. Ollie Palmer and Jon-Paul Pittman looked lively as did former City loanee (From Trnamere) Jack Mackreth down the right. It was from this direction that the opening goal was worked as Palmer latched on to Pittman's flick and deftly lifted the ball over Worsnop.

City tried to respond and Hughes in particular looked threatening down Chester's right but Grimsby gave little room for manoeuvre and would not allow Blues to dwell on the ball. Thomson found McBurnie in the box with a rifled pass and the youngster seemed to be bundled over before he could shoot but the referee waived away appeals for a penalty. Shortly after this Thomson had to be replaced by Mahon after picking up a knock. At the other end Arnold lifted his volley over the bar to the relief of the home fans.

Following the break Chester began to dominate as they looked for an equaliser and began to hold the ball better as they applied pressure to the visitors. But then the Mariners retaliated and pinned the Blues back in their own half. Eventually a shooting opportunity was carved out for Arnold and his effort hit the post. Pittman was quickest to react and turned home the rebound for a second goal for Grimsby.

The travelling hordes were bouncing now and even indulged in a Poznan celebration. But Chester dug in and began to sweep forward again. With fifteen minutes left they were rewarded when Higgins overlapped and crossed low into the box. The ball eluded McBurnie but there was Heneghan to turn it in and the home support began to believe that the Blues could get something from the game.

Rooney, having replaced Richards, was turning the tide in City's favour and it fell to him to stroke home the penalty that resulted after Hughes was tripped by Robertson as he cut in from the right. The equaliser set up a grandstand finish as both sides went full pelt for a winning goal. Worsnop pulled off a couple of incredible saves as the ball pinged around in the area. Hobson came on and had a good chance to score but his shot was beaten away by McKeown.

Chester don't seem to do draws very often this season but this is the third time they have come back from two-nil down to draw 2-2 and epitomised the never-say-die attitude that Steve Burr seems to have instilled in his Blue Boys.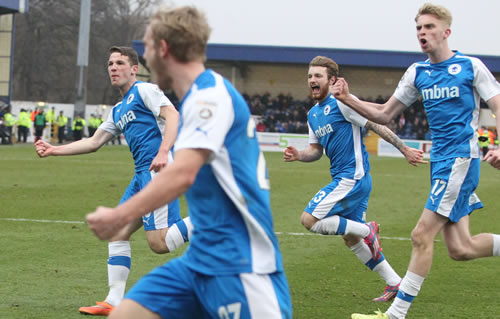 • League table after this game | More pictures
Rate Chester's performance
---
Tuesday 10 March
Torquay United 0 Chester 1

Football Conference Premier
Attendance: 1,221 Half Time 0-1
Booked: Hobson.


Torquay United: Rice, Gueguen, Downes, Pearce, Dawson (Campbell 85), Brisoce (Yeoman 76), Young, Harding (C.Richards 76), Ajala, Chappell, Bowman. Subs not used: Cameron, Reid.
Chester: Worsnop, Higgins, Heneghan, Kay (Brown 90), G.Roberts, James, Abbott, Rooney, Thomson (Hughes 75), Mahon, McBurnie (Hobson 90). Subs not used: Viscosi, K.Richards.
Referee: David Rock (Hertfordshire).



George Thomson opened his Chester account on his full debut with the winning goal at Plainmoor as the Blues bounced back from the disappointing derby day defeat at the weekend.

Manager Steve Burr made three changes from the side that lost at Wrexham. Injuries forced out Kieran Charnock and Sean McConville with Michael Kay and Kingsley James returning to the starting X1.

Thomson was in the action from the start forcing a save from Martin Rice in the Gulls goal in the opening minute, before Ryan Bowman responded for the home team heading just over after a smart move.

A loose back pass let in Bowman who rounded Jon Worsnop but saw his effort blocked by the back tracking Blues defence. Great work from John Rooney set up Thomson who controlled with his chest before seeing a volley well saved by Rice.

The Blues woodwork was rattled as Luke Young went close from a free-kick. Moments later Chester struck s a ball over the home defence saw Thomson race through, take a touch to control the ball before firing past Rice.

A great save from Worsnop denied Young at the start of the second period and Louis Briscoe headed wide when well placed from a Bowman cross. Minutes later it was Bowman's turn to head wide as the home side pressed for an equaliser.

Oliver McBurnie almost doubled Chester's lead with a header that brought out a fine save from Rice. His opposite number Worsnop once again pulled off a fine save to deny Young diving low at the near post to preserve Chester's lead.

The home side pressed with a series of crosses in the final minutes but the Chester defence held firm to pick up three welcome points.


•
League table after this game
Rate Chester's performance
---
Saturday 7 March
Wrexham 1 Chester 0

Football Conference Premier
Attendance: 6,430 Half Time 1-0
Booked: Mahon, Higgins, Brown.


Wrexham: Coughlin, Tomassen, Smith, Hudson, Ashton, Clarke, Evans, Storer (Keates 61), Morris (York 87), Moult (Bishop 76), Jennings. Subs not used: Durrell, Waterfall.
Chester: Worsnop, Higgins, Heneghan, Charnock (Brown 60), G.Roberts, Rooney, Abbott (James 61), Mahon, McConville (Hobson 74), Hughes, McBurnie. Subs not used: Viscosi, Richards.
Referee: Ross Joyce (Billingham).



This was a disappointing display from Chester that saw an early Wrexham goal claim all three points. The Blues, without a match for two weeks, were second best throughout the first half failing to really test Andy Coughlin in the home goal during the 45 minutes.

Manager Steve Burr made one change from the side that lost to Eastleigh on the last outing with on-loan striker Oliver McBurnie returning to the starting X1 at the expense of Craig Hobson who started on the bench.

Wrexham had Chester on the back foot from the start with Kieran Charnock handily placed to clear off the line after a Louis Moult fifth minute effort had crept through Jon Worsnop's legs towards goal.

The only decisive goal of the game came three minutes later as a through ball from Connor Jennings on the right found on-loan Walsall striker Kieron Morris on the left edge of the box, he controlled the ball before firing past Worsnop into the bottom corner of the net.

Chester responded with two efforts as Charnock heading wide following a corner and McBurnie seeing an effort charged down on the edge of the box.

The home side created several chances to double their advantage but found Worsnop in good form saving well from a Kyle Storer free-kick.

Morris missed a great chance to double the Dragons lead as he shot wide after being sent through one-on-one with Worsnop. The final action of the half saw Worsnop make another fine save to deny Rob Evans a certain goal.

Chester started the second period brighter creating a couple of chances, Gareth Roberts forced Coughlin into a fine save from his stinging volley and then the shot stopper palmed away a goalbound header from McBurnie.

Manager Steve Burr made changes bringing on Matty Brown and Kingsley James (for Charnock and Brad Abbott), but it was Wrexham who were finishing stronger. Worsnop blocked a Wes York effort with his legs as the home side saw the game out without any serious threat from the Blues forward line.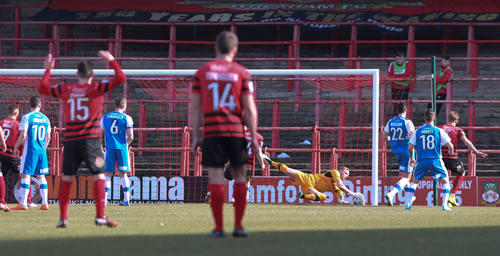 Picture © Rick Matthews (Chester Leader)

• League table after this game | More pictures
Rate Chester's performance
---