• Kettering Town (H) | Telford United (A) | Barnet (A) | Scarborough (H) | Forest Green Rovers (A)
---
Saturday 31 August 2002
Forest Green Rovers 0 Chester City 2
Nationwide Conference
Attendance: 812 Half Time 0-2
Booked: Brodie, Kelly.

Forest Green Rovers: Perrin, Coupe, Richardson, Russell, Jeknins, Tearney (K Odejayi 45), McCloughlin (Allen 75), Foster, Sykes, Meechan Grayson (Heggs 65). Subs not used: Pritchard, Cook.
Chester City: W.Brown, Harkness, Hatswell, Ruffer, Guyett, Brodie (Davies 65), Blackburn, Kelly, McIntyre, Beesley, Twiss (Sugden 76). Subs not used: Woodyatt, Cameron, M.Brown.
Referee: N.Perkins (Gravesend).

This proved to be a comfortable victory for Chester who dominted much of the game and could, in the end, have won by a more convinging margin. The usual hospitable welcome was extended to those City fans who made the trip to Gloucestershire, the busy social club a colourful mix of blue and black striped shirts proir to the match; outside in the sunshine the suited and booted City players inspected the pitch having enjoyed an overnight stay for the match.
It was only four months since the last visit to The Lawn, the Blues then, rejuvinated under Mark Wright were embarking on a run to pull clear of the relegation zone, what a difference now, only two of that side played on Saturday – Wayne Brown and Mark Beesley.
Manager Wright opted to start with Beesley, fresh from scoring twice in the reserves in midweek, as opposed to Ryan Sugden who found himself alongside fellow striker Dave Cameron on the bench. Steve Brodie was given his long-awaited debut, Carl Ruffer returned to the heart of the defence alongside Scott Guyett and former Rovers player Wayne Hatswell, while Steve Harkness moved into midfield. Harkness will no doubt have felt at home in City's third kit – red shirts and shorts!
The opening period was fairly scrappy with neither side creating any clear-cut chances, Steve Brodie had the best opening for City, only the post prevented him from scoring a debut goal. What little the home side showed in attack during this period, was soon mopped up by a City back line that is playing better with each match and still has to welcome back captain Phil Bolland in a week or two – someone will feel a little unlucky to be left out when that occasion arises such is City's current quality in defence.
Beesley had Chester's first effort on goal and this was followed by a low shot from Harkness that Perrin in the home goal smothered at the near post before the deadlock was broken on 32 minutes. Captain Jimmy Kelly took a free kick on the City left, following a foul on Brodie, which was handled in the Rovers wall by Foster. Referee Perkins pointed to the spot and Beesley sent Perrins the wrong way from 12 yards out.
Rovers best chance came from the experienced Neil Grayson who attempted to loop a header over Wayne Brown before Chris Blackburn almost doubled City's lead with a powerful hooked shot that flew just wide of Perrin's left hand upright following a cross from Harkness.
A couple of minutes later Beesley scored a quality goal which effictively killed the game off as a contest. Michael Twiss, having another good game, played a one-two with his fellow striker on the right edge of the penalty box and Beesley swept the ball home past a diving Perrin to the delight of the travelling fans behind the goal.
City didn't sit back after the break and could have added more goals to their tally. Scott Guyett had a header brilliantly saved and an equally good save denied Kevin McIntyre soon after.
City's best move of the game involved half a dozen players and culminated in Twiss firing wide from just inside the box. Kelly produced a number of teasing crosses that produced half chances but City had to be content with the 2-0 victory.
Rovers, languishing at the bottom of the Conference, sacked their manager Nigel Spink following the defeat. Whoever takes over has a tough job but City fans will wish them well, the trip to Forest Green is always a welcoming one.
---
Monday 26 August 2002
Chester City 0 Scarborough 0
Nationwide Conference
Attendance: 2,292 Half Time 0-0
Booked: Harkness.

Chester City: W.Brown, Guyett, Ruffer, Hatswell, M.Brown (Woodyatt 71), Blackburn, Harkness, Kelly, McIntyre, Sugden (Beesley 58), Twiss. Subs not used: Carden, Cameron, Brodie.
Scarborough: Woods, Rennison, Dryden, Hotte, Sheppherd, Stoker, Henry, Ormerod (Campbell 66), Pounder, Scott, Rose. Subs not used: Blunt, Walker, Jordan, Brassart.
Referee: C.Harwood (Salford).



One tedious no-score draw is unfortunate, two on the run is down right irritating. Apart from a flurry of corners in the first few minutes, Chester created virtually no chances on goal all the game.
Scarborough, as Kettering had done on the opening day of the season, came to keep things tight and to break up any pattern in Chester's play. They were quick to close down and stuck close to City players with the ball. True, they hardly threatened Wayne Brown's goal in the first half, but Chester hardly looked like scoring either. City's forwards Twiss and Sugden struggled with balls played into their feet and no one for them to lay it off to. Neither seem to me to be the holding-the-ball-up type of forward and so they were effectively smothered out of the game.
City's most promising opening in the first half fell to Mickey Brown who went on a surging run, played a one-two, but shot well wide. To be fair to Wright, he had chosen Brown as a more attacking option than Woodyatt. He seemed lively in the first half but unable to find much room. In the second half he hung back quite a lot and was clearly weary when Woodyatt replaced him.
After the break Scarborough were the better side. The Seadogs were the ones picking up the scraps, they seemed quicker to every ball. Chester were reduced to knocking the ball up in the air for
the forwards – and it soon came back. It really was pretty ugly stuff.
The visitors should have opened the scoring when Connell shot wide at the far post.

With time dragging on, Wright replaced Sugden with Beesley and Brown with Woodyatt and they looked marginally more lively. As City's search for the first goal at the Deva this season became more frantic, McIntyre – who saw too little of the ball – crossed dangerously but just out of Twiss's reach. Blackburn had a bit of space on two occasions on the edge of the box but blazed the ball well wide.
In the last minute, Kelly's volley from outside the area was on target but seen all the way by Woods in the goal. Prior to this City survived a heart-fluttering moment when Pounder's run into the box was ended as he crashed into Scott Guyett. Mercifully the referee waved play on.
City's home form is going to be key if they are to make a play-off place. Plenty of teams will be hoping to emulate Kettering and Scarborough with their good organisation and high work rate. City will need to discover a bit of guile and tactical know-how in order to break teams down. One wonders whether Brodie – on the bench again – or Whittaker (In the stand) might be the ones to provide it.
---
Saturday 24 August 2002
Macclesfield Town Youth 2 Chester City Youth 0
Youth Alliance North Central Conference

Chester City: Louie Mackin, Paul Connolley, John Davies, Ben Harvey, Adam Kelly, Tom Coulson [Danny L Ventre], Matt Cooke, Mike Simpson, Lee Reece, Gethin Lloyd, Adam Hunter.

The youth team went away to Macclesfield on Saturday in a re-arranged fixture and turned in a below par performance, conceding a goal in each half. The nearest they came to scoring was a 25 yard strike from Gethin Lloyd, which rebounded off the crossbar.
---
Saturday 24 August 2002
Barnet 0 Chester City 3
Nationwide Conference
Attendance: 1,347 Half Time 0-0
Booked: Woodyatt, Hatswell.

Barnet: Harrison, Pope, Pluck (Baimass 75), Arber, Gledhill, Midgley (Oshitola 70), Bell, Hillier (Yakabu 33), Gower, Strevens, Agogo. Subs not used: Millard, Soloman.
Chester City: W.Brown, Hatswell, Guyett, Harkness, Woodyatt, Kelly, Blackburn, McIntyre, Cameron (Beesley 69), Twiss, Sugden (Ruffer 83). Subs not used: M.Brown, Carden, Carey.
Referee: F.Graham (Stanford-le-Hope).



Three second half goals by City finally brought a deserved victory after it had looked like squandered chances would cost them dear. Mark Wright made one change from Monday's winning team drafting in Lee Woodyatt for Shaun Carey who took his place on the bench. Barnet started with the side that defeated Yeovil Town 2-1 in midweek.
Over 200 Chester fans made the trip from all over the country, one from as far away as Durham! and City ran out wearing their second choice all white kit.
An impeccably observed one minutes silence for Holly Wells and Jessica Chapman in bright sunshine preceded the game which City dominated from the off, Kevin McIntyre's probing left wing runs causing the Bees defence all sorts of problems.
Michael Twiss and Ryan Sugden both had opening chances for City and Harrison in the home goal saved well from McIntyre close range half volley. The nearest the home side came to opening the scoring was through the impressive number four Gower whose back post effort from a corner was cleared by Wayne Hatswell.
City forced a couple of corners, electing to take both short, but the delivery into the box was poor and Barnet cleared with ease.
City should have taken the lead on three occasions just before the break. First, Wayne Brown's long clearance was flicked on by Dave Cameron to Ryan Sugden. With Harrison rushing out of his goal Sugden lobbed the keeper but saw his shot also drop just over the bar. Minutes later Cameron was put through on the right fifteen yards out but side-footed wide, and Sugden again had a great chance though he volleyed over the bar.
Barnet started the brighter following the break but it was Harrison who was the busier saving well from McIntyre's far post power-drive and then being on hand to deny a trio of City players when a goal looked certain.
Minutes later the home side were reduced to ten men after Leon Bell was shown a straight red card following a robust challenge on the lively McIntyre that left the City player requiring lengthy treatment.
On 67 minutes City finally broke the deadlock as Sugden was well placed to stroke the ball home aftre Harrison could only parry McIntyre's stinging shot into the strikers path.
Barnet made a double substitution as they looked for the equaliser but 'keeper Brown dealt effectively with everything Ben Strevens and Junior Agogo could muster. Steve Harkness was also on hand to make a last ditch tackle to deny Agogo a goal scoring chance against his old club.
On 87 minutes City scored their second goal to wrap the game up. Man of the match Scott Guyett picked the ball up on the right touchline in front of the City fans and curled a delightful through ball for Twiss to run through on. Twiss beat one defender, drew the keeper and cooly finished with his left foot from eight yards.
With the Bees still pushing forward City broke away again and substitute Mark Beesley raced through on the left, rounded Harrison and slotted the ball home from a narrow angle to the delight of the noisy travelling City contingent.
After the match manager Mark Wright said: "We played well. They got a kick up the you know-where at half-time for missing chances and they came back and responded. I really think we can get better."
---
Monday 19 August 2002
Telford United 0 Chester City 1
Nationwide Conference
Attendance: 1,409 Half Time 0-0
Sent Off: Cameron.

Telford United: Edwards, Foran, Bloomer, Brown, Scott (Smith 63), Fitzpatrick, Jobling (King 69), Palmer, Hanmer, Lormor, Moore. Subs not used: Spink, Davies, Jones.
Chester City: W.Brown, Guyett, Harkness, Hatswell, Blackburn, Kelly, Carey (Ruffer 67), McIntyre, Sugden (M.Brown 64), Cameron, Twiss. Subs not used: Beesley, Davies, Brodie.
Referee: K. Wright (Peterborough).

The phrase "All round the Wrekin" might have been invented with Telford's Buck's Head ground in mind. It was a huge hike from the Cock Hotel on Thomas Telford's road to Holyhead all round three-quarters of the stadium to get into the site and then back again to get to the visitors end. The old engineer, who liked to build his roads straight, would hardly have approved. And though the facilities in the stadium are first rate, they don't seem to be able to get the staff.

Only one turnstile was open for us to go through (There was a junior one as well but we weren't allowed to go through that even if we paid adult prices). And there was only one person on the tea bar with just kitkats and mars bars and hot drinks for sale.
The game was already quarter of an hour old by the time I made it on to the terraces. Cameron and Foran were niggling each other as City defended a corner and the referee called them over for a ticking off. The huge frame of that lower league journeyman Tony Lormor was also a menacing presence in the penalty area.
In similar pattern to Saturday's frustrating game against Kettering, the ball was up in the air a lot of the time and neither side seemed to have control of the ball for long. The game was crying out for someone to slow it down a bit – but the frenetic pace continued.
When City did manage to weave a few passes together they looked the more threatening team. Sugden went close and McIntyre's fierce shot was spilled by Edwards but no-one was close enough to capitalise for City. Telford had hardly a sniff at goal, the closest they came being when Lormor's clip from well outside the area had Brown scurrying back to flick it over the bar.
The game exploded just before the interval when Cameron went up for a cross in the box with a leading arm. Harshly, in my opinion (Though this all happened at the far end), the referee showed him a straight red card. I did not know whether to be more cross with Cameron for being so incautious or the referee for being over harsh. During the half-time break, one City fan told me not to worry as he thought we could beat Telford with nine players never mind ten.
He (Mick) was absolutely right. City came out and dominated the next forty-five minutes so much that Telford, despite their numerical advantage, hardly got out of their own half.
The only goal of the game, and City's first of the season, came when Twiss was set free to run at the Telford defence. The full back forced him out wide to the left wing but he still managed to nip a low cross into the box, which Sugden anticipated superbly and beat another defender to clip it past Edwards. Sugden had gone close just a few minutes earlier following a goal-mouth scramble. This time there was no mistake and what a peach of a goal it was.
Wright soon withdrew Sugden and Carey for Brown and Ruffer – fresh legs to help the ten men continue to dominate the game. Both fitted in seamlessly and City easily dealt with everything Telford could throw at them. Guyett was outstanding at the back and City were helped on a couple of occasions when the ball disappeared into the building site next to the quarter completed main stand.
Although it seemed City might suffer for Cameron's indiscipline, in the end, this was a thoroughly professional performance.
---
Saturday 17 August 2002
Rotherham United Youth 1 Chester City Youth 1
Youth Alliance North Central Conference

Chester City: Louie Mackin, Danny Ventre, Paul Connolley, John Davies, Adam Hunter, Tom Coulson (Tony McGlaughlin), Matt Cooke, Mike Simpson (Ben Harvey), Paul Edwards, Danny Ventre (Tom Curle), Gethin Lloyd.
The youth team kicked off the season with a good 1-1 draw away at Rotherham in a game that they should have won. They took the lead early in the first half through Gethin Lloyd. Despite dominating for long periods and creating several good chances they conceded an equaliser 20 minutes from time.
Note: City have two players in the youth team this season called Danny Ventre! One is a striker [second year] and the other is a right defender/midfielder [first year].
---
Saturday 17 August 2002
Chester City 0 Kettering Town 0
Nationwide Conference
Attendance: 2,367 Half Time 0-0
Booked: Blackburn, Hatswell.

Chester City: W.Brown, Guyett, Ruffer, Hatswell, McIntyre, Kelly, Davies, Blackburn, Woodyatt (Cameron 83), Beesley (Sugden 64), Twiss. Subs not used: Harkness, Brodie, Carey.
Kettering Town: Bowling, Matthews, Howarth, Haran, Norman, Small, Walsh (Inman 75), Murray, Murphy (Perkins 90), Watkins, Butcher. Subs not used: Ward, Hughes, Shutt.
Referee: G.Turner (Chesterfield).


Normal service was resumed at the Deva Stadium as the team that secured a remarkable 1-0 victory against Liverpool's £50m dream team faced the real world in the shape of Kettering's part-timers.
I admit it was never going to be easy to match the pre-season anticipation and the Blues were also battling against the haphazard decisions of referee G. Turner and his flag-happy linesman, but I was disappointed that not one of the four Chester forwards who featured in the game could find the net at some stage.

Kettering clearly came to Chester with a game plan – to mark the start of the season with a bore draw against one of the bookies' favourites for the title – and it proved impossible to sway them from their aim. Chester, however, didn't seem to have as clear a game plan, and failed to spring any real surprises against the Poppies' defence.
Indeed it was Kettering who had the first real threat on goal when Lee Woodyatt had to clear a close-range header off the line following a third minute corner. Tireless Woodyatt was one of Chester's best players – harrying the Kettering defence throughout the game, and making some vital tackles in the final third of the pitch.
Kevin McIntyre, on the opposite flank, was also very impressive. One of Chester's best early chances came when McIntyre passed to Michael Twiss following a corner. But Twiss's shot went wide of the mark.
However it was Mark Beesley who was guilty of missing the best opportunity of the match. Ben Davies set him up with a one-on-one with Kettering 'keeper Ian Bowling. It seemed easier for the City frontman to at least hit the target, than shoot wide. But he seemed to snatch at the ball, and it did go wide.
Until then, Beesley had played with far more determination than he did in the Liverpool friendly. He had been dropping back to win the ball and made several attempts to set up strike partner Twiss. It seems he just needs goal to get his confidence back.
The wind that was whipping around the Deva stadium also played its part in the game. Kettering had at least two chances that swerved 'Beckham-style' towards the net, only to just miss the target – one seemed to sail worryingly near the upright as Wayne Brown stood stock still on the line.
By this stage the referee had made himself an enemy of both fans, for his inconsistent decisions and failure to let the game flow. He even managed to wind up physio Joe Hinnigan by spilling the contents of Joe's magic sponge bag as he lifted it off the pitch while a Chester player was being treated. The officials received a barrage of abuse as they walked off for half-time.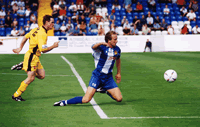 The second half saw Chester come out with more determination, and this time it was Kettering who had to clear a header off the line. Ben Davies' free kick set up Wayne Hatswell – but a Kettering defender was standing in just the right place when Hatswell headed for home.
McIntyre was at the centre of another of City's best chances when he took a cracking free kick, which Bowling failed to hold. However the loose ball was cleared away by Kettering.
It was beginning to look all too familiar, with Chester failing to take advantage of their opportunities. Beesley and Jimmy Kelly were substituted for Dave Cameron and Ryan Sugden and the game plan was changed slightly.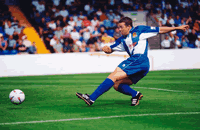 Chester began to rely on sending the long-ball to the big forwards – Twiss, Sugden and Cameron. It almost paid off, as both Cameron and man-of-the-match Twiss had their chances on the edge of the area. Chris Blackburn, now one of the longest-serving current City players at the age of 20, also came close to scoring.
The part-timers began to tire noticeably in the last ten minutes and the Blues began to surge forward. It seemed inevitable that Chester would score in the eight minutes of added-on time we were anticipating. But somehow the referee's watch had failed to stop every time the Kettering players trudged at snail's pace to collect a dead ball. The ref gave just four minutes of added-on time, and Chester failed to take advantage of their weakening opponents.
It was at least encouraging that City kept a clean sheet – although 'keeper Brown missed several chances to grab the ball in the air from corners and free kicks, he made a couple of good saves to help the Blues secure their first point. He also produced the biggest laugh of the day when he rifled the ball, at close range, straight at one of the Kettering players.
But it was the Poppies' fans who went home with the grins on their faces. They had marked their return to Conference football with a hard-earned point away from home.
For Chester there are still some reasons to smile – we've lost the first match of the season for the past four years in a row, so a point is better than our traditional blank. It was also fantastic to see an attendance of 2,367, with a very healthy number of season ticket holders.
And it was probably no bad thing that we were brought back down to earth after all the pre-season hype. It should make the team run out with a real fighting spirit against Telford on Monday night – after all, we could be top of the league after that game!