---
Saturday 30 November 2002
Southport 1 Chester City 3
Nationwide Conference
Attendance: 2,447 Half Time 0-1
Booked: Davies. Sent Off: Clare (downgraded later to a booking).

Southport: Welsby, B.Jones, Clark, Winsyanley (Sulivan 59), Lane (Lloyd-Williams 81), Pickford, Soley, Gibson, Howell, Whitehall (S.Jones 37), Thomson. Subs not used: Scott, Dickinson.
Chester City: W.Brown, Guyett, Bolland, Hatswell, Brady (Woodyatt 64), Carden, Carey (Ruffer 63), Davies, McIntyre, Sugden (M.Brown 74), Clare. Subs not used: Beesley, Twiss.
Referee: B.Desmond (Swindon).



Christmas came early in rain-sodden Lancashire as Chester were gifted three points in an ill-tempered battle at Southport's Haig Avenue.
Three killer punches on the field in the shape of three excellent goals from midfielders Sean Carey, Paul Carden and Carl Ruffer left the Sandgrounders knocked out by their more determined opponents.
There were also accusations of punches flying off the field as the two dugouts and the opposing players squared up as the teams went off for half-time. The match officials and the police had to step in to break up the fracas.
But it was never going to be a friendly affair, as there were too many old rivalries being renewed – Mark Wright, Scott Guyett and Phil Bolland were returning to their former stomping ground, and ex-Deva favourite Steve Whitehall was in the Southport starting line-up.
Chester made it clear from the start that they had not come on their coastal day-trip to get an easy point. Within a few minutes, Ryan Sugden forced his way into the Southport box, and a brave defender tackled him and put it wide. The 1,000+ Chester fans cheered on the Blues for the corner and Guyett's goalbound header was cleared by Southport 'keeper Kevin Welsby.
Chester continued to press, and Steve Whitehall's only real contribution of the day came to nothing when he was clinically tackled by Phil Bolland, who lived up to his 'Ice Man' nickname all afternoon. Whitehall sloped off soon afterwards after being substituted.
The game's first key incident came just past the half-hour mark, when Southport captain Steve Soley was red-carded for a second bookable offence after kicking the ball away when referee Bob Desmond blew for a foul.
But any worries about Chester traditionally crumbling against 10-man teams were soon forgotten when a 25-yard Carey strike was deflected into the Southport goal.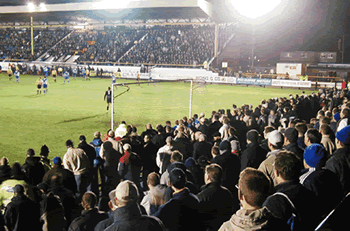 The goal celebrations had barely died down when last week's hat-trick hero Daryl Clare was scythed down in midfield by Southport's Barry Jones. Clare retaliated as he was getting himself up, and was promptly sent-off by the referee. Jones stayed down for treatment, and was eventually yellow-carded. This clearly ruffled feathers in the Chester dug-out, leading to the half-time confrontation.
Southport came out much brighter in the second half, and a goalbound effort in the opening few minutes was cleared off the line by Kevin McIntyre – another defender who had an almost faultless afternoon.
But Southport's defenders made a couple of schoolboy errors – one leading to Chester's second goal. A defender lost the ball on the edge of the area and lively Sugden pounced on his mistake. He passed to Carden who had a simple job to slot it home.
There was a mini pitch invasion, but the over-enthusiastic Chester fans were soon rounded up and were back behind the goal to cheer on their heroes and taunt the dwindling band of Southport fans.
However, a victory was by no means certain at this stage, as Southport's recent FA Cup comeback proved. They suddenly stepped up a gear with Steve Pickford and Peter Thomson combining dangerously in and around the Chester box.
Their edeavour soon paid off, with Pickford battling his way into the area. He was tackled, but the ball fell to Steve Jones, who thwacked the ball past Wayne Brown. It was only the second away goal scored against Chester so far this season.
The game was heading for a nervy conclusion, when a McIntyre corner found the head of Ruffer. The ball hit the underside of the bar and rebounded down. For a moment no-one seemed certain if it had gone in or not, but the linesman signalled that it had crossed the line.
The Chester fans decided Christmas had now arrived and began singing the old favourite that's a variant on 'Jingle Bells'. By this time the Merseyside police helicopter was circling overhead and the flashing riot vans had arrived.
There was another mini pitch invasion when the full-time whistle went and the Merseyside force braced themselves needlessly for the buoyant Chester fans leaving the ground.
Everyone in blue certainly enjoyed their day out at the seaside. Let's hope next week's coastal adventure brings us the same result.
---
Friday 29 November 2002
Marine Reserves 1 Chester City Reserves 2
Lancashire League Division 1
Chester City: Louie Macken, Adam Hunter, Matt Cook, Paul Connolly, Ian Lathom, Danny Ventre, Adam Kelly, Peter Dogun, Dean Buckley (David Pennell), Moore (Danny L Ventre), Lee Reece.
Goals from Adam Kelly and Steve Brodie gave City an away victory in their first Lancashire League game for six weeks.
---
Saturday 23 November 2002
Chester City Youth 2 Notts County Youth 2
Youth Alliance North Central Conference
Chester City: Louie Macken, Adam Hunter, Matt Cook, Paul Connolly, Ian Lathom, Danny Ventre, Adam Kelly, Peter Dogun, Dean Buckley (David Pennell), Moore (Danny L Ventre), Lee Reece.
The youth team picked up another useful point in a 2-2 draw at home to Notts County on Saturday. They took a first half lead trough a trialist, Peter Dogun, with Notts Country drawing level early in the second half. County went 2-1 in front mid way through the second period before Chester were awarded a penalty ten minutes from time which Lee Reece dispatched to earn a share of the points.
---
Saturday 23 November 2002
Chester City 5 Margate 0
Nationwide Conference
Attendance: 1,920 Half Time 4-0
Booked: None.

Chester City: W.Brown, Guyett, Bolland, Hatswell, McIntyre, Davies, Carden, Carey, Brady (M.Brown 61), Clare (Twiss 75), Sugden (Beesley 61). Subs not used: Ruffer, Brodie.
Margate: Mitten, Edwards, Shearer, Porter, Oates, Lamb, Keister, Sodje, McFlynn (Munday 68), Saunders, Collins (Griffiths 51). Subs not used: Perry, Turner.
Referee: D.Foster (Newcastle).


With a creditable draw at Leyton Orient last week and the potentially lucrative replay to come, Margate chartered a plane to fly the team up to Chester. Whether they were jet lagged I don't know but by quarter past three they were certainly shell shocked as manager Chris Kinnear admitted.
Margate looked like the first team to wake up as they brought the game towards City but they were soon behind. After neat work by Ben Davies (Who buzzed creatively all afternoon), Carey opened up Margate like a tin of beans with a visionary pass. Sugden flashed in from the right wing and lashed the ball into the net from a narrow angle. An early goal for once seemed to settle City and they swept forward again.
Clare was brought down on the edge of the box. McIntyre's low free kick was spilled by Mitten and Clare pounced to make it two-nil. Shortly after he added a third as his first shot was blocked and he volleyed in from just inside the box.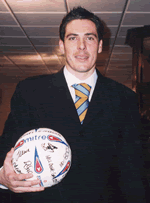 There was a smoking ban at the Deva because of the firefighters dispute but by now Chester were definitely on fire.
Complacency crept in at the back – after all what tactics do you adopt for the remaining 75 minutes – when you find yourselves 3-0 up? A mistake by Guyett let in the Margate forwards. Brown parried the resulting shot and Keister tapped in the rebound – only to see the linesman's flag raised for offside.
From a free kick wide on the right taken by Davies, Hatswell headed home at the far post to make it 4-0 before half time.
There was an air of anti-climax after this as the game was well and truly over as a contest. Margate plugged away gamely – Collins hit the foot of the post with Brown well beaten – but they were already holed below the waterline and sinking fast.
Clare rounded of his hat-trick with a flourish as Carey fed him once again and he smacked a shot into the top corner. Another ironic chorus of "What a waste of Money!" rang around the Sealand End. Clare's ready anticipation and clinical finishing has shown what we have been missing before he arrived. He was inevitably named man of the match but others deserve special mention too, not least his striking partner Sugden whose pace and running off the ball were exceptional. Carey, Davies and Carden also got through a tremendous amount of work in the middle and ensured that Margate never had the chance to recover from those early setbacks.
---
Saturday 16 November 2002
Colchester United 0 Chester City 1
F.A.Cup Round 1
Attendance: 2,901 Half Time 0-0
Booked: Tate.

Colcester United: Brown, Stockwell, Baldwin, Warren, Keith, Stockley, (Morgan 80), Bowry, Pinault, Izzet (Atangana 84), Rapley, McGleish. Subs not used: Fitzgerald, Odunsi, McKinneyl.
Chester City: W.Brown, Brady (M.Brown 66), Guyett, Bolland, Hatswell, McIntyre, Carey, Carden, Davies, Clare (Blackburn 90), Tate (Ruffer 90). Subs not used: Sugden, Beesley.
Referee: S.Tomlin (East Sussex).

A Chris Tate goal seven minutes from time gave City a thoroughly deserved victory at Layer Road after dominating for long periods of the game. Mark Wright made just one change to the side that won at Stevenage last week bringing in on-loan striker Tate in preference to Ryan Sugden who found himself on the bench.
It was Colchester who had the first effort of the game in the opening minutes as Wayne Brown had to smartly tip over a dipping shot from Sam Stockley for a corner, but, in reality that was about the only time Brown was called to save for the rest of the half.
The Blues gradually took control of the game and created four great headed chances to open the scoring with Kevin McIntyre's teasing crosses causing all sorts of problems for the U's defence. Daryl Clare, lively up front almost scored with a glancing header from six yards but just couldn't get enough contact on the ball and 'keeper Simon Brown saved John Brady's cross.
Phil Bolland and Scott Guyett were in commanding form at the back with Ben Davies working tirelessly throughout.
Bolland had City's next effort as he headed over the bar from six yards when a goal looked certain as City's aerial threat was proving dangerous. Skipper Bolland again forced a great save out of Brown, as he pushed his goalbound header from another McIntyre flag kick round the post.
At the other end, Wayne Brown was called in a couple of times to clear his lines, one clearance was launched many a mile over the Barside and out of the ground down Layer Road as the home side were restricted to a couple of long range efforts and a near post shot that Brows saved after Guyett had been caught in possession shielding the ball out of play.
As the half drew to an end, Tate saw a back header just slip past the post and Blues fans, who'd sung and cheered along with the drummer through the opening period, will have been wondering if we'd pay for these near misses as the teams trooped off at the interval to a chorus of boos from the frustrated home supporters.
The second period opened with United pressing. Scott McGleish had a couple of efforts and almost set up Rapley with a back heel but McIntyre cleared superbly under pressure.
Just after the hour mark, manager Mark Wright brought on Micky Brown for Brady and the hard working winger almost scored with his first touch. A loose United ball was intercepted by Brown and, although he was forced away from goal, he managed to get a low shot on target and 'keeper Brown got his fingertips to the effort pushing it out for a corner in front of the City fans.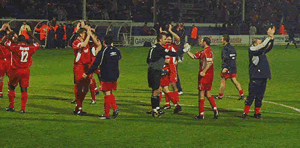 Minutes later Tate, in the thick of the action for most of the game, almost gave City the lead with a clever volley from outside the box. Seeing the keeper off his line, Tait volleyed a lob but Brown recovered well and produced great save to turn the goalbound effort over the bar. At the other end there was a let-off for Wayne as he spilled a shot from the edge of the box but managed to scramble to the loose ball before a United player could follow up.
The goal that settled the match came with seven minutes remaining. The Blues (reds!) were awarded a free kick on half way and Davies' delivery was headed down by Guyett on the left to Tate who swiveled on the six yard box to shoot into the bottom corner from eight yards out to the delight of he City fans behind the goal who mobbed the scorer. City were never really troubled in the remaining minutes and left the ground to an ovation from both sets of fans.
After the game Chester manager Mark Wright said: "I thought we fully deserved our win. We did our homework and the fact that their goalkeeper was man of the match says it all."
---
Saturday 9 November 2002
Chester City Youth 2 Shrewsbury Town Youth 0
Youth Alliance North Central Conference
Chester City: Louie Macken, Adam Hunter, Ian Lathom, Matt Cook, Paul Connolly, Danny Ventre, Adam Kelly, Mike Simpson (McLaughlin), Dean Buckley (David Pennell), Danny L Ventre (Moore), Lee Reece.
Goals from Dean Buckley and Adam Kelly gave the under-19 side their second win in a week.
---
Saturday 9 November 2002
Stevenage Borough 0 Chester City 1
Nationwide Conference
Attendance: 1,716 Half Time 0-1
Booked: W.Brown, Carden, Hatswell.

Stevenage Borough: Westhead, Travis, Trott, Riddle, Howell, Stirling, Fraser, Blackwood (Midson 70), Pacquette, Jackson (Sigere 70), MacDonald. Subs not used: Wilson, Willis, Wormull.
Chester City: W.Brown, Brady, Bolland, Hatswell, Guyett, McIntyre, Carey (Ruffer 75), Carden, Davies, Clare, Sugden (Tate 62). Subs not used: M.Brown, Blackburn, Cameron.
Referee: A.Green (Hinckley).



A Daryl Clare goal on the stroke of half-time gives City the three points to lift them to second spot in the Conference. Mark Wright brought back Wayne Hatswell to the defence in preference to Carl Ruffer who started on the bench. The Blues took to the field in all white! does our blue and white stripes really clash with Borough's all-red kit?
Stevenage had only win one home game all season but gave a battling performance that belied their bottom three position in the table, and only superb performances from Scott Guyett, Phil Bolland and Wayne Brown kept the home side out during the 90 minutes.
It was Borough who had the first attack of the match forcing a corner in the opening minute that saw Trott's lobbed header hit the top of the bar from ex-City player Michael Blackwood's delivery. Fiver minutes Ben Davies was handily placed in the back post to prevent a repeat.
A foul by Blackwood on Clare set up City's first attack of the game. McIntyre's free-kick was put out for a corner but the defender's near-post flag-kick was easily cleared.
Kirk Jackson volleyed high and wide of Wayne Brown's goal and Pacquette tested the keeper with a header as chances at both ends were at a premium.
On 22 minutes City forced a succession of corners. John Brady curled a kick to the far post where Clare met it with a fierce shot from the right which was deflected for another corner. McIntyre's first effort was cleared for another flag-kick and his follow up was headed over by the unmarked Ryan Sugden from six yards out.
Phil Bolland, an assured figure at the back, was on hand to block a Stirling shot for a corner and was on hand again to clear the resulting kick. Minutes later, as the half moved into injury time, City scored the only goal of the game.
Kevin McIntyre's through ball was knocked down by John Brady to Clare in space in the box. The striker unleashed an unstoppable shot past Westhead before whipping his shirt off for a trademark celebration.
City had a couple of chances after the break to double their lead. First Ben Davies shot wide from 18 yards, the Scott Guyett headed wide when well placed from a John Brady corner. Following this miss Stevenage enjoyed more of the play for the final 30 minutes.
The home side's main threat came from a series of long-throw's by Jude Stirling. Time and time the ball was launched into the City box this way but Guyett and Bolland coped admirably. Brown was on hand to save from Fraser and again from Blackwood before Mark Wright replaced Sugden with on-loan Chris Tate.
Wright also brought on another defender, Ruffer, for Shaun Carey as the Blues found themselves penned back, and a couple of minutes later Wayne Brown made another stunning save from on-loan QPR forward Richard Pacquette as the home side pressed more. But Brown was proving unstoppable and he saved his best save for the 87th minute as he turned a Richard Howell shot round the post and help bring City's first Conference win for a month.
---
Tuesday 4 November 2002
Stockport County 1 Chester City 3 (AET)
UniBond Cheshire Senior Cup Quarter Final
Score 1-1 after 90 minutes.
Attendance: 134 Half Time 1-1

Stockport County: Spencer, Keilthy, Thomas, Lambert, Hardiker, Walsh, Wild, Goodwin (Ogden 97), Byrne (Williams 77), Ross (Holt 81), Briggs.
Chester City: Worsnop, Ruffer, Hatswell, Collins, Blackburn, Carey (Woodyatt 102), Brady, Brodie, Tate (Byrne 102), Twiss, Whittaker (Cameron 72).
Referee: D Stewart.



Two goals from City substitute Danny Byrne in extra-time take City through to the semi-final's after the Blues fought back after going behind. Chris Tate scored City's equaliser on the stroke of half-time with a brilliant lob from 35 yards.

After the game Danny Byrne told the Evening Leader: "I'm delighted because I've taken my opportunities. I just hit the first shot and it went in, and I should have scored first time with my second goal, but I scored with the rebound off their keeper. I scored in the first round of the cup at Cheadle, and I thought if I got on tonight I'd try and do my best again, and I'll just keep on playing the reserves and play well. I was with Stoke City until I was 16, then I arrived at Chester from Southport reserves with coach Steve Bleasdale."

Remaining ties in the competition are:
Winsford United 0 Northwich Victoria 3
Crewe Alexandra v Vauxhall Motors (13 Nov, at Vauxhall Motors)
Tranmere Rovers v Woodley Sports (19 Nov)
---
Saturday 2 November 2002
Doncaster Rovers Youth 0 Chester City Youth 3
Youth Alliance North Central Conference
Chester City: Louie Macken, Tom Coulson (Ben Harvey), Paul Connolley, Ian Latham, Adam Hunter, Danny Ventre (Sion Griffiths), Mike Simpson, Matt Cooke (Guiseppe Angilletta), Lee Reece, Danny L Ventre, Dean Buckley.
The youth team had a good 3-0 away victory at Doncaster Rovers on Saturday going two in front before half time with finishes from Mike Simpson and Dean Buckley. They secured victory in the second half with a Lee Reece strike whilst striker Danny L Ventre had a 'goal' disallowed and also hit the woodwork.
---
Saturday 2 November 2002
Chester City 2 Yeovil Town 2
Nationwide Conference
Attendance: 3,821 Half Time 1-0
Booked: Davies, Sugden, Blackburn.

Chester City: W.Brown, Woodyatt, Bolland, Guyett, Ruffer, Brady (M.Brown 63), Davies, Carden, Blackburn, Sugden (Tate 77), Clare. Subs not used: Cameron, Twiss, Brodie.
Yeovil Town: Weale, Lockwood, Skiverton, O'Brien, Crittenden, Way, Johnson, Williams, McIndoe, Forinton (Grant 75), Demba (Lindegaard 75). Subs not used: Alford, Sheffield, Elkholti.
Referee: M.Atkinison.



A foul day at the Deva saw City snatch a vital point against a strong Yeovil side courtesy of a last minute strike by new signing Daryl Clare.
Chester's high profile addition was exactly what was needed to lift the clouds following their indifferent form of recent weeks.
The match began with both sides playing football that defied the conditions. Yeovil, strong, pacey, confident looking every bit like league leaders. Chester in reply looking their equal, crowding the midfield with Davis, Carden and Blackburn all working well, tackling hard and making most the soft wet pitch to make good dispossessing tackles.
Up front, Clare and Sugden worked well together showing early understanding while Brady pumped in some good crosses to put early pressure on the Yeovil keeper who responded well by using his height and to good affect.
On twelve minutes, Guyett rose high to send a powerful header just over straight from the corner and suddenly Yeovil looked vulnerable. Ten minutes later and the first goal came. Sugden received the box outside the box; he jinxed and moved purposefully inside the area. Despite some desperate defending, he managed a shot that was saved was not cleared. First to the loose ball was Daryl Clare who managed to stretch his leg out and connect well to strike the ball home. It was fairy book stuff of course but also a chance to show the calibre of the striker who had to this point had showed early promise.
Shortly afterwards, it could have been two as he thundered a free kick against the bar following a direct free kick outside the box. For City, this represented their best period of the game. Whatever Yeovil threw at them, City matched them with some great runs and tackles that suggested good form had returned.
Half time was greeted with enthusiastic applause as Chester edged a deserved lead in what had developed into a great atmosphere. Yeovil for their part were represented by a large travelling band of own fans with some fine vocal support and never say die encouragement.
If Chester had hoped to continue the second half where they had left off, they were to be disappointed. Instead Yeovil began by taking the initiative, winning the loose ball and finding space. What was surprising was not that they equalised but they did so with a soft goal that did not do justice to a City defence that had to this point had worked well and were organised.
A Yeovil ball from the far touch line was not cleared and continued its path unchallenged through a crowded defence past a static Brown finding Crittenden, one metre out who tapped the ball home for one of his easiest goals he will score this season. All eyes looked at the linesmen but Chester had no one to blame but themselves and a precious lead had slipped away. Five minutes later there was worse to come.
Yeovil, sensing the kill, held on to possession nicely squeezing with some ease through the midfield before threading a good ball through to Forinton. Slipping the defended he turned well and with City's defence looking to each other, he took the ball into the box hitting the ball hard and true for an excellent second.
Within a short space of time the tone of the game had changed. Chester's confidence visibly drained away. Davis, Carden and Blackburn whose contribution had been so telling in the first period began lose their touch as passes went astray.
Brady who had had an undistinguished second half was replaced by Michael Brown on the hour. Despite some tricky skills, he was largely unsupported and with Yeovil having the better of everything now, chances were few as Clare and Sugden scrapped for little reward. A series of substitutions from both parties changed little. Tate came on to replace a tired looking Sugden and as time ticked away Yeovil seemed to be holding on to what was looking to be a comfortable win.
As injury time was being announced, a long high ball was flicked well by Tate into the path of Clare who took the ball between two defenders. One touch forward, a well struck shot and there it was, two – all. Clare, who had been taunted by Yeovil for much of the game, celebrated by taking off his shirt waving it wildly around his head as Chester fans, quiet for so long, cheered hysterically.
There was almost time for an unlikely winner but Tate's overhead kick went wide and the final chance of the game was gone.
Bolland was voted Man of the Match by Chester's sponsors for a cool and commanding performance but eyes will be on Daryl Clare who looked every inch a class player. His ability to release the ball intelligently and strength will serve him well but on this performance his finishing was of the highest calibre and suggest this big money signing will be money well spent.
A word of praise should also go to Yeovil. It is easy to see why they are the league's highest scorers. Here is assembled a well-balanced side, brimming with confidence and quick feet. Although they will concede goals if under pressure, they are likely to take quite a few sides apart this year and if they continue to play this sort of football look well equipped to hold their own in the Nationwide League next season.
In summary this was a fine game of football under difficult conditions played out by two good sides. And not even the long traffic queues away from the ground could dampen an excellent afternoon of sport.