---
Saturday 28 September 2002
Port Vale Youth 6 Chester City Youth 1
Youth Alliance North Central Conference

Chester City: Trialist, Tom Coulson, John Davies, Paul Connolley (Danny Ventre), Trialist (Danny L Ventre), Adam Kelly, Mike Simpson, Lee Reece, Trialist, Gethin Lloyd, Trialist (Matt Cooke).

The youth team went down 6-1 away to Port Vale on Saturday despite taking a 10th minute lead with a well taken direct free kick from Mike Simpson. They then conceded three goals in a 15 minute spell, punished for giving away possession too cheaply and poor decision making. The first a penalty given away in a wide and non dangerous area when an attempt to win the ball was unnecessary, whilst the third was a goalkeeping error of judgement when dealing with a back pass. Iain Jenkins then made some positional changes and for long periods of the game they dominated causing Port Vale several problems. However, they conceded a further three in the last 20 minutes when the Port Vale No 7 was allowed to run in behind untracked to score twice. The score was not a true reflection of the game, but goals count!.
---
Saturday 28 September 2002
Doncaster Rovers 0 Chester City 0
Nationwide Conference
Attendance: 4,867 Half Time 0-0
Booked: Blackburn, Guyett, Kelly, McIntyre, Ruffer, Sugden.

Doncaster Rovers: Warrington, Marples, Ryan, Morley, Barrick, Albrighton, Owen (Green 73), Paterson, Watson, Barnes, Jackson. Subs not used: Nelson, Gill, Whitman, Foster.
Chester City: W.Brown, Ruffer, Bolland, Guyatt, Woodyatt, McIntyre, Kelly, Harkness, Blackburn (M.Brown 59), Twiss (Beesley 88), Sugden. Subs not used: Cameron, Carden, Lancaster.
Referee: M.Russell (St Albans).

Chester sat back and allowed the opposition to dominate during the first half. But Rovers failed to make their dominance pay in a match spoiled by the whistle. With nine bookings and many free kicks the play never flowed. The best chance fell in the second half to Albrighton but he put a free header over the bar. A great crowd of over 4,800 fans made for an electric atmosphere but no goals to show. Rovers forced the pace for most of the match but found the solid Chester defence a tough nut to crack.
Centre backs Carl Ruffer, Phil Bolland and Scott Guyett were dominant in defence and although Rovers did manage to carve out openings their finishing was poor. Andy Watson hit a low 20-yard effort just wide in the 26th minute before Wayne Brown saved an angled effort from Justin Jackson five minutes later.
It was the first save of the game from either keeper as both sides adopted a cagey approach and defended in numbers when the need arose.
Ryan Sugden fired wide from Chester's only first-half scoring opportunity but play was more even after the interval, although Rovers continued to dictate the pace. Paul Barnes missed a good chance for Rovers straight after the interval when his first-time shot came back off the keeper's legs, following a mistake by Bolland.
Kevin McIntyre produced a couple of last-ditch tackles to deny the home side before Brown produced a brilliant save to keep out a glancing header from Barnes in the 54th minute.
Michael Twiss had a chance for Chester in the 70th minute but failed to connect properly with the ball and then Sugden had a low effort well saved by Andy Warrington.
The best chance fell to Rovers nine minutes from time when Barnes picked out Mark Albrighton unmarked in the middle only to see him place his close-range header wide of the mark.
This was a match of good defence and poor attack, neither side made enough chances, and neither side made what chances there were count
---
A formidable Chester defence kept a far from fluent Doncaster side at bay throughout the 90 minute game billed as a 'clash of the titans'. It fell short of this.
Ruffer, Bolland and Guyett were commanding in defence and although Doncaster Rovers did manage to make chances their finishing was quite poor.
Watson hit a low 20-yard atrempt wide in the 27th minute before Wayne Brown proved his worth by saving a low down angled effort from Justin Jackson five minutes later.
Both sides appeared to be paying respect to the other and appeared apprehensive about going forward with momentum. Sugden fired wide for City's only first-half scoring opportunity.
The half time team talk by Mark Wright must have pointed out the lack lustre and unusual Chester approach to play in the first half as there was an improvement in the second as City looked more athletic and co-ordinated.
Rovers continued to push forward with Paul Barnes missing a good chance straight after the interval when his first-time shot came back off the keeper's legs, following a mistake by Phill Bolland.
Kevin McIntyre not distracted by taunts from Rovers fans produced a number of tackles to deny the home side before Wayne Brown produced a brilliant save to keep out a glancing header from Barnes in the 54th minute.
Michael Twiss had a shot in the 70th but unluckily did not bond properly with the ball and then Sugden had a low effort blocked by Rovers Keeper Warrington.
The final chance fell to Doncaster Rovers in minute 81 of the game when Barnes picked out Mark Albrighton who headed wide of target.
---
Tuesday 24 September 2002
Chester City 2 Burton Albion 1
Nationwide Conference
Attendance: 2,440 Half Time 0-1
Booked: Lancaster.

Chester City: W.Brown, Bolland, Guyett (Lancaster 26) Ruffer, McIntyre, Harkness, Kelly, Carden, Blackburn (M.Brown 70), Twiss (Cameron 70), Sugden. Subs not used: Brodie, Carey.
Burton Albion: Duke, Kavanagh (Johnson 80), Blount (Farrell 64), Hoyle, Webster, Dudley, Clough, Kirkwood, Sinton, Moore, Glover. Subs not used: Talbot, Robinson, Evans.
Referee: K.Friend (Leicester).



After the extravagance of Saturday's crushing 5-2 victory against Dagenham, Chester continued their table topping form with another professional performance in a game that burst fully into life in the second half.
It what was a nice touch, the crowd were told of the player's appreciation of the support and encouragement given to them in the previous match. In a moment of self-praise City fans acknowledged their contribution by applauding the team again in what marked a developing relationship between fans and players.
On the field Chester set the pace with James Kelly once again terrier-like winning just about anything going. Sugden made powerful bursts down the right inviting some exquisite passes from Harkness finding feet regularly from distance. Ruffer, Carden and Ruffer all figured well pushing forward linking well with Twiss who although had a quiet first period, showed good footwork to make the best of tight marking against a Burton side who had to look sharp each time Chester pushed forward.
Ruffer had the first early chance but drove left of the upright when panic in the box offered a sight on goal. Sugden fired into the side netting on the right and might have done better with when later sent clear on the left to be denied by their goalkeeper's brave advance.
On twenty minutes, good work by Chris Blackburn following another pinpoint cross from Harkness did well to beat two Burton players before being disposed at the last moment. The visitors were now defending desperately as a City goal looked imminent. Guyett and Bolland who for long periods hardly broke into sweat dealt what little Burton offered up front with consummate ease. Despite the failure the score, everything else seemed right as we were entertained with another display of great passing, excellent teamwork and brimming confidence. When the first goal came it took us by surprise. After Guyett leaving the field on the half hour through injury, the centre of defence was caught when a ball swung in from the left was met by the head of Glover who rose high to send a looping ball away from City's Brown into the back of the net. It was no more than a half chance but one which deserves credit for its simplicity and execution.
Chester responded by battling hard throwing men forward. As the final minutes ticked away Harkness should have done better than blast over from the edge of the box after Twiss had forced their goalkeeper into a handling error. For all City's efforts, Burton held on to take a half time lead, which flattered their first half contribution.
The second period began in similar fashion. Kelly whose pugnacious and combative style continued unabated through the second period wasted two chances by blasting high as ambition was sacrificed for a cool head. Sugden whose strength and hard running was a delight spurned another chance following good work again from Twiss.
However on fifty five minutes the equalising goal arrived. Carden was brought down outside the box. From the resulting free kick McIntyre blasted into the wall. The ball penetrated several Burton legs and landed conveniently at the feet of Sugden who buried the ball under pressure into the Burton goal. An early goal in the second half was all that City now needed to believe that a second was theirs for the taking.
Blackburn, whose ability to turn and beat players was a pleasure to watch, kept stretching Burton creating space and several chances. Ruffer forced a fine save from their goalkeeper and Lancaster too might have done better than drove wide when ten yards out.
Just after the hour a double substitution saw Brown replace Blackburn and Cameron for Twiss. Both players immediately adapted to the pace causing huge difficulties for defence. Cameron's strength and turn and burst of speed seem to push Burton to the limits, running into space and taking on and beating players. Brown also was equally confident, showing clever tricks and neat balls skills jinxing past his opponents and delivering telling crosses to further test what appeared to be a tiring Albion.
To Burton's credit, they were holding on with some determination and as City pushed forward, began to show they could play a bit too. Moore, whose pace and good ball control looked impressive, tested Lancaster whose return was pleasing but would benefit from a few more games to better his touch. Wayne Brown had several times to demonstrate a cool head by taking some high crosses and once had to look sharp to take gather a low struck header which he gathered with some assurance.
After Sugden tested the corner flag with a shot that suggested tired legs and Kelly blasted over it seemed briefly that City might regret their many wasted chance. However with ten minutes left the winning goal came. A long ball from the back landed into the path of Sugden who with some fine acceleration shrugged off the challenge of two defenders to hit a fine strike under the advancing goalkeeper. It was an impressive move with a clinical finish. Blink and you would have missed it. It was a great piece of football and a superb strike that would have undone better teams.
Burton now knowing that they would come away with nothing fought hard but despite some determined running by Moore who battled with little support, Chester held on to a deserved win. The score line could and should have been more but more importantly these were three further points.
This was yet another victory that Chester had snatched after coming back from behind, and suggests a resolve and team spirit that will stand City well throughout the season.
Our match sponsors adjudicated man of the Match as Ryan Sugden. Here is a player who is fast, has an excellent turn, a thumping shot and okay misses a few. But he has scored some fine goals and looks well on target for twenty this season.
There will be many tests this season but one of the biggest will be Doncaster away on Saturday. Whatever the result if we continue to play this sort of football many points will follow.

---
Saturday 21 September 2002
Chester City Youth 1 Wrexham Youth 2
Youth Alliance Cup

Chester City: Louie Mackin, Paul Connolley, John Davies, Ben Harvey (Tom Coulson), Danny Ventre, Adam Kelley, Matt Cooke, Mike Simpson, Lee Reece, Gethin Lloyd, Danny L Ventre (Paul Edwards).

The youth team went down 2-1 at home to rivals Wrexham on Saturday. Wrexham took an early lead in a scrappy and physical encounter with Gethin Lloyd equalising ten minutes before half time. Wrexham secured victory ten minutes from the final whistle when Chester failed to ´hold up' the run and strike of a Wrexham forward.
---
Saturday 21 September 2002
Chester City 5 Dagenham & Redbridge 2
Nationwide Conference
Attendance: 2,231 Half Time 2-2
Booked: Twiss. Sent Off: W.Brown.

Chester City: W.Brown, Harkness, Bolland, Guyett, Ruffer, McIntyre, Kelly, Blackburn, Twiss, Brodie (M.Brown 57), Sugden. Subs not used: Lancaster, Carden, Davies, Cameron.
Dagenham & Redbridge: Roberts, Rooney, Vickers, Matthews (Cole 71), West, Janney, Terry (Shipp 75), Heffer (Perkins 75), Bruce, Stein, Macdougald. Subs not used: Gothard, Smith.
Referee: R.Booth.

What a sensational game this was! Amply compensating for some of the frustrating 0-0 draws recently. This match was scoreless for only 30 seconds as Dagenham swept forward, McIntyre found himself with two men to mark, Stein's dummy over the cross opened a huge gap for Terry to sweep the ball into the net from the edge of the penalty area. Chester had been caught cold.
Pleasingly they responded well and started to play the ball about purposefully. They equalised after one of Kelly's trademark punts forward had the Daggers defence in a dither. Sugden nipped in and lofted the ball over Roberts and into the far corner of the net. An opportunist goal. Sugden went close again after good work by Twiss and McIntyre down the left – Roberts parried his shot to safety.
The Dagenham supporters coach now arrived just in time to see them go behind. Brilliant play by Kelly and Harkness in the middle made the opening for Sugden again. Harkness' superbly weighted pass put "Percy" (Sugden) through, he started to round the 'keeper but was brought down and the ref. gave an immediate penalty. Who, we wondered, would take the kick. Beesley, who missed the last one against Leigh wasn't even on the bench today. Up stepped captain Kelly. Despite an agonising wait while a Dagenham player received treatment Kelly's zig-zag run-up persuaded Roberts to dive the wrong way and the skipper scored with ease.
Dagenham came forward dangerously again, spurred on by the bugler (Theme tune: "One Foot in the Grave") and drum which came with the delayed coach. Junior MacDougald skinned Ruffer and pulled the ball back for the deadly Stein. He seemed certain to score until Guyett threw himself in the way of the ball and made a magnificent blocking tackle.
That was a real let-off but City did not escape so lightly when the referee harshly adjudged Guyett to have handled the ball on the edge of the penalty area. It seemed a clear case of ball to hands but Dagenham were presented with a free kick in the "D" right in the middle of goal. Brown clearly didn't know which way to go. The left footed Bruce dispatched a clinical strike in the top right hand corner which went in off the bar.
After half time both teams looked to be going for the winner. Chester had the first shot after the break when McIntyre tried to catch Roberts out at the near post. Kelly went even closer a few minutes later when his snap shot from the edge of the box thumped against the post and away to safety. Kelly had to receive lengthy treatment after this as he seemed to be caught late by a defender as he shot. Shortly after this Blackburn was also caught late by Ashley Vickers as he won a 50-50 ball which would have sent him though on goal. Vickers was given a straight red for his pains, rather harshly in my opinion.
This was a key turning point and City began to dominate the game. As Twiss went through on the right he was pulled back and won a free kick. McIntyre delivered a peach of a cross and Bolland headed majestically home. Sugden should have scored when Roberts' goal kick landed right at his feet – but he seemed so surprised to be presented with the chance that he fluffed it.
Surely Chester would be able to hold on against ten men we thought. But soon it was ten apiece as Brown's momentum took him fractionally out of his area after catching an innocuous high ball. He also was given a red card – very harsh indeed.
Brown stalked off, tossing his purple shirt over his shoulder. Who would pick up his mantle? City had no goalkeeping substitute. The others pulled rank and put Blackburn between the sticks. He looked a real rookie, with gloves several sizes too big. But fortunately Dagenham failed to test him for the remainder of the game.
Instead City fans were treated to a grandstand finish as they forged ahead with a magnificent fourth goal. From a corner on the left Harkness and McIntytre looked to have dwelt too long on the ball but MacIntyre beat his man, crossed to the far post and Guyett met it with a towering header which he placed with precision just inside the foot of the far post.
Dagenham lost their rag, and threw on two substitutes. One was booked within a minute of coming on for arguing with the ref and the second was booked for scything down Kelly right in front of the Chester bench. This led to a free for all as tempers boiled over. The only caution given was to Gothard, the Daggers substitute keeper.
City showboated the last few minutes, passing the ball around like matadors teasing an enraged but weary bull. They put Dagenham out of their misery when McIntyre wrestled the ball off Shipp and raced down the left. His sweet cross found Sugden in space and he hammered an unstoppable shot which ripped into the back of the net. Roberts, given terrible stick all half for the unpardonable crime of having played for the Welsh Club, applauded his tormentors as he left the arena.
The Daggers players slumped disconsolately in a heap in the centre circle – City were absolutely ecstatic as news came through that this win had taken them to the top of the Conference.
If they produce a video of this one – make sure you have it on your Christmas list.
---
Thursday 19 September 2002
Cheadle Town 1 Chester City 4
UniBond Cheshire Senior Cup Round 1
Attendance: 71 Half Time 1-2
Booked: Cameron.

Chester City: Worsnop, Tamm (Reece 50), Keegan, Lancaster, J.Davies, Carey, B.Davies, Carden, Cameron, Grant, Byrne.


Iain Jenkins and Joe Hinnigan took a mixture of first team players and youngsters to Cheadle for this Cheshire Senior Cup tie. In the end it was a comfortable scoreline but Cheadle, of the North West Counties League Division 2, battled hard and the score was kept down thanks to a series of excellent saves from Dave Raynor in the home sides goal. Raynor certainly impressed the small number of Chester fans who had managed to resist the temptation of Liverpool reserves and Manchester United reserves at the Deva.
The first chance fell to Chester after 15 minutes when Dave Cameron ran on to a long clearance from Jon Worsnop. With only the keeper to beat the big striker hit the foot of the post when he should really have done better. After 27 minutes Raynor made a superb double save from Paul Carden and Danny Byrne followed by an even better stop, three minutes later, from a Byrne header.

After this period of pressure City finally took the lead on 32 minutes when Cameron played a superb ball through to Gareth Grant who finished with style from the edge of the area. At this point it looked like Chester would run away with the game but Cheadle scored with their first real chance when Andy Noone pounced on a mistake by Chris Tamm after 39 minutes. The lead was short-lived as, two minutes later, Ben Davies was brought down just inside the area and Dave Cameron scored from the penalty spot with what looked like the help of a divot. City finished the half strongly and Raynor saved well from Davies and Carden.
Cheadle started the second half brightly and had a couple of good chances but the game was put out of their reach on 68 minutes when a Ben Davies shot was cleared off the line only for Byrne to score from the rebound. Grant finished the scoring in the 85th minute when he again finished sweetly after a good lay off by Cameron. The game ended with the dismissal of a Cheadle player.
---
Tuesday 17 September 2002
Halifax Town 0 Chester City 0
Nationwide Conference
Attendance: 2,178 Half Time 0-0
Booked: M.Brown, Harkness.

Halifax Town: Butler, Grayston, Garnett, Stoneman, Ashe (Quinn 45), Fitzpatrick (Midgley 87) , Clarkson, Elliott, Mallon, Quailey, Parke (Kerrigan 83). Subs not used: Morgan, Gedman.
Chester City: W.Brown, McIntyre, Guyett, Ruffer, Bolland, Harkness, Twiss, Kelly, Woodyatt, Sugden (Beesley 78), Brodie (M.Brown 63). Subs not used: Carey, Blackburn, Carden.
Referee: S.Bratt (Walsall).



First point to make about this game is the amost frighteningly sound progress Mark Wright has made in constructing a solid base for our promotion campaign. The defence lined up without Wayne Hatswell due to injury but in came Phil Bolland to play in the centre of the back three and the defensive unit never missed a beat. City took on a Halifax team still crowing over their 2-1 win over leaders Doncaster but in the whole 90 minutes they created only three genuine chances, one of which sailed well off target, the two others fielded efficiently by Wayne Brown.
Centre-midfield had Harkness operating alongside Kelly which made life tough for the home midfield. Kelly in particular had an immense game, covering and tackling at one end, prompting and supplying at the other. After the first ten minutes when City had to do a fair amount of defending the midfield stamped its presence on proceedings and the Yorkshiremen never built up a convincing head of steam thereafter.
Having said all that, it was doubly disappointing not to cash in with goals at the other end. The manager left Chris Blackburn on the bench, giving Lee Woodyatt a run in the right wing-back role but Woodyatt's impact was limited. Steve Brodie played in the hole behind front two Sugden and Twiss until being withdrawn late in the second half, Mike Brown stepping into the same role. The formation produced some lovely moves without terminating in the decisive punch required to beat Lee Butler in the Halifax goal.
Against a goalkeeper having a lesser game City would still have done more than enough to win but Butler was in top form. A first-half reaction block to foil Twiss was just one key moment while in the dying seconds he threw himself full-length to his left to tip away a stinging free kick from Kevin McIntyre right in front of the 400 travelling City fans.
Beesley was sent on for Sugen in the closing stages but there was still no way through. Halifax, who are constructing an impressive new stand to take the Shay's capacity up to 16,000, deserve credit for standing up to City's pressure when many a team in the Conference might have folded.
Two City players were booked – sadly in the opinion of this observer both were deserved. Harkness saw yellow for a reckless high tackle and Mike Brown was cautioned for diving in pursuit of a late penalty. The Barmy Army gave the referee the inevitable stick but it looked as if Brown had gone down too easily when, had he stayed on his feet, he was in position to do serious damage with a shot or cross.
It wasn't spectacular but when all is said and done Chester came home from the Shay with a point, without ever looking like losing, and with that rock-solid away shut-out sequence still intact. It was a sound performance and further evidence that the blue and white foundations are well in place for the rigours of the winter.
---
Saturday 14 September 2002
Tranmere Rovers Youth 6 Chester City Youth 0
Youth Alliance Cup

Chester City: Louie Mackin, Adam Hunter, Paul Connolley, Tom Coulson, Danny Ventre, Sion Griffiths (Guiseppe Angiletta), Tony McGlaughlin, Mike Simpson, Adam Kelley, Danny L Ventre, Jason Grisedales.

Due to a clash with a reserve team fixture an inexperienced and naive youth team went away to Tranmere and suffered a heavy defeat. For periods of the game they handled there senior opponents fairly well, with most of the goals coming in two busy ten minute spells in each half. To their credit they battled relentlessly to the final whistle.
---
Saturday 14 September 2002
Hereford United 0 Chester City 0
Nationwide Conference
Attendance: 2,289 Half Time 0-0
Booked: Blackburn, M.Brown, W.Brown, Carden Guyett, McIntyre.

Hereford United: Baker, Clarke, Tretton, Wright, James, Rose, Pitman, Williams, Purdey (Sawyers 74), Grant (Fox 74), Guinan. Subs not used: Voice, Griffiths, Fox.
Chester City: W.Brown, Guyett, Ruffer, Hatswell, Blackburn, Kelly, Carden, McIntyre, M.Brown (Sugden 62), Twiss, Beesley (Brodie 77). Subs not used: Bolland, Harkness, Carey.
Referee: S.Tanner (Bristol).



This was not a pretty game to watch. Chester's red shirts may have incited the away support but couldn't stir the Bulls to a lively encounter. Defences were well on top all afternoon and both sides were restricted to the occasional long range shot.
Last season we watched City run rings round Hereford yet come away with nothing. This time we achieved a point but the quality of the game as entertainment was much poorer. Once again the ball didn't touch the ground a great deal and midfield was by-passed by both teams, giving the forwards little chance to control the ball or set up chances.

Guyett was immense in the City back line. Though City rarely looked like conceding a goal, they didn't create much either. Just before half time Kelly's shot was deflected wide, but that was the closest they came. At our end Brown saw Michael Rose's free kick all the way and grabbed it just below the bar.
As the second half began it looked like Chester were beginning to get on top and the pressure culminated in a goalmouth scramble. Beesley's shot blocked on the line. Sugden came on to replace Brown with twenty five minutes to go and ten minutes later Brodie for Beesley. City's forward play livened up a bit after this but it was Hereford who had the better of the game in the closing stages.
This was partly due, it must be said, to the referee who appeared to give the home side every free kick they appealed for and nothing for City. City picked up a rash of bookings as they questioned some of the dubious decisions. No doubt, though, that Brown begged to be yellow-carded for booting the ball to the other end of the pitch after the ref had blown for a free kick. A few minutes earlier City's biggest scare came when Brown dropped a cross from a corner and a Hereford forward scooped the ball over the bar.
Still it was a sunny afternoon and City fans at least had the consolation of another tortuous encounter with the A49 to look forward to or to return to the table football at Barrels, home of the excellent Wye Valley Brewery. The match on the table was, frankly, more entertaining.
---
Wednesday 11 September 2002
Chester City Reserves 9 Lancaster City Reserves 0
Lancashire League
Scorers: Brodie (3), Grant (3), Byrne (2), Whittaker.

Chester City: John Worsnop, Martyn Lancaster, John Keegan, Stuart Whittaker, Phil Bolland, Lee Woodyatt, Ben Davies (Matty Cook), Shaun Carey (Carl Rodgers), Gareth Grant, Steve Brodie (Gethin Lloyd), Danny Byrne.
---
Saturday 7 September 2002
Chester City Youth 1 Northwich Victoria Youth 2 [AET]
FA Youth Cup – 1st Preliminary Round

Chester City: Danny L Ventre, Tom Coulson, John Davies, Ben Harvey, Adam Hunter, Matt Cooke, Tony McGlaughlin, Sion Griffiths, Guiseppe Angiletta, Jason Grisedale, Paul Edwards.

The youth team went out of the FA Youth Cup at the first attempt losing 2-1 at home to Northwich Victoria after extra time. Despite dominating possession and creating many goods chances they failed to score in the 90 minutes. They conceded a goal in each half of extra time before Jason Grisedale pulled one back in the dying minutes. Their cause was not helped by only having eleven players with striker Danny Ventre having to play in goal with others forced to continue with injury and no substitutes to replace them and ´freshen things up'.
---
Friday 6 September 2002
Chester City 2 Leigh RMI 1
Nationwide Conference
Attendance: 2,273 Half Time 0-1
Booked: Ruffer.

Chester City: W.Brown, Ruffer, Guyett, Hatswell, Carden, Blackburn, Kelly, McIntyre, M.Brown, Twiss, Sugden (Beesley 63). Subs not used: Bolland, Carey, Brodie, Whittaker.
Leigh RMI: Coburn, Fitzhenry (Fisher 81), Williams (Cornelly 69), Durkin, Maden, Monk, Salt, Heald, Kielty, Maamria, Black (Whitehead 69). Subs not used: Courtney, McGill.
Referee: A.Marriner (Birmingham).



A late winner from Mark Beesley saw City take all three points to overcome Conference strugglers Leigh in a match that took several twists and turns before bowing to the inevitable.
Dominant throughout, City began this game looking as though they would have it wrapped up before half time. The early exchanges were encouraging with Leigh unable to retain possession for more than as few seconds as Kelly and Carden battled hard winning just about anything loose. Up front Sugden and Twiss were both allowed freedom to show off their skills with Michael Brown on the right wing impressing with some bold jinxing runs.
Fitzhenry for Leigh had twice to be quick to dispose Sugden and Twiss when a run on goal looked clear. Coburn saved well with a real power-driver from Sugden, and Guyett, who was winning everything in the air came close with two strong headers.
It was a surprise then when Leigh took the lead. On twenty-four minutes a rare attack found Black on the right. He took the ball forward with a neat burst of pace fooling Ruffer into an early tackle before hitting the ball square back across the box. Although City were back in numbers the ball was a good one and induced a brief moment of panic forcing Guyett to bundle the ball over his own goal after the ball ricocheted off several legs.
It was unexpected goal and such that is seem to embarrass the Leigh players who looked in disbelief at their good fortune. Stung into action, City resumed dominating the midfield but briefly without the same touch that preceded the goal. A few balls were over hit and the rhythm of play changed as City, irritated by the goal, seem unable to create the same openings. But as half- time approached the touch returned as an equaliser looked certain. Surprisingly this was not to be although Sugden can count himself unlucky having a shot bravely clear off the line after he had taken the ball around the goalkeeper following good work from the right. Despite the half time score, there remained an expectation amongst the home crowd that there were some easy points to be won.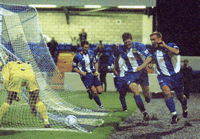 The second half began in similar vein. City cut through Leigh's defence with using McIntyre on the left and Brown on the right both penetrating deep into the visitors defence.
Brown remained a constant menace throughout as Leigh's defence struggled to get to get to grips with his clever tricks and confident running and almost opened his account with a good jump following a Ruffer corner. Nine minutes into the second half, the tension which had gripped the game since Leigh's goal, was relieved. After Leigh failed to clear a corner, the ball was swung fiercely back into the box from the right. A body of outstretched legs failed to make contact and just as it seem the ball would elude everyone, Sugden appeared late on the far post to deliver a well struck shot into the net.
It was another nicely taken goal from City's summer signing who will no doubt score plenty more throughout the season. It was a surprise then when shortly afterwards Sugden, and not for the first time this season, was rewarded by being replaced by Beesley when further goals looked likely.

In true Alamo style, Chester continued to press ahead roared on by strong home support and lay siege to a Leigh goal which seemed likely to surrender at any point. Blackburn, who had a fine game, was sent free on the left and after some strong running and neat skill was brought down for a penalty. The game appeared to be returning to script but this was not quite that sort of match. Beesley, whose early touch saw him unable to trap a bag of cement never mind a moving ball, stepped forward for the spot kick.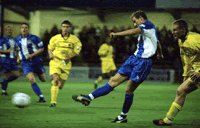 A firm thump would have been enough but instead chose to place the ball tamely to the goalkeeper's left who saved comfortably. It seemed a strange decision to allow Beesley to take the penalty when there seemed plenty of other players out brimming with confidence and better accustomed to the run of the ball.
As the game went on Leigh offered a few hints that they had a few surprises of their own as Black and Maamria, anonymous in the first half, began to link up well in rare excursions up field of their own.
However with five minutes to go, the game took its final turn. One of many Chester assaults on goal was not cleared. Leigh, whose stamina was fading fast allowed a ball to bobble to Beesley who thumped it home from short distance. The relief was obvious delighting the City fans throughout the ground and going some way to atone for his earlier error.
As the final few minutes ticked away, there could have been more goals. Twiss who earlier had a goal disallowed with a well hit shot came close again and in the dying seconds Brown forced an excellent save from Coburn forcing the ball over the ball for a corner after the hard work had been done.
True this will not the best team to visit Chester this year but the manner and passion about City's play left much to admire. Kelly contributed throughout with his customary pugnacious brand of tackling and leadership. Brown was a delight to watch, Twiss's first touch was exquisite but man of the match for me was Paul Carden who hardly put a foot wrong making sure he was always where he needed to be with some crisp tackles, neat interceptions and well measure passes.
Despite Chester's dominance one can't help admiring Leigh who continue to survive Conference football with such small resources. Tonight's visiting supporters who would have been hard pressed to challenge the capacity of three Zafiras could only watch a Chester side whose superiority shone throughout and with a little more luck might have had a bag full.
As City fans will know, it takes Chester to the top of the table and we go into our next game at Hereford still undefeated.

---
Wednesday 4 September 2002
Chester City
Reserves 4 Northwich Victoria Reserves 0
Lancashire League
Scorers: Brodie, Byrne, Read (2).

Chester City: John Worsnop, Lee Woodyatt, John Keegan, Martyn Lancaster, Phil Bolland (John Davies), Shaun Carey (Matty Cook), Steve Brodie, Ben Davies (Carl Rodgers), Danny Byrne, Paul Read, Stuart Whittaker.
---
Tuesday 3 September 2002
Chester City 2 Morecambe
1
Nationwide Conference
Attendance: 2,039 Half Time 0-0
Booked: None.

Chester City: W.Brown, Harkness (Ruffer 18), Hatswell, Guyett, Carden, McIntyre, Blackburn, Kelly, Beesley (M.Brown 69), Twiss, Sugden (Davies 82). Subs not used: Carey, Brodie.
Morecambe: Mawson, McKearney, Swan, Hill, Knowles (Black 70), Stringfellow, Drummond, Elam, Colkin, Thompson, Curtis. Subs not used: Rigoglioso, Gouck, Carlton, Ubershar.
Referee: M.Matadar (Blackburn).


Typical! You don't see a goal for over four hours and then three come along in ten minutes. The goal drought at the Deva ended with a flurry as City broke their duck, only to concede their first goal of the season a few minutes later before Ryan Sugden capped a whole-hearted performance with the winner.
The game followed the pattern of City's previous two stalemates in the first half. Morecambe were quite comfortable containing Chester's forwards, who – when they received the ball – were closely marked and often in a tight spot. Chester's best bet seemed to be when one of the midfield, Carden or Blackburn broke forwards and ran at Morecambe's defence with the ball.
Wright had raised a few eyebrows by giving Carden his first start of the season in midfield and persisted with Blackburn in the right wing-back role which he filled at Forest Green. This almost backfired when Blackburn was left stranded by Elam's run but, fortunately for City, no-one got on the end of the tantalising cross. Later Blackburn's pace helped him to break down another dangerous foray down the left and Kelly also did an impressive piece of tidying up after an uncharacteristic slip by Guyett.
In a pretty tedious first half, the highlights were provided by off the ball incidents: – Thompson, Morecambe's right winger was booked for kicking the ball into the net long after he was given offside. Later he punched the ball at the linesman when he thought he should have been given a free kick. One has to expect this kind of behaviour from players who wear white boots. Wayne Brown was fortunate not to make contact with a Morcambe forward in a wild attempt at a clearance on the edge of the penalty area. Harkness, presumably, had picked up a strain and was replaced by Ruffer after twenty minutes.
After the stimulating half time cup of tea and enthused by the warning from City's "Health & Safety Department", relayed by Cleggy, that flash photography inside the Deva is an offence, Chester came out in more determined fashion. They seemed to up the pace of the game and began to pile on the pressure. Still a clear cut chance proved elusive.
The goal when it did come started with another hopeful punt upfield. Morecambe's defence seemed to misjudge the bounce and allowed the ever willing Sugden to get a header in. Mawson, the goalkeeper, was stranded as the ball broke to Mickey Brown (On for Beesley) wand then to Twiss who stroked the ball, from the edge of the area past a couple of defenders and into the unguarded net (A brand new blue and white striped net at that).
The relief was palapable. City celebrated the goal so much the referee had to stop them doing a lap of honour. Again they swept forward and Twiss looked odds on to score. A last ditch saving tackle prevented him just as he was about to pull the trigger. From the resulting clearance Morecambe equalised. A deep cross from the right was headed back across goal by Curtis and Drummond was one of two players queueing up to score as City's hitherto rock solid defence went AWOL.
With only a few minutes left we all thought that City had blown the chance of three points. But Mickey Brown proved inspirational as he played like a livewire. He bulldozered through three tackles down the right wing, cut to the byline and his cross was met by Sugden's glancing header at the near post. The ball skimmed down onto the line and bounced gracefully into the roof of the net for a goal of balletic quality.
Once the Shrimps had been forced out of thier shell they attacked impressively and looked a very useful side indeed. Chester were hanging on grimly to the lead though might actually have increased it as Twiss broke but failed to pick out Kelly in the clear to his left.
Despite keeper Mawson joining the attack for a couple of corners and coming very close to scoring with a towering header, City held out for their first home win of the season.