---
Saturday 30 March 2003
Farnborough Town 1 Chester City 2
Nationwide Conference
Attendance: 1,050 Half Time 1-1
Booked: Ruffer.
Farnborough Town: Pennock, C.Piper, Annon, Rodwell, Taggart, Patterson (Green 72), L.Piper, Butterworth, Vansittart, Baptiste (Charlery 81), Lee. Subs not used: Osborn, Potter, Harkness.
Chester City: W.Brown, Davies, Guyett, Carden, Bolland, McIntyre, Ruffer (Carey 84), Collins, Kelly, Beesley (Twiss 89), Quayle (Cameron 78). Subs not used: Hatswell, Joy.
Referee: M.McCoy (Herne Bay).

Saturday started as it carried on for many Chester fans. On the stroke of 11.30am we were anticipating being let into the Prince of Wales pub for some much-needed pre-match refreshment following dawn wake-up calls. But the door was shut and no one thought to try to open it until 11.40am. Shazam! It had been open all along, but a ten minute wait is a long time when you've been on the road for hours and the match is due to kick off at 1pm.
Just three hours later, the same patient Chester fans were waiting again – this time for a winning goal to seal victory and a vital three points against their spirited Farnborough Town opponents. The goal, a clinically-taken penalty from substitute Dave Cameron, finally came in the second minute of injury time. This second late arrival was worth waiting for all the more – as it leaves the Blues sitting pretty in the play-off positions.
However, it was a jittery Chester performance in the early stages of the opening half. The Blues, missing injured Daryl Clare, dominated the opening exchanges. But the 120 or so away fans were rightly edgy on the ninth minute when Farnborough were awarded a corner after Wayne Brown parried a shot around the post.
The resultant corner fell to Boro No 9, Joff Vansittart (a man with calves like thighs). His six-yard strike somehow crossed the line, despite a goalmouth scramble and desperate attempts by City defenders to keep it out.
It was now down to Chester and the striking partnership of Marks (Beesley and Quayle) to spring an equaliser on Boro. Beesley demonstrated an amazing work-rate as he endeavoured to prove his worth to the team in the absence of Clare. But Quayle seemed a little lightweight against solid Boro defenders Jim Rodwell and Darren Annon.
Once again, there were a number of Chester balls thumped almost aimlessly into the air from defence towards attack. But, half-way through the first period, it was Ben Davies who grabbed the equaliser. A Boro clearance came out towards Davies, through a scramble of players, and he was simply the quickest to react.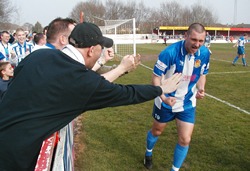 The much-needed equaliser had come, but Chester couldn't afford to sit back. Boro continued to battle on – with Danny Collins putting in another almost faultless performance to tame the threatening Vansittart. Wayne Brown was also called into action to save a 30-yard strike from Rocky Baptiste, who had scored against Arsenal in the FA Cup just two months ago.
The half-time interval passed quickly as we were entertained by a full 11-a-side boys' game – reds v yellows. The Chester contingent cheered on the yellows to an easy victory (was it four goals?). If only it could be that easy for our fully-grown heroes.
The second half continued the same pattern. Chester were sometimes creative – with the midfield 'spiced-up' by Carl Ruffer. But other times it was back to the long-ball tactics. Before long the Chester fans were calling for Mark Wright to make a change – be it the introduction of Michael Twiss or Cameron. It was Big Dave who eventually came on as Chester's first sub, when he replaced Quayle in the 78th minute.
When Farnborough responded by bringing on Ken Charlery a few minutes later, my heart sank. Charley has track record of finding the net against us. But the Chester defenders continued to be undaunted. Paul Carden had another brave run from defence into attack and Collins continued to be in the right place at the right time. At one stage he made a sublime turn on the ball – one of the best moves you'll see a Conference defender make all season.
Ruffer was replaced by Sean Carey on the 84th minute. But still the goal wouldn't come, despite Beesley tirelessly demonstrating how to win the ball and make chances. When he went off on the 89th minute, to be replaced by Twiss, he ran off to a well-deserved round of applause.
However, the game wasn't over. Chester weren't settling for a draw, and won a free kick on the edge of the area. Ben Davis' hearty strike zoomed towards the top of the Boro wall. A hand came out and hit the ball. The referee blew, and awarded the penalty.
There was no doubt about who was taking it. Big Dave grabbed hold of the ball and firmly placed it on the spot. His penalty strike matched his confident air and the ball was slotted home to keeper Tony Pennock's left-hand side. The much-awaited winner had finally arrived! Now there was just a minute of injury time to wait before the referee blew again – this time for full-time. With three points secure, surely the next waiting game to be played by Chester is to see which side we'll face in the play-off's.

Sue Choularton
---
Wednesday 27th March 2003
Chester City Reserves 3 Chorley Reserves 2
Lancashire League Division One

Chester City: Jon Worsnop, Tom Coulson, Ian Lathom, Chris Blackburn, John Davies, Michael Simpson, Adam Kelly (Adam Hunter), Ryan Sugden, Dean Buckley, Danny Byrne, Lee Reece.

City's goals scored by Ryan Sugden, Dean Buckley and Danny Byrne.
---
Saturday 22 March 2003
Chester City 2 Southport 0
Nationwide Conference
Attendance: 2,292 Half Time 0-0
Booked: Quayle.
Chester City: W.Brown, Guyett, Ruffer, Collins, McIntyre, Kelly Carden, Davies, Twiss (Carey 45), Beesley (Quayle 45), Clare. Subs not used: Woodyatt, Hatswell, Cameron.
Southport: Dickinson, Davies, B.Jones, Moore, Lane, Mulvaney, S.Jones, McGuire, Howell, Ashcroft, Pell (Soley 62), Subs not used: Welsby, Clark, Scott, Charnock.
Referee: Alan Green (Leicester)

Two late goals of contrasting qualities saw City battle to take three precious points in a disappointing match that test the patience of the home fans.
Boosted by their victory against Doncaster earlier in the week, it would have been realistic to expect more from the home side against a team who have been in free fall for much of the year.
The early signs were however promising. For first half hour Chester took the game to Southport with Carden and Twiss in midfield given plenty of space to feed Clare and Beesley who made a welcome start for this game. A flurry of early Chester corners followed hit in from both flanks and this alone was enough to believe that a bag full of goals would follow.
On the quarter hour, Twiss' richoted shot from the edge of the area cannoned off the foot of the post. The ball landed kindly in the path of Beesley but, with what proved to be the best chance of the half, his shot was driven wide.
At the other end of the pitch, there was little cause for concern. Southport playing with just two up front were little match for City's defence. On rare attacks, Guyett or Ruffer dealt with what was offered without fuss or bother. Collins likewise was looking equally comfortable showing a self-assuredness and time on the ball that suggests he has an important future ahead with the club.
Had an early goal come it would have no doubt calmed Blue's nerves but worryingly but it never came. Chester, frustrated by their inability to penetrate, lost possession too readily with sloppy passing and aimless high balls. Clare was working hard but with little service where it mattered, and Beesley, who had seemed to lose heart from his earlier miss, disappointed and must regret not taking his starting chance.

As the game entered the last fifteen minutes Southport gathered confidence looked the more likely to score. Guyett coaxed into believing it was becoming too easy was left for dead with a quick turn of space allowing a decent chance which Brown did well to hold to his left. Moments later a second opportunity went begging when a ball cut in from the left fell to the wrong foot of a Southport attacker and his ungainly pirouette sliced the ball high over the bar.
It was surely going to get better in the second half and for a moment it was. Beesley and Twiss were replaced by Quayle and Carey as Chester began purposefully attacking the home end. Quayle had an early half chance when McIntyre's cross landed at his feet but was crowded out before he could control properly and Kelly narrowed failed to connect with his head as Davis whipped the bar in from the right.
But as was pattern for the first half, the second soon degenerated into similar. Southport remained content to pack the back with their own players who refused to lie down and Chester had neither the imagination or will to break down what to be fair was an ordinary side.
As in the Doncaster game there was not the one player who could produce something really special. Too often we saw Chester break forward but lose the initiative choosing to take the easier alternative passing the ball sideways or back until Southport had re-grouped and the threat was gone.
But as the game began to drift towards a goalless conclusion a rare moment of good fortune arrived. Southport conceded a free kick thirty yards out after Davis was shoulder charged unfairly. McIntyre's shot cum cross took a wicked deflection off the head of Lane, and flew at speed past the hapless keeper Dickinson who was given no chance. Huge relief around the stadium – the flags went up and there was visible relief all around as Chester were on their way to an undeserved victory.
But the best was yet to follow. With five minutes left, and as legs tired and spaces appeared, Carden who saves his best for Southport, took the ball from inside the 'D' skipped past three defenders with a splendid ran unchecked into the box planted a firm strike for our second. It will probably be the best goal he'll ever score and one deserving of a far better game than this.
At 2-0 the game was over. Southport can count themselves unlucky to concede a soft first, but for City, this was an important victory and as other Conference results went largely in our favour, it looks likely that come early May, we'll be in the play offs.
Chester by this time will need to have hit far better form, but with six points earned inside the week there must be a huge feeling of satisfaction and relief from everyone attached to the club.
---
Saturday 22 March 2003
Ossett Town Reserves 1 Chester City Reserves 2
Lancashire League Division One

Chester City: Jon Worsnop, Adam Hunter, Ian Lathom, Tom Coulson, Matt Cook, Chris Blackburn, Adam Kelly, Michael Simpson, Dean Buckley (Tom Leonard), Danny Ventre, Lee Reece (Tony McLaughlin).

An away win for City thanks to goals from Chris Blackburn and Lee Reece.
---
Monday 17 March 2003
Chester City Youth 2 Doncaster Rovers Youth 0
Youth Merit League Division Two North

Chester City: Louie Macken, Tom Coulson (Adam Hunter), John Davies, Paul Connolly, Adam Kelly (Tom Leonard), Danny Ventre (Danny L Ventre), Mike Simpson, Matt Cook, Ian Lathom, Dean Buckley, Lee Reece.

The youth team won 2-0 at home to Doncaster Rovers on Monday afternoon with a goal in each half from Dean Buckley.
---
Monday 17 March 2003
Chester City 1 Doncaster Rovers 0
Nationwide Conference
Attendance: 2,928 Half Time 0-0
Booked: McIntyre, Clare, Kelly.
Chester City: W.Brown, Guyett, Ruffer, Collins, McIntyre, Carden, Kelly (Carey 86), Davies, Woodyatt (Twiss 50), Clare, Quayle (Cameron 59). Subs not used: Hatswell, Beesley.
Doncaster Rovers: Warrington, Morley, Albrighton, Foster, Beech, Blunt, Green, Ravenhill, Tierney (Owen 57), Barnes, Gill (Marples 49). Subs not used: Nelson, Whitman, Goodman.
Referee: Jarnail Singh (Hounslow).

I suppose this was never going to be a classic, fifth versus second with a play-off place to contend with had all the hallmarking's of a cagey defensive encounter, and that's what we got. Substitute Michael Twiss' second half strike was just enough to beat off nine man Doncaster Rovers and secure City's first ever win in a live televised game, and with it those three vital points in their quest for a play-off place.
Manager Mark Wright opted with Daryl Clare and Mark Quayle up front, Dave Cameron who returned from a loan spell at Telford in the week began the game on the bench. Ben Davies made a welcome return from injury but there was no place in the squad for Ryan Sugden.
The game was a niggly encounter from the start with tackles flying in from all quarters, three of City's players, Kevin McIntyre, Paul Carden and Jimmy Kelly are ex-Donny and they were in the thick of the action all night.
It was the visitors though, backed by a large following, who made the brighter start, closing down on City players quickly and Danny Collins had to be quick to break down a dangerous move involving Paul Barnes and Tierney after just five minutes. Minutes later Tierney was through again chasing Scott Guyett's under-hit backpass but Wayne Brown read the situation well and raced out to clear just in time.
Kevin McIntyre found himself in the referee's notebook after a late tackle on Jason Blunt as both sides fought for control. It was fully 25 minutes before the Blues threatened the Rovers goal. Mark Albrighton was adjudged to have pushed Clare and the striker saw his shot deflected for a corner from the resulting free-kick. Minutes later City's only other effort on target in the half again fell to Clare who failed to connect properly with a header from a McIntyre corner.
Minutes later at the other end Collins was in just the right place to clear from the six yard line after Wayne Brown had failed to gather a left wing cross from dangerman Tierney.
David Morley found himself in the book on 35 minutes and ten minutes later he was dismissed after a mistimed tackle on Kevin McIntyre gave referee Singh no real choice but to deliver a second yellow as half-time beckoned.
Soon after the break the visitors were reduced to nine men when Jason Blunt received his second yellow card following a challenge on Clare. Ben Davies took the resulting free-kick short to Clare who saw his shot saved by Warrington in the visitors goal. Mark Wright decided to change things bringing on Michael Twiss at the expense of Lee Woodyatt and soon after Dave Cameron joined the fray replacing Mark Quayle.
On 61 minutes the two substitutes combined well to create the games only goal. Danny Collins, having another solid defensive display, won the ball in the middle and played it forward to Cameron. The big striker, back to goal, shielded the ball from a defender behind him before laying it off perfectly for the on-running Twiss to sweep it home left footed under the advancing keeper. The celebrations by up to 30 Exiles 200 miles away in the 'Famous Three Kings' were all the better for the appearance minutes before of two free pitchers of Guinness courtesy of the landlord Robert!
Clare almost added a second after cutting in from the right only to see his curling shot well saved, and Twiss had the ball in the net again soon after but was just adjudged offside. But, despite a two man advantage City still made hard weather of trying to break down a resilient Doncaster side, defending far too deep at times.
The visitors introduced the experienced striker Don Goodman with ten minutes remaining and his presence lifted both the team and away crowd. He almost made it a dream debut seconds later with a classic diving header from a Gary Owen free kick that Brown saved just under the bar. Five minutes later Goodman was again in the action flicking on for Chris Beech to steer the ball just wide of Brown's left post.
There was more drama in the dying seconds with Mark Wright being sent to the stands following an altercation with Beech as the player tried to retrieve the ball in front of the dugouts, and in injury time Daryl Clare thought he had added a second after he headed home following a pin-point McIntyre centre only to have his celebrations cut short by the assistant referee's flag.
---
Saturday 15th March 2003
Burnley Youth 0 Chester City Youth 2
Youth Merit League Division Two North
Chester City: Louie Macken, Tom Coulson, John Davies, Paul Connolly, Adam Kelly, Danny Ventre, Mike Simpson, Matt Cook, Ian Lathom, Dean Buckley, Lee Reece.
The youth team won 2-0 away at Burnley on Saturday. They took the lead early in the second half through Dean Buckley. The win was secured ten minutes from time when Matt Cook punished Burnley for failing to clear following a corner.
---
Wednesday 12th March 2003
Chester City Reserves 4 Bamber Bridge Reserves 1
Lancashire League Division One

Chester City: Jon Worsnop, Tom Coulson, Ian Lathom, Ben Davies, Phil Bolland, Chris Blackburn, Jon Brady, Andy Corbett, Ryan Sugden (Danny Byrne), Mark Beesley, Michael Twiss.
---
Wednesday 12th March 2003
Chester City Youth 2 Carlisle United Youth 1
Youth Merit League Division Two North

Chester City: Louie Macken, Paul Connolly, John Davies, Ian Lathom, Adam Hunter, Danny Ventre, Mike Simpson, Matt Cook, Adam Kelly, Dean Buckley, Lee Reece (Danny.L.Ventre).

The youth team won 2-1 at home to Carlisle on Wednesday in a evenly contested game. They took a tenth minute lead through Mike Simpson with Carlisle equalising on 80 minutes. Dean Buckley headed home the winner two minutes from time to give Chester the win.
---
Saturday 8 March 2003
Burton Albion 2 Chester City 0
Nationwide Conference
Attendance: 2,183 Half Time 1-0
Booked: Quayle.
Burton Albion: Duke, Blount, Reddington, Hoyle (Petty 80), Webster, Dudley, Stride, Howard, Sinton, Moore, Ducros (Clough 76), Subs not used: Farrell, Robinson, Gummer.
Chester City: W.Brown, Woodyatt (Beesley 72), Ruffer, Bolland, Collins, McIntyre, Carden, Kelly, Twiss (Brady 71), Clare, Quayle (Sugden 62). Subs not used: Carey, Blackburn.
Referee: D.Birkett (Gainsborough).

Not many people were expecting this result at the start of the day. City, with the best away record in the Conference losing to Burton Albion – a side who had notched just two home wins to their name all season. But lose they did and to two quality strikes from The Brewers.
Manager Mark Wright was forced into making changes with Scott Guyett missing having picked up an ankle injury against Halifax Town and Wayne Hatswell serving a one match ban. Carl Ruffer returned to the defence alongside Phil Bolland and Danny Collins. In midfield, Wright recalled Jimmy Kelly from suspension to replace Shaun Carey who was demoted to the bench.
The home side were on the attack from the off, not allowing City to settle in the windy conditions, and swept into the lead on seven minutes. Andy Ducros exchanged a one-two with Christian Moore on the edge of the box before unleashing an unstoppable shot that left Wayne Brown clutching thin air in front of a large away following.
Lee Woodyatt came close to putting Daryl Clare through on goal but his through ball into the wind was over hit and dealt with by the onrushing Matt Duke in the home goal.
The Blues were struggling to get a grip, a deflected Kelly free-kick their only threat on goal, whilst at the other end Wayne Brown had to be alert to deny Jon Howard from close range. When City did venture upfield they were thwarted by the wind as Kevin McIntyre frustratingly sent a corner from each side directly behind for a goal kick.
Six minutes before the break City missed a golden chance to equalise. Clare fed Michael Twiss on the left who shook off a defender and sent in a pin-point cross to Mark Quayle at the near post who lifted his shot over the bar from six yards. And as the half was coming to a close Phil Bolland saw a close range effort cleared from close range following a scramble from a McIntyre flag kick.
Chester kicked towards their own fans following the break and went close to equalising on 60 minutes. Duke failed to hold a right wing cross and the ball fell to Quayle on the edge of the box He lobbed the keeper bus saw his goalbound attempt headed off the line from under the bar by Stuart Reddington for a corner. That was the last of the action for Quayle who was replaced by Ryan Sugden.
Eight minutes later and City conceded again. Carl Ruffer was a adjudged to have fouled Ducos 25 yards out. Up stepped the experienced Andy Sinton to curl the free-kick ito the top corner, giving Brown, for the second time, no chance in goal. Manager Wright immediately replaced Twiss and Lee Woodyatt with Jon Brady and Mark Beesley.
City began to finally show some urgency and forced a succession of corners, taken by Brady, but Duke was hardly tested. When City did strike they were restricted to long-range shots from Paul Carden and Daryl Clare as Albion held on comfortably for theie first Saturday home win of the season.
---
Saturday 1 March 2003

Chester City 2 Halifax Town 0
Nationwide Conference
Attendance: 2,928 Half Time 1-0
Booked: Bolland, Hatswell, Woodyatt. Sent-off: Bolland.
Chester City: W.Brown, Collins, Guyett, Bolland, McIntyre, Carey, Carden, Woodyatt, Twiss, Clare, Quayle (Hatswell 82). Subs not used: Blackburn, Beesley, Sugden, Brady.
Halifax Town: Butler, Asher, Quinn, Monington, Grayston, Midgley, Clarkson (Parke 81), McAuley (Fitzpatrick 54), Senior, Quailey, Farrell. Subs not used: Morgan, Heinemann, Herbert.
Referee: P.Canadine (Rotherham).

After faltering in recent weeks, City got back to winning ways with a win over in-form Halifax. An incident – believed to be a suspect package at the Royal Mail sorting office across the road – led to the kick off being delayed until 3.15. This was for many a nostalgic time to kick off. Back in the Sealand Road days Chester were one of the few Football League teams to kick off quarter of an hour after everyone else. Bury were another if memory serves me right. Halifax were frequent visitors in those times too so it was nice to be reacquainted with them after their brief return to the League.
The incident may have led to nothing but the game exploded into life when, after being penned back by the visitors, City swept decisively forward. Quayle charged down an attempted clearance on the left wing, fed the ball to Twiss who swept a first time pass across the edge of the area for Clare to run on to and score. Crash. Bang. Wallop. City were ahead.
Halifax had much of the play for the first half but never tested Brown. The game was littered with free kicks for petty fouls. Clare seemed more sinned against than sinning most of the time yet the decisions went against him as defenders pushed and clambered all over him. Then when Clare seemed to back into the centre half the free kick was given in his favour. The referee's unpredictability became predictable.
In an absorbing if messy contest Bolland was booked for scything down Farrell. Roles were reversed shortly afterwards when Farrell took retribution into his own hands (Or feet) and was yellow carded for felling Bolland.
After the break the Shaymen pressed forward and their large following stirred into life. But before they knew it they were further behind. Again City caught them on the break. Clare's shot had them in trouble and the defence was still reeling when Woodyatt's cross was met by another first time effort from Clare. Butler parried the shot but the ball sat up nicely for Quayle to open his account which he did with great glee. (This was his second goal of the season in this particular net but the first one was a winning goal for Nuneaton).
When City were last in this position (2-0 up at home with half an hour to play) they had been hit by a Northwich Victoria whirlwind. This time both sides were drenched by the real thing as the heavens opened over the Deva. By the end of the game there was a surreal scene as the sun broke through to dazzle the already drenched supporters in the main stand. All this against the back drop of a thunderous sky, the floodlights full on and a double rainbow to boot. Winter and spring all rolled into the second half.
Halifax threatened to hit back. The closest they came was when Farrell pounced on an uncharacteristic slip by Guyett only to see his shot canon off a post across the face of the goal and out for a goal kick. At the other end Twiss might have finished it off but Butler saved well.
Nothing it seemed would prevent City winning today – not even the dismissal of Bolland for tugging Parke's shirt. Chester may have cause to regret his absence through suspension in the future but today their supporters enjoyed basking in the afterglow of a rousing home victory – the first one of the year.