---
Monday 31 August
Altrincham 1 Chester City 1

Football Conference
Attendance: 1,737 (459 Chester) Half Time 1-0
Booked: Ryan, Wilkinson.

Altrincham: Coburn, Moffatt, Smith, Williams, Young, Edwards (Danylyk 53), Kearney, Doughty, Denham, Little (Clee 50), Johnson (Heffernan 76). Subs not used: Saunders, Pearson.
Chester City: Danby, Roberts, Lynch, Ryan, Lea, Wilkinson, S.Vaughan, Kay (Blundell 66), Ashton, Alessandra, Chadwick. Subs not used: Murphy, Meynell, Owen, Ellams.
Referee: Andy Halliday (North Yorkshire).



Chester's first league visit to Moss Lane saw them get a point in this Bank Holiday derby clash against a depleted Altrincham side.
City started the brighter of the two Cheshire teams, with the Alty defence doing well to keep out early efforts from Lewis Alessandra and Ben Wilkinson.
But the opening spell soon turned into Altrincham's favour, when a cross by ex-City player Matt Doughty flew dangerously in towards the back post. Colin Little was on hand to head the ball into the goal and put the home team in the lead.
Chester continued to battle and Altrincham goalkeeper Stuart Coburn did well to save another good Wilkinson strike. Soon afterwards City captain Tim Ryan was cautioned for a foul on Danny Edwards.
Kevin Roberts saw a 30-yard effort saved by Coburn on the 35th minute, with Alty defender James Smith making it safe by putting it wide for a corner. City actually won three corners in the first half, but none of them came to anything. They were lucky to go into the break only 1-0 down when a cross/shot from Little went into the side netting.
Chester started the second half as the dominant team and on the 52nd minute their pressure finally produced a result when a poor Coburn clearance allowed Wilkinson to head the ball in from inside the box.
City then had another couple of attempts on goal, with a shot from Neil Ashton being well saved by Coburn. But the action then switched to the other end when a John Danby clearance fell to Alty's Dale Johnson. He was only six yards out, but his tame shot was no trouble for Danby.
Gregg Blundell replaced Adam Kay on the 66th minute, and he made an excellent cross to give Nick Chadwick a good chance to put City ahead. But Coburn produced another good save and City won another corner.
Blundell himself headed just over on the 82nd minute as both sides pressed for the winner. But there were no serious threats on goal in the final spell and part-time Altrincham still remain unbeaten against their full-time Cheshire rivals.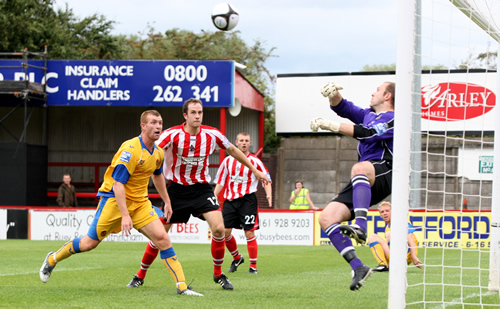 Picture © Chester Evening Leader

• More photographs | Conference table


---
Saturday 29 August
Chester City 0 Mansfield Town 1

Football Conference
Attendance: 1,734 (522 Mansfield) Half Time 0-1
Booked: Lynch, Chadwick.

Chester City: Danby, Roberts, Lea, Lynch, Ryan, Wilkinson, Kay (Blundell 66), S.Vaughan, Ashton, Chadwick, Alessandra. Subs not used: Meynell, Murphy, Owen, Ellams.
Mansfield Town: Marriott, Silk, Armstrong, Gardner, Jones, Nix, Somner, Briscoe (Clare 59), Speight (Istead 77), Perry, Duffy. Subs not used: Sandercombe, Williams, Graham.
Referee: Jermaine Simpson (Carnforth).



Any optimism from last week's creditable draw at Luton was ground out of Chester by a determined and physically stronger Mansfield side. The visitors arrived with a game plan to stifle any possibility of flowing football. The pattern for the game was set early on and when Duffy was awarded a free kick after tangling with Ryan, a disorganised City conceded the only goal of the game.

Duffy was on hand to control and shoot from the corner of the six yard box following Perry's knock down from the free kick hoisted into the penalty area. As the forward's shot beat Danby's dive it seemed to be nodded over the line by another player - despite claims for offside the goal was awarded and Duffy was credited as the scorer.

Mansfield had the ball in the net a few minutes later but this time the whistle had already gone for a push on a City defender. Indeed the whole game was punctuated with pushing, shoving and physical bumps as the Stags never let City settle on the ball. Despite this Chester did manage to carve out a few openings in the first half - the best attempt came when Allesandra turned quickly and hit a shot first time which cannoned off the outside of the post. Ashton saw his fierce shot hit a defender and bounce away to safety.

In the second half, however, chances were fewer for the home side. A goal for City looked marginally more likely when Greg Blundell came on for the tiring Kay. Blundell's cross from the left almost drifted into the goal by the far post. But by and large City were out muscled and did not have the speed or guile to put pressure on the Mansfield goal.

It was not a pretty match and threatened to boil over in the second half when the referee's patience evaporated after some over-eager physical exchanges and he produced a flurry of yellow cards (4-2 to Mansfield). This bruising encounter will have given Chester a measure of the scale of their task this season. To reach the target of 70 points needed simply to survive in this division City need to be a cut above the rest. On this evidence they are a long way from achieving that and the gap to a position of safety is widening fast.
Colin Mansley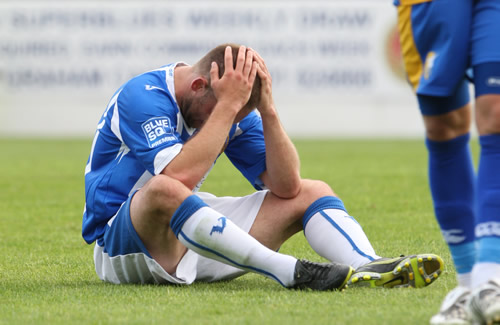 Picture © Chester Evening Leader

• More photographs | Conference table


---
Saturday 22 August
Luton Town 0 Chester City 0

Football Conference
Attendance: 6,563 (85 Chester) Half Time 0-0
Booked: Wilkinson, Lynch.

Luton Town: Tyler, Reynolds (Murray 58), Pilkington, White, Blackett, Jarvis, Nicholls, Gallen, Burgess, Craddock, Basham (Howells 58). Subs not used: Gore, Gnakpa, Patrick.
Chester City: Danby, Roberts, Ryan, Lynch, Lea, Wilkinson (Meynell 84), Kay (Owen 74), S.Vaughan, Ashton, Alessandra (Platt 95), Chadwick. Subs not used: Murphy, Ellams.
Referee: Steve Creighton (Reading).



At this stage of the season, it's hard to know if we saw Chester on a good day, or Luton on a bad day, or perhaps a combination of the two. Whatever it was, this unexpected 0-0 scoreline gave City fans some early survival straws to clutch.
The game started with City fans trying to figure out who the new arrivals were, with the away programme not offering any real clues. It took a while for us to work out that Chris Lynch, Adam Kay and Lewis Alessandra were all making their Chester league debuts.
City made a bright start, with a foray into the Luton box within the first six minutes. It was cleared by the Hatters and as the game settled down in the August sunshine, it was good to see Chester passing the ball about on the ground.
After Tuesday's midweek performance against Oxford, the 85 travelling supporters were anticipating a hatful of goals against the Blues, but Luton weren't anywhere near as threatening as rampaging Oxford.
Luton, newly sponsored by Easy Jet, were clad in smart orange tops and white shorts. A last-minute kit clash meant Chester wore their home shirts, but yellow shorts and socks. It was a strange mix and perhaps it wrong-footed the opposition as the first realistic chance to score fell to Chester , with a Nick Chadwick shot over the bar.
Ten minutes after, and City had another good spell with two or three chances on goal. Luton 'keeper Mark Tyler, arguably their man-of-the-match, was equal to them all. Tyler's best moment of the game came in his save from a Chadwick header, which he just tipped onto the crossbar.
But not long after, he had a "Grobbelaar moment" went he went AWOL from his area and failed to win the ball. Chadwick had a looping shot at the open goal, but it was just saved on the line by a Luton defender.
So it was encouraging that Chester had the best of the first half and could easily have been ahead on 45 minutes. But City's travelling support had seen an identical scoreline at the same stage on Tuesday night, and were obviously hoping not to see a repeat of that performance.
They actually got their wishes, as Chester more than matched their first half performance. Chadwick came close to scoring again on the 55th minute with a great shot across goal that was pushed behind by Tyler for a corner.
Luton made a couple of substitutions after that, but they didn't seem to change the direction of the game and the Luton fans got increasingly frustrated with their players, as well as the match officials. When Chadwick was treated on the field for a head injury, they took their ire out on him as well.
Luton's best spell of the match came in the final 15 minutes, but the Chester defence remained resolute, with Lynch making an excellent debut and Roberts putting in another good performance. Tim Ryan and Michael Lea also had solid games. The Hatters had their chances in the closing spell, which included five minutes of injury time, but didn't come close to scoring.
City even had a chance to win the match in the final few minutes when they had a couple of corners. The best resulted in a Lea shot being blocked on its way to goal.
Luton were undoubtedly the team most relieved to hear the final whistle, and as they went off they were roundly booed, while City were rightly cheered by the away end after an excellent all-round performance.

Sue Choularton

• Conference table


---
Tuesday 18 August
Oxford United 4 Chester City 0

Football Conference
Attendance: 5,135 (131 Chester) Half Time 0-0
Booked: Ryan.

Oxford United: Clarke, Batt (Chapman 78), Day, Creighton, Sandwith, Potter (Rhodes 90+2), Bulman, Murray, Clist, Constable (Kelly 90+2), Green. Subs not used: Turley, Foster.
Chester City: Danby, Roberts, Ryan, Platt, Meynell (Rule 78), Wilkinson (Rawlinson 90+4), S.Vaughan, Lea, Ashton, Chadwick, Ellams (Owen 66). Subs not used: Murphy, Kelly.
Referee: B.Malone (Wiltshire).



Chester's return to Oxford was a very different affair to their last two encounters in the Football Conference, with a buoyant United making easy meat of a City team clearly lacking match fitness.
City fans were at least grateful to see their team running out at Oxford – something that seemed unlikely just a week before. But it was hard to think of any other highlights for them.
The new-look Blues did start the game with a reasonably well-organised defence, marshalled by captain Neil Ashton. They did well to keep Oxford away from goal for the opening 20 minutes.
But Oxford soon started getting into the game, and had a couple of shots which either missed the target or were easily dealt with by goalkeeper John Danby. The first half saw Chester make no impression on the Oxford end, apart from an early free-kick, taken by Tim Ryan, which was in no danger of threatening the goal.
Most of the 131 travelling fans seemed relieved to go into half-time with a respectable 0-0 scoreline, but it didn't stay that way for long.

It was actually Chester who had the first chance to notch up a goal when an Ashton header led to a bit of a goalmouth scramble. But U's keeper Ryan Clarke held onto the ball, and it was soon back at the other end.
Within five or six minutes, it was Oxford who scored when an excellent passing move found James Constable free in the box, and he had no trouble slotting the ball home.

City didn't immediately let their heads drop though, and Lloyd Ellams ran tirelessly for the ball until he eventually ran himself ragged and was replaced by James Owen on the 66th minute.
He'd not been on for long, when a ball from Stephen Vaughan Junior came to him in front of goal. Unfortunately he couldn't get a powerful shot on the end, and City's second real chance of the evening went begging.
Soon after, it was nearly 2-0 to Oxford when another rampant attack on the 63rd minute saw the post save Danby from picking the ball out of the net. But it was back at the same end again just moments later when another good move saw Matthew Green gifted an opportunity right in front of goal. He made no mistake and at 2-0 it looked like 'game over' for City.
But there were still goals to be had and another excellent pass on the 83rd minute found Constable back in space. It was easy for him to make it 3-0, and a few City fans started to head for the exit doors.
Constable was now on a hat-trick and it came all too easy for him on the 89th minute when he ran into the box and hit the target again to make it 4-0 to Oxford.
It looks like City have a mountain to climb if they are to get anywhere near zero points this side of Christmas (or even Easter) and Southern-based fans need to be warned to make the most of season 2009/10.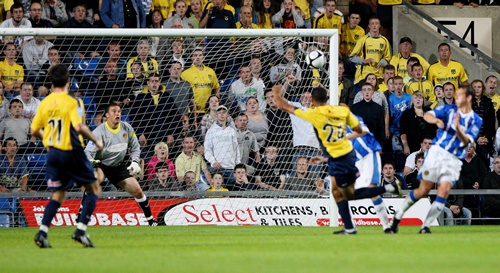 • More photographs | Conference table


---
Saturday 15 August
Chester City 2 Cambridge United 4

Football Conference
Attendance: 1,757 (304 Cambridge) Half Time 2-2
Booked: Vaughan, Ellams.

Chester City: Danby, Rule, Maynell, Roberts (Platt 81), Ryan, Barry (Chadwick 8), S.Vaughan, Lea (Owen 46), Ashton, Wilkinson, Ellams. Subs not used: Murphy, Rawlinson.
Cambridge United: Potter, Gleeson, Coulson, Hatswell, Coakley, Parkinson (McAuley 90+2), Willmott (Ives 88), Reason, Carden, Holroyd, Beesley (Crow 72). Subs not used: Pitt, Walker.
Referee: R.West (Birmingham).



The Blues were relieved to finally get their new season underway a week late but it was a former City forward, Chris Holroyd, who came back to spoil the perfect start afforded the Blues thanks to some slack defending. In fact, Holroyd was one of four ex-City players in the visitors line-up taking his place alongside Paul Carden, Wayne Hatswell and Paul Beesley.

In blustery conditions City could have not got off to a better start. Just 32 seconds were on the clock when new signing Ben Wilkinson latched on to a Michael Lea high through ball, flicked it past the onrushing U's goalkeeper Danny Potter before steering the ball into the unguarded net.

Five minutes later Beesley saw a header saved by John Danby after he'd connected with an Andy Parkinson free-kick. Manager Mick Wadsworth was forced into a substitution minutes later as Anthony Barry hobbled off following a challenge from Hatswell and was replaced by Neil Chadwick.

Wilkinson saw a free-kick saved by Potter just before defender Hatswell gifted City a second goal on 19 minutes. His weak backpass was intercepted by Chadwick, and the forward who only signed for the club yesterday, steered the ball home into the bottom corner.

Playing into the wind in the first half the visitors were having problems. Holroyd got himself into a good position but a great saving challenge from Roberts prevented the young striker reducing the arrears.

City looked to be heading for a comfortable interval lead but the game took a dramatic change as the visitors scored twice on the stroke of half-time. On the stroke of half-time kevin Roberts was adjudged to have fouled Beesley in the area and referee West pointed to the spot. Holroyd blasted the resulting spot-kick straight down the middle past Danby. And in stoppage time Vaughan fouled Holroyd outside the box and Robbie Wilmott's free-kick took a deflection off the City wall and flew past Danby to send the teams into the break on level terms.

Wadsworth made another substitute at the resumption of the second period. Youngster James Owen replacing Lea. The Blues started well and Wilkinson saw an effort on 56 minutes curle just wide of the post.

Holroyd's pace was causing problems and he set up Parkinson who tested Danby with a 25-yarder.

On 75 minutes the fight back was complete as the visitors took the lead. Parkinson was set free down the right and his cross was met by the unmarked Holroyd who produced and acrobatic overhead kick giving Danby no chance.

The same combination wrapped things up in the final minute as Holroyd completed his hat-trick with ease steering home Parkinson's right wing cross from close range.

• Conference table
---