---
Tuesday 29 September
Chester City 1 Forest Green Rovers 2

Football Conference
Attendance: 1,019 (36 Forest Green Rovers) Half Time 0-2
Booked: Ryan.

Chester City: Danby, Roberts, Kelly, Ryan, Lea, Wilkinson (Meynell 84), Keltie, Kay (Barry 46), Ashton, Ellams (Blundell 46), Chadwick. Subs not used: Murphy, Rule.
Forest Green Rovers: Burton, Smith, Preece, Ayres, Stonehouse, Davies, Brown, Spence, Platt, Ameobi, Rigg. Subs not used: Carlin, Lloyd, Else, Pugh, Palmer.
Referee: P.Wright (Merseyside).



Chester succumbed to their fifth home defeat of the season in a match which saw their opponents rise out of the relegation zone, but left City stranded at the bottom on minus 14 points.
Less than 1,000 City fans saw the team run out with two changes from Sunday's draw at Wrexham – Lee Ellams was in for Gregg Blundell and Sean Kelly replaced Chris Lynch.
Forest Green Rovers, under the stewardship of relatively new manager Dave Hockaday, had all the early chances. Striker Tomi Ameobi had a shot deflected wide before John Danby had to make a save from his strike partner Sean Rigg.
Soon after, their pressure told when Conal Platt met an Ameobi pass and shot past Danby from 25 yards out on the 18th minute. Referee Peter Wright booked him for his over-exhuberant goal celebration.
Chester still failed to get into the game and Neil Ashton had to make a goal-line clearance from another FGR shot. Soon after, Tim Ryan was in Mr Wright's notebook after a foul on Ameobi.
So it was no surprise when FGR made it 2-0 on the 36th minute when Rigg hit a neat pass home in the bottom-right corner. Ellams did have a shot just before half-time, but City had made little impression in the first 45 minutes.
The second half saw Ellams replaced by Blundell and Anthony Barry on for Adam Kay. Inside three minutes of the re-start, City got a goal back. It followed a Nick Chadwick header which was pushed out for a corner. Neil Ashton's corner found the head of Kevin Roberts and he powered the ball into the net.
Blundell later had two great chances to equalise. He first saw one shot go wide of the post, then FGR goalkeeper Terry Burton got the better of him in a 77th minute one-on-one.
Forest Green also had a couple more opportunities, but both Platt and then Rigg missed the target this time. Rhys Meynell came on for Ben Wilkinson on the 83rd minute, but the goal-line remained at 2-1 when the referee blew for full-time.
While Chester don't have a good home record against Forest Green, it was not an impressive performance and was to be manager Mick Wadsworth's last game in charge.
•
Conference table
---
Sunday 27 September
Wrexham 0 Chester City 0

Football Conference
Attendance: 5,913 (844 Chester) Half Time 0-0
Booked: Chadwick, Roberts, Keltie, Ellams.

Wrexham: Maxwell, Spann, Assoumani, Sinclair, Neil Taylor, Obeng, Fleming, Smith, Jones (Sakho 80), Gareth Taylor, Marc Williams. Subs not used: Mike Williams, Taboubi, Cieslewicz, Baynes.
Chester City: Danby, Roberts, Lynch (Kelly 21), Ryan, Lea, Wilkinson, Keltie, Kay (Rule 65), Ashton, Blundell (Ellams 85), Chadwick. Subs not used: Murphy, Meynell.
Referee: M Naylor (South Yorkshire).


The first non-league cross-border derby ended in a bore draw as both side had to settle for a point from this goalless stalemate. It was City's fifth away draw on the run.

Chances were few and far between during the 90 minutes but the best two did fall early on for City striker Gregg Blundell as Chester put in a determined display.
City manager Mick Wadsworth made two changes from the side that drew 1-1 at Salisbury City in midweek. In came loan-midfielder from Rochdale Clark Keltie and Michael Lea at the expense of Sean Kelly and Glenn Rule who dropped to the bench. John Danby was declared fit after his injury on Tuesday.
The Blues (inexplicably playing in yellow) had the ball in the Wrexham net in the opening minute as Nick Chadwick sent a stooping header home but referee Naylor had blown, presumably for a challenge by Blundell, on home 'keeper Chris Maxwell that saw him drop Lea's cross.
Chester saw plenty of possession in the opening period. On nine minutes Ben Wilkinson sent in a cross from the right that was met by Blundell, he sent a looping header towards the far corner of the home net only to see Maxwell produce a great save to fingertip the ball round the post for a corner.

City but were forced to reshuffle after Chris Lynch picked up a nasty knee injury midway through the opening period, Kelly came from the bench to fill the role in the centre of the defence.
John Danby was forced into his first save of the game as Gareth Taylor set up Marc Williams who could only shoot straight at the City 'keeper.
Blundell had a golden opportunity to open the scoring after a mistake by Mansour Assoumani. He misjudged a Neil Ashton throw-in the ball finding the City striker with the ball six yards from goal but he sliced his shot wide of the right hand post when a goal seemed certain. At the other end Danby was well placed to save from Spann before the half ended.
Rule replaced Adam Kay just after the hour mark. Tim Ryan made a decisive block to stop Gareth Taylor as the home side and Andy Fleming saw a low shot deflected wide as the home side pressed for a winner late on. But the City rearguard stood firm.

Youngster Lloyd Ellams replaced Blundell with five minutes to go but the last chance of the game fell to Assoumani who shot wide in the dying seconds.
So it was another point for City who will look at those missed chances and what might have been. After the game Blundell said: "We might have accepted a 0-0 draw before the game, but I think we had the chances to have won the match. We had a goal ruled out which we thought should have stood, their keeper made a good save from me, and then I missed a glorious chance which I would probably have taken on another day."

"Maybe we feel like the team that deserved more, but at the end of the day it's another point on the board for us from a difficult place. In all fairness I think Wrexham were expecting a walk in the park, but we would be only two or three points behind Wrexham if we had started level pegging."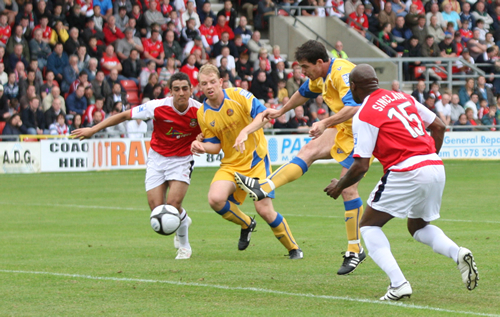 •
Conference table
| More pictures
---
Tuesday 22 September
Salisbury City 1 Chester City 1

Football Conference
Attendance: 838 Half Time 0-0
Booked: Lynch.

Salisbury City: Bittner, Clohessy, Turley, Webb, Prosser, Sinclair (Ruddick 74), Clarke, Anderson, Flood, Tubbs, Brown. Subs not used: O'Hara, Spence, Toby Osman, Oastler.
Chester City: Danby (Murphy 82), Rule (Lea 76), Kelly, Lynch, Ryan, Wilkinson, Roberts, Kay (Meynell 90), Ashton, Blundell, Chadwick. Subs: Meynell, Owen, Ellams.
Referee: Marvin Thompson (Middlesex).


City were lucky to mark their first ever visit to the Raymond McEnhill Stadium with a point to show for their endeavours in a match which was a stark reminder of the level in which they are now playing.
No disrespect to Salisbury, but this was not a classic encounter and seemed to be played by two teams who already felt certain of relegation. It was like a meaningless end-of-season match, so it was hard to believe it was only September.
The atmosphere was not helped by the lack of segregation which meant the 50+ Chester fans who attended could not easily gather together to urge on the Blues. The players must have felt like the "12th man" hadn't turned up.
The first half didn't see a serious Chester strike on goal, with the defence keeping the Blues in the game. Inside the first 15 minutes, both Kevin Roberts and Sean Kelly made good clearances from Salisbury strikes. John Danby also made a couple of saves from Salisbury 's Matthew Tubbs.
The closest the match came to a goal in the first half was when Danby was beaten by a Salisbury shot, but Chris Lynch was in the right place on the line to clear the ball away to safety. A poor Ben Wilkinson corner on the 38th minute which tamely went straight to a Salisbury player was sadly typical of City's performance in the first 45 minutes.
It felt like there was still all to play for in the second half and both teams did put on a better show. Salisbury still had more of the ball, with Neil Ashton and Tim Ryan both making good clearances to keep the scoreline on level terms inside the hour-mark.
Glenn Rule was replaced by Michael Lea on the 75th minute and just three minutes later, Chester were ahead. Wilkinson more than made up for his poor corner by scoring in the bottom left-hand corner from a Roberts pass. It was a shame the goal was in front of a closed terrace, and the City fans, scattered around the Whites' supporters, were barely audible.
But before anyone had recovered from the excitement, it was back to level-pegging when Danby dropped the ball when surrounded by Salisbury players in the box. Sean Clohessy had no trouble hammering the ball home.
Danby fell heavily in the challenge and the Chester players were furious that no foul had been given. As Danby lay injured on his back with two physios, St John Ambulance stretcher-bearers and a doctor in attendance, a melee broke out near the centre circle as Salisbury tried to get hold of the ball for the re-start while Chester were still smarting at the goal decision.
After five minutes Danby had recovered enough to be helped off the pitch, and he was replaced by Andrew Murphy. During the five minutes of injury time, the ball was actually put past Murphy, but referee Thompson blew for offside and the goal was disallowed.
It has to be said that the highlight of the evening was not the match itself, but the pre-match meet-up in Salisbury city centre and the post-match chat in the Salisbury club bar. It was a bar shared by fans and players alike and it really reminded me of a typical non-League social club. Another highlight was a fellow Chester fan winning the post-game raffle – a bottle of vodka his prize – so at least one City fan went home happy.
• Conference table | More pictures
---
Saturday 19 September
Chester City 0 Stevenage Borough 1

Football Conference
Attendance: 1,089 (121 Stevenage) Half Time 0-1
Booked: -.

Chester City: Danby, Rule, Lynch, Kelly, Ryan, Wilkinson (Owen 70), Kay (Meynell 79), Roberts, Ashton, Blundell (Ellams 63), Chadwick. Subs not used: Murphy, Lea.
Stevenage Borough: Day, Henry, Roberts, Ashton (Albrighton 21), Laird, Odhiambo, Bostwick, Byrom, Bearsdsley, Cole (Boylan 75), Griffin (Drury 67). Subs not used: Bayes, Odubade.
Referee: Tony Harrington (Cleveland).


City slumped to their fourth home defeat in six matches as a Michael Bostwick goal after seven minutes was enough to give Stevenage the points following another disappointing display from the Blues. Chester were on the back foot from the start as Joe Ashton brought out a good save from John Danby at the foot of the post, Chris Beardsley then sent a free header straight at the City shot-stopper when left unmarked in the box.
The Blues were caught out again by the visitors early pressure as Borough took the lead as Bostwick volleyed home a left wing cross in off the post after eight minutes. Bostwick almost doubled the visitors' advantage five minutes later but Danby produced another smart save after the midfielder has shot on target from the edge of the box.
After a slow start City started to see plenty of possession but ut wasn't until the 35th minute that they created anything of note as striker Nick Chadwick was inches away from connecting to an Adam Kay cross that was allowed right across the Borough box.
Before the break the visitors created another chance of note that saw Charlie Griffin slide the ball wide following a left wing far post cross from Scott Laird.
An early effort after the interval saw Kevin Roberts direct a header wide before manager Mick Wadsworth replaced Gregg Blundell with Lloyd Ellams. In truth though, as he admitted afterwards, his side were second best in most areas of the game and they rarely threatened Chris Day in the visitors goal. At the other end the overworked Danby once again managed to scramble another Beardsley effort away.
City did have more of the game than in the first period though and Chadwick and Ellams both finally tested Day late on. The visitors held out though and City must now look for three points at Salisbury in midweek to give them a boost before next weekends derby with local rivals Wrexham.


•
Conference table
---
Tuesday 15 September
Chester City 2 Gateshead 1

Football Conference
Attendance: 994 (26 Gateshead) Half Time 1-0
Booked: Rule, Chadwick.

Chester City: Danby, Lea (Rule 57), Lynch, Kelly, Ryan, Wilkinson (Ellams 68), Kay, Roberts, Ashton, Blundell (Meynell 79), Chadwick. Subs not used: Murphy, Owen.
Gateshead: Provett, Baxter, Curtis, Pelonde, Robinson, Richardson (Swailes 24), Gate (Phillips 79), Turnbull, Mackay, Ascherl (McDermott 63), One. Subs not used: Armstrong, Farman.
Referee: J.Collins (Merseyside).



Chester secured their second League win of the season, thanks to another penalty from Gregg Blundell and a header by Nick Chadwick.
The club's lowest home attendance since October 2001 saw the team run out with two changes from the away victory at Eastbourne. Shaun Kelly and Ben Wilkinson made the starting XI, with Rhys Maynell on the bench and Anthony Barry not featuring through injury.
City's first goal came 19 minutes into the first half when Gateshead centre back James Curtis clashed with Blundell in the box and the referee awarded a penalty to Chester. Blundell didn't waste his chance and hit the ball home sending Provett the wrong way from the spot.
Earlier on, Curtis had had a header cleared off the line by Michael Lea, and later in the half John Danby saved from Michael Mackay. But it was City who went in at half-time with a one-goal advantage, despite having had fewer real chances and just the one shot on target.
However, just six minutes into the second half, Gateshead took their chance to equalise. A good through ball from Christoph Ascherl evaded the City defence and Mackay slotted the ball home in the bottom corner to give the 26 travelling fans something to cheer about.
Chester were spurred into action against the 10-men team and Chadwick, Kevin Roberts and Blundell all had chances to put City back in front. But the real opportunity came on the 76th minute when a Neil Ashton cross found Chadwick's head and he made it 2-1 to Chester and his fourth goal of the season.
Gateshead didn't give up and die at this stage, with Danby being called on in the closing spell to make two saves again from Gate's Mackay. But it was the hosts who claimed the much-needed three points to take them a bit nearer the elusive 'zero' mark.

• Conference table


---
Saturday 12 September
Eastbourne Borough 1 Chester City 1

Football Conference
Attendance: 968 Half Time 1-1
Booked: None.

Eastbourne Borough: Jordan, Jenkins, Pullan, Elphick, Brown, Armstrong (Baker 75), Enver-Marum (Smith 63), M.Crabb, Weatherstone, Atkin, N.Crabb. Subs not used: Knowles, Smart, Johnson.
Chester City: Danby, Roberts, Lea, Meynell (Kelly 65), Ryan, Lynch, Barry, Kay (Wilkinson 83), Ashton, Chadwick, Blundell. Subs not used: Murphy, Ellams, Rule.
Referee: John Hopkins (Essex).



City came away from their first ever meeting with Eastbourne Borough with a hard-earned point after Gregg Blundell had converted a hotly disputed penalty on the stroke of half-time.

Blues manager Mick Wadsworth made changes from the side disappointingly beaten at home by Tamworth in midweek, Rhys Meynell and Adam Kay returned to the starting line-up at the expense of Shaun Kelly and Ben Wilkinson who took their places on the bench.

During the week Wadsworth had bemoaned the sloppy defending that cost City dear on Tuesday. Well it was hesitation in defence again, this time by Kevin Roberts and John Danby, that gifted the home side the lead after just five minutes as a high ball into the box was not cleared leaving Matt Crabb to cross giving Andy Atkin the simplest of tap-ins.

City responded well with Nick Chadwick seeing a shot flick the top of the crossbar from the edge of the box after Gregg Blundell had set him up on 18 minutes.
Another cross, this one from Nathan Crabb, was again not dealt with by the City defence though Aitkin was unable this time to latch on to the loose ball.

Chadwick saw another effort deflect of a defender to safety and Anthony Barry met an Ashton corner with a volley but couldn't keep his effort on target.

John Danby was well positioned to save well from both Simon Weatherstone and Liam Enver-Marum as the home side had the better of the play. The Blues responded forcing a series of corners with home 'keeper Michael Jordon clearing after a goalmouth scramble.

A minute into stoppage time City drew level as Neil Ashton was adjudged to have been fouled by Jordan, the goalkeeper protested he'd got to the ball first but referee John Hopkins pointed to the spot and Blundell sent Jordan the wrong way to score his first goal of the season.

The home side started the second half with plenty of possession but when a chance was finally created Danby found himself in the right position to collect a long-range effort from Neil Jenkins ten minutes after the restart.

Chances were created at both ends. Nathan Crabb shot wide following good work by Atkin and then the Blues almost took the lead as Jenkins diverted a Barry free-kick just over his own bar.

Tim Ryan made a last ditch tackle to deny goalscorer Ryan as Eastbourne pressed for a winner. Weatherstone was just unable to turn home a left wing cross 20 minutes from time seeing his shot bounce inches wide and in the closing moments the post came to City's rescue as Aitkin volleyed against it from close range following a fine move.

• Conference table
---
Tuesday 8 September
Chester City 1 Tamworth 2

Football Conference
Attendance: 1,199 (118 Tamworth) Half Time 0-1
Booked: Roberts, Blundell, Ellams, Lynch, Ryan, Ashton.

Chester City: Danby, Lea, Lynch, Kelly, Ryan, Wilkinson (Ellams 64), Barry (Kay 64), Roberts, Ashton, Blundell, Chadwick. Subs not used: Murphy, Meynell, Rule.
Tamworth: Alcock, Lyttle, Smith, Briscoe, Blackwood, Lake-Gaskin, Tait, Shaw, Sheridan, Wright, Rodman (Benjamin 26). Subs not used: Hurren, Nicholson, Mills, Bruce.
Referee: Lee Metcalfe (Lancashire).



After their three points at the weekend City were brought back down to earth with this defeat against Tamworth.

Manager Mick Wadsworth made changes from Saturday's starting X1. Out went the Vaughan brothers Stephen and James to be replaced by Anthony Barry and Shaun Kelly – both fully recovered from injury while up front Gregg Blundell, making his first start of the season, replaced the injured on-loan striker Lewis Alessandra.

The visitors had the better of the opening period that saw John Danby called in to make a save from Nick Wright following a far post corner. Alex Rodman flashed a shot wide following a Smith flick-on as the visitors continued to press.

City had appeals for a penalty turned down as Nick Chadwick was felled in the box by Michael Briscoe Wright thought he'd opened the scoring for The Lambs only to see his effort ruled out by referee Metcalf for hand ball.

The visitors were briefly down to ten men as Rodman left the pitch though injury and City responded with a long-range Kevin Roberts shot that drifted wide before the conceded their first goal on 38 minutes. Richard Tait was given aft too much time to latch on to a Tom Shaw through ball before slipping the ball under the advancing Danby.

Roberts and Blundell found their way into the referee's notebook after the formers challenge on Tait had produced an on-pitch melee.

City replied with Chadwick forcing the first real save of the night from Alcock in the Tamworth goal who turned away the striker's pile driver from just inside the box, though the resulting corner came to nothing. City finished the half well but both Barry and Ben Wilkinson were guilty of missing good chances, both seeing efforts go high and wide.

City, kicking towards their own fans started the second half and Wilkinson immediately saw a deflected shot tipped away by Allcock for a corner. The flag-kick was swung over to Blundell who saw his header touched onto the bar by Allcock. City continued to press, Barry shot wide and Chadwick again forced a fine save from the overworked keeper. The Blues were dealt a blow just before the hour mark as they conceded a second goal against the run of play.

Shaw sent in a free-kick that appeared to be drifting out at the far post, it was met though by Briscoe who hooked the ball back into the danger area. Danby could only parry the ball straight to Chris Smith who had the easiest of chances to tap home the second goal.

Manager Mick Wadsworth made a double substitution bringing on Lloyd Ellams and Adam Kay at the expense of Wilkinson and Barry. Fourteen minutes from time City pulled a goal back as Chadwick finally got the better of Alcock as he diverted a Roberts shot home after the Tamworth defence had failed to clear a free-kick.

Chadwick headed wide following a Blundell cross as The Blues continued to press for an equaliser. They had a golden opportunity in the dying minutes as Briscoe's attempted clearing header fell to Kay, he made space for himself but blazed the ball over with the goal at his mercy. Five minutes of added time were played in which Michael Lea saw a long-range effort clip the bar before the game ended with City left to rue the two defensive mistakes that eventually cost them dear.

• Conference table
---
Saturday 5 September
Chester City 2 Histon 0

Football Conference
Attendance: 1,171 (33 Histon) Half Time 1-0
Booked: J.Vaughan, Ashton, Ryan.

Chester City: Danby, J.Vaughan, Ryan, Lynch, Lea, Wilkinson (Barry 60), S.Vaughan (Kelly 66), Roberts, Ashton, Alessandra (Blundell 45), Chadwick. Subs not used: Meynell, Kay.
Histon: Naisbitt, Tann, Langston, Bygrave, Pope, Barker (Kennedy 83), Knight-Percival, Farrell (Andrews 75), Gwillim, Hudson-Odoi (Hammond 75), Simpson. Subs not used: Sparkes, Mason-Smith.
Referee: Andy Halliday (North Yorkshire).


City fans had to get used to a strange feeling on Saturday evening as they celebrated a first home victory of the new campaign and indeed of the year 2009 – the previous success at the Deva came against Accrington Stanley on Boxing Day last. Had the Red Arrows aeronautical display team flown over an hour later than they did – we could have assumed that they had been laid on to mark the occasion.

As half time approached, however, even a point seemed unlikely for the home side as Histon had run them ragged. The visitors play, in the unexplained absence of controversial coach John Beck, was a smoothly controlled passing game which had Chester chasing shadows much of the time. James Vaughan, making a surprise appearance at right back, was left clutching Simpson's shirt as the stylish playmaker wriggled past and him and was duly booked.

Histon's double-barrelled strike force Hudson-Odoi and Knight-Percival were proving a real handful for the City defence which was often at sixes and sevens with John Danby shaking his head at the lack of cover he was receiving. Knight – Percival waltzed past several challenges only to see his shot rebound off the post. Minutes later, Hudson-Odoi was clean through the City back line only to blaze his left-footed shot from the edge of the box over the bar.

If City were fortunate to reach half-time without conceding a goal then they were doubly so to find that - with a minute of the half remaining - they had taken the lead. Histon 'keeper Naisbitt had tipped over Chadwick's goal bound header for a corner and from the resultant kick, Roberts – some fifteen yards or so out – headed back across goal into the far corner of the net. The ball flew in despite a defender's attempt at a headed clearance. The half then ended abruptly while Alessandra was receiving attention for what looked like a serious injury.

The visitors were out early to begin the second half – warming up in time to the tannoy music. Whether their exertions wore them out or whether City upped the pace it was hard to tell but the second half was much more evenly contested. Blundell came on for Alessandra and it was he who made the telling cross for City's second goal with quarter of an hour to go. City had begun to look alot more threatening after the introduction of substitutes Barry and Kelly after the hour mark. The former replaced Wilkinson and the latter returned to central defence while Lea moved up to bolster the midfield.

Blundell found space and time on the left to float a quality cross into the centre for Chadwick to glance a perfect header inside the far post. City visibly grew in confidence and finished the game strongly. It was not the most convincing of victories given the first half display but at least City have begun to make an inroad into their massive points deficit.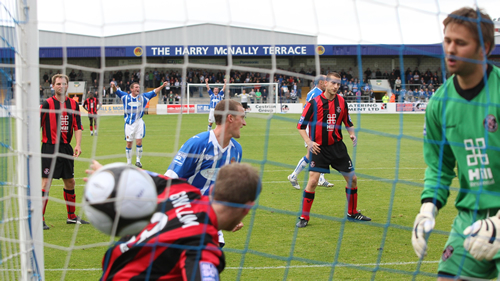 • More photographs | Conference table
---