---
Saturday 28 November
Chester City 3 Eastbourne Borough 2 - Match abandoned

Football Conference
Attendance: 869 (20 Eastbourne) Half Time 2-2
Booked: Ryan.

Chester City: Danby, Roberts, Kelly, Ryan , Rule, Ellams, Owen, Barry, Meynell, Beesley, Chadwick. Subs not used: Murphy, Wilkinson, Rea, Jones, Rawlinson.
Eastbourne Borough: Knowles, Baker, Austin, Pullan, Crabb, Benjamin, Armstrong, Brown, Weatherstone, McLaggon (Johnson 65), Enver-Marum. Subs not used: Jordan, Atkin, Rowe, Taylor.
Referee: P.Curry.



If this is to be Chester's last ever game (and there seem to have been a few "last ever" games during the years), then those attending were given plenty of things to remember – some good football; a couple of protests and then the utter farce of the match being abandoned.
With Clark Keltie leaving the club at the end of his loan spell this week and Gregg Blundell departing for Barrow, it was at least encouraging to see Danby and Chadwick turning out with the team this afternoon as they too had been rumoured to have left the club over non-payment of wages.
City took the game to fellow strugglers Eastbourne and, though play was littered with mistakes and stray passes due to City being short on experienced players, they played some very good football. The Blues took the lead just after five minutes when they were awarded a free kick on the edge of the box. Barry curled his kick round the wall and into the top corner.
Boro' were soon level when Owen miscontrolled the ball and Enver-Mullin latched on to it and sent a stunning shot from twenty-five yards which sailed past Danby into the back of the net.
Despite the setback City continued to try to play the ball around and nearly regained the lead when the industrious Beasley found Chadwick with a delightful pass. The City centre-forward, beat his marker but with just the 'keeper to beat blasted it straight at him. City were not to be denied though when following a sweeping move, Chadwick squared to Beasley who pushed it right to Ellams and the youngster showed admirable composure to drive the ball home.
The game was held up briefly when about twenty protesters, hatted and hooded, strode on to the pitch and tried to unfurl their makeshift banners. One proclaimed "Chester Casuals: Vaughan OUT", and another bracketed Stephen Vaughan with Adolf Hitler and Pol Pot. Hardly subtle but succinct and making the point effectively. Much of the main stand joined in chants of Vaughan Out as the protesters were shepherded off the pitch.
As the game continued Eastbourne won a corner on the right. Danby dropped what looked like a regulation catch and McLaggon pounced on the loose ball to sweep it home. Slightly deflating this but City were still applauded off at half time for their efforts.
After the break the football continued to be ebb and flow with City generally playing the prettier stuff but Eastbourne always a threat up front. Beasley went close a couple of times but then City regained the lead in magnificent style when Rhys Meynell's incisive pass down the left found Beasley whose exquisite cross was finished by Chadwickr's bullet header into the back of the net.
No sooner had Chadwick celebrated a la Ravanelli, a handful of protestors returned to the pitch. One of them eluded the stewards a bit longer and had to be wrestled off – Chadwick returned his hat to him as he departed. This time there seemed to be less sympathy for the protestors and more irritation that City's joy had been short lived.
By now the Eastbourne players had departed from the pitch along with the officials but the Chester team remained out there. We all waited for an announcement – to be told eventually that the match had been abandoned on the advice of the police. It seemed a ludicrously over-the-top-reaction as there was no threat to the players of either side nor to the general public – there was a fairly calm atmosphere really.
The first protest had been dealt with by the stewards with just a couple of special constables. By the time of the second protest police re-inforcements had arrived. As we left the ground the stadium and the car park and Bumpers Lane were crawling with police – as if all leave had been cancelled – they all seemed to be standing around with very little to do.
There's little doubt that the majority of City fans agreed with the sentiments of those who made it on to the pitch. It may not have been their intention to get the match abandoned, the police decision seemed to be out of all proportion. After the irritation and the frustration of the match and all the players' excellent efforts in adversity being written off – the oxygen of publicity that the incidents attract may well help City's cause in the long term.

Colin Mansley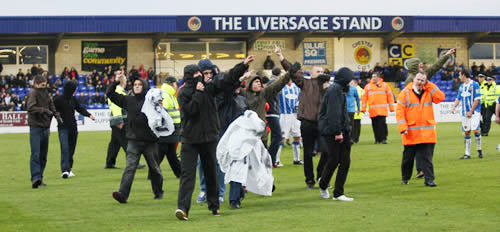 Picture © Evening Leader

• Conference table
---
Tuesday 24 November
Stevenage Borough 2 Chester City 0

Football Conference
Attendance: 1,487 (54 Chester) Half Time 1-0
Booked: -.

Stevenage Borough: Day, Henry, Roberts, Bostwick, Laird, Drury, Murphy (Bridges 53), Byrom, Beardsley, Boylan (Ashton 46), Odubade (Cole 84). Subs not used: Bayes, Griffin.
Chester City: Danby, Roberts, Kelly, Ryan, Owen (Wilkinson 74), Kay (Blundell 41), Barry, Keltie, Rule, Beesley, Chadwick (Ellams 75). Subs not used: Murphy, Meynell.
Referee: S Long (Ipswich).

This result had a certain inevitability about it as a weakened and clearly demoralised City team did their best to snatch at point at Broadhall Way before their first half endeavours were undone by a strike on the 42nd minute.
It says it all when City were cheered on by just 54 supporters (I counted them twice to check no-one was hiding) and about the loudest fan of all confessed to me that he was actually a Spurs supporter dragged along by his Chester friend.
It was not that the players didn't try, and they did have the two best chances of the first 42 minutes. After soaking up the opening spell of Stevenage pressure, City won themselves a free kick on the 15th minute and the resulting header from Sean Kelly came agonisingly close.
Ten minutes later, Anthony Barry had a fearsome strike, but it sailed past Stevenage 'keeper Chris Day (who I now know is a "Tottenham reject" – as the fan near me kept reminding us……all game).
The first Stevenage goal came after a tame City clearance gifted Borough a throw-in. It went to Yemi Odubade who caught the Chester defence off-guard and his great strike beat John Danby.
Moments earlier, Adam Kay had limped off to be replaced by Gregg Blundell. City did win a couple of corners before half-time, but they came to nothing.
The second half saw few City chances, and the game was effectively over on the 65th minute when Stevenage 's Cheshire-born captain Mark Roberts headed home powerfully from a corner.
Lloyd Ellams came on for Nick Chadwick on the 73rd minute and he did have a couple of wild strikes, but the best of them only saw the ball hit the Chester Exiles banner – and not the back of the net.
Ben Wilkinson also replaced Blundell, but he didn't make a significant impact. By now City had used all three substitutes and there were no replacements left when Kevin Roberts left the pitch on the 88th minute with a cut head after a clash with Mitchell Cole.
So it was not a classic City away-day and the best I got out of it is the knowledge that there are now two people walking around Barcelona wearing the Harry McNally shirts produced by the Exiles. This game was their last stop before a holiday flight to Spain and I like to think they are now showing off their newly-purchased shirts around the Nou Camp. But I'm afraid that's the only positive I got out of the evening.
•
Conference table
---
Saturday 21 November
Chester City 1 Altrincham 3

Football Conference
Attendance: 1,132 (290 Altrincham) Half Time 0-2
Booked: -.


Chester City: Danby, Rule, Roberts, Ryan, Meynell, Barry, Keltie, Owen (Wilkinson 46), Blundell (Ellams 75), Beesley, Chadwick. Subs not used: Kay, Kelly.
Altrincham: Coburn, Densmore, Young, Williams, Doughty, Senior, Lawton (Burns 39), Danylyk, Clee, Little, McAliskey (Owens 72), Burns (Welch 87). Subs not used: Saunders, Pearson.
Referee: Darren Drysdale (Lincolnshire).

After a brief revival, City now seem to be getting sucked into a tightening vortex of decline. They simply weren't good enough against Altrincham, allowing the visitors too much time and space on the ball and to dictate the game from the start.
It came as no surprise when Altrincham took the lead – a cross to the far post hung in the swirling wind, and while Danby hesitated, Little headed the ball in to the net. Alty's second also stemmed from the right, a long throw was flicked on for tall centre-back Williams to crash a volley home.
In the second half Chester made a better fist of it and raised hopes for a while after Rule crashed a spectacular shot into the far corner after cutting in from the right. But Altrincham were not to be denied their first win in five games when City surrendered possession feebly to allow a counter attack which Senior finished off by scoring from the edge of the penalty area.
City clearly lacked the influence of loanees Flynn and Coulson whom they couldn't afford to keep. It would be no surprise if the situation of the club off the field is beginning to affect the players on it too. Now that Stephen Vaughan is to be disqualified as a company director from 25th November, his latest sleight of hand is to name his son as owner of the club. It remains to be seen whether the authorities will be convinced by this. The gloom around the Deva deepens.

Colin Mansley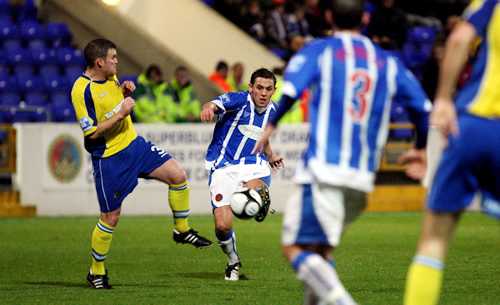 Picture © Evening Leader

• Conference table
---
Saturday 14 November
Tamworth 3 Chester City 1

Football Conference
Attendance: 955 Half Time 1-0
Booked: -.

Tamworth: Alcock, Tait, Smith, Briscoe, Blackwood, Pritchard, Shaw (Christie 61), MacKenzie, Brown (Wylde 71), Wright (Ulker 84), Sheridan. Subs not used: Lake-Gaskin, Russell.
Chester City: Danby, Roberts, Ryan, Kelly, Meynell, Barry, Keltie, Kay (Blundell 63), Beesley, Coulson, Chadwick. Subs not used: Murphy, Owen, Ellams, Rule.
Referee: Amy Rayner (Leicestershire).

Tamworth completed the double over the Blues following this 3-1 victory though City will have been left wondering how they didn't glean at least a point from the fixture after failing to capitalise on a series of goalscoring chances at a wet and windy Lamb Ground.

Blues manager Jim Harvey made two changes to the team beaten 3-2 at York City in midweek, In came Anthony Barry and Adam kay for James Owen and the injured Neil Ashton.

Nick Adams had already blazed over the bar before the home side took the lead with ten minutes were on the clock. Neil MacKenzie. A mistake by Barry let-in on-loan signing Nick Wright. His effort was blocked by Tim Ryan but MacKenzie pounced to score the rebound from just inside the box.
Wright had a great chance to double the advantage four minutes later but clipped a shot over the advancing John Danby and the bar after outpacing Ryan and Shaun Kelly in the City defence.
It took City 18 minutes to muster their first real effort of the game as Michael Coulson saw a long-range effort fly just wide and two minutes later Nick Chadwick also send a header wide following a pinpoint cross from Kay.

City began to get back into the game, Chadwick again saw and effort flash over from the edge of the box before he and Barry combined three minutes from the break to create a chance for Mark Beesley who could only shoot straight at home 'keeper Danny Alcock.

On the stroke of half-time Danby had to make a smart reflex save to deny Richard Tait whose shot on target had taken a deflection.

Danby produced a great save a couple of minutes after the break to deny Jake Sheridan, but nine minutes Beesley made up for that first-half miss latching onto a Rhys Meynell through ball and shooting past Alcock into the bottom corner for the equaliser.

The Blues then created a series of chances, substitute Gregg Blundell, who had just replaced kay, shot at Alcock and Kelly shot over when well placed before, against the run of play, the home side regained the lead as Simon Brown pounced after a MacKenzie shot had deflected into his path of Kelly.

Six minutes later Wright put the game beyond City as he gave Danby no chance with a 20-yard effort into the corner having been set up by on-loan Iyseden Christie.

Following the defeat Harvey said: "We had so much possession. There was a lot of good football. We've opened them up and Mark Beesley slotted his goal home lovely."
"But sometimes you can get caught up in playing football and forget about your job. We have just got to be careful that we don't go gung-ho, playing forward football all the time without keeping an eye on the back door."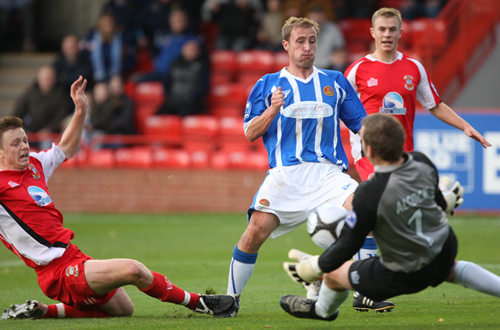 Picture © Evening Leader

• Conference table
---
Tuesday 10 November
York City 3 Chester City 2

Football Conference
Attendance: 2,164 (110 Chester) Half Time 2-0
Booked: -.

York City: Ingham, Purkiss, McGurk, Parslow, Meredith, Smith (Gall 70), Lawless, Barrett, Carruthers, Rankine (Mackin 79), Brodie (Ferrell 90). Subs not used: Graham, Pacquette.
Chester City: Danby, Roberts, Kelly, Ryan, Ashton, Owen (Barry 28), Keltie, Meynell (Wilkinson 70), Beesley, Coulson, Chadwick (Blundell 65). Subs not used: Murphy, Rule.
Referee: Darren Bond (Lancashire).

Chester's three match unbeaten run coame to an end at York City as local hero Richard Brodie grabbed a hat-trick to sink the Blues.

Manager Jim Harvey was forced to make a change from the side that played so well at Grays, Shaun Kelly replacing on-loan Jonathan Flynn who was on international duty.


It didn't take long for Brodie to open his account, 40 seconds to be precise, receiving the ball on half-way and walking through a static Blues defence before shooting past the exposed John Danby.

The Minstermen continued to press and should have doubled their advantage moments later when Mark Rankine headed over when a second goal seemed certain.

Tim Ryan denied another scoring chance for Rankine clearing the danger after good approach play involving man of the match Brodie.

Brodie and Alex Lawless saw strikes flash just past the post before City troubled home 'keeper Michael Ingham into his first save of the night as he denied Mark Beesley a scoring chance after good build-up play involving Nick Chadwick.

Brodie and Adam Smith had both gone close before the home side scored a deserved second goal on 32 minutes. Neil Ashton was adjudged to have fouled Brodie in the box and the York striker duly dispatched the resulting spot-kick.

The Blues almost pulled a goal back on the stroke of half time but Kelly saw his goalbound header cleared off the line.

City started the second period as they did the first by conceding an early goal as Brodie took a through ball from Neil Barrett to advance and curle a left footed effort over Danby and into the net.

Out of the Blue City pulled a goal back through substitute Anthony Barry who had earlier replaced James Owen. He let fly with a 20-yarder that gave Ingham no chance.

The goal gave City a boost, and they should have pulled another back on 68 minutes as Ashton pulled a Kevin Roberts cross back for Mark Beesley who blazed over from six yards.

Substitute Gregg Blundell also missed a good opportunity before Kelly reduced the arrears further in stoppage time heading home a Clark Keltie cross from close range.


•
Conference table
---
Saturday 7 November
Grays Athletic 1 Chester City 3

Football Conference
Attendance: 480 Half Time 1-2
Booked: -.

Grays Athletic: Edwards, Davis (Asllani 76), Mawer, Uddin, Bunce, Graham (Pendergast 60), Robson, Leahy (Agumbar 55), Poole, Slabber, Onibuje. Subs not used: Charge, Rnkovic.
Chester City: Danby, Roberts, Ryan, Flynn, Meynell (Wilkinson 85), Coulson (Kay 90), Owen, Keltie, Ashton, Chadwick (Blundell 80), Beesley. Subs not used: Murphy, Rule.
Referee: John Farries (Oxfordshire).



Chester made it a hat-trick of league victories with a comprehensive win against Grays Athletic which takes them within 19 points of a Conference safety spot.
City made their intentions clear from the start with both Clark Keltie, Nick Chadwick and Kevin Roberts having chances against the part-timers within the opening 10 minutes.
The trickiest Grays player was Fola Onibuje, a 6ft 7ins former Great Britain sprinter, and Jonny Flynn had the difficult task of marking him all match. He was a handful in the box throughout the game and Grays were soon aiming their crosses at him. One of his early headers fell well for fellow striker Jamie Slabber, but he shot the ball well over the bar.
The goal-scoring opportunities then shifted to the other end as Michael Coulson, arguably City's man-of-the-match, got more involved in the play. It was also great to see City putting strings of passes together and it was an excellent combination from Roberts to James Owen, then onto Coulson that ended up with the first ball in the back of the net.
Just when City fans were thinking it was all too good to be true, the score was then back on level terms. The giant Grays frontman Onibije headed in a corner from close to the line just two minutes after Coulson's opener.
But Chester were not giving up and continued to pile on the pressure, still playing some neat football. They were rewarded on the 44th minute when Grays keeper Preston Edwards dropped the ball and it fell to Coulson. He passed to Chadwick, who had no trouble putting City back in front.
Chester carried on as the dominant side in second half, with Mark Beesley having a shot blocked on the line on the 53rd minute. Grays manager Julian Dicks made a couple of substitutions on the 54th and 59th minutes, and soon after a fearsome Onibuje strike was tipped over the bar by John Danby.
That was the best chance they had to score in the second half, and then Owen and Beesley rattled Grays again with a couple of shots on target. The third City goal came from another neat move by Coulson who laid on an excellent pass to Chadwick to put Chester 3-1 up on the 76th minute.
Jim Harvey then replaced Chadwick with Gregg Blundell, followed nine minutes later by Ben Wilkinson replacing Rhys Meynell. By then Chester were on cruise control, with Blundell doing his best to offer a lively presence.
Both Blundell and Beesley had a shot each in the three minutes of injury time, and Harvey ate away a few seconds by replacing Coulson with Adam Kay. But seconds later, it was full-time and Chester had maintained their mini-unbeaten run.
Most of the City players and management celebrated their win with a brief stop in the Grays social club after the game. It was good to see there's a real team spirit as much off as on-the-field, and the post-match drinks were certainly well-deserved.
•
Conference table
---