---
Saturday 31 October
Chester City 3 AFC Wimbledon 1

Football Conference
Attendance: 1,666 (632 AFC Wimbledon) Half Time 2-1
Booked: -.

Chester City: Danby, Rule (Owen 61), Flynn, Ryan, Ashton, Kay (Blundell 57), Roberts, Beesley, Keltie, Chadwick (Meynell 67), Coulson. Subs not used: Murphy, Ellams.
AFC Wimbledon: Pullen, Lorraine, Judge (Johnson 73), Inns, Ashton (Montague), Wellard (Godfrey 73), Gregory, Taylor, Moore, Main, Kedwell. Subs not used: Brown.
Referee: Andy Hendley (West Midlands).



Chester League victories seem like waiting for a night bus home. Just when one arrives, another comes around the corner when you are least expecting it. Well, that's how unlikely the home win against AFC Wimbledon felt to me.
But City's first back-to-back league win in more than two years was actually almost a stroll in the park, especially after they went 2-0 up inside the first 15 minutes.
Chester, kicking away from the home end, scored the first goal on 10 minutes when a Michael Coulson cross was met by unmarked Nick Chadwick, who had no trouble scoring from a few yards out.
The 1,034 home fans were barely getting used to being ahead when the AFC Wimbledon defence were embarrassed again. A Mark Beesley cross hit a Dons' defender and his own subsequent goal made it 2-0 to City.
AFC Wimbledon tried to get back into the game - first own-goal scorer Steven Gregory saw a shot well saved by John Danby, then Ricky Wellard came close when a powerful shot towards goal was cleared for a corner by Tim Ryan. It may have just missed the target anyway, but Ryan (nicknamed Rat Man, as revealed in the programme) did the right thing in making sure.
However, AFC got a goal back not long after that chance. Referee Andy Hendley (who intriguingly says the best game he has ever officiated was Chester v Doncaster in the Conference play-offs) somehow found two minutes of injury time, during which AFC won a free kick. It was only partly cleared and the cross back into the danger area was easily fired home by Jon Main.
AFC Wimbledon made a more determined start to the second half and within three minutes, Danby had to make a good save from Main. The resulting corner saw the 662 away fans start to celebrate a goal when the ball went in the net – only for Mr Hendley to blow for a foul.
The Dons continued their assault and not long after another Danby save, their attacker Luke Moore had a good chance to score, but put the ball well over the bar.
The action-packed game then switched to the other end and a thunderous Clark Keltie drive from 20 yards out beat the red-clad AFC 'keeper, James Pullen, but hit the bar and post. The ball somehow rebounded away to safety from the on-rushing City attackers.
Gregg Blundell, who came on as a 57th minute substitute for Adam Kay, took a while to get into the game, but laid on a fantastic cross for an unmarked Beesley. But Beesley somehow managed to miss the target.
At the other end, a goal-bound Wimbledon strike looked for all the world like it was saved by the post, but AFC fans assured me after the game that Danby actually made an excellent stop with his foot to keep the ball out of the net.
Chester secured the much-needed three points on the 77th minute with an unstoppable Blundell shot from inside the box. He looked mightily relieved to have scored the winner as though he needed it as a confidence boost. Let's hope it's done the same for the whole team and they go on to make it a hat-trick of wins when they make the long trip to Essex on Saturday.
Sue Choularton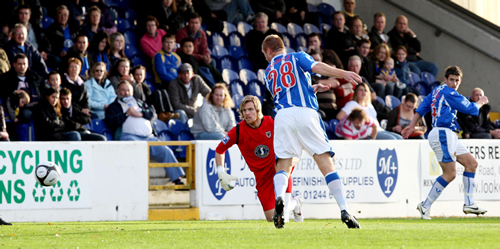 Picture © Evening Leader

• Conference table
---
Tuesday 27 October
Chester City 0 Barrow 4

FA Cup Fourth Qualifying Round Replay
Attendance: 1,287 (291 Barrow) Half Time 0-0
Booked: Coulson, Owen.

Chester City: Danby, Roberts, Ryan, Barry (Ellams 43), Lea (Owen 45), Ashton, Keltie, Coulson, Beesley, Flynn, Kay. Subs not used: Murphy, Meynell, Wilkinson, Kelly, Blundell.
Barrow: Tomlinson, Spender, Jelleyman, Jones, Pearson, Kamara (Logan 88), Bond, Sheridan (Boyd 94), Walker (Cook 88), Shaw, Rutherford. Subs not used: Deasy, Bayliss, Dugdale, Morris.
Referee: Rob Merchant (Stoke).



The scoreline was harsh on Chester who were well in contention in this match until a disastrous couple of minutes in the second half. The referee awarded a free kick in the penalty area when Danby picked the ball up following a touch by a City defender. It was hardly a back pass but the referee had given the benefit of the doubt on two previous occasions.
Bond rifled the free kick through the wall to give Barrow the lead. Soon after it was double trouble as the referee then awarded a soft penalty for a trip on Kamara. Walker made no mistake from the spot.
City heads went down and when Kamara crossed from the right for Bond to head in off the bar – the game was all up for City. Substitute Cook added a fourth to rub salt in the wound after Ryan and Flynn got in each other's way.
It could all have been so different if City had taken their chances earlier. Ellams was the worst culprit, after Beesley had worked an opening and his shot was parried, Ellams could only shoot weakly from six yards straight at the keeper.
Barrow started the stronger until City settled mid way through the first half. But too often Chester were guilty of giving the ball away and over elaborating on the ball. In the second half City seemed to be getting the upper hand but then disaster struck and there was no way back.
It was a thoroughly demoralising result in the end and a disastrous one for the Vaughan regime who were surely relying on the payout from this evening and a home tie to Eastleigh to go some way to paying the debts that hang over the club like the Sword of Damocles.

Chants of "Vaughan out" when the goals went in seemed harsh but were symptomatic of the fans' frustration with the club at the moment. Ironic then that City's demise was at the hands of Vaughan's former club Barrow – there seems little love lost between them either.

Colin Mansley
---
Saturday 24 October
Barrow 1 Chester City 1

FA Cup Fourth Qualifying Round
Attendance: 1,579 Half Time 0-1
Booked: Ashton, Barry.

Barrow: Tomlinson, Spender, Jones, Pearson, Jellyman, Rutherford, Hulbert (Boyd 76), Bond, Logan (Kamara 63), Shaw, Walker. Subs not used: Dougdale, Cook, Sheridan, Bayliss.
Chester City: Danby, Roberts, Flynn, Ryan, Ashton, Kay (Owen 80), Barry, Kelite, Wilkinson (Ellams 70), Beesley (Kelly 90), Coulson. Subs not used: Murphy, Lea, Maynell.
Referee: Ross Joyce (Middlesbrough).



Chester and Barrow must meet again at Deva Stadium on Tuesday night for the right to play Eastleigh in the first round of this season's FA Cup competition. Both managers will look back on missed chances that cost their sides an outright victory but a draw was probably a fair outcome on the day at a wet and windy Holker Street.

Manager Jim Harvey made two changes from the side that impressed at Gateshead last week, in came Adam Kay for Michael Lea and Ben Wilkinson for the injured Gregg Blundell.


It was the hosts who had the better of the early stages, Jason Walker and Andrew Bond both saw long range efforts go wide before John Danby was well placed to save an effort from on-loan Carlisle striker Jon Shaw. At the other end Adam Kay saw an effort tipped over the bar from Bluebirds 'keeper Simon Tomlinson as City countered quickly.

City opened the scoring on 16 minutes through Jonathan Flynn. Tomlinsopn failed to collect an Anthony Barry left-wing free-kick that held up in the wind, leaving Flynn to head home from close range in only his second game for the Blues.
The home side continued to create chances though and Simon Spender went closest when he saw a long-range free-kick flash over Danby's bar, while Danby also produced a smart save to deny Logan.

The final effort of the half fell to Mark Beesley, who after creating an opening for himself shot weakly at Tomlinson who was able to save with ease.

Shaw had a great chance to level matters in the opening stages of the season period but he blasted wide when well placed.

Chances were now falling to either side. Ex-City midfielder Paul Rutherford shot over the bar after a run from the half-way line after winning the ball on half-way and weaving his way to goal and moments later at the other end Michael Coulson missed a great effort to double the lead when he screwed a shot wide in a one-on-one with Tomlinson.

That miss was to prove costly as the home side drew level moments later on 65 minutes as Rutherford fired home from 18 yards after Ben Wilkinson had been dispossessed, Danby had no chance in the City goal.

Good work from Neil Ashton on the counter attack produced another opening for Coulson minutes later, after controlling the ball the on-loan Barnsley striker forced a good save out of Tomlinson. He was in the action again just three minutes later though this time his shot flew just wide of the right hand post. Both sides were looking for the winner. Shaw produced another fine save from Danby who pushed his dangerous shot away for a corner.


City were on the back foot for the closing stages, Malvin Kamara and Boys both posed questions of Danby but City held their line and the clubs must start all over again on Tuesday night.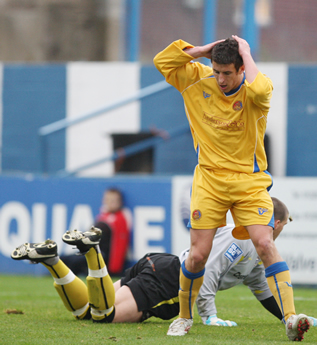 Picture © Evening Leader

• More pictures


---
Saturday 17 October
Gateshead 0 Chester City 1

Football Conference
Attendance: 631 (78 Chester) Half Time 0-0
Booked: -.

Gateshead: Farman, Williams, Curtis, Swailes, Cave (Mackay 80), Phillips (Baxter 62), Gate, Francis, Winn (One 61), Clare, Armstrong.
Subs not used: Provett, McDermott.
Chester City: Danby, Roberts, Flynn, Ryan, Ashton, Coulson (Ellams 92), Keltie, Barry, Lea, Blundell (Wilkinson 50 (Kay 91)), Beesley. Subs not used: Murphy, Owen.
Referee: Jeremy Simpson (Carnforth).



City turned in their best performance of the season as a second half Mark Beesley goal brought the double over Gateshead and the first away victory for the Blues this season.
Manager Jim Harvey selected both new loan signings Jonathan Flynn and Michael Coulson in his starting X1 to replace the suspended pair of Glenn Rule and Nick Chadwick, both red-carded last Saturday. The home side also included two loan players on debut, ex-City favourite Daryl Clare and Peter Winn.
City got off to a tremendous start and would have opened the scoring in the first minute through Anthony Barry had the home 'keeper Paul Farman not produced an excellent save from his long range curling shot.
Farman was again in the action midway through the half turning a Beesley shot round the post after he'd nutmegged James Curtis.
The home side offered little in the opening half though Michael Lea did head off the line to deny Winn a debut goal following an Alex Francis corner.
On the stroke of half-time good approach play from Gregg Blundell and Beesley set up Coulson whose rising effort, sliding in at the far post, hit the crossbar.
City started the second period in the same fashion as the first as Beesley brought out another fine save from the over-worked Farman when a goal looked inevitable.
Blundell shot wide and Kevin Roberts sent a free-kick just over the bar as City pressed for the opener and it duly arrived on 57 minutes as Beesley turned home a loose ball from close following another shot from Barry that wasn't cleared by the home defence.
With the lead secured City began to sit-back and invite the home side back into the game. Curtis headed over while Clare pulled a shot wide after turning his marker in the box.
Substitute Armand One sent a 25-yarder across the face of goal and just past the far post as the home side ended with a flourish.
The City defence held firm though to sent the 78 travelling support home happy.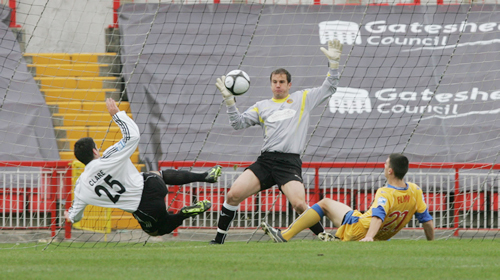 • More pictures | Conference table
---
Saturday 10 October
Chester City 0 Rushden & Diamonds 1

Football Conference
Attendance: 1,089 (123 Rushden) Half Time 0-1
Booked: Keltie. Sent-off: Rule, Chadwick.

Chester City: Danby, Rule, Platt, Ryan, Ashton, Wilkinson (Roberts 62), Barry, Keltie, Lea, Blundell (Chadwick 61), Beesley. Subs not used: Murphy, Owen, Kay.
Rushden & Diamonds: Abbey, Corcoran, Osano, Stuart, Robinson, Cousins (Pattison 78), Terry, Porter, Tomlin (Reid 90), Farrell, O'Connor (Akurang 75). Subs not used: Roberts, Byrne.
Referee: R.Clark (Northumberland).


Jim Harvey's first game in charge of City ended in defeat as the Blues lost by a solitary goal to Rushden & Diamonds at Deva Stadium. The new boss watched from the main stand as he served the last of a three match touchline ban picked up from his days at Forest Green Rovers. To compound City's problems two players, Glenn Rule and Nick Chadwick were red-carded by an over fussy referee and will both now serve three match automatic bans.
Harvey sprung a surprise before the first whistle by starting with Nick Chadwick and Kevin Roberts on the bench. Coming in to replace them were Mark Beesley, back at Deva Stadium on loan from Cambridge, and youngster Kristian Platt. Captain Tim Ryan was available after serving a one match ban at Hayes & Yeading.
Chester couldn't have got off to a worse start falling behind after just four minutes. Diamonds Jamie Stuart had already posed problems for City heading wide before the visitors were awarded their third corner kick on the right. Lee Tomlin played a one-two with Paul Terry from the flag kick and cut along the edge of the City box before unleashing an unstoppable shot past John Danby.
The lively Beesley worked an opening but shot wide as City looked to counter the early Rushden pressure. City's best chance in the opening period fell to Ben Wilkinson. Good approach work from Gregg Blundell and Beesley set up the youngster with just Nathan Abbey to beat but he could only shoot straight at the keeper.from just inside the box.
That was a rare opportunity though as the visitors looked more likely to double their advantage in the opening 45. The dangerous Tomlin forced another fine save from Danby and Aaron O'Connor should have done better when he blasted high and wide after Platt had slipped.
City started the second period as they had the first, on the back foot. Aaron O'Connor thought he'd won a corner after seeing his shot blocked and at the other end Beesley was denied by Curtis Osano in front of a sparsely populated Harry McNally Terrace.
On the hour mark the Blues were reduced to ten men. Tomlin and Rule scrapped for a loose ball and as the opposing midfielder shielded the ball on the ground Rule put a foot in trying to retrieve it. Referee Clark saw this as dangerous play and gave the young defender a straight red card.
Reduced to ten men, Harvey took the opportunity to reshuffle his pack. On came Chadwick for Blundell and Roberts for Wilkinson. City immediately appeared more of a threat up front with Chadwick and Beesley linking well.
Ten minutes from time that threat was eradicated as referee decided to wield another red card. Chadwick chased down a long through ball and as Abbey came out to collect the the two clashed and City were reduced to nine men.
There was no coming back now for City as the visitors played out the final ten minutes before referee Clarke called and end to the game and left the field knowing in no uncertain terms what the home faithful thought of his performance.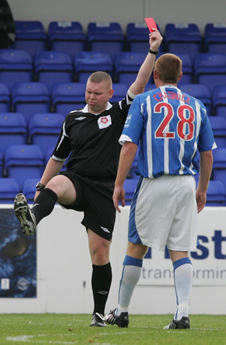 • More pictures | Conference table
---
Saturday 3 October
Hayes & Yeading United 0 Chester City 0

Football Conference
Attendance: 351 Half Time 0-0
Booked: Rule, Keltie, Chadwick.

Hayes & Yeading United: Overland, Mulley, Cadmore, El-Abd, Green, James (Fraser-Allen 67), M.Canham, Marwa, Binns, Fitzgerald, S.Canham (Daly 86), Fraser-Allen (Mehmet 90). Subs not used: Baker, Gradwell.
Chester City: Danby, Rule, Kelly (Platt 54), Roberts, Ashton, Barry (Ellams 78), Keltie, Kay (Wilkinson 69), Lea, Blundell, Chadwick. Subs not used: Murphy, Owen.
Referee: Mathew Mclaughlin (Bedfordshire).



This match was a stark reminder of how far City have fallen down the football pyramid. I'd never have thought there'd be so few fans wanting to watch the Blues that both the home and away supporters could use just a single turnstile.
For Chester fans it didn't really improve from there. Stand-in manager Tim Ryan was himself suspended for the game, with Glenn Rule, Anthony Barry and Gregg Blundell making the starting line-up following the home defeat by Forest Green.
City started with the wind behind them and did put on some early pressure. The first decent goal opportunity fell to Barry, whose volley was tipped round the post by United goalkeeper, Simon Overland.
Barry came close again after some neat work by Adam Kay gave him a great sight on goal. Barry's 20-yard strike just failed to dip in time and this time the crossbar was Overland's saviour.
The attention almost immediately switched to the other end when Kevin Roberts tripped Scott Fitzgerald in the penalty box on the 28th minute and diminutive referee Matt McLoughlin blew for a penalty.
But Sean Canham delivered a penalty in the style of Kevin Noteman at Middlesbrough . It was so high it must have almost troubled the flight path of planes taking off at nearby Heathrow!
The game really seemed to be swinging Chester 's way when United's Ram Marwa was given a straight red for fouling City's on-loan player, Clark Keltie. But they failed to capitalise on their advantage in the 12 minutes left before the referee blew for half-time.
The break for half-time gave City fans another reminder of the level the team are now playing at – for the fans of both teams swapped ends at half-time. I can barely remember that being permitted during our last spell in the Conference. But the attendance of just 351 – with perhaps 70 City fans included, said it all.
The second half saw City lacking the ability to finish on several occasions – typified by a golden opportunity for an unmarked Nick Chadwick, who somehow managed to head the ball over from three yards out.
Not long after that the game was almost gifted to Chester on a plate when the referee sent off Fitzgerald after he floored Neil Ashton. Including injury time, City now had 20 minutes to play against a team of nine part-timers!
But the first chance to score after the second red card actually fell to Hayes and Yeading. First a chest back to John Danby from Ashton led to the keeper having to tip the ball round the post for a corner. Then the corner led to a header which hit the crossbar. City were living dangerously.
They finally put the pressure on in the last 10 minutes, but they just couldn't get the ball into the net. One melee in the box saw a United defender clear the ball off the line. A later chance saw Overland make a great save from a goal-bound Wilkinson shot.
After four minutes of injury time, the referee blew to leave City counting their missed opportunities for a much-needed victory. Those City fans who did make the trip will know what they are likely to expect next season. It's looking like we're going to have to get used to sub-1,000 crowds and swapping ends at half-time.
•
Conference table
---