---
Saturday 31 August
Wrexham 0 Chester 2

Conference Premier
Attendance: 6,037 Half Time 0-2
Booked: Mills, Chippendale, N.Turner. Sent-Off: A.Williams.
Wrexham: Mayebi, Ashton, Thornton (Ogleby 74), Creighton (N'Tame 40), Clarke, Bishop, Ormerod (Anyinsah 59), Tomassen, Hunt, Evans, Reid. Subs not used: Coughlin, Morrell.
Chester: Danby, Kay, L.Turner, Higginbotham (Chippendale 68), N.Turner, Harrison, McIntyre, Mills, Titchiner (Seddon 69), Laidler (A.Williams 45), Linwood. Subs not used: Horan, Reed.
Referee: Wayne Barrett (Worcestershire).



After five straight defeats, Chester's season is up and running following a sensational 2-0 victory at arch-rivals Wrexham, their first league win at The Racecourse since 1978. Captain for the day Paul Linwood led from the front, heading the Blues in front after just five minutes, and the Turner twins combined as Lewis added a second decisive goal following Nathan's persistent work, to seal the victory.
The Blues defence was boosted with the arrival of Danny Higginbotham in the week and his presence was one of three changes made by Neil Young who also recalled John Danby and Linwood. Making way for the trio were George Horan, Lee Pugh and Martin Fearon.
Chester, roared on by a bussed-in following of around 800, started well with Lewis Turner seeing a shot blocked after meeting Ben Mills' cross with a fine volley. Less than a minute later though the Blues, in purple, grabbed the lead. A free-kick on the right went sent over by Jordan Laidler to be met by the head of Linwood who powered an unstoppable effort past Joslain Mayebi in the home goal at the Kop End.
Twelve minutes later the Chester support was in dreamland as the Turner twins combined to add the second goal. Receiving the ball from a throw-in Nathan Turner took it to the byline before turning past Robbie Evans, he pulled the ball back to Lewis who poked it home inside the near post from eight yards out.
At the other end Wrexham, came more into the game and forced some corners but the determined Chester defence, learning from their failings in the opening matches, dealt with the set pieces without too many problems.
There were loud appeals for a penalty by the home support on 32 minutes as Linwood charged down a Bradley Reid shot after a corner had found him at the far post but referee Wayne Barrett waved play-on to the relief of the away support behind the goal.
Substitute Junior N'Tame, on for the injured Mark Creighton, found himself unmarked from another Wrexham corner but he sent his header wide and Danby saved from Brett Ormerod as the half drew to an end.
Wrexham upped the pressure after the restart forcing several corners. Rob Ogleby was a header go just over and the same played shot well wide as The Dragons looked to reduce the deficit, but despite forcing a large number of corners, Danby was hardly troubled.
Manager Neil Young made two changes bringing on Aidan Chippenndale and Gareth Seddon for Higginbotham and Alex Titchiner both of whom had played a major role.
Seven minutes from time Chester were reduced to ten men after substitute Ashley Williams was shown a straight red card for pushing Reid in the face, the midfielder could have no complaints about the decision and now faces a three match ban. Despite the numerical disadvantage, Chester held firm until the end for the remaining minutes to secure their first win and clean sheet of the season.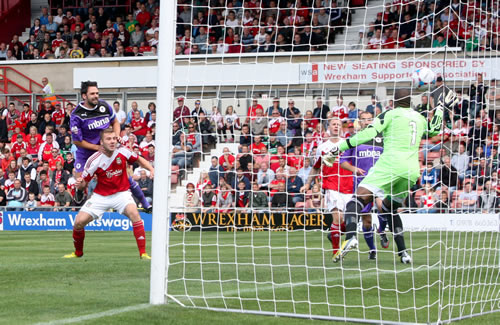 Picture © Rick Matthews (Chester Leader)

• Table after this match | More pictures | In the bubble - Exile Adrian Lee's view of the matchday experience
Rate Chester's performance
---
Monday 26 August
Chester 1 Forest Green Rovers 2

Conference Premier
Attendance: 2,083 (91 Forest Green Rovers) Half Time 0-1
Booked: Laidler, McIntyre, Pugh.
Chester: Fearon, L.Turner, Kay, Horan, Pugh, N.Turner, Harrison, McIntyre, Laidler (Lindfield 68), Titchiner (Reed 78), Mills. Subs not used: A.Williams, Linwood, Chippendale.
Forest Green Rovers: Russell, Hodgkiss, Stokes, Bangura, Bennett, Norwood, Klukowski, Wright (Barnes-Home 68), Oshodi, Barry (Vieira 90), Kelly. Subs not used: Asafu-Adjaye, Bulman, Williams.
Referee: Anthony Blackhouse (Brampton).



Chester's woeful inability to defend set pieces continued at home to Forest Green Rovers this afternoon. Pugh's miscued clearance missed the top corner of the City goal but conceded a corner on six minutes. Burly ex-Wrexham forward Danny Wright nodded home with ease from the kick.
City after a feisty start in which Tichener went close had the wind taken out of their sails. Gradually they recovered and began to ruffle the visitors. Ben Mills put himself about to good effect and Tichener chased the ball down well but Russell in the Rovers goal was hardly tested.
Forest Green, with their wealthy backing have been described as the "Man City of the Conference". It's a shame they didn't bring similar levels of support. Though they brought three coaches – at least half of the occupants must have gone shopping instead of watching the match.
Tempers began to fray as City's frustration got the better of them. Pugh was booked for scything down Wright, and Laidler quickly followed for a trip. Chester fans, were frustrated too by the ref's seeming leniency to several robust challenges from the visitors.
Rovers, whose lurid shirts matched the ball boys' "day glo" tabards exactly, almost doubled their lead following Laidler's caution as a free kick to the far post was flicked on and Bennett failed to ram home the loose ball.
The play became even more fragmented and fretful after the break. Forest Green manager Hockaday blamed the state of the pitch for being "too sticky" but neither side played the ball around much. As with other games this season this was a predominantly physical encounter and City were struggling in most areas. Horan received lengthy treatment after being grappled to the floor by Bennett. Oshodi was finally booked following a clattering challenge on Mills and the referee seemed on the verge of losing control as more squaring up took place at an FGR free kick.
Danger man Barnes-Homer replaced Wright for Rovers and took just five minutes to open his account and double the advantage for forest Green when he headed home at the far post from a corner.
City replied by throwing on Lindfield and Reed and grabbed a lifeline when, following a McIntyre free kick the ball broke free in the area. Oshodi's clearing header went backwards and Millis nipped in to nod over Russell. It was just reward for City's efforts but did little in the end to alter the result of the game. Chester once again were comfortably beaten.
It's been a torrid start to the season for all concerned at the club and difficult to see what can be done to turn fortunes around. Neil Young hopes to sign another central defender before next Saturday's derby at the Racecourse. They certainly need to learn to defend corners better and build from the back.

Colin Mansley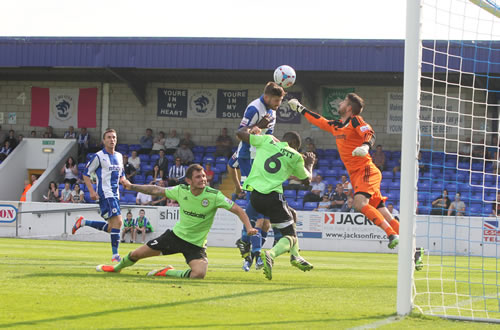 Picture © Rick Matthews (Chester Leader)
• Table after this match | More pictures
Rate Chester's performance
---
Saturday 24 August
Kidderminster Harriers 3 Chester 1

Conference Premier
Attendance: 2,283 (396 Chester) Half Time 2-1
Booked: Seddon.
Kidderminster Harriers: Lewis, L.Vaughan, Dunkley, Gowling, Demetriou, Fowler (Jackman 77), Storer, Gittings, Malbon (Lolley 61), Gash, Johnson (Dance 61). Subs not used: N.Vaughan, Byrne.
Chester: Danby, L.Turner, Kay, Linwood, McIntyre, A.Williams (Chippendale 87) N.Turner, Harrison, Laidler (Reed 81), Titchiner, Seddon (Mills 73). Subs not used: Horan, Pugh.
Referee: Rob Whitton (Essex).

Chester's pointless season continued after their outing at Kidderminster saw them lose 3-1 despite a more determined performance against one of the League favourites.

Neil Young make four changes, including leaving captain George Horan on the bench and putting new Sunderland loan-signing Jordan Laidler in the starting line-up.

The Blues were supported by 396 travelling fans making themselves well heard in the terrace behind the goal, and creating an encouraging atmosphere for the away side. It was a game that really did have a familiar feel about it.

Chester started brightly enough, but didn't really have a serious attempt on goal until an Alex Titchiner shot was saved by goalkeeper Daniel Lewis. Then came another all-too familiar occurrence – when Kevin McIntyre left the ball thinking it was going out for a goalkick. But the referee signalled for a corner and Josh Dowling was unmarked when his header found the net.

Chester were the caught napping on the 44th minute when a poor clearance fell to a Kidderminster player, who passed for Marvin Johnson to make it 2-0 to the home side.

But the Blues fans soon had their own goal to cheer when a Lewis Turner cross found the head of Danny Harrison and he registered Chester FC's first goal in the Conference Premier with just seconds left for half-time.

It was then we discovered there'd been a few changes at Aggborough since our last visit. There was no more vast stir fry on offer in the catering huts – instead it was more traditional fayre of soup and cottage pie. A bit too warming for summer!

The first 20 minutes or so of the second half saw few – if any chances – for either side. Young left it until the 75th minute before making a change, when he bought on Ben Mills for Gareth Seddon. Mills seemed to have more of a presence, but didn't come any nearer to scoring.

Jamie Reed replaced Laidler on the 80th minute and new loanee Aidan Chippendale was given his chance on the 86th minute. Chester pressed forward for a point, and just when everyone was forward, Kidderminster scored their third goal. A great through pass split the Chester defence and Joe Lolley scored with the almost the last kick of the game.

While there's no doubt that Harriers deserved to win, it was another scoreline which made the Chester performance sound worse than it really was. The Blues do seem to be finding their feet in the Conference, but it seems to be taking a while for them to secure that first win. The fans may have to remain patient for some time yet.

Sue Choularton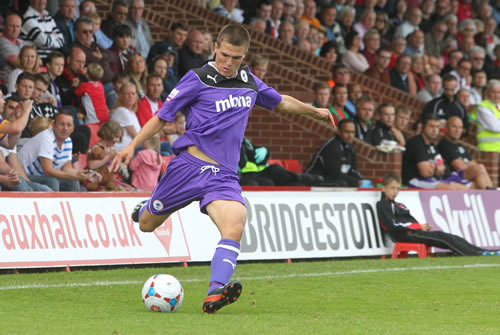 Picture © Rick Matthews (Chester Leader)
• Table after this match | More pictures
Rate Chester's performance
---
Saturday 17 August
Chester 0 Woking 2

Conference Premier
Attendance: 2,016 (76 Woking) Half Time 0-0
Booked: -
Chester: Danby, L.Turner, Horan, Linwood, Heath (Reed 67), Jarrett (Mahon 54), Lindfield (Titchiner 61), Harrison, N.Turner, McIntyre, Seddon. Subs not used: Pugh, A.Williams.
Woking: Howe, Newton, Johnson, Parkinson, Nutter, Ricketts, Payne, Betsy, Sawyer (Frith 90), Williams (McCallum 78), Ladapo (McNerney 54). Subs not used: McNamee, Beasant.
Referee: Jason Whitely (Leeds).

Chester suffered their third straight defeat of the season as two second half goals from Woking, reduced to ten men at the time, were enough to inflict another home reverse.
Defender Michael Kay missed the game through suspension and Blues manager Neil Young made three changes from the squad beaten at home to Hereford in midweek. In came Jamie Reed, Craig Mahon and on-loan striker Alex Titchiner at the expense of Martin Fearon, Marc Williams and Ben Mills.
After a slow start the first chance of the game went to the visitors who saw Mark Ricketts rob Jason Jarrett of possession and send Freddie Ladapo through one-on-one with John Danby, but the Chester shot stopper came out on top. A long-range effort from Kevin Betsy skimmed past Danby's post as Woking continued to press the Chester defence.
As the half wore on Chester came more into it and both Craig Lindfield and Gareth Seddon were unable to control the ball following nathan Turner through balls. On the stroke of half time the visitors were reduced to ten men as Josh Payne, who had just seen an effort fly wide, received a straight red card following an altercation with Nathan Turner.
Gareth Seddon saw a header hit the post just after the restart with defender Paul Linwood sending his follow-up effort high over the bar.
Despite their one man disadvantage Woking took the lead in the 58th minute. as Gavin Williams picked up a Kevin Betsy, pass and sent a superb 25-yarder into the corner of the net, giving Danby no chance.
Things went from bad to worse four minutes later as Joe McNerney doubled Woking's lead heading home John Nutter's cross from six yards put.
Aaron Howe was well placed to save a header from substitute Titchiner as Chester looked to get back in the game. Seddon also saw an effort clawed away by Howe and Kevin McIntyre saw a free kick come back off the bar in the closing minutes but the visitors comfortably held out to claim their first three points of the season.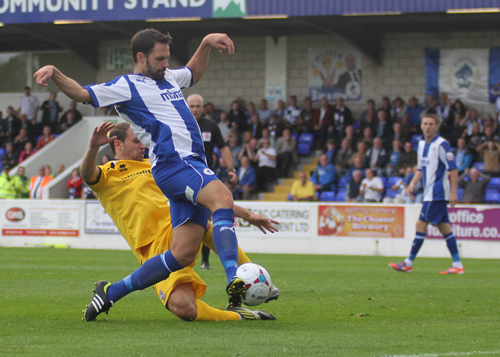 Picture © Craig Colville (Chester Leader)

• Table after this match | More pictures
Rate Chester's performance
---
Tuesday 13 August
Chester 0 Hereford United 2

Conference Premier
Attendance: 2,900 (271 Hereford United) Half Time 0-1
Booked: Kay, McIntyre. Sent-Off: Kay.
Chester: Danby, L.Turner, Kay, Horan, McIntyre, Lindfield (Jarrett 60), N.Turner, Harrison, Mahon (Linwood 52), M.Williams (Reed 58), Seddon. Subs not used: A.Williams, Heath.
Hereford United: Evans, Leadbitter, Purdie (Artus 75), Smith (Sharp 75), James, O'Keefe, Rankine, Graham, McDonald, Bush, Walker (Pilkington 83). Subs not used: Collins, Edwards.
Referee: Richard Martin (Weston-super-Mare).

Michael Kay was sent off on his home debut as goals either side of the break saw Chester suffer defeat at the hands of Hereford United.
Manager Neil Young made three changes from the side that started the season at Barnet on Saturday. In came Marc Williams, brothers Lewis and Nathan Turner at the expense of Jamie Reed, Jason Jarrett and Paul Linwood who all started on the bench.
Chester, attacking the home end, started brightly creating two opportunities. Craig Lindfield shot over from long range and Craig Mahon headed onto the roof of the net following good work from Lewis Turner. Nathan Turner then produced a comfortable save from Rhys Evans in the Bulls goal.
Chris Bush forced a save from John Danby who needed two attempts to gather his effort before Michael Kay was booked for a foul on Dan Walker. Sam Smith put the the ball in the net for the visitors soon after, after Michael Rankine had beaten George Horan, but saw his effort ruled out for offside.
Lindfield should have done better eight minutes before the break but took too long over a goalscoring opportunity and Danny Leadbitter blocked his effort.
Hereford took the lead in first half added-time. A corner from Rob Purdie sailed over the Blues defence to Luke Graham who looped a header over John Danby into the net.
Worse was to follow five minutes after the restart as Kay received his second yellow card of the game for another foul on Dan Walker. The resulting free-kick from Kingsley James was turned home by Smith.
Young rang the changes bringing on Linwood, Reed and Jarrett (for Mahon, Williams and Lindfield) and Reed only just missed connecting with a Kevin Mcintyre cross as Chester tried to reduce the arrears.
The Bulls who almost added a third moments after McIntyre found himself in the referee's book. Chris Bush's long-range effort was spilled by Danby but Smith could only turn the loose ball onto the crossbar.
Hereford looked the more likely to score in the closing stages with both Rankine and Chris Bush forcing fine fingertip saves from Danby.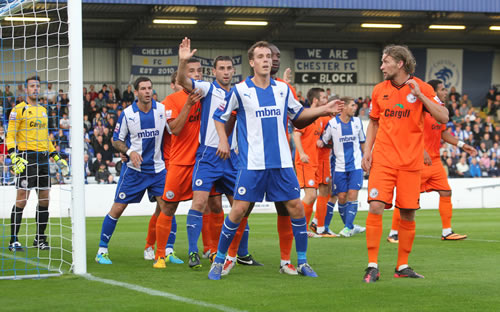 Picture © Rick Matthews (Chester Leader)

• Table after this match | More pictures
Rate Chester's performance
---
Saturday 10 August
Barnet 3 Chester 0

Conference Premier
Attendance: 2,543 Half Time 0-0
Booked: Horan, Jarrett.
Barnet: Stack, Yiadom, Stephens, Saville, Johnson, Casabella, Weston, Byrne, Gambin (Mengerink 77), Marsh-Brown (Villa 68), Hyde (Crawford 83). Subs not used: Vilhete, Jupp.
Chester: Danby, Kay, Horan, Linwood, McIntyre, Lindfield, Harrison, Jarrett (N.Turner 68), Mahon (M.Williams 83), Seddon, Reed (Mills 61). Subs not used: Fearon, L.Turner.
Referee: Nick Kinseley (Essex).

So this was it – the Blues really were back! All the 800 Chester fans making their way to Barnet's smart new stadium, aptly-named The Hive, had a real sense of anticipation with their team about to make their debut on the national football scene.

The travelling supporters certainly went out of their way all afternoon to make back their team, and it seemed to have the desired effect for the first 30 minutes. Chester arguably had the best of the opening spell, with chances for both Gareth Seddon and Danny Harrison.

The billiard table playing surface certainly made for good football and it was great to see Chester and Barnet, managed by ex-Dutch star Edgar Davids, trying to pass the ball around the park.

Barnet's tricky Keanu Marsh-Brown was their standout player in the first half. And he laid on a good cross for Curtis Weston, followed by a shot himself. But Marsh-Brown, who was marking his birthday, was not able to make an early start to his celebrations as John Danby was able to parry his strike away.

Seddon had another shot, following a Kevin McIntyre throw-in, but it was easily managed by Barnet's much-travelled goalkeeper, Graham Stack. Some of the Chester midfield were looking like they were a bit be-dazzled by the impressive surroundings of Barnet's new home. Jason Jarrett started well, but later was often caught a yard off the pace by the full-timers.

Come the second half, and the full-time footballers soon gained the upper hand. In fact, it was 1-0 to Barnet inside a minute when the Chester defence were caught napping. A good move by Barnet resulted in Luke Gambin slotting it into the corner of the net.

The Chester support didn't quieten though, and a number of blue smoke bombs found their way onto the pitch to add to the atmosphere. Chester were shooting towards their fans by now, but never quite had the killer shot on target.

The closest they came was when a Paul Linwood header was cleared off the line by a stretching Stack with nearly an hour on the clock. And not long after, the action was at the other end again when Jake Hyde found himself on the end of a good cross to put the home side 2-0 up.

There was no way back for the Blues, who were actually clad in their new purple away kit, on the 73rd minute when Hyde did well to lift the ball over Danby into the net. Chester did have another chance to score with a goalmouth scramble towards the end of the game, and it was a shame the away fans did not get a consolation for their vocal support. But the score remained at 3-0.

This was Chester's welcome to the Conference, and I'm sure they learned a lot from it. We must hope the lessons will soon bear fruit, and their fabulous support stays with them in the meantime.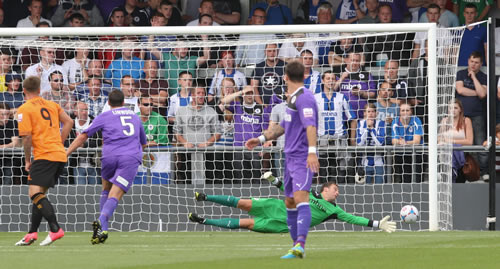 •
Table after this match
More pictures
Rate Chester's performance
---