---
Saturday 26 October
Chester 0 Gateshead 1

FA Cup 4th Qualifying Round
Attendance: 1,132 Half Time 0-0
Booked: Kay, A.Williams.
Chester: Danby, N.Turner, Killock, McIntyre, Higginbotham, L.Turner, Lindfield (Horan 87), Kay (A.Williams 56), Titchiner (Jarrett 45), Reed, Seddon. Subs not used: Heath, Fearon.
Gateshead: Bartlett, Chandler, Curtis, Clark, Larkin, Turnbull, Hatch, Baxter, Marwood, Ramshaw (Magnay 74), Sirrell. Subs not used: Brodie, Cummins, Boyes, Baird, Brown, Tait.
Referee: Wayne Barrett (Worcestershire).

The game and Chester's FA Cup fate was decided by a stunning strike form Gateshead centre back Curtis who lashed a high volley into the back of the net from the edge of the box with a quarter of an hour to go. In general it had been a dull game up to this point but this goal was worthy of winning the final.
It was hard to see City coming back to win once they had conceded – they have found scoring hard to come by in recent weeks at home – their last success was against Macclesfield last month. The best we could hope for was a replay. Killock, making his debut on loan from Leeds came closest with a well-directed header from Higginbotham's cross but Bartlett in the visitors' goal was alert to the threat and caught the effort on the goal line.
Warning signs came early for City who reverted to a straight back four in defence, presumably the experiment with three at the back was discarded after last weekend's defeat at Braintree. The 'Heed managed to slice through in the opening minutes anyway as James Marwood, son of Arsenal stalwart Brian, played a neat one two and ran clear only to stroke his shot wide of the goal. City's midfield struggled to compete, the outlet of wingbacks was stifled by reverting to the old formation and the Blues continue to lack a playmaker or two in the centre who can carry the play to the opposition. The forwards become isolated and long balls from defence come straight back.
Things improved for a while after the break. Jarrett replaced Tichiner and Seddon and Reed threatened briefly but City could not sustain the pressure for long and it was Gateshead who gained the territorial advantage; who were stronger on the ball and who forced a succession of corners from which Curtis' winning goal came.
At times during the game when the sun broke through, the floodlights were on and the light reflected off the Heed's day-glow yellow kit, they dazzled the spectators. They certainly outshone a feeble City on this showing.
It's hard to see where Chester go from here. The gains made from shoring up the defence and maintaining clean sheets against tough opponents seem to have evaporated over the last two games. After the game, Neil Young spoke about strengthening the squad with loan signings. Ben Mills has already been moved on to make way. Young can be under no illusions about the size of the task ahead this season. The old adage about concentrating on the league now that we are out of the cup comes to mind – but it looks like re-enforcements are needed.

Colin Mansley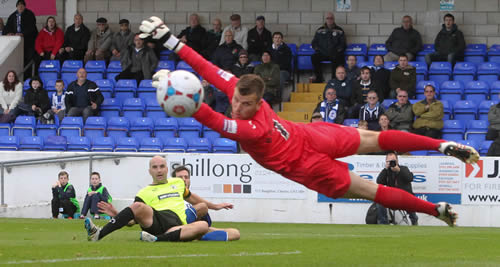 Picture © Rick Matthews (Chester Leader)
Rate Chester's performance
---
Saturday 19 October
Braintree Town 3 Chester 0

Conference Premier
Attendance: 1,132 Half Time 3-0
Booked: N.Turner, L.Turner. Sent-off: Linwood, Pugh.
Braintree Town: Town: McDonald, Griffiths, Habergham, Wells, Massey, Isaac, Paine, Sparkes, Mulley (Daley 71) Marks (Cox 77), Strutton (Holman 80). Subs not used: Enver-Marum, Hamann.
Chester: Danby, Kay (Seddon 46), Horan (Higginbotham 46), Linwood, Pugh, Harrison, L.Turner, McIntyre, N.Turner, Titchiner (Williams 62), Reed. Subs not used: Heath, Mills.
Referee: Colin Lymer (Hampshire).

I have to confess this was about my personal low point in life as a Chester FC fan. Despite just one change from a team which picked up a point against high-flying Cambridge, Chester somehow crumbled against Braintree Town.

I'd barely got used to the surroundings of the ramshackle Amlin Stadium when an early Braintree attack saw the ball go to a free Charlie Strutton. The on-loan striker took advantage of his good fortune and shot past John Danby to make it 1-0 after just five minutes.

And less than 60 seconds went by before he was on the scoresheet again. This time Strutton collected the ball in midfield and he had time to make an unstoppable strike to put Chester two goals behind with just six minutes on the clock.

John Danby showed his frustration when he picked the ball up from the back of the net and thwacked it back in before the re-start. I knew how he felt. It was hard to be positive after that start, and Chester continued to make little impact throughout the rest of the game.

It got even worse on the 28th minute when Braintree captain Dean Wells hit the ball in from a corner. By now the match was clearly over, and Chester had a couple of first half chances in the shape of a Jamie Reed header and an Alex Titchiner shot.

The travelling Chester fans gathered behind the goal in the hope of seeing a second half Chester goal as the sun began shining in Essex. But their hopes were soon dashed when Paul Linwood was sent off for a foul on Strutton on the 57th minute.

It was hard to know how life could get any worse, and a good Danby save from another Strutton strike helped prevent a total embarrassment for Chester. However, Lee Pugh was sent off the 82nd minute for a reckless challenge in the middle of the field to complete the afternoon's misery. It was a long way home from Essex, and that Chester performance made it seem almost endless.
Sue Choularton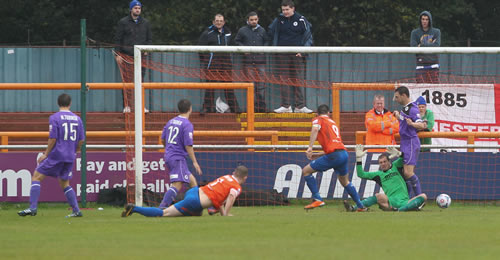 Picture © Rick Matthews (Chester Leader)
• Table after this match | More pictures
Rate Chester's performance
---
Saturday 12 October
Chester 0 Cambridge United 0

Conference Premier
Attendance: 2,530 Half Time 0-0
Booked: Reed, N.Turner.
Chester: Danby, Kay, Horan (Higginbotham 54), Linwood, Harrison, Lindfield (N.Turner 59), McIntyre, L.Turner, Pugh, Reed, Titchiner (Seddon 72). Subs not used: Heath, McDonald.
Cambridge United: Maxwell, Taylor, Coulson, Miller, Champion, Elliott (Cunnington 60), Dunk, Tait, Hughes (Arnold 67), Berry, Appiah (Sam-Yorke 67). Subs not used: Bonner, Norris.
Referee: Anthony Backhouse (Cumbria).

Neil Young kept the same team that had won at Alfreton – and the same formation. This involved a back three with Kay playing in between Linwood and Horan; with Pugh and Lewis Turner given licence to push forward as wing backs. Chester began aggressively launching the ball in to the box from the wings – something that they weren't able to do earlier in the season. The unbeaten league leaders were pushed back on the defensive.

Cambridge showed resilience, however and quality in possession of the ball and applied pressure of their own. Elliott, the rangy forward playing in place of the prolific Cunnington, got behind the defence on a couple of occasions. Then Appiah tiptoed his way through a crowded penalty area and seemed certain to score until his low shot was instinctively saved by Danby.

Appiah had an even more clear cut chance after Cambridge were awarded a penalty for Horan's trip of Dunk as he broke into the area on the left. But the U's forward placed his spot kick wide of the goal and the Harry Mac celebrated as if Chester had scored.

After the break Horan succumbed to a shoulder injury to be replaced by Higginbotham with Linwood switching to the right. City were forced back on the defensive as Cambridge upped their game following a hilarious hokey-cokey warm up before the second half kicked off. But City stood firm and even after the visitors introduced Cunnington to the fray, they came no closer to piercing the Blues resolute defence.

Though Chester were on the defensive for much of the game, they discovered second wind as full time approached and Nathan Turner and Seddon provided fresh legs. The latter carved out a promising opening as he cut in from the left but his cross-shot flew across the goal. The home fans lifted the noise levels as they sensed a potential winner.

They would have raised the roof had it arrived but instead stayed to give the Blues a well-earned ovation for their display against an accomplished and well organised Cambridge outfit. Perhaps a win was too much to expect – we haven't beaten Cambridge at home since the first time we met them at Sealand Road in 1970.

Colin Mansley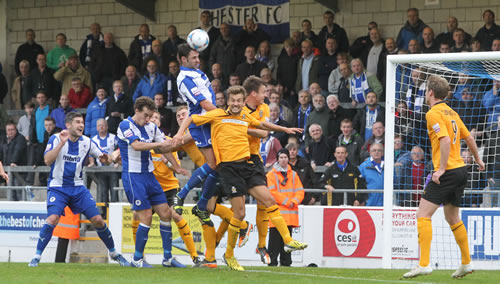 Picture © Rick Matthews (Chester Leader)
• Table after this match | More pictures
Rate Chester's performance
---
Tuesday 8 October
Alfreton Town 0 Chester 1

Conference Premier
Attendance: 743 Half Time 0-1
Booked: Danby, Linwood, Harrison.
Alfreton Town: Atkins, Wylde (Kempson 83), Franklin, Wood, Rowe-Turner, Bradley, McGrath, Shaw, Meadows (Law 70), Wishart (Akinde 55), Akinde. Subs not used: Kempson, Andrews.
Chester: Danby, Pugh (Heath 85), Horan, L.Turner, Kay, Linwood, Harrison, McIntyre, Lindfield (N.Turner 93), Titchiner, Reed (Seddon 89). Subs not used: Atkinson, Mills.
Referee: Adrian Holmes.

A first half goal from Jamie Reed brought Chester their second away victory of the season at Alfreton Town. It was a good night for many of the clubs at the wrong end of the table, as a result the Blues remain 22nd in the league but will have been encouraged by his performance coming on top of the home point earned against second placed Kidderminster on Saturday.
Danny Higginbotham missed the game with concussion so captain George Horan returned to partner Paul Linwood in the defence. There was a healthy contingent of away fans in the crowd of 743 and they saw an Alfreton side, who hadn't lost at home since April, begin strongly.
John Danby was called into action in the opening minute as he cleared a dangerous inswinging corner from under the bar. Minutes later Lee Pugh was well placed to clear the danger as Danny Wishart caused problems with his pace for the Blues rearguard.
After weathering the early home pressure Chester set about their hosts creating a chance themselves when good build-up play between Horan and Danny Harrison set up Craig Lindfield whose header was palmed out by Ross Atkins in the Alfreton goal.
There was an escape for Chester as a long range effort from Dan Bradley flew just wide and target man Job Ayo Akinde shot just over, before Horan cleared a John McGrath effort as the home side continued to press for the breakthrough.
The breakthrough did come on 34 minutes but it was Chester who found the net as Lewis Turner ran to the byline before crossing for Reed to power a header past Atkins for his first goal in Chester's colours.
Paul Linwood saw a header graze the bar as Chester looked to build on their lead. Danby was forced to save three times before the break but Chester held firm for the half-time lead.
So often this season Chester have started well but faded after the break, but tonight the Blues pressed for a second goal and weren't content to sit on what they had. Reed sent a header over from Michael Kay's cross and Lindfield just failed to connect with another effort.
The home side continued to press in the final stages but Chester held on to the delight of their 200+ following.
• Table after this match | More pictures
Rate Chester's performance
---
Saturday 5 October
Chester 0 Kidderminster Harriers 0

Conference Premier
Attendance: 2,223 (259 Kidderminster) Half Time 0-0
Booked: Kay, Reed.
Chester: Danby, Kay, Linwood, Higginbotham, Harrison, Lindfield, L.Turner, McIntyre, Pugh (Heath 83), Reed (Mills 85), Titchiner. Subs not used: N.Turner, McDonald, Atkinson.
Kidderminster Harriers: N.Vaughan, L.Vaughan, Jackman, Gowling, Grimes, Fowler, Storer, Gittings, Malbon, Morgan-Smith, Johnson (Byrne 68). Subs not used: Lewis, Dance.
Referee: Ross Joyce.



Another goalless draw at the Deva but this was no moribund stalemate as Chester more than held their own against high flying Kidderminster and were within a whisker of claiming all three points.

Titchiner in particular can count himself unlucky not to have opened his scoring account this afternoon. Three chances came his way in the second half. First, put through by McIntyre's exquisite pass, he twisted and turned Grimes before lashing a shot which crashed off the underside of the bar and back in to play. Reed could not quite convert the rebound. Later Titchiner shot over the bar at the end of a crisp move down the right.

Finally it was third time unlucky as the diminutive striker stabbed a cross which had eluded all the tall players around him, within a hair's breadth of the post with the 'keeper rooted to the spot. A goal for Titchiner would do wonders to restore his confidence one feels. He won't get much closer than today.

This was City's purple patch in the second half as they rattled the Harriers and had them pinned back. But the visitors were always strong and quick on the break and posed a constant threat, finishing the match strongly as the game swung from one end of the pitch to the other. Substitute Byrne headed Jackman's cross narrowly wide, Danby saved a piledriver at full stretch and City breathed a sigh of relief when the visitors had the ball in the back of the net but it was ruled offside.

Chester had grown in confidence following a first half when Kidderminster showed the quality that had got them high in the table but were restricted to few chances by disciplined defending. The Blues did enough to force some good positions but then the ball into the box was often lacking in quality.

There were signs that City are slowly turning the ship around. Reed's control and approach play impressed. Lewis Turner was indefatigable and the team as a whole did not fade as they had done in previous matches. While home fans were desperately disappointed not to be applauding a win, they stood to acclaim the Blues' efforts and a point gained at least.

Colin Mansley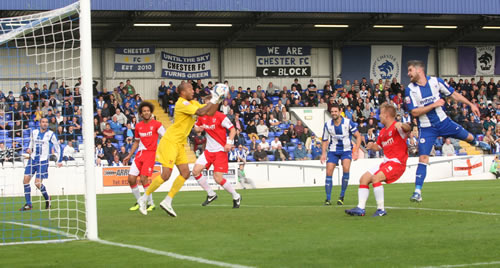 Picture © Rick Matthews (Chester Leader)

• Table after this match | More pictures
Rate Chester's performance
---