---
Saturday 28 December
Chester 1 Gateshead 1

Conference Premier
Attendance: 2,017 Half Time 1-0
Booked: Killock, Heath.
Chester: Danby, Turner, Horan, Killock, Heath, Menagh (McIntyre 76), G.Miller, Jarrett, Rooney, Reed (Peers 73), Titchiner. Subs not used: Kay, Mahon, A.Williams.
Gateshead: Bartlett, Baxter, Curtis, Clark, Sirrell, Turnbull, Chandler (Brown 66), Walker (Cummins 50), Oster, Marwood, Maddison (Hatch 33) Subs not used: Magnay, Ramshaw.
Referee: Peter Bankes (Liverpool).



Chester will look on this as two points dropped after they failed to convert their first half superiority into more than the one goal scored. Manager Neil Young made five changes from the side that drew at Southport on Boxing day. Ross Killock along with Lewis Turner returned from injury, Jason Jarrett returned from suspension, Joe Heath replaced Kevin McIntyre and Alex Titchiner came back to replace Tom Peers, who started on the bench.
Jamie Menagh had already tested Heed 'keeper Adam Bartlett in the opening couple of minutes before Killock, who has impressed during his loan spell from Leeds United, gave Chester the lead on ten minutes as he rose at the far post to head home a pinpoint left sided free-kick from John Rooney.
Chester continued to play at a high tempo with Titchiner's running causing problems for the Gateshead defence. George Miller and Jamie Reed all saw half chances go begging and Turner forced a fine save from Bartlett with a strike from the edge of the area.
Five minutes after the break Jarrett has an opportunity to double Chester's lead but his volley at the far post from eight yards out was hit high over the Harry Mac roof.
Gateshead began to show more and could have equalised on 52 minutes as substitute Liam Hatch saw his goalbound header cleared off the line by Miller, the ball came back out to Hatch but he screwed his shot wide.
On 67 minutes Chester were made to pay for their misses as they conceded an equaliser. Hatch sent a long ball through the Blues defence for James Marwood to race on to. John Danby appeared to come out of goal but hesitated and that gave Marwood enough time to drill the ball home into the bottom corner.
Both sides had chances in the closing ten minutes to snatch all three points, Titchiner was denied by Bartlett and George Horan powered a head just wide as Chester missed the better of them.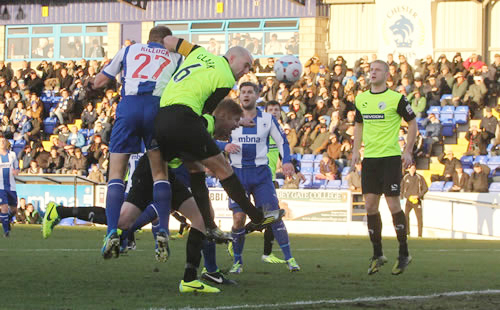 Picture © Rick Matthews (Chester Leader)

• Table after this match | More pictures
Rate Chester's performance
---
Thursday 26 December
Southport 0 Chester 0

Conference Premier
Attendance: 1,872 (703 Chester) Half Time 0-0
Booked: Horan.
Southport: Hurst, Smith, Willis, Akrigg, George, Milligan, Brown, Logan (Fitzpatrick 65), Almond (Abadaki 71), Brodie, Hattersley. Subs not used: Challoner, Hand, Rutherford.
Chester: Danby, Lindfield, Kay, Horan, McIntyre, Menagh, G.Miller, A.Williams, Rooney, Reed, Peers. Subs not used: Heath, Mahon, Titchiner, S.Miller, Fearon.
Referee: Ross Joyce (Cleveland).



Chester's improving team failed to take full advantage of their opportunities during their Boxing Day visit to the seaside, leaving them with another point for Christmas.
The best chance of the entire game came in almost the last kick of the match when Blues striker Jamie Reed blazed the ball way over the bar in a one-on-one with Southport goalkeeper Danny Hurst.
Chester had taken to the field without suspended Paul Linwood, Gareth Seddon and Jason Jarrett, and were also missing injured Danny Higginbotham. The omissions gave Neil Young chance to hand Tom Peers his first start in the line-up. And the youngster made a promising start, by making some threatening crosses as well as having a first half header saved by Hurst.
The Blues won several corners in front of their 703-strong away army. With John Rooney taking them, it was good to see them causing some real problems. A Michael Kay header from one of Rooney's corners was probably the best chance of the first 45 minutes.
The Chester fans had their attention distracted for a while in the first half when a group of the Southport stewards decided to fight amongst each other on the away terrace. It was the most exciting part of the match at that stage!
The second half saw the drizzle arrive and a chance for the Chester fans to goad Southport's much-travelled striker, Richard Brodie. There was some action at the other end though, with George Horan heading past from a couple of corners and a later free kick. There were also second half shots from Rooney, Peers, Kay, Ashley Williams and Jamie Menagh.
Horan was one of the match's stand-out performers, as he was commanding in defence, as well as coming close to getting his name on the scoresheet.
I was a bit worried that the goading of Brodie would result in him finding the net – especially when he started answering the Chester fans back. Sure enough, he did head the ball home – only to be declared offside by the assistant referee.
Reed's injury time miss meant that was actually the only time we saw the ball in the net, and the match finished with honours even. With Chester returning to fuller strength for the New Year's Day re-match, they should reflect on a performance which should mark them out as favourites for the reverse fixture.
Sue Choularton.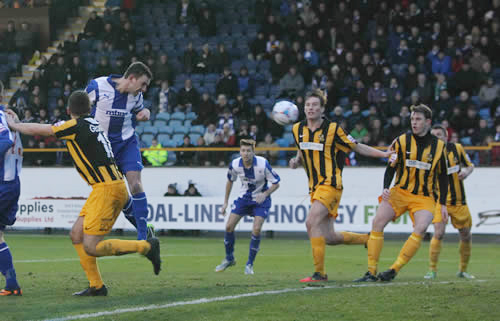 Picture © Rick Matthews (Chester Leader)

• More pictures
Rate Chester's performance
---
Saturday 21 December
Chester 3 Lincoln City 3

Conference Premier
Attendance: 1,850 Half Time 2-1
Booked: Rooney, Higginbotham, Kay, Jarrett, Horan. Sent-off: Seddon.
Chester: Danby, Kay, Horan, Higginbotham, Heath (McIntyre 90), Menagh (Peers 66), Rooney, G.Miller, Jarrett, Seddon, Reed (Lindfield 90). Subs not used: Mahon, A.Williams.
Lincoln City: Farman, Miller, Newton, Fofana (Robinson 60), Power, Wright (Rowe 65), Tomlinson, Sheridan, Dixon, Brown (Jordan 80), Foster. Subs not used: Ward, Preece.
Referee: Wayne Barratt (Bromsgrove).



"Jamie who?" we asked ourselves as Chester raced into a two-nil lead after only ten minutes. Jamie Menagh had been signed on non-contract terms at the start of the season and since then had been plying his trade with Prescot Cables. Now, on his Chester debut he was running amok amongst visitors Lincoln City. First he picked up a loose headed clearance from ex-Cestrian Sean Newton and drove the ball past Farman to give the Blues the lead. Then, two minutes later, he ghosted past two defenders from the right wing to fire a skimming left footed shot beyond the despairing Farman and just inside the far post. The Red Imps, playing in Lincoln Green did not know what had hit them. Neither did the home fans who were now in blue heaven.
Lincoln responded. A cross from the right was met with a looping header by Dixon and Danby was stranded, only able to palm the ball over the line as it came down off the bar. A level of niggling nastiness crept into the game. Miller left his foot in on Higginbotham, Tomlinson clattered Danby with a needless challenge by the corner flag. It all boiled over when Seddon caught Miller in front of the Lincoln bench. Miller held the back of his head and rolled around and, after an interminable delay, referee Wayne Barratt sent Seddon off.
Chester were up against it now but held firm until half time. Within a minute of the restart Lincoln were level courtesy of a baffling penalty award. Kay was adjudged to have shoved an opponent off the ball as Danby caught a cross with ease. Kay was booked and Danby picked the ball out of the net after Power had scored from the spot.
City surged forward on a tide of righteous indignation and when Jarrett collided with Newton in the box the Blues were given a spot kick of their own. Rooney lashed the ball in and the Blues had their noses in front again. The Blues more than held their own and despite being reduced to ten men pushed the visitors back. True the Imps did threaten at times, Miller – in acres of space volleyed way over the bar much to the delight of the home fans who by now had cast him as pantomime villain. A cross from Newton eluded everyone as it flashed across the goal.
The timing of Lincoln's equalizer, though, was a cruel twist in the plot as it came deep into the five added minutes. Once again the visitor's found space on their right and a driven cross was met by Robinson and turned into the net. Although a creditable draw, having played with only ten men for most of the game, Chester supporters and no doubt players felt demoralized and defeated by the result. It was so close to being only City's second win at home this season.

Colin Mansley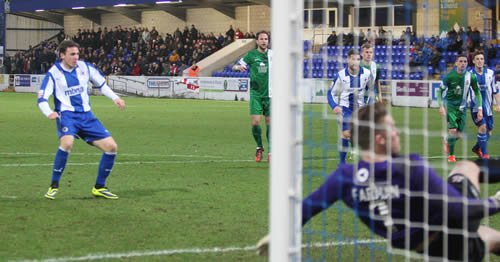 Picture © Rick Matthews (Chester Leader)
• Table after this match | More pictures
Rate Chester's performance
---
Saturday 7 December
Chester 0 Braintree Town 2

Conference Premier
Attendance: 1,736 Half Time 0-1
Booked: A.Williams. Sent-off: Linwood.
Chester: Danby, Kay, L.Turner, Seddon (Peers 72), Rooney, Higginbotham, Linwood, Heath, G.Miller, A.Williams (Jarrett 65), S.Miller (Reed 46). Subs not used: McIntyre, Mahon.
Braintree Town: Hamann, Peters, Habergham, Wells, Massey, Paine, Isaac, Davis, Sparks (Daley 73), Marks (Geohaghon 84), Holman (Cox 84).. Subs not used: McDonald, Carney.
Referee: Jason Whiteley (Leeds).



Neil Young described in his programme notes that this was a season defining game and called for his players to stand up and be counted. By half past three, however, Chester were down to ten men and as far as this game was concerned, out for the count.
The defining moment of this encounter happened when Linwood and Holman clashed as a ball was played over the top of the City defence. The Chester defender tangled with the Brains forward and by the time the referee blew his whistle had a firm grip on his opponent. It did not appear to be a clear cut goal scoring opportunity, with other defenders around and the ball already in John Danby's hands moments later. Referee Whiteley viewed it harshly and produced the red card from his back pocket to give a disbelieving Linwood his marching orders – to complete a dubious double (He had been sent off at Braintree earlier in the season).
Worse was to follow from the resulting free kick. Ashley Williams was booked for encroaching, Braintree gained an extra six or seven yards as a result, and from the re-taken kick Holman's shot gained a wicked deflection off a Chester defender and wrong-footed Danby to end up in the back of the net.
Howls of derision greeted the referee from City fans for the rest of the game but to no avail, the damage had been done and Blues were left to chase the game. This was always going to be a tall order but even the sending off could not mask City's deficiencies as Braintree appeared quicker, stronger and more guileful by comparison.
Once again City were pressed into by-passing midfield because of their opponents' energy and work rate. Seddon tried tirelessly to haul Chester back into the game and, when Reid was introduced instead of debutant Sean Miller after half time, began to strike up a promising partnership. But there was no way back for the Blues when Holman scored a brilliant individual goal on 58 minutes. He refused to be shaken off the ball on the edge of the penalty area despite the attention of several defenders. Holman turned one way and then the other to carve out a shooting opportunity and then unleashed his effort into the far corner.
City were finished and the game petered out without the Braintree 'keeper being troubled. The players dutifully turned out for the after match Christmas disco in the Blues Bar but no-one was in the mood for dancing.

Colin Mansley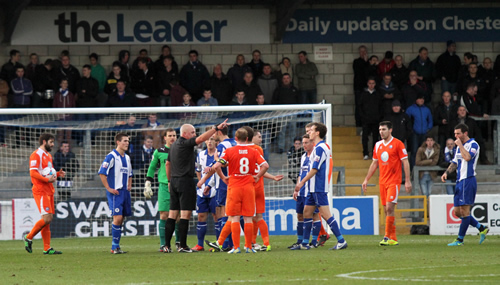 Picture © Melissa Cross (Chester Leader)

• Table after this match | More pictures
Rate Chester's performance
---