---
Saturday 25 January
Forest Green Rovers 3 Chester 0

Conference Premier
Attendance: 1,483 (316 Chester) Half Time 1-0
Booked: L.Turner.
Forest Green Rovers: Russell, Hodgkiss, Bangura, Turley, Norwood, Wright (Vieira 80), Oshodi, Barry (Green 83), Kelly, Binnom-Williams, Hughes (Walker 85). Subs not used: Afasu-Adjaye, Bulman.
Chester: Danby, L.Turner, Horan, Killock, McIntyre, Lindfield (Bond 55), G.Miller, Jarrett (Mahon 63), Menagh (Peers 80), Rooney, Reed. Subs not used: Kay, Fearon.
Referee: Adam Hopkins.



Chester were out-classed by big-spending Forest Green Rovers in a match which saw both teams battling against the weather almost as much as each other.
The final scoreline did not exactly reflect the performance of Chester, who were unlucky not to score at least one goal during their first visit to the utilitarian New Lawn.
The closest they came in the first half came was when a looping header from Ross Killock struck the bar and Craig Lindfield couldn't take advantage of the re-bound. He had an excellent opening, but his shot went straight to FGR goalkeeper Sam Russell.
Just when the weather was at its worst, as the driving rain lashed down into the Cotswold Valleys, controversial striker Lee Hughes seized the moment. It was only moments after he'd laughed at chants made by some of the 316 travelling Chester fans that he had chance to show them his footballing class. He found himself in plenty of space to take his time with a good pass from FGR's top scorer James Norwood, and took his shot well to give John Danby no chance.
Chester midfielder Jason Jarrett was well-placed for an attempt on target soon after, but his header went well wide as the wind swirled around.
The weather slightly improved in the second half, and so did Forest Green's performance. Norwood put himself on the scoresheet on the 64th minute when he found himself free on the left-hand side and notched up another upstoppable strike for the home side.
Chester manager Steve Burr had replaced Lindfield with Andy Bond, his new signed from Colchester on the 55th minute. He followed this by bringing on Craig Mahon to replace Jarrett.
But Hughes continued to be hard for anyone to handle, and he scored his second goal on the 72nd minute. It was difficult for the Chester fans to look at him dancing for joy, and it was no wonder Danby thwacked the ball back into the net in frustration.
Tom Peers came on for Jamie Menagh on the 80th minute, and not long after John Rooney came close to a goal when a strike from distance hit the post. But there were no further opportunities for Chester and it was a good win for the ambitious home side.
Still, at least two Chester fans attending the match could reflect on their last visit to Forest Green. They were among a handful who arrived at the New Lawn for the infamous fixture the old Chester City failed to fulfil. At that stage they probably thought they'd never return to the New Lawn to watch a Chester side play. No doubt they would have accepted any result – so they'd have taken this defeat in their stride.
Sue Choularton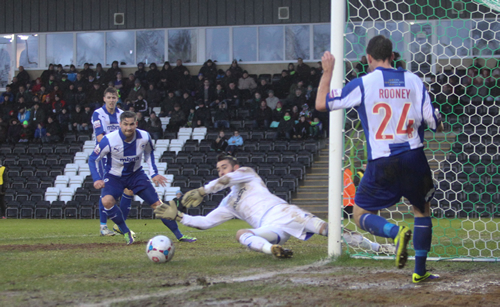 Picture © Rick Matthews (Chester Leader)
• Table after this match | More pictures
Rate Chester's performance
---
Tuesday 21 January
Woking 0 Chester 1

Conference Premier
Attendance: 1,124 Half Time 0-1
Booked: Horan, Menagh, Killock, Rooney, Danby.
Woking: Springthorpe, Newton, Johnson (Wright 76), McNeary, Nutter (McNamee 68), Payne, Ricketts, Betsy, Goddard (Beckles 59), Cestor, Sle. Subs not used: Frith, Beasant.
Chester: Danby, L.Turner, Horan, Killock, McIntyre, Menagh (Heath 86), Jarrett, G.Miller, Lindfield, Rooney, Reed (Peers 90). Subs not used: Fearon, Kay, Mahon.
Referee: Dean Treleaven.



Chester finally moved out of the relegation zone after an impressive win at Woking, earning new manager Steve Burr his second win in his first two games.
The only Chester line-up changes from Saturday's home win against Barnet saw Craig Lindfield in the starting XI and Tom Peers on the bench. Woking had replaced their goalkeeper Sam Beasant with 19-year-old Mason Springthorpe, who was on-loan from Everton.
Their young goalkeeper was under pressure throughout the game as Chester looked the most likely to score. It was great to see the team playing confidently, and making some neat passing interchanges. But it was actually a long ball out of defence that led to the Blues going 1-0 up on the 29th minute. The ball came to Jamie Menagh, who ran into the box from the wing and took a brilliant shot, which went straight into the bottom corner of the net.
Menagh made the most of his celebration – and who can blame him?! The 150 travelling Chester fans also enjoyed the moment when he came over for hugs and high-fives over the touchline barrier.
Chester had at least two other chances to score in the first half, with Jamie Reed seeing a shot saved by Springthorpe and then missing another chance when he fell over in the area with the net gaping in front of him.
Half-time saw the Chester fans move en-masse to Woking's impressive main stand, and they almost witnessed another goal right from the off when a Woking back pass caught the goalkeeper out. It just trickled past the post for a corner, and with it another opportunity for Chester to seal their win. There was a goalmouth scramble after the corner, but Woking managed to thwack the ball away.
The Cards bought on three substitutes, but still didn't go near scoring. Ironically, their Man-of-the-Match was goalkeeper Springthorpe – which says it all about their game. From a Chester perspective, it looked like the entire team were making a real effort to impress their new manager. In fact, their determination saw five of them handed yellow cards.
As you can imagine, the Chester fans all had one thing on their mind when the assistant referee signalled five minutes' of stoppage time. Oh yes, we've seen it all before this season. And it's true that Woking did look more likely to score in the game's final moments than they did at any other stage. But John Danby made a good stop at the right time to keep Chester on top and earn a much-needed three points.
It was no wonder that one Chester fan spied the team stocking up on celebratory crisps and chocolates when they made a pitstop on the way home. The players clearly needed an energy boost after giving a flat-out performance for 95 minutes. And I'm sure all Chester supporters will forgive them for any night time snack which takes their fancy if it comes after such a splendid away win.
• Table after this match | More pictures
Rate Chester's performance
---
Saturday 18 January
Chester 2 Barnet 1

Conference Premier
Attendance: 2,179 (145 Barnet) Half Time 1-0
Booked: Horan, Reed.
Chester: Danby, L.Turner, Horan, Killock, McIntyre, Menagh (Lindfield 68), Jarrett, G Miller, Rooney, Peers (Mahon 78), Reed (Heath 85). Subs not used: Fearon, Kay.
Barnet: Jupp, Yiadom (Acheampong 80), Johnson, Weston, Saville, Marsh-Brown, Byrne, Hyde, Cadogan (Gambin 61), Villa (Crawford 61), Stephens. Subs not used: Abdulla, Barnes.
Referee: Wayne Barratt (Bromsgrove).



Goals from Lewis Turner and Jamie Reed see the new management team of Steve Burr and Gary Jones off to a winning start with victory over Barnet. This was the first league outing for three weeks for Chester who made just one change from the side that drew with Gateshead over Christmas with Kevin McIntyrre coming in for Joe Heath.
The game got off to a slow cagy start with both sides failing to create any chances of note, jamie Reed shooting high over the bar from Lewis Turners through ball being the first chance of note for the Blues on 20 minutes.
The Bees had the ball in the back of the net on 28 minutes but Jake Hyde was adjudged to be offside as he slotted Keanu Marsh-Brown cross past John Danby.
John Rooney, who signed a permanent deal last week, went close twice for Chester as the Blues got more into the game. Firstly he sent a free-kick just wide then moments later forced a save from Nicky Jupp in the Bees goal.
Chester took the lead on 34 minutes as Turner's cross into the box found its way into the net with a possible deflection helping it past Jupp.
Barnet bounced back and almost drew level minutes later as Hyde twice went close, prodding the ball wide from six yards out and then forcing a save from Danby.
The visitors started the second period with more purpose though both George Horan and Ross Killock were holding the defence well, preventing Barnet from finding any real goslscoring chances of note.
Luke Gamblin almost added a second for Chester as the Bees defender almost headed into his own net attempting to clear a Rooney corner.
As has been seen so many times this season Chester conceded a late equaliser seven minutes from time as dangerman Hyde headed home following a cross from substitute Harry Crawford.
Just when the Chester faithful were resigning themselves to another draw the Blues responded with an instant reply. Straight from the kick-off Turner and Rooney combined and Turner's right wing cross was met at the back post by the unmarked Jamie Reed who swept the ball home to wild scenes of celebration at the Harry Mc end of the ground and earn three priceless points in the quest to avoid relegation.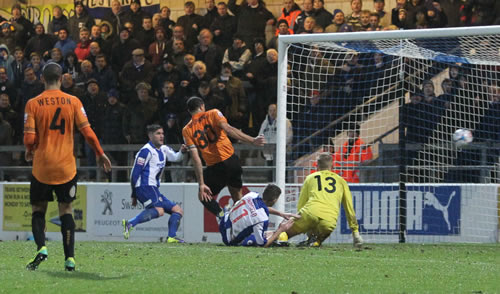 Picture © Rick Matthews (Chester Leader)

• Table after this match | More pictures
Rate Chester's performance
---
Monday 13 January
Runcorn Town 0 Chester 4

Cheshire Senior Cup Round 1
Attendance: 243 Half Time 0-2
Booked: -.
Runcorn Town: Wills, Potter, Lester, Burton, Dalton, Spearitt, Dolan, Keddie, Breen, James McShane, Haughton. Subs not used: Jason McShane, Duckworth, Edwards, Salt.
Chester: Danby, Lindfield, Kay, Horan, McIntyre (Mahon), Rooney, Jarrett, Menagh, A.Williams (Heath), Peers (S.Miller), Reed. Subs not used: Fearon, Linwood, Blake.
Referee: Robert Jones (Wirral).



It was a winning start for caretaker manager Gary Jones as a hat-trick on his full debut from John Rooney and a fourth by Jamie Reed saw Chester's defence of the Cheshire Senior Cup start with a comfortable win at Runcorn Town.
Jones made five changes to the side that last played against Gateshead and saw his team dominate for much of the opening period against their North West Counties League opponents. The Blues should have taken the lead in the 20th minute as Rooney's inswinging corner was met by Mark Peers but the striker headed over from close range.
Karl Wills in the home goal denied Reed from close range and Jamie Menagh and Craig Lindfield both saw efforts go just wide.
Chester opened the scoring a couple of minutes before the break as Rooney slotted the ball home following good build up play from Menagh. Rooney ten doubled the advantage in first-half stoppage time as he converted a penalty after Peers had been brought down by Wills.
Seven minutes after the restart Reed added a third following up with a fine effort after Wills had saved from Rooney. John Danby had little to do but saved a long range effort from Will Dolan as the home side looked to respond.
Jones made a series of substitutes to give the squad a run-out before Rooney completed his hat-trick in the final minute with a well taken effort from the edge of the area.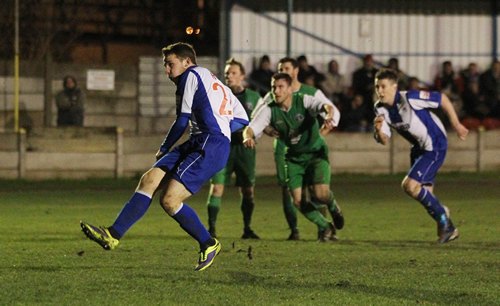 Picture © Rick Matthews (Chester Leader)

• More pictures
Rate Chester's performance
---